"So you favor socialism!" Jack Kemp had his arm around my shoulder and was pressing tight. I'd just told him, last October, that I would vote for Barack Obama. "You favor using the tax code to redistribute wealth! You want a president who will seize income and penalize success! So that's what you favor!" His health failing, Kemp still possessed boundless enthusiasm for talking politics and public policy. I couldn't get him off the topic even by trying to change the subject to football.
Jack Kemp, star quarterback and innovative public-policy thinker, died Saturday. The Associated Press AFL MVP of 1965 as quarterback of the Buffalo Bills, Kemp went on to serve 18 years in the House of Representatives, became Secretary of Housing and Urban Development during the presidency of George H.W. Bush, then ran as the Republican Party's vice presidential candidate in 1996. Kemp was a leading factor in the rise of Ronald Reagan conservatism in American life, and remained active in public-policy debates until the final months before his death. His were two singular achievements: First, to accomplish more after leaving athletics than he had before; second, to join that small fraternity of sports stars who have gone on to significant careers in serious pursuits.
Byron "Whizzer" White, who twice led the NFL in rushing, became a Supreme Court justice; Bill Bradley, who played for the New York Knicks, became a three-term United States Senator and 2000 candidate for the Democratic presidential nomination; Alan Page, who played for the Minnesota Vikings and Chicago Bears, made the Pro Football Hall of Fame, went to law school and is now a justice of the Minnesota Supreme Court; Jim Bunning, a Hall of Fame pitcher with the Detroit Tigers and Philadelphia Phillies, is in his second term as a U.S. Senator from Kentucky; Ken Dryden of Canada and Roger Bannister of the United Kingdom are the other sports celebrities whose lasting achievements came after they tied their sneakers for the final time. Kemp's after-the-grandstands achievements rank with anyone in sports lore. Most star athletes spend their second act signing autographs and waving to fans; the real work of Kemp's life began when he put the football down.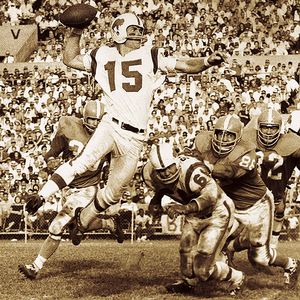 Lou Witt/NFL/Getty Images
Jack Kemp helped lead the Buffalo Bills to two AFL titles.
Jack Kemp was born in 1935 in Los Angeles, where he was a high school classmate of 1960s band leader Herb Alpert. "Too short" at 5-foot-10 to play Division I football, he attended Occidental College in Los Angeles, becoming a Little All-American. Kemp was drafted by the Detroit Lions, bouncing from the Lions to the Steelers to the Giants to the 49ers without ever taking the field. Kemp was on the Giants' roster for the 1958 NFL championship game, the "Greatest Game Ever Played," but did not dress. Giving up on the NFL, he played briefly for the Calgary Stampeders of the CFL. Kemp joined the military reserve and began taking grad classes in economics at Long Beach State.
Then the American Football League formed, and Kemp found himself with the new San Diego Chargers, under the tutelage of pass-loving Sid Gillman, now a Hall of Fame coach. In 1961, Kemp led the Chargers to a 12-2 record, finishing second in the league in passing yards, trailing only Hall of Famer George Blanda. Injured much of the next season, he was waived again, and claimed by Buffalo. Kemp led the Bills to AFL championships in 1964 and '65, then lost the 1966 AFL championship game to Kansas City, placing the Chiefs into the first Super Bowl, versus Green Bay. Kemp made the AFL All-Star team seven times; played with Billy Shaw, a Hall of Fame guard; saw his No. 15 jersey retired by Buffalo. In 1970, Kemp left sports. And that is when his story gets interesting.
Kemp had always shown keen interest in politics. When with the Bills, he was known for clubhouse political debates with teammates George Saimes, a former Michigan State star who would become an NFL scout, and Ed Rutkowski, a utility player who in later life would be elected County Executive of Erie County, the government body of the Buffalo metro area. Kemp took what was then called a hard-right view, though it would later be known either as Reagan conservatism or libertarianism; Saimes took the view then called "unreconstructed liberalism;" Rutkowski was a pragmatist. In the Buffalo media of the period, the fact that football players were debating politics was viewed as quirky. But it was a time of political fervent, and -- well, you don't want to hear again about the '60s.
At any rate, I can easily picture Kemp grabbing Saimes by the shoulder and exclaiming, "So you favor socialism!" Kemp had been reared in the young California interpretation of politics, which gave rise to the Reagan movement beginning in 1967 when he was elected to the Sacramento statehouse and later to the libertarian worldview. California political thinking of the 1960s emphasized low taxes, few federal programs, self-reliance and pursuit of wealth. It would all be summed up in Reagan's dictum, "Government is not our solution to our problem, government is the problem."
Though believing this, Kemp would spend his next 22 years in government. Kemp ran for Congress in 1970 and was elected to represent the affluent suburbs north and east of Buffalo, the Republican area in a mainly Democratic working-class area. He would be re-elected to 18 total years of House service, though from three different districts, as Buffalo political lines were redrawn when the area's population began falling. In the House, Kemp advocated the Reagan agenda. Reagan's 1981 tax cut legislation was known on Capital Hill as the Kemp-Roth bill, for him and Delaware senator William Roth. (That bill, technically called the Economic Recovery Act of 1981, was promoted as a stimulus package. The combination of unemployment and inflation was then much worse than it is today, despite today's fashionable negativism on the economy.) Kemp strongly supported Reagan's missile defense initiative and once said George Shultz, Reagan's gentlemanly Secretary of State, was soft on communism, an improbable charge to say the least. Kemp tried to avoid transferring sports clichés to politics, though he did once complain on the House floor that American gridiron was "real football" representing "democratic capitalism," while soccer is "a European socialist sport." Later Kemp retracted his denunciation of soccer and attended a World Cup game, though allowing he still found the sport "boring."
Unlike many conservatives, Kemp was keenly concerned with the plight of the poor. The libertarian side of his personality viewed tolerance as crucial. Kemp often broke with other Reagan supporters on women's and minority issues, respect for labor and an end of discrimination against homosexuality; and though a devout Christian himself -- prayer circles are a regular event at his home -- he was disgusted by all forms of religion-based bias. His signature issue became Enterprise Zones. Kemp was dismayed by the decline of mostly minority inner cities, and hardly just Buffalo. He felt excessive regulations and legal liability discouraged businesses from investing in urban areas where jobs were needed, while in effect encouraging business to develop unplowed land that ought to be preserved.
In 1988, Kemp left Congress to run for the Republican presidential nomination, ultimately won by the elder Bush. When Bush was elected to the White House, he named Kemp Secretary of HUD, a position from which he implemented Enterprise Zone ideas. HUD is an agency that traditionally has not interested conservatives much, because it deals with issues of the impoverished, such as public housing. Kemp dove into HUD's subject matter with zeal, and over time was proven correct, as the Enterprise Zone was a factor -- hardly the only factor, of course -- in the spectacular American urban comeback that began in the 1990s.
When Bush's administration ended in early 1993, Kemp began speechmaking and fundraising for another presidential bid. By then his reputation as an independent thinker had made him popular among conservatives and even with some liberals, though traditionalists were uneasy with Kemp's open-minded social and religious views. Bob Dole won the 1996 Republican nomination, and chose Kemp as his running mate. The ticket never had much chance, as Bill Clinton was standing for re-election as a popular incumbent. The Al Gore-Jack Kemp vice-presidential debate of 1996 might have been the most focused smackdown of politically opposite hardcore policy wonks in American history. Gore prevailed -- Kemp went off on tangents -- but the debate was civil, as Kemp and Gore respected each other despite their long list of disagreements. Giving up on politics after 1996, Kemp made paid speeches, did consulting, and spent long stretches in Vail, Colo., a place he loved.
Beneath the surface of Kemp's political heterodoxy was a lifelong love of argument over ideas. Kemp clung to many causes viewed as idiosyncratic, such as a return to the gold standard, and advanced "supply side" economic ideas that were in some ways more radical than anything coming from the left. He spent far more time with writers and intellectuals than do most nationally known politicians, and he got more excited about books than about polls. While many politicians want to shake hands with intellectuals at photo ops, Kemp wanted to argue, sometimes well into the night. His political legacy is mixed: Kemp played a role in inner-city revival and reduced the narrow-mindedness that once weighed down conservative politics, while the anti-tax sentiment he championed helped create the national-debt monster that threatens to swallow the economy. But unlike so many politicians, who leave behind little but backroom deals and self-congratulation, Kemp's legacy is one of ideas. As of last autumn, Kemp was still banging out newspaper columns in support of John McCain and in opposition to taxes. Unlike so many political figures who only preach family values, Kemp was married for more than 50 years to his college sweetheart, Joanne Main.
What was his arm doing around my shoulder just before the Obama election?
I grew up in Buffalo, and as a child, watched Kemp play. In the Bills' AFL championship years, I followed the team's every snap, often on radio. As a kid, pro football players seemed to me men, though I would learn that the true tests of manhood having nothing to do with chasing footballs. I was in War Memorial Stadium, since demolished, on the day the Bills lost to the Chiefs for the right to appear in the inaugural Super Bowl, and died a thousand deaths that day. (Make that a hundred deaths; later, when the Bills lost four consecutive Super Bowls, I found out what it's like to die a thousand deaths.) A decent chunk of my childhood was spent admiring Kemp, Shaw, Elbert Dubenion and other golden-age Buffalo greats.
When my family moved to Maryland a decade ago, it turned out we moved into Kemp's neighborhood. My children attended the same public high school where Kemp's sons, Jeff and Jimmy, were star quarterbacks a generation past. (Jeff played a decade in the NFL, mostly for the Rams and Seahawks; Jimmy spent almost as long in the CFL.) I became the coach of the high school's eighth-grade "feeder" team, and last fall, one of my players was one of Kemp's grandsons. Under the lights before a cheering crowd, his grandson caught the winning touchdown pass in one of our games. He's an impressive young man -- well-mannered and a fine athlete. Must come from a good family.
Kemp attended our games and even our scrimmages. It was a strange feeling to be a graying grown-up performing in front of someone who had once performed in front of me when I was a child. But then, lots of strange feelings accompany adulthood. Kemp had read some of my books -- he seemed to have read at least parts of every book -- and took me aside a few times to talk public policy. It was pleasant, and I wish it had lasted longer. I couldn't convince Kemp that Obama is not a socialist; to win an argument with him, you would have needed to bring along an army. But I also don't think he really meant to insult the new president. I think he admired the new president quite a bit. He just liked to provoke political arguments and see where they led. For him, they led to a great life well lived.
Kemp's open letter to his 17 grandchildren is here.