Commentary
TMQ travels back in time to August 2009!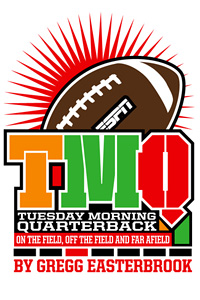 Does anything make sense in football anymore? Last season, the Pittsburgh Steelers allowed 57 sacks, rushed for 2.9 yards per carry in the playoffs -- and won the Super Bowl. The other Super Bowl entrant, the Arizona Cardinals, reached the big game despite finishing last in rushing yards. Rookie quarterbacks, who are never supposed to win, were dominant 2008 players, with Joe Flacco and Matt Ryan combining to go 24-12. The previous two rookie quarterbacks to start an entire season, David Carr and Peyton Manning, were a combined 7-25. High school strategy was the year's happening thing. Not just the Wildcat formation employed by Miami and a dozen other clubs -- the first- and second-ranked offenses in the NFL, New Orleans and Denver, ran the spread, pretty much exactly as it's run under Friday night lights on prep campuses around the nation. My guess is that this autumn, NFL teams will turn to the stack, the high school defensive counter to the spread.
Why all this strangeness? Because an NFL playbook from the year 2387 came backward in time and altered the football timeline -- just like the spaceships from the future that altered the timeline in the latest Star Trek movie. And just like in the movie, now nothing makes sense! Expect that trend to continue through 2009. Also, a Tuesday Morning Quarterback from 2387 came backward in time, further altering events. That column complains that even in the 24th century, NFL coaches still punt on fourth-and-short in opposition territory.
In cultural news, four years ago TMQ's popular running item, This Week's Star Trek Complaint, had its incredible series finale, as Starfleet made what was advertised as the final jump to warp speed. But since Trek returned with a hit flick that "reboots" the franchise, This Week's Star Trek Complaint also has been rebooted, with new backstories, flashier graphics and a younger cast. See below.
In news of international significance, I'm back and I'm bad! Well, anyway, I'm back. The football artificial universe is resuming, so Tuesday Morning Quarterback has resumed. This is TMQ's 10th anniversary season: a decade of football, politics, science, cheer-babes and nonsense -- and that's before the main topic is even mentioned. Ten years, and I have never deviated from my motto: All Predictions Wrong or Your Money Back. Now TMQ's annual review of offseason lowlights.
[+] Enlarge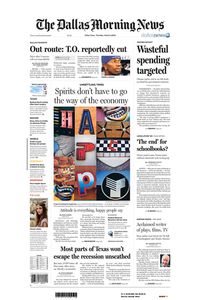 Dallas Morning News for ESPN.comOwens would have pushed Watergate, Pearl Harbor off the front page.
More Proof of the Decline of Western Civilization: "Terrell Owens Reportedly Cut" was the March 5, 2009, banner headline of the Dallas Morning News, ahead of "Wasteful Spending Targeted," a story warning of graft in Texas state government. (Speaking of wasteful spending, last season Owens got $13.6 million and caught 69 passes -- $197,000 per reception.) Days later, "Outspoken Owens Signs One-Year Deal with Bills" was the banner headline of the Buffalo News, above a story warning that tax-free Indian reservation cigarettes, popular in New York, are toxic.
Not Exactly Santa's Elves: The Uighur-versus-Han ethnic conflict that led to rioting in southern China began in a toy factory.
Teens -- Do Not Text While Orbiting! In February, two satellites collided: Cosmos 2251, a Russian military satellite, slammed into a communication satellite of the Iridium consortium. One was traveling north-south, the other west-east; the odds against two small objects ramming into each other in the vastness of space seemed, well, astronomical. This kind of stuff is incredibly rare, right?
Teens -- Do Not Text While Navigating a Submarine! Also in February, two nuclear-missile submarines -- Vanguard from the United Kingdom and le Triomphant from France -- collided in the Atlantic. The New York Times quoted "military experts in London and Paris" who called what happened "a one-in-a-million occurrence." Really? This was the second time in less than two decades that nuclear submarines smacked into each other in the blue water: America's Baton Rouge collided with Russia's Barracuda in 1992. Submarines can't seem to get out of each other's way. Perhaps "military experts in London and Paris" should know this! All four boats involved in the two collisions of nuclear submarines contain millions of dollars, pounds, francs or rubles worth of high-tech equipment designed to ... detect other submarines.
Subs-gone-wild bonus No. 1: In March, the U.S. nuclear submarine Hartford collided with the U.S. amphibious ship New Orleans. The sub was surfacing and rose directly into the hull of the New Orleans. The Hartford is an attack submarine whose role is to sink other vessels. As such, it is crammed with millions of dollars worth of high-tech equipment designed to ... detect ships. In 2003, the Hartford ran aground off Sardinia; the submarine failed to detect a 9,000-square-mile island.
Subs-gone-wild bonus No. 2: Fleets sometimes name ships after famed vessels of the past. Vanguard, nameship of a class of submarines, carries forward the name of the last battleship ever launched by any nation. Commissioned by the United Kingdom in 1946, the 46,000-ton Vanguard never saw action and was sold for scrap just 14 years after its maiden voyage.
And a Fitting Conclusion … The final Pontiac to come off the assembly line, the Solstice GXP, is a two-seater that gets 19 mpg in city driving. Only in America can a car be small and wasteful.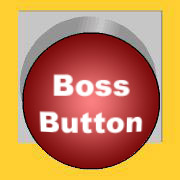 Christmas Creep: Reader Diana Velasquez of Irvine, Calif., reports, "I was in Costco on August 1st and came across an end-cap stuffed with Christmas ribbon and bows. It's like 90 degrees outside but gotta get me some bulk holiday ribbon!" Countless readers, including Rabbi Josh Yuter of New York, noted that in July, K-Mart and Sears rolled out a "Christmas Lane" Web site complete with jingling sleigh bells and a snow-covered Christmastown. Scott Vandenberg of Powder Springs, Ga., reports, "On July 23 the local ice cream truck rambled through our neighborhood blaring God Rest Ye Merry Gentleman." Craig Miller of Wheaton, Ill., writes, "I was listening to the Cubs game on WGN on August 1st. In the fourth inning an ad came on for Christmas Tree Warehouse. Your prediction of a year-round Christmas Creep apocalypse seems to be coming true." Originally, TMQ's Christmas Creep item started running in October. Then it started in September. Then ...
Unified Field Theory of Creep: Reader Lorelei Hightower of Sarasota, Fla., noted the "X-Men Origins" and "Star Trek" flicks, promoted as summer movies, opened in early May, six weeks before the arrival of summer in North America. Both "summer movies" already had closed when summer began on June 21. Yours truly pulled into an Exxon station on July 31 for petrol; the advert on the pump said, "TIME FOR A WINTER TUNEUP." I went to my mailbox on Aug. 6, and found a Land's End catalog headlined "FALL ARRIVES."
The Guy on the Corner Sells Fake Louis Vuitton and Counterfeit Chromosomes: Biochem labs use "reagents," organic compounds that facilitate research involving DNA and RNA. Imitations of a reagent called DMEM have begun to appear at medical supply companies: They look identical to the genuine article, right down to bar codes and tiny-type disclaimers. Hao Xin reported in Science magazine that this is because Chinese companies have begun making knockoff genes.
I Want a Neoliberal Recreational Coupe: BMW declared it will market a "progressive activity sedan." Perfect for driving to a rally for single-payer health care!
"Don't Mind Our Cannons, Mike": Roger Goodell had his meeting with Michael Vick inside the headquarters of this security firm. Did Goodell think he was going to be attacked by animal rights activists?
More Proof of the Decline of Western Civilization: People magazine hired a "body editor," whose job is deciding which celebs look good in swimsuits.
[+] Enlarge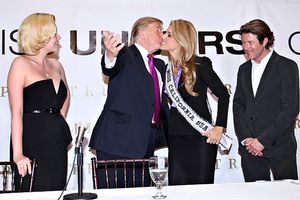 Michael Loccisano/Getty ImagesNot only was Miss California stripped of her title, even worse, she had to kiss Donald Trump.
Satan Also Voted for Adam Lambert: Carrie Prejean failed to become Miss USA because she declared her opposition to gay marriage. Judges found this view too controversial to be associated with the pageant winner, and named Prejean first runner-up. Once no woman who favored gay marriage could have won Miss USA; now you can't win if you're opposed; this sociological indicator means gay marriage is being accepted as a norm. Afterward Prejean said Satan planted the question about gay marriage, in order to tempt her. If Satan was running the Miss USA pageant, ratings would be a lot higher! Prejean was dethroned as Miss California, following a flap about her posing "partially nude." Isn't one either nude or not? Besides, Prejean was representing California, where taking your clothes off in public is practically mandatory. Though no longer so much as a state titlist, Prejean has become better known than Miss USA. Can you name the woman who won? This seems to confirm the adage, "There is no such thing as bad press."
Bailout O' the Day Thanks to deficit spending, first-time home buyers get a $8,000 federal tax credit. Set aside that declining housing prices already are a boon to first-time buyers, or that debt will be piled on future taxpayers to confer a special subsidy on those purchasing homes in 2009, while future taxpayers won't get home-buying subsidies. The Federal Housing Administration ruled that this year's lucky winners need not wait until April 2010 to claim the credit -- they can borrow the $8,000 up front, for use as a downpayment. In other words, after a super-costly national mortgage fiasco triggered by gimmick loans, the federal government is now offering gimmick loans. Didn't we just learn that putting people into houses using accounting gimmicks is not history's swiftest idea?
That's Even Longer Than TMQ: The greenhouse gas bill before Congress became so ridiculously long, reaching 1,400 pages, that Democrats hired a speed reader to keep track of what the legislation said.
[+] Enlarge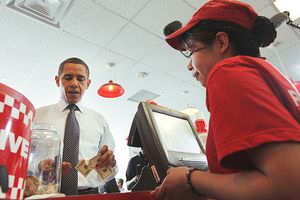 AP Photo/Gerald Herbert"Have you got change of a trillion?"
He Paid Cash, Not Billing It to the Federal Deficit: Barack Obama stopped for a cheeseburger at Five Guys, praised by TMQ in 2008 as my favorite Washington-area burger joint.
Are Burgers the New Tobacco? The Carl's Jr. burger chain, which once ran a TV ad in which Paris Hilton, wearing a teensy bikini, ate an enormous cheeseburger, ran a TV ad in which Audrina Patridge, wearing a teensy-weenie bikini, consumed an even larger cheeseburger. Like our president, TMQ loves cheeseburgers. I even enjoy reading about burgers. But the cheeseburger in the Patridge ad contains an outrageous 930 calories and 61 grams of fat. The Carl's Jr. Double Guacamole Bacon Burger hits 1,090 calories -- add fries and a shake and you've maxed out a day's recommended intake with a single lunch. Hardees, owned by the same corporate parent as Carl's, offered four gorgeous women dressed as French maids to promote its French Dip Thickburger. This sandwich is relatively modest at 650 calories, though steer clear of the Monster Thickburger, which has 1,420 calories and a ridiculous 108 grams of fat. Hardees should make you sign a release when ordering one! And as Carl Bialik of the Wall Street Journal points out -- his "Numbers Guy" column, which analyzes misuse of math and stats in business and politics, is one of the sharpest features in contemporary journalism -- restaurants and fast-food chains consistently understate the calories and fat in their fare.
The French dip burger is served "with au jus." Aus jus means "with juice," so it's served with with juice. Kind of like the Taco Bell ads that say "with authentic grilled carne asada steak." Since carne asada means "grilled steak," these ads boast of authentic grilled grilled steak steak.
How About Some Attention for the Good News from Detroit? Three cheers for the Ford family, owners of a controlling share of Ford Motors. In recent years, several wealthy families whose forebears founded great enterprises, including the Bancroft family behind the Wall Street Journal, have voted to sell out, take the cash and to hell with what their grandparents spent a life building. Not the Fords. As the family stake fell from a value of $2.2 billion in 2000 to a low of $140 million in winter 2009, repeatedly they voted to stand fast and work for the preservation of the company. Ford has kept itself in business without government bailouts. Ford also made a voluntary corporate commitment to fuel efficiency and high-quality manufacturing four years ago -- unlike General Motors and Chrysler, which did not make these commitments until being compelled to this year -- and already has the proof in showrooms, such as the terrific Ford Fusion. Everybody's bemoaning how General Motors and Chrysler fell to pieces. Ford had the same problems with competition and retiree costs, yet did not fall apart. Where's the round of applause?
[+] Enlarge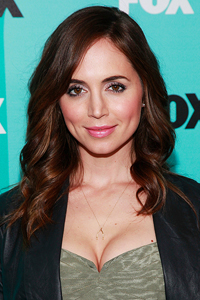 Charles Eshelman/Getty ImagesAfter the red carpet, she'll go out for a candlelit romantic dinner for one.
Will "Top Chef" Feature a Menu for Romantic Dinners for One? Allure, a beauty magazine, promoted an "all nude" issue for which five celebrities, including TV chef Padma Lakshmi, took everything off. Asked how posing nude compared to filming a love scene, Fox action-series babe Eliza Dushku replied, "Love scenes are much more multidimensional, because often you have two people."
Will Fahrenheit SMS Be the End of Books? TMQ has friends who like the Kindle; maybe such devices are the future. But I hope you were given pause by Amazon's decision to delete, electronically and without notice, two Orwell books that were sold without proper rights. Needless to say, I support enforcing authors' rights. Yet did you know Amazon has the power to delete from your Kindle anything it decides you should not read? Owners who had the books in their devices simply discovered them gone: Amazon sent a kill command. Suppose printed books -- and their permanence -- go out of style. Everyone's got Kindle-like gizmos that seem really convenient. Then Big Sister or some corporate leader finds out people are downloading books revealing information the powerful don't want the masses to know. Click click, those books disappear, and there's no printed copy to prove they ever existed. "We did this for the public good, the books contained statements that were causing confusion," a future CEO or U.S. President may say. Or suppose a book about some prominent person has revelations embarrassing to him -- you wake up and that material has vanished, replaced with new paragraphs calling the person the most wonderful human being who ever walked. Remote wireless manipulation of book content, under the control of the wealthy and powerful -- is this really the direction we want to go?
Can 3-D Cheerleader Calendars Be Far Behind? Popular Science published the first 3-D magazine cover.
[+] Enlarge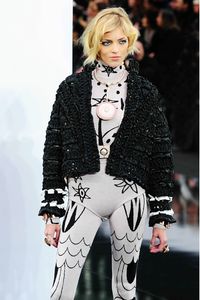 AP Images/Sipa Ideally all high-fashion houses would go out of business.
At Least General Motors Makes Something People Need: It's disturbing that several firms have gone under during the recession -- but it's good that super-pricey couturier Christian Lacroix went out of business. Like many high-end designers, Lacroix specialized in extremely expensive outfits that are actively ugly. Check these images from 2009 Fashion Week in Paris or these from another super-expensive fashion house. Is there anything here a woman would put on voluntarily? Models have to be paid to wear this stuff! Another recession positive: Muzak filed for bankruptcy.
What the Hades? The Six Flags chain, effectively controlled by Dan Snyder, entered bankruptcy. Sadly for Chainsaw Dan, amusement parks have no coaches he could fire. Ponder the rides at Six Flags Over Georgia. One is Gotham City Crime Wave, described as a "family-friendly attraction." Nothing like a family-friendly crime wave! The Wile E. Coyote Canyon Blaster is "Presented by Sani-Hands for Kids Hand Sanitizing Wipes." On Batman: the Ride, you "soar like a bat out of Hades." African-American customers are sure to feel at home at Plantation House restaurant, in the Confederate section of the park. The Six Flags dress code bans clothing bearing "offensive language or graphics." Guess that means no Washington Redskins apparel at a Dan Snyder park!
Note No. 1: Snyder should buy a deserted steel mill and convert it into an amusement park called Six Flags Over Capacity. Note No. 2: Use of hand wipes is proliferating, owing to concerns regarding swine flu and general germ-o-phobia. The Centers for Disease Control warn that outside the hospital setting, disinfectant wipes have no demonstrated health benefit and may backfire by increasing bacteria resistance mutations while retarding the maturation of immune cells. Immune-system maturation is triggered via contact with antigens, including the vast number of "commensal" microbes that cause no harm. Kill the harmless bugs with sanitizers, and immune system development may be hindered -- leading to "a greater chance of allergies in children," the CDC cautions. What do we observe in the period that sanitizing hand wipes have proliferated? Claims of ever-higher allergies in children.
[+] Enlarge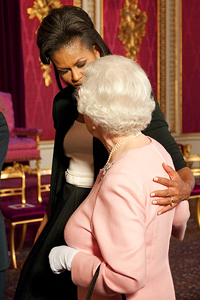 AP Photo/Daniel Hambury"My clean-and-press routine? Of course I will show you, Your Majesty."
Maybe the Whole Problem Started Because George III Needed a Hug: Michelle Obama hugged the Queen of England. Fortunately, considering Michelle's muscles, she did not squeeze.
As a Goodwill Gesture, the Recalled Cups Were Donated to a Soccer League for Iranian Government Officials: Under Armour recalled 200,000 athletic cups, admitting they broke easily.
States Long Ago Banned Smiling by DMV Personnel: Several states banned smiling in driver's license photos.
Soon, "Google Eavesdrop" Will Enable Anyone to Search Any Nation's Intelligence Intercepts: Curtis Melvin, a George Mason University grad student who has been scanning Google Earth satellite photography of North Korea, discovered that Kim Jong Il, the country's dictator, has a waterslide at one of his palaces. North Korea is among the world's most impoverished nations, but thank goodness, the dictator has a waterslide. Melvin's elaborate Google-based map of North Korea, with nuclear sites, power lines and other features labeled, can be downloaded here. This satellite photography and analysis, available to anyone, exceeds in quality what the CIA had a generation ago, and may represent the first democratization of intelligence.
Mega-Stud News: Jennifer Aniston, Marisa Miller and Sacha Baron Cohen posed nude for GQ. How come Mark Sanchez only posed with his shirt unbuttoned?
"Pilot, Let's Circle the Jet Over the Rainforest and Wag Our Fingers at Tribesmen Trying to Eke Out a Living": According to the New York Post, Trudie Styler, the wife of Sting, chartered a private jet to fly her to Washington for the White House Correspondents' Dinner. Styler is a co-founder of the Rainforest Foundation, and told the Post she needed to be in Washington "to speak out about the horrors of an environment that is being abused at the hands of oil companies." So Sting's wife calls oil companies horrible, but she lavishly wastes petroleum whenever that indulges her own convenience. Flying a private jet cross-country emits about as much greenhouse gases as driving a Hummer for a year: Because of this, your columnist believes celebrity environmental hypocrisy should be calculated in Hummer Years. The Post added of Sting and Trudie that they own seven homes with a combined "carbon footprint estimated at 30 times that of the average United Kingdom residence." Leona Helmsley famously scoffed, "Taxes are for the little people." Celebrities think conservation is for the little people!
Actual Football Reference: Last year Carolina, Jersey/A and Tennessee were a combined 22-2 at home during the regular season, a combined 0-3 at home in the playoffs.
After Washing Out As SWAT Team Members, They Became Baseball Umpires: A SWAT unit holding target practice at a firing range adjacent to a Maryland nuclear reactor station missed their targets by so much that shots struck the reactor building a half-mile away.
[+] Enlarge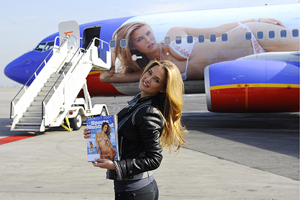 Emmanuel Dunand/AFP/Getty ImagesCover model Bar Refaeli stands before her body of work.
Sports Illustrated Thong Count: In an epic cross-promotion, Southwest Airlines painted a gigantic image of model Bar Refaeli, wearing a string bikini, on one of its airliners in conjunction with the release of the Sports Illustrated swimsuit issue. When oh when will ESPN promote TMQ like this? Maybe the plane took the callsign Southwest 35D. And what better lead-in to Tuesday Morning Quarterback's annual Sports Illustrated swimsuit issue count, which this column offers for thong-based reasons. As TMQ annually notes, apparently the modern string bikini covers way too much, since in this decade, Sports Illustrated swimsuit models increasingly have posed topless, with bikini tops untied or in other ways that suggest imminent undress. The cover of the latest swimsuit number featured Refaeli pulling down the bottoms of her bikini. Inside, the issue offered 67 photos of models in bikinis, 31 photos of women either topless or bottomless, 12 photos of women either naked or in extremely sheer wraps, 11 depictions of women in one-piece suits (how did those get past the photo editor?) and one picture of model Irina Shayk wearing nothing but a body-painted "kilim rug." SI cheesecake note: One day last winter the mag's Web site sported one tab leading to bikini photos of Danica Patrick and another tab leading to articles by Dan Patrick. When are we going to see topless photos of Dan Patrick?
College Presidents -- the New AIG Executives? After President Barack Obama accepted an invitation to give the commencement address at Arizona State University, the school announced Obama would not receive the traditional honorary doctorate, because ASU only awards such degrees to "someone who's really outstanding." Past recipients who were deemed qualified for an ASU honorary degree include columnist Erma Bombeck, Chinese government minister Wu Qidi and the guy who produced the first "Pink Panther" movies. After ASU was roundly mocked for insulting the president, the school announced a scholarship program in Obama's name, while apologizing "for the confusion" about the presidential invite. The "confusion" was reporting of ASU's own decision!
The president of ASU, Michael Crow, gets $700,000 in pay and benefits, pretty heady for a guy who made one of the worst blunders ever for a college president, and one whose institution is ranked a measly 121st in its category in the essential U.S. News & World Report ratings. Arizona State University isn't a private organization, it is subsidized by Arizona taxpayers. Arizona taxpayers are paying through the nose for a guy who caused national embarrassment to their state.
Wall Street CEOs who screw up nevertheless kept their lavish paychecks. How come college presidents keep their lavish paychecks regardless of performance? This is hardly just an ASU problem. Public university leaders enjoy a median salary of $427,000, more than the president of the United States, and most also receive substantial perks such as free housing and hefty pension contributions. Many colleges and universities are cutting payments to teachers, reducing class offerings and cancelling extracurriculars; public universities in California and Florida are limiting enrollment; other essential parts of the college mission are in jeopardy. But not college leaders' pay -- there, the pigs keep wallowing. Only a few college presidents have taken pay cuts (subscription required), and the cuts are mainly small, symbolic ones. Crow, for instance, donated a $60,000 bonus back to the school -- but kept the $700,000. Society looks to higher education to set an example. The example being set by much of college leadership is, "I've got mine, Jack."
Conclusive Proof of the Decline of Western Civilization: White House press secretary Robert Gibbs
gave a formal U.S. government response to a Twitter post.
Only Incredible Prosecutorial Excess Could Result in an Item of Sympathy for Blago: As the conviction of former Alaska senator Ted Stevens was dropped, there were accusations of corruption at -- the Justice Department's Public Integrity Section! The Framers feared prosecutorial abuses, and there have been plenty lately. There was the withholding of evidence in the Stevens case. The Justice Department used leaks to discredit New York governor Eliot Spitzer who, in the end, was never charged with any crime. Chicago federal prosecutor Patrick Fitzgerald called a news conference to denounce Illinois governor Rod Blagojevich based solely on accusations rather than anything proven in court. When two New Jersey mayors and associates were charged with corruption, federal prosecutor Ralph Marra Jr. called a news conference in which he spoke of the allegations as factually established and the accused as "ethics-free," though nothing had been determined by a jury. Blagojevich may be a cheeseball, and we are all inclined to assume the worst of Jersey politicians. But the Framers would have been outraged at prosecutors using unproven allegations to promote themselves on television. And if the Stevens, Spitzer, Blago and Jersey cases show what prosecutors do to the well-connected, can you imagine how average people are being mistreated?
New York Times Corrections on Fast-Forward (New Item): According to its corrections page, the Times said John Knox, the founder of Presbyterianism, lived in the 19th century (he died in 1572); said the Hell Gate Bridge connects Manhattan with the Bronx (it connects the Bronx with Queens, and you can practically see this bridge from Times headquarters); said Williams beat Amherst in an 1859 college baseball game (how quickly they forget Amherst won in 1859); thought the television director Paris Barclay is a woman (he's not); thought filmmaker Bady Minck is a man (she's not); referred to Barack Obama as the President of Cuba; said oppositely charged subatomic particles repel (they attract); understated the speed of light by a factor of 10,000; failed to give adequate credit for original reporting on Pretty Boy the cat; misidentified the Violence Policy Center as the Violence Project (note to editors, the organization strives to reduce, not increase, violence); said Walter Cronkite helped "storm the beach" at Normandy (he watched from an airplane, and guys armed with microphones aren't much good at storming); asserted that all 40 of the attractive young women who spent New Year's Eve at the villa of Italian Prime Minister Silvio Berlusconi were under the age of 18 (only some of the young women were underage; really, the aspersions people cast!); mistook a satire of a bankers' girlfriends support group for an actual group; said a good rodeo rider can stay on a bucking bronco for eight minutes (try eight seconds); lost track of the number of living ex-presidents (there are four, it's just not that hard to count them); got the wrong model year for Bernard Madoff's Aston Martin; mischaracterized scientific experiments regarding how people eat chocolate; on at least five occasions, confused a million and a billion (hey, we do that in Washington all the time); confused Iraq with Iran (hey, presidents do that); confused the director of operations for the New York City Office of Citywide Event Coordination and Management with the director of the New York City Office of Citywide Event Coordination and Management; identified a woman in a photograph as a man (it's so hard to tell these days); mischaracterized a vending machine for crows; and made a major factual error involving the Flamin' Groovies, the Sneetches and the Ponderosa Stomp.
[+] Enlarge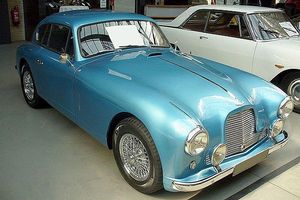 Thomas DoerferIf your investment advisor drives an Aston Martin, call the FBI.
If Only the Astons Had Ejection Seats: Madoff's Aston Martin was a DB2/4, a rare old model; corporate crook Marc Dreier, sentenced this spring to 20 years for swindling $400 million, drove an Aston DB9, the new model. Here's some investment advice: Never trust anyone who drives an Aston Martin.
Club Fed, Now Accepting New Members: To prepare for a possible stay behind bars, relatives of Madoff hired a prison consultant. Perhaps you are thinking: har har, there is no such thing. There is, and he specializes in Wall Street crooks. Might as well go where the market is! Check out the guy's testimonials. Madoff is serving his term at the Butner Federal Correctional Complex, where his shuffleboard pals include John and Timothy Rigas, the Adelphia crooks.
Richard Nixon Once Called Recession a "Reverse Upward Trend": The Treasury Department stopped saying it had blown untold billions of taxpayer's money on "toxic assets," and instead began to use the term "legacy securities." Here, Mara Liasson of NPR offers a roundup of new political euphemisms.
It's 93 Million Miles Away and Still Huge Compared to the Works of Man: Photographer Thierry Legault took these breathtaking photos of shuttle Atlantis transiting the sun. And as NASA's budget keeps rising and its promised launches of new rocket types keep being postponed, four high school students in Spain used a balloon to take pictures from outer space for about $500.
PETA Would Protest Forcing Animals to Fly Coach: American, Continental and Delta airlines decided there is too much room in coach and began adding seats to the coach cabin, thus reducing space. American will also remove the rear galley on some aircraft, eliminating the sole place where coach passengers whose backs hurt could stand up during long flights.
"That's Not the Way We Operate Around Here," Nancy Pelosi Said With Firm Conviction: Numerous banks had to ask permission to return $68 billion to the federal taxpayer.
Please Don't Tell Me You Ordered an iLane While Driving: Other than North Korean plutonium, the year's worst new product is iLane, which allows someone driving a car to listen and respond to e-mails and text messages. Let's hope states outlaw this product and impose tickets and raised insurance rates on those caught using it. So what if the gizmo doesn't display the message, but rather speaks the word and allows the driver to reply verbally. Studies show it is distraction -- not whether the driver is holding something -- that contributes to crashes. Hands-free cell phones are just as dangerous as hand-held, which suggests hands-free texting while driving is dangerous too. A driver using any form of calling device is eight times more likely to cause a collision than a driver paying attention to the road. This new Virginia Tech study, which found that drivers who are texting are up to 23 times more likely to cause a crash than other drivers, suggests texting-driving is more dangerous than drunken driving.
Seat belt laws, electronic brakes, drunken driving crackdowns and car engineering keep decreasing road deaths. Measured per 1 million miles traveled -- the best metric, incorporating population growth and amount of driving -- U.S. highway deaths peaked in 1966, at 5.5 fatalities per million miles, and have declined on an almost annual basis to a record low of 1.3 per million miles traveled in 2008. That means in 1966, getting behind the wheel was four times as likely to cause death as today, a tremendous trend of progress. But considering engineering advances (especially crash-survival frame design, an unseen feature of late-model cars), road fatalities would be even lower if it weren't for cell phones, texting and other electronic distractions, now joined by the odious iLane. Few states have taken any action to get cell phones away from drivers, and there is no national law.
If news reports said 100 Americans per day were being killed by beta corthantium leaking from imported lawn mulch, there would be national outrage. That's how many Americans die each day in traffic crashes, and the response is a national shrug. At least 10 Americans per day die in cellphone-caused collisions, according to estimates from the National Highway Traffic Safety Administration. Traffic crashes are also the leading cause of paraplegia and quadriplegia, which result in human suffering, higher federal health care spending and raised health insurance premiums. Yet states and the federal government blithely allow drivers to speed while texting or screaming into cell phones. We're all in such a hurry to get where we're going and, of course, accidents only happen to other people! Plus telecommunications lobbyists donate money to members of Congress -- lobbyists for the dead don't.
Footnote: Though road fatalities should be down even more, leave it to the media to put a negative spin on declining death. "Bad economy holds highway deaths to 1960s levels" read the headline of The Associated Press wire story. The gist was that the recession caused people to drive less, so they were getting into fewer crashes. Put aside that The Associated Press missed the real economics-related factor in fewer deaths -- because gas was above $3 a gallon for much of 2008, there was less speeding. Fuel consumption declines when speeding declines, and less speeding means less blood spilled. Anyway, if more people die in 2009, perhaps The Associated Press will run a giddy headline, "Rebounding economy leads to welcome increase in highway fatalities."
[+] Enlarge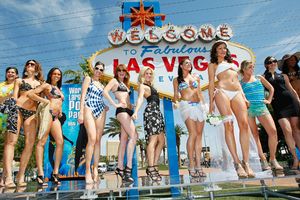 Ethan Miller/Getty Images/Visitlasvegas.comOnly 300 babes in bikinis? Come on Vegas, give us your best shot!
Mega-Babe Moment of the Offseason: As a promotional stunt for tourism, 300 attractive women paraded in bikinis through downtown Vegas.
He Was Bitter About Resigning Before Having Time to Bill Taxpayers for His Country House: Britain's top antiterrorism official resigned after being photographed in public holding plans for an antiterrorism arrest operation; details were legible by blowing up the photos.
Still No TMQ Classifieds: The Washington Post printed a letter to the editor, from a Ben Zingman, complaining the Post was putting too much sports on the front page and concluding, "Maybe I should try ESPN.com for the rest of my national politics, education, science, state and local government news." Ben, TMQ is working on exactly that!
Computer Literacy Courses Not Offered at U.C. San Diego: "We're thrilled that you've been admitted to U.C. San Diego," began an e-mail the University of California at San Diego sent to 28,000 applicants in late March, just as high school seniors around the country nervously watched their computers for college admission decisions. Except, the 28,000 recipients were the kids the school was rejecting. Mom and Dad, perhaps this was just as well! "U.C. San Diego Again Ranked Top Surfing Campus," the school's Web site front page proclaimed on the day of the mega-blunder.
[+] Enlarge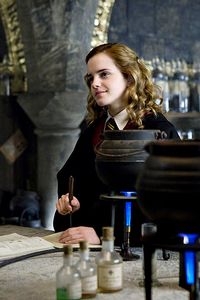 Warner Bros. PicturesDid she use "aparecium" to cheat on her SATs?
After Your First Sigma Chi Party, Try "Obliviate": Emma Watson, Hermione in the Harry Potter flicks, announced she would attend Brown University to study literature. She won't be reading any J.K. Rowling!
In a Transparent Camaro, You Could See the Tax Subsidies: General Motors ran advertising promising to become "transparent." See-through cars?
Hayden Has Less Rimipiant Than Any Chick We've Ever Seen A Dickinson College professor revealed that the Latin on college diplomas, presented as a stamp of higher learning, often contains rudimentary errors. Typos on your sheepskin are bad enough, what about on your skin? Gossip columns reported the tattoo actress Hayden Panettiere likes to show off is misspelled. It's supposed to say vivere senza rimpiant, Italian for, "live without regrets." But the final word is spelled rimipiant. According to the Google universal translator, vivere senza rimipiant, permanently affixed to Penettiere's bod, means, "live without rimipiant."
NASA Was Terrified by the Asteroids -- Terrified the Agency Might be Assigned a Worthwhile Mission: During the offseason an asteroid crossed within 48,000 miles of Earth -- well inside the orbit of the moon, and only somewhat above the level of telecommunications satellites. Another asteroid exploded in Earth's upper atmosphere. In July, something enormous struck Jupiter, leaving a "scar" thousands of miles across in the dense Jovian atmosphere. Had the object, probably a mega-comet, instead struck here, you would not be reading this, as life on Earth would have ended last month.
As telescopes and astronomy improve, potentially hazardous space objects -- asteroids and comets -- are turning out to be far more common than previously believed and far more likely to hit the Earth than once assumed. Currently there are more than 6,200 known near-Earth objects of significant size, and nearly two-thirds were discovered in this decade. Details of the potentially deadly ones are here. As is shown here, astronomical discoveries that there are a much greater number of dangerous space rocks than once assumed, coupled to geological discoveries that wide-area destruction from space-object strikes has been much more recent than we'd like to think, argue for building a system to stop asteroids from hitting the Earth. But while NASA continues to plan to waste hundreds of billions of your tax dollars opening a Motel Six on the moon -- even Apollo 11 astronaut Buzz Aldrin calls the moon base plan "a dead end" -- the space agency is doing nothing to protect the Earth from space objects.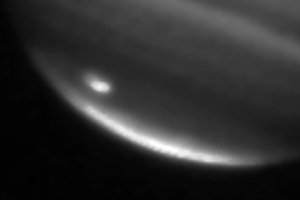 NASA/JPL/Infrared Telescope FacilityThis impact mark on Jupiter is almost as large as Earth. If whatever hit there hit here, you wouldn't be reading this caption. But NASA still says all space money should be wasted!
Stopping an asteroid from hitting Earth appears technically feasible. Maybe an anti-asteroid system would never be used, but if one were, this would not only return tangible benefits to taxpayers -- it could be, oh, the single greatest achievement in human history. Yet NASA hasn't lifted a finger on an anti-space-object system. Space agency budget priorities continue to be focused exclusively on serving NASA internal constituencies that benefit from a Moon Motel Six -- aerospace contractors, congressional districts with manned-space flight centers -- and the taxpayer be damned. Though, NASA just established a Web site that lets you sign up for Twitter alerts on deadly objects approaching Earth. Maybe one will read, "Human life about to end. NASA got $1 trillion since founding yet did nothing. LOL!"
Offseason Football-Like Substance: With Arena Football a victim of the recession, we turn to its little brother, arenafootball2, which cannot afford capital letters. The Kentucky Horsemen beat the Peoria Pirates 93-72 in a game that featured 23 touchdowns, one field goal, one safety, no punts, 569 combined passing yards and 55 combined rushing yards. The Bossier-Shreveport Battle Wings defeated the Amarillo Dusters 79-77 in a game that featured 22 touchdowns and a failed Amarillo PAT returned the other way for what would prove the deciding points. The teams combined for 712 yards passing, 52 yards rushing and no punts. On the season, Justin Allgood of the Tulsa Talons threw 108 touchdown passes while Kyle Rowley of the Arkansas Twisters threw 102. Here are the cheerleaders of the Florida Firecats and here is the afl2 Fan's Bill of Rights. ("Every Fan should receive the very best in competitive football, entertainment, merchandise, food and beverage for their purchasing power.") Saturday, the Spokane Shock meet the Wilkes-Barre/Scranton Pioneers for the Arena Cup.
World's Fourth-Most-Populous Country Rarely Mentioned in U.S. Press: While the fixed vote in Iran received extensive international attention, the world paid no notice to an honest election in Indonesia -- the world's largest Muslim nation. As recently as the 1970s, Indonesia was a repressive military dictatorship; gradually it has become a democracy with a civil-society basis and freedom of speech, plus strong economic growth. And America did not force this outcome on Indonesia or, for that matter, have anything to do with what happened -- Indonesians made their nation a democracy entirely on their own. Why do the same politicians and pundits who have limitless breath to denounce the troubled Muslim nations say nothing about the success story of Muslim Indonesia? Islamist fanatics hate freedom in Indonesia as much as they hate it in the United States and Europe, and have committed awful crimes against Indonesia democracy. But the world only notices Indonesia when a bomb goes off there -- how about some notice for social and economic progress?
If They Say Why, Why, Tell 'Em That It's Human Nature: Congress never voted on a daffy resolution to honor Michael Jackson for such trivia as "transforming the music video from a promotional tool into an art form." Art form? Jackson made a couple of really good pop albums, and then became weird; the international fixation on him is something TMQ does not pretend to understand. His life seems an object lesson in the principle that it can be healthy to hear the word "no" spoken. What struck me about the proposed congressional resolution is how trite its content was, especially considering the text likely was composed by the Jackson camp. According to the resolution, in 30 years of celebrity, Jackson made about 20 visits to the sick or appearances for philanthropies. Less than one per year -- that's lame. The resolution praises Jackson because he sometimes "donated personal items" to charity auctions. This can be a self-interested act by celebrities: they have "personal items" appraised for far more than the items are worth, claim a generous tax write-off, and come out ahead. And the resolution says Jackson gave away about $50 million. Sound good? Sister LaToya estimates Jackson's earnings at more than $1 billion, while other estimates place his net worth at death at between $500 million and $2 billion. If Jackson made $1 billion and donated $50 million, he gave away 5 percent and kept 95 percent for himself. That goes beyond lame to pathetic.
[+] Enlarge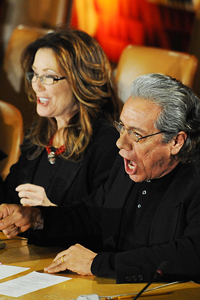 Stan Honda/AFP/Getty ImagesAt the United Nations, "Battlestar Galactica" characters become confused about whether they can order the General Assembly into a wormhole.
The United Federation of Planets Will Not Be Founded Until 2161, So the United Nations has Another 152 Years to Exist: A few days after "Law & Order" shot an episode at the United Nations, actors from "Battlestar Galactica" appeared there. Um -- isn't the United Nations supposed to be helping the world, not promoting television? Galactica was "a laboratory for the choices and issues real people in government are making," actor Mary McDonnell, who played President Roslin, said in justifying the United Nations appearance. Let's check usage of the word "real" here. The choices President Roslin faced on the series were: whether to believe a 4,000-year-old prophecy found on an abandoned planet, whether people should have sex with cyborgs and whether to stage a military assault against a robot colony at the accretion disk of a black hole. Perhaps the General Assembly will recognize the government of New Caprica, so long as it promises always to vote against the United States.
Postmodernists Chortled: On the day Michael Jackson died, all three major network national newscasts sourced their story to … TMZ. Note 1: while TMZ styles itself as a bandito organization run by rogue outsiders, the Web site and companion television show are owned by Time Warner. Note 2: a TMQ-TMZ collaboration would have great initials.
Postmodernists Chortled No. 2: Football Outsiders became a feature of ESPN Insider.
Script Doctors Chortled: Sony Pictures canceled the movie version of "Moneyball" when the project veered way over budget. The subject of the book "Moneyball" was how to spend wisely.
You Didn't Stay Up? In the Syracuse-Connecticut six-overtime men's basketball game, lasting until 1:22 a.m. ET, Syracuse had more free-throw attempts in overtime than in regulation.
[+] Enlarge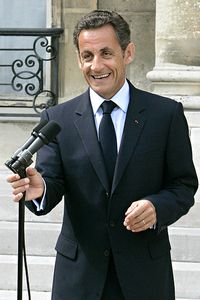 AP Photo/Jacques BrinonAfter dining with Terrell Owens, he asked for a diplomatic meeting with Michael Vick.
Surely a Defense Contractor Arranged This: The word on Hillary Clinton's "reset" button, given to Russian Foreign Minister Sergey Lavrov, translated as "overcharge" in Russian.
Western Civilization May Be Saved After All: Terrell Owens sat on the dais for a ceremonial dinner alongside -- I am not making this up -- the president of France.
Stick to Tuna on Flatbread: For the lads' mag FHM, Rachael Ray once posed for pictures that were supposed to make cooking seem erotic.
Dogs in America Are Treated Better Than People in a Third of the World: "The bride wore a Dolce & Gabbana gown. Her three dogs, which attended the ceremony, wore matching Dolce & Gabbana floral lace collars." Actual CNN report on the wedding of quarterback Tom Brady and model Gisele Bundchen.
The Scent Recalls Those Bygone Days When General Motors Paid Its Own Way: Maybach, the Mercedes division that builds cars for the obscenely rich, introduced a $525,000 model that includes a built-in rack for champagne flutes and a perfume atomizer. Not looking to spend $525,000 for an atomizer on wheels? Buy some Cadillac cologne, which "fits smoothly into your hand and symbolizes the opulence and extravagance of past eras."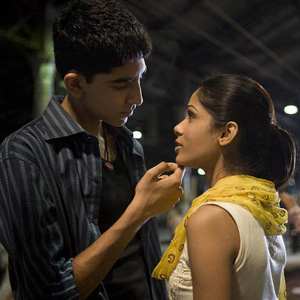 Fox Searchlight "And if you come with me, I will show you how to walk 1,000 miles in 15 seconds onscreen."
Pot Blogs That Kettle Is Black: Indian-born author Salman Rushdie complained that the movie "Slumdog Millionaire" has implausible scenes -- for instance, two characters walk down the street in Mumbai to the Taj Mahal, which is 1,000 miles from Mumbai. So implausible fiction should be denounced? Rushdie's own "The Satanic Verses," which made him a wealthy celebrity, begins with two characters surviving the explosion of a jetliner at 30,000 feet.
Freezing Cowell Right Now Would Be OK: London's Daily Mail reported of the insufferable Simon Cowell: "The television mogul wants to have his body frozen after death so he can be brought back to life in the future." If you die and your corpse is frozen, and then there are medical breakthroughs, you will, how shall I put this delicately, STILL BE DEAD. A couple of companies offer cryogenic freezing of corpses; these companies make Enron and Lehman Brothers seem like paragons of honesty. Family members of baseball great Ted Williams had his corpse frozen at a swindle palace called the Alcor Life Extension Foundation. A foundation! Read Alcor's FAQs, including this:
Q: Isn't the preservation process fatal?
A: Cryopreservation is not yet reversible with present technology, but this says nothing about the abilities of future technology. What is "fatal" varies from place to place and time to time depending on available medical technology.
What is "fraud" varies from place to place depending on available law enforcement! If someone dies and the corpse is preserved cryogenically, any "abilities of future technology" are irrelevant. Suppose a cancer patient died today in a research hospital, and moments later a biologist ran through the halls shouting, "Eureka, I have found the cure for cancer!" The patient would still be dead, regardless of the technology advance. Physicians now revive patients who once would have been viewed as lost, but this happens while the brain still shows electrical activity -- once brain function stops, there isn't anyone there to revive. Perhaps someday it will be possible to place a terminally ill person into suspended animation. But suspended animation, a conjectural technology, would preserve someone who is still alive. Heirs of the departed are paying $175,000 or more to snake-oil merchants such as Alcor for an illusion that their loved ones can be brought back in the future. If Simon Cowell's corpse is frozen following his demise, and someday a cure for cloying stupidity is found, this will not bring Simon back.
Headline of the Offseason: "AIG Seeks to Ease Bailout Terms" -- Wall Street Journal. The article reported that AIG sought to "ease" the burdensome requirements under which the company received a $150 billion gift from taxpayers, and under which AIG executives who caused the problem got taxpayer money for bonuses. Such onerous terms … ease these terms! A few days after AIG complained, the Treasury Department gave the company an additional $30 billion handout. Postscript: AIG then sued the Treasury Department, demanding another $306 million.
Satan Tried to Get a Job at AIG: The British Humanist Association caused a stir in London by buying bus advertisements proclaiming: "THERE'S PROBABLY NO GOD." Even the atheists are hedging their bets! Scene by the Pearly Gates: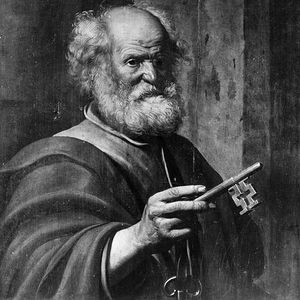 Rischgitz/Getty Images"Hmmm, the next candidate bought ads insulting God, but did sponsor a parade of 300 bikini women. Hmmm ..."
Saint Peter: (Peers into large record book.) You helped sponsor that 2009 "no God" advert. Down escalator, please.
British Humanist: (Squirming) It said "probably." There was a qualifier.
Saint Peter: (Dons reading glasses, looks closely) Oh ye of little lack of faith! All right, come in.
Here is the BHA statement -- all eminently reasonable points. You don't need to accept the existence of a divine being to be ethical and believe human life has meaning. It's hip right now to depict religion as irredeemable, considering bestsellers by Sam Harris and others who would burn the churches. Most humanists aren't spiteful sorts like Harris -- many are more kind-hearted toward faith than faith is toward atheism. Speaking as a churchgoer, I find it troubling that the term "atheism" has such negative connotations. "Non-believer" isn't much of a term either; that sounds like a character fault. What word could be used to replace "atheist"? Certainly not "bright," as in, "I don't attend church, I am a Bright." As TMQ's pal Steven Waldman of Beliefnet has noted, the fact that there's a group of prominent atheists who want to flatter their owns egos by christening themselves "the Brights" proves they aren't bright! Can you think of a better term to replace atheist? Suggest it at TMQ_ESPN@yahoo.com.
Kota's World Was Struck by a Comet Named AIG: Kota, the $300 dinosaur toy, became extinct. Researchers blamed climate change -- in this case, change in the economic climate. Also, Kota's adaptive fitness was disadvantaged in natural selection competition against other plastic dinosaurs, owing to his being a little kid's toy that required eight pages of instructions.
No Wonder Kota Flopped -- Its Ideal Customer Is In Jail: A British man was sentenced to three years' imprisonment for embezzling the equivalent of about $1 million in order to use the money to buy … toys.
George Orwell Wrote the Press Release: President Barack Obama's first budget contained a $1.8 trillion deficit -- in inflation-adjusted terms, more than the entire national debt in 1978. Cover headline on the budget? A NEW ERA OF RESPONSIBILITY. George W. Bush borrowed recklessly, then tried to deny doing so. Barack Obama is borrowing recklessly, and calling that "responsibility."
This Week's Star Trek Complaint (Item Reboot): TMQ enjoyed the latest "Star Trek" flick, which returned the serial to its roots by restoring the sense of humor other recent droning Trek movies lacked. And so what if the extended sequences made no sense. It's science fiction -- maybe in the future, events won't make sense! I liked New Improved Kirk and New Improved Spock. The best: In the end, everything depended on a fistfight to save the galaxy. That's the Star Trek spirit! Someday when faster-than-light starcruisers are a dime a dozen and a drop of red goo can destroy a planet, everything's still going to come down to whether a plucky farm lad from Iowa is quick with his fists. That's the future I want to live in.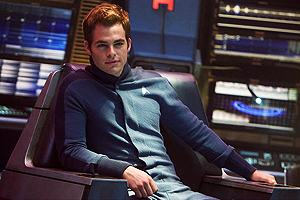 Zade Rosenthal/Paramount Pictures"Now that I've altered the timeline, maybe I can amend my contract to get William Shatner's residuals."
My big complaint? Yet another time travel plot. Time travel is almost certainly impossible on a physical-law basis. Forget how a time machine would work -- where would you travel to? For there to be a destination for time travel, a vast number of universes would need to exist, each eternally locked in different moments. In order for spaceships to come backward in time from 2387 to 2233, as happens in the movie, there must be one universe in which it is 2387 and another universe in which it is 2233. Maybe you'd need 365 universes in which it is eternally each day of 2233. Maybe you'd need 8,760 universes in which it is eternally each hour of 2233. Maybe you'd need 525,600 universes in which it is eternally each minute of 2233. And that's just to have 2233 preserved as a destination for time travelers. Maybe you'd need 525,600 universes for each year of history. The cosmos appears to be about 14 billion years old, so multiply those two numbers and count the zeros. I can't prove there are not thousands of trillions of universes, each eternally locked in one minute of time. But what are the odds?
While time travel into the past is unimaginable, one-way travel into the future might work. Einstein showed that as velocity increases toward the speed of light, time slows from the standpoint of the traveler. Suppose you flew at 99 percent of the speed of light, the fastest speed possible under known physics, to 47 Ursa Major, a star system similar to ours, and 40 light-years away. Departing today, you would arrive in 2049. Because you were at relativistic speed, only a short period would pass from the standpoint of your body clock, meaning you would jump 40 years forward in time -- it's just there would never be any way to come back to 2009, because that year would no longer exist. If you turned your ship around in 2049 and flew back to Earth -- after taking cell-phone photos of 47 Ursa Major, of course -- you'd arrive in 2089, having aged only by a few months. For all intents and purposes you would have time-traveled 80 years into the future. But 2089 better be pretty good -- perhaps by then the DirecTV monopoly on NFL Sunday Ticket will be over -- because there would never be any way to return to 2009.
In theory, long flights at near the speed of light would enable a person to travel thousands or even millions of years into the future, with the caveat that there would never be any possibility of return. The experiences of a soldier who journeys at great speed to lead attacks against a distant planet, and each time he returns to Earth he finds a century has gone by -- gradually human culture becomes unrecognizable to him -- is the basis of the haunting 1974 novel "The Forever War" by Joe Haldeman. Why hasn't this book been made into a movie?
Star Trek has sure been made into a movie. For Trek producers, the value of having the latest flick include time travel is that Old Original Spock gets to announce that two ships coming backward to 2233 altered the timeline. If time has been altered, then New Improved Kirk and New Improved Spock can have adventures that don't require continuity with the original series. Original Spock says his trip into the past caused "an alternate reality that coexists with the previous timeline." So the 1960s Enterprise can still depart for its five-year mission in syndication, but there is now a companion reality in which the Enterprise characters have different experiences and much better hair. Wait -- you're telling me that a spaceship falling into a time warp creates an entire new universe? If an alternate reality came into existence when the ships from 2387 went backward in time, some force had to create a new universe for the alternative reality to inhabit.
[+] Enlarge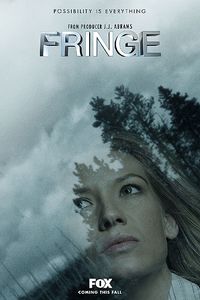 FoxOn Earth/B, the show "Fringe" makes sense. On our world ...
Actually, this has been confirmed by science. "Each time you make a choice, that creates an alternative reality in a new universe," a Harvard scientist of the present day intones somberly on Fox's "Fringe," a product of the same producer-writer team as the Trek movie. So every time I order coffee, that creates a new universe? On "Fringe" there are two Earths, separated by some kind of dimensional barrier. Earth/A is ours. On Earth/B, John Kennedy was not assassinated and the Twin Towers were never destroyed. Perhaps on Earth/B, Fox News commentators don't shout. Maybe the version of "Fringe" airing on Earth/B makes more sense than the one airing in our dimension. Maybe the scientist character of Earth/B says, "Each time you make a choice, that alters what happens to you personally." Fun note: The campus scenes in "Fringe" are set at Harvard, but filmed at Yale.
The really big alteration of the timeline that occurs in the new Star Trek movie is not the planet Vulcan being destroyed or Kirk becoming a teen idol. Rather, it is Original Spock's declaration that time travel had never happened before. In previous Trek movies and television episodes, traveling in time is as easy as catching a streetcar! Here's a guide to Star Trek time travel:
To travel into the past, fly really fast toward the sun, then slingshot around it. To return to the future, fly really fast toward the sun from the opposite direction. ("The Voyage Home," plus two episodes of the original series.) To go anywhere forward or backward in time, discover a mysterious doorway that has existed since the universe formed. (The original series.) To travel backward in time on the planet Sarpiedon, enter a mysterious library of a dying civilization. To return to the future on the planet Sarpiedon, grope around until you find exactly the spot where you initially came backward. (The original series.) To travel into the past, fall into a black hole but inexplicably don't get crushed. Do not return to the future; this is impossible. (This spring's movie.)
To travel three years into the past, touch the warp-drive core and use "psionic power" to absorb its energy. ("Voyager.") To travel 10 years into the past, fall into a mysterious naturally occurring "timestream." To return to the future, persuade a mysterious alien who lives in the timestream to assist you. ("Voyager.") To travel 78 years into the future, fall into a mysterious naturally occurring band of energy that grants wishes. ("Generations.") To travel 20 years into the future, discover a mysterious "rift in the space-time continuum." To return to the past, fly into the rift from the opposite side. ("The Next Generation.") Note: The new series "Flash Forward," coming from ABC this fall, involves people briefly traveling into their own futures, and thus gaining knowledge of their future lives, when Los Angeles is engulfed by "a disruption of the space-time continuum." The characters experience horror -- maybe because they glimpsed the future of the show's ratings!
To travel a few minutes into the past, be exposed to "temporal radiation" leaking from a damaged space probe. ("Enterprise.") To travel forward or backward in time by small amounts, discover "subspace fractures." ("Voyager.") To go exactly three days backward in time, "cold start" the warp engines. (The original series.) To travel 300 years into the past, stand in the transporter room during a malfunction. To return to the future, have your starship beam "chroniton particles" into the past. ("Deep Space Nine.") Or to travel 300 years into the past, find an abandoned "time portal" left by an extinct alien race. To return to the future, have an older electronic duplicate of yourself push you through the other side of the portal. ("Deep Space Nine.") Or to travel 300 years into the past, follow an enemy starship that is able to open "time windows." After destroying the enemy ship, seeming to strand you in the past, return to the future by flying really fast while the captain says something like, "Now we'd better return to the future." ("First Contact.")
To cause a person to travel forward and backward in time uncontrollably, undergo an unspecified medical procedure that leaves your cells "out of temporal sync." ("Voyager.") Or stand next to the warp engines during a malfunction. ("Deep Space Nine.") Or stand in a tavern where there is a "temporal disturbance." ("Deep Space Nine.") Note: In the novel and movie "The Time Traveler's Wife," a man moves forward and backward in time uncontrollably owing to a "genetic abnormality." Some tiny quirk of his genes alters the entire universe?
To cause a starship to travel forward and backward in time uncontrollably, encounter a mysterious "temporal rift." To return to the present, fight your way into the engine room past numerous hostile aliens, then press some buttons really fast. ("Voyager.") Or to cause a starship to travel forward and backward in time uncontrollably, do battle with a super-advanced alien starcruiser that fires "time beams." ("Voyager.")
To prevent a starship from crashing in the past, locate a "temporal emitter" on the corpse of a crash victim; use the device, which resembles an iPod accessory, to send technical information to the victim in the past, enabling her to save the ship. ("Voyager.") To travel hundreds of years into the past or future, use a "time portal" built by future Federation scientists, or a "time conduit" built by future sinister aliens at war with the future Federation. ("Enterprise.") If trapped 900 years in the future by a "time conduit" malfunction, send a message 900 years into the past via a pocket radio whose circuits you easily rewired. ("Enterprise.") Note: In the "temporal emitter" episode, it is asserted that transmitting a burst of hexadecimal code one year into the past is so phenomenally complex, the power of a starship engine is required. In the "time conduit" episode, characters have a live two-way videoconference across nine centuries, using a device powered by a communicator battery.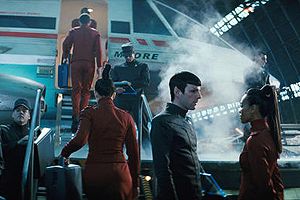 Paramount Pictures"Goodbye, Nyota. I am on my way to a timeline where we can make out more than once every seven years."
To travel 400 years into the future, steal a "time pod" from a 26th-century historian. ("The Next Generation.") To travel 400 years into the past, board a vessel from the far future that "exists outside of space and time." ("Voyager.") Warning: You may accidentally create copies of yourself. To travel six hours into the future, fly a shuttlecraft into a mysterious energy vortex. ("The Next Generation.") Warning: You may accidentally create copies of yourself. To travel 20 years into the past to deliver a message to your own younger self, purchase a "chrono deflector" from a Klingon smuggler; the device resembles a cheap transistor radio. Once in the past, use a starcruiser to emit an "anti-tachyon pulse" so the smuggler cannot chase you through time. To return to the future, find a "transwarp corridor." ("Voyager.") To travel 40 years into the past to deliver a message to your own younger self, simply -- actually, how this happened is never explained. ("The Next Generation.") To travel 200 years into the past, land on a planet surrounded by a "quantum fluctuation barrier." To return to the present, convince your own descendants to help you avoid the barrier. Note: This causes your own descendents to cease to exist. ("Deep Space Nine.")
To travel 500 years into Earth's past, build a device that allows you to see, and thus stand next to, ghostly space aliens who are "slightly out of phase with time." The necessary mechanism resembles a cheap transistor radio. ("The Next Generation.") To travel 400 years into Earth's past, fly a spaceship whose engine overheats. To return to the future, fly directly into an atomic bomb test in New Mexico in 1947. ("Deep Space Nine.") To travel 300 years into Earth's past, do battle against a hostile "time ship" from the 29th century, accidentally creating a "time rip." To return to the future, persuade a friendly "time ship" from an alternate universe to assist you. ("Voyager.") Note: In many Star Trek time fluctuations, characters reach Earth of the past. But doing that would require travel across space as well as across time, since Earth is always moving along the galactic plane and outward from the point of the Big Bang. If thrown backward several centuries, a Federation starship would be 99.999999 percent likely to emerge in the interstellar void, rather than in orbit around Earth or any planet.
To suspend the movement of time, discover a mysterious "temporal anomaly" which freezes everything. ("The Next Generation.") This episode contains TMQ's all-time favorite sci-fi line. Picard and the android Data return from a shuttle mission to find the Enterprise trapped in the mysterious anomaly, with their shipmates frozen in mid-gesture. Data quickly builds a gizmo that looks like a cheap transistor radio. He hands it to Picard and says, "Captain, using this device, we can restart time. But the effect will be temporary."

Neither Snow Nor Sleet Shall Stay the Postmaster General From Stuffing His Pockets With Taxpayers' Money: Reader Tim Ifill of Philadelphia points out that as the U.S. Postal Service loses billions and threatens to eliminate Saturday delivery, it was revealed that Postmaster General John Potter gets $800,000 in salary, bonuses and perks that include a country club membership. Several years ago, Congress instructed the USPS to operate "like a business." It's operating like a business all right -- lavishing money on the CEO, regardless of performance! Faced with competition from electronic mail and private services, the Postal Service has raised prices twice in three years, though there has been no overall inflation. Mail volume has declined 13 percent during the period of the price increases. When the USPS raises prices and cuts service as virtually all other businesses are lowering prices and improving service, it fairly begs consumers to opt away from regular mail.

Why should the Postmaster General care, so long as he receives lavish pay for poor performance? The USPS has a board of governors that supposedly cracks the whip, but in reality functions as a lapdog. Carolyn Gallagher, chair of the Postal Service board, recently said Potter's achievements are "remarkable and unprecedented." That may be true -- it's remarkable that a business could enjoy a government-enforced monopoly and still lose money. TMQ's pal Joe Nocera points out there are so many congressional mandates restricting how the USPS functions, Potter is not to blame for all ills, as he has almost no authority. If he has almost no authority, why is he getting $800,000 a year? Hire a teenager to do the job after school. Meanwhile, Jim McElhatton of the Washington Times reported Potter's deal includes $70,000 in taxpayer funds for a security detail. Bad enough that midlevel elected officials now strut around with tax-subsidized bodyguards, present solely to make the official feel important. Now the postmaster needs a bodyguard to make himself feel important.

Obama to California: I Am Not Raising Your Allowance: Last winter's bailout-a-rama bill contained a $135 billion gift to the states. Having the federal government go still further into debt so states can maintain an illusion of fiscal discipline sounds like the kind of bookkeeping switcheroo you'd expect Republicans to denounce. Instead, Republican governors Charlie Crist of Florida, Jodi Rell of Connecticut and Arnold Schwarzenegger of California complained that they weren't given even more. And don't accuse them of consistency, since all have at some point ritualistically denounced the big spenders in Washington.

The Golden State faced a runaway deficit in part because many Californians pay little if any property taxes. The state's gimmicky property tax law, created by referendum, drastically under-assesses many homes and commercial properties, while essentially eliminating property taxes on those who bought before 1979. The same Californians who don't want to pay property taxes like those in other states want the people who live in other states to be taxed extra to subsidize California. Here, New York Times columnist Paul Krugman, who until the California budget smashup had never met a bailout he didn't like, notes the Golden State's resistance to putting its fiscal house in order is a dire harbinger for the nation as a whole -- since the nation as a whole simply must stop borrowing from the future, and put its fiscal house in order.

In June, California demanded a double-bonus bailout; President Obama did the right thing by saying no. If the White House had printed extra money to subsidize Sacramento government waste, all other 49 states immediately would have demanded special giveaways too, while California would have been encouraged to waste even more. New York did not fix its government-financing mess until President Gerald Ford refused to come to the city's rescue. The famous New York Daily News headline -- FORD TO NEW YORK: DROP DEAD -- kicked off a sequence of events that ended up being good for New York. Obama's refusal to endorse a double-bonus bailout for California forced the state to look in the mirror, and thus was good for California, though California still has a long way to go. California state employees can retire with 90 percent of their final salary, an absurd excess; the July budget compromise that kept the state out of bankruptcy cut $8.1 billion from education but only $1.3 billion from payments to state employees. It's hard to imagine worse mismanagement -- cutting something vital (education) in order to preserve funds for patronage hacks.

Only in California Can Lunch Be An Emergency: Michael Jackson was super-rich, and entertainment organizations benefited financially from his Staples Center memorial, so why did Los Angeles taxpayers foot the $1.4 million bill? If you died tomorrow, your city would expect your estate to pay any memorial costs. Having taxpayers rather than the Jackson estate finance the memorial left more to enrich heirs, hangers-on and lawyers. Los Angeles even spent $49,000 in tax money for box lunches for personnel working the event. The lunches were ordered from a company 80 miles from Los Angeles, rather than a local caterer; the expense was exempted from scrutiny by the Los Angeles controller because the city's Emergency Management Department classified the event as an "emergency." Why is a catering order an emergency?

"Pip Pip! Cheerio! Trap Press, Lads!" The Boston College men's basketball team beat Duke and North Carolina -- but lost to Harvard.

Next Week: AFC preview, plus Kirk and Spock use time travel to get burgers at Five Guys.

In addition to writing Tuesday Morning Quarterback, Gregg Easterbrook is the author of "The Progress Paradox: How Life Gets Better While People Feel Worse" and other books. He also is a contributing editor for The New Republic, The Atlantic Monthly and The Washington Monthly.
Author of "The King of Sports"
Former Fulbright distinguished fellow
Contributing editor to "The Atlantic"