Commentary
Welcome to the NFC Preview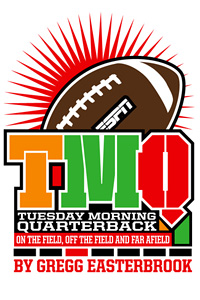 Tech start-ups were a bubble, the housing market was a bubble; most likely there's a gold bubble in progress, and when the gold bubble bursts, everyone will claim to have known it all along! The bubble to worry about is the cupcake bubble: all those fancy cupcake bakeries suddenly in New York, Boston, Washington, San Francisco and Seattle, offering $5 cupcakes hard to distinguish from supermarket cupcakes. It's a bubble: Capital is flowing into the opening of cupcake boutiques because, right now, consumers are willing to pay a premium for a sweet that is inexpensive to bake. As with other bubbles, this one is based on exaggerated claims and assumptions that can't last. In 2009, for whatever reason, people will stand in line to fork over $5 for a cupcake that masquerades as "red velvet" or "pink lemonade." Odds people will continue to do this long-term? 0.0 percent. Anyone opening a fancy cupcake bakery is jumping into the downside of a bubble. Don't say you weren't warned.
When cupcakes are mentioned, TMQ's thoughts naturally turn to big-college football.
At last the football artificial universe returns -- and once again, it's been too long. Some high school conferences are playing already: DeSoto and Cedar Hill of Texas have produced a memorable game. (Note to Desoto's coach: Don't call a fake punt on fourth-and-16, call one on fourth-and-short, when you might convert!) On Thursday, college action begins -- yours truly will stay up for the Oregon-Boise State collision. The NFL kickoff is on the horizon.
Because college football is commencing, it's time for TMQ's annual check of cupcake schedules. The two phoniest aspects of football-factory existence -- playing more games at home than on the road, and appearing at home against schools that are perennial losers or from lower divisions -- both are on display in 2009.
Notre Dame plays eight games at home, four on the road, and opens at home against Nevada, which last season lost 69-17 at Missouri. (All Division I-A and Division I-AA schedules can be found here.) Auburn has eight games at home and four away, and plays its first four at home. Auburn fearlessly faces, at home, Division I-AA Furman, which last year lost to Elon. Forget conferences; do you even know what state Elon is in? Tennessee has eight games at home and four away, and the home dates include meetings against Western Kentucky (2-10 last season, and the sole team beaten by 1-11 North Texas) and the Ohio Bobcats. Actually, the Bobcats may be a tougher opponent at this point than the Oakland Raiders.
Michigan has four road games and eight at home, including three cupcake dates against Western Michigan, Eastern Michigan and Delaware State. And the latter opponent is not the University of Delaware, the school of Rich Gannon and Joe Flacco. No, Michigan's Big House will bravely host Delaware State, a Division I-AA college that also lines up against Hampton and Bethune-Cookman. Two years ago, the Wolverines lost at home to Appalachian State. Then last year, under Weasel Coach Rich Rodriguez, they went 2-5 at home, including a loss to the Toledo Rockets. (Note: This year Toledo does not face traditional rival Akron; TMQ will miss the Zips-Rockets matchup.) Michigan alums, your despair may soon worsen as your blue boys are set up to lose at home to Delaware State. Get Bethune-Cookman on the sked for 2010! Steer clear of Elon, though. At this point, Michigan would be overmatched versus Elon.
Then there are the football factories that merely enjoy seven games at home versus five road dates. West Virginia, which keeps wanting to be viewed as a national title contender, has seven at home, and bravely hosts Liberty in its opener; the Division I-AA Flames play their own home games in a stadium smaller than that of many high schools. Florida has seven games at home, four away, plus a neutral-site matchup. The defending national champion Gators fearlessly open at home against Charleston-Southern; last season, the Division I-AA Bucs lost to Liberty and Wofford, though they did post a win over Edward Waters, an NAIA school. Surely any team that beat Edward Waters offers a serious test for the defending national champion! (Wofford, by the way, is a fine college, but its sports nickname is the Terriers. What do they chant in the stands? Perhaps, "Here boy!" Perhaps, "Woofie, woofie!") Alabama plays seven at home; Texas Tech plays seven at home. The Red Raiders, masters of the gimmick schedule, open with North Dakota at home, the second consecutive season Mike Leach's team has opened at home against a Division I-AA opponent.
Louisiana-Monroe is this year's have-cupcake-will-travel school. The Warhawks, 3-8 last season with losses at Alabama and Auburn by a combined score of 93-0, play at Texas, Arizona State and Kentucky. Middle Tennessee State has serious cupcake pretensions too, playing two of its first three at Clemson and at Maryland. On Nov. 28, Louisiana-Monroe and Middle Tennessee meet in what TMQ will dub the $5 Red Velvet Cupcake Bowl.
Are there exceptions to the gimmick-sked rule? As usual, the Pac-10 and ACC have legit schedules; both conferences emphasize home/road balance and worthy opponents. USC faces four preseason ranked teams, for instance, and has three sets of back-to-back away dates. Miami plays six home and six away, its first four opponents being Florida State, Georgia Tech, Virginia Tech and Oklahoma. All football teams claim to have tough schedules -- that way if the season is a disappointment, the coach can blame the sked, while if the season is a success, the coach can praise himself as the super-genius who overcame a killer schedule. But Miami is a rarity, a football-factory school with an actual tough schedule. Georgia is another rarity, an SEC school that has not gimmicked its sked -- the Bulldogs play six home and six away, with just one cupcake on the card. (The cupcake is Tennessee Tech, which this season opens against Pikeville; Pikeville later plays Shorter College and Brevard College; once you know the chain of scores in these games, you can project how much Georgia might have scored against NAIA Shorter.) And scrappy Fresno State is honoring coach Pat Hill's vow to "play anyone, anywhere." Despite sometimes being a top 20 team, Fresno State has five games at home, seven away.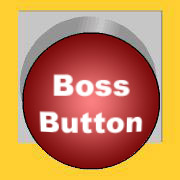 What college receives TMQ's coveted Gimmick Sked of the Year award? Before the 2007 season kickoff, I fingered Arkansas, with North Texas, Chattanooga and Florida International on its plate; the Razorbacks went on to a five-loss season, the firing (more or less) of their coach, and the total calamity of the arrival of coach Bobby Petrino. Before the 2008 season kickoff, my Gimmick Sked winner was Missouri, which at the time was calling itself a national title contender. That year, Mizzou fearlessly faced Nevada, Buffalo, Baylor and Division I-AA Southeast Missouri; the Tigers lost four games, missed the BCS and were blown off the field by Oklahoma 62-21 in the Big 12 title game. Trying to rig your schedule with automatic wins only brings down the wrath of the football gods.
It's tempting to confer the 2009 Gimmick Sked of the Year distinction on Oklahoma State. The Cowboys not only play eight games at home and four away -- they open with five of six at home! But the 2009 Tuesday Morning Quarterback Gimmick Sked of the Year winner is Penn State. Not only do the Nittany Lions play twice as many games at home as away; not only do they fearlessly face, at home, Akron, Syracuse (which enters this season on a 7-29 streak), Temple (which enters this season on a 10-25 streak) and Eastern Illinois; Penn State starts the season with four consecutive home games, the first three against Akron, Syracuse and Temple. Penn State may have the single phoniest schedule any football power has ever cooked up. This causes TMQ no small amount of consternation, as I have long rooted for Joe Paterno to best Bobby Bowden for most career coaching wins, and admired that Penn State football consistently posts better graduation rates than most big-time football schools, including Florida State. When the Seminoles became embroiled this spring in yet another cheating scandal, this seemed to cement TMQ's preference for Paterno over Bowden. But now I check the card and see the Nittany Lions playing a gimmicked cupcake sked, while Florida State has six games at home, six away, and only one dubious opponent: Jacksonville State. On the field this year, Florida State is for real while Penn State is pulling a cheap stunt. Penn State athletic department, how did you think your rigged sked -- perhaps planned to put Paterno over the top in his final campaign -- would go unnoticed?
Now, my annual NFC Preview, plus some additional college points, plus why Sigmund Freud would have been useless at the NFL combine.
Arizona: If playing the Cardinals, watch for the pass on second down! In 2008, Arizona threw more than any other NFL team, but second down was when the pass-wacky effect was most pronounced -- the Cactus Wrens passed 70 percent of the time, versus a second-down league average of 54 percent. On defense, the Cardinals allowed a league-high 36 touchdown passes. Arizona had the lead with two minutes remaining in the Super Bowl and had the Steelers, ranked 17th in the league in passing, backed up on their 12. All Arizona needed to hoist the Lombardi Trophy was two minutes of average pass defense. But the Cards' secondary could not prevent Pittsburgh from flying down the field for the winning touchdown with 35 seconds showing. Dan Bickley of the Arizona Republic reports Ken Whisenhunt thinks up plays in church. Maybe he should be praying for a cornerback!
The overlooked story of the Cardinals' Super Bowl run was the offensive line, which included undrafted Lyle Sendlein, twice-waived Mike Gandy and Reggie Wells, a late draft choice from Division II Clarion. Sendlein was even a liberal arts major in college -- he must have gotten a waiver from the NCAA to take liberal arts and still play football. Gandy, released by Chicago and Buffalo, has held on to the left tackle position, keeping Levi Brown, the fifth overall choice in the draft a couple of years back, at the lower-status right tackle slot.
Arizona's chance to repeat as division winner seems good, since last year the weak NFC West was outscored by a combined 372 points; the Cardinals were the sole team in the division that outscored opponents, by just one point. But will the clock strike midnight, and the team revert to being the Arizona Cardinals? It's a bad sign that the club fired defensive coordinator Clancy Pendergast because his defense couldn't hold the lead in the final two minutes of the Super Bowl. OK, that was bad, but didn't the Cards' defense get Arizona into the Super Bowl with tremendous playoff performances against Carolina and Philadelphia? And in football, don't we win as a team, lose as a team? Telling Pendergast to hit the road, Whisenhunt would say only, "He was one of the guys retained from the previous staff and has done a good job." That's about as enthusiastic as saying a girl has nice hair. The football gods exact vengeance on teams that don't show loyalty.
Atlanta: You will hear this a million times through the course of the year -- the Falcons have never had consecutive winning seasons. That's lame for a team that began play in 1966. Will this embarrassing factoid finally change in 2009? Last year, the Falcons were 11-5 in the regular season, and the offense finished sixth overall in yards per game -- second in rushing -- but the defense ranked only 24th in yards allowed. Matt Ryan sure looked good as a rookie quarterback -- stretching back to Boston College, he is on a 36-13 run as a starter. The Atlanta offensive line was among the league's best, blocking well for the rushing attack and allowing only 17 sacks. (Atlanta is among many NFL teams to have adopted zone blocking, which often means deliberate blocking in the back -- remember, this is legal in the "free blocking zone" between the tackles at the snap.) The Atlanta defense needs significant improvement for the team to advance deep into the postseason -- it gave up at least 20 points on 12 occasions in 2008. Recognizing this, the Falcons' first five draft picks were defensive players.
Signs point to a good year for this team. Beware, however, that Atlanta played an easy schedule in 2008, with only five games against teams that made the playoffs, and the Falcons were 2-3 in those contests; Atlanta piled up wins against non-playoff teams. This season, the Falcons open with Miami, then Carolina, then New England -- so we should know early if this club is genuine. Accounting note: Atlanta is assessed a $7.1 million salary cap charge this season for Michael Vick, though he hasn't played for the team since 2006. Staff note: The Falcons have a "director of athletic performance" and two assistant directors of athletic performance.
Christmas Creep: Reader Jeb Corpe of Muskegon, Mich., whose fiancée lives in Manchester, England, reports that a suburb of Manchester has already put Santas on its street light poles. Chris Reenock of New York City writes, "On August 24th, I witnessed a creep so creepy it couldn't be ignored. The Today Show paraded out the Rockettes as Matt Lauer intoned, 'It is the holiday season.'" That same day, Santa was in front of Radio City Music Hall, along with Lawrence Tynes of the Giants and the Rockettes in their famed naughty-elves costumes, to promote the Radio City Christmas show. And Greg Hamilton of Toronto reports, "Bob Dylan announced he is releasing a Christmas album -- on October 13."
Carolina: It's not just that Jake Delhomme threw five interceptions in the Panthers' blowout home playoff loss to Arizona -- on the season, Delhomme tossed more picks (17) than touchdown passes (16). Now consider the Panthers had the league's third-best rushing attack, and last season were on the short list of NFL teams that ran more than they passed. (In 2008, only the Falcons, Giants, Panthers, Raiders, Ravens, Titans and Vikings ran more than they passed.) Carolina's excellent rushing makes Delhomme's numbers all the more disturbing. Carolina attempted a league-low 414 throws in 2008. He was facing defenses that expected the run, and were choked up to stop the run. He had the play-fake advantage. Yet Delhomme still tossed to guys wearing the wrong-colored jerseys. Delhomme has long seemed protected by the football gods, heaving up crazy passes that somehow land in teammates' hands. If he has now lost the favor of the football gods, it could be a long season for the Cats. Delhomme's backups? Josh McCown and the undrafted Matt Moore.
In the sportsyak reality, Carolina is spoken of as playing power defense. So how come the Panthers' defense finished 18th in yards allowed last season? TMQ is especially tired of hearing about Julius Peppers, who has an extremely high opinion of himself -- in the offseason he theatrically demanded a trade or a new contract -- but seems mainly hype. Peppers may have had 14.5 sacks in 2008, but only because he played for sacks on every down; he wasn't impressive versus the run. Overall, Carolina recorded a measly 20 sacks last season -- if Peppers was as super-ultra-good as he claims, he'd make the defensive linemen around him more effective. Really good players increase the effectiveness of their teammates; Peppers doesn't have this impact. And Peppers has a lifelong habit of disappearing in big games -- he was rendered invisible in January's playoff loss by the twice-waived Mike Gandy.
For two straight drafts, Carolina traded its first-round choice in the next year for a second-rounder in the current year. Panthers general manager Marty Hurney began his NFL career as an assistant to Bobby Beathard, who, when with the Redskins, often traded future first-round choices. But mortgaging the future can lead to a downward talent cycle. Carolina better win this year.
Chicago: The gruntled Jay Cutler, obtained for a prince's ransom, will be the 28th starting quarterback for Chicago since Jim McMahon. Will he be the first since McMahon to take command of the position? The Bears' faithful best hope so, as his backups are Caleb Hanie and Brett Basanez, neither of whom has an NFL pass attempt. Cutler will be "the gruntled Jay Cutler" to TMQ, because he is no longer disgruntled. Although the night is young!
The Ming Ding Xiong ("Bears whose outcomes are decided by fate" in Chinese) finished last season with a whimper -- needing a victory at Houston to reach the playoffs, they honked the game. Must have been fate. Chicago seems on a downward talent arc. On defense, the core players are aging (Brian Urlacher, Lance Briggs) or perpetually injured (Tommie Harris). On offense, the wide receiver corps is suspect, while the Bears just gave Orlando Pace a $6 million guarantee to play left tackle, though Pace has only appeared in 23 games in the past three seasons. Both aging and perpetually injured, Pace may be the perfect Bear of the moment; his backup is the legendary Lance Louis.
Chicago had excellent special teams in 2008, and all but one special teamer returns for 2009. The Bears play four of their first six on the road, but then will enjoy three December home games -- two of them against dome teams, the Rams and Vikings. Since dome teams traditionally wimp out in cold weather, Chicago's December schedule might be right for a stretch run to the playoffs. Circle Dec. 28 on your calendar, a Monday night pairing of Minnesota at Chicago. If Brett Favre is still starting for the Vikes -- nothing prevents him from retiring and demanding a new team midseason -- this could be the first bitter-cold game for Favre since the Giants at Packers NFC Championship Game in January 2008. That was Favre's final Packers game, in which he played poorly, and appeared physically shaken by the cold. On his last snap as a Packer, he threw an interception that set up the Giants' game-winning field goal.
Didn't you used to be Devin Hester? Last season, the Bears used him mainly as a wide receiver, where his 665 yards receiving and three touchdowns were middling. Hester had no return touchdowns in 2008, and was below average statistically (6.2 yards per punt return, 21.9 yards per kickoff return). Hester's 12 total kick-return touchdowns in 2006 and 2007 was a stunning achievement; last season, you barely noticed he was on the field. Perhaps a shift back to emphasis on kick returning is in order.
Unified Field Theory of Creep: Peter Wunsch of East Northport, N.Y., writes, "In my local paper on August 27th, King Kullen, a Long Island grocery chain, ran ads proclaiming a Rosh Hashanah sale. This year, Rosh Hashanah begins on September 18th."
Dallas: If you like sacks, the Cowboys were the team to watch in 2008 -- they recorded a league-high 59, while allowing 31. The Cowboys also surrendered 365 points, second-most by a winning team, which shows there isn't a clear relationship between sack totals and good defense. That three Dallas offensive linemen went to the Pro Bowl despite 31 sacks allowed shows the Pro Bowl balloting is based on publicity, not merit. (Scientific Football 2009 finds Dallas offensive linemen Leonard Davis and Andre Gurode seriously overrated -- both made the Pro Bowl, but both had below-average blocking scores by the book's metrics.) And if you like collapses, Dallas has been the team to watch for some time. Through the past decade, the Boys have a winning record in September, October and November -- then are 18-28 from December on. The epic 44-6 season-ending loss to Philadelphia, which knocked Dallas out of the postseason, numbers among the worst collapse games in sports annals.
Despite constantly being praised by the sports media as a power squad, Dallas was 2-4 against teams that made the playoffs last season. One reason may be that the Cowboys' drafting has quietly fallen apart. Dallas had no first- or second-round choices in 2009. Their top three choices from 2008 (Felix Jones, Mike Jenkins and Martellus Bennett) have combined for 10 starts. Kicker Nick Folk is their sole clearly successful draft choice from 2007. Nobody from 2006. The Cowboys' 2005 draft was good. Just one player from the 2004 draft still is with the team, while several are already out of football altogether. That's one good draft in the last six. Tuesday Morning Quarterback thinks the Cowboys may be a Potemkin team in 2009, looking good from the distance, shaky up close.
Detroit: Detroit just switched to an "angry" Lions logo. What would an "angry" Broncos or Dolphins logo look like? The logo has plenty to be angry about, and not just the first 0-16 season. Detroit allowed a league-worst 8.8 yards per pass attempt, and was 27th in pass defense despite opponents' running to kill the clock in second half. Losing teams usually have good pass-defense stats, because opponents don't pass in the second half. To finish winless and still have bad pass-defense stats -- that's an extra level of awful. Not only did Detroit become the first football team to go 0-16, according to Forbes, the Lions even managed to lose money. This spring, Detroit invited former season-ticket holders to attend minicamp in hopes of winning them back. Maybe actually showing the Lions' product is not the best way to sell it!
New Lions coach Jim Schwartz is well thought of, but can anybody rescue this franchise? New offensive coordinator Scott Linehan was 0-8 in his final games as St. Louis head coach; he goes from 0-8 to 0-16. New defensive coordinator Gunther Cunningham says the Lions will blitz up to 40 percent of the time in a game. If so, brace for another winless season, as the defense will surrender big play after big play. (NFL teams blitz from 15 to 20 percent of the time.) During the draft, Detroit traded away a sixth-round selection to bank a fifth-round choice for 2010. When you're 0-16, is this really the time to be banking draft choices?
Green Bay: The Packers got off to a decent start in 2008, then lost seven of eight, ending the season 6-10 despite facing only four teams that made the playoffs. So should they be taken seriously in 2009? Check the depth chart: This team just isn't particularly talented. The Packers have spent five of their last seven first-round draft choices on two positions: linebacker and defensive tackle. Seven of their last 12 first-round choices were invested in linebackers and defensive linemen. That means other positions on the team are starved for talent -- and it's not even clear the front seven will be particularly good.
Now take a gander at Green Bay's 2009 schedule. Everyone's talking about the Oct. 5 "Monday Night Football" contest against the Vikings and Brett Favre, an obvious candidate for highest-rated "Monday Night Football" game ever. But what jumps out at me about the sked is what doesn't happen: Until December, Green Bay does not face a team that made the playoffs last year. By Thanksgiving, Green Bay will have played the Lions twice, plus played the Rams, Bengals and Browns -- all awful teams. This is a cupcake schedule that would make Auburn jealous. If the Packers can't arrive at December with a winning record, they'll have only themselves to blame.
How the mighty have fallen! At one point, Green Bay and Buffalo were a combined 22-0 at home in the playoffs; since then, they are a combined 2-4 at home in the playoffs.
Jersey/A: Good news for G-Persons faithful: First-round draft choice Hakeem Nicks, a wide receiver slated to replace Plaxico Burress, wears size 4XL gloves because of his enormous hands. Throw it to the top of his helmet! As Burress heads to prison, his April refusal to renegotiate his Giants contract looks especially injudicious. Jersey/A wanted Burress to accept a restructured deal that cut his pay and clarified that he forfeited bonuses when he violated New York's gun permit law. Burress refused, so the Giants waived him. He's either a dope or got extremely bad advice. The New York gun law is strict, but prosecutors have broad discretion about pressing charges, while state judges have discretion in dealing with first offenders. Had Burress remained a Giant, he would have had the most popular organization between Washington and Boston in his corner, and it's simply human nature that prosecutors and judges might have looked sympathetically upon his case. Instead, Burress angrily refused the team's offer, thinking he'd beat the rap and continue to make huge sums playing in the NFL in 2009. When you're in trouble, you need friends -- you don't raise your middle finger to your friends, as Burress did. Now the hammer has been dropped on Burress legally, and he may never again earn income playing football. The Giants' offer might have kept him out of jail, or at least sustained his chance of continuing his career.
Like their semi-partners the Jets, the Giants are having trouble selling seats in the new building that will open in 2010. The famous 140,000-person waiting list for season's tickets -- always an exaggerated number because many signed up solely to be eligible for a game-day ticket exchange -- has been drained. The Giants have sold out the cheapest and the most expensive PSLs for the new building, but are having trouble selling the in-between. For instance, a Mezzanine A seat is $12,500 for the PSL and another $5,000 annually for the tickets. Club seats are $7,500 for the PSL, plus $2,500 annually for the tickets. Unless you're an AIG executive with your hand in the taxpayer's pocket, this is serious money. For years, NFL headquarters has worked under the assumption that there simply is no upper boundary to what the league can charge for seats or television rights. That boundary appears to be in view, which suggests it's time for the NFL to become a bit humble.
The Giants' new East Rutherford, N.J., practice complex is fantastic -- three outdoor fields and a full-sized indoor field. For calling it the Timex Performance Center, Jersey/A gets a $2 million annual fee: enough to fund exactly one player at the current NFL salary average. Everyone's remarking on the incredible depth of the Giants' defensive line. What strikes TMQ is that the Giants have started the same five offensive linemen for three straight seasons.
Disclaimer of the Week: Santa left a trampoline underneath our tree -- actually, in the garage. My wife's cousin, a locksmith who is quite skilled in things mechanical, spent a good three hours assembling the object. The disclaimer warned, "It is recommended the trampoline be taken apart and stored in bad weather."
Minnesota: Brett, hope coach Brad Childress does not give you a ringing endorsement! Tarvaris Jackson is "definitely our quarterback this week," Childress said early in 2008. After Minnesota lost the next outing, Childress handed Gus Frerotte the job, saying Frerotte would be the quarterback "for the rest of the season." Then Childress put Jackson back in for a game, then Frerotte back in for a few games, then -- you can guess the rest. With Favre, Jackson and now Sage Rosenfels at quarterback, there is ample room for Childress to waffle anew.
Favre played well for Green Bay in 2007, then looked old and unhappy during the frigid NFC championship loss at Lambeau. In 2008, Favre played well for the Jets when the weather was clement, then looked old and unhappy once frost hit the pumpkin. Both 2007 and 2008 ended for Favre's clubs with him throwing a killer interception on a cold day. Going to a dome team in Minnesota, Favre will mainly play indoors. This year the Vikes are likely to have only one cold-weather contest, at Chicago just after Christmas; in November, all their games are at home while their other outdoor December contests are at Arizona and at Carolina. It's a schedule that could not be better if Favre drew it up himself.
There is obvious potential for fiasco in Minnesota's bringing aboard Favre, and not just because his $12 million salary becomes guaranteed on opening day. Vikings players know Favre single-handedly dynamited the Jets' organization last season -- the starting quarterback was waived, the coaches fired -- then walked out the instant it suited him. He demanded special favor after special favor from the Jets, then gave nothing back. Management and other players couldn't wait for him to get out of Green Bay, so weary were both of Favre's self-centeredness. Now he brings his "I love me" show to Minnesota. If the Vikings win, Favre will grab the credit; if they lose, Favre will once again say he was mistreated. No Vikings player other than Favre will get any media attention in 2008; if Adrian Peterson runs for 3,000 yards, Favre will claim the credit. Plus Childress waffled so much in his pursuit of Favre that now he seems weak, as if he were a factotum awaiting Favre's instructions. Late in July, Childress told the Vikings' locker room there was "not a chance" Favre would join the team, and that he expected them to rally around quarterbacks Jackson and Rosenfels. Now it turns out Childress was continuing to talk to Favre the entire time he was telling his team otherwise. What credibility can Childress have when it appears that he looked his players in the eye and lied to them?
Non-Favre point: Minnesota allowed 11 return touchdowns in 2008 -- four kickoff return touchdowns, seven returns of interceptions and fumbles. No team can survive giving up so many free touchdowns. The kick return touchdowns are especially vexing because the Vikings use a lot of starters on special teams -- Jared Allen, Kevin Williams and Antoine Winfield all played special teams in 2008. Maybe they should come out, and let the practice squad guys handle the kicking downs.
New Orleans: Why were the Saints so effective on offense? To TMQ, this is the No. 1 unanswered question of the 2008 NFL season. (OK, the No. 2 unanswered question, after "Why don't the networks show the cheerleaders more?") New Orleans led the league in points scored and yards gained, despite injuries at running back -- undrafted Pierre Thomas was the Saints' leading rusher -- despite no receiver over 1,000 yards, despite a quarterback who had been let go by San Diego and told by Miami that he wasn't wanted, despite Jammal Brown being the only well-known player on the offensive line. Yet the New Orleans offense flew up and down the field. The Saints averaged 2.5 points per possession, best in the NFL, and a spectacular 6.3 yards per play. Counting sacks and scrambles, New Orleans coaches called 664 passes and 383 rushes -- that's 63 percent passing. Yet there were only 13 sacks on 664 called passes -- one sack for every 51 passes called, which is extraordinary pass protection. Mix in an unimpressive New Orleans defense, and the result was lots of shootouts -- finals of 51-29, 37-32, 34-32, 33-31, 29-25, 29-24 and 27-24. If you like to see the ball move, you liked Saints games in 2008.
So why was the New Orleans offense so effective? A combination of high school tactics -- the formations and philosophy were the spread, almost exactly as used in high school -- and the fact that Drew Brees is now a great quarterback. On nearly every passing down, at least two receivers were running crossing patterns -- all-passing with all-crossing is the Franklin System, straight out of high school. Brees now sees the field better than any quarterback in the NFL, and makes good decisions while scrambling. If New Orleans fielded a decent defense, the offense could make this team formidable. Can that happen? The Saints will have an all-new secondary in 2009, with cornerbacks Malcolm Jenkins, Jabari Greer and Tracy Porter, safeties Darren Sharper and Chip Vaughn. The tastefully named Gregg Williams, who's had a rocky NFL career but always runs a good defense, is now defensive coordinator. And the Saints picked up Pierson Prioleau! This little-known nickel safety has been with Williams at Buffalo, then at Washington, then at Jacksonville, now at New Orleans. Everywhere Williams goes, Prioleau follows.
The Saints will stay in New Orleans until 2025, under a deal with the Louisiana state legislature. In effect, the state gives the Saints a gift of $8 million per year, disguised as an agreement that Louisiana will lease 320,000 square feet of office space from Saints owner Tom Benson. Louisiana is paying $24 a square foot for the lease, well above the local market price. The Federal Emergency Management Agency, for example, pays $18 per square foot for prime New Orleans office space. It's good symbolism for the Saints to stay in New Orleans. But since Louisiana's greatest problem is not storm damage but corrupt government, to keep the Saints in town using a beneath-the-table arrangement seems more bad news for the cause of bringing Louisiana into the modern era.
Philadelphia: TMQ is on record as thinking Michael Vick's punishment was "out of proportion to his actions and his status as a first-time offender," especially since thousands of animals are killed in the United States every day without the killers so much as being criticized, let alone imprisoned. Federal regulations classify shooting and electrocution -- what Vick did to his dogs -- as humane methods of cattle slaughter. How many people bit into a cheeseburger while denouncing Vick? I eat cheeseburgers and also own dogs, but am disgusted that federal law does not do more to decrease the suffering of animals used as food. Every once in a while, society ritually denounces someone who's done at a home or while hunting what is perfectly legal when done at a slaughterhouse, then goes back to chowing down on burgers and pot roast -- and the prices better be low! Vick broke the law and compounded his offense by lying in public. But there was no proportionality in his punishment, which was way too severe.
That said, through his actions Vick abdicated the leadership role. Quarterbacks must be leaders, and Vick has proven he's no leader. So why is he rehearsing at quarterback for the Eagles? At this point he should play running back or wide receiver. Vick has never been proficient as a passer -- not only does he have trouble with accuracy when throwing long, defenses have learned that he looks exclusively at one side of the field. When Vick the quarterback looks right, every defender on the left can release his man, because Vick will never check that way again. Vick could be a star running back or wide receiver; he has no business under center. TMQ assumes Andy Reid's plan is to use Vick as a running back or wide receiver, and the preseason snaps at quarterback were just for show. If Vick actually stays at quarterback in Philadelphia -- causing dissention against the accomplished, proficient Donovan McNabb -- the Nesharim may end up sorry they signed this ex-con.
The Eagles were targets of endless media complaints in 2008, yet went 6-3 against teams that made the playoffs, and defeated both Super Bowl entrants during the regular season. They should be favorites in 2009, unless Vick disrupts the chemistry. Eagles Tra Thomas and Jon Runyan are gone at offensive tackle, after playing together for 151 games -- their replacements are Jason Peters and Shawn Andrews. Winston Justice, a USC tackle some touts had as a potential lottery pick, and who went to Philadelphia early in the second round in 2006, isn't in the mix and at this point is headed toward being a bust. Looking backward to the 2008 draft and summing several trades, the Eagles in effect gave up their 2008 first-round choice, which Carolina used on offensive tackle Jeff Otah, and a 2009 fourth-round choice, which Buffalo used on tight end Shawn Nelson, for Peters, a 2008 second-round choice used on defensive tackle Trevor Laws, and a 2008 fourth-round choice used on safety Quintin Demps. In a year, Philadelphia may wish it had simply stayed put and chosen Otah and Nelson.
The Eagles are always on the cutting edge of cheesecake technology, and here's the latest: "The Eagles Cheerleader calendar is a unique example of how you can creatively practice sustainability with a mainstream product," Philadelphia announced in a press release for its latest pinup calendar, this year shot in Aruba. The calendar "will draw attention to the changing climate with the cheerleaders sporting eco-friendly bikinis made from materials such as recycled plastic soda bottles, bamboo fibers and organic cotton." A bikini made from recycled soda bottles -- doesn't that sound comfy! A decade ago, the Eagles' cheerleaders jumped to the cutting edge of cheesecake technology by producing the first cheerleaders-in-lingerie calendar. Now they're at the forefront again by becoming the first major sports organization to combine environmental awareness with reasons to check out scantily attired mega-babes. Though the Eagles are certainly not the only organization having noticed this combination: the Rolling Stone cover recently featured model Miranda Kerr, naked and in chains no less, for a "Green Issue." A gorgeous naked woman in bondage was supposed to have something to do with -- I am not making this up -- protecting koala bears. At any rate, let's hope beautiful NFL cheer-babes in thongs is a "sustainable" concept. In keeping with the environmental awareness theme, the bikinis worn by the Eagles' cheerleaders contain extremely small amounts of materials.
St. Louis: The Rams, who already have a player named Richie Incognito, drafted a player named Keith Null. I've seen Null play -- he's got nothing. The same may be said of a team on a 5-27 run.
Weasel Coach Update: Alabama, Arkansas and Michigan employ the Weasel Three -- Bobby Petrino, Rich Rodriguez and Nicky Saban, each of whom walked out on existing commitments to grab more cash elsewhere. TMQ has been predicting woe for these colleges, in keeping with my immutable Law of Weasel Coaches, noted in the Bucs' item below. Last season, Alabama, Arkansas and Michigan were a combined 20-18 with no bowl wins: all the money these three schools invested in weasel coaches, and all the hits taken by the schools' prestige, resulted in blah performance. Considering the incredible advantages Alabama, Arkansas and Michigan possess in recruiting power and gimmick schedules, three mannequins could have coached the teams to a better combined record than 20-18. Plus in 2007, Arkansas showed the door to Houston Nutt in order to bring in Petrino the Weasel. Odds are Ole Miss, Nutt's current school, will have a better season in 2009 than the Razorbacks.
This spring, Textbookgate was revealed, and the NCAA hammered Alabama with yet another set of penalties -- 21 football wins vacated, plus three years of probation. Perhaps Saban did not know there was a flim-flam going on for football players at the college bookstore. Then again, he is a head coach with 10 full-time assistants. These 11 men are supposed to do nothing year-round but work with the players of Crimson Tide football. None of them ever heard a player say a word about something fishy at the bookstore? Alabama's formal position is that "no coach or staff member" knew anything about what the players they were paid to supervise were doing. If this statement is true, then Alabama has history's most inept coaches.
The voided victories drop Saban to 14-13 as the Tide coach. Petrino is 5-7 at Arkansas -- the NCAA ruling changes a 2007 win by Alabama over Arkansas into a win for the Razorbacks, but this game was played before Bobby the Weasel arrived. Rodriguez is 3-9 with the Wolverines. All told, the Weasel Three are a combined 22-29 with zero bowl victories, despite working at schools with incredible built-in advantages in recruiting power and gimmick schedules. Forget mannequins; Alabama, Arkansas and Michigan should be able to do better than a combined 22-29 if they had no head coach at all! I am in earnest about that.
Textbookgate Note 1: Alabama is now 24-53 since the start of the 2003 season, and has three major public embarrassments in this decade: a two-year NCAA probation for payola, the Mike Price "I am a walking scandal" episode and now a three-year NCAA probation. The football team graduates only 55 percent of its scholarship players. Alabama football continues to be one of the worst-run programs in collegiate athletics. What on Earth is the matter with this school?
Textbookgate Note 2: NCAA scholarships generally pay for an athlete's textbooks. What happened in Rammer Jammer land is that members of the football team, and some athletes from other sports, got extra free textbooks. According to the NCAA, Alabama athletes picked up extra free textbooks with a retail value of about $40,000. Alabama contends the extra textbooks were only given as gifts, never sold to other students -- a claim that struggles to pass the "giggle test." Regardless, it is extremely hard to believe the University of Alabama bookstore decided, out of the clear blue sky, to give away $40,000 worth of merchandise. But according to the NCAA finding, no University of Alabama official ever told the bookstore to engage in the giveaway. Officially, Alabama's sin was "failure to monitor" a rogue bookstore!
What else are colleges failing to monitor? Some big-school football and men's basketball athletes drive fancy cars they have no clear means of affording, or live off-campus in nice condos they have no clear means of affording. "I have a campus job" often serves as the cover story for where an athlete gets the funds for his fancy car or wardrobe, but no one has ever purchased a Range Rover with money from an $8-an-hour job at the library. Is the Alabama revelation just the tip of an iceberg on ways cash is slipped to big-school athletes?
San Francisco: The Squared Sevens brought a psychiatrist to the Indianapolis combine to ask Matt Stafford about his parents' divorce. A psychiatrist to interview a possible draft choice? This only proves you'd be crazy to want to play for a team that thinks a psychiatrist can tell who will be good at throwing a football. On display here is the hubris of recruiting and draft-choice testing -- the belief that hyper-analyzing some 21-year-old (or 18-year-old in the case of college recruits) can predict athletic performance. TMQ much prefers the Pittsburgh Steelers' approach, which is simply to watch film to see how the guy plays, while ignoring drills, tests, interviews and the like.
Michael Crabtree's demanding to be paid as if he was the third overall choice in the draft because he "might" have gone third is like Crabtree's demanding to receive the Nobel Prize for literature because he "might" have written "One Hundred Years of Solitude." All this only proves that Crabtree is, in fact, a diva -- it was perfectly logical for all the teams choosing above San Francisco to avoid him. Avoiding Crabtree looks like the smartest move of the 2009 draft. Never, in turn, has a threat been more hollow than Crabtree's threat to sit out the year and go back in the draft because he thinks he will be selected higher in 2010. It is 100 percent certain he would be selected lower -- Crabtree might not go till the second round of the 2010 draft, because NFL clubs will remember how USC wide receiver Mike Williams sat out a year, went high in the first round and was a bust. Plus, though it seems today unlikely a new labor deal will be in place before the 2010 draft, one never knows. Wouldn't it be a hoot if Crabtree sat out till 2010, only to discover that a new deal with a rookie wage scale was in place, and he wound up with one-tenth the amount he could have today?
Crabtree isn't shafting only himself. Just when it seemed Texas Tech finally would get respect from the NFL -- Crabtree was the first first-round draft selection from the school under Mike Leach's tenure -- it could now be a long time before any team gambles high on a Red Raider. The evolving consensus is that Texas Tech runs up the score in gimmick games against lower-echelon teams (last year, the Red Raiders bravely faced two Football Championship Subdivision schools, Eastern Washington and Massachusetts, at home); its players become big-headed; this attitude is encouraged by the conceited, self-impressed Leach; the result is Michael Crabtree. Rather than being delighted one of his players went 10th overall in the draft, Leach complained -- what a jerk! Don't think NFL personnel directors won't notice the relationship between Leach's bluster and Crabtree's prima donna complex. Prep prospects, if you dream of going high in the draft, steer clear of Texas Tech.
Speaking of shrinks, James Heilman, the Canadian physician who posted the 10 standard Rorschach inkblots on Wikipedia, is being denounced by psychologists. Supposedly, posting the Rorschach blots harms science, since they are supposed to be super-ultra-secret, super-ultra-sophisticated images with super-ultra power. What hogwash -- they're freaking inkblots! Heilman has served the public by allowing anyone to see that the whole Rorschach business is just mumbo-jumbo used by witch doctors. Whether you think the inkblots look like butterflies or aviation wiring diagrams or the Colossus of Rhodes doesn't tell anything scientifically useful. Shrinks want to maintain a witch-doctor-style air of secrecy which implies they possess secret skills for which they should be highly paid. Public knowledge of the Rorschach images allows average people to see how pretentious the whole thing is -- which is why the shrinks are angry that their meaningless inkblots have seen the light of day. I have never taken a Rorschach test, but if I do, my answer is ready for all 10 images: "It makes me think of an inkblot."
Seattle: Everybody knows that San Diego always wins in December and Dallas always loses. What about Seattle in October? Through the past decade, the Blue Men Group has a winning record in every month except October, when the Seahawks are 14-23. Seattle's October tendency escapes notice -- though it's among the most distinct in pro sports. At least Seattle gets its bye in October -- one less chance to lose. Otherwise, its Halloween month opponents are Indianapolis, Jacksonville and Arizona.
New defensive coordinator Gus Bradley says Seattle will use a base 4-3, Cover 2 -- the NFL's most common defense -- but play some 3-3-5. That's "the stack," a defense that's a fad in high school. Remember, the spread gained credibility in high school before advancing to major college football and then to the NFL -- the stack may be the next scheme fad. In a stack, three linebackers stand directly behind three defensive linemen, trying to create uncertainty in the quarterback's mind about which of the slant lanes they will drop into. Since the spread is based on slants, curls and digs, the stack emphasizes taking away those routes, while daring an offense to rush. Whatever Bradley uses had better work, because the Seahawks finished 30th on defense in 2008, then traded away their only Pro Bowl player, linebacker Julian Peterson -- though Peterson made the Pro Bowl last season on rep, not performance. TMQ likes Bradley because most of his coaching career was spent at Division II Fort Lewis College and FCS North Dakota State. TMQ has long contended there is more coaching talent at small colleges, below the testosterone-pumped level of the football-factory schools, than the NFL recognizes. Located in Durango, Colo., the rec department of Fort Lewis College has not only a mission statement and a vision statement, but also a statement of core values.
Fans at Qwest Field this fall will gaze up at the scoreboard, check to see whom the Broncos play, and chant, "Beat Denver! Beat Denver!" Seattle holds Denver's first choice in the April 2010 draft.
Tampa Bay: Everybody talks about Denver's wheeze-out, losing its final three after holding a three-game lead. Tampa did worse, breaking out 9-3 and then losing its final four, missing the postseason by one game. This meltdown began pretty much to the minute that defensive coordinator Monte Kiffin announced he would leave the Bucs at season's end to take a sweet deal at the University of Tennessee. The Bucs' season-finale home loss to woeful Oakland, knocking City of Tampa from the playoffs, ranks with the Dallas season-finale loss as one of the two worst performances by an NFL squad in 2008. Why, TMQ asks again, is it fine for coaches to shaft their teams by shifting loyalties during a playoff run -- while if a player did the same, there would be general outrage? Now, who should appear on the new Bucs coaching staff but Jeff Jagodzinski, who in January shafted his own team, Boston College, by trying to weasel out of his contract for more money with the Jets. Jagodzinski signed a five-year deal as Boston College head coach, then after two years was trying to break the deal. TMQ's immutable Law of Weasel Coaches: When you hire a coach who's only in it for himself, you get a coach who's only in it for himself. At least Jagodzinski is a perfect fit for the Buccaneers' program!
In the offseason, the Bucs showed the door to Derrick Brooks, their best all-time player, for cap reasons; then gave $20 million in guarantees to Kellen Winslow, who has missed some or all of his five pro seasons with injuries. Brooks was bounced though the Bucs have plenty of salary cap space, most of which must be used to satisfy the new cap-floor rule that joins the cap ceiling. Fun fact: New head coach Raheem Morris has more experience in the Ivy League coaching at Cornell than as an NFL head coach.
Washington: The Redskins got Albert Haynesworth, the most sought-after free agent of the offseason, in a megabucks deal that makes him either the highest- or second-highest-paid defender ever. (Terrell Suggs of Baltimore received a contract with slightly less paper value but slightly better guarantees.) Haynesworth is good, but perpetually injured: He has never started all 16 games, with a career average of 11 starts per season. Moreover, he jogs off on long-yardage downs. For a pile of money to go to a player who, even when healthy, is on the field only two-thirds of the time is risky.
Washington has a veteran roster which must produce a playoff invite in 2009, since the team has once again spent draft choices freely, leaving little in the pipeline. The Redskins gave their 2009 second-round pick for Jason Taylor, and got eight games from him before Taylor was waived. (Washington now has DeAngelo Hall, whom Oakland traded a second-rounder for, then almost immediately waived; it's as if the Redskins traded their second-rounder for Hall.) Washington had no first- or third-round draft choices in 2006, no second- or third-round choices in 2007, no first-round choice in 2008, no second-round choice in 2009 and has already traded its third-round pick in 2010. The team's old slogan, "The future is now," should become, "The future is a subprime mortgage about to reset."
Mimicking government, the Washington coaching staff has become top-heavy, up to 18 coaches, including a coach for cornerbacks and another for safeties. Also government-like, the Skins spend freely but not effectively: The Washington Post calculates the Redskins are No. 1 in player spending since 2000, yet are No. 23 for victories. (Baltimore and Indianapolis are second and third for spending in the same period and each has gotten its money's worth, winning a Super Bowl.) In the offseason, the Redskins waived tackle Jon Jansen, saying they want to "make room" for tackle Mike Williams. They should have waived two guys! Joe Gibbs, in his first tour at Washington, was 140-65; since then, all Washington coaches, including Gibbs in his comeback tour, are 114-146. The Steelers had the first modern cheerleader squad, then canceled sideline dancing; Washington has the longest-running NFL pep unit. Here is how the Skins' cheerleaders used to look; the current look is in the photo below. Life really is getting better!
"I Fell Apart Under the Pressure of Having No Real Duties," the Governor Explained: Last week, pressure intensified on South Carolina Governor Mark Sanford to step down, after admitting he had been sneaking off to Argentina to make whoopee. Just when you thought every possible perfidy has been committed by a modern politician -- Argentina gets thrown into the mix! While Sanford was cavorting far from Columbia, Lt. Gov. Andre Bauer -- a former male cheerleader at the University of South Carolina and a Sanford rival -- expressed great dismay at the governor's absence. Joining him, cable-TV commentators and sorted (perhaps sordid) pundits pronounced themselves shocked that the top executive of a state would be out of touch. Expressions of shock were political theater, since under South Carolina law the governor is a weak executive with few powers, and the state's legislature already had adjourned for the year. But what if space aliens landed in South Carolina during that fateful weekend? The governor must not leave his post! He is, as many Sanford critics harrumphed, the Commander in Chief of the state's national guard!
No bloated modern political assertion is more ostentatious than a governor being "Commander in Chief" of the national guard. Arkansas Governor Bill Clinton made the claim in the 1992 presidential race; Texas Governor George W. Bush claimed this in the 2000 campaign; during various phases of the 2008 presidential contest, former governors Mitt Romney and Tom Vilsack both made the claim. Once she became the 2008 Republican vice presidential hopeful, Sarah Palin countered complaints about her thin experience by boasting that she had been Commander in Chief of her national guard.
The assertion carried meaning in the 19th century, but is piffle today. Governors "command" their national guards only in the sense that they can call on the Guard during natural disasters or unusual circumstances; governors have no input whatsoever into military use of Guard units. Romney's "command" of the Massachusetts National Guard consisted of consenting to its use to provide security for the 2004 Democratic National Convention in Boston. That "command" was strictly a memorandum of authorization: The governor did not put pins into maps. Palin's "command" of the Alaska National Guard was limited to authorizing it to assist at public events such as the Iditarod. Governors are present when Guard units ship out for overseas duty, something that's happened often since the 2003 invasion of Iraq. Such appearances are ceremonial: Governors have no say about Guard units being deployed overseas. Governors get their pictures taken standing next to generals at Guard deployments. It's worrisome that, in contemporary politics, getting your picture taken standing next to someone is mistaken for having responsibility.
This unanimous 1990 Supreme Court decision held that governors possess no input of any kind into the military use of the National Guard. Under the 1990 decision, governors still controlled their guards for within-state use. That remnant power disappeared with the Defense Authorization Act of 2007, which stipulated that the federal government can take control of the Guard even for missions within a state. Supposedly this has something to do with combating terrorism; to me that legislation seemed just another Washington power-grab. Bear in mind, it was a power-grab orchestrated by a Republican president whom one would think would support federalism, in its original sense of, "most authority reserved for the states." Republican and Democratic governors alike joined in opposing the 2007 act, and got steamrolled.
By the 2008 presidential campaign, when Romney, Vilsack and Palin boasted about being the Commander in Chief of their states, this had about as much substance as saying, "I am the Queen of Mars." That blowhards of both parties regularly crow of being Commander in Chief of states, without being called to account by editorialists or political opponents, is another demonstration of how poorly Americans understand the constitutional law on which our nation is grounded.
Sanford Note 1: The Wall Street Journal wrote that his whereabouts became unknown "when he took off in a sport-utility vehicle normally driven by a bodyguard." Why does a governor need a taxpayer-subsidized bodyguard? Or a greenhouse-gas-spewing SUV? Washington Mayor Adrian Fenty drives himself around in a high-mileage compact and has encountered no problems. Sanford Note 2: Major news organizations have employed the euphemisms "cavorting," "peccadillo" and "assignation" to describe what Sanford, Nevada Senator John Ensign, former senator John Edwards and Italian Prime Minister Silvio Berlusconi have been up to. Why these euphemisms, instead of just "having an affair"? Cavorting means "to frolic or play boisterously." We should all cavort!
Reader Comments: Speaking as a churchgoer, I proposed that "atheist" is needlessly pejorative, and asked readers for a better term. Ben Dreidel wrote, "I don't think the 'atheist' label will go away. It needs to get de-stigmatized by more and more people adopting it for themselves. But if need be, I would propose Naturalist -- a person who sees all of reality as natural, with no supernatural things or phenomena." David Dalton of Salt Lake City wrote, "Given that a polytheist is someone who believes in multiple gods, a monotheist is someone who believes in one God, would the logical step be 'nontheist.'" Dan Burke of DeWitt, Iowa, notes, "In computer databases there is a type of data called 'null,' which means there is nothing at all. So I suggest to referring to the atheists as nulls." David Hewitt of Irvine, Calif., notes that historically, a "freethinker" was someone who rejected church dogma. The trouble is that in today's Ivy League milieu, being religious would be evidence of freethinking! Randy Pierce of Austin, Texas, writes, "I would replace the term atheist with realist." Geoffrey Neill of Sacramento, Calif., suggests "spocks," as in, "using 'spock' would indicate the emphasis on logic as opposed to faith." Luis Valdovinos of Mexico City reports, "Around here in Mexico, you hear non-believers say: Soy ateo, gracias a dios -- 'I'm an atheist, thanks to God.'"
Alvin Krueger of Xalapa, Mexico, proposes, "Atheists should be renamed, 'people without foxhole experience.'" Steve Spann of Franklin, Tenn., suggests, "How about 'empiricists?'" Patrick Chesser of Aurora, Colo., proposes "materialist," not meaning, "someone who spends too much at a mall" but "someone who accepts only that for which there exists material proof." Francis Tatasciore of Montreal writes, "I think the perfect name would be 'Detroit Lions Fan.' There is clearly no god for the Lions." Edvin Jenssen of Norway cautions, "You shouldn't call us humanists, cause I have very little faith in the average human being." A reader haikuized:
Name for atheists?
To describe the ill-divined?
NoGodniks it is.
-- Brian Stewart, Sarasota, Fla.
Donna Singletary of Thomasville, Ga., suggests "Unitarians." Her daughter, Monica Bernstein of Arlington, Va., takes the cake (disclaimer: Monica, you will not receive a cake) by suggesting atheism be rechristened -- sorry, renamed -- hauddeism. She derives this "from the Latin haud (no) and deus (god)."
Another Weasel Coach Scandal Brewing? On Saturday, the Detroit Free Press reported Michigan players claimed the football program "consistently violated NCAA rules governing offseason workouts, in-season demands on players and mandatory summer activities under coach Rich Rodriguez." Because the players are unnamed, the accusations must be taken with a grain of salt. But as TMQ noted last year, it is common for major college football programs to flout the NCAA rules that supposedly ensure "student" athletes have time to study. Here, Tim Tebow and the Florida offensive coordinator spoke on the record of practices that constitute violations of offseason time rules. They talked on the record because they knew the NCAA would do nothing; the NCAA almost never acts against sports programs exceeding time limits, such as the official limit of no more than 20 hours per week at the sport during the season and eight hours per week in the offseason. Are the Michigan players complaining because they in fact want the time to be students? Perhaps what the accusations mean is the players despise Rodriguez, and hope to get him fired. If Michigan takes the accusations seriously, it could provide the school with a cover story for dropping Rodriguez.
Does the White House Have a "Director of Presidential Operations?" There was a dust-up this spring when Steve Spurrier failed to vote for Tim Tebow on his preseason SEC all-star ballot; Spurrier later said he did not fill out the ballot, rather, his "director of football operations" did. His who? The 18-man South Carolina coaching staff includes an assistant head coach, a director of football operations, a "director of football strength," and six people with the title "coordinator." Talk about overstaffed! But then, according to The Associated Press, some 1,000 news media reps were present at the SEC preseason press walk-out at which nothing happened except coaches yakked in bland generalities. One thousand -- why aren't they out covering health care reform? The Gainesville Sun ran a photo showing seven television camera crews chasing Spurrier as he merely walked across a hotel lobby. This kind of thing suggests the public is even more whacked-out about football than the colleges are.
TMQ on Twitter: You can sign up to get a Twitter alert -- complete with authentic spelling errors -- whenever a new TMQ posts. I will not clog your laptop or cell phone with announcements about what kind of sandwich I am having for lunch; the only tweets you will get will be word that a new column was just posted.
Next Week: America's original all-haiku NFL season predictions.
In addition to writing Tuesday Morning Quarterback, Gregg Easterbrook is the author of "The Progress Paradox: How Life Gets Better While People Feel Worse" and other books. He also is a contributing editor for The New Republic, The Atlantic Monthly and The Washington Monthly.
2009 NFL PREVIEW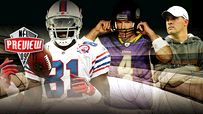 POWER RANKINGS
COMMENTARY/BLOGS
TEAM PREVIEWS
BACKUP QB PLANS
RANKING TODAY'S QBs
Wednesday, Sept. 2: We turned to a former Super Bowl-winning QB to provide a unique take on today's bunch. Trent Dilfer
HOW THEY DO IT
Thursday, Sept. 3: Breaking down AFC offensive, defensive philosophies. Scouts
Friday, Sept 4: Breaking down NFC offensive, defensive philosophies. Scouts
PREDICTIONS
10 BIG QUESTIONS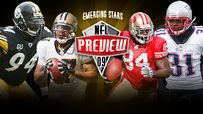 EMERGING STARS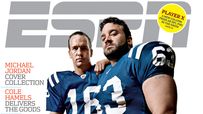 ESPN THE MAGAZINE (INSIDER)
PAGE 2