Commentary
The 2009 all-haiku NFL preview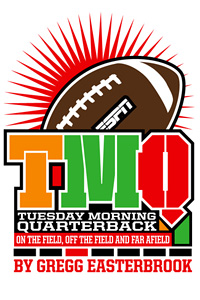 WASHINGTON -- President Barack Obama said today he was "shocked and saddened" by rising unemployment among NFL offensive coordinators. "This is the worst job loss by NFL assistant coaches since the Great Depression," Obama declared. The president announced a $746 trillion program to train former steelworkers to become offensive coordinators. The president also said White House adviser Van Jones, who resigned over the weekend after it was revealed he had signed a petition praising Santa Anna for capturing the Alamo, would become head of a new Green Coaches Initiative. The program, to cost $288 trillion, will put fired offensive coordinators to work building solar collectors and mulch recycling centers.
So three offensive coordinators were fired in the same preseason week. Firing coordinators is a time-honored blame-shifting strategy in the NFL and in Division I football. The head coach can't possibly be to blame for anything -- he's a little-god figure -- so if something goes wrong, the coordinators must be to blame, and never mind the complicating fact that the head coach hired them and supervises them. The Bills' offense is sputtering, so Buffalo head coach Dick "Cheerio, Chaps" Jauron fired Bills offensive coordinator Turk Schonert. In his eight years as a head coach, Jauron's teams have always finished in the bottom third of the NFL for offense -- maybe the head coach is the ultimate problem here, but the head coach won't fire himself! Schonert shot back by accusing the head coach of wanting "a Pop Warner offense" because Jauron doesn't understand complex formations. If only Schonert had been this aggressive with his play calling, he'd still have a job! San Francisco has had six offensive coordinators in the past six years, and Buffalo now is on its seventh in the past 10. There are no super-ultra secrets known to some offensive coordinators but not others. Constantly firing offensive coordinators is, in and of itself, a reason for a sputtering offense.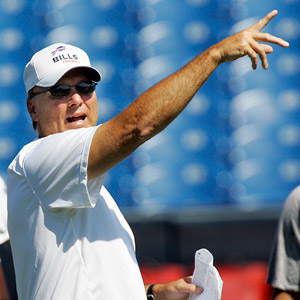 AP Photo/David Duprey"Look! That way! It's the end zone! Let's go there at some point during the course of the season!"
See more below on the unemployed offensive coordinators; the larger coaching issues is that once again, the NFL is stocking up on head coaches who have never been a head coach at any level, even high school, before becoming the boss in the pros.
Steve Spagnuolo, the new coach of the Rams, has never been a head coach at any level, not even when he worked for the Barcelona Dragons. Spagnuolo has been an assistant coach or scout for the University of Massachusetts, the Redskins, Lafayette, the University of Connecticut, the Dragons, the Chargers, the University of Maine, Rutgers, Bowling Green, the Frankfurt Galaxy, the Eagles and the Giants before landing the Rams headmastership. Twelve previous employers -- he must have quite a collection of team apparel! But no head coaching experience before becoming an NFL head coach.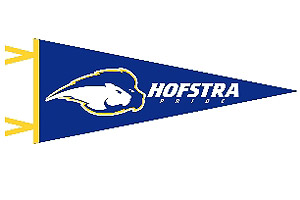 Hofstra UniversityRaheem Morris has never been a head coach before, but he does have a great collection of college pennants.
Rex Ryan, the new head coach of the Jets, has been an assistant at Eastern Kentucky, New Mexico/Highlands, Morehead, the Cardinals, the University of Cincinnati, Oklahoma and the Ravens. Lots of colorful track suits -- but no head coaching experience before becoming an NFL head coach. Jim Schwartz, the new head coach of the Lions, has been an assistant at Maryland, the University of Minnesota, North Carolina Central, Colgate, the Browns, the Ravens and the Titans. Lots of team baseball caps -- but no head coaching experience before becoming an NFL head coach. Raheem Morris, the new head coach of the Bucs, has been an assistant at Hofstra, Cornell and Kansas State. Lots of college pennants for his dorm room -- but no head coaching experience. Morris has never even been a coordinator at any level, and now he's an NFL head coach. Todd Haley, the new head coach of the Chiefs, has been an assistant coach for the Jets, Bears, Cowboys and Cardinals. Lots of 401(k) contributions to roll over, but no head coaching experience before becoming an NFL head coach. Josh McDaniels, the new head coach of the Broncos, has been an assistant for Michigan State and the Patriots. He didn't even collect much team apparel, in addition to less than a decade of experience, before becoming an NFL head coach.
Meanwhile Jim Fassel, Jon Gruden, Dan Reeves, Marty Schottenheimer and Mike Shanahan -- a combined 701-536-4 as NFL head coaches -- aren't working in the NFL this season. Schottenheimer and Shanahan each have more career victories than any active NFL coach, yet neither wears a headset. Only four active NFL head coaches have at least 100 victories (Bill Belichick with 153, Jeff Fisher with 133, Tom Coughlin with 123 and Andy Reid with 107). Yet 100-plus winners Shanahan and Gruden were just shown the door and 100-plus winner Schottenheimer can't get his phone calls returned.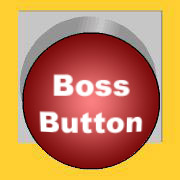 Why do NFL teams keep hiring head coaches who have never been head coaches? This year, inexperienced head coaches sound good because Mike Smith and John Harbaugh, neither of whom had been a head coach previously at any level, just did great jobs in Atlanta and Baltimore. But other factors are at work. One is inexperienced gentlemen earn less than experienced head coaches. Going into the next round of collective bargaining talks, NFL owners are attempting to project a "woe is me, the wolf is at the door" financial image. There will be internal league pressure come late December for no owner to give Bill Cowher the $10 million a year that is reputed to be his price for returning to coaching, as this would counteract the league's poor-mouth campaign. Hiring inexperienced coaches to moderate salaries, on the other hand, fits the times.
Another factor is that inexperienced coaches kowtow to owners and general managers. For bureaucratic reasons, some NFL front offices prefer a head coach in weak political position. Successful experienced coaches such as Shanahan project significant ego fields. The general manager who recommends hiring Shanahan knows he has in effect recommended that his own job become less important, since his face time with the owner will decline. The general manager who hires an inexperienced head coach knows, in contrast, that the owner will then turn to the general manager for sage advice.
[+] Enlarge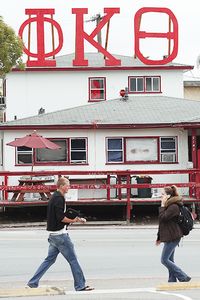 AP Photo/Denis PoroyMaybe Josh McDaniels can live in one of these, as soon as he gets his learner's permit.
Next, the track record of major-college head coaches who jump to the pros -- Nicky Saban, Bobby Petrino, Steve Spurrier -- isn't good. Few Division I coaches even want NFL posts. Who in his right mind would give up the job security and fawning treatment that football-factory college coaches enjoy, in order to be knifed in the back for a couple of years in the NFL, then fired? If big-college head coaches either won't take NFL jobs or don't do well in them, owners may assume that NFL assistants without head coaching experience are the only option. But what about the universe of small-college and high school head coaches? The more coaches I meet and the more I learn about football, the more I become convinced that some of the best coaching occurs at small colleges and in high school -- where coaches must succeed without huge staffs and unlimited budgets. But the NFL looks down its nose at small colleges and high schools; Mike Holmgren was one of the few successful recent NFL coaches to begin as a high school head coach.
That pretty much leaves NFL assistants who have never been head coaches as the NFL recruiting pool. But bear in mind: Roughly two-thirds of coaches whose first head coaching experience comes in the NFL fail. That suggests of Haley, Morris, McDaniels, Ryan, Schwartz and Spagnuolo, four will be busts. Then their employers will look around to hire someone else who has never been a head coach at any level!
And now, the annual column that was once America's only all-haiku NFL season predictions, and is still America's original all-haiku NFL predictions!
[+] Enlarge

AP Photo/Josh ReynoldsThat's a New England Patriots cap he is waving. Guess we know who the Dalai Lama likes in the AFC this season.

AFC East
Brady's knee better
be fine. Backup plan is -- what?
The New England Pats.
Forecast finish: 12-4
Went worst-to-first. Will
now try other direction?
Miami Dolphins.
Forecast finish: 9-7
Sanchez already
has passed Namath for: ad deals.
The Jersey/B Jets.
Forecast finish: 7-9
Rebuilding for tenth
straight year. Are shovel-ready.
The Buffalo Bills.
[+] Enlarge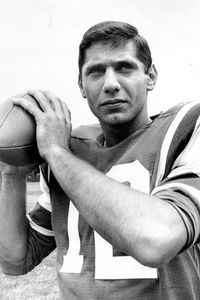 AP PhotoJoe Namath's epic 1964 deal would be worth $3 million now. Mark Sanchez just signed for $28 million.
Forecast finish: 3-13
NFC East
Michael Vick returns.
Birds' new cadence: "Down, set, woof!"
The Philly Eagles.
Forecast finish: 12-4
Eli, careful! Don't
put playbook in your waistband.
Jersey/A Giants.
Forecast finish: 11-5
Capital's team is
based on deficit spending.
Washington Redskins.
Forecast finish: 8-8
Jerry Jones' head
so big it might hit scoreboard.
The Dallas Cowboys.
Forecast finish: 6-10
[+] Enlarge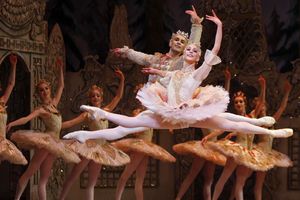 AP Photo/Matt DunhamIt's September -- beware the Mouse King!
Christmas Creep:
Reader Natasha Wunderlich of Sacramento, Calif., writes, "I was in Costco on September 2nd and they had Christmas stuff out. Christmas lights, tress, ornaments, wrapping paper -- in addition to the Halloween costumes." Therissa Libby of Annapolis, Md., reports, "On September 3rd, I purchased a birthday card at the Hallmark store at the Annapolis Mall. Added to my bag was glossy flyer inviting me to 'Come to Christmas Ornament Debut' -- on October 10." Michael Wyatt of Raleigh, N.C., writes, "I was on hold with technical support
for this company
for at least 30 minutes on September 3, and listening to the Dance of the Sugar Plum Fairies from the Nutcracker Suite. Were they expecting me to stay on hold until Santa arrived?"
Unified Field Theory of Creep: Steve Brodsky of Xenia, Ohio, reports the Dayton Daily News published a Halloween guide on September 2nd -- before Labor Day. Jonathan Hammersley of Barbourville, Ky., writes, "Last week I got an email advertisement for the Old Chicago restaurant chain, touting an 'Oktoberfest Mini Tour' that begins on September 9th." Bear in mind, the original-article Oktoberfest, in Munich, this year begins on Sept. 19 and ends on Oct. 4.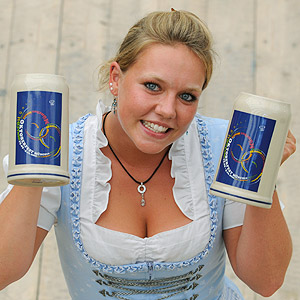 AP Photo/Christof StacheEs ist früh September, willkommen zum Oktoberfest!
Disclaimer of the Week: Disclaimers for "Harry Potter and the Half-Blood Prince" warned of "some violence." How, exactly, does "some violence" differ from "violence?"
Discounting to Present Value the Pats' Defensive Line Trades: Future draft picks are viewed as worth one round less than a choice in the current year -- to acquire a fourth-round choice this year, you would surrender a third-round choice in the subsequent year. Thus the 2011 first-round draft pick New England obtained from Oakland for Richard Seymour has the same value as a second-round choice in the 2010 draft. (Oakland's 2011 first choice might be unusually high, but that is unknowable.) To sum Belichick's summer defensive lineman trades, the Flying Elvii traded Seymour, Le Kevin Smith and a third-round choice for Derrick Burgess and second- and seventh-round choices. Unless the 2011 Raiders' selection is a high choice, this may be a rare New England trade in which Belichick did not get the upper hand. Then again, New England has salary cap problems which were eased by putting Seymour on a plane to California.
AFC North
Six Super Bowl wins:
Now they have one for both thumbs.
The Pittsburgh Steelers.
Forecast finish: 12-4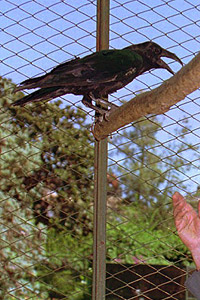 AP Photo/Alessandro Fucarini"Awk! I am sick of Poe jokes! Awk!"
"Awk! Now with offense!
Awk! And you can quoth me! Awk!"
Bal-a-mer Ravens.
Forecast finish: 11-5
Cleveland's new challenge:
Can team beat Bulkeley High?
Browns II: The Sequel.
Forecast finish: 6-10
Ochocinco's got
answer: become soccer team.
The Cincy Bengals.
Forecast finish: 4-12
NFC North
Second season of
rest of the franchise's life.
The Green Bay Packers.
Forecast finish: 10-6
Jay Cutler is now
gruntled; we'll see about fans.
The Chicago Bears.
Forecast finish: 8-8
"I love me some me."
What Brett Favre says to mirror.
Minnesota Vikes.
Forecast finish: 8-8
This club is sole team
that can say: things can't get worse.
The Detroit Lions.
Forecast finish: 2-14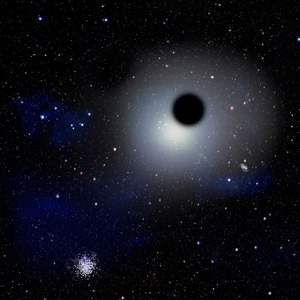 Harvard-Smithsonian Center For AstrophysicsIt's probably thousands of light years away. Astronomers are quite confident it probably is.
A Cosmic Thought: Astronomers recently declared that hundreds of "rogue" black holes are wandering the Milky Way. However, "Fortunately, the closest rogue black hole should reside thousands of light-years from Earth." Should! Why do I not find it comforting that this statement is hedged?
NFL -- the House Always Wins: Longtime readers know TMQ's compromise with my Baptist upbringing is to be pro-topless and anti-gambling. Nobody cares how much the Donald Trumps of the world blow at the roulette table, and $10 office pools are harmless. But most wagering only brings loss and sorrow to average people; gambling has ruined many lives. (Read this heartbreaking story about three lives destroyed -- one person murdered, another in jail for life and a third emotionally shattered -- owing to gambling.) This makes it especially cynical that the NFL had decided to sell sponsorships to state lotteries, producing NFL-themed lottery games with NFL logos on the tickets. National Football League, do you really care so little about your name and prestige that you will sell your image to organizations which engage in socially damaging activities? NFL owners, all 31 of you are rich (Green Bay is publicly owned). Is your voracity so unbounded that it blinds your ethics?
Baltimore, Houston, New England, New Orleans and Washington already have lottery deals, and other teams are working on them. The Redskins' deal is with the Virginia Lottery. Since its inception, the Virginia Lottery has taken in $20 billion and paid out $11 billion in winnings. This means suckers fork over almost $2 for every $1 that comes back. Some $2.3 billion of the Virginia Lottery money has vanished into overhead, a fraction that will now rise as endorsement fees are paid to the Redskins. (At least the Redskins' share will be on the up-and-up; one reason politicians love lotteries is because traditionally there is substantial corruption in the form of unaudited "consulting fees.") Only about $6.7 billion -- a third of the overall pot -- has gone to the ostensible purpose: education.
New Jersey's Casino Control Commission reports an annual breakdown of shares in casino gambling: 70 to 80 percent of wagered money goes out as winnings, while 20 to 30 percent is held by the house. Stated in those terms, the Virginia Lottery, a typical public lotto, returns 55 percent as winnings while holding 45 percent. So if you feel you must wager, you are better off playing a roulette wheel in Atlantic City than buying the scratch-off tickets now being promoted by NFL clubs. True, some Virginia lottery money goes to support education, while no roulette revenue goes to any public purpose. But considering only about a third of state-run lottery revenue ends up serving a public purpose, lotteries are an extremely inefficient way to raise money for schools. What lotteries are good at is separating average people from their money. PBS says a person is 600 times more likely to be struck by lightning than to win the top prize in a state-run lottery.
The lotteries the NFL is now embracing often prey on African-Americans, the poor and the poorly educated. Conside Texas, for example. This Texas Lottery Commission study shows black lottery players spend an average of $70 a month, while white players spend an average of $20 monthly; those with only high school diplomas spend twice as much on lotteries as those with college degrees; the unemployed as a group spend $40 a month, compared to $26 for the employed. Those making $39,999 or less annually spend $32 to $40 month on the state lotteries, while those making more than $75,000 spend $20 monthly. So wealthy, white NFL owners -- you are now reaching into the pockets of minorities and the poor. Feel pretty good about that?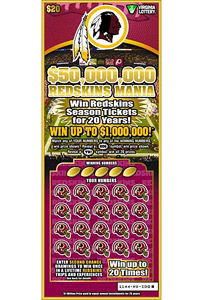 Washington RedskinsLow income? Little education? The NFL hopes you will throw your money away on this.
Part of the cynical nature of state-run lotteries is that substantial numbers of machines are physically located in lower-income neighborhoods -- especially convenience stores and liquor stores in poor neighborhoods. The Virginia Lottery Redskins' page even shows suckers streaming into a Fas Mart, an East Coast 7-11 competitor, to buy tickets. The poor are seduced by convenient, flashing lotto machines that advertise "mega millions." Poor people can't afford to take a limo to Atlantic City, but anyone can drop by the convenience store. To top it off, considering the winner-take-all nature of top lottery prizes, the tiny number who win aren't even necessarily served -- studies show that as a group, lottery winners are less happy than the population at large. Lots of $1,000 prizes would be better for society than one $10 million prize. But the latter is what entices people into convenience stores to throw their money away, and now a taste of that money goes to the National Football League.
By its cynical embrace of gambling, the NFL has opened a door better left closed. If the NFL plasters its logos on machines used to wager, no one will listen to the NFL when it argues against sports betting. Already, Delaware has decided to sell a lottery ticket based on NFL scores; a legal fight has ensued in which the NFL prevented Delaware from marketing lotto tickets for individual pro football games, but failed to block Delaware from using NFL scores in "parlay" betting. The legal fight will continue. How long till you can bet on an NFL over-under in any gas station? By signing lottery endorsement deals, the NFL loses the high ground in arguing against games like those run by Delaware.
And though Michael Vick pleaded guilty to a dogfighting count, the more serious federal charges he faced had to do with wagering and consorting with organized crime; Vick's deal was that if he pleaded to dogfighting, the gambling-related charges would be dropped. Now Vick is back, and someone with extensive ties to the gambling underworld is a prominent NFL quarterback. TMQ thinks Vick's imprisonment was overly harsh. A lifetime NFL ban, on the other hand, TMQ would have supported, since until this year, the NFL very strictly forbid association with gamblers, and Vick knowingly violated that condition of employment. Now the NFL itself associates with the betting business -- meaning the league has invited the taint of gambling and fixed games. Last season, when an officiating error altered the final seconds of the Pittsburgh-San Diego game in a way which determined which side covered the spread, the NFL could convincingly say it always opposed all forms of gambling and the Steelers-Bolts ending was just a fluke. Now that the NFL advocates gambling -- "Join the Virginia Lottery and legendary Redskins players in the Redskins Road Show," pro-gambling ads say -- anything which looks like manipulating the final score will be suspect. You're going to start hearing it on talk radio: NFL games are fixed. Congressional investigations will be invited, too.
TMQ constantly notes: There is no law of nature that says the NFL must remain so popular. The seedy embrace of wagering is a decision the NFL will regret, and a first blemish on the tenure of Roger Goodell.
Houston TexansMaybe a nice oversized scoreboard is what the Texans need to liven up their games.

AFC South
"Senior offensive
coordinator." League's first!
Indy Lucky Charms.
Forecast finish: 13-3
Fisher became coach
'ere ESPN.com.
Tennessee Titans.
Forecast finish: 11-5
Cheerleaders have more
flash than team: league's dullest squad.
The Houston Texans.
Forecast finish: 8-8
Where's my radio?
Can't watch this team on TV.
Jacksonville Jaguars.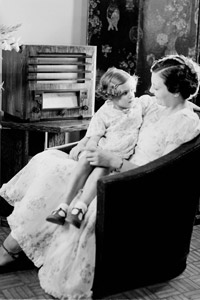 Albin Guillot/Getty Images"Mommy, can we tune the Philco to a Jacksonville game?"
Forecast finish: 5-11
NFC South
This year's track-meet team.
First one to 50 points wins.
The New Orleans Saints.
Forecast finish: 11-5
Lost Vick, got better.
Food for thought, Philly Eagles.
Atlanta Falcons.
Forecast finish: 10-6
Taxpayers now pay
rights fee for B of A field.
Carolina Cats.
Forecast finish: 7-9
Been here six months? You're
fired! Least he did not walk plank.
City of Tampa.
Forecast finish: 4-12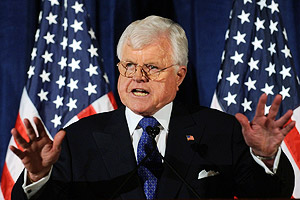 AP Photo/Gerald HerbertA complex legacy -- but he was right about the minimum wage.
Theory of the Minimum Wage Now Being Tested: The late Sen. Ted Kennedy was a complex mix of the noble and the reprehensible. The latter part of his reputation is deepened by news that his posthumous book, "True Compass," does not say what happened at Chappaquiddick, only that Kennedy admits he did something terribly wrong. But what? Because Kennedy has died without saying, society will never know what happened the night Mary Jo Kopechne was killed. Kennedy's refusal to explain must mean that whatever happened was shameful, and by that I certainly do not refer to sex. Did Kennedy really try to save her? Did she drown rapidly or live in terror for hours in an air pocket (as the diver who found her body contended) while Kennedy was relaxing at his hotel, having not called the police? Because Kennedy in the end refused to say what happened, society must assume he died hiding a shameful secret. This defiles the Kennedy legacy. And the fact that Kennedy was able to spend decades stonewalling about Chappaquiddick, then leave the Earth without ever being called to account, deepens cynicism about rich-man's justice.
On the noble side of his character, Kennedy crusaded tirelessly for a higher minimum wage, saying it was an outrage that someone could work 40 hours a week in the United States and still live below the poverty line. That is, indeed, an outrage. Since the late 1960s, the federal minimum wage has steadily declined in real-dollar terms; today it would need to be $10 an hour to match the level of the late 1960s. At $10 an hour, someone who works 40 hours per week would escape poverty, by the federal definition. Most lawmakers don't care about the minimum wage, since it matters mainly to the poor, and the poor -- this is their own fault -- by and large don't vote. Kennedy did care about the poor.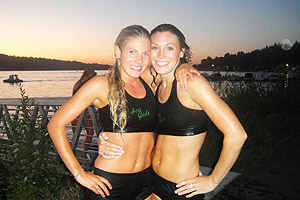 Seattle SeahawksSign of the economic times: The Sea Gals are posing at Lake Washington instead of Los Cabos.
To little notice this July, the federal minimum wage rose from $6.55 to $7.25 an hour -- some states have higher minimum wages, while some states tie their minima to the federal floor. Include the Earned Income Tax Credit and other wage-based federal benefits to the working poor, and in effect the federal minimum is now back to about $10 an hour, which is essential for social justice. Now, which way will employment trend? For decades, conservatives have fiercely declared that a rising federal minimum wage would backfire by increasing unemployment. When the wage rose to $7.25, unemployment was 9.5 percent. If the conservatives are right, a year from now, unemployment will be higher than that. (At least a year is needed, because month-by-month vacillations don't tell much.) If instead by summer 2010 unemployment has declined, the standard conservative argument against increasing the minimum wage will be discredited. Before you say, "Well, everyone expects employment numbers to start improving," those who oppose a minimum wage increase have long argued that raising the minimum wage will boost unemployment regardless of the overall direction of the economy.
Experience Says No: An unusual total of four teams -- the Bills, Broncos, Lions and Packers -- held two first-round choices in this year's draft. Will any of them achieve better records in 2009 than in 2008?
AFC West
Why not always wear
the powder blues? Huh? Why not?
San Diego Bolts.
Forecast finish: 10-6
Callow coach gives hope
to frat brothers everywhere.
The Denver Broncos.
Forecast finish: 7-9
This team still exists.
Thought you may not have known that.
The Oakland Raiders.
Forecast finish: 5-11
Soon -- official branch
office of the Patriots?
Kansas City Chiefs.
Forecast finish: 4-12
[+] Enlarge

AP Photo/Ric FeldKnown to TMQ as Mora the Younger.

NFC West
Were reports of Cards
in Super Bowl; hey, that real?
The AZ Cardinals.
Forecast finish: 12-4
Jim Mora back on
sideline; have cell, will travel.
Seattle Seahawks.
Forecast finish: 9-7
Crabtree behavior
gives crying babies bad name.
The Forty-Niners.
Forecast finish: 6-11
Fans chant, "Move back to
L.A.! Move back to L.A.!"
The St. Louis Rams.
Forecast finish: 5-11
Lou Saban, 1921-2009: Lou Saban, who passed away this spring, had coaching jobs at -- in chronological order -- Case Institute of Technology (since merged into Case Western Reserve University); Northwestern University; Western Illinois University; the Boston Patriots (now the New England Patriots); the Buffalo Bills; the University of Maryland; the Denver Broncos; the Bills again; the University of Miami; West Point; the University of Central Florida (when it was Division II); Georgetown High School of Georgetown, S.C.; Peru State College of Nebraska (an NAIA member); the Milwaukee Mustangs of the Arena League; the State University of New York at Canton (then a community college, now a four-year institution but no longer fielding a football team); and finally Chowan University (when it was Division III). Plus, Saban -- either no relation to Nick Saban, or a distant cousin -- spent a year helping Alfred State University start a football program. This kind of endless coaching odyssey isn't anomalous, it is the norm in football coaching.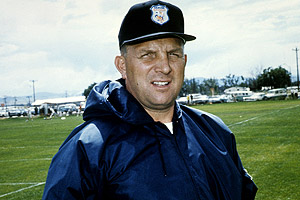 Getty ImagesConstant job changes? He must have been a football coach.
TMQ thinks Lou Saban ruined the career of Joe Ferguson -- who might have been a great quarterback -- by repeatedly screaming at him on the sideline, shattering Ferguson's confidence. His puzzling "half a loaf" game -- before the NFL had overtime, Denver took possession, with the score tied, with a minute remaining against the Dolphins, and Saban ordered the Broncos to kneel on the ball -- will stand as one of the all-time head-scratchers in sports lore. But few have ever experienced football in all its iterations, from high school to small college to football-factory college to the NFL, more broadly than Saban. TMQ has no doubt Saban was greeted by the football gods with song and feasting.
Obscure College Score of the WeekL (Item returns.) Castleton State 42, Anna Maria 28. First public-university football game in Vermont in 35 years! Located near Rutland, Castleton State both boasts of having a "Green Campus" and of installing air conditioning in the library. You don't need air conditioning in the mountains of Vermont! College president David Wolk's opening convocation remarks from last week are delightfully loopy.
Bonus Obscure College Score of the Week: Maine 34, St. Cloud State 27. Located in St. Cloud, Minn. -- a lilting town name -- St. Cloud State calls itself "one of the most highly accredited institutions" in the Minnesota college system. A school is either accredited or not! St. Cloud State may have meant "highly acclaimed," not "highly accredited." If you're running a college, you should know this sort of distinction.
Reader Comments: Many readers, including Denise Parkridge of Bozeman, Mont., noted that since Grigory Potemkin died in 1791, ESPN could not possibly have found a photograph of him. Indeed, last week's photo showed a Potemkin descendant -- a Potemkin Potemkin, as it were.
[+] Enlarge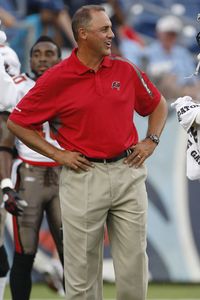 AP Photo/Mark Humphrey, FileFired twice in 2009 -- and there's still time for him to be fired again this year.
I chided Texas Tech for opening at home against a Division I-AA foe for a second consecutive year. Shane Lloyd of Floydada, Texas, notes the Red Raiders originally had scheduled 2008 and 2009 openers against Tulsa, a worthy opponent. But Tulsa canceled, seemingly to avoid having to play Texas Tech: "Not only that, Tulsa waited until January 2008 to do so and put Tech in a bind with few opponents to choose from at that relatively late date. The contract was a two-year contract, which would've had Tech going to Tulsa last weekend to start the 2009 season."
Numerous readers, including Joyce Thurnherr of Clearwater, Fla., noted that two days after TMQ warned the Bucs weren't going to be happy with new offensive coordinator Jeff Jagodzinski, he was suddenly fired. Did I possess incredible insider information? Of course not! (Note to ESPN management: I meant to say, hours workin' the phones, man.) The week before, Kansas City suddenly cashiered offensive coordinator Chan Gailey. Both firings are quite unusual at this stage of the season. What's the common thread? New City of Tampa coach Raheem Morris and new Chiefs coach Todd Haley have never been head coaches before. Jagodzinski and Gailey both have been head coaches, Jagodzinski in Division I-A, Gailey in Division I-A and in the NFL. Maybe they were strutting around issuing orders, acting like they were the real head coaches of their teams. Or maybe Morris and Haley felt threatened by having staff members with significantly more experience. Head coaches often are fundamentally insecure -- and Morris and Haley might have worried that if things started to go south with the season, there were guys in the building with enough stature to complain. No more. The bureaucratic politics analysis doesn't apply to the Buffalo firing of Turk Schonert, who has never been a head coach. The TMQ warning is the same, however: Tuesday Morning Quarterback warned three weeks ago that Schonert was running a hyper-predictable offense that was bound to fail.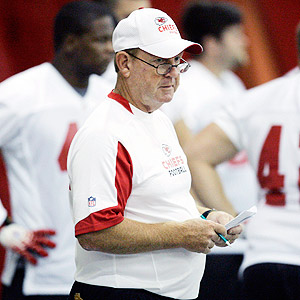 AP Photo/Orlin WagnerDid they make him return the Chiefs team shirt?
Note 1: Haley couldn't get along with Gailey, though Haley's college degree is in communication. Note 2: Morris said he fired Jagodzinski because he "thought the offense needed a new direction." How about toward the end zone! Note 3: The director of the New York City subway system resigned recently, saying the governor wants to take the subway system "in a different direction." Subway trains cannot change direction! Note 4: Gailey, 57 years of age, has coached (in chronological order) at the University of Florida, Troy State, Air Force, back to Troy State, the Denver Broncos, the Birmingham Fire (World League), Samford, the Pittsburgh Steelers, Dallas Cowboys, Miami Dolphins, Georgia Tech and Kansas City. That's 12 employers -- which in football coaching doesn't make him weird, it makes him normal.
$5 Cupcake Update: As the college season kicked off, major program after major program bravely faced cupcake schools that had been hired to be defeated. Here's the TMQ accounting, considering only games pitting Division I-A teams against Division I-AA colleges -- I don't include obvious mismatches such as Tennessee hosting Western Kentucky, since both play in the same classification. Air Force, Arkansas, Boston College, Florida, Georgia Tech, Iowa, Kansas, Louisville, Mississippi State, North Carolina, South Florida, Texas Tech, Vanderbilt and West Virginia defeated Charleston Southern, Citadel, Indiana State, Jackson State, Jacksonville State, Liberty, Missouri State, Nicholls State, North Dakota, Northern Colorado, Northern Iowa, Northeastern, Western Carolina and Wofford by a combined 610-112. There's some fair competition, me laddies! But the cupcakes had their revenge, with William & Mary defeating the University of Virginia, and at Virginia no less, while Northern Iowa came within a field goal attempt on the final snap of defeating prohibitive favorite Iowa.
Real Football Here At Last: During the preseason, TMQ uses "vanilla" jokes designed to confuse scouts from other sports columns. Next week, the games are for real, and so is Tuesday Morning Quarterback -- I'll come at readers from all directions with no-huddle vertical prose and unorthodox grammatical structures.
Reader Animadversion: Got a complaint or a deeply held grievance? Write me at TMQ_ESPN@yahoo.com. Include your hometown if you hope to be quoted.
TMQ on Twitter: You can sign up to get a Twitter alert whenever a new TMQ posts. I will not clog your laptop or cell phone with commentary on the atmospheric pressure in Bolivia. The only tweets you will get will be word that a new column just posted.
Next Week: To celebrate the start of a throwback-oriented NFL season -- a throwback Tuesday Morning Quarterback.
Author of "The King of Sports"
Former Fulbright distinguished fellow
Contributing editor to "The Atlantic"
2009 NFL PREVIEW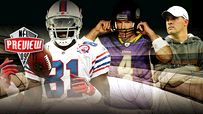 POWER RANKINGS
COMMENTARY/BLOGS
TEAM PREVIEWS
BACKUP QB PLANS
RANKING TODAY'S QBs
Wednesday, Sept. 2: We turned to a former Super Bowl-winning QB to provide a unique take on today's bunch. Trent Dilfer
HOW THEY DO IT
Thursday, Sept. 3: Breaking down AFC offensive, defensive philosophies. Scouts
Friday, Sept 4: Breaking down NFC offensive, defensive philosophies. Scouts
PREDICTIONS
10 BIG QUESTIONS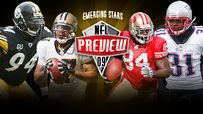 EMERGING STARS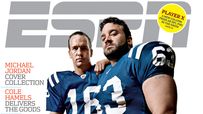 ESPN THE MAGAZINE (INSIDER)
PAGE 2