Commentary
TMQ can do the throwback thing, too
If there had been Tuesday Morning Quarterback in 1959 …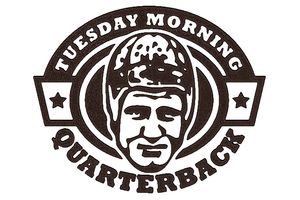 Kookie! Against the Rams, the Giants just passed as many times as they rushed. Have they no sense of tradition, of the essence of football? The Giants and Rams combined for 210 yards rushing,and 574 yards passing. Talk about pass-wacky! What's next, indoor football? Guys in the barbershop are gassing about quarterback Charlie Conerly as if some skinny cat tossing the pigskin is more important than a fullback going straight up the middle. Mark my words, it will be the end of football's popularity if this forward-pass fad catches on. There is even a rumor -- I wish there were some way of checking rumors, other than sending mimeographed questionnaires by mail -- that a high school coach in Ohio named Glenn Ellison just debuted a formation he calls "the spread." There are four wide receivers, no tight end, no fullback, and the quarterback stands far back behind the center! This will never catch on, of course. Three-yards-and-a-cloud-of-dust always will dominate football. Still, the very idea of four wide receivers is upsetting to Tuesday Morning Quarterback -- which now arrives in the mail on Saturday afternoon. You dig me, Daddy-O?
In vacuum-tube news, have you heard the big story? ABC will televise the new upstart American Football League. With one NFL game on NBC each Sunday and another on CBS, if there's also a game on ABC, that means three pro football games on TV in the same week! Add the one college game, and that's four televised football games weekly. Plus, ABC says it's going to bring two complete camera crews to each game, instead of the standard one fixed midfield camera. Good golly Miss Molly! Football on television has reached nirvana -- it can't get any better than this. If only my set's rabbit ears would bring in CBS. But don't get me started.
[+] Enlarge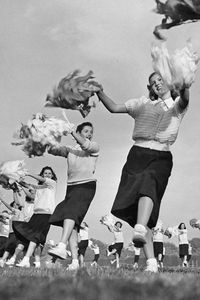 Ralph Crane/Time Life Pictures/Getty ImagesCheerleaders in miniskirts? Unthinkable!
In aesthetic news, TMQ keeps hearing that the Washington Redskins are about to add a cheerleader squad. Sure, I'd like to play some backseat bingo with these dollies. But attractive women on a football sideline? This will imperil the morals of our nation's youth. It's one thing for colleges to have properly attired paper-shakers with chaperones. Word is the upcoming pro football cheerleaders will wear short skirts! That's close. For all you know, once football cheerleaders start showing skin, boys will want pin-up calendars. Then the whole country will go downhill.
In political news, congratulations to Fidel Castro. The United States just recognized his new government; Cuba is sure to prosper and U.S.-Cuba relations will be swell. Congratulations to Hawaii, which has achieved statehood. Though let's be realistic -- it is inconceivable there will ever be a president from Hawaii. TMQ sure liked "Sleeping Beauty" -- it's not ultra-violent, like that flick "Ben Hur." Really, the violence in "Ben Hur" is so graphic, how could Hollywood go any lower? There's a lot happening in technology -- the Soviet probe Luna 1 just hit the moon, Explorer 6 just took the first photo of Earth from space, and the monkeys Able and Baker just came back from space unharmed. But men in space? Come on, get real. Actually, the new technology that excites me most is mail delivered by cruise missile. Imagine if you could send a message that would be received by someone in another state on the same day. Obviously the only possible way to do this would be by using rockets. In other news, I just read about this new toy, the Barbie doll. That's got no staying power. Neither does this new "Motown sound" people are talking about, or the ridiculous new Mini Cooper car. That's bound for the junkyard of history. Give me a flip-top rod with a four on the floor any day. They're subterranean!
[+] Enlarge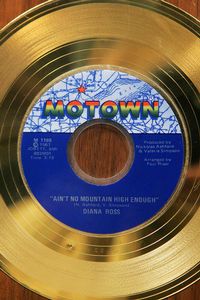 AP Photo/Paul SancyaMotown sound? Diana Ross? TMQ of 1959 predicts this will never catch on.
OK, enough throwback -- 50-year-old slang is explained here. Besides Monday night's throwback doubleheader on "Monday Night Football," there are nine more contests this season in which both teams will wear throwback uniforms, led by New England, which will wear its throwbacks four times -- four outings for Pat, the guy in the Minuteman duds hiking the ball on the old Boston Patriots' helmet. Tennessee's throwback helmet, from the franchise's days as the Houston Oilers, features an oil derrick -- quite a logo for a squad called the Titans. Regrettably, the Dallas Cowboys will not appear dressed as the Dallas Steers, the team's original name. The Jets' original name was the "Titans of New York." Maybe today they should be the "Jets of New Jersey." The Oct. 11 Cowboys at Chiefs game is Dallas at Dallas in throwback terms, since the Chiefs began as the Texans. The Sept. 27 Titans at Jets contest is Oilers at Titans in throwback terms. The Nov. 15 Bills at Titans game is Bills at Oilers in throwback terms -- so if Buffalo falls behind 35-3, don't turn it off!
Last week on "The Brian Kenny Show," I said I like Colts versus Saints for the Super Bowl. (This season, TMQ will be on ESPN News on Tuesday afternoons and on Kenny's show Tuesday evenings.) That was my thinking-based prediction, and thus sure to be wrong. Traditionally, Tuesday Morning Quarterback proposes that the team goin' to Disney World will be one that does not appear on "Monday Night Football." This year's Monday night shutouts are Cincinnati, Detroit, Jacksonville, Kansas City, Seattle, St. Louis and Tampa. An unimposing group to be sure, but if the league braintrust thinks they will all be bad, one is sure to be good. Therefore, once again, I predict the Super Bowl winner will come from among the teams not on "Monday Night Football." I am 2-for-9 on this prediction so far -- the Rams and Patriots won in seasons they did not play on Monday night.
[+] Enlarge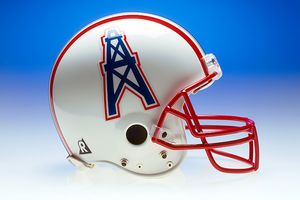 Michael Burr/Getty ImagesFairly shouts of "Tennessee."
In cultural news, the upcoming super-ridiculous movie "2012" supposes that the Mayans were right and the world will end in that year. What if the world actually is about to end, because the sun is about to fail? See some disturbing evidence below.
Stats of the Week No. 1: Santonio Holmes had the last touchdown of the 2008 season and the first touchdown of the 2009 season. Five years ago, Adam Vinatieri had the last points of the 2003 season and the first points of the 2004 season.
Stats of the Week No. 2: Indianapolis has won 10 of its past 11 games, with the sole loss an overtime game in which the Colts never had an OT possession.
Stats of the Week No. 3: Cleveland has two offensive touchdowns in its past seven games.
Stats of the Week No. 4: As coach of New England, Bill Belichick is 17-2 against Buffalo.
Stats of the Week No. 5: As coach of Buffalo and Chicago, Dick Jauron is 0-8 against Belichick.
Stats of the Week No. 6: Stretching back to last season, Tennessee has lost consecutive games by a 13-10 final score, and in those losses the Titans reached the opposition's 12-, 13-, 19-, 22-, 27-, 30-, 33- and 34-yard lines without scoring.
Stats of the Week No. 7: Seven of Jason Campbell's last 532 passes have been intercepted. Nine of Jake Delhomme's last 51 passes have been intercepted.
Stats of the Week No. 8: After winning all their regular-season home games in 2008, the Carolina Panthers have lost their last two games at home, by a combined score of 71-23.
Stats of the Week No. 9: Baltimore, which surrendered only 29 yards rushing against Kansas City, has not allowed a 100-yard rusher since 2006.
Stat of the Week No. 10: Two years ago on "Monday Night Football," Buffalo lost to Dallas 25-24 by giving up nine points in the final minute; Monday night on "Monday Night Football," Buffalo lost to New England 25-24 by giving up 12 points in the final two minutes.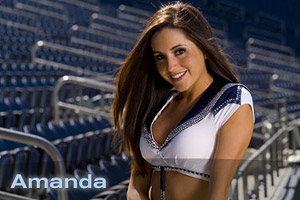 Seattle SeahawksShe switched teams in free agency.
Cheerleader of the Week: Reader Kevin Moore of Basking Ridge, N.J., nominates Amanda of the Seattle pep squad, "in honor of Brett Favre, since she's a free-agent cheerleader." According to her team bio, Amanda once danced for the Houston Texans, but switched allegiance to the Seahawks. Also, according to her bio, she has a degree in broadcast journalism from Loyola University. Readers can nominate cheerleaders of the week at TMQ_ESPN@yahoo.com. Include your name and hometown.
Sweet Play of the Week: After catching the deflected pass on a play that will be seen on highlight films until the universe ends, Brandon Stokley of Denver raced downfield, reaching the Cincinnati 1 with about 16 seconds showing on the game clock. Instead of immediately crossing into the end zone, Stokley jogged sideways along the white line, using up clock. He could do this because no Bengals speed player was in sight (see below). By jogging along the end zone line, Stokley burned an extra five seconds of clock on his 87-yard TD. Great presence of mind -- especially considering it was the only time he touched the ball on the day! Bear in mind, however, officials can whistle the play dead if the ballcarrier is not attempting to advance.
[+] Enlarge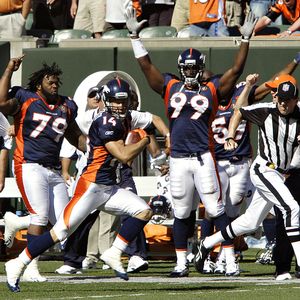 AP Photo/Al BehrmanThe linesman chased him at full speed. How come the Bengals didn't?
Sweet Eagles Plays of the Week:
With Philadelphia leading host Carolina 17-7 and having possession on the Cats' 9, all Eagles blocked to the left; Donovan McNabb faked a spread-style handoff to Brian Westbrook running left; tight end Brent Celek, who had been blocking left, spun and ran into the right flat; McNabb rolled right and hit Celek for the touchdown.
With Philadelphia now leading by the New Economy score of 24-7, the Nesharim had possession on the Panthers' 4. McNabb rolled right -- remember, last time in this position, McNabb rolled right and threw right -- then flipped a shovel pass underneath to Westbrook, who scored behind a terrific pull-block by undrafted free-agent guard Nick Cole.
Cats meltdown note: Coach John Fox says he's sticking with Jake Delhomme at quarterback, who in his last two outings has thrown nine interceptions and lost two fumbles. Carolina went into the season gambling that the team did not need a quarterback of the future.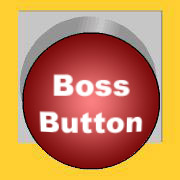 Sweet Sequence of the Week: In one sequence in the Steelers-Flaming Thumbtacks collision, Ben Roethlisberger pumped hard left, the safeties bit, and the result was a 29-yard completion deep to Hines Ward. On the next snap, Roethlisberger pumped hard left, the safeties bit, and Roethlisberger connected with Santonio Holmes for a 34-yard touchdown. Two snaps later: Kerry Collins pumped hard left, the Pittsburgh safeties bit, and Collins had a 57-yard completion to Kenny Britt.
Sour Play of the Week: With Cincinnati facing fourth-and-2 on the Denver 42, the Trick-or-Treats sent the punt team onto the field -- yet another fraidy-cat kick on the edge of the Maroon Zone. At least, that's what Denver assumed as it dropped a returner back. But wait, the Cincinnati punt unit had no punter! The ball was quick-snapped to up-back Brian Leonard, who ran for the first down. Denver never noticed the absence of a punter on the "punt" team.
[+] Enlarge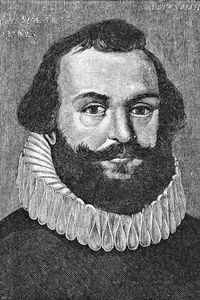 Archive Photos/Getty ImagesMyles Standish also went undrafted, out of Plymouth.
Sweet 'N' Sour Matched Plays: Miles Austin -- undrafted out of Division I-AA Monmouth, and looking better than megabucks fellow wide receiver Roy Williams -- made a sweet spin move for a 42-yard touchdown. Austin spun at the sideline, where City of Tampa cornerback Elbert Mack lightly shoved him, thinking he was already out of bounds. But he wasn't! That was sour. Mario Manningham of the Giants took a simple hitch pass on third-and-8 and legged it to the end zone, after breaking a sloppy tackle attempt by Kareem Moore at the line. That was sweet. Halfway through the run, always-boasting megabucks cornerback DeAngelo Hall gave Manningham a light shove at the sideline, thinking he was already out of bounds. But he wasn't! That was sour. Plus, where oh where were the Redskins' safeties? As Manningham crossed the goal line, only linebacker London Fletcher and defensive end Phillip Daniels had bothered to chase him. NFL players spend all year elaborately training, then game time rolls around and they can't be troubled to tackle a runner or chase an opposition player headed for the end zone.
Bucs note: The revamped Tampa offense rolled up 450 yards and no turnovers Sunday, but the Tampa defense failed to show. Skins note: The Jersey/A defensive line ate the Washington offensive line's lunch.
[+] Enlarge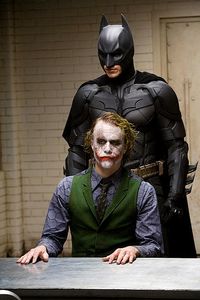 Warner Bros. PicturesContemplate this photo for a moment, and then try telling us it came from a great motion picture.
How About 10 Nobel Peace Prizes Every Year? The Academy of Motion Picture Arts and Sciences -- what a name, there is a science to making a buddy road flick -- just expanded the Oscar nominees category for Best Picture from five to 10. (In keeping with the pretense, the Academy has a Science and Technology Council -- not a committee, a council!) Studios want any excuse to slap the words "Best Picture" on movie adverts, even if "nominated for" must appear underneath in six-point type; now twice as many flicks will be promoted in this manner. The proximate cause of the expansion was that many complained "Wall-E" and "The Dark Knight" were not Best Picture nominees in 2008. "Wall-E" was a terrific flick, the finest Hollywood romance in years, despite starring two mute robots; "The Dark Knight" was a terrible film. People felt "The Dark Knight" had to be praised owing to the death of Heath Ledger; that movie was terrible. The big chase scene at its center made absolutely no sense -- no matter what street the van turned down, the Joker's tractor-trailer truck was already on that street and approaching from the opposite direction. Huh? The Joker made no sense. How did he know where everyone in Gotham City was at every moment? How did he enter guarded buildings without being detected? How did he command an army of super-competent ultra-loyal henchmen, including engineers and surgeons, despite having no money and boasting of murdering his own assistants for amusement? And that scene of gibberish pseudo-philosophizing about society by the Joker, puh-leeze. If there were 100 Best Picture nominees, "The Dark Knight" should not have been one.
For the Pulitzers, the National Book Award, the National Magazine Award, and other prizes, there are already far more than 10 nominees -- because writers, newspapers and magazines nominate themselves. Anyone can be "nominated" for a Pulitzer Prize; just fill out the form and send it in. It's only a matter of time until some slapdash thriller is marketed as "Nominated for the National Book Award!"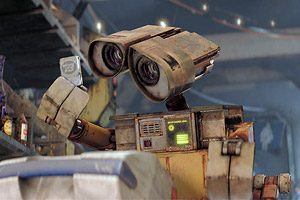 Disney/PixarThe greatest Hollywood romantic lead since Cary Grant.
"Monday Night Football" Analysis: So, why weren't the TV announcers dressed in throwback uniforms? The players, officials and cheerleaders wore 50-year-old styles. Why weren't the "Monday Night Football" booth crews attired in black-and-white suits, narrow ties and fedoras? Jon Gruden should have had a buzzcut. Ron Jaworksi should have worn thick horn-rimmed glasses and an "I Like Ike" button.
Buffalo endured its third consecutive "Monday Night Football" loss in the final minute. The killer mistake didn't come when Leodis McKelvin ran a kickoff out of the end zone with the Bills ahead by five at the two-minute warning. Sure, the Buffalo "hands""team was in, so McKelvin had no wedge, but he's a good return man. The killer mistake was when McKelvin struggled to try to gain an extra yard after he was under tackle by two Patriots. Get on the ground! He'd brought the ball back to the 31-yard line -- reaching the 32 was completely irrelevant. He's a super-highly-paid first-round-drafted NFL player -- doesn't he know the desperate Patriots will try to strip the ball? Get on the ground! Often all a football team needs to do is the obvious, and things will be fine. Had McKelvin simply gone to the ground once he was hemmed in, Buffalo's chances of victory would have been good. Instead, it's yet another humiliation for a squad that once operated in the NFL's elite. Buffalo lacks the football IQ necessary to win.
The Bills' no-huddle offense only resulted in the Patriots running 29 more offensive plays and holding a 14-minute edge in time of possession. Predictably, this caused the Buffalo defense to tire at the end; Buffalo's defenders played well for the first 55 minutes, then in the final five minutes they surrendered 112 yards and 12 points. The no-huddle is supposed to make the opposing defense tired -- but often it makes your own defense tired, because quick three-and-outs send the defense back onto the field. To compensate for tired pass rushers, Buffalo began blitzing in the final five minutes, and of course you know how that worked out.
After a shaky start, the New England offensive line returned to normal form in the second half. After a shaky start, Tom Brady returned to his 2007 form in the fourth quarter and did what smart quarterbacks do -- he took what the defense offered. Buffalo was blitzing linebackers but keeping its safeties deep to prevent a long strike to Randy Moss. That meant the short throws had to be open, and here are the completions by Brady on the Flying Elvii's final two drives: 18 yards, 16, 13, 10, 10, 9, 8, 7, 6, 6, 5 and 4. You don't see many dramatic comebacks based on 8-yard flare passes to the tailback. But Brady has football IQ, so he took what worked. And when he recognized that Buffalo blitzing meant tight end Ben Watson was covered by a linebacker, he looked to Watson for both last-minute touchdowns. Every NFL quarterback has a strong arm -- seeing the field and knowing where to put the ball is the greater skill. Brady sure has that.
Out in Oakland, the narrative was amazingly similar, but it just happened after the East Coast hit the hay. A once-proud franchise (Raiders) faced a current darling (Chargers) and lost in the closing seconds. The Raiders also played their opponent well defensively until the middle of the fourth quarter, after which they gave up 166 yards and 14 points. When the Bolts reached the Raiders' 10 with 46 seconds remaining and a timeout, trailing by three, it was Darren Sproles, not LaDainian Tomlinson, on the field for the deciding plays. Sproles carried the ball to the Oakland 5, and then the Raiders, with 21 ticks showing, inexplicably called timeout, in effect granting the Chargers an extra snap. (San Diego needed to conserve its own timeout for a field goal attempt to tie and force overtime.) On the bonus snap, Sproles ran for the winning touchdown. Where was Oakland's football IQ? And did the Raiders actually bring in dirt from the year 1960 for the middle of their field?
Please End These Streaks: Pittsburgh has won 11 straight games against Cleveland. Ben Roethlisberger, who was born in Ohio and went to college in Ohio, is 9-0 as a starter versus the Browns. Peyton Manning has won 13 of 14 against Houston. New England has won 17 of its past 18 against Buffalo. Dallas has lost nine consecutive season finales. Seattle has won eight straight against St. Louis. San Diego has won 12 straight against Oakland. San Diego has gone three consecutive seasons without a loss in December. Washington has won 24 of its last 26 games against Detroit; the Lions host the Redskins on Sept. 27.
[+] Enlarge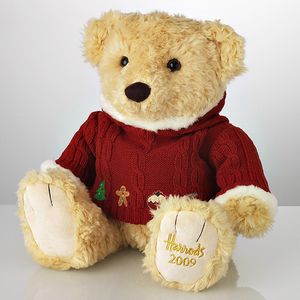 HarrodsThe Harrods 2009 Christmas bear -- you can own it before Rosh Hashanah.
Christmas Creep: Chris Holski of Brockville, Ontario, writes, "The small town of North Augusta, Ontario, held a Labour Day parade this past week. The theme? Christmas. Events included a Christmas play and Christmas sing-a-long." Dan Watson of Rochester, N.Y. reports, "Sighted on 6 September at Seabreeze, an amusement park in Rochester: Santa Claus, in full traditional garb and attended by three park staffers dressed in red, came skipping through the arcade and onward to one of the park's new rides to visit the kids in line." Joseph Bonneau of Cambridge, England, writes, "I was at Harrod's in London on August 29. In addition to having the 2009 Christmas Bear already available for sale, they had a section of the store set up as 'Christmas World.'" Ari Elias-Bachrach of Laurel, Md., tops that: "My wife and I recently bought a house. I wanted to get some outdoor chairs so we could sit outside and enjoy the crisp autumn air. I went to Lowe's in Laurel over Labor Day weekend and was told that all the outdoor furniture had already been put away to make way for the Christmas trees." Rev. Thomas Ferguson of Madison, Wis., tops them all: "My wife and I checked into a hotel over Labor Day weekend. On the coffee table was a book titled 'Prayers for the Season.' I opened it. The first was, 'A Prayer to Remind us of the True Meaning of Christmas.' It warned against -- Christmas commercialism."
Sweet Team of the Week: OK, they were playing Detroit. But New Orleans had the league's No. 1 offense in 2008, and the Saints picked up where they left off with 45 points, six touchdown passes and 515 yards of offense. Drew Brees, scorned by San Diego and Miami, has become a marvelous quarterback -- is he now the NFL's best? New Orleans has allowed just 13 sacks on its 670 pass attempts since the start of 2008, which means the team has enjoyed excellent line play and that Brees is extremely adept at sidestepping rushers while keeping his eyes downfield. On his 15-yard touchdown throw to Jeremy Shockey, Brees sidestepped a pass-rusher, but did so efficiently -- he didn't run around like mad, he just took three sideways steps, then got his shoulders square before releasing. Hall of Famer Steve Young contends you can tell how a quarterback is playing by watching his feet, and Brees now has the best footwork in the NFL.
The Saints' high school-based spread offense is fun tactically, too. Defensive coordinators are now terrified of facing the Saints' spread, so shifting out of it is a surprise. Leading 7-0, New Orleans had first-and-10 on the Lions' 39 and came out in a full-house backfield with two tight ends. The defense was confused -- New Orleans never goes full house! If you looked closely, one of the tight ends was skinny speed receiver Robert Meachem. Brees play-faked behind a "max protect" package and looked deep for Meachem, who was open in the end zone for six.
Who Looks This Stuff Up? "Never in the NFL has a team that won nine games in the previous season handed its starting job to a 22-year-old rookie who sat out more college games than he started." -- Greg Bishop in the New York Times, on Mark Sanchez.
Proposed Solution -- Launch Al Gore Into the Sun: I don't wish to alarm you, but the sun is supposed to be covered with spots right now -- according to solar-cycle charts, this should be an active year for sunspots -- and instead is eerily clean. "Blank," in space-weather lingo. Here, you can click on "latest Mauna Loa image" to see how the surface of the sun looked on Monday; additional daily solar images are here. In March 2006, the National Center for Atmospheric Research predicted the next solar cycle would begin no later than 2008, and that by 2009, much of Sol's surface would be sunspots. Also in 2006, NASA's David Hathaway, a prominent solar physicist, predicted a "ferocious" sunspot cycle happening around now. Power and communications companies were advised to expect substantial disruption from solar storms -- the nascent cell-phone business has not yet coped with a solar maximum. Instead all is quiet on the surface of the sun.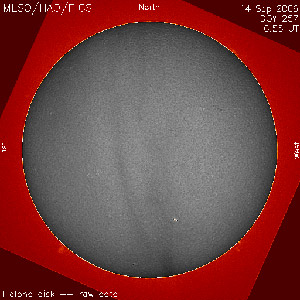 National Weather Service/Space Weather Prediction CenterWhere are its spots?
Sunspot cycles are thought to be caused by rhythmically changing currents in the sun's magnetic fields, but that's only the leading guess. Though human life depends on the sun, NASA has spent just a tiny fraction of its resources studying our star -- plunking a Motel 6 on the moon obviously is far more important! Astronomers have known of sunspots since ancient times, but detailed observations date only to 1755, and the concept of the solar cycle was not proposed until 1843, by the astronomer Samuel Schwabe. Solar luminosity is thought to decline slightly when sunspots are absent -- during the "Maunder Minimum" and then "Dalton Minimum," periods covering much of 1650 to 1850, sunspot activity was below average and Europe had cold winters followed by late springs. Professional doomsayer Al Gore endlessly declares that the last two decades have been "the warmest on record" -- he doesn't add that the "record" of reliable temperature data begins in the late 19th century, just when prolonged solar minima were ending and Earth entered a period of recovery from cool centuries. (Meaning temperatures likely would have risen in the 20th century whether man existed or not; I believe greenhouse gases should be regulated, it's just that it would be nice if Gore were honest about the evidence.) Lack of current sunspot activity may help explain why, though all computer models predict increasing artificial global warming, the last couple of years have been slightly cool. (Slightly cool years do not disprove global warming.)
Cosmologists are in broad agreement that Sol is a "main sequence" star which should continue to burn at uniform power for at least several hundred million years; other stars similar to Sol appear to burn uniformly for very long periods. Stars like the sun aren't supposed to change output over time horizons that matter to people, though do gradually become warmer, as gravity compresses them. A core mystery of climate is why, though the sun has been growing moderately warmer for perhaps a billion years, past epochs were much hotter than today -- when the dinosaurs lived, Antarctica was forested -- while the past 40 million years have been characterized by cyclical ice ages. There is no scientific consensus on the cause of geologically "recent" ice ages. But they shouldn't be happening, at least for solar reasons, if the sun is gradually warming as cosmologists believe.
Why did The Experts forecast a ferocious sunspot cycle only to observe, so far, quietude? Lack of knowledge of the sun is surely the primary explanation. The secondary explanation might be desire to get media attention by predicting something that sounds like a made-for-TV sci-fi movie. Then again, maybe the sun is about to fail.
The sun has probably gone through countless periods of surface quietude in the past, and we are only now noticing. Here's what to lose sleep over. Standard solar models predict the sun should be producing huge numbers of neutrinos, but elaborate, expensive attempts to detect neutrinos streaming from the sun don't find them. Standard solar models further predict a star like Sol would stop producing neutrinos when it is about to fail. Theory says the sun should be producing lots of sunspots and lots of neutrinos. It's making neither. A new concept says "neutrino oscillation" may account for why neutrinos could be absent but the sun remains fine. Let's hope this concept is right.
[+] Enlarge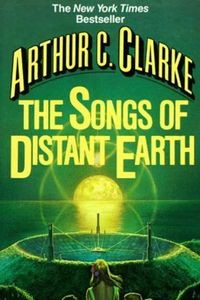 Del ReyThis book speculates on the sun failing. Diverting sci-fi. Can't happen. Right?
The late sci-fi writer Arthur Clarke's "The Songs of Distant Earth," published in 1986, concerns what would happen if the sun is about to die. In the book, early in the 21st century it is realized that Sol is failing and will go supernova relatively quickly in cosmic terms. (A physicist by training, Clarke was much more concerned with neutrino absence than sunspots.) In the novel, determined attempts to discover warp drive produce nothing. The only idea anyone can come up with to preserve life is to build cargo vessels bearing robots, supplies, seeds and human and mammal embryos, then send the vessels on lengthy journeys at a fraction of the speed of light. When the vessels arrive at a habitable world, the robots would go down to build shelters and plant crops; once it was safe, the embryos would be allowed to develop, tended by robots until new generations began.
In "The Songs of Distant Earth," for several centuries humanity devotes itself to launching gigantic cargo vessels packed with thousands of tons of robots, supplies, medical equipment and records of Earth, then dispatching them one by one toward distant star systems. At last, a sort of unplanned Golden Age occurs -- nations no longer fight, rather, concentrate their efforts on cooperation to spread life elsewhere. As expansion of the sun approaches, people stop having children, and Earth's population declines dramatically. Then a few years before the expected calamity, stardrive finally is invented -- and all energy is focused on construction of a magnificent starship to hold the final million people in suspended animation for a journey of 10,000 years to a world that resembles Earth. As human beings leave their cradle for the last time, the ship travels into a galaxy where many planets now have Earth-based life, spread by the robot vessels. The ship stops along the way to see what worlds might be like with transplanted humanity, but none of humanity's historical disputes and hatreds. "The Songs of Distant Earth" is a fun book -- read it to keep your mind off the possibility the sun is failing.
[+] Enlarge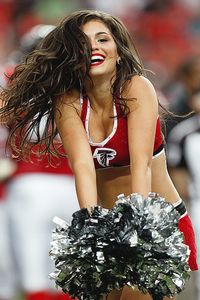 Kevin C. Cox/Getty ImagesThey're cheering in Atlanta for the Tony Gonzalez Riverdance move.
Stop Me Before I Blitz Again! The gruntled Jay Cutler's 68-yard pass to rookie Johnny Knox of Division II Abilene Christian came against a blitz, with no safety in sight. Mark Sanchez's first NFL touchdown pass, 30 yards to Chansi Stuckey, came against a six-blitz -- Stuckey was so open there was no safety to be seen anywhere in the television tetragon. New Orleans had Detroit on the ropes at 28-10 and facing third-and-6; a six-blitz allowed a 64-yard completion to Calvin Johnson and a Detroit touchdown on the series. Tony Gonzalez's Irish step-dancing touchdown move came as Miami was blitzing seven. All Gonzalez did was run a quick turn-out; the catch itself was the easiest one of his career. Arizona blitzed seven on what would prove to be San Francisco's game-winning throw to Frank Gore, who ran directly into the area vacated by a blitzing safety. Kansas City led Baltimore 14-10 and had the Nevermores facing third-and-8 -- six blitz, easy Baltimore touchdown. Later, score tied at 24, Baltimore faced third-and-8 again and expected a blitz, since the Chiefs were predictably blitzing on third-and-long. Kansas City rushed eight, a tactic almost never seen because it's like handing out an engraved invitation to score a touchdown, which is what the Ravens did: 31 yards to Mark Clayton for what would prove to be the winning points. Kansas City big-blitzed more than a dozen times, and as a result, the low-voltage Ravens offense gained 501 yards.
Of course, the blitz sometimes works; Chicago's Danieal Manning dropped Aaron Rodgers in the end zone on a safety blitz. (Thus, a safety safety.) TMQ's point is that it backfires just as often, especially on long-yardage downs, when blitzing is expected.
[+] Enlarge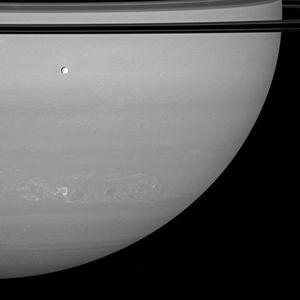 NASAThe wavy lines are a thunderstorm nine months old and thousands of miles long.
Space Weather Update: While the sun is eerily calm, on Saturn, a gigantic thunderstorm has been raging since January. It's the longest known lighting storm in the solar system. This image from the Cassini spacecraft orbiting Saturn shows the storm; the globe in the image is Saturn's moon Tethys. Thunderstorms on Saturn usually begin about 35 degrees below the equator, for reasons unknown. Anyway, there's a lot of electricity in the atmosphere of the planet, and life uses electricity -- current in your brain is how you are reading this column. (Note the photo is grayscale, as are most photographs sent from space. Grayscales in the transmission represent colors; NASA and other space agencies often photoshop images to add spectacular color. Why don't space probes send true color images? If you're up on astronomy and know the answer, write me at TMQ_ESPN@yahoo.com.
Adventures in Officiating: Darren Sharper of New Orleans was called for a personal foul for giving a Detroit receiver a forearm after the pass sailed by. TMQ wishes this foul were called more often: Defenders shouldn't get a free shot at receivers on an incompletion. On the next snap, from the Saints' 1, Kevin Smith of the Lions ran straight ahead, was stood up and stopped advancing. A Saints player ripped the ball out of Smith's hands, and officials ruled that when Smith's forward progress stopped, the play was over. Doesn't forward progress always stop exactly at the instant a ballcarrier loses possession of the ball? If forward progress negates loss of possession, how can there ever be fumbles? TMQ has long thought the rules need to be clarified on this point. Plus, had Smith hit the pile, stopped, bounced backward and then ran outside for a touchdown, the score would have counted.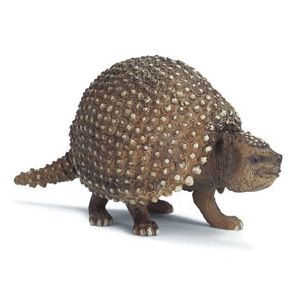 learningthings.com"Batting cleanup, the glyptodont."
Triceratops Behavior Linked to Modern Defensive Tackle: According to researchers in Uruguay, the glyptodont swung its tail "like a baseball bat" and tried to hit other creatures in the "sweet spot," the way a baseball player tries to hit a pitch.
Untouched Touchdown Run of the Week: Julius Jones ran 62 yards against Les Mouflons for the game-icing touchdown behind great blocking by the left side of the Seattle line, including tackle Sean Locklear and guard Rob Sims. It's pretty fun to run 62 yards for a touchdown if everyone in front of you has already been knocked to the ground.
Why Tactics Matter: As TMQ noted last month, going no-huddle all the time is just another way to be predictable, plus leads to rapid three-and-outs that send the defense back onto the field; but going no-huddle once in a while creates the element of surprise. Taking the ball after the kickoff which began overtime, Pittsburgh went no-huddle and surprised Tennessee, marching down the field for the winning figgie. Overtime is also a good moment to go no-huddle because by then the defense is tired. Starting a game no-huddle, as Buffalo did at New England, doesn't accomplish much because the defense is not tired. Michigan surprised Notre Dame by going no-huddle for the entire game, but the key word is surprised. Buffalo's bumbling Dick "Cheerio, Chaps" Jauron over the summer elaborately announced his intention to play New England no-huddle. When is the last time Bill Belichick elaborately informed the rest of the league what tactics he would use?
Proof of the Decline of Western Civilization: Attendance numbers for SEC spring football scrimmages.
Additional Proof of the Decline of Western Civilization: ESPN went live to Ed Werder so that he could describe Brett Favre walking from the locker room timeout to warm-ups. TMQ contends the player in question should now be called Brett Favre Brett Favre Brett Favre; his number should be 444. Maybe you heard that Minnesota won and Adrian Peterson ran wild. What struck me about the game was that undrafted free agent safety Abram Elam, who weighs 205 pounds, twice blew through enormous Vikings left tackle Bryant McKinnie, once to sack Favre Favre Favre and once to drop Peterson for a loss on third-and-1. Elam was the hidden gem in the Mark Sanchez trade. Don't forget his name.
More Burgers to Avoid: Hardees' and Carl's Junior, excoriated in a recent TMQ, are hardly the only burger chains selling sandwiches with absurd levels of calories and fat. A popular new sit-down burger franchise, Red Robin, talks a lot about local ingredients, corporate integrity and the like. But check its fare. The queso appetizer is 1,433 calories and 89 grams of fat; the Guacamole Bacon Burger is 1,160 calories and 77 grams of fat; the chicken tenders salad is 1,400 calories and 91 grams of fat; the Mountain High Mud Pie is 1,373 calories and 63 grams of fat. A meal of queso, burger, fries, mud pie and sugared soft drink hits 5,000 calories, double what the typical adult should consume in a day. But don't worry, Red Robin is using LED lighting to reduce fossil fuel consumption. So the company cares about the planet -- just not about people!
Buck-Buck-Brawckkkkkkk No. 1: Game scoreless, Denver had second-and-10 on the Cincinnati 31 with 13 seconds remaining in the first half, holding two timeouts. Josh "When Does the Frat Party Start?" McDaniels ordered a dive into the line to drill the clock, then sent in the field goal unit. How about trying for a touchdown? Or at least a gain? A 48-yard attempt is hardly assured.
Buck-Buck-Brawckkkkkkk No. 2: Trailing 31-7, Carolina faced fourth-and-goal on the Philadelphia 4 with 1:45 remaining before intermission. That can't be the field goal unit! You can't be serious! A touchdown here is the only hope of getting back into the game! If you're going to kick you might as well quit and go have blueberry-almond martinis. Carolina kicked, and went on to a 38-10 defeat.
[+] Enlarge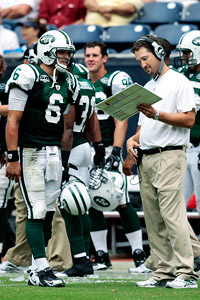 Bob Levey/Getty ImagesThat's Jets offensive coordinator Brian Schottenheimer in the T-shirt -- making Bill Belichick look overdressed.
Can They Get DirecTV at NFL Network Headquarters? In good football broadcasting news, NFL Network finally signed a peace treaty with Comcast. TMQ wrote two years ago that the core problem was the NFL had ignored econ 101 by attempting to charge more than the market would bear. "As soon as the NFL drops the NFLN asking price to the market-clearing level," yours truly supposed, the dispute would be resolved. And yea, verily, this came to pass. NFL Network dropped its price from about $8.50 per household per year, too much for a niche network that covers only one sport, to about $5.50. Immediately peace broke out.
In bad football broadcasting news, the NFL extended until 2014 DirecTV's monopoly over NFL Sunday Ticket. As TMQ annually notes, millions of American homes and apartments for technical reasons cannot receive the DirecTV satellite signal -- my house can't -- so the monopoly effectively bans millions of Americans from purchasing Sunday Ticket and deciding for themselves which NFL contests to watch. Sunday Ticket is offered on cable in other nations; anyone with a cable connection in Canada or Mexico can watch any NFL game. But in the United States, the NFL continues to refuse to offer Sunday Ticket via cable, thus denying choice to the very people whose taxes make NFL stadia and profits possible. Why doesn't Congress pass legislation to end this restraint of trade? My argument is not with DirecTV, which is a fantastic product -- wish I could buy it! My argument is with the NFL's reaping profits in stadia paid for by taxpayers, then creating a monopoly arrangement that prohibits many millions of Americans from signing up for Sunday Ticket and deciding for themselves what to watch.
As part of the peace pact with Comcast, the NFL offered Red Zone Channel to cable. I watched Red Zone Channel on Sunday and it is the cat's meow -- basically a live around-the-league highlights show happening while games are in progress. Red Zone Channel is an exciting new way to watch football, and if it were a network, it would out-draw many games. So far, of cable carriers, only Comcast and Verizon have purchased Red Zone Channel. Time-Warner, Cox, all the rest: Get on the stick and buy this channel. Your viewers will be pleased. Though lots of fun, Red Zone Channel also teases viewers with glimpses of what it would be like if they could choose for themselves which games to watch. Come on Congress, this is a cause with populist appeal: Break the NFL monopoly over viewer choice.
Gruntled Quarterback Update: TMQ is on record as suspicious of Jay Cutler, who heave-hoed four interceptions in his debut for the Bears. One second-quarter Chicago series: dropped interception, dropped interception, interception. But Cutler has also gone from Denver, where pass blocking is terrific -- only 12 sacks allowed in 2008 -- to Chicago, where "pass blocking" seems a controversial concept. On Cutler's second pick, guard Frank Omiyale did an olé on Clay Matthews, practically stepping out of the rusher's way; Matthews hammered Cutler as he threw. On Cutler's third interception, Omiyale barely brushed his man, then stood watching, doing nothing, as the quarterback was hammered during his throw. TMQ notes that it is amazing how often, during an NFL down, there is at least one gentleman simply standing there, doing nothing at all. If the gentleman doing nothing at all is one of your pass blockers, it's going to be a long night.
The four interceptions allowed Green Bay to win despite being substantially outgained by Chicago; in effect, the Bears had five turnovers, adding a botched fake punt that gave the Packers possession on the Chicago 30. Why did the Bears try a fake on a fourth-and-11, when conversion is unlikely? It was an "automatic" -- the snapper thought he saw Green Bay with too many men on the field, and snapped to the up-back hoping to draw a flag. Some teams have "automatics" for punt formation: If the snapper or up-back sees a defensive error that allows a chance to convert, he shouts a code that turns the punt into a fake, coaches never consulted. In this case, not only did the 12th Packer get off the field in time -- since it was fourth-and-11, a penalty would have made it fourth-and-6, and the Bears would have punted anyway.
He Hatched Sorted Schemes on a Sleaveless Night: "Without further adieu." Actual line in a Washington Post column last month; it should have been spelled, of course, "ado."
Obscure College Score of the Week: Pomona-Pitzer 20, Puget Sound 14 (overtime). Located in Claremont, Calif., Pomona College and Pitzer College are small liberal-arts schools that combine athletic facilities in order to field teams. Both schools use the same sports nickname, the Sagehens. The sagehen is a sexually dimorphic grouse, with males having puffed-out chests and performing elaborate strutting rituals to attract females; I do not know what this says about gender roles on the Pomona and Pitzer campuses. Though Pomona is an elite college, it boasts that "students let off steam by hitting the beach and the slopes on a same day." Mom and Dad, you might check to be sure you are getting your $50,568 worth.
Bonus Obscure College Score of the Week: Birmingham-Southern 35, Campbell 28 (overtime). Located in Birmingham, Ala., Birmingham-Southern College formally denies that it hosts a Satan-worshipping fraternity.
Weasel Coach Watch: Readers, including Diana Weingart of Boulder, Colo., noted Dan Hawkins theatrically promised he would not leave Boise State, then bolted out the door to Colorado the instant money was offered. The Buffalos are now 13-26 under Hawkins and were just blown off the field by a mid-major, the Toledo Rockets. TMQ's immutable law of weasel coaches holds: When you hire a coach who's only in it for himself, you get a coach who's only in it for himself. Why do colleges think someone willing to walk out on an existing commitment is the kind of person good to have around?
The Football Gods Chortled: In the Clemson-Georgia Tech game, Clemson botched a fake field goal attempt, and Georgia Tech returned the ball for a touchdown. On the next Georgia Tech possession, the Yellow Jackets ran a fake field goal attempt, and Clemson was caught unsuspecting; no one covered the target, and the Yellow Jackets scored a touchdown. You just ran a fake field goal, and were tricked by a fake field goal!
'Tis Better To Have Rushed And Lost Than Never To Have Rushed At All: Leading 34-31, Notre Dame had second-and-10 on its own 29-yard line with 2:29 remaining and Michigan holding two timeouts. Notre Dame twice threw incomplete, politely stopping the clock; the Wolverines scored the winning touchdown with 11 seconds remaining. Had Notre Dame simply run up the middle for no gain on each of its final two snaps, the action most likely would have come down to Michigan attempting a long field goal to force overtime. Instead, the Irish let Michigan preserve its timeouts, which proved critical during the final minute. In the endgame, run to advance the clock! Often all a football team needs to do is the obvious, and things will be fine.
That Win Really Messed Up the Streak: Detroit has lost 24 of its past 25 games. Will this change? The roster shows 31 of the 53 Detroit players are new since last season.
Unified Field Theory of Creep: Ty Daniels of San Diego writes, "I had an advertisement in my email this morning urging me to buy the 2010 version of Internet security software. They already know what is going to be a threat next year?" Matt McIntyre of New Baltimore, Mich., tops that: "The Vintage House Banquet Facility in Fraser, Mich., is currently advertising on their outside sign that St. Patrick's Day Party is only six months away." Andrew Darnell of Waltham, Mass., tops that: "In the mailroom at Brandeis University there are numerous brochures advertising spring break 2010. The leaves have yet to change color and we are already being bombarded by advertisements for a spring event."
[+] Enlarge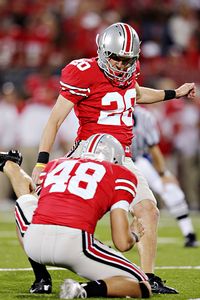 Andy Lyons/Getty ImagesA buck-buck-brawckkkkkkk kick doomed the Buckeyes.
Fortune Favors the Bold! Reaching fourth-and-goal on the Ohio State 2, USC did the manly-man thing, went for it, and scored a touchdown. Reaching fourth-and-goal on the USC 2, Ohio State did the fraidy-cat thing and launched a field goal. These decisions were the key to a game won 18-15 by the Trojans; had the Buckeyes gone for it, Ohio State likely would have prevailed. You're playing at home in front of a zillion screaming people dressed as school logos, you always lose big games, you need 2 yards: show some courage! Ohio State would have been better off going for it and failing -- thus pinning USC against its goal line -- than launching a fraidy-cat kick. By going for it, OSU coach Jim Tressel would have sent his players the message that he was challenging them to win the game; by kicking, he sent the message that he expected to lose and wanted to make sure Ohio State got to double-digits on the scoreboard, so the boosters wouldn't call for his head the following day. Check Tressel's wimpy postgame comments here -- he didn't think his own team could gain 2 yards at home! Three weeks ago, TMQ contended that coaches often kick on fourth-and-short in order to avoid criticism. As the field goal team trotted out for the kick that would doom OSU's chances, Kirk Herbstreit said on ESPN, "Jim Tressel got criticized a lot for going for it on fourth-and-2 against Navy, he needs to avoid being criticized again." This strategy doesn't even work! What is happening now? Everyone's criticizing Tressel.
Note that in the pros the following day, Chicago went for it on fourth-and-1 and scored a touchdown on the drive. Jacksonville went for it on fourth-and-2 and scored a touchdown. Indianapolis went for it on fourth-and-1 from the Jaguars' 35 at the two-minute warning and failed, but still won the game; by going for it, rookie coach Jim Caldwell sent his players the message that he was challenging them.
Reader Comments: Jonathan Nixon of Newport, N.C., writes, "College Gameday just posted Ohio State's record of 44-10 over the last 4 seasons. Against teams that played in BCS bowl games, they are 2-10; against everyone else, they are 42-0. That's a lot of cupcakes." Joseph Cross of Fort Worth, Texas, notes that my list of cupcake triumphs on opening weekend of college action failed to include Richmond, the defending Division I-AA champion, besting Duke at Duke. And Mindy Keffler of Ann Arbor, Mich., notes my list of big-money football programs that opened against cupcake schools failed to include Michigan State hosting Division I-AA Montana State, winning 44-3. Add these two neglected games and the combined score of football factories over cupcakes on opening weekend was 670-139. Gimmick sked note: Over the weekend Oklahoma relentlessly ran up the score on Division I-AA Idaho State, winning 64-0, while Cincinnati relentlessly ran up the score on Division I-AA Southeast Missouri State, winning 70-3. Leading 56-3, Cincinnati was still throwing the ball trying to run up the score. For these egregious displays of bad sportsmanship, Oklahoma and Cincinnati are likely to be punished by the football gods with unhappy seasons.
The Curse Lives: Last week, Oklahoma State was on the cover of Sports Illustrated, which subscribers receive on Thursday. On Saturday, Oklahoma State lost to mega-underdog Houston.
If Rep. Joe Wilson's Apology Is Accepted -- What About the Apology by LeGarrette Blount? Serena Williams was fined $10,000 for cursing out and threatening to harm a line judge in the U.S. Open. It's not just that in the Masterpiece Theater environment of tennis, the hushed crowd can hear a player curse; threatening another person with physical harm is in most states a crime akin to simple battery, such as throwing a punch. Williams, who is wealthy, was assessed a minor fine -- yet LeGarrette Blount of Oregon loses his entire senior season for throwing a punch. Blount's punch was wrong and punishment was required, but taking away his senior season -- in high school and college football, the senior season is the most important season by far -- for losing his cool in the heat of the moment is excessive punishment. What Blount did is not hugely different from what Williams did. Yet she is slapped on the wrist while he is severely punished.
[+] Enlarge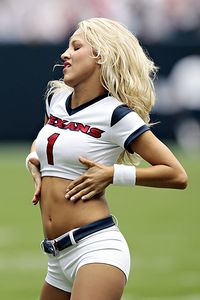 Bob Levey/Getty ImagesOnce again, the Texans' cheerleaders had more flash than the Texans.
Plus, whatever happened to the value of the apology? Blount apologized to Byron Hout, the player he struck, and Hout graciously accepted. Life is full of screw-ups. The apology, if accepted, lets us go forward without nursing grudges. Rep. Joe Wilson was incredibly rude to President Barack Obama last week. Wilson apologized; Obama accepted. The matter should now be closed. Blount's apology was genuine, and ought to count for a lot. Football spectators, TV fans and boosters are hypocritical to demand violent contact during games, then theatrically call for extreme punishment of a player whose heat-of-battle emotions had not cooled a mere two minutes after the contest ended. The suspension against Blount was imposed by his school, and so could be changed. Oregon, show clemency -- let Blount play the second half of the season.
High School Notes: One of the very best prep schools for a male athlete is DeMatha, a Catholic boys' school outside Washington, D.C., which not only produces strong sports teams but also has a genuine emphasis on academics. There are high schools with excellent sports but the athletes barely attend class. TMQ has little regard for these places; a kid who goes on to college sports from DeMatha is a kid who will study hard and graduate. Anyway, on Saturday, DeMatha had one running back rush for 392 yards and another back rush for 129 yards in a wild 56-35 win against a high school that is a traditional power. You don't see a lot of 500-plus rushing days in contested games. Meanwhile, reader Jason Fond of Fort Worth, Texas, points out this Texas high-school game that ended 70-63 as the winning quarterback threw for 541 yards.
Single Worst Play of the Season -- So Far: Just maybe you've seen a highlight of the Brandon Stokley play that won the Denver-Cincinnati game. Forget the ball bouncing or Stokley running, where were the Bengals? Leading 7-6 with 28 seconds remaining and the opponent pinned on its 13, Cincinnati coaches sent only a nickel, not a dime, onto the field. At the snap, the deepest safety was only 12 yards off. Once Stokley grabs the tipped pass, linebacker Dhani Jones is the sole Bengal who chases him all-out. Other Broncos, and Bronco coaches, ran down the sideline with Stokley. The linesman ran with him almost stride-for-stride. Where are the other Bengals? Safety Roy Williams, a former high-first-round draft choice, jogged half-heartedly behind the play. Cornerback Leon Hall, a former high-first-round draft choice, simply lies on the ground, watching Stokley motor. I couldn't tell from film who the other safety was, because he never runs toward the action. Cincinnati Bengals, you are guilty of the single worst play of the season -- so far.
Next Week: All 11 Bengals try lying down and watching during a game.
Author of "The King of Sports"
Former Fulbright distinguished fellow
Contributing editor to "The Atlantic"
NFL WEEK 2 PREVIEW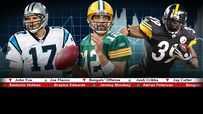 POWER RANKINGS
PICKS
FINAL WORD
STADIUM RATINGS
MVP WATCH
STOCK WATCH: Fallers, risers
COLUMNS/BLOG POSTS
SCOUTS INC.