Commentary
Hooray for coaches with courage!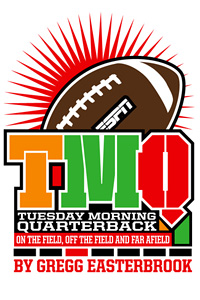 Has courage broken out in the NFL? This weekend, team after team went for it on fourth down, eschewing fraidy-cat kicks. (Only in sportswriting can you get away with "eschewing.") Pittsburgh went for it on fourth-and-goal in Chicago and scored a touchdown. Houston went for it on fourth-and-2, converted, and eventually scored a touchdown on the drive; the Texans went for it again on fourth-and-1 from the Tennessee 15-yard line with five minutes remaining in a tie game, converted, and scored the winning field goal on that possession after grinding down the clock. Washington went for it twice on fourth-and-1 on its final possession, converting the first time, failing the second time -- but the failure left St. Louis pinned on its own 4 at the two-minute warning. Atlanta went for it on fourth-and-1 from the Carolina 21, converted, and soon after scored what proved to be the winning touchdown. Buffalo went for it on fourth-and-1 from its own 36 -- what did Dick "Cheerio, Chaps" Jauron have for breakfast? -- converted, and scored a field goal on the possession. Minnesota went for it on fourth-and-2 with 2:18 remaining, and the conversion iced the game. Overall in Week 2, there were 34 fourth-down conversion attempts -- some in desperation time when coaches had no choice, but most when kicking was a reasonable option.
Of course, some of the tries backfired. The Buccaneers were stuffed on a key fourth-and-1 attempt, for instance. Courage wasn't universal -- several teams launched punts on fourth-and-short. Pittsburgh's fourth-quarter missed field goal came on a fourth-and-2; the game might have been very different had the Steelers gone for it. Cincinnati beat Green Bay despite punting on fourth-and-2 from midfield and on fourth-and-1 from the Packers' 35. Bill Belichick, of all people, ordered mincing fraidy-cat Maroon Zone punts on fourth-and-7 from the Jersey/B 36 and on fourth-and-5 from the Jersey/B 44. OK, New England's punt on fourth-and-34, that one I understood. But teams that launch punts in the Maroon Zone generally go on to lose, and the Patriots did. The punt from the Jets' 36 even went into the end zone, netting just 16 yards of field position. In Week 2's lowest moment, taking the field riding an 18-game losing streak, trailing by a touchdown in the second half, Detroit punted on fourth-and-2 from the Minnesota 42. The public-address system should have broadcast the sound of a chicken chuckling buck-buck-brawckkkkkkk; the football gods punished the Cowardly Lions by helping the Vikings return the kick to the 29, netting only 13 yards of field position. But overall this weekend, NFL coaches were less timorous than usual.
Why this sudden burst of manhood? Maybe the statistical arguments in favor of going for it on fourth down are finally catching on. Back in 2006, I detailed why probabilities favor going for it on many fourth-down situations. Back in 2007, I asked AccuScore to run thousands of computer simulations of NFL games using a go-for-it metric; going for it much of the time added one win per season to a team's record, and one win is often the difference between the playoffs and the couch in January in the NFL. Here in 2007 I wrote about Pulaski Academy in Arkansas, a perennial playoff-caliber high school team that almost never punts. And note two years ago I credited the source who first told me about Pulaski, unlike Sports Illustrated, which last week wrote about the same school's non-punting as if the magazine had just uncovered an original story. This analysis by Brian Burke (see, Sports Illustrated, it's not painful to credit others) of the benefits of going on fourth-and-short has also been making the rounds lately in football circles. All four parts are well worth reading, especially if you're interested in the intersection of economic theory and athletics.
As the first 2007 article linked to above argued in detail, football teams usually should go for it on fourth-and-4 or less in opposition territory, and on fourth-and-short in their own territory. Yes, occasionally this will backfire -- but over the course of the season, your team will score more points (owing to sustained possessions) while the opposition scores fewer points (owing to fewer possessions). But forget fourth-and-4 -- just think about fourth-and-1. Since roughly 75 percent of fourth-and-1 attempts are successful -- on Sunday, 82 percent of fourth-and-1 tries succeeded -- TMQ continues to marvel that NFL and big-college coaches so often launch kicks when only a yard is needed. I continue to think that avoiding criticism is the explanation. The sports-talk world -- and hence, owners and boosters -- insist on believing that going for it on fourth down is a "huge gamble." Actually, most of the time it's playing the percentages correctly.
In political news, Barack Obama surely is the best public speaker since Ronald Reagan, probably is the best speaker since Winston Churchill, and perhaps is the best public speaker ever. He tells a joke better than Churchill! Or Socrates. But though Obama speaks well, TMQ thinks he is speaking way too much. It's not just that he was on five news talk shows on Sunday, then on "The Late Show with David Letterman" on Monday night. The substantive speeches, too, have gotten out of hand. Granting interviews and making speeches rather than governing is a temptation for presidents, and Obama seems to be yielding to that temptation. See more below.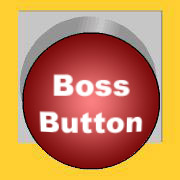 Stats of the Week No. 1: Drew Brees is on pace to throw 72 touchdown passes this season. The NFL record, held by Tom Brady, is 50.
Stats of the Week No. 2: New Orleans is on pace to score 744 points this season. The NFL record, held by New England, is 589.
Stats of the Week No. 3: Going back to the beginning of last season, the Tennessee Titans have followed a 13-2 stretch with a streak of 0-4.
Stats of the Week No. 4: Going back to the beginning of last season, the Tampa Bay Bucs have followed a 9-3 stretch with a streak of 0-6.
Stats of the Week No. 5: In their first two games, the St. Louis Rams have faced third-and-11, third-and-12, third-and-14, third-and-16, third-and-20 and third-and-22.
Stats of the Week No. 6: Since the start of the 2008 season, Ben Roethlisberger has been sacked 62 times. In that same period, Jay Cutler has been sacked 15 times.
Stats of the Week No. 7: Cleveland has one offensive touchdown in its past eight games.
Stats of the Week No. 8: (Bonus college stat.) Fresno State gained 507 yards, had 320 yards rushing, dominated the time of possession and was only minus-one in turnovers against Boise State -- and lost by 17 points.
Stats of the Week No. 9: Buffalo undrafted free agent Fred Jackson from academics-oriented Division III Coe College has 464 rushing and receiving yards combined in his past three regular-season games.
Stats of the Week No. 10: On Monday night Miami rushed for 239 yards, had a 3-1 time of possession advantage, committed only one turnover, and lost.
[+] Enlarge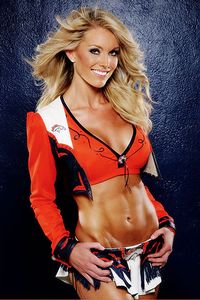 Courtesy of Denver Broncos Candace Wilson of the Broncos. While working her construction job, she must have learned about wind machines.
Cheerleader of the Week: Matt Callanan of Salt Lake City nominates Candace Wilson of the Broncos cheerleaders. According to her team bio, Wilson is an account manager for a medical sales firm, and grew up doing construction work during the summers in her dad's Ohio firm. That's where the ripped abs come from! This year's warm-to-the-touch Broncos cheerleader calendar was shot in Steamboat Springs, Colo., which meant a lot of the posing had to be indoors.
Sweet Play of the Week No. 1: On the first New Orleans touchdown in Philadelphia -- by the way, the Saints already have 12 touchdowns this season -- Reggie Bush lined up wide right, then went in deep motion left. Drew Brees faked a toss to Bush, while the Saints' left tackle and left guard pulled left ahead of Bush. All the Eagles bought this fake; Brees rolled out right and hit Marques Colston for a touchdown on a down-and-out. Colston would later make another catch for a touchdown with 43 seconds remaining in the first half, when he was inexplicably single-covered deep, with no safety in sight, despite Philadelphia having six men in coverage against three receivers. It is, shall we say, SUPER-ULTRA-OBVIOUS that Philadelphia's defensive weakness is rookie free safety Macho Harris, who simply stood like topiary around the 10-yard line on this play -- the Eagles may end up regretting showing the door to Brian Dawkins.
Saints-Eagles Note 1: A deflected Kevin Kolb pass was spiraling toward New Orleans' Anthony Hargrove, who had a likely interception. As the ball arrived, Philadelphia guard Max Jean-Gilles shoved Hargrove in the chest, knocking the pass down. As a result, a guard gets credited for a pass defensed! Saints-Eagles Note 2: New Orleans was called for running into the kicker on a made field goal. Andy Reid declined the penalty, keeping the three points on the board; the penalty would have made it fourth-and-goal on the New Orleans 2. When you're playing the high-scoring Saints, field goals will not get it done, and Philadelphia went on to lose by 26. Saints-Eagles Note 3: Once again, Bush waved the ball in the air before crossing the goal line. The football gods punish this sort of thing.
Sweet Play of the Week No. 2: With Carolina leading 10-7, Atlanta reached the Cats' 10. Rarely used Falcons running back Jason Snelling entered the game. Surely he's in to block, right? TMQ loves the tactic of bringing in a guy who never plays, then calling something for him. Tony Gonzalez ran into the left flat, drawing defenders; Snelling ran behind him, then cut to the center of the field. The result? An easy touchdown pass to the uncovered Snelling.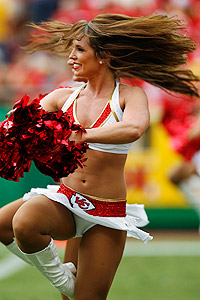 AP Photo/Ed ZurgaThe Chiefs need to reverse their losing psychology. The Chiefs' cheerleaders' psychology is just fine.
Sour Play of the Week: Kansas City was at the Oakland 9-yard line with 14 seconds remaining in the first half, out of timeouts, game tied. Matt Cassel threw a flare pass to running back Dantrell Savage, who was tackled inbounds after a short gain -- the clock expired while the Chiefs were trying to rush up to the line, denying them a field goal attempt in a game the Chiefs ultimately lost by three points. Lacking a timeout with 14 seconds left, you throw only into the end zone! Plus, even if the running back had gotten out of bounds, the Chiefs still would have kicked on the next snap anyway. This is the kind of football IQ stuff that quarterbacks who just signed a deal for $28 million guaranteed are supposed to know.
Sour Note: New Kansas City coach Todd Haley went for it on fourth-and-2 from the Oakland 39, and converted. Reaching fourth-and-1 on the Oakland 5 on the same drive, Haley elected to kick a field goal. Kansas City racked up 173 yards rushing in this contest -- why not go for it on fourth-and-1 on the 5, either advancing for a touchdown or pinning the opponent against its goal line? Kansas City is stuck in a losing psychology, which won't be reversed by field goals on fourth-and-1. Fashion Note: Whenever he went to the sideline, Oakland quarterback JaMarcus Russell put a ski cap on his head. The temperature at kickoff was 73 degrees. Arrowhead Stadium Note: There were so few people at the game in Jacksonville it was hard to hear the booing, but man, could you hear it in Kansas City.
Sweet 'N' Sour Play No. 1: San Diego won its opener on a touchdown run up the middle by Darren Sproles with 18 seconds remaining. This week, San Diego trailed Baltimore by five, with 37 seconds remaining, and the Bolts faced fourth-and-2 on the Ravens' 15. San Diego tried to run Sproles up the middle, and Baltimore's Ray Lewis, remembering what San Diego did the previous week in that situation -- the Chargers had also run up the middle on two previous short-yardage downs in the second half -- guessed the play correctly, shot the "A" gap between guard and center, and dropped Sproles for a loss, ending the game. That was sweet. No one from San Diego even attempted to block Lewis. That was sour. The Bolts had two offensive linemen pulling right; Sproles was supposed to run "underneath" them, with the play designed to make Baltimore think the run was going right when actually it was going up the middle. The result was plenty of blocking on the right, but no blocker in the "A" gap. When you watch the ball on this play, it appears that Lewis did something spectacular -- somehow he got into the backfield to tackle the runner for a game-winning play! Take your eyes off the ball and instead watch Lewis -- all he does is run straight ahead at the snap through an opening left by the San Diego offensive line. No one so much as stepped into his path.
[+] Enlarge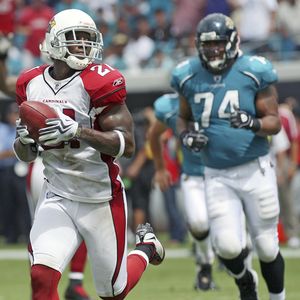 AP Photo/Phil CoaleIt's pretty fun to run the length of the field for a touchdown when all the guys chasing you are twice your size.
Sweet 'N' Sour Plays No. 2 and No. 3: Reaching the Jax 22-yard line, Arizona went trips right, with Larry Fitzgerald in the middle. Jacksonville had its regular defense, not a nickel or dime package, on the field. One cornerback, one safety and two linebackers went over to cover the trips formation. On the snap, the outside receiver faked a hitch; the Jaguars' cornerback came up to cover the hitch man; both linebackers stood looking confused; Fitzgerald sped to the end zone, hauling in a pass for a touchdown before the safety could arrive. That was sweet. But no one at all covered Larry Fitzgerald, the league's best receiver. That was sour. The defending NFC champions blocked a Jax field goal attempt, and Antrell Rolle returned the rock 83 yards for a touchdown. That was sweet. There weren't any speed players to chase Rolle -- Jax had offensive linemen, two tight ends, a punter (holder) and kicker on the field. That was sour -- every kick unit should have a speed player on it. According to the game book, the blocked kick and return play lasted 21 seconds, making it one of the slowest touchdowns in NFL history.
"Monday Night Football" Analysis: Ever wonder what would happen if a single-wing team from the 1950s met a high-tech no-huddle team of 2009? What would happen is Indianapolis 27, Miami 23.
There cannot be a greater contrast in styles than what happened on "Monday Night Football." Miami played much of the contest with no quarterback on the field, rushed 49 times for 239 yards, kept the Indianapolis offense on the bench, tired out the Indianapolis defense with an incredible 45:07-to-14:53 edge in time of possession, yet lost. The incredible time-of-possession edge allowed Miami, despite a run-oriented game plan, to pass 10 times more than Indianapolis did; the Dolphins had the ball so long, they led in every statistical category save points. Indianapolis played the entire contest in hurry-up mode, called offensive plays at the line of scrimmage, ran the ball a mere 11 times, pressured the Miami defense with lightning strikes, and prevailed. Not by much, though, obviously. The Colts benefited from good luck on several big plays -- luck is a greater factor in sports than generally recognized -- plus Ted Ginn Jr. of the Marine Mammals had both hands on the ball in the end zone with 22 seconds remaining for what could have been Miami's winning play. (It was no easy catch, though.)
So 1950s-style single-wing football almost came out on top. Because Miami rushed so well, all the Dolphins needed was for Lucky Charms receivers to drop a couple of Peyton Manning throws, and Miami might have cruised to victory over an exhausted Indianapolis defense. But Manning's throws weren't dropped, nor were any blocks missed in an extremely efficient offensive line performance. Single-wing style, Miami's longest gain from scrimmage was 21 yards. Indianapolis had gains of 24, 48, 49 and 80 yards. This is a reason time of possession can be a deceptive stat: A team that scores really fast has poor time of possession, but don't you want to score really fast? Even though it wasn't on the field much, by the fourth quarter the Dolphins' defense looked tired, at least mentally, from the relentless Colts pace. In the fourth quarter, the Dolphins' defense folded, allowing the Colts to go 79 yards for a touchdown in 3:17 and 80 yards for a touchdown in a mere 32 seconds, as Miami's coaches panicked and started calling blitzes, which only made matters worse. The no-huddle offense doesn't exhaust a defense when it's not working. But when the quarterback has a 133.9 rating on the night, as Manning did, the no-huddle spooks defenders.
Peyton Manning is praised so much, I hesitate to stack another accolade on the pile. But egads, this gentleman is good. Nobody throws as accurately off the back foot -- the ability to throw accurately while your body is moving backward enables a quarterback to frustrate a pass rush. Nobody throws precise sideline routes as well as Peyton, and right-on-the-sideline is the hardest point for the secondary to defend. Obviously, Manning excels at calling plays at the line of scrimmage. Miami tried to confuse him by showing one front, then backing out of it after he made his call, then returning to the original front. He didn't fall for it. Except for on two snaps, Manning's read of what Miami was about to do was right -- and on the game-winning throw to Pierre Garcon, he read the Dolphins' defense perfectly.
Setting single-wing versus no-huddle aside, the rest of the contest came down to calls, coaching and individual performances. What were the Dolphins doing in a standard 3-4-4, rather than a nickel or a dime package, against a team that always splits out three receivers and often sends the tight end downfield? On tight end Dallas Clark's two huge gainers, of 80 and 49 yards, he was covered by a linebacker -- both times by an inside linebacker (once by Channing Crowder, once by Akin Ayodele) -- because Miami didn't have a nickel package on the field. A defensive game plan in which football's best pass-catching tight end is covered deep by an inside linebacker is a strange game plan.
Why when Miami got the ball trailing 27-23 with 3:13 remaining did the Dolphins run a play, let the clock go down to 2:26, and then burn a timeout? With six seconds left, Miami was on the Indianapolis 30-yard line -- add back the 25 wasted seconds and maybe Miami wins. Why did Miami's defense bite hard on a play-fake on the game's first snap? Coming into Monday night, the Colts had rushed for 32, 64 and 71 yards in their last three games. They're clearly having trouble running the ball. So don't fall for their play-fakes unless they prove they can run! Yet not only did the Miami front seven bite on Manning's play-fake on the first snap, so did safety Yeremiah Bell. Watch the tape -- as Clark cuts down the center of the field and Manning's pass arcs toward him, Bell is running forward toward the Indianapolis line of scrimmage to stop a run. Bell goes right past Clark, totally ignoring him, while a throw that would end up as an 80-yard touchdown is in the air. That's how hard he bit on the play-fake. Bell was also the last defender on Garcon's winning touchdown, and failed to make the play. Let's put the sports-talk world's campaign for a Pro Bowl slot for Bell on hold, please.
[+] Enlarge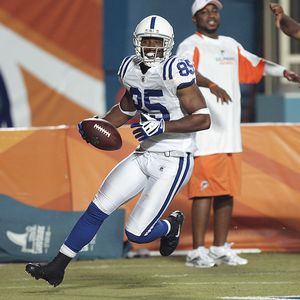 AP Photo/Jeffrey M. BoanFrom Division III to MNF, and it's nice to have you, Pierre.
Indianapolis' winning play was a study in tactics and performance. Second-and-10 on the Miami 48 with 3:29 remaining. The Dolphins show a seven-man front against the Colts' three-wide formation, with only one safety, Bell, deep. Manning goes into his chicken dance, calling assignments at the line. Immediately the Dolphins back off into a 3-4-4. But Manning wasn't fooled and kept the play the same -- and sure enough, Miami jumped back into the seven-man front. That front meant that in the double-receiver set to the right, there was a cornerback on Garcon, safety Gibril Wilson on the slot man, and safety Bell was the sole deep defender. Manning's call was a hitch screen to Garcon. Not just a hitch, a hitch screen -- the offensive line deliberately let the pass rush in. Miami big-blitzed, just as Manning hoped. Don't throw me into that blitz patch! When will the league catch on that Peyton Manning wants to be blitzed? The hitch action enabled Manning to release the ball very quickly, before any blitz could reach him. Six blitzers meant Miami had five players to cover four receivers; the four were each singled, with Bell the only one on the last line of defense. Garcon catches the hitch with two defensive backs nearby. But remember, it's a hitch screen, offensive linemen are coming! Undrafted and future Hall of Fame center Jeff Saturday, long a TMQ favorite, hustles downfield and blocks the cornerback near Garcon. Guard Mike Pollak hustles 20 yards downfield and hits Bell. Garcon spun, and was gone. When you put eight guys up on the line and blitz six, you better get to the quarterback or make the first tackle, because one broken tackle means a game-winning 48-yard completion.
Tuesday Morning Quarterback is delighted, of course, to see Garcon, from Division III Mount Union College, have a big night on the national stage. Attend a small-college football game! The quality of play is better than you may think, and the game-day experience is less expensive and stressful. There's even easy parking. Generally, I have more fun attending small-college and high school games than any NFL game other than the Super Bowl. Football played on a more normal scale -- with a manageably sized, not-crazed crowd in attendance near a hillside of an idyllic campus, a marching band and $3 burgers -- can only be appreciated in person. When I am at a small-college or high school game I often think, "This is one of the joys of being an American," a thought that surely crosses nobody's mind during the madness of an NFL contest. Attend a small-college game and see what I mean.
Meanwhile, as Miami rolls up yards with the Wildcat, I wonder: Where is the X Run? My high school produced a state championship team in 1969 using a veer-option offense only slightly different than the Wildcat, and our big play was the X Run -- making the lateral downfield instead of in the backfield. Watch the Dolphins' Ronnie Brown, or Florida, or West Virginia, or any team running the current version of the option. The quarterback or the direct-snap tailback decides whether to pitch or keep while in the backfield, then never looks at the pitch man again. Numerous times Monday night, Brown and Ricky Williams rolled right in the pitch-or-pull situation. Each time Brown kept the ball, Williams just came to a halt and watched. Why can the pitch happen only behind the line of scrimmage? Once you cross the line, defenses automatically ignore the pitch man. Lateral to him then, and he's in the clear for a touchdown.
[+] Enlarge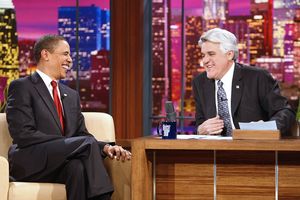 AP Photo/Gerald HerbertTaxpayers paid how many millions of dollars to fly Obama out to boost Jay's ratings?
President Obama -- Stop Talking! In the first half of the George W. Bush administration, when the 43rd president was popular, Bush spent a great deal of time traveling around the United States giving speeches: sometimes advocating various causes, sometimes at fundraisers, sometimes simply appearing before some organization. That any president should use the public's time -- and the million-a-day cost of moving and protecting the president -- at partisan political fundraisers is offensive. All postwar presidents, Democratic and Republican, have appeared at partisan fundraisers at taxpayers' expense, and TMQ thinks this should be banned. Some Bush speaking appearances became controversial, when the Secret Service or Republican Party operatives tried to forbid anyone critical of Bush from entering the speech locations. But the key point was not that Bush was making speeches under questionable circumstances; the key point was that he was making way too many speeches, period. Ultimately, substituting speechifying for governing diminished Bush's presidency. Now Barack Obama has started down the same path.
Merely in the past two weeks, President Obama has given a major health care address to Congress, a major address on bank regulation on Wall Street, a speech to the nation's schoolchildren (who were considerably better behaved than Congress), a major address on the economy to the AFL-CIO in Pittsburgh, a speech on health care in Minneapolis, a speech on health care at the University of Maryland, a speech marking the anniversary of 9/11, a speech to the UAW at an auto plant in Lordstown, Ohio, a speech in New York honoring Walter Cronkite, a speech at an Arlen Specter fundraiser in Philadelphia, a speech to the Congressional Hispanic Caucus Institute (it's not a caucus, it's a Caucus Institute), a speech at a picnic in Cincinnati, a speech lauding a posthumous winner of the Medal of Honor, a speech about community colleges in Troy, N.Y., and a major speech on climate change at the United Nations. You can track presidential speechmaking here. This paragraph lists only his prepared speeches at public events: I exclude media appearances and informal presidential remarks during the greeting of world leaders, literary figures or sports teams. Obama is making way too many speeches.
The first reason he's making too many speeches is that speechifying is time-consuming. Writers prepare the texts, but Obama must think about what he wants to say; rehearse what the writers come up with; travel to the speech location; give the speech and travel back. A speechmaking appearance outside the nation's capital pretty much nails the day. Obama's trip to Los Angeles to give a speech and appear on "The Tonight Show" nailed two days, taking jet lag into account. Just because jets make travel convenient -- when FDR left on the battleship Iowa to attend the 1943 Tehran Conference of Allied leaders, his travel time each way was more than a week -- does not mean constant flying around is sensible. When does Obama have time to do the actual work of governing?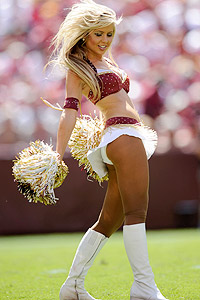 AP Photo/Nick WassThe Redskins' cheerleaders brought their A-game Sunday, even if the Redskins' offense brought only its C-game.
The next concern is that too-frequent speechmaking devalues the presidential voice. When the president speaks occasionally, he commands attention; a president who speaks all the time becomes just another clanging cymbal in the background yammer. I bet Obama gives 10 speeches for every one given by John Kennedy. At the current rate, by 2010, an Obama speech will no longer be viewed as an important moment.
More than this is the concern that speeches are stage-managed to stroke the president's ego, which is the last thing any chief executive of either party needs. There's always an adoring crowd, waving banners, saluting soldiers, with thunderous applause. Surely all recent presidents come away from such stage-managed speeches thinking, "They love me!" Surely the younger George Bush gave so many speeches in his first term because it was flattering to his ego to be surrounded by cheering crowds who would clap loudly even for inutile banalities. But the office of the presidency isn't about fun for its holder. Bush wanted to give speeches to sympathetic crowds to make himself feel good. If Obama is speechifying for the same reason, this does not speak well of him.
Most important, too-frequent speeches turn the president into an actor reading lines. Barack Obama's job is not to get applause: his job is to improve the country. But improving the country is pretty challenging, whereas going out and getting applause is a snap. We don't yet know if Obama can reform health care or negotiate with hostile powers or reduce the national debt; we know for sure he can get applause. It's disturbing to see him spending so much time and energy chasing ovations, which have zero lasting value, while putting off the real work of reform. A president who gives speeches all the time becomes a blowhard who likes to hear himself talk but never gets around to accomplishing anything. For Bush, by his third year in office, his road speeches sounded like he was campaigning -- he would speak vaguely about an agenda while wagging his finger against Washington, skipping the complication that he was in charge of Washington. This is already creeping into Obama's speechmaking. Lately he has been wagging his finger about "folks in Washington" as though he's not one of them, to say nothing of Folk Number One.
One of the core realities of politics is that it is a thousand times easier to campaign than to govern. Sarah Palin quit being a governor because that's a lot of work, the work requires you to cooperate with opponents, and you're held accountable. In campaign speeches, by contrast, you can denounce opponents and promise the moon, but never take responsibility. Being president of the United States is a huge amount of work. Giving speeches and being love-bombed by adoring audiences sure sounds like a more pleasing way to spend the day. It's time Barack Obama stopped giving so many speeches and concentrated on leadership.
Untouched Touchdown Runs of the Week: Chris Johnson of Tennessee went 91 yards untouched on a draw play behind a "trap pull" by the Titans' offensive line, an unusual blocking tactic on a draw, and an excellent downfield block from guard Eugene Amano, a Division I-AA player who went late in the seventh round of the draft. It's pretty fun to run 91 yards for a touchdown if everyone in front of you has already been knocked to the ground. Darren Sproles of San Diego went 81 yards untouched for a touchdown on a simple flare pass. Frank Gore of San Francisco went 80 yards untouched, benefiting from an excellent block by Josh Morgan. Johnson also went 57 yards untouched for a touchdown on another draw play, benefiting from a great downfield block by center Kevin Mawae. It's not often a player has two long untouched touchdowns in the same contest.
Another Argument for Women's Empowerment: Actress Eva Amurri, who joins the new season of the Showtime series "Californication" to portray a college student who moonlights as a stripper, worked with a personal trainer and with topless dancers to prepare for the role. She recently said pole dancing is a lot harder than it looks and added, "Stripping is incredibly empowering."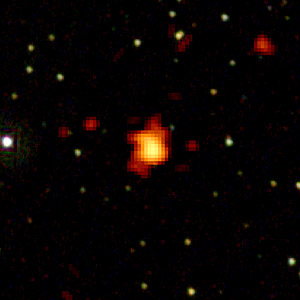 NASAIt exploded 12.2 billion years ago -- and still looked bright when the light arrived at Earth.
Bummer Cosmic Thought: Cosmologists continue to be perplexed by gamma-ray bursts, extremely powerful jolts of energy from distant space. Science assumes there must be a natural explanation such as collapsing stars, but TMQ worries what we are observing are the muzzle flashes of cataclysmic weapons. In the past decade, several devices have been built to try to explain gamma-ray bursts, and the more detection equipment improves, the more bursts are sighted. Last year, NASA launched into orbit the Fermi Gamma-Ray Space Telescope, the most sensitive gamma-ray detector yet, and almost immediately it determined the situation is considerably worse than previously assumed. Stanford researchers reported the telescope sighted the most violent gamma burst so far, one brighter than about 9,000 supernovae. The explosion, designated GRB 080916C, appears to have happened 12.2 billion light-years away, and thus occurred 12.2 billion years in the past. Within hours of the Stanford discovery, ground telescopes were able to sight GRB 080916C. This explosion was so powerful that though it occurred eons ago on the far side of the universe, the flash was still bright when observed from Earth 12.2 billion years later. Gamma rays are deadly. Let's be glad GRB 080916C happened far away. An equivalent detonation in the Milky Way would kill everything in the ray's path.
Stop Me Before I Blitz Again -- Wait, It Worked! Though TMQ is mainly anti-blitz, of course this tactic sometimes works. Jersey/B blitzed 26 times on Tom Brady's 47 pass attempts. The Jets never got a sack, but pressured Brady into an interception and repeatedly pressured Brady into throwing the ball away, which is just as good: The "clang" of an incompletion is music to a defensive coach's ears. Many of the packages were overload blitzes in which two or three extra rushers came from the same side. On New England's final possession, with the Jets leading by a touchdown, Jersey/B blitzed on three of the last four snaps, resulting in four consecutive incompletions. Jersey/B often run-blitzed too, three times dropping Flying Elvii rushers for a loss. If the Jets blitz like this on a regular basis, they are sure to get burned. On Sunday at least, the tactic worked. Afterward, showing once again that he is simultaneously a cold fish and unconventional, Bill Belichick said, "We were outcoached." That's an admission NFL coaches almost never make.
[+] Enlarge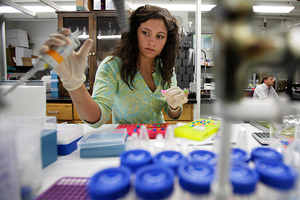 AP Photo/Steven SenneHow can you believe the research results if technical journals don't check the papers they publish?
Publish or Perish the Thought: Tuesday Morning Quarterback thinks the scandal in technical journals is going to get bigger, especially now that Congress is interested. Journals in medicine, physics, cellular biology and general science have substantial influence over what is believed -- or in the case of medicine, allowed by insurers. Yet the papers that appear in most technical journals are not fact-checked, and the authors' hidden biases --- ranging from sponsored ghostwriting to funding from big companies that will only pay for the desired conclusions -- are not disclosed. (Assistance from a professional author is perfectly respectable; ghostwriting paid for by the company whose drugs are tested is another matter.) Though many journals are "peer reviewed," it's basically the honor system, since peers mainly thumb through submissions to see if they sound reasonable in light of current knowledge; peer-review "referees" don't inspect original data to search for fabrications. Most researchers who submit work to journals are honest, so the honor system works for them. But there is no policing to catch the bad apples who make things up to advance their careers -- the new book "Plastic Fantastic" by Eugenie Reich explores instances of scientists fabricating results to advance their careers -- or to ensure payments from corporate sponsors.
There may even be no double-check to insure journal papers aren't total gibberish! Recently, a Cornell University grad student got a spoof scientific paper, containing line after line of nonsense, accepted by a peer-reviewed technical journal. Check the paper; a link is in this story. The meaningless graphs are especially impressive -- Figure Four depicts "expected latency." The paper was generated by this program, which was written to show how distressingly easy it is to spew out pseudo-scientific gibberish. Now we know it's distressingly easy to get pseudo-scientific gibberish published in a science journal.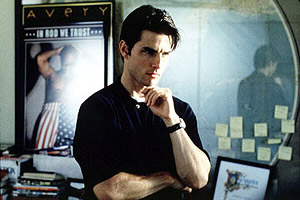 TriStar Pictures"Show me the market value! Show me the market value!"
Crabtree and the Niners Should Resolve Their Dispute with an Internet-Based Dutch Auction:
TMQ contends that it is an illusion -- cultivated by agents, of course -- that tough-guy agents screaming into cell phones translates into big increases in dollars to players. The market sets a player's value, not the agent. A good agent improves the details of an agreement, but no agent argues a sports franchise into paying more than the player's market value. A demanding agent will not, on average, get better deals than a friendly agent. On average, both will get the market price. Another illusion about NFL agents is their pay level. On
his latest Dr. Lou segment
, Lou Holtz declared that Michael Crabtree's agent will take in "millions of dollars" when Crabtree signs a deal, assuming this happens during the historical period of mankind. NFL agents are limited by their trade association's rule to 3 percent commissions; Crabtree's guaranteed money, the only part of an NFL contract that can be believed, will be at most $15 million; 3 percent of that is $450,000. Numerous NFL agents earn good livings, but none realizes millions in commissions on a single contract.
[+] Enlarge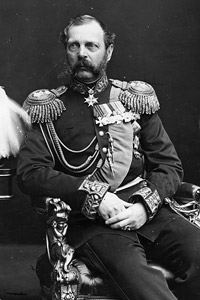 Hulton Archive/Getty Images) Maybe the car czar and the drug czar and the economy czar should wear gold braids.
Will The Car Czar's Children Inherit His Title? Right now, Glenn Beck and others on the right are obsessing about President Obama having too many czars, some of whom are not Senate-confirmed. Is this shocking? As Paul Light of New York University showed in his 1999 book "The True Size of Government," the number of political appointees directly controlled by the president is surprisingly small, fewer than 3,000 positions. Most Washington executive officials are civil servants, military personnel or foreign-service officers, over whom the White House has suasion but not hiring-and-firing authority. It does not offend me that the president grants portfolios to advisers: I am not clear on why this offends Beck, other than, perhaps, he needs his rabies booster shot. Conservatives rarely object when governmental czars behave like actual czars, such as in 2002, when Tom Ridge was George W. Bush's security czar and was busily approving restrictions on civil liberties. But I do worry that recent presidents have too much redundant overlap among councils, directors, czars and czarinas, and that Obama is worsening this trend, which seems most pronounced in intelligence, economics and environmental policy. Consider:
Obama has an Environmental Protection Agency, plus a Council on Environmental Quality chaired by Nancy Sutley, plus a White House-level special environmental adviser, TMQ's pal Carol Browner, plus environmental divisions in the departments of Energy, Transportation and Interior, plus a Fish and Wildlife Service, plus a Bureau of Land Management. He has a Treasury Department, plus a Federal Reserve, plus a Council of Economic Advisers chaired by Christina Romer, plus a National Economic Policy Council chaired by Lawrence Summers, plus a White House special economics adviser, Paul Volcker, plus an Office of the Trade Representative, which does economic policy. The Council of Economic Advisers has, in turn, its own staff of economic statisticians, though an entire Bureau of Labor Statistics exists to compile economic data, while the Federal Reserve also has an econ stats division. What do such overlapping advisers and councils do? Fight for the president's attention.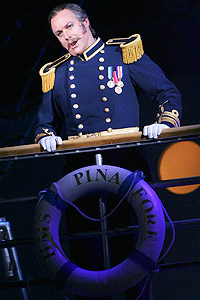 Patrick Riviere/Getty ImagesHe copied all the letters in a hand so free/that now he is the Deputy Assistant Secretary to the Associate Deputy Director for Intelligence-ee.
Overlap is worst on the security, military and intelligence fronts, where the top of the United States government increasingly looks like a scene that Gilbert & Sullivan cut from "H.M.S. Pinafore" as unrealistic. Obama has a Secretary of Defense, a Secretary of State, a CIA director, a Director of National Intelligence, a National Security Adviser, a National Security Council, a President's Intelligence Advisory Board, a President's Intelligence Oversight Board, a National Security Agency, a Defense Intelligence Agency, separate Air Force, Navy and Army intelligence commands, a National Counterterrorism Center, a Department of Energy Office of Intelligence, an FBI Directorate of Intelligence, a State Department Intelligence and Research branch, a Treasury Department Office of Terrorism and Financial Intelligence, an Office of National Security Intelligence at the Drug Enforcement Administration, an Office of Intelligence at the Department of Homeland Security, a Secret Service, a National Geospatial Intelligence Agency and a National Reconnaissance Office. All these in turn have their own internal hierarchies: For instance, the Treasury Department Office of Terrorism and Financial Intelligence has a Deputy Assistant Secretary to the Office of the Secretary.
[+] Enlarge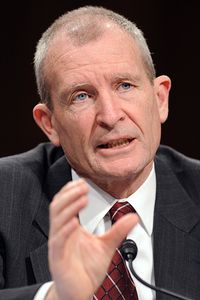 AP Photo/Susan WalshSurely you know who this is. He's one of the highest-ranking intelligence officials in the world.
Several of these top-heavy, intersecting security and intelligence entities were created in the wake of 9/11, apparently on the assumption that terrorists would be afraid of very large, slow-moving bureaucracies. Though the United States already had a CIA director, whose grand formal title is Director of Central Intelligence, in 2004, Congress added the Director of National Intelligence; at the time, Tuesday Morning Quarterback quipped that the new official should be dubbed the Director of the Director of Central Intelligence. On paper, the Director of National Intelligence is superior to the CIA director, so surely you know who this august individual is. One canny tactic of the Director of National Intelligence is to post our antiterrorism strategy on the Web, complete with colorful graphics. Are the Director of National Intelligence and the Director of Central Intelligence working together tirelessly in the national interest? No, they are engaged in a childish food fight regarding who gets to sign memos. You can bet all the overlapping councils and directorates spend as much time in turf wars regarding trite markers of personal prestige, such as sitting close to the president during photo-ops, as they do in service to the taxpayer.
The Football Gods Promised an Investigation: Could that really have been the Chicago Bears in a five-wide, empty backfield set at the Pittsburgh Steelers' goal line?
Adventures in Officiating: With the game tied at 31, Tennessee punted to Houston on the final snap of the third quarter. Houston's Jacoby Jones signaled fair catch; the ball popped out of his hands and into the hands of a Titans player; initially, zebras marked it as Flaming Thumbtacks' ball on the Texans' 9. But a player who signals fair catch receives an "unimpeded" opportunity to catch a punt while it has not yet struck the ground. So officials correctly overruled themselves and flagged the Tennessee player who snatched the ball for fair-catch interference -- since the ball hadn't yet struck the ground and only Jones had the right to the catch. Jeff Fisher went ballistic, though after the game, acknowledged the ruling had been correct. Houston went on to win 34-31. Overlooked in all this: The Titans were punting on fourth-and-1 from near midfield! If Fisher had gone for it, Tennessee might have won the game. The Titans racked up 240 yards rushing in the contest, and averaged 9.2 yards per carry. Why weren't they going for it on fourth-and-1 near midfield?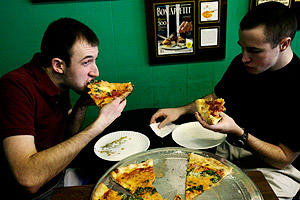 AP Photo/Seth WenigWorshippers attending a service.
Wacky Food of the Week: "Pizza worship has swept New York," a New York Times headline proclaimed recently. Well, it's about time someone swept up New York. Pizza is now worshipped? Pizza lovers, the Times announced, "have elevated their passion to a vocation, sending pizza into a whole new stratosphere of respect. It isn't just loved, and it isn't just devoured. It's scrutinized and fetishized, with a Palin-esque power to polarize." Pizza is like Sarah Palin? Like a fetishized Sarah Palin? I am going to skip thinking about what that might be. The article went on to say that there are now "classically trained" pizza chefs (perhaps who can play baroque concertos), that pizza is "an art" that fosters "a cult," that crust too often "lacks character" (maybe the crusts are seeing someone in Argentina) and that the New York pizza craze began in exactly 2004. Not before, not after. On what day in 2004?
[+] Enlarge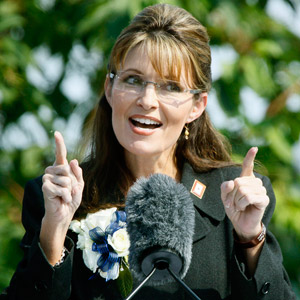 AP Photo/Al GrilloFetishize her? No thanks.
Colorado Undefeated Versus Ohio: The Broncos are 2-0 under new coach Josh "When Does the Frat Party Start?" McDaniels, having swept Ohio with consecutive victories against the Bengals and Browns. Facing third-and-goal on the Cleveland 2, Denver came out with a jumbo package; Cleveland fielded its jumbo defense; then Denver split 6-foot-5 tight end Tony Scheffler wide; a linebacker went out to cover him; slant pass to Scheffler for the touchdown. In the fourth quarter, Denver reached the Cleveland 2 once again and once again went jumbo, this time with jack-of-all-trades offensive lineman Russ Hochstein lined up as a fullback. Peyton Hillis ran for the touchdown behind Hochstein, and so far Cleveland looks just as hapless under Eric Mangini as it did under Romeo Crennel.
But the Stadium Sure Looked Nice: Admit it, you wanted Jerry Jones to lose the opening game at his $1.1 billion tax-subsidized palace, didn't you? Though the Giants outplayed the Cowboys and Tony Romo completed 13 to his teammates plus three to the opposition, Dallas did some fun things. Reaching the Jersey/A 3, the Cowboys lined up four-wide with big line splits as if it would be some pass-wacky spread play; G-Person defenders spread; then Romo simply went up the middle on a designed draw for the touchdown. Trailing 30-24, Dallas took possession at its 29 and staged a touchdown drive that consisted almost entirely of rushes, a nice return to traditionalism. Then the Giants' 11-play all-shotgun all-passing final drive took the victory. Reader Mickey Boland of Harlingen, Texas, adds of the game, "Has there ever been a great quarterback who wore his hat backwards when on the sideline? Bart Starr, Johnny United, Norm van Brocklin: I think not." And Sharon Bower of Charlottesville, Va., writes, "Did you notice the Dallas cheer-babes stationed on the catwalks at eye level to the upper deck?" Very retro disco cage!
Let's Not Forget AIG Has $182 Billion of Your Money: Robert Benmosche, new CEO of AIG -- which continues to hold $182 billion of the taxpayers' money, and seems in no hurry to return any -- will be paid about $7 million per year. That means typical people, who earn a median $50,000 a year, are being taxed so yet another plutocrat can own an estate. Benmosche also is "eligible" for a $3 million annual bonus, meaning even after all the flap about AIG bonuses, average people are still being taxed for AIG bonuses. And he received 200,000 AIG stock options with a strike price of $20. Right now, AIG shares are selling for $40, meaning the options have a current value of about $4 million. Thus Benmosche could take home $14 million for his first year of running AIG. This money comes from pockets of taxpayers struggling to pay their rent. It doesn't surprise me that a plutocrat would be shameless about reaching into the pockets of the working class. It does surprise me that Barack Obama would OK this, and that the mainstream media would give up on AIG outrage. Have we simply accepted at this point that it's OK for Wall Street leadership to steal from taxpayers?
Meanwhile, previous AIG CEO Edward Liddy repeatedly said he was working "for $1 a year." He asserted this on "60 Minutes" and in sworn congressional testimony, and was broadly praised for his dollar-a-year service. Now it turns out he was lying. AIG quietly said Liddy received $38,368 for a New York apartment, $47,578 for personal airline flights, $31,348 for car services and $180,431 "to cover tax obligations." In what sense are these not income? You work at a job in order to be able to pay for your housing and transportation. You must earn income to pay your taxes; nobody pays them for you. If AIG was paying for Liddy's housing, personal travel and taxes, then he wasn't earning $1 a year. Yet he lied through his teeth about this and got away with it. That's the core lesson of corporate scandals -- the CEOs tell lies, pocket cash and never pay any penalty. What does this encourage? More CEO lying. Liddy also received stock options. AIG has never said how many; suppose it was 200,000, the number just granted Benmosche. When Liddy went to AIG, its share price was hovering around $5; if that's the strike price, 200,000 shares would be worth about $7 million right now. Plus AIG quietly said Liddy may receive a bonus payable in 2010. The man who was widely praised for claiming to work for $1 may end up with a king's ransom in his pockets, all pilfered from the average taxpayers. Why have the media dropped this story?
Why Certain Teams Are On a 5-29 Stretch: Leading by one point with 1:12 remaining till halftime, holding all three timeouts, St. Louis took possession on its 30 -- and ran out the clock.
Best Audible of the Week: The Packers of the 1960s would run-run-run, then on third-and-short, throw deep. It's a tried-and-true formula. Game scoreless, Buffalo came to the line on third-and-1 at the City of Tampa 32. Expecting a run, the Bucs were in a rush defense, and the call radioed into Trent Edwards' helmet was a run. Seeing the defense he audibled to a double-go pass, and hit Lee Evans for six. Short-yardage situations are often the best time to throw deep.
Hidden Play of the Week: Hidden plays are ones that never make highlight reels, but stop or sustain drives. Game tied, Pittsburgh faced third-and-2 on the Chicago 25 with 3:29 remaining. The Bears expected a power run; instead play-fake and Santonio Holmes streaking into the end zone with no safety in sight; perfectly thrown pass; cornerback Charles Tillman, his back to the ball, swatted at Holmes' arms just as he reached to make the catch. Incompletion, missed field goal on the next snap, and the Bears drive the other way for a game-winning last-second kick. Had Holmes made the catch, the Steelers would have led by seven and Chicago's odds of a fast touchdown against the Pittsburgh defense were not good. Because Tillman had his back to the ball, until a rule change in 2006, he would have been called for "face guarding." Now what he did was legal, and perfectly timed. Probably he was watching Holmes' eyes, since a receiver's eyes get big as the ball arrives.
[+] Enlarge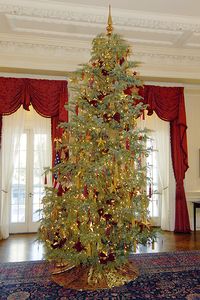 AP Photo/Hans PenninkYours up yet? Why, it's practically October!
Christmas Creep: Gary, a U.S. soldier, wrote on Sept. 16, "Today, Christmas supplies appeared in the local BX at my base in Iraq. They've been out of medium underwear for a month, liquid laundry detergent even longer, and most guys I know stockpile deodorant because it'd be a shame to run out. But if you need Christmas wrapping paper in Iraq in September, you're in luck." Ben Graff reports, "I was in Michigan for the Notre Dame-Michigan game and saw a sign at the Royal Oak Golf Club in Royal Oak, Michigan, proclaiming the club's annual Royal Oak Christmas Classic was held on September 11th." Chris Zammarelli of Rockville, Md., sends this truly scary report: "My family went out to eat at Bugaboo Creek Steak House in Gaithersburg, Maryland, on Saturday night, September 19th. They were setting up their Christmas tree as we came in."
The Vengeance of the Football Gods: Shawn Harris of High Point, N.C., notes that a week ago, Murray State, a Division I-AA team, traveled to Division I North Carolina State in the paid-cupcake role and got steamrolled, 65-7. Bad sportsmanship, obviously, on the part of the Wolfpack for running up the score. But should we feel sympathy for Murray State? No -- because the previous week, the Racers hosted paid cupcake Kentucky Wesleyan, a Division II program, and relentlessly ran up the score to 66-10, including by continuing to throw when ahead 59-10 in the fourth quarter. Murray State, your bad sportsmanship was repaid. Check the stats of the Murray State-Wesleyan contest -- Murray State had three return touchdowns and two safeties, scoring 66 points with just 13 first downs.
Steve Martin of Somerset, N.J., adds that Stephen F. Austin, a Division I-AA school, played the cupcake role for Division I SMU in its opener, then itself scheduled a cupcake in NAIA Texas College, running up the score to 92-0. When the final score is so extreme, the victor, not the vanquished, should feel embarrassed. Christopher Rubinate of Wallingford, Pa., writes, "J.C. Harper, the head coach of the 92-0 victors said, 'I'm very proud of our execution and focus. We've been preaching that since November.' Apparently they haven't been preaching sportsmanship! SFA has an enrollment of more than 10,000 and its football program has produced NFL stars Larry Centers, Jeremiah Trotter and Mark Moseley, the 1982 NFL MVP. Texas College is a historically-black college with financial problems that currently enrolls 705 students." So Stephen F. Austin, you beat up on a helpless team -- that's not sports, that is bully behavior. If I were an SFA alum, I'd feel terrible about this dishonorable behavior by the football team.
Bill Rudick of Quarryville, Pa., reports that on Saturday, Division II Shaw beat Division II Lincoln 68-6: "Shaw has won the last two titles in its conference, while Lincoln is in its second season playing football after a 48-year hiatus. Leading 68-6, Shaw got the ball back with 18 seconds remaining, after keeping most of its defensive starters on the field to prevent a miraculous Lincoln comeback. Did they take a knee? They lined up in the shotgun and threw deep. Also, leading 61-6 with four minutes to play, Shaw rushed 11 men against a Lincoln punt, creating a fumble Shaw recovered in the end zone. It was flat-out pathetic." Shaw should be embarrassed about this game, not Lincoln. Ben Burchuck of Raleigh, N.C., writes, "During the LSU vs. Louisiana-Lafayette game on Saturday night, the announcers mentioned LSU is 21-0 all-time vs. the Ragin' Cajuns and in those 21 contests, LSU has outscored ULL 957-22. Now the combined score between these schools is 988-25." I am glad Louisiana-Lafayette kicked a field goal, to prevent the absurdity of LSU boasting about shutting out a team that had absolutely no chance.
Buck-Buck-Brawckkkkkkk: Trailing 27-10 with 2:42 remaining, the Detroit Lions, losers of 18 straight and 24 of 25 going into the game, launched a field goal attempt. As foot struck ball, whatever tiny hope of a comeback the Lions possessed vanished. I don't care if they proceeded to onside kick, this was what TMQ calls a "man or mouse" moment. A manly team would have gone for the touchdown when down 27-10, if only to maintain its pride. Launching field goals to reduce the margin of defeat is no way to alter the psychology of the biggest-loser franchise in professional sports.
Reader Animadversion: I praised the new Red Zone Channel on Comcast and Verizon -- it's Sunday Ticket Lite for the millions who cannot subscribe to NFL Sunday Ticket because they cannot receive the DirecTV satellite signal. Amanda Kaisler of Seymour, Ind., adds this irony: She does get DirecTV but not the Red Zone Channel, which only airs in an expensive package on that carrier. TMQ thinks all this nonsense will end with all NFL products available on all media platforms at lower prices than today -- the more people who buy, the less the something costs. But nonsense it continues to be.
I wondered why images from space probes arrive in grayscale, with color later photoshopped in. Many readers, including Marlene Hall of Ames, Iowa, noted grayscale transmission requires less bandwidth. She added, "Because light in space is faint, astronauts' eyes often see little color, so a true-color image would tend toward gray anyway; the differing tones in the grayscale suggest what the color would be in lighting conditions that generally do not apply in space." Stephan Teran of Corona, Calif., fills out the rest: "You want the maximum sharpness taken of an object in space, and every pixel counts. Think of color as part of the electromagnetic spectrum. For every four pixels you get only two green, one red and one blue. This would mean if a telescope were to use a true-color filter, 50 to 75 percent of the pixels would be wasted, that is a lot of waste even for our government, but more importantly, that would be a lot of missed stars! Most telescopes include multiple filters in front of a device that records the signals in an electrical format that can be translated by transistors. These filters can work in many different wavelengths, many of which people can't see. Usually a grayscale image with color added later is most efficient. Having the ability to use different filters also allows astronomers the ability to see stars, galaxies, nebulae etc. that would be invisible in the relatively narrow visible-light section of the electromagnetic spectrum. Here is how the Hubble Space Telescope cameras work." Terrie Vasilopoulos of the University of Chicago adds that this researcher's forum discusses in detail why it is scientifically more useful to take space pictures in what by our standards is false color.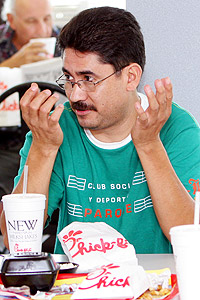 AP Photo/Gene BlytheCows, and nutritional guides, suggest you dine here.
Aziz El-Tahch of New York City writes, "Since you've been excoriating fast food chains for their calorie-laden fare, how about giving credit where due? Chick-fil-A's food is delicious and relatively healthful. I wish there was a Chick-fil-A near my apartment building." He's right, the company's chicken club sandwich with 380 calories and 12 grams of fat is indeed a healthful alternative to fast-food burgers. I said my annual prediction that the team goin' to Disney World would be one that did not appear on "Monday Night Football" was 2-for-9. Mike Sandler of Columbia, Md., says I should be 3-for-10 because in the last decade the Rams, Ravens and Patriots have won a Super Bowl following a season in which they were not on "Monday Night Football." Ah, but one year I failed to make that prediction!
I chided Clemson for being tricked by a fake field goal just one series after Clemson itself had faked a field goal. Karthik Subramanian of Tuscaloosa, Ala., notes the Georgia Tech fake should have been illegal procedure, as discussed here and here. Georgia Tech sent in its field goal unit, but when the offense came off, a wide receiver stayed on the field on the far sideline away from the Clemson bench -- there were only 10 coming onto the field on the field goal unit. NCAA rules forbid substitution tactics intended to confuse opponents, but that rule is notoriously vague. In the simpler NFHS rules used by most high schools, players must break from a huddle if there has been a substitution, preventing a "lonesome end" from hanging by the sideline or stepping onto the field just before the snap. And Mike of Burke, Va., wishes New England versus City of Tampa at Wembley on Oct. 25 were one of the throwback games. He haikuizes,
[+] Enlarge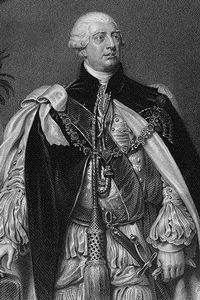 Kean Collection/Getty ImagesMaybe it's just as well he did not live to see the New England Patriots bring Minuteman logos to London and perform before a cheering crowd.
Patriots' throwbacks:
If only worn in London.
Think of that King George!
Finally Kevin Bivona of Chattanooga, Tenn., observes, "In the Saints versus Eagles game today, Philadelphia used a formation midway into the second quarter that looked close to the A-11 offense of high-school fame. There were three groups of three offensive players spread across the line of scrimmage. The quarterback was in the shotgun with a running back next to him. Is this a preview of a formation Andy Reid will use once Michael Vick is eligible -- say, Vick and Donovan McNabb standing next to each other in the shotgun in one of three groups?"
Obscure College Score of the Week: San Diego 17, Marist 10. Not to be confused with the University of California at San Diego, or with San Diego State University, or with California College of San Diego, or with San Diego Christian College, the University of San Diego just hosted a forum on "social branding".
Bonus Obscure College Score of the Week: Mercyhurst 20, Indiana of Pennsylvania 16. Located in Erie, Pa., Mercyhurst College has a Latin motto, a seal, a logo, a mace, a "chain of office" (an elaborate metal medallion worn by the school's president) and "official presidential regalia" that includes "four kelly green chevrons outlined in gold across the sleeves of the robe [to] signify that these are the official presidential robes of Mercyhurst." Just two weeks till the annual Tuesday Morning Quarterback Obscure College Game of the Year, California of Pennsylvania at Indiana of Pennsylvania on Oct. 3.
AFC South -- the NFL's Obscure College Home: Houston has players from Eastern Kentucky, Lane, Saginaw Valley State and Wisconsin-Whitewater. The Jags' roster lists players from Alcorn State, Bethune-Cookman, Liberty, Maine, Nebraska-Omaha, Stillman and William & Mary. Indianapolis has players from Alabama A&M, Indiana State, Missouri Western, Morgan State, North Dakota State, South Dakota State, two players from Howard and a player from the University of Calgary. Tennessee tops that with players from Eastern Washington, Central Arkansas, Fort Valley State, Georgia Southern, Montana State, Samford, Southeast Missouri State, Stephen F. Austin, Tiffin, Washburn and Winston-Salem.
Obscure College News: Southeastern University of Washington, D.C., lost its accreditation last week, and is expected to close. This school was always cartographically challenged, as it was located in the Northeast, and in the southwest quadrant of the capital's street system. Too bad Southeastern of the Northeast didn't have a football team, or it could have staged an annual rival match against Southern New Hampshire University of Maine.
[+] Enlarge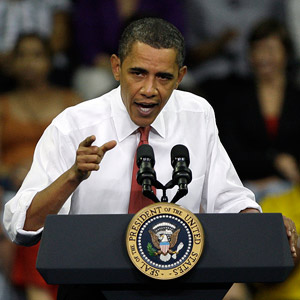 AP Photo/Rob CarrMy fellow Americans, if you missed my speech today, just tune in to my speech tomorrow.
Maybe They Don't Miss Class Because They're Not In Any Classes Anyway: Last fall, Cal coach Jeff Tedford was criticized when he had the team leave from the West Coast on a Friday morning, not arriving on the East Coast till late afternoon Friday, then losing a huge upset to the University of Maryland in a contest that kicked off at noon Saturday. His players looked and played jet-lagged. This weekend, Cal left on Thursday for its Saturday afternoon game at the University of Minnesota, giving the players ample time to overcome jet lag. Rested, they won, all well and good as regards the BCS standings. But aren't football players of the University of California at Berkeley students, at least on paper? All colleges, including the Ivy League, occasionally excuse student-athletes from class for sports events. But leaving Thursday morning for a game Saturday means two full days of skipped classes, which seems to explode any pretense that football-factory football players are "students." Tuesday Morning Quarterback repeats my proposal that college teams in any sport be forbidden to cross more than one time zone for games, except bowls and playoffs. (Yes, I would make exceptions for games involving the universities of Hawaii and Alaska-Fairbanks.) When football factory colleges multiple time zones apart agree to play each other, they are essentially admitting their "student" athletes are not students. Colleges should play only schools in their region, so football team members can be in class on Thursday and on Friday morning.
Next Week: Barack Obama gives separate interviews to all seven ESPN television channels.
Author of "The King of Sports"
Former Fulbright distinguished fellow
Contributing editor to "The Atlantic"
NFL WEEK 3 PREVIEW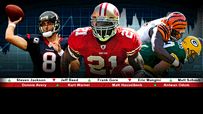 PICKS
MNF: PANTHERS AT COWBOYS
FINAL WORD
FANTASY
POWER RANKINGS
MVP WATCH
STOCK WATCH: Fallers, risers
COLUMNS/BLOG POSTS
INSIDER
SCOUTS INC.