Commentary
Teams' skeds are practically set in stone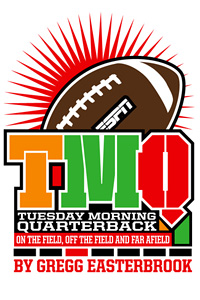 Last year's Super Bowl teams are a combined 2-4, and if you haven't heard it already, you will: "That's parity scheduling -- shows what happens when Arizona has to play a championship schedule." NFL parity scheduling is a myth -- maybe that's why so many people believe in it! And scheduling has had absolutely zero impact on the Steelers and Cardinals so far.
Parity scheduling as a major factor in the NFL is a myth because 14 of the 16 opponents teams face are determined years in advance; the two of 16 opponents that are based on the prior season's standings are too few to have much impact on the current season's outcome. On Sunday, I went to my bookshelf and pulled down "The NFL Record and Fact Book 2005." Published four years ago, it lists 14 of the 16 opponents that Pittsburgh and Arizona -- and all other NFL teams -- would face in 2009. Every team plays six games annually with the other members of its division. Every team, by draw, faces one other division in its conference and one other division outside its conference. That's eight games -- add the six inside the division, and you've reached 14 of 16 games. Several years ago, the league had already determined that in 2009, Pittsburgh would play the AFC West and NFC North, while Arizona would play the NFC North and AFC South.
[+] Enlarge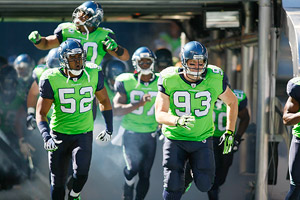 AP Photo/John FroschauerUnbeknownst to the Seahawks, Lex Luthor conducted a sinister experiment in their locker room.
Similar determinations were made several years ago for every team. Nearly all of the NFL schedule -- opponents and home-or-away, everything but the actual dates -- is fixed several years in advance, regardless of standings. In 2010, for example, Seattle will play the NFC South and AFC West. Combine that with the automatic division contests, and we already know who 14 of the Seahawks' 16 opponents will be next year, regardless of whether Seattle goes on to lose every remaining game or whether its new kryptonite uniforms weaken opponents and cause the Green Men Group to win every remaining game. We already know who 14 of the 16 opponents will be next year for every NFL team -- it's all listed in the 2009 edition of the "Record and Fact Book" -- regardless of what the final standings are. Nobody sat around at 280 Park Avenue in New York (NFL headquarters) saying, "The Cards went to the Super Bowl, so let's make them play the Colts in 2009." This was cast in stone many years ago.
Two of each team's 16 opponents are indeed determined by whether the team was good or bad the previous season. But Arizona's strength-scheduling games are at the Giants and hosting the Panthers, neither of which has taken place yet, so strength scheduling cannot be a factor in Arizona's 1-2 start. Pittsburgh's strength-scheduling games are hosting Tennessee, a game the Steelers already won, and at Miami, which hasn't been played yet, so strength scheduling cannot be a factor in the Steelers' 1-2 start.
Even those two strength-scheduling games are decided by a locked-in formula, not league manipulation. The 2005 manual says that in 2009, Pittsburgh, for its two strength-scheduling games, will face the teams from the AFC South and AFC East with the same division finish as Pittsburgh in the AFC North. Because Pittsburgh won its division last season, it got the two teams that won those divisions, Tennessee and Miami. Had Pittsburgh finished in the cellar last year, then it would have drawn the cellar teams of the AFC South and AFC East this year. The 2005 manual says that in 2009, Arizona will play the teams from the NFC South and NFC East with the same division finish as Arizona in the NFC West. Because Arizona won its division last season, it got the two teams that won those divisions, Jersey/A and Carolina.
Formulas control every team's sked. Who will the Kansas City Chiefs play in 2010? Whether the Chiefs finish 0-16 or 13-3, all but two of their 2010 opponents have already been determined. The Chiefs will play a home-and-home against the other teams in the AFC West, plus play the AFC South and NFC West. Plus, wherever the Chiefs finish in their division, they will play the same ranked teams from the AFC East and AFC North. All but two of every other NFL team's 16 opponents are already similarly locked in for 2010, regardless of this year's standings.
When you hear sports-talk types say, "Parity scheduling is intended to make every team finish a mediocre 8-8," change the channel, because this is only said by people who have no idea how NFL schedule-making works. The league can't manipulate the standings because the pairing formulas are chosen years in advance -- exactly to ensure the league can't manipulate the standings! -- and anyway, only two games per season are impacted.
Blame uneven play for the slow starts of Pittsburgh and Arizona. Blame bad luck. Blame the Super Bowl curse. Blame alien energy beams projected from a secret base on Ganymede. Just don't blame strength scheduling, because this is almost no factor in how NFL teams perform.
In other football news, perhaps Tuesday Morning Quarterback was premature in declaring last week that courage was breaking out across the NFL. Trailing New Orleans (which came into the game as the league's highest-scoring team) 17-7 with 7:30 remaining, Buffalo faced fourth-and-inches on its own 29-yard line. That cannot be the punt unit coming on the field! TMQ wrote the words "game over" in his notebook, because with that little time left, you've got to retain possession or it's over. More important, by launching a Preposterous Punt, clueless Dick "Cheerio, Chaps" Jauron was informing his team that he had quit on the game -- so they might as well quit, too. With New Orleans ahead 20-7 and 2:25 remaining, the Bills faced fourth-and-23 on their own 14, and then "Cheerio, Chaps" went for it. So when courage might have saved the day, an NFL coach was hyper-conservative, desperate to avoid responsibility; when it made absolutely no difference what he did because the game was lost, the coach went for it. See other examples of NFL coaching timidity below.
Stats of the Week No. 1: The state of New Jersey is 6-0.
Stats of the Week No. 2: In 2008, Miami was a league-best plus-17 for turnovers; so far in 2009, Miami is second worst at minus-5.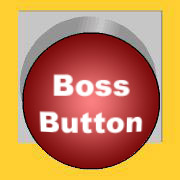 Stats of the Week No. 3: Going back to last season, the Tennessee Titans have followed a 13-2 stretch with a streak of 0-5.
Stats of the Week No. 4: Going back to last season, Tampa has followed a 9-3 stretch with a streak of 0-7.
Stats of the Week No. 5: Buffalo has failed to score an offensive touchdown in four of its last five home games.
Stats of the Week No. 6: The Bills have more touchdowns from their defensive ends (2) than from Terrell Owens (1).
Stats of the Week No. 7: Missouri's teams, the Chiefs and Rams, have lost 48 of their past 59 games.
Stats of the Week No. 8: Cleveland possession results in the Browns' past six quarters: fumble, punt, punt, punt, punt, interception, interception, punt, punt, punt, end of half, interception, field goal, punt, interception, interception, punt, end of game.
Stats of the Week No. 9: Indianapolis has 12 consecutive regular-season wins.
Stats of the Week No. 10: Stretching back to last season's playoffs, in Carolina's past four games, one in every 10 Jake Delhomme passes has been intercepted.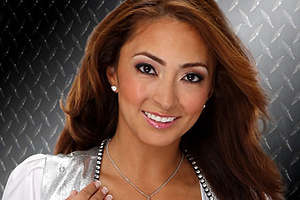 Oakland RaidersNot many NFL cheerleaders quote Margaret Mead.
Cheerleader of the Week: Thomas of San Jose, Calif., nominates Itza Sanchez of the Raiders. She is another free-agent cheerleader -- she danced for the San Jose SaberCats of the Arena League -- then when it folded, she jumped to the NFL. According to her Raiders bio, Sanchez is studying at San Jose State for a master's in applied anthropology. According to her old SaberCats bio, her favorite quotation is from Margaret Mead, and she was named for the Chichen Itza archeological site, known for its Mayan temples.
Sweet Play of the Week No. 1: Jersey/B scored first to take a 7-0 lead against Tennessee, then … krumble on the play! Tennessee fumbled the kickoff, and TMQ contends that the kickoff-return fumble -- the krumble -- is the most damaging turnover there is, because a team that just scored gets the ball right back. Now it's second-and-goal on the Flaming Thumbtacks' 2. Jets coach Rex Ryan sends out an ultra-jumbo unit with seven offensive linemen and journeyman blocking tight end Ben Hartsock, who weighs 270 pounds. Power-rush play-fake; Hartsock blocks a man, then shoots into the end zone uncovered; a tailback with no football leaps as if trying to catapult across the goal line; rookie glam-boy quarterback Mark Sanchez fades back, throws and hits Hartsock with a touchdown pass. Sweet!
[+] Enlarge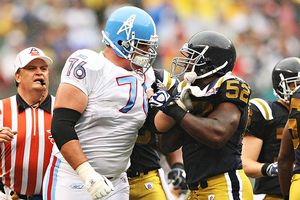 Al Bello/Getty ImagesIn throwback terms, Titans at Jets was Oilers at Titans.
The Jets' defense is mega-blitzing and playing well; this combination can't last. On the Titans' final possession, Jersey/B alternated between mega-blitzing and three-man rushing -- a Baltimore Ravens tactic when Ryan was defensive coordinator there, and it keeps 'em guessing. Meanwhile, guess what happened at the 11:39 mark of the third quarter in this game? Kerry Collins threw his last completion. His final 13 pass attempts were either incomplete or intercepted. Since the start of the playoffs in January, when Tennessee had home-field advantage throughout, the Titans have lost four straight games. They've all been close defeats and Collins hasn't been terrible, but he hasn't looked sharp either. Anybody remember Vince Young? Jeff Fisher needs to shake things up before this season really slips away.
Sweet Play of the Week No. 2: Jax leading by 3 with 1:07 remaining in the first half, Houston faced fourth-and-1 on the Jaguars' 16-yard line. Mincing kick for the tie? The Moo Cows showed an empty backfield, with "bunches" left and right; wide receiver Kevin Walter came in motion toward the quarterback and took a pitch left, running left behind a great pull block by tackle Duane Brown. Touchdown on the possession, and Houston led at intermission. The Texans went on to fumble away the game, but this snap was sweet.
Sour Play of the Week: Dear Tampa, didn't you used to play defense? The Bucs are now ranked 30th in points allowed per game, and were outgained by a spectacular 311 yards by Jersey/A. Outgained by 311 yards at home! With the Giants leading 7-0, they faced a third-and-goal on the hosts' 4-yard line and lined up trips right. Trips at the goal line -- please don't tell the football gods. Anyway, the trips formation is now standard throughout football, including in high school. Tampa's secondary looked like it had never seen a trips formation. Two wide receivers crossed short, as they usually do coming out of a trips formation, and no Tampa defender jammed either one, as defenders do to prevent the short-crossing completion. The result? An easy touchdown toss to Steve Smith.
Sweet 'N' Sour Play No. 1: There's a small possibility you have seen the highlight of Greg Lewis' last-second game-winning touchdown reception for Minnesota. His acrobatic catch, and a good throw by Brett Favre Brett Favre Brett Favre, were sweet. At the snap, Minnesota, trailing by four points, faced third-and-3 on the San Francisco 32-yard line, with 12 seconds remaining. There are 12 seconds remaining in the game, and the Vikings must score a touchdown -- "Keep everything in front of you!" That's what a defensive back would be told in this situation. Yet Lewis was able to get behind the defense into the end zone. That was sour. Half the Niners' defense should have lined up in the end zone!
Sweet 'N' Sour Play No. 2: On Philip Rivers' 5-yard touchdown run against Miami, San Diego lined up with four wide, then sent the tailback on a flare route; the Dolphins rushed four; that meant Miami had seven defenders to cover five. Rivers saw the receivers were covered and simply ran straight ahead into the end zone, untouched; that was sweet. But Miami had no one at all in the center of the field, despite the play starting on the 5-yard line, meaning the Marine Mammals' defense had relatively little territory to defend. Leaving the center of the field completely open was sour. Note 1: San Diego snapped a streak of seven consecutive losses to Miami. Note 2: Chad Henne was, what, the seventh gentleman to line up at quarterback for Miami in the past three seasons? Note 3: San Diego versus Miami -- why wasn't this game played on a beach with the cheerleaders in bikinis?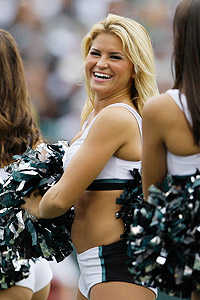 AP Photo/Matt SlocumAt Philadelphia, the visiting Chiefs were good for a few laughs.
Sweet 'N' Sour Play No. 3: Philadelphia leading Kansas City 14-7, the Chiefs lined up in a Cover 2 with the safeties almost 15 yards deep -- yet DeSean Jackson of the Eagles ran a slant and legged it out 64 yards for a touchdown. That was sweet. The whole point of the Cover 2 is to prevent long gainers; that was sour. You've seen runners self-tackle by falling down when they try to juke a defender; Kansas City free safety Jarrad Page self-blocked by falling down as he tried to follow Jackson's jukes. The media attention for this game focused on Michael Vick's brief, inconclusive appearance. Far more important to Philadelphia's fortunes is that third-year quarterback Kevin Kolb played well, becoming the first NFL quarterback to throw for at least 300 yards in each of his first two starts. If the Eagles keep throwing so well, Vick's fleeting appearances may not matter. As for the Chiefs, megabucks quarterback Matt Cassel averaged a miserable 4.4 yards per pass attempt -- ye gods!
Hidden Play of the Week No. 1: Hidden plays are ones that never make highlight reels, but stop or sustain drives. Highlight reels are showing Carson Palmer's last-snap-of-the-game touchdown pass to Andre Caldwell, enabling Cincinnati to defeat defending champion Pittsburgh. (Cincinnati also was in trips at the goal line, and Pittsburgh didn't jam either.) Twice on that winning drive, the Trick-or-Treats faced fourth down -- fourth-and-2 and fourth-and-10. Palmer completed conversion passes both times, helped by solid pass-blocking. These hidden plays made the game winner possible. Note: Ben Roethlisberger, who was born in Ohio and went to college in Ohio, lost to an Ohio team for the first time in 17 outings.
Hidden Play of the Week No. 2: Three snaps before the winning Minnesota play, the Vikings faced third-and-10 on their own 46 with 33 seconds remaining. Favre escaped a pass-rusher, then threw backwards across his body -- exactly what quarterbacks are coached never to do -- to Percy Harvin for a first down, setting up the final heroics. Without this hidden play, Minnesota's comeback would have wheezed out.
Christmas Creep: Steven Speirs of Linlithgow, Scotland, writes, "On 10 September, the supermarket where I work got rid of all summer barbeque equipment to make way for Christmas products. Running score so far: Customers who have asked me where all the barbeque stuff has gone, 5; Customers who have demanded I show them to the Christmas section, 0." And obviously this is a year of need, but still: Joe Ursic of Stow, Ohio, reports the Salvation Army will begin its annual kettle campaign a week before Thanksgiving.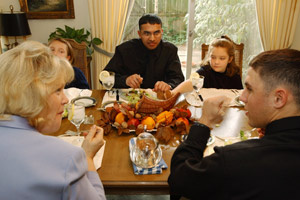 AP Photo/Stephen J. CarreraBird in the oven? It's nearly October!
Unified Field Theory of Creep: Gerald Van Vliet of Grosse Pointe Farms, Mich., writes, "On September 23rd, the PBS-TV outlet in Detroit aired an episode of 'America's Test Kitchen' showing how to prepare Thanksgiving mashed potatoes and Thanksgiving turkey."
"Monday Night Football" Analysis: With Jake Delhomme throwing so many interceptions, why are the Panthers passing so much? In 2008, Carolina was third in the NFL in rushing yards, and among the few teams that rushed more often than it threw. This formula got the Cats to 12-4 and a first-round bye in the postseason. Since the 2008 playoffs began, Carolina's coaches have called 117 passes (attempts plus sacks and scrambles) versus 71 rushes, Delhomme has heave-hoed a dozen interceptions and Carolina is 0-4 during that stretch. Monday night, Carolina's coaches called 38 passes and 14 rushes, though the game was tight and Carolina was not in a hurry-up situation until the closing minutes; a Delhomme interception returned for a late touchdown was the coup de grâce. Carolina's fourth- quarter possessions when the score was 13-7 went like this: rush minus-1, pass plus-5, pass incomplete, punt; rush plus-12, pass incomplete, interception returned for touchdown. If you're a running-personality team, run the ball! We can't all be Peyton Manning.
Rename Them The New Jersey Nyets: Twenty years ago, the trendy thing to believe was that Japan would replace the United States as the world's No. 1 economy, eventually demoting the United States to also-ran status. The turning point came when the Japanese themselves began to believe this obvious nonsense, and to express that belief by paying way too much for U.S. assets, such as buying up what were then the Exxon and Citigroup Center skyscrapers in New York City. Tokyo banks lived to regret these deals, while the Japanese economy has been sputtering pretty much ever since the moment Japan started to act like it was No. 1.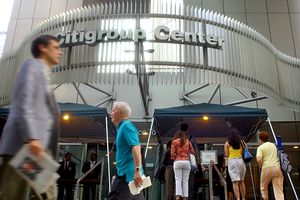 AP Photo/Jennifer SzymaszekDon't fret when foreign concerns buy U.S. assets -- so long as they pay too much.
Right now the trendy thing to believe is that China will replace the United States as the world's No. 1 economy, eventually demoting the United States to also-ran status. Have the Chinese themselves begun to believe this obvious nonsense? A Chinese company, Sichuan Tengzhong Heavy Industrial Machinery, last week appeared close to a deal for General Motors' Hummer brand, and it may not be long until Chinese banks and policymakers regret that move. General Motors' Saturn division has value; in the hands of new owner Roger Penske, Saturn may well rebound. The Hummer brand, by contrast, has a core problem -- it sells Hummers. A telling sign of the old General Motors mismanagement was that company executives invested billions of dollars in creating the Hummer, then built a network of Hummer-only dealers. But the Hummer was always a gimmick. Once the market of people who wanted an obnoxious, wasteful vehicle that visually screams to the world, "Screw you!" was saturated, there was no realistic prospect of sustained demand. Hummer sales peaked at 71,000 in 2006, declined to 27,000 in 2008, and this year have fallen further. Probably this decline would have occurred regardless of gas prices or economic trends, because hardly anybody wants a Hummer now.
If a Chinese company will pay perfectly good renminbi to take over an American firm with plummeting sales and little chance of recovery -- great! Jingoists may cry doom if China uses its currency reserves and Treasury bills to start a spending spree in the United States. This is fine, so long as the Chinese pay too much for things we no longer want. Bear in mind, when the Japanese engaged in a U.S.-asset shopping spree in the 1980s, ultimately this hurt Japan and helped the United States. As for Russian plutocrat Mikhail Prokhorov buying the New Jersey Nets: This means he'll have to watch them, which surely is punishment enough.
Adventures in Officiating: With Minnesota leading 20-17, San Francisco threw an interception on a snap on which a false start was called. The ball went back to the Niners, and the Fox announcers said, "You can't decline a false-start penalty." Sure you can! Any penalty can be declined. It's just that declining would only prevent a walk-off of 5 yards, since on a false start, the down doesn't count. Minnesota's options were to take the penalty and give San Francisco first-and-15, or decline the penalty and make it first-and-10 again. At another juncture, on a San Francisco third-and-3, Minnesota was called for the delay-of-game foul normally announced as "disconcerting," which means making odd gestures or shouting false audibles trying to get the offense to jump offsides. Except referee Jerome Boger announced the foul as, "Minnesota was performing an unnatural act." TV ratings must have jumped in San Francisco! As for those throwback officials uniforms -- they're not zebras, they're Creamsicles.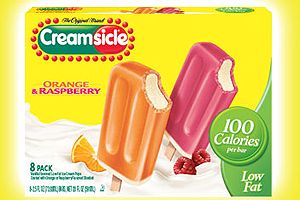 Popsicle.comWith the throwback refs as Creamsicles, how about dressing the chain gang as cherry ice pops?
Untouched Touchdown Run of the Week: Graybeard Fred Taylor ran 8 yards up the middle untouched for the touchdown that proved the defining moment of the Patriots' win over the Falcons. Taylor's touchdown came on his fourth consecutive carry. It was raining in New England, and you've got to be able to rush the ball to win in the rain. The Flying Elvii proved they could, running for 168 yards while holding the run-oriented Falcons to 58 yards rushing. Note that when Bill Belichick faced fourth-and-1 on his own 24-yard line, he went for it, the Patriots converted, and they later jogged up the tunnel victorious. Dick "Cheerio, Chaps" Jauron wouldn't go for it on fourth-and-1 in his own territory when trailing by two scores in the fourth quarter; Belichick went for it on fourth-and-1 on his 24 in the third quarter, when ahead. Going for it on fourth-and-short is both sound tactics and sends the message that the coach is challenging his players to win the game. Jauron's decisions regularly send the message that the coach expects to lose and would like to go home now. Result of the differing tactics? Belichick has three Super Bowl rings while Jauron, at Buffalo, is 2-19 against teams that made the playoffs that season.
Will the Auto Bailout Need Jumper Cables? There's good news on the U.S. domestic auto front, including that the Obama Administration has put real teeth into Congress's 2007 one-third increase in new-vehicle fuel economy, and that Detroit marques, especially Buick, steadily improve in the all-important J.D. Power manufacturing-quality rankings. If General Motors and Chrysler had addressed their MPG and manufacturing-quality problems a decade ago, they wouldn't have ended up as bankrupt wards of the state. At least they finally are addressing those problems now. Another bit of good news is that the government's long-fictional MPG ratings of cars, which showed them as getting much better mileage than they actually do -- in order to allow Detroit to evade the old iteration of mileage regulation -- finally have become realistic, so that buyers know what they are purchasing. Beginning with the 2009 model year, realistic numbers are used. For earlier models, you can compare old phony government mileage claims with the realistic MPG numbers here.
[+] Enlarge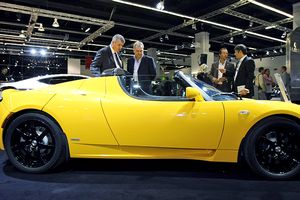 AP Photo/Thomas KienzleIt's an ultrafast plaything designed to allow rich drivers to cut everyone else off -- why are federal taxpayers giving the company's wealthy investors a subsidized loan?
But there's still plenty to fret about on the auto front. One problem is continuing love of horsepower, which wastes petroleum and increases greenhouse emissions. Ford now has a Taurus -- a family sedan! -- with a 365-horsepower engine, more horses than muscle cars of the 1960s. Why is this even legal? (Don't reply that "no one can tell me what I can drive" -- this is a fallacy, as detailed here.) Companies that taxpayers have no business supporting, such as Nissan and Tesla Motors, a startup building $102,000 socially irresponsible super-fast electric sports cars to allow the rich to terrorize other drivers, are applying for an available $25 billion in government auto research loans that are unlikely ever to be repaid. So far, a total of about $70 billion in public funds has been invested in saving General Motors and Chrysler (Ford took no public money). If the subsidized auto firms sell 10 million vehicles over the next three years, that's a $7,000 taxpayer subsidy per sale. The subsidy is coming in large part from deficit spending -- that is, being borrowed from the young. General Motors' market capitalization must rise to about $60 billion for taxpayers to get their investment back. Considering the General Motors market-cap peak was $56 billion in 2000, for taxpayers to be repaid, the company must become more valuable as a reduced entity than when it dominated U.S. auto sales. And that's assuming General Motors and/or the UAW don't demand additional subsidies in the future!
Favors to UAW members could become a delicate political subject for Barack Obama. In bankruptcy negotiations, the White House was tough on bondholders and shareholders, who were close to wiped out, plus tough on dealers. Autoworkers, by contrast, were treated gently. Though the UAW claimed to have endured drastic cuts, the union surrendered far less than given back by workers in other troubled industries. The UAW gave up about half the future payments due to its health care fund, agreed not to strike in the next six years (some concession -- agreeing not to strike against bankrupt firms), agreed to no cost-of-living increases for the next six years (ditto), agreed to overtime only after 40 hours worked in a week rather than after eight hours in a day, cut coffee break time slightly and gave up the day after Easter as a paid holiday in 2010 and 2011. But the UAW gets the day after Easter back as a paid holiday in 2012. Do you get the day after Easter off as a paid holiday? You are now being taxed to subsidize other people's paid days off. UAW members made no concrete concessions on the "work rules" that cause General Motors and Chrysler factories to be inefficient; the UAW merely promised to discuss work-rule reform at a later date.
It's great that autoworkers are well-paid and receive fantastic health care; what's objectionable is that people who earn less than autoworkers, and who lack health care insurance, are being taxed to subsidize this politically connected special class. And the health fund payments the UAW "gave up"? As soon as the economy is humming again, don't be surprised if the UAW declares a "crisis" in its health fund and asks Congress to the money, again at the expense of average taxpayers whose own health insurance is nowhere near as good as autoworkers'. For that matter, now that the federal government in effect owns General Motors, don't be surprised if next year the UAW asks Congress to grant raises and restore bennies -- whereas the money lost by bondholders, dealers and shareholders will never come back.
And of course there were handouts to management. Taxpayers provided an $11 million severance bonus to General Motors CEO Rick Wagoner, who did one of the worst jobs in American business history. Why did this not become a source of outrage? And though UAW membership rolls have been cut by 90 percent at General Motors versus the peak in 1970, management has been cut by only 30 percent. We need lots of highly paid managers to oversee decline!
Buck-Buck-Brawckkkkkkk No. 1: Reaching fourth-and-inches on the Cincinnati 1-yard line in the first quarter, defending champion Pittsburgh launched a passive kick -- and needless to say, went on to lose. The defending Super Bowl champion is afraid to try to gain a few inches? Nor did Pittsburgh simply power-rush at the goal line: Later, reaching second-and-goal on the Cincinnati 6, Pittsburgh went incompletion, incompletion, kick.
Buck-Buck-Brawckkkkkkk No. 2: Trailing the hapless Lions 13-7 in the fourth quarter, facing fourth-and-3 at midfield, Jim "Dan Snyder Hasn't Fired Me Quite Just Yet" Zorn ordered a punt. Needless to say, Washington went on to lose to a team on a 0-19 streak. So what if a fourth-and-goal attempt failed in the first quarter. That was then, this is now! Fortune favors the bold!
Buck-Buck-Brawckkkkkkk No. 3: Trailing Philadelphia 27-7 with 9:47 remaining, Kansas City punted on fourth-and-1. Who cares if the Flintstones were on their 24, this was Kansas City's last-gasp to remain in the game. Unlike in the NCAA, there are no style points in the NFL -- better to go down swinging than to punt in hopes of restraining the margin of the defeat. Five snaps later, Kansas City trailed 34-7.
Fortune Favors the Bold!: It wasn't all temerity in NFL playcalling. Game tied at 24, Jax's run was stuffed by Houston on third-and-1. On fourth-and-1, Jax went for it, converted, and scored the winning points on the possession.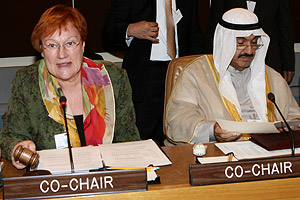 AP Photo/David Karp"The chair recognizes the next 90-minute incoherent ramble."
Al Gore Heartbroken That World Refuses to End: Once again last week, world leaders met to engage in duels of doomsaying and soaring rhetoric about global warming, then did nothing of substance. It's tempting to think concerns about artificial climate change aren't backed by science, or are just the latest form of power-grab by elites who want more taxes and more control over people's lives. Unfortunately, the scientific basis of global warming theory is reasonably (not completely) strong and the danger real (though exaggerated by Al Gore types). There's a self-interest aspect, to be sure. Washington, Brussels and other cities are rife with think-tank and NGO types who know that if some super-complex international greenhouse treaty is ever enforced, it will mean a lifetime of high-paid employment for them in the gigantic, stultifying bureaucracies that will be created. That's why they want a super-complex treaty, rather than simply taxing greenhouse gases and letting the market sort out details. That's the solution yours truly favors -- something must be taxed to reverse national debt trends, so tax greenhouse gases, since we want to discourage their production anyway. Taxes are a far simpler way to achieve ends than command-and-control: Taxing internalizes a cost, and then people decide for themselves how to respond to the tax. Here is that argument in detail.
Global temperatures have declined slightly in the past few years, which does not disprove artificial global warming, any more than a few warm years proves the notion. There's been almost no Atlantic cyclone activity this year, which does not disprove artificial global warming, any more than an active year (like 2005, the terrible year of Katrina and Rita) proves the notion. But absurdly, some environmentalists are upset that temperatures and hurricanes are down! Here is some enviro-establishment lamenting that in the past few years, the world hasn't gotten hotter. Wait, weren't we told that it would be bad if the world got hotter -- so shouldn't failure of the world to get hotter be a good thing? Not if your income depends on doomsday fundraising! There's a long tradition among ideologists of actually hoping things get worse, to cause radicalization. Marxists once rooted for "immiseration," or worsening working-class poverty, because this would cause the workers to rise up. Today some right-wingers root for terrorism because this would cause liberals to be voted out, while some enviros root for runaway warming because this could be used to justify state control of industry.
That global temperatures have gone down slightly for four years is unwelcome news to the instant-doomsday crowd. The reason may be minor natural fluctuation; maybe the current, puzzling lack of sunspots; maybe rising acid rain emissions from China and India, since sulfur dioxide is an anti-greenhouse-gas that reflects sunlight back into space. Who knows? Regardless, greenhouse levels in the atmosphere continue to rise. The greenhouse gases must be doing something. We probably won't like what they do -- since climate change (differing wind and rainfall patterns) means more than temperature anyway.
The current minor decline in global warmth is a warning not to exaggerate alarms. Since 1988, Gore and James Hansen of NASA have been saying that immediate action must be taken against greenhouse gases or artificial global warming will strike. Nothing's been done, and nothing has struck. This is not a reason for inaction: Greenhouse gas accumulation in the atmosphere took half a century to become significant and may take half a century to repair. We need to start working on the problem, via carbon taxes and programs to restrict emissions of methane and H-CFCs, which are more potent pound-for-pound than carbon dioxide. But the sense of emergency cultivated by doomsayers backfires, because it literally makes no difference what we do this year. If no action is taken on greenhouse gases for a generation, there might be serious consequences. If no action is taken on greenhouse gases in 2009, there will be no consequences of any kind. In turn, this is a reason any greenhouse regulation enacted by Congress must be sensible. Getting it right is a hundredfold more important than doing something fast. The current House-passed greenhouse gas bill, stalled in the Senate, is nightmarishly bad legislation -- more than 1,400 pages of special-interest favors for political donors, command-and-control bureaucracy and handouts to the privileged. If enacted, it will do little to reduce greenhouse gases, while discrediting the notion of climate change legislation. Artificial global warming stands a better chance of being prevented if the House bill is mulched for recycling and a simple carbon tax enacted.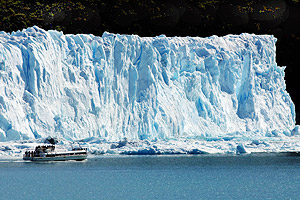 AP Photo/Natacha PisarenkoStudies show the world's sea ice is melting. But is a 1,400-page special-interest congressional giveaway the answer?
Lawmakers and leaders can't even come up with a comprehensible way to state their goals, let alone a comprehensible bill. Originally the House bill said it would create a 20 percent reduction in greenhouse gases, from the level of 2005, by 2020; now it says a 17 percent reduction from 2005, but an 83 percent reduction by 2050. Love that pseudo-scientific precision! Not "about a two-thirds reduction," exactly an 83 percent reduction in exactly 41 years. The European Union says its greenhouse gas goal is a 20 percent reduction, from the level of 1990, by 2012. China wants the United States to commit to a 40 percent reduction, from the level of 2000, by 2020; while President Hu Jintao wants China itself to reduce carbon emissions per unit of GDP by 2020. At the G8 summit in Italy this summer, world leaders adopted a (nonbinding, of course) goal of 50 percent reduction, from the level of 2009, by 2040.
Some of the proposed "reductions" are double-talk. China's promise to reduce carbon emissions per unit of GDP, for example, is empty, since trends in technology are already reducing carbon output compared to GDP in every nation. This 2003 lecture by Jesse Ausubel of Rockefeller University details how "decarbonization" -- less fossil fuel per unit of economic activity -- is a century-long technological trend operating independent of decisions of governments. In 2007, George W. Bush pledged to "decarbonize" the United States economy, a pledge easily made since this required no action and was certain to occur anyway. That Bush's 2007 declaration and Hu's similar one last week were treated as significant concessions by a credulous press corps, and by international diplomats, shows many people running the greenhouse regulatory debate have no idea what they are talking about. Hu might as well have told the General Assembly, "To prevent global warming, I promise to cause the sun to rise."
Beyond that, all the zany estimates are completely meaningless. No one has the slightest idea what emission levels or global temperatures will be a decade from now, let alone in 2050. It doesn't matter that these things are unknown -- all that matters is triggering a phase of clean-energy innovation. We need a simple carbon tax that will give inventors and business people a profit motive to control greenhouse gases. Enact a tax, wait 20 years to see what's invented and what people decide to do voluntarily, then reassess the science. That's a practical formula for global warming reform. Sorry that it's not 1,400 pages long and won't guarantee corporate donations to chairmen of congressional committees.
[+] Enlarge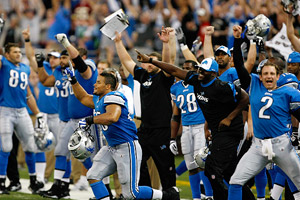 Scott Boehm/Getty Images"We did it! We are mathematically alive to finish 2-14!"
Best 99-Yard Drive: The Lions went 99 yards in 12 plays to record the first touchdown of their monkey-removing win. After an incompletion on third-and-4 from the Washington 33, on which Detroit was flagged for offensive interference, the Lions likely would have launched a field goal, considering the game was indoors and they have a good place-kicker. Rather than decline the penalty and force fourth down, Jim "Dan Snyder Hasn't Fired Me Quite Just Yet" Zorn backed Detroit up but allowed the hosts to replay third down. The Lions converted and went on to a touchdown on the possession. And man are they celebrating in Detroit, where the home boys are now on a 1-19 run.
Will Plaxico Be Pardoned? Plaxico Burress is in prison, serving a sentence that runs at least until June 2011, for violating New York State's gun law. New York Governor David Paterson has denied rumors he will pardon Burress, responding, "I am a Jets fan." But Paterson, who reached the governor's mansion by succession, is unpopular and is under White House pressure to drop out of the race for the Democratic nomination for the upcoming election, can't pardon Burress while he hopes to get the nomination. Such an action would clobber whatever chance Paterson has of drawing votes in upstate New York, by making him seem to coddle criminals. If on the other hand, Paterson either drops out owing to lack of party support or is defeated at the polls, then he has nothing to lose by pardoning Burress. Politicians leaving office for the final time often throw pardons hither and yon: think of Bill Clinton. If Paterson is headed out the door in Albany, he could score points for himself with various constituencies by issuing rafts of pardons or commutations. Will Burress get one?
[+] Enlarge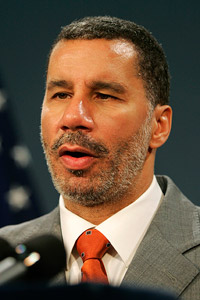 AP Photo/Frank Franklin IIPardoning Plaxico Burress would hurt his election hopes -- but those hopes may not last long anyway.
In Praise of the Colts: This play on Sunday night brought me out of my chair. Indianapolis faced third-and-1; Arizona came out with an eight-man box plus the offside cornerback on the line and looking to rush; Peyton Manning failed to notice this and did not audible from the power-rush that the Cardinals stuffed. It brought me out of my chair because Manning failed to notice the defensive front. He almost never makes that mistake and indeed did not make it again as the Colts converted their other two third-and-1s on the evening, once with a nifty end-around by tight end Dallas Clark.
The Colts have won 12 of their past 13 games, the sole loss being a fluky overtime playoff defeat in which there were numerous late flags and Indianapolis never got a chance at the ball in overtime. Are the Colts this year's monster team? TMQ is forecasting a Super Bowl of Indianapolis versus New Orleans. (Remember my column motto: All Predictions Wrong or Your Money Back.) Manning and Drew Brees are the two best quarterbacks at the moment, and both teams are fascinating to watch -- Indianapolis because it calls plays at the line, and because Manning is the first NFL quarterback since Jim Kelly in the early 1990s to call his own plays; New Orleans because it's using a straight-out-of-high-school spread offense. The Colts always seem to struggle with injuries and this year is no exception; if they're healthy, I like them to return to Miami, where they won the last Super Bowl played in that city. You've got to be a power team to win two road night games in six days (the Week 2 Monday night game at Miami, then the Week 3 Sunday night game at Arizona). Everyone talks about Peyton's offense, but Indianapolis played stout defense in 2008 and just held the high-scoring Cardinals to 10 points on their home field.
As for New Orleans, Buffalo showed the Saints' offense is not unstoppable, holding the visitors to 10 points through the first three quarters. If the Bills had anything even slightly better than a Pop Warner offense with ultra-timid coaching, they might have prevailed. So New Orleans may prove vulnerable over the season's long haul.
[+] Enlarge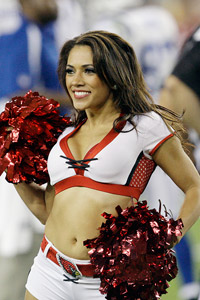 AP Photo/Ross D. FranklinThe cheerleaders were smiling, the crowd was booing -- how soon they forget that Super Bowl business.
As for Arizona: After watching film of Clark ringing up 183 yards receiving against linebacker coverage in the Miami game, why exactly did the Cardinals use linebacker coverage on Clark? Over six days, this gentleman recorded 16 catches for 245 yards and two touchdowns, all versus linebacker coverage. Put a strong safety on Clark! Arizona tried an old Bill Belichick trick by lining up with just two defensive linemen when the Colts were in passing situations, but it was a 2-4-5, still leaving only linebackers available to cover Clark. It was also a linebacker who lost track of wide receiver Reggie Wayne when he came out of the interior position on a trips right and caught a 20-yard touchdown pass. Why is a linebacker trying to cover Reggie Wayne? And what's with these NFL secondaries that act like they have never seen a trips formation? There was an awful lot of uncalled offensive holding in this game, both ways, but had the flags flown, Indianapolis still would have proved itself the better team.
This will be one of TMQ's favorite moments of the season: low-drafted Division III Pierre Garcon of Mount Union College blowing past first-round choice Dominique Rodgers-Cromartie for a 53-yard touchdown reception on a simple go route. Between this and the prior Monday night game, Garcon put up two long touchdown receptions in six days, both on national television.
Worst Crowd Reaction: The Cardinals were stuffed for a loss on a third-and-1, and the home crowd in Glendale booed vociferously. Sure, you just made the Super Bowl, but what have you done for us lately?
Is Romeo Crennel Still Coaching in Cleveland? The Browns have failed to score an offensive touchdown in eight of their past nine games. The offseason deadlock in the Cleveland organization about Quinn-versus-Anderson is looking worse in retrospect, since it prevented the Browns from thinking clearly regarding their chance to get Mark Sanchez. As for the Ravens, it's hard to evaluate a team based on its performance against the woeful Browns. But note Baltimore is so far second-ranked for offense -- and a Ravens team with some offense is a spooky thought.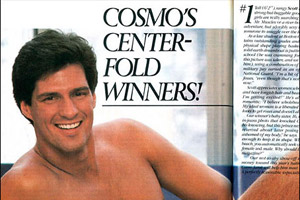 Cosmopolitan MagazineHunk Senate candidate Scott Brown hopes to get out the female vote.
Political Stud News: Scott Brown, a Republican candidate for Ted Kennedy's Senate seat, posed nude for Cosmo in 1982 and often poses shirtless. Have him run in 2012 against the shirtless Barack Obama! Originally, United States senators were chosen by a state's legislature; popular election to the Senate did not commence until the 17th Amendment, ratified in 1913. The point of the 17th Amendment was to stop political insiders from gaining free admission to the Senate, ensuring members of the upper chamber were chosen by the public. The amendment also allowed governors to appoint senators to hold open seats until an election could be organized. With Paul Kirk just named as interim occupant of Kennedy's seat, there are now six unelected members of the Senate -- the others are Michael Bennet of Colorado, Roland Burris of Illinois, Kirsten Gillibrand of New York, Edward Kaufman of Delaware and George LeMieux of Florida -- with a seventh unelected senator in prospect if Kay Hutchison of Texas wins her race to become that state's governor. How can the Senate be legitimate with so many unelected members? The whole point of the 17th Amendment is that it is offensive to democracy to grant political insiders who were never elected the power to lord it over the people. Unelected senators don't even have to be confirmed, like judges or justices: They're just insiders granted power.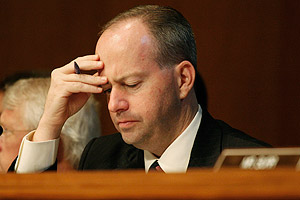 AP Photo/Harry HamburgHe's trying hard to think of a reason he should be an unelected senator.
Green Men Group News: Seattle rolled out all-green alternative jerseys; next time the Seahawks wear these, they should be called the Grinches. Doesn't this mean it is time for Green Bay to wear an electric-yellow alternative jersey while the Giants come out in monochrome gray? Against Jax, Houston wore its alternative all-red duds. Optometrists would love the all-green Seahawks playing the all-red Texans, owing to eye appointments scheduled the next day.
Sour Series of the Week: Chicago leading 25-19, Seattle reached third-and 2 on the Bears' 29 with 33 seconds remaining, out of timeouts. The Green Men Group threw super short on third down and then super short on fourth down, both incomplete, game over. Both calls were super-short routes intended to pick up a first down. But look at the scoreboard clock. What about the end zone? To top it off, a busted defensive assignment on the third-and-2 left tailback Julius Jones split wide covered only by linebacker Lance Briggs, no safety in sight -- a perfect opportunity for a go route by Jones. But Seattle quarterback Seneca Wallace never even look Jones' way; and maybe Briggs was out on Jones because Chicago correctly guessed a super-short attempt was coming and crowded the middle. After coaches called ultraconservative passes when a deep strike was needed, coach Mora the Younger had the temerity to blame the loss on kicker Olindo Mare, who missed two field goal attempts, while hitting four. Since NFL place-kickers average about 85 percent success, Mare would have been expected to make five of six, which still would have left the Seahawks trailing when the double-whistle sounded.
By the end of the game, those kryptonite-green unis were kind of growing on me. Wonder how many rads spectators were exposed to? Really liked the visible-from-orbit green cleats and green receivers gloves. Wonder if I can get Seattle to send me a pair of those gloves to wear when writing? Next Sunday, numerous NFL players will wear pink cleats or pink gloves as part of a breast-cancer research fundraiser.
[+] Enlarge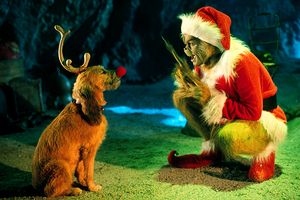 Getty ImagesA Seahawks coach talks to a special-teams player.
If Seattle Had Worn Green in Solidarity with the Democracy Movement in Iran, That Would Have Been Better: Everyone's upset that Iran is test-launching rockets, while not many months ago, the United Nations Security Council held an emergency session on the fact that North Korea launched a rocket. The United States has built tens of thousands of nuclear-armed or nuclear-capable missiles; we have been launching rockets of the North Korean/Iranian type for half a century. Iranian dictatorship is a threat to Israel, to say nothing of an outrage against the people of Iran; just as Pyongyang dictatorship is a threat to regional peace, to say nothing of an outrage against the people of North Korea. But theatrical finger-wagging about other countries wanting missiles just like us will not bring democracy to either nation.
A recent Security Council resolution says North Korea must not conduct any further launch "using ballistic missile technology." This week Western leaders are directing the same language against Iran. Yet the five permanent members of the Security Council, all of whom voted "aye" on the North Korea resolution -- China, France, Russia, the United Kingdom and the United States -- possess hundreds to thousands of nuclear warheads, and thousands of long-range missiles. Other United Nations members possess atomic arms, while India has atomic warheads and launches rockets left and right. Amazingly, "Do as we say not as we do" isn't working with Iran or North Korea. And will never work -- nor will more economic sanctions. Have economic sanctions ever worked against a dictator? They didn't work against Castro and didn't work against Saddam Hussein. This 1999 article in Foreign Affairs magazine predicted sanctions against Saddam Hussein would backfire, which is exactly what happened. All sanctions ever do is cause average people living under dictatorships to suffer further.
The United States and other strong nations maintain they should possess nuclear-tipped missiles because this creates deterrence and, hence, peace. It's a terrifying gamble, but so far has been correct. In the past 20 years or so, a human being's chance of dying by combat has been arguably the lowest it has been in human history, according to the Stockholm International Peace Research Institute. (See my cover story on this topic in The New Republic, from 2005.) The odds are that Iran and North Korea will not use nuclear missiles on a destructive campaign against Europe, Israel or Japan -- the odds are these nations will use such weapons to prevent themselves from being attacked, which is the actual-use pattern of all other nuclear missiles that have ever been constructed. Bringing Iran and North Korea into the family of nations through constructive diplomacy is a lot more likely to reduce tensions than yet another round of hypocritical "do as we say not as we do" bluster about missiles.
You Had Fells and Hartsock, Right? Congratulations to all fantasy leaguers with tight end Daniel Fells of St. Louis -- Fells had more touchdown receptions Sunday against Green Bay (two) than in the entire first three seasons of his NFL career (zero). Congrats to those who had tight end Ben Hartsock of Jersey/B, who caught the first touchdown pass of his seven-year NFL career.
Global Warming Isn't Going to Bother JaMarcus Russell: It was 83 degrees at kickoff at Not Bankrupt Yet Coliseum in Oakland -- yet whenever JaMarcus Russell came off the field, he pulled a Raiders ski cap over his head. Note the Broncos have only one giveaway so far: at 5:14 p.m. ET on Sept. 26, Denver committed its first turnover of the 2009 season. People are saying the Broncos' 3-0 start is deceptive because Denver hasn't played anyone "real." Wait -- Denver has beaten Cincinnati, and I don't wish to alarm you, but Cincinnati may be for real.
Obscure College Score of the Week: University of the Cumberlands 14, Cumberland University 13. Located in Lebanon, Tenn., Cumberland University has a real estate institute.
Bonus Obscure College Score of the Week: Wingate 42, Tusculum 31. Reader Peter Haley of Birmingham, Ala., notes Wingate went for it thrice on fourth down, converting all three, including a fourth-and-5 late to ice the game. Located in Wingate, N.C., Wingate University has a Parents Council, a Parents Advisory Board and a Parents Association.
[+] Enlarge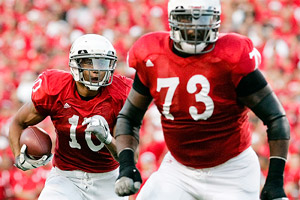 AP Photo/Nati HarnikJust like old times -- old unis, high graduation rates and running up the score
College Notes:
Ball State, 12-2 in 2008, is 0-4 this season, including a humiliating loss to always-dreadful North Texas. Coach Stan Parrish said last week "the football gods" had decided to punish the school. Yea, verily, for your faith you will be rewarded! Look for Ball State to bounce back. Reader James Soukup of St. Paul, Minn., notes Nebraska -- which Saturday played in throwback 1962 uniforms, commemorating a 300-game home packed-house streak beginning that year -- is up to an "exhausted eligibility" rate of 94 percent, meaning Nebraska athletes don't quit or become academically ineligible -- they stick around till graduation. Boston College, Nebraska, Notre Dame and Wake Forest are among big-money programs that have strong graduation rates for football players; Cal, Florida, Oklahoma and Tennessee have rates they should be ashamed of.
Check any NCAA graduation rate here
.TMQ maintains that academic success is a matter of expectations -- if incoming players are told they are expected to study and graduate, as happens at Nebraska, they respond with academic effort. If incoming players are told they can party and skip class, that's what they do. Many football-factory schools have all but stopped enforcing academic requirements -- the NCAA determines who gets in, schools themselves certify who continues to play -- and this has become an issue in recruiting. Recruits are told, "Don't go to Notre Dame, they make you study there. Come to our school and party." Former Nebraska athletic director Steve Pederson once said, "There are many things for which we all can be proud as Nebraska fans, but none that compare to the success that our student-athletes are having academically." If the AD at Oklahoma (46 percent football graduation rate) said anything like that, he'd be arrested.
As for the 1962 throwbacks, my kids' high school has gone through three uniform looks in the past four years alone; our throwback jersey would be a 2006. High schools are changing jersey looks and colors so often that National Federation of High School rules taking effect in 2011 will limit the practice, plus mandate that away uniforms be white, as some schools were using light shades on the road, resulting, say, in a dark-blue team playing a light-blue team.
Who Looks This Stuff Up? In Week 2 versus Houston, Tennessee's Chris Johnson became the first NFL player to record a 90-plus-yard touchdown rush, a 60-plus-yard touchdown reception and a 50-plus-yard touchdown rush in the same game.
Plus You Can't Use Black Helicopters to Monitor Culture Anyway: Last week, Bulgaria's Irina Bokova bested Egypt's Farouk Hosni to become the new head of Unesco, the United Nations cultural agency. The vote was politically charged because Hosni was accused of anti-Israel bias, of which there is already way too much at the United Nations. Then again, to the Arab world this looks like a determination that it's fine to denounce Muslim governments but criticism of the Israeli government makes you persona non grata. There is a simple alternative to avoid future clashes of this nature: abolish Unesco. Why does the United Nations even have a cultural agency? Culture is and ought to be a free realm where individual artists and national or regional groups create and safeguard their own ideas. It's ridiculous that the United Nations claims a role in deciding what aspects of culture are worthy and what aren't. When Unesco was founded in November 1945, global communication was close to nil -- maybe back then there was a valid international purpose in attempting to spread cultural information. Today, in an era of Wikipedia and instant global MP3 downloads of all forms of expression from seungmu dancing to Iranian techno-pop, Unesco is a wasteful tax-subsidized anachronism that does little but provide a luxurious lifestyle to a self-absorbed U.N. aristocracy. People don't need their culture supervised for them -- the whole point of culture is that people create it for themselves. Let's get the United Nations out of an arena where it has no business.
Reader Animadversion: Got a complaint or a deeply held grievance? Write me at TMQ_ESPN@yahoo.com. Include your hometown if you hope to be quoted.
Many readers, including Kathy Zell of Little Rock, Ark., noted this story of a high school player who stopped and knelt at the 2-yard line in order to avoid running up the score on a team that had just lost a player killed in a car wreck. Note that good sportsmanship is what's getting the name Thamail Morgan into the news. He'll be remembered for doing something positive, instead of strutting and boasting. There's so much bad sportsmanship in athletics, and all it ever accomplishes is bad press. If you do something positive, you get good press!
I asked why all these spread-option offenses cropping up in high school, college and even the pros don't use what my old high school coach called X Run -- a planned lateral downfield. It's devastating, because as soon as the quarterback or Wildcat back crosses the line of scrimmage, defenses ignore the pitch man, and if the pitch man runs along the sideline, as my old high school coach taught, the worst that can happen is that a botched lateral goes out of bounds -- still your ball. Ravi Jha of Atlanta remembered seeing an X Run and dug up this clip from the 1989 Colorado-Nebraska game. Exactly what I was talking about! All the gamebreaker potential of the hook-and-lateral play, but without the need to complete the hook pass. Plus the quarterback, who's accustomed to handling the ball, makes the downfield X lateral; in a hook-and-lateral, that job is trusted to a wide receiver who rarely handles the ball.
[+] Enlarge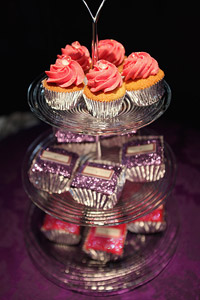 Tim Whitby/Getty ImagesWill there be a super-costly cupcake bailout?
Marc Bush pointed out this story about the cupcake bubble -- trendy bakeries selling $5 red velvet cupcakes with $5 glasses of lemonade are popping up in the Middle East. He asks, "Is this just setting us up for a deeper and more vicious bursting of a globalized cupcake bubble?" A year or two from now, U.S. taxpayers may be hit up for billion-dollar bailouts of cupcake sellers backed by private-equity firms, with taxpayer-subsidized multimillion-dollar bonuses for cupcake CEOs. College cupcake update: Cupcake-for-hire Louisiana-Lafayette has lost its past two games, at LSU and at Nebraska, by a combined 86-3.
Tuesday Morning Quarterback has long contended that another mark of coaching timidity is that NFL teams rarely send more than two or three rushers after a punt, being more afraid of a roughing-the-kicker penalty than enticed by a punt block -- which in terms of field position is as good as a fumble recovery. Watch closely: Usually two or three rush while everyone else peels back to block; you've got to send some bodies if you want to block a punt. Shawn Cook of Braselton, Ga., thus chastises me for missing a play in the Atlanta-Carolina collision of Week 2: "You didn't mention the Falcons putting 11 on the line to block a punt near midfield against the Panthers. Result? A blocked punt that led to the first touchdown of the game." Actually, Atlanta rushed five on the play, which is itself more aggressive than NFL teams usually are. The Fox announcers erroneously declared, "Atlanta rushed 11 all men." Why the error? No returner was back. Told by the network's spotter (there is usually someone watching closely and feeding tips to announcers) there was no returner, and the crew assumed that must mean all 11 were rushing. Please announcers, watch the game! Atlanta had no returner; three players were outside in the gunners-jamming positions; five rushed; and three hung around the line of scrimmage in case it was a fake. There was no return man because the Cats were punting from the Falcons' 43 -- if the kick got away, Atlanta was hoping it would roll into the end zone.
Since I missed the play that day, how do I know all this detail -- my incredible insider contacts? Of course not! I signed up for Game Rewind. For $50 a year, you get broadband access to full tape of every game, posting about midnight of gameday. Don't be put off by the low-rent-looking opening page -- it's a quality product and a godsend to anyone who wants to go back and see what really happened. With Red Zone Channel now on Comcast digital and expected to expand to many carriers, and with Game Rewind available, general access to NFL video has improved significantly in the past few months. This makes me think the dam is about to burst, and some combination of events will make Sunday Ticket available to any home -- if not any laptop, cell phone and iPod.
Barack Obama -- Stop Making So Many Public Appearances! I hope to heck the White House already has the 2016 Olympic decision wired and that's why President Obama is going to Copenhagen, because he knows he will come home perceived as successful. If Obama goes and Chicago doesn't get the Games, this will be a blow to the president's prestige. But he shouldn't be going even if the choice is already wired for Chicago. This trip makes him seem a mere sales rep. As TMQ argued last week, Obama is making way too many appearances and speeches.
TMQ Media Sked: Reminder -- this fall I am on ESPNews, with Bram Weinstein, between 2:30 and 3 p.m. ET on Tuesdays, then on "The Brian Kenny Show" on ESPN Radio at the delightfully hyper-specific 8:26 ET on Tuesday nights. You can sign up for TMQ Twitter notices. I tweet only when a new column posts. I don't clog your cell phone with miscellany. And yes, I am aware, Twitter practically already feels, like, so over.
Next Week: Russian billionaire declines to buy Washington Redskins, says, "I am looking for a hot property, maybe the Cincinnati Bengals."
Author of "The King of Sports"
Former Fulbright distinguished fellow
Contributing editor to "The Atlantic"
NFL WEEK 4 PREVIEW
PICKS
FINAL WORD
POWER RANKINGS
REALITY CHECK
MVP WATCH
STOCK WATCH: Fallers, risers
COLUMNS/BLOG POSTS
SCOUTS INC.
MONDAY NIGHT FOOTBALL