Commentary
NFL scoring, same as it ever was
Maybe you think football has been revolutionized by the spread offense, that passing is at an all-time high, that scoring is off the charts in big-college football. The sports-talk world certainly seems to think these things -- but events are not as they appear.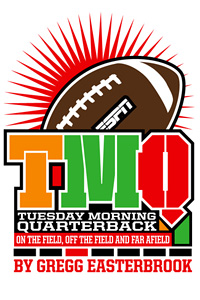 • NFL scoring is at or slightly below an average that has been remarkably consistent for 60 years.
• Many games of the 1950s, when family cars had column-mounted stick shifts, featured about the same disparity of passing versus rushing as do NFL games today.
• Half a century ago, NFL touchdowns were slightly more likely to come through the air than they are now.
• In big-college football, scoring has indeed risen. But only a particular kind of scoring -- namely, football factories running up the score against nonconference or lower-division foes. The fad of rigged games against cupcakes has created an illusion of an explosion in Division I scoring. Factor out the cupcakes, and scoring trends revert to past decades.
First, NFL scoring. Since the late 1940s, when Harry Truman was president and the tech rumor was that Blaupunkt was designing an FM radio for the dashboard of cars, NFL scoring has hovered between 21 and 22 points per team per game. Last season, the average was 22 points; in 2007, it was 21.7 points; in 1987, it was 21.6 points; in 1967, it was 21.8 points; in 1947, it was 22 points. So far this season, the average is 21.1. (Check any past year here.) The averages are so consistent it's almost spooky, as though there were a "power law" dictating an outcome of 21 to 22 points per team per NFL game. Offensive fads have come and gone: single wing, run and shoot, I backfield, full house, no huddle, double tight, the spread. Tactics change, scoring remains about the same.
In their first two games of this season, using a four-receiver shotgun spread, the Saints scored an amazing 93 points. Doesn't this mean scoring is up? The record for most points in the first two weeks was set in 1968, when the Oakland Raiders put up 95. That Raiders team used the old "pro set" of two wide receivers, a tight end and two backs in a divide. There were no funky shifts or trips right. Then, as now, the core issue is not what tactics are used but how good the players are. Oakland in 1968 had Daryle Lamonica throwing to Fred Biletnikoff, Warren Wells and Billy Cannon -- with Hewritt Dixon running behind Gene Upshaw and Jim Otto. Those gentlemen would have spun the scoreboard no matter the tactics.
Is the real story that points are now being achieved through the air rather than on the ground? Last season, NFL teams averaged 1.3 receiving touchdowns per game; in 1958, when the world's attention was riveted on the Quemoy-Matsu crisis, the average was 1.5 receiving touchdowns per game. Like overall scoring, the share of scoring that comes via passing has changed surprisingly little for half a century.
[+] Enlarge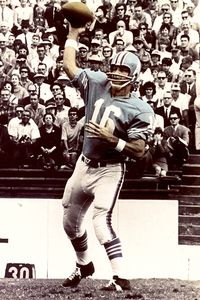 Getty ImagesThey were pass-wacky long ago.
In his first game this season, Drew Brees tossed six touchdown passes. Evidence of an explosion in passing? Five NFL players have thrown seven touchdown passes in a game -- this first happened 66 years ago, when few of today's football enthusiasts had even been born, and last happened in 1969, just after the first moon landing. The seven-touchdown-passes-in-a-game club: Sid Luckman in 1943, Adrian Burk in 1954, George Blanda in 1961, Y.A. Tittle in 1962 and Joe Kapp in 1969. All seven-touchdown-pass games came from conventional two-receiver, two-back sets, not from any exotic offense. The crux was whether the teams had good blocking, open receivers and accurate passers.
Here's the box score for the first seven-touchdown-pass contest, in 1943 -- the Chicago Bears put up 488 yards passing that day. And good thing TMQ wasn't around then, because Luckman was still on the field, and still throwing, when it was Bears 49, Giants 7. Was that game a wartime-era fluke? Here's the box score of Blanda's 1961 seven-touchdown-pass day. John Kennedy was president, as the old Houston Oilers and old New York Titans combined for 85 pass attempts versus 54 rushes. Sounds like a game right now, doesn't it? In 1953, the Detroit Lions were NFL champions. (True!) They scored 22.6 points per game, a little above the current norm, and in their season opener against the Steelers passed for 375 yards while rushing for 57 yards.
Season-total and career-total stats for offense are up significantly, but this is because there are now more games per season, while improved orthopedic medicine prolongs careers. Averages and game bests have barely changed. Brees threw nine touchdown passes in his first two games. That was done once before, by Charley Johnson of the St. Louis Cardinals -- and it was done in 1965, when Lyndon Johnson was president. (Fun fact: Charley Johnson now teaches chemical engineering at New Mexico State.) Highest completion percentage by a quarterback? Ken Anderson (71 percent) in 1982, when quarterbacks almost never stood in the shotgun. Most passing yards in a game? Norm Van Brocklin (554 yards), in 1951. Last season, the best NFL average gain per pass attempt was achieved by Philip Rivers, who averaged 8.4 yards; in 1957, before the first satellite launch, Tommy O'Connell of the Browns averaged 11.2 yards. Brett Favre once went 36 consecutive games with a touchdown pass, the best streak of any current player -- but he's staring at the taillights of Johnny Unitas, who threw a touchdown pass in 47 consecutive games for the old Baltimore Colts, and did this more than half a century ago.
For many of these NFL numbers I am indebted to the wonderful independent Web site Pro Football Reference; Doug Drinen compiled the stats and Justin Kubatko engineered the tools that make it easy to wander in the site's data mineshaft. Now let's turn to college, where historical references were researched by David Schoenfield of ESPN.com.
There's no doubt Division I college scoring is increasing -- teams averaged 20.6 points per game in 1978, then 23.8 points in 1988, then 25.5 points in 1998, rising to 27.2 points per game last season. (Loads of NCAA numbers are here.) Last season, Oklahoma set the major-college team scoring record with 51.7 points per game.
Is this scoring trend caused by the proliferation of spread and spread-option offenses? Such attacks hardly guarantee points. Spread-crazed pinball-machine-offense Oklahoma opened this season against BYU, a school that's been pass-wacky for a generation, and the final score was 14-13. The University of Virginia debuted a spread offense in its 2009 opener and proceeded to lose to Division I-AA William & Mary; following three consecutive defeats to open the season, Virginia dropped the spread, returned to a traditional offense, and won its next two games by a combined 63-10. All-passing spread-based Hawaii just played at Louisiana Tech, a traditional power-rushing team, and lost 27-6. Flip back two decades to the 1989 Holiday Bowl between BYU and Penn State. In that game, Ty Detmer threw 59 times and BYU put up 34 points, but the Cougars lost because Penn State scored 50 points with a traditional I-backfield power-rush attack.
Now let's dig deeper into the college trend. Scoring is up, but the big points are being recorded against lower-division or cupcake opponents. Last year's BCS champion, Florida, averaged 41.7 points in conference and bowl games, and 49 points in nonconference contests. Against Tennessee last season, Florida scored 30 points; against Miami, Florida scored 26 points; the flashy overall scoring average was inflated by 70 points against Division I-AA Citadel, a hired cupcake.
Running up the score against cupcakes is a broad trend for football factories, and accounts for most, if not all, of rising scoring by major programs. Last year, Oklahoma State averaged 40.8 points per game -- breaking down as 32.2 points in conference games, 52 points in nonconference games. Missouri averaged an impressive 42.2 points per game -- a figure bloated by a 54-point nonconference average, including a 52-3 laugher against cupcake Southeast Missouri State. Last year, Texas averaged 49.5 points per game outside its conference, 39.2 points inside. Penn State averaged 52.8 points in nonconference games, and 32.8 points in conference games, feasting on cupcakes, including Division I-AA Coastal Carolina. In 2007, Texas Tech averaged 57 points against nonconference foes, and 33.8 points inside its conference.
Scoring enhanced by gimmick schedules tends to be exposed late in the season. Last year, the Big 12's top five teams all were in the top 10 in the country in points per game, and all were ranked in the top 10 in the polls at some point during the season; these schools then went 2-3 in bowl games, and all scored significantly fewer points than during the regular season. High-total-points Oklahoma, which so far this season has beaten cupcakes Idaho State and Tulsa by a combined 109-0, is on a 1-5 streak in bowl games, scoring like crazy in its nonconference contests but then averaging 24 points in its last six bowl games. During the years of that 1-5 bowl streak, Oklahoma has compiled monster point totals in the regular season -- because the Sooners' schedule has included Bowling Green, Chattanooga, Middle Tennessee State, North Texas (twice) and the University of Alabama-Birmingham.
The total number of cupcake-style nonconference games is way up. Previously, a football factory's nonconference dates tended to be against other power schools.
A big difference between conference and nonconference scoring is a relatively new trend. Check these past teams that either led the nation in scoring or won a national title, or both. 1970: Texas scored 38.3 points in conference and bowl games, 39 points in nonconference games. 1971: Nebraska scored 38 points in conference and bowl games, 39.6 points in nonconference games. 1972: USC scored 35.6 points in conference and bowl games, 45.5 points in nonconference games. 1972: Oklahoma scored 42 points in conference and bowl games, 44.8 points in nonconference games.
[+] Enlarge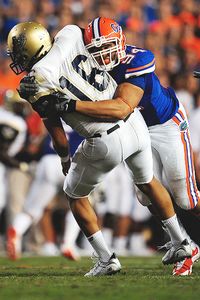 Sam Greenwood/Getty ImagesFlorida bravely tackled FCS school Charleston Southern. Gimmick games account for the increase in college scoring.
In the past, there was less conference/nonconference scoring differential because football factories considered it embarrassing to schedule teams that couldn't win -- whereas now, the boosters demand this! In 1972, USC's nonconference opponents were Arkansas, Illinois, Michigan State and Notre Dame. Alabama's 1978 nonconference opponents were Nebraska, Missouri, USC, Washington and Virginia Tech. Bear Bryant didn't exactly seek out cupcakes. Contrast to this fall: Alabama bravely scheduled Florida International and North Texas, which are a combined 12-60 in the previous three seasons, and Chattanooga, a Division I-AA team whose 2009 schedule includes Elon, Wofford and Glenville State. Bryant wanted Alabama tested; Nicky Saban never met a cupcake he didn't like!
It was roughly in the mid-1990s when cupcakes started appearing on the schedules of power teams. For instance, in 1996, Florida scheduled Louisiana-Lafayette and Georgia Southern; in 1997, Nebraska scheduled Akron and Central Florida. By 2009, cupcake madness had set in. Once it became respectable to hire a lower-division team for a planned automatic 50-point win, football factories couldn't wait. Boosters shelling out big bucks in donations and skybox fees wanted a few games per year when huge victories were assured and they could party, party, party. Money began changing hands the other way, with cupcakes paid handsome fees, often more than $500,000, to come to a football-factory stadium and get hammered.
The other reason for the proliferation of mismatch games between football powers and schools with lesser achievements in sports is the sheer increase in college teams. Until 1978, there was no Division I-AA; that year there were 91 Division I football schools, with all others either Division II, Division III or NAIA. If the universe of possible Division I opponents is 91 schools, then anyone you schedule for a nonconference game is likely to be a big university that puts significant resources into football. And if the Division I universe is only 91 schools, top high school athletes will be concentrated at those schools, making most Division I teams strong performers.
Owing to the remarkable rise in the popularity of football -- and its conjunction with college marketing, an upcoming TMQ topic -- today there are 120 Division I-A football programs and 117 Division I-AA programs. The number of schools fielding big-program teams has roughly doubled in a single generation. More and more colleges want big-time football to please alums and put themselves on the map. This trend is democratizing, as a high school boy now has a much better chance of advancing to big-college football than a high school boy of 30 years ago, simply because there are so many more programs. But the expanding universe increases the number of weak or lower-division teams available for the football factories to schedule. The advent of 117 Division I-AA teams has been a special boon to football factories looking for an automatic win. These teams are part of Division I, and so can respectably be placed on the schedule, but they almost never defeat their big brothers. Michigan State schedules Montana State for a 44-3 auto-win, Ole Miss schedules Southeastern Louisiana for a 52-6 auto-win, and so on. It's the proliferation of gimmick schedules and cupcake opponents -- not the shotgun spread -- that is making college football total scoring rise.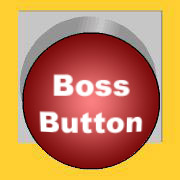 In NFL news, is there a Crabtree Curse? San Francisco broke out of the gate 3-1, in part because management's no-compromise attitude toward holdout diva Michael Crabtree sent the message that nobody is bigger than the team. Then last week, suddenly Crabtree is granted $16 million guaranteed even though he skipped training camp, doesn't know the playbook, and spent the first month of the season relaxing on the couch. Suddenly the message sent is that you can jerk the 49ers around and get away with it. Immediately San Francisco lost to Atlanta 45-10 at home.
In other football news, is Cincinnati this year's Team of Destiny? I advise you not to get up for a beer during the final minute of any Bengals game. I strongly advise you not to defy TMQ's law, Cold Coach = Victory. On a 30-degree day at Denver, Bill Belichick came out in a heavy winter parka plus woolen ski hat, with tassel; Josh McDaniels wore a hoodie with a baseball cap. At kickoff, seeing how they were attired, TMQ said, "This game's over." And yea, verily, it came to pass.
In political news, NASA wants to waste hundreds of billions of tax dollars on a moon base. Shouldn't we go to Mars instead? Sure, we'll just dedicate the entire GDP to that! See below. In sociological news, NFL cheerleaders are being exploited -- but certainly not by appearing on bikini calendars. See below for that, too. And enjoy the Giants versus Saints collision on Sunday -- it is likely to be the final pairing of undefeated NFL teams this season.
Stats of the Week No. 1: Miles Austin, undrafted out of Monmouth, not only had 250 yards receiving, he did so in his first NFL start.
Stats of the Week No. 2: Tom Brady is 1-5 in regular-season games against Denver; he has a winning regular-season record against every other team.
Stats of the Week No. 3: Cedric Benson became the first running back in 39 games to rush for at least 100 yards against Baltimore.
Stats of the Week No. 4: Minnesota has won six consecutive road games.
Stats of the Week No. 5: Cincinnati went 14 quarters without scoring an offensive touchdown -- then scored two in the second half against Baltimore.
Stats of the Week No. 6: Buffalo held Cleveland to nine first downs, 22 yards passing and a quarterback passer rating of 15.1 -- and lost.
Stats of the Week No. 7: St. Louis staged three drives that reached inside the Minnesota 10-yard line yet resulted in no points.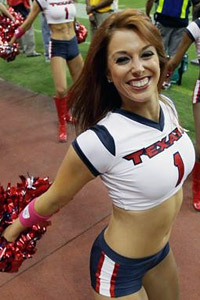 Houston TexansSonya of the Texans. Is her pay fair? See below.
Stats of the Week No. 8: Oakland at Jersey/A pitted the last-ranked offense against the first-ranked defense; the Raiders were held to 124 total yards.
Stats of the Week No. 9: Indianapolis is on a 14-1 run, with its sole loss an overtime defeat in which it never got the ball in the extra session.
Stats of the Week No. 10: A total of 29 players handled the ball -- running, passing or receiving -- on offensive snaps in the Jets-Dolphins game Monday.
Cheerleader of the Week: Chris Savage of Schenectady, N.Y., nominated Sonya of the Houston Texans, whose favorite holidays, according to her team bio, are Halloween and Christmas. How convenient -- since they're now practically celebrated together. On the Texans' cheerleader bio pages, a little icon of the cheerleader will dance and cheer for you, and they pretty much cut to the chase in Houston by offering the option of a "full body" view.
Sweet Drive of the Week: OK, it wasn't a 99-yard drive, only 98 yards. Trailing 17-10, Denver took possession on its own 2-yard line in the fourth quarter and went the distance, aided by an odd penalty against New England for taunting. Supposedly no good, Kyle Orton was 7-for-10 for 76 yards and a touchdown on the drive; the Flying Elvii got nervous and big-blitzed six on the snap that turned into the tying touchdown. As for those brown-and-candy-orange throwbacks -- I'd like to see Denver in its Sugar Daddy apparel play Seattle in its Green Men Group kryptonite green. (And if you're wondering, "What astonishing strategy did Seattle use to beat Jacksonville 41-0?" the answer is tosses and down-and-outs -- the game plan was basic, Seattle just played better.)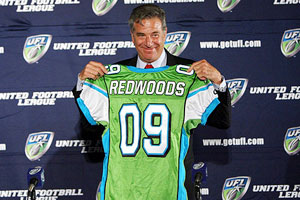 UFL-football.comThe UFL's new California Redwoods borrow kryptonite green from the Seahawks.
Why didn't Bill Belichick order a punt rush on the final snap of regulation? With 15 seconds remaining until overtime, Denver faced a fourth-and-15 at midfield, with New England holding a timeout. Rush eight men and try to block the punt! You're not going to get a 90-yard touchdown return. Yet New England dropped its punt team back to block for a return, then knelt to accept overtime. Being toasty warm in his heavy parka kept Belichick from thinking aggressively.
Sweet Play of the Week: Pittsburgh worked the tight end screen, one of TMQ's favorite plays, to perfection for a touchdown. Linebackers always assume that if a tight end lingers near the line, it's to block. Because the Steelers-Lions game was off the radar, you may not realize that Detroit, trailing 28-20, reached the Pittsburgh 21-yard line at the two-minute warning. Cautionary note: Beginning in the Super Bowl, Pittsburgh has played tight man-on-man coverage in the first three quarters and built leads, then shifted to soft zones in the fourth quarter and squandered leads. This pattern held in the Steelers' Week 4 game against the Chargers and again against the Lions. In two meetings in the calendar year 2009 -- in the 2008 playoffs, and then in the 2009 regular season -- San Diego has scored 17 points against Pittsburgh in the first three quarters and 35 points in the fourth quarter. Detroit looked good against Pittsburgh in the fourth quarter, too.
[+] Enlarge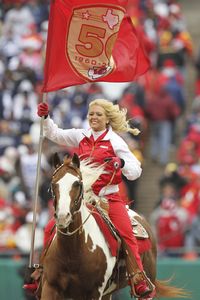 AP Photo/Ed ZurgaThe horse would have gone for the win! Why didn't Todd Haley?
Sour Play of the Week No. 1: Scoring to pull within 20-19 with 24 seconds remaining in regulation, Kansas City could have gone for two and the win: Todd Haley sent out the PAT unit, and the Chiefs wheezed out in overtime. Kansas City came into the contest having lost 29 of its past 35 games. The team has developed a loser's psychology. Timid calls will not change a loser's psychology! This was a chance for the signature play of a Kansas City turnaround; instead, yet another defeat. Dick Vermeil once went for the win in a similar situation -- that was "back in the day," when the Chiefs were feared. A reader haikuizes:
Two-point conversion:
Show some moxie, win the game!
The 0-5 Chiefs.
-- Jeremy Nichols, St. Louis
Sour Play of the Week No. 2: Rallying from a 21-0 deficit, Houston reached first-and-goal on the Arizona 6 with 1:27 seconds remaining, trailing 28-21, with the defending NFC champion in danger of becoming a Tennessee-like collapse case. A run made it second-and-goal on the 1, then Arizona called timeout to preserve its own chance for a winning field goal. A run was stuffed, then Arizona called timeout again. On third-and-goal from the 1, Houston tried a misdirection play-fake; Matt Schaub rolled out, tight end Joel Dreessen was by himself in the end zone; Schaub launched an awful pass, incompletion. Everything about the pass was sour; Schaub's mechanics were all wrong, he never squared his shoulder or set his feet, and he wasn't even under pressure! Then Houston called timeout, and on fourth-and-goal from the 1, ran a plain vanilla straight-up-the-middle dive -- no misdirection -- which failed. Besides a sour pass and a predictable final play, all those timeouts seemed to drain the momentum from the Houston comeback.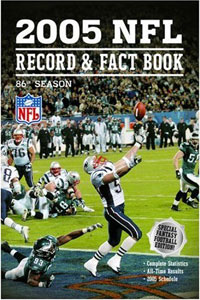 Amazon.comSuper-secret scouting report reveals the goal line play to Mike Vrabel. Except this is the cover of the league's official annual.
Sweet 'N' Sour Play: Kansas City leading 3-0, the Chiefs had third-and-goal on the Cowboys' 1. Linebacker Mike Vrabel reported eligible as an extra tight end; Matt Cassel play-faked and tossed to Vrabel in the left corner of the end zone for the touchdown. It was Vrabel's 10th career reception, all for touchdowns on goal-line plays, which was sweet. He, Cassel and general manager Scott Pioli learned this play from Bill Belichick when they were together in New England. What was sour is that Dallas was surprised. Vrabel catching the play-fake at the goal line is not exactly a state secret. A picture of Vrabel catching a touchdown pass in the left corner of the end zone off a goal-line play-fake is on the cover of the 2005 "NFL Record and Fact Book," the league's official annual! Dallas was still surprised.
Christmas Creep: Joe Carr reports, "I was sitting at a McDonald's in Honolulu, Hawaii, on September 28, and heard some nice Hawaiian music being played: 'Santa Claus is Coming to Town.'" Craig Nelson of Fort Worth, Texas, reports the Junior League of his city -- Junior Leagues still exist? -- held its Christmas gift market on Oct. 3. Five years ago, TMQ began the Christmas Creep item in November. Then it crept to October, then September, this year it began in August! Because Christmas Creep is, itself, creeping, this item is about to make its bow for the season, unless someone comes up with a really spectacular example. A reader offers this haiku:
Plot by electric
utilities: Christmas creep!
Fire up those light bulbs.
-- Anne Schuette, Manitowoc, Wis.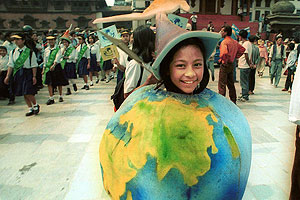 AP Photo/Binod JoshiEarth Day is only six months away -- prepare!
Unified Field Theory of Creep: Azad Sarkissian of Watertown, Mass., reports, "I go to school at a small college in Massachusetts and on my way to class on Sept. 29, saw a poster urging me to 'prepare' for the next Earth Day -- which is April 22, 2010." Brad Schmidt of Mine Hill, N.J., tops that: "I got a press release at work from the Princeton HealthCare System, saying the University Medical Center of Princeton at Plainsboro has been named one of the 20 most beautiful hospitals in the United States. I work in the area and happened to drive by it last week. The hospital, selected 'for its state-of-the-art design and environmentally friendly use of materials and technology,' is currently a steel frame. Even the press release says the building won't be completed until 2011. Yet it has already won a 2011 award."
"Monday Night Football" Analysis: The Dolphins alternated three players at quarterback; Jersey/B used two players at quarterback. The Dolphins showed a formation with no wide receivers and four running backs. The Jets showed a formation with six offensive linemen -- and not just at the goal line, but in the middle of the field. At one point, the Dolphins switched from a two-tight-end ultra-jumbo Wildcat on one snap to a trips-left with an empty backfield on the next snap. The Jets started a converted quarterback at wide receiver, then moved him to quarterback but used him as a running back, and lined him up as the punter. And a punter had the night's longest rush.
This summer, TMQ supposed, "The Dolphins may end up appearing in more entertaining contests than any other NFL team this season." So far, that has held true -- Miami's close "Monday Night Football" loss to Indianapolis in Week 2 and this week's close "Monday Night Football" win over Jersey/B number among the most entertaining games of 2009. Some teams are ultra-predictable, and some try one unusual tactic -- Miami will try anything! Suits the milieu of the city, and makes for entertaining football.
[+] Enlarge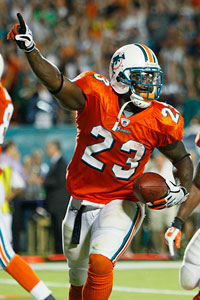 AP Photo/Wilfredo LeeDance with the one that brung you!
Because both teams were rushing the ball well and emphasizing the rush from various Wildcat looks, the big fourth-quarter plays were play-action passes. Mark Sanchez's 53-yarder to David Clowney early in the fourth quarter came on a first-down play fake; even as Sanchez released the pass, the Dolphins still had seven men in the box, trying to find the ball carrier. Chad Henne's fourth-quarter 53-yard touchdown pass to Ted Ginn Jr. came on a first-down play fake; the Jets were so fooled, Ginn was 5 yards behind the whole secondary before the defensive backs realized where the ball was. Sanchez sure looked mature. On two of Jersey/B's three big fourth-quarter passing plays -- a 34-yard pass to Braylon Edwards at the Miami 1-yard line, and a 49-yard pass interference penalty on an attempt to Edwards -- Sanchez looked off the safeties by staring one way, then suddenly throwing the other way. The not-hyped Henne also played surprisingly maturely and had a better game statistically than glam-boy Sanchez. And if you like enthusiastic offensive line play, you liked this contest -- especially guard Justin Smiley of Miami, who looked like John Hannah in orange.
TMQ has been warning that Rex Ryan's all-out blitzing might work now and then, but it also will backfire -- the big third-down conversion on Miami's winning drive came against a seven-man blitz. Following the two-minute warning, Miami put three people -- Henne, Ronnie Brown and Pat White -- behind center on various plays. And TMQ liked that trailing 27-24, facing third-and-goal on the Jets' 2 with 10 seconds remaining, the Dolphins put Brown in charge and ran a Wildcat misdirection play for the touchdown. Dance with the one that brung you!
Quote of the night: After Edwards tiptoed near the back line for his touchdown catch, ESPN play-by-play announcer Mike Tirico said, "It looked like one of his feet never came down." Researchers from the National Academy of Sciences will visit Land Shark Stadium on Tuesady and try to get Edwards, still floating above the end zone, to come down.
Untouched Touchdown Run of the Week: Ahmad Bradshaw of the Giants went 19 yards untouched for a touchdown against the Raiders behind perfect pull blocks by Rich Seubert and Chris Snee. It's pretty fun to run for a touchdown in front of your home crowd if everyone in front of you has already been knocked to the ground.
Bring Space Policy Down to Earth: Soon, Barack Obama must make a decision on whether to continue funding NASA's daffy plan to build a Motel 6 on the moon. The president will be put on the spot when the final report of a space commission (here is its preliminary report) is delivered. Rumor is that in keeping with the tradition of Washington commissions, the report will contain extremely vague language about sweeping reform; then cite every item on every wish list of every interest group with a finger in this pie; then recommend nothing specific, so as to offend no interest group; then close with a call for higher subsidies. NASA is not one of the core missions of government, and spends only one-half of 1 percent of the federal budget, so space waste is relatively minor in the scheme of things. But if public policy can't get this right, what can it get right?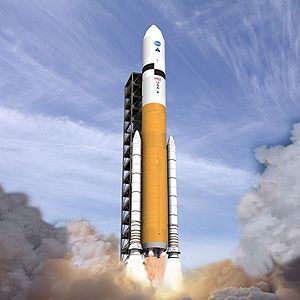 NASA"5 ... 4 ... 3 ... 2 ... 1 ... and it's liftoff for the next era of space waste."
Right now NASA's budget is $18 billion annually, and the quarter or so spent on science -- planetary probes, telescopes that scan the far universe -- is going very well. The rest of NASA is a mess. The agency has just thrown $100 billion of your money down the drain on the space station, which has no scientific achievement and no known purpose other than keeping checks in the mail to favored contractors and congressional districts. The station is such a white elephant the current plan is to "deorbit" the thing in 2016. "Deorbit" is polite for "make it burn up in the atmosphere." So after spending $100 billion to build a space station, we'll destroy it. Your tax dollars at play!
Since 2004, NASA has said its next goal is a manned outpost on the moon, as a stepping-stone to manned travel to Mars. There's nothing a person could do on the airless, lifeless lunar surface that a tele-robot operated from a Houston office building could not do at a fraction of the price and risk. And the moon has nothing to do with Mars. Any Mars-bound mission will leave directly from low-Earth orbit to the Red Planet: stopping at the moon, then blasting off again, would consume the mission's fuel to accomplish nothing. Though NASA has been studying moon-base and Mars-mission proposals for five years, the agency refuses to give a cost estimate -- a sure sign the plans cannot pass a giggle test. Considering the space station price was $100 billion for a limited facility that was not accelerated to the speed necessary to reach the moon -- speed means fuel which means higher price -- even a Spartan moon base easily could cost several hundred billion dollars. For what? Why, for "economic expansion"! Today, no one is interested in economic expansion at Earth's poles, which are far more amenable to life than the moon, have copious resources, and can be reached at one-ten thousandth the cost of reaching the moon.
What about Mars? That planet is fascinating, and people are sure to go there someday. But until there is a fundamental breakthrough in propulsion, Mars travel will be ultra-expensive and extremely impractical. Today's chemical rockets are little different from those of the Apollo era, meaning the great cost of getting weight into orbit and then to escape velocity, coupled with long travel times, remains a high barrier to any Mars mission.
The fastest trajectory available with current propulsion is a 520-day Mars mission, and that only gets you 30 days on Mars -- the rest is transit time. Now think about weight. The Apollo vehicle, which was 45 tons at departure from low-Earth orbit, carried three people on a maximum mission of 13 days. That's 1.1 tons per person per day. A Mars-bound mission would require less fuel per day, but a lot more weight for supplies, interior volume, multiple redundant systems and radiation shielding that was not required for moon flight. Interior volume is essential. The crew was strapped into seats in the Apollo command module; they couldn't even stand up. For a nearly two-year voyage, the crew will need to be able to get up and walk (or float) around to avoid going bonkers. The Russian and European space agencies recently locked volunteers into a spacecraft-like big chamber to see how long they could stand it; they were able to stand it for 105 days, a fifth of the length of the fastest possible Mars mission. (Hilariously, the agencies announced the volunteers "simulated a 105-day Mars mission full of experiments and realistic mission scenarios." This scenario is "realistic" only using warp drive.)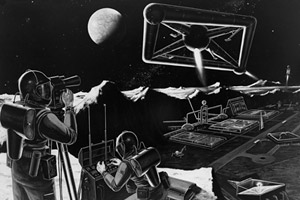 NASAFor a few hundred billion dollars, we could be sending text messages from the moon.
Any Mars craft will need to provide at least some private space for each crew member, and a decent exercise facility, to stave off the muscle loss and bone decay that is triggered by zero-gee. At least one fully equipped surgical theater will be required. Loads of spare parts and loads of equipment to use on the Martian surface will be needed, versus Apollo, which carried no spare parts and no equipment beyond a small, short-range dune buggy. (Most likely a Mars mission would not be a single vehicle -- unmanned cargo craft would go first, and people would not leave until supplies were in place -- but the weight's the same regardless of whether it's a single vehicle or a collection of launches.) Considering these things, the 1.1 tons per person per day of Apollo may prove conservative for a Mars mission.
Anyway, suppose that number is right. Assume a Mars crew of six people -- two astronauts, two scientists and two surgeons -- on a 520-day Mars mission. (Two surgeons are needed in case one of them gets injured.) Based on the Apollo experience, our six-person Mars mission gone 520 days would weigh about 3,400 tons at departure from orbit. That's approximately the displacement of an Oliver Hazard Perry class guided-missile frigate, and we are not launching a frigate to Mars anytime soon.
My weight estimate didn't pop out of the sky. These numbers have been debated by specialists for decades, and have not changed much by recent tech developments -- for example, electronics are a lot lighter now than in the Apollo era, but since electronics compromised less than 1 percent of Apollo's weight, new miniature stuff does not do much for weight. Two-thirds to three-quarters of the mission weight will be fuel, and fuel weight hasn't changed. In the 1950s, Apollo designer Werner von Braun projected that a Mars mission would weigh 3,700 tons. In the 1960s, von Braun supposed the mission could weigh 1,600 tons if nuclear propulsion was developed, but that hasn't yet happened. Discovery One, the imaginary planetary spaceship in the 1968 movie "2001: A Space Odyssey," was described as weighing 5,400 tons, which oddly sounds about right. In 2007, a NASA workshop supposed a Mars mission might weigh only 400 tons, an utterly unrealistic budgetary lowball number.
The true numbers are budget busters! Because it costs about $20 million to place a ton of anything into low-Earth orbit, the heavier the Mars craft, the higher the price. Merely placing into orbit the 3,400 tons of a conjectured mission would cost about $70 billion. That's just the launch cost -- construction of the spaceship is extra! If space station total costs are a basic guide, the full price of a 3,400-ton Mars mission would be $1 trillion. Converted to today's dollars, the entire Apollo program -- not one mission, the entire program -- cost about $140 billion.
Now you see why NASA won't estimate prices.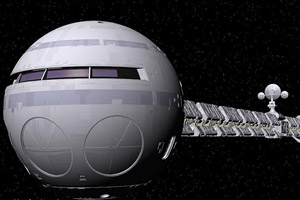 MGMDiscovery One, the imaginary spaceship whose projected weight might prove all too realistic for Mars flight.
The shame is that while NASA toys with monumental waste of tax dollars on a moon base and speaks of a Mars mission it knows full well is inconceivable using current propulsion, the agency is not even considering two space initiatives that could return tangible benefits to taxpayers: protection against asteroids and space solar power. Sunlight collected in space where its energy value is far higher than on the ground, then beamed to Earth as microwaves, might provide a long-term fossil-free solution to the planet's energy needs. No one knows if space solar power is practical. But NASA won't as much as fund a demonstration project; all money must go to moon base subsidies and Mars plans.
Aware its current course makes no sense, NASA may soon roll out the reddest of red herrings -- we've got to go back to the moon to beat the Chinese and the Indians. During the Cold War, no one questioned NASA spending because national prestige was involved. Why must we "beat" China and India to something we already did 40 years ago? If China or India beats us to space solar power -- now, that would hurt.
Forget the Titans: Stretching back to last season, Tampa and Tennessee have followed a combined 22-5 stretch with a combined 0-15 streak. City of Tampa is experiencing a general franchise meltdown. What to make of the Flaming Thumbtacks' collapse? Since the moment Tennessee took the field in the playoffs holding home-field advantage throughout the postseason, Tennessee has lost six straight. The loss of Albert Haynesworth cannot be the explanation, as his new team is struggling. Could it be that Jeff Fisher, dean of NFL coaches, will end the season fired? At this point last fall, nobody would have believed that Mike Shanahan would end the season fired.
Tuesday Morning Quarterback has long held up Fisher as an exemplar of the good coach, but Tennessee made numerous football IQ mistakes Sunday night against the Colts. Trailing 7-6 in the second quarter, Tennessee took a shot down the field on third-and-1. The receiver was open but the pass overthrown, and defensive holding could have been called. Now it's fourth-and-1 on the Tennessee 46, and that cannot be the punt team trotting onto the field! Fisher seems to feel burned by a failed fourth-and-1 in last year's playoffs. But that was then; this is now. Fortune favors the bold! I scarcely need tell you Indianapolis drove the other way for a touchdown.
Joseph Addai walked into the end zone standing up -- all Tennessee defenders blocked to the ground by a Football 101 trap action -- on the sort of goal-line, straight-up-the-middle moment that defines defensive pride. Later, leading 14-6, the Lucky Charms took possession on their 7 with 64 seconds remaining before intermission and drove 93 yards in just 40 seconds for the touchdown which turned Tennessee's season inside out. So there was a debatable roughing the passer call on this drive. There was also a clearly correct roughing the passer call, and that's low football IQ. Indianapolis reached the Tennessee 39 with 25 ticks left on the clock. Is there perhaps some small chance the Colts will throw? But Tennessee didn't have a nickel on the field! A linebacker covered slot receiver Austin Collie -- Indianapolis shows a slot formation 80 percent of the time! -- who caught a post and legged it out to the end zone. Yes, Tennessee has injury problems. But the team's performance in the final 64 seconds of the first half was atrocious. Forget the Titans.
Browns Become Jets West: Summing the two transactions in which new Cleveland coach Eric Mangini surrendered a chunk of his current employer's future for guys from his previous employer at Jersey/B, Cleveland traded Mark Sanchez and Braylon Edwards for Kenyon Coleman, James Davis, Abram Elam, Coye Francies, Alex Mack, Brett Ratliff, Chansi Stuckey, Jason Trusnik, David Veikune and a 2010 draft selection that probably will be in the third round. How many of the gentlemen acquired by Cleveland will start there a year from now?
Who Looks This Stuff Up? "The 11 teams that are either unbeaten or winless represent 34 percent of the league, the highest such percentage four weeks into the season since 1998" -- The Washington Post.
Hidden Plays of the Week: Baltimore ran some clever defense against Cincinnati. Bengals facing third-and-12, the Ravens overload-rushed four players from the offensive right and no one from the offensive left; confused, Carson Palmer threw right, since that area should have been vacated by the big blitz. But it wasn't a big blitz, it just seemed that way -- four rushed -- and Ed Reed returned the interception for a touchdown. Then Cincinnati faced second-and-goal on the Baltimore 4. Baltimore showed big blitz; Palmer audibled to a slant; the Nevermores rushed only three, no one open, Palmer threw it away. On third-and-goal from the 4, Baltimore again showed big blitz; Palmer did not audible; but this time seven rushed -- sack, and the visitors settled for a field goal.
The Bengals outperformed and outgained the home team, but the key was hidden plays: Hidden plays are ones that never make highlight reels, but stop or sustain drives. Baltimore leading 7-3, the Ravens sacked Palmer on third-and-8. Domonique Foxworth of Baltimore was called for holding, on a play on which Palmer hardly had a chance to look downfield. TMQ doesn't like the current defensive holding rule -- a fourth-and-19 at the Cincinnati 26 suddenly was a first-and-10 at the Cincinnati 42. (The theory is that unless a first down is automatic, defenses can hold willy-nilly on third-and-long; but there's got to be a better rule.) The Bengals scored a touchdown on the drive, then missed the extra point as a bad snap sailed all the way to the 30. But Baltimore was called for "illegal formation" because Trevor Pryce lined up with his head directly at the center's head (legal on most plays, but not legal opposite a long-snapper). Cincinnati hit the second try. Then, trailing 14-10 with 34 seconds remaining, Palmer threw incomplete, and it would have been fourth-and-16 on the Ravens' 30. But Reed was called for interference, and given a first down at the 20, Cincinnati achieved another last-second win.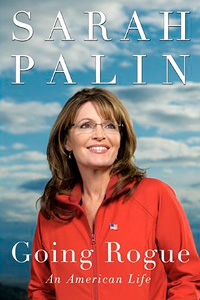 HarperCollinsDeceptive marketing? You betcha!
What Sarah Palin and Hillary Clinton Have in Common: Sarah Palin has an instant book out next month, and in keeping with the Unified Field Theory of Creep, it's already on bestseller lists though no volumes actually have been shipped from the warehouse. Is the real reason she quit the Alaska governorship that she wanted to be free to promote the book and keep the royalties? If so, that makes her sound like just another political phony.
Palin is presenting herself as the author of "Going Rogue," though a ghostwriter named Lynn Vincent is the actual author. It is perfectly respectable to use a ghostwriter -- so long as this is disclosed. George W. Bush's "A Charge to Keep" declares on the cover, "by George W. Bush and Mickey Herskowitz." John McCain's several books all prominently declare on the cover that the actual author is his longtime associate, Mark Salter. This is called honesty. To pretend to be the author of something you did not write is deceit, and indicates egotism. Celebrities and athletes pretend to be authors of books actually written by someone else. But they're airheads! People with important roles in public life should be honest.
When Hillary Clinton ran for president, she pretended to be the author of the books "Living History" and "It Takes a Village." The former was actually written by Lissa Muscatine, Ruby Shamir and Maryanne Vollers; the latter was actually written by Barbara Feinman, a fact the publisher even announced! Yet Clinton masqueraded as the author. Even today, Clinton's official State Department biography includes the phrase, "Secretary Clinton is the author of bestselling books, including her memoir, Living History, and her groundbreaking book on children, It Takes A Village." This statement is simply false, and has no business in U.S. government information. That the former governor of Alaska pretends to be something she is not reflects poorly on Palin; that the current secretary of state pretends to be something she is not reflects poorly on her. Both claims cheapen public understanding of the value of writing, and devalue honesty.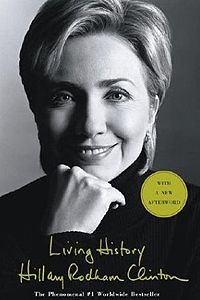 ScribnerDepends on what the meaning of "by" is.
Palin handed in "her" manuscript to the publisher in August, three weeks after leaving the Juneau statehouse; Clinton signed to "write" her latest opus just after becoming a senator representing New York. This means that if they actually are authors, then they cheated the taxpayer. No one could possibly write a 432-page book ("Going Rogue") or a 592-page book ("Living History") while carrying out the duties of a governor or senator. To pretend for ego reasons to be what you are not is a worrisome trait in someone at a high level of public responsibility (Clinton) or who seeks an even higher level (Palin). That Hillary Clinton and Sarah Palin pulled the same self-aggrandizing stunt is distressing on too many levels to count.
More Good Broadcasting News: TMQ has been praising Red Zone Channel and Game Rewind, two recent improvements in the typical person's ability to watch the NFL. Another improvement is expanding availability of ESPN 360 -- as more digital cable customers receive 360, generally without added charge. If you haven't tried it, ESPN 360 airs numerous games in many sports via broadband. The feature is great for college football on Saturdays, when ESPN may be broadcasting a dozen games simultaneously, and the ones not shown on regular ESPN or the Deuce in your area are shown on 360. There's a short-term archive that offers replay of broadcasts from the previous day -- when I awoke Friday morning to read that Nebraska came back to outscore Missouri 27-0 in the fourth quarter, I went to 360 and watched the fourth quarter. The tools of 360 work really well -- the only thing they won't let you do is skim through Internet commercials -- 360 has to pay the rent somehow. There's also remote access, whatever that means.
[+] Enlarge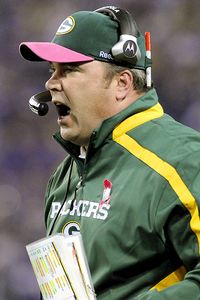 AP Photo/Jim MoneMike McCarthy overdressed -- indoors!
Immutable Law Update: Normally the immutable law Cold Coach = Victory doesn't come into play until November; a surprise October winter storm in Denver changed that. Certainly, this law has never previously come into play indoors. But sharp-eyed reader Thon Morse of Austin, Texas, noticed during last week's big Packers at Vikings game, held inside the Metrodome -- kickoff temperature 68 degrees -- Brad Childress was wearing a polo shirt, while Mike McCarthy had on a zipped-up varsity jacket. Needless to say, McCarthy's team did not win.
Cheerleader Exploitation: Cheer-babes dancing in short skirts, or posing for swimsuit calendars, is not exploitation. After all, you're supposed to look at the cheerleaders! Professional athletics is foremost a form of entertainment, and the scantily-clad dancing girl has a long history as integral to entertainment in theatrical arts as well as sport.
It is, however, objectionable if everyone involved in an NFL contest is making buckets of money, except for the cheerleaders. That's the case, and that is a form of exploitation. The NFL will have about $8 billion in revenue this season, and Green Bay, the one team that discloses financial information (the Packers are publicly owned), showed a profit of $20 million last year. There's plenty of money in professional football. But only crumbs go to the cheerleaders. NFL teams are believed to pay cheerleaders approximately $100 per game. (Several teams used to post cheerleader audition FAQs on their Web sites that included such info.) Some throw in two game tickets. Don't spend it all in the same place!
Cheerleader squads practice twice a week, and in most cases, cheerleaders are not paid for practicing. Some are charged to audition. They make unpaid charity appearances. In order to become cheerleaders, they sign away "subsidiary rights" to their images -- use in advertising, on swimsuit calendars and so on. Being a NFL cheerleader is glamorous and can entail exciting travel. Many women who take up this very time-consuming hobby would rather be cheerleaders receiving only token pay than not be cheerleaders. But that should not be the choice. "Do it cheap or we'll find someone else who will" is manipulation. Cheerleaders are professional performers and deserve decent pay.
[+] Enlarge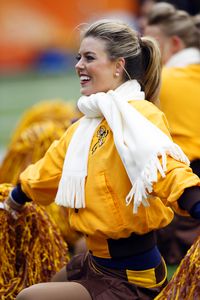 AP Photo/Jack DempseyJust this once, since it was below freezing, cheerleader overdressing did not cause defeat.
This month, prominent television ads have run for NFL Sunday Ticket, the league's premium package. In the foreground Peyton Manning talks, while NFL cheerleaders from the Broncos, Cowboys and other teams dance in the background. The joke of the ad is that Manning thinks the screen is showing a game, but actually, what everyone really wants is to look at the cheerleaders. Manning is receiving a hefty endorsement fee for appearing in the ad. Several of the cheerleaders shown in the ad, especially from the Cowboys, can be identified as individuals. Are they also receiving endorsement fees?
I asked DirecTV, which hired Manning for this ad. Spokeswoman Jade Ekstedt told me the company's licensing agreement with the NFL includes the right to use cheerleader images in promotion. That is, DirecTV has already paid on its end; any cheerleaders' promotional fees must come from the league or the teams. So are there such fees? "I recommend that you speak directly to the NFL regarding how the NFL or the individual teams determine compensation for cheerleaders," Ekstedt said. So I asked the NFL. Spokesman Brian McCarthy told me to call DirecTV. Then I asked the Cowboys spokesman Rich Dalrymple. He told me, "You'd probably need to inquire with the NFL or DirecTV on that." I asked Dalrymple to confirm or deny that the cheerleaders did not receive endorsement fees; he replied, "As a club policy we do not disclose details of commercial endorsements involving members of the organization." In no case did I inquire about how much anyone involved might be receiving. I asked only whether NFL cheerleaders do or do not receive endorsement income when their images are used in advertising. The league, the team involved and the advertiser all would not answer. You'd think if the answer was yes, they'd be happy to say that.
The current Sunday Ticket ads are hardly the only ones in which cheerleader images are used, and likely without pay to the cheerleader -- I cite this ad simply because it's the current example. Peyton Manning's sure getting a fee: In almost all cases that an NFL player or coach's image is used in advertising, even if the image is from stock footage, he gets a fee. The legal presumption is usually that any person whose identity can be determined must be paid to have his or her image used in advertising, since use of a person's image implies endorsement of the product. Recently Woody Allen sued a company that used his likeness in an ad without conferring a fee; the company settled with Allen for $5 million.
For an $8 billion enterprise to pay cheerleaders $100 a game, then use their images in national advertising without further pay, ought to embarrass the NFL. True, players' contracts include a clause that signs away some of their rights to their images under some circumstances. But players receive an average of $1.9 million per year. What they're signing is a good deal. What the cheerleaders are signing is exploitation.
Browns-Bills Should Have Been "Presented by Sominex": The Browns have failed to score an offensive touchdown in nine of their past 11 games; the Bills have failed to score an offensive touchdown in five of their past six homes games. When they met Sunday, Browns quarterback Derek Anderson somehow managed to compile a 15.1 passer rating; if every throw clangs to the ground incomplete, the passer gets a 39 rating. "It's great, it's fantastic, I couldn't be happier," Cleveland coach Eric Mangini gushed after a 6-3 win in which the Browns completed two forward passes. Buffalo's mystifying insistence on sticking to a no-huddle offense that hasn't produced a touchdown in three games became farcical as the Bills adopted a quick-count cadence in hopes of drawing Cleveland offside. They only succeeded in drawing themselves offside, the Bills being whistled for a preposterous nine false starts. Watching these two offenses was like watching the Exxon Valdez try to extricate itself from the rocks of Bligh Reef.
[+] Enlarge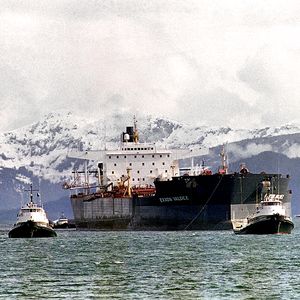 Chris Wilkins/AFP/Getty ImagesAssistant coaches struggle to help the Buffalo offense off the rocks.
The Bills have lost in consecutive weeks to winless teams, scoring one offensive touchdown in the last three games, and are on a 3-12 run since the moment last fall when Dick "Cheerio, Chaps" Jauron received a three-year, $9 million contract extension. Thank goodness Cheerio Chaps has long-term security! He did not, however, grant himself the extension: management did. During the same period Jauron has been on the Buffalo scene, Buffalo management has invested three first-round draft choices and a second-rounder in safety Donte Whitner, cornerback Leodis McKelvin, defensive tackle John McCargo and middle linebacker Paul Posluszny. After acquiring these gentlemen and granting them contracts with huge bonuses, Buffalo saved money by letting go safety Jim Leonhard, cornerback Jabari Greer, defensive tackle Justin Bannan and middle linebacker Mario Haggan. McCargo is a bust who has never started a game; Whitner is a journeyman-level performer, McKelvin and Posluszny are perennially injured. Meanwhile, Leonhard, Greer and Haggan are playing like stars for the Jets, Saints and Broncos, while Bannan is often on the field for the Ravens. Had Buffalo simply kept Leonhard, Greer, Haggan and Bannan and used the draft choices and money on other players, it might now be a real team. Time to recognize that Buffalo general manager Russ Brandon is Matt Millen: The Sequel.
Adventures in Officiating: Jumpin' jehosaphat, what were the Redskins doing attempting a slow-developing sweep from their own 3? Safety. But the big play of Washington at Carolina was a Redskins punt muff in the fourth quarter; the Cats recovered at the Washington 16 and scored the winning touchdown. Antwaan Randle El of Washington signaled fair catch; Byron Westbrook was blocking for Randle El; Quinton Teal of Carolina shoved Westbrook into Randle El, who muffed the catch. Zebras first ruled fair-catch interference and gave the ball to Washington, then reversed themselves on review, saying that while the kicking team can't hit a player attempting a fair catch, it can throw one of the receiving team's players into him, assuming that player is blocking. Any receiving team's player who is not blocking can't be used as a missile to hurl into the punt returner. A fair catch signal covers the entire receiving team, not just the guy who waves his arm. After the wave, all receiving team players can't be hit, unless one tries to block, in which case he loses protection against interference.
OK -- but the second part of that standard isn't in the rulebook. I just reviewed Rule 10 of the NFL rulebook, which governs the fair catch, and it says nothing about what the kicking team can do to guys who aren't the ones who waved an arm. Perhaps this is covered by the infamous Officiating Manual, the zebra guidebook that the NFL refuses to let anyone see. The NCAA and NFHS both publish their officials' manual; why is the NFL manual secret? Plus, kicking rules are just way too complex: This year, the NFHS manual has 50 pages on interpretation of kicking rules.
After the touchdown, Carolina led 18-17 and went for two. Steve Smith lined up wide left with Kenneth Moore in the slot; Moore slammed into DeAngelo Hall, who was attempting to cover Smith, who went underneath and caught the deuce. This was an obvious pick play and should have been flagged; Moore looked like a pulling guard. In the Sunday night game, Indianapolis ran the same action legally: Division III's Pierre Garcon cut in front of Reggie Wayne and just rubbed off Wayne's man, freeing Wayne for the touchdown. The distinction is that Garcon continued to run his pattern; Moore slammed Hall and came to a halt. In the Titans' case, the Tennessee secondary even knew what was coming -- Flaming Thumbtacks' defensive backs were gesturing madly to each other before the snap -- and couldn't stop it.
Buck-Buck-Brawckkkkkkk No. 1: Facing fourth-and-1 on the Washington 43 in the first quarter, winless Carolina came out as if to go for it, but all that happened was Jake Delhomme barking signals hoping to draw the Redskins offside. Don't try a gimmick that never works anywhere -- be a man and go for it! The home crowd at Bankers' Bonuses Federal Giveaway Stadium booed loudly, as it should have, as Carolina took a delay of game penalty, then sent the punter onto the field.
Buck-Buck-Brawckkkkkkk No. 2: Trailing Minnesota 31-10 after scoring a touchdown with six minutes remaining, Les Mouflons kicked deep, rather than onside kick.
Buck-Buck-Brawckkkkkkk No. 3: Trailing 3-0 at home, where the Bills are on an extreme touchdown drought, "Cheerio, Chaps" Jauron sent the kicking unit out on fourth-and-1 from the Cleveland 17. Game tied at 3, four minutes remaining, Cheerio Chaps sent the punting unit out on fourth-and-1 from midfield.
Why Certain Teams Have Lost 31 of Their Last 36 Games: Tailing 17-3, St. Louis punted on fourth-and-inches from midfield.
Obscure College Score of the Week: Springfield 39, Husson 14. Not to be confused with Springfield College in Illinois or the University of Illinois at Springfield, Springfield College of Springfield, Mass., also operates a summer camp.
Bonus Obscure College Score of the Week: William Paterson 14, Morrisville State 2. The Mustangs' faithful lament -- if only we'd gotten seven more safeties! Located in Morrisville, N.Y., Morrisville State College boasts that its football program participates in "the elite New Jersey Athletic Conference." Not only is Morrisville about 200 miles from the New Jersey border, five of the 10 football member schools of the NJAC are not located in New Jersey.
[+] Enlarge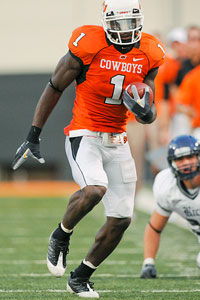 AP Photo/Brody SchmidtDez Bryant. The people who enforce the rules don't understand them, so why drop a 16-ton weight on a minor mistake?
Free Dez Bryant! The Dez Bryant situation is completely ridiculous. In June, Bryant tagged along as Deion Sanders discussed a business deal that did not include Bryant, then went to dinner at Deion's house. Months later, Oklahoma State, worried that Bryant was somehow involved in the business deal, asked him if he knew Sanders. Bryant panicked and did something really stupid, denying he knew Sanders. Now he's suspended not for any substantive violation, rather for failing to tell the truth about a permissible action. Of course football players, like everyone else, should always tell the truth. But the punishment is totally out of proportion with the offense: Let him do a community-service project as punishment.
Surely Bryant panicked in part because NCAA rules are so complex, no one can understand them. All big colleges now have a "compliance officer" whose full-time job is to understand NCAA rules -- Oklahoma State has two compliance officers plus a "monitoring coordinator" and an "eligibility coordinator" -- and even they make mistakes. But they don't pay any price for mistakes; kids do. The NCAA will bend any rule when it comes to money for the NCAA, but God forbid a confused 20-year-old should fail to follow the letter of subsection 48(d)! Note: Reader Rusty Shackleford of Tulsa reports that Jenks High, a local power plagued by eligibility and recruiting scandals, is hiring a compliance officer. For a high school!
Reader Comments: I've been complaining about politicians and minor government functionaries with taxpayer-funded "security details" present solely to make the person feel more important. Paul Benson of Gahanna, Ohio, writes, "One day last spring I was walking through the campus of Ohio State University and found it odd there was a gentleman in a black suit with an earpiece standing outside of a red university van. I looked inside the van to see E. Gordon Gee, president of school. Not only are my tuition dollars paying for security to protect the president of Ohio State, but every Ohio resident is paying for it also as the university receives public funding."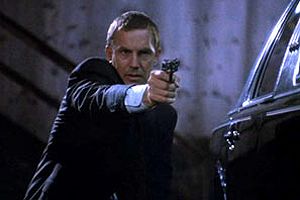 Warner Bros. PicturesSoon every Associate Acting Deputy Assistant to the Undersecretary will have a taxpayer-funded bodyguard.
James Davenport of Portsmouth, Va., reports he was at this event at the Thomas Jefferson National Accelerator Facility in Newport News, Va., a pure-science facility, nothing to do with weapons or defense: "I witnessed Energy Secretary Steven Chu's entourage arriving at the site and attended his appearance. There were four personal staff members with Chu, plus two federal bodyguards and three Newport News police officers. Why does the Secretary of Energy need bodyguards?" Davenport adds that Chu's security detail arrived in a Ford Excursion, a mega-SUV that gets less than 10 mpg and emits seven to eight tons of greenhouse gases annually. Chu himself has said artificial climate change could make entire states uninhabitable and that "I am hoping the American people wake up" to the danger of greenhouse gases.
Mike McLaughlin of Spokane, Wash., provides this counterpoint: "At Sea-Tac International Airport recently I saw one of my state's senators, Patty Murray, going the other way on an escalator. Was she surrounded by bodyguards? Nope. Sen. Murray was walking through the airport by herself. After reading stories of politicians' unnecessary security details in TMQ, I found this very refreshing."
TMQ likes examples of college coaches and athletic directors with chaired titles or corporate sponsorships; send examples, with specifics (ideally Web pages), to me at TMQ_ESPN@yahoo.com. Brian Selgrade of Durham, N.C., notes that William Wright-Swadel is "the Fannie Mitchell Executive Director" of Duke University's Career Center. A chaired career adviser! Selgrade adds, "Apparently 'Director' was too short for a title. What is the difference between being 'Director' and 'Executive Director?'"
My item on automated speed cameras drew this response, which combined two TMQ hobbyhorses: automation and absurd specificity. Ben Cohen of Oberwil, Switzerland, writes, "In Switzerland, there are many traffic cameras. I recently received a camera-generated citation in the mail, charging me a fine for running a red light. The citation said I had missed the light by 0.67 seconds. It's a good thing I didn't miss it by 0.7 seconds -- the fine might have been doubled!"
Bad Sportsmanship Watch: Booker T. Washington of Tulsa, the defending Oklahoma 5A champion, ran up the score to 90-0 in defeating Miami of Oklahoma, a winless team that entered the game having been outscored 178-28. Ahead 69-0, Booker T. Washington threw deep on the final play of the first half. Hey, coach Antwain Jimmerson -- get a dictionary and look up "sportsmanship." Beating up on a team with absolutely no chance, that must really make you feel like a man.
Single Worst Play of the Season -- So Far: San Francisco trailing 35-10, Dre' Bly of the Squared Sevens intercepted a pass and saw green in front of him. Bly started showboating for the home crowd at his own 40, then was caught from behind by Roddy White -- one of the league's fastest players, the sort of thing Bly is paid to know -- and fumbled. Atlanta ball. Showboating when you are about to score the winning points, as Dominique Rodgers-Cromartie did for Arizona, is bad enough. Showboating on your own 40 and when your team is down by 25 points is inexcusable. Dre' Bly, you are guilty of the single worst play of the season -- so far.
Next Week: Sarah Palin and Hillary Clinton announce they discovered radium and invented the Internet.
Author of "The King of Sports"
Former Fulbright distinguished fellow
Contributing editor to "The Atlantic"
NFL WEEK 6 PREVIEW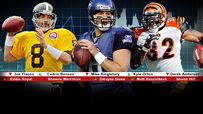 PICKS
POWER RANKINGS
FINAL WORD
FANTASY
HOT READ: CENTER STAGE
STOCK WATCH: Fallers, risers
COLUMNS/BLOG POSTS
SCOUTS INC.