Commentary
Coaching is overrated in football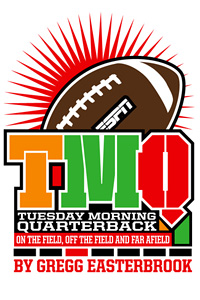 Changing the playcaller sure helped the Redskins!
In the cult of football, surely few things are more overrated than play calling. Much football commentary, from high school stands to the NFL in prime time, boils down to: "If they ran they should have passed, and if they passed they should have run." Other commentary boils down to: "If it worked, it was a good call, if it failed, it was a bad call," though the call is only one of many factors in a football play. Good calls are better than bad calls -- this column exerts considerable effort documenting the difference. But it's nonsensical to think that replacing a guy who calls a lot of runs to the left with a guy who calls a lot of runs to the right will transform a team.
One factor here is the Illusion of Coaching. We want to believe that coaches are super-ultra-masterminds in control of events, and coaches do not mind encouraging that belief. But coaching is a secondary force in sports; the athletes themselves are always more important. TMQ's immutable Law of 10 Percent holds that good coaching can improve a team by 10 percent, bad coaching can subtract from performance by 10 percent -- but the rest will always be on the players themselves, their athletic ability and level of devotion, plus luck. If the players are no good or out of sync, it won't matter what plays are called; if the players are talented and dedicated, they will succeed no matter what the sideline signals in. Unless they have bad luck, which no one can control.
Another factor here is marketing. When a season is going poorly, or just went poorly, you can't fire the whole team. Significantly revamping the team will take at least a year, probably two. But you can fire a coach or front-office executive -- if only you could fire the owner, right Redskins fans? -- or announce a reshuffling of sideline authority. That's quick and easy, and creates an impression that dramatic action is being taken. The Redskins' faithful have been in revolt over the team's bland performance, and owner Chainsaw Dan Snyder sees declining marketing income. Bringing in a new playcaller created an impression that dramatic action was taken; it gave fans a reason to pay attention to the next couple of games.
My take on Sherman Lewis' play calling Monday night? When he ran, he should have passed -- when he passed, he should have run. Here was an actual Lewis call overheard: "B-14, N-7, I-2, G-6. On set!"
In the Redskins' case, there is an added dimension -- the rumor is Chainsaw Dan took away coach Jim Zorn's play-calling authority hoping that Zorn would blow a gasket and quit. If Zorn quits, he gets nothing; if he's fired, he receives the balance due on his contract. No doubt to Chainsaw Dan's dismay, Zorn held his ground. Here are other things Snyder might try to prompt Zorn to quit:
[+] Enlarge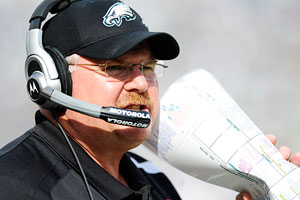 AP Photo/Michael PerezThere are an awful lot of plays on his play-calling sheet. Most of them are either runs or passes.
• Take away his authority to shout, "Clap it up, clap it up."
• Bring in a coin-toss consultant.
• Place a large concrete planter in Zorn's parking space at team headquarters.
• Require Zorn to return the phone calls of Washington Post sportswriters.
• Have everyone in Redskins management get exactly the same buzz cut.
• Require Zorn to meet with the Redskins' season-ticket holders Snyder is suing.
In other football news, the last possible pairing of undefeated teams is Denver at Indianapolis on Dec. 13. In theory, an undefeated Denver or Indianapolis could meet an undefeated New Orleans in the Super Bowl, but that would require both teams to enter the game 18-0 -- and since only one team in NFL history has reached 18-0, the odds that two will do so in the same season seem fairly long.
When Michael Crabtree finally signed with the 49ers, TMQ warned of a Crabtree Curse -- Mike Singletary had spent a year in San Francisco instilling the message that nobody is bigger than the team, and suddenly it seemed you could jerk the 49ers around all you wanted and get $17 million guaranteed as your reward. Before the signing, the 49ers were 3-1; since the signing, they are 0-2, and have been outscored 69-31. Beware the Crabtree Curse!
Kickoff temperature in Pittsburgh on Sunday was 52 degrees -- so why did Brett Favre wear a woolen ski cap to the postgame news conference? TMQ has noted that while Favre once shrugged at inclement Green Bay weather, now the aging quarterback's performance declines sharply when it's cold. If 52 degrees now makes him reach for a ski cap, good luck to the Vikings when they play at Chicago on Dec. 28.
In other sports news, Tuesday Morning Quarterback considers basketball 1 percent as interesting as football, so annually devotes 1 percent of column inches to the bouncy-bouncy sport. With the NBA season tipping off Tuesday night, my pro basketball points are scattered throughout the column; college basketball points coming soon.
Stats of the Week No. 1: Indianapolis has 15 straight regular-season wins; St. Louis has 17 straight regular-season losses.
Stats of the Week No. 2: Tom Brady is on a 12-1 stretch in the month of October.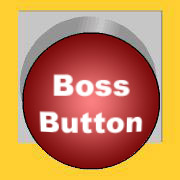 Stats of the Week No. 3: Chicago, Cleveland, Kansas City, Oakland and St. Louis lost by a combined score of 193-26.
Stats of the Week No. 4: Green Bay's last two opponents, Detroit and Cleveland, came into their games with Green Bay a combined 2-10.
Stats of the Week No. 5: New England's last two opponents, Tampa Bay and Tennessee, came into their games with New England a combined 0-11.
Stats of the Week No. 6: Jake Delhomme has 21 turnovers in his past seven games. JaMarcus Russell, the No. 1 pick in the 2007 NFL draft, has two touchdown passes versus 10 turnovers this season.
Stats of the Week No. 7: St. Louis has score one second-half touchdown this season.
Stats of the Week No. 8: (Bonus college stat) Navy and Wake Forest combined for 99 rushes and 25 passes on Saturday. Passes by Navy: 0.
Stats of the Week No. 9: New Orleans is on a pace to score 635 points this season; the NFL record is 589, set by New England in 2007.
Stats of the Week No. 10: So far this season, Michael Vick has six pass attempts for a net gain of 6 yards.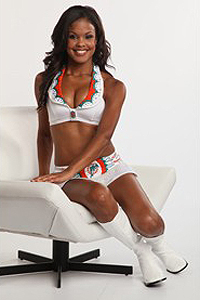 Miami DolphinsJohanna of the Dolphins, minus her Starbucks.
Cheerleader of the Week: Johanna of the Miami Dolphins, who according to her team bio was born in Florida and works as a model. Rather than more biographical information, Johanna's team page describes the products she likes -- Starbucks, MAC cosmetics and Viva la Juicy perfume. Cheerleader product placement! But is she receiving an endorsement fee?
Sweet Play of the Week No. 1: Houston has yet to appear in a high-profile game, so you may be missing the fun of Gary Kubiak-drawn plays. At the San Francisco goal line, Kubiak sent in three tight ends, then had the right tackle pull on a toss run by Steve Slaton -- touchdown. From another three-tight-end set, Matt Schaub faked a toss left to Slaton, then waggled right; there were two offensive linemen pulling left, to sell the fake; a tight end was crossing in front of Schaub, which drew the attention of the safety, since bootlegs are usually to a tight end crossing in front of the quarterback; then Schaub threw long to tight end Owen Daniels, who had run a deep seam pattern -- 42-yard touchdown. What a sweet-looking play.
As for the Niners' semi-comeback from 21-0 to 24-21, did the Moo Cows relax when lightly regarded quarterback Alex Smith entered the game? Probably. Smith proceeded to throw three second-half touchdown passes. With 38 seconds remaining, he also threw the interception that sealed the Houston win. Eugene Wilson made the pick, and rather than attempting a stat-padding return and risking a fumble, he simply fell to the ground. That too was sweet.
[+] Enlarge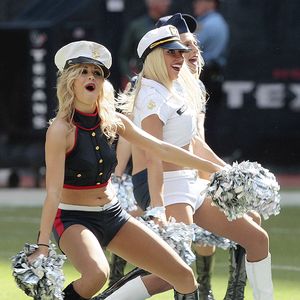 Bob Levey/Getty ImagesHouston cheerleaders -- the week's best Halloween costumes.
Sweet Play of the Week No. 2: On the Colts' 4-yard touchdown pass to Reggie Wayne, he split wide, then came in motion back toward Dallas Clark. This looked to the St. Louis defense like Indianapolis was setting up the receivers-cross-and-rub action Peyton Manning likes. But it wasn't! As the defensive backs braced to fight through the pick, Wayne simply ran a slant -- touchdown. I wrote "game over" in my notebook when Indianapolis made it 14-3 in the first quarter, but considering how awful Les Mouflons are, this does not count as a prediction.
Sour Play of the Week No. 1: Game scoreless, San Diego had third-and-goal at the Kansas City 3-yard line. Chiefs cornerback Brandon Carr lined up 2 yards deep in the end zone, meaning all wide receiver Malcolm Floyd (the man Carr was covering) had to do was step forward and turn around to be open for a touchdown pass. Which is exactly what he did.
Sour Play of the Week No. 2: Chicago's secondary was torched for five Carson Palmer touchdown passes, despite the cornerbacks' playing "off" for nearly the entire game. The whole point of playing off is to prevent long passes. Chad Ochocinco got behind Bears cornerback Charles Tillman for a touchdown reception even though Tillman lined up 5 yards off the line of scrimmage and was retreating at the snap!
Sweet 'N' Sour Play: With New England leading 21-7, the Patriots lined up four-wide, then sent tight end Ben Watson in motion almost to the sideline; he ran a fly pattern and caught a 35-yard touchdown pass. That was sweet. He was covered deep by a linebacker because, though New England faced first-and-20, Tampa did not have a dime package on the field. That was sour.
[+] Enlarge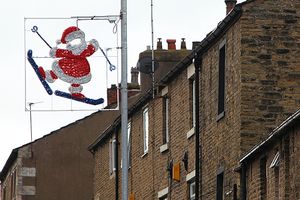 Christopher Furlong/Getty ImagesTowns of America, are your Christmas decorations up yet?
Christmas Creep: James McShane of Cincinnati reports, "I attend Xavier University. On October 20th, the university put up Christmas lights. It was 70 degrees out!" Peter Weiss of Green Bay writes that on Oct. 21, "As I returned to the office from lunch, I noticed workers hanging Christmas decorations from the lampposts in downtown Green Bay." Allison Simon of Dublin, Pa., tops them: "I just consulted an e-mail from my husband's company serving as a save-the-date for the 2009 Christmas party. The e-mail was sent on May 13, 2009."
Unified Field Theory of Creep: Tom Bartley of Chicopee, Mass., reports, "On Sunday, October 17th, I stopped into an Applebee's in Chicopee. On tap at the bar was Sam Adams Winter Lager -- with winter more than two months away. I asked the barkeep for Sam Adams Oktoberfest. He said it was already gone for the season. On October 17th!" Eric Robben of Wheaton, Ill., writes, "My local Borders this week discounted all boxes of Christmas cards to 50 percent off. Though it is a month before the first Christmas card should arrive in anyone's mailbox, it is now apparently late enough in the holiday season that cards are on clearance."
In Defense of the Wildcat: Why is the Wildcat being called a gimmick? Nobody says it's a gimmick when the Patriots run the shotgun spread. Nobody says it's a gimmick when the Steelers or Packers go with an empty backfield. There's a presumption that only a conventional set with a quarterback standing in the pocket counts as real offense. Offense is yards gained! On Sunday night against the Giants, the Cardinals put defensive back Antrel Rolle behind center in a Wildcat formation. Surely the Cardinals' coaches thought Jersey/A would assume run, and be surprised when Rolle threw. This worked so well that Larry Fitzgerald even seemed surprised when the pass hit him right on the hands, and he dropped the ball. (A penalty wiped Rolle's attempt off the stat sheet.) Had the play worked, that would have been yards gained, plus pretty entertaining. Probably various touts and former jocks in the sports media object to the Wildcat because they didn't think of it first.
If Miami's receiving corps had not dropped five perfectly thrown passes in the second half against New Orleans, the Wildcat would have triumphed over the conventional offense of the league's highest-scoring team (bearing in mind that a shotgun formation with three wide receivers now counts as "conventional"). Two of the drops were by super-highly-paid high draft pick wide receiver Ted Ginn, who, considering he is super-highly-paid to be an NFL wide receiver, really at some point should learn how to catch a football. On the Marine Mammals' only Wildcat throw, Anthony Fasano dropped a perfectly delivered deep pass from Ronnie Brown, which would have put the home team in Saints territory in the fourth quarter. Instead, Miami punted. The New Orleans offense performed well at Miami, but bear in mind that two of the visitor's five second-half touchdowns came on interception returns. Both were passes intercepted when Miami was in a conventional offense; one hit Ginn squarely on the hands for what should have been a long gain, and instead caromed into the air for an interception and six New Orleans points. Indeed, if the super-highly-paid Ginn would simply catch the passes that hit his hands, Miami might be 4-2, rather than 2-4.
Though everyone's talking about the New Orleans offense, the New Orleans defense not only scored twice, but shut down Miami at the end of the game -- something the New York Jets' defense failed to do. The tastefully named Gregg Williams, New Orleans' defensive coordinator, had been calling a lot of blitzes, some of which Miami converted into big plays. With New Orleans leading 40-34 with 2:11 remaining, and Miami facing third-and-long, Williams had his defense show big-blitz, then rush only three. Novice quarterback Chad Henne was so confused, he basically threw the ball away, though under no pressure. Then on fourth-and-13, Williams again didn't call a blitz -- Henne again seemed confused, and threw the pick-six that ended the contest. New Orleans' red-hot offense, combined with any kind of decent defense, is a formula for success.
Tactics note: With five seconds remaining in the first half, the officials signaled that Marques Colston of New Orleans had scored a touchdown. But a booth review was called, and it was clear the touchdown would be nullified and the ball spotted at the 1-yard line. New Orleans had no timeouts; the moment the overturn was announced, the clock would start. Boy Scouts coach Sean Payton had sent his kicking team onto the field and told it to be lined up, awaiting the decision. (That is, New Orleans effectively announced to the referee that it knew the touchdown should be overturned.) Could New Orleans have launched a field goal with just five seconds remaining after the ready-for-play signal? We'll never know, because Miami coach Tony Sparano then called a timeout! That meant the clock was stopped when the review decision was announced. And, while the replay official was reviewing the play, Saints quarterback Drew Brees lobbied Payton to let the offense go for the touchdown -- and convinced him. So New Orleans sent its offense back onto the field and scored a touchdown on the final snap of the half; essentially, Sparano gifted the visitors with an extra four points. When New Orleans had a clock problem, why did Miami call timeout?
Boilermakers note: Blake Haan of Lafayette, Ind. writes, "Purdue quarterbacks in the NFL are a combined 18-0. Drew Brees and Kyle Orton just get a little more playing time than backup Curtis Painter of the Colts."
Clang! Clang! Clang! New Orleans scored just 17 baskets in losing to Denver 121-63 in the playoffs.
Clang! Clang! Clang! In the first two games of the NBA Finals, Orlando missed 100 shots from the field -- nearly one miss per minute! (One of the games went into OT.) Just to prove it was no fluke, in these games Orlando also missed 15 free throw attempts.
Amusing NBA Trades No. 1: Minnesota traded Mike Miller and Randy Foye to Washington for the fifth pick in the draft and three players Minnesota planned to discard. One was Darius Songaila, whom Minnesota traded to New Orleans for Antonio Daniels, whose contract Minnesota immediately bought out. Another was Etan Thomas, a good guy and published poet, who is nearing the end of his roundball career. Thomas was included in the transaction solely to make the salary-cap equation pass muster. Before the deal could be finalized, Thomas had to agree not to void his contract, a technicality that improves Minnesota's cap position. For his consent, Thomas received a $1.2 million bonus. That check was proffered, in effect, for agreeing to do nothing!
In a separate deal, Minnesota sent Rashad McCants and Calvin Booth to Sacramento for Shelden Williams and Bobby Brown. Sacramento immediately let McCants and Booth go; Minnesota immediately let Williams and Brown go. Why did either team bother with this "trade"? Slight salary cap improvements from release details. So in effect, Minnesota traded Mike Miller, Randy Foye, Rashad McCants and Calvin Booth for the fifth choice in the draft, which Minnesota used on Ricky Rubio, who decided to remain in Spain -- meaning for the fifth choice, Minnesota got nothing at all. This outcome is hardly unprecedented. In 2007, Milwaukee used the sixth selection of the NBA draft to pick Yi Jianlian, then traded him to New Jersey for Richard Jefferson. This summer, Jefferson was swapped to San Antonio for three players Milwaukee immediately waived -- the goal was to offload Jefferson's contract. The net of the transactions is that for the sixth selection of the 2007 NBA draft, Milwaukee received nothing at all.
[+] Enlarge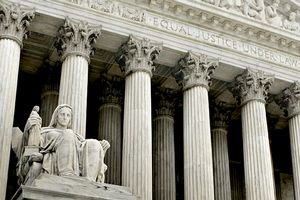 AP Photo/J. Scott ApplewhiteIt would take the Supreme Court 300 pages to define traveling, and then NBA refs would never call it anyway.
Should the Supreme Court Rule on What Constitutes Traveling? Whether a pro sports league is a single enterprise with each team being like an operating division of a company, or whether a league is like a collection of distinct companies, is a question that bears on antitrust law. The Supreme Court will hear this issue in the current term. If teams in a pro sports league are like divisions of a single organization, then it's not restraint of trade for them to cooperate on salary caps, sales of television rights and so on. If teams are like independent companies, then certain kinds of cooperation may be price collusion. (In 1984, the Supreme Court ruled that Division I college football teams are more like individual companies than like divisions of the NCAA, but the legal issues for college and the pros are somewhat different.) In the NFL's case, TMQ thinks the 32 teams are like 32 divisions of the same enterprise, considering that no NFL team wants to put any other NFL team out of business -- if, say, the Vikings didn't just defeat the Packers but put them out of business, that would be a huge disaster for the Vikings. The same applies to other NFL teams -- they compete with rival teams on the field, but financially all clubs rise or fall together, unlike in the marketplace for products. On the other hand, each of the 32 NFL divisions is run by someone with the title "owner," which does sound like distinct organizations which would be banned from price collusion.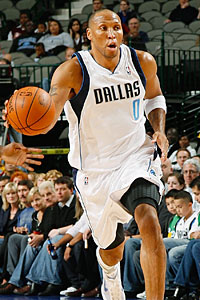 Tim Heitman/NBAE/Getty ImagesShawn Marion -- should the Supreme Court consider him evidence in an NFL case?
Never has the idea that pro sports teams are really cooperating divisions of one organization been on better display than in the Shawn Marion trade. The Memphis Grizzlies and Orlando Magic agreed to participate in a complex deal that barely benefited them, while making rivals stronger. Dallas got Marion from Toronto, along with a backup player, plus Greg Buckner from Memphis -- with the Mavs planning to show Buckner the door pretty much on the first day NBA contract rules allow. Memphis got Jerry Stackhouse from Dallas, and released Stackhouse the following morning, with Dallas wiring Memphis the money needed to pay off Stackhouse's contract; Memphis gained only in that it offloaded Buckner's guaranteed deal onto Dallas, and added a future second-round draft pick. Toronto received Devean George and Antonie Wright from Dallas, a cap-balancing detail since George was shown the door ASAP. Toronto also received Hedo Turkoglu, a player Toronto actually wanted, from Orlando. A free agent, Turkoglu was preparing to sign with Toronto, so he was walking out of Orlando's gym in any case. By re-signing Turkoglu with the understanding he would immediately be traded to Toronto -- Turkoglu consented to this switcheroo, and Toronto told Orlando how the contract should read -- both Orlando and Toronto ended the day with more cap space than they otherwise would have had.
Bottom line of the four-way transaction: Dallas benefited a lot, Toronto benefited somewhat, Orlando got a little, and Memphis, the Wal-Mart of the NBA, yet again cut costs. Memphis and Orlando were not "taken" in the trade -- they participated with eyes open. At least to me, it looks like these two teams seem to have been willing to help a rival -- Dallas is now a lot stronger. Why? Maybe because both know that a winning Dallas franchise is good for the television promotion of the NBA, and thus in every NBA team's best interest. This would make pro sports clubs seem like divisions of a single enterprise.
By the Hammer of Grabthar, He Was Avenged! Cedric Benson ran for 189 yards against Chicago, the team that not only waived him but bad-mouthed him around the league.
Why Not Standard Pricing? I don't really understand what's in the congressional health care plan at the moment -- and since it changes daily, I bet most members of the House and Senate don't really understand either. Health care is only the single largest segment of the U.S. economy, so surely there is no risk in passing a 1,000-page health care bill no one understands! Universal access to health insurance is a moral imperative. But huge cost increases are likely to be triggered: Extending coverage will create more demand for services, and rising demand means rising price.
[+] Enlarge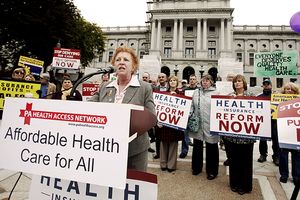 AP Photo/Carolyn KasterDoes anyone -- backers or opponents -- actually understand what's in the bill?
If reform eliminates the dreaded "pre-existing condition" basis for denial of coverage -- which makes sense for individual insurers and is nonsensical for society as a whole -- that will be significant. Denying coverage to people with medical conditions is not only unjust, it causes insurers to waste money engaging in wars with their own customers. If health insurers must sell to anyone who wishes to buy, then their resources can be better invested in providing care. There needs to be a standard-price rule imposed, too, so insurers can't effectively bar pre-existing conditions by saying, "Sure we will insure you, the price is $100,000 per year." My impression is that so much lobbying attention has focused on the handouts, giveaways and interest-group demands for a gigantic new civil-service bureaucracy that not enough attention has gone to a simple change that would remove much of the injustice from health insurance -- standard rates with no denials for existing conditions. This is the key to the successful health care system of the Netherlands.
So far as I know, health care proposals now in the Senate are so utterly fixated on handouts and giveaways that they don't even address a core problem -- the inability of individuals to buy at insurer's prices. This is the PPO problem, and is serious. Most health insurance now operates through some variation on the Preferred Provider Organization. Physicians and clinics sign up with some insurers but not others; they agree to discount their list prices; if the patient goes to someone within the PPO, the provider gets business while the patient and insurer pay less. Sensible? The system is full of crazy disincentives.
Recently, a family member needed an MRI. The clinic had a list price of $1,500 for the scan but was in the insurer's PPO, and so discounted ("adjusted") the price to $690, of which we paid 10 percent and the insurer paid the rest. Clearly, that $690 price allows the MRI clinic to do business, pay its technicians and radiologists, etc., or else the clinic would not participate in the PPO. Yet if I'd walked in off the street and said, "I will buy this MRI myself," the price would have been $1,500. Meanwhile, if the clinic had not been a member of my PPO, the insurer would have paid the same $621 it pays within the PPO, and I would have been on the hook for the rest, $879. The benefits sections of insurance manuals make it appear that if you use a PPO you pay 10 percent and if you go outside the PPO you pay 20 or 30 percent. Not mentioned, or stated in legalese, is that outside the PPO, the insurer only pays its "adjusted" amount -- you pay 20 or 30 percent plus the balance of the list price.
The distinction between list prices and "adjusted" prices prevents health care services from functioning as a rational marketplace. It's not just that many physicians refuse to speak about dollar figures. ("We don't discuss prices over the phone," a doctor's office told me a few months ago when I had the gall to ask what something would cost, adding, "after the doctor has seen you, then we will tell you what the visit cost.") It's not just that many physicians' offices and clinics do not have anyone authorized to discuss prices: They have minimum-wage receptionists and Mercedes-driving docs who expect the max under all conditions, but no one who will talk price with patients. The larger issue is that the system prevents the consumer from seeking the best price. If an MRI makes money for the clinic at $690, any customer should be able to buy at that price. The theory of the PPO from the provider's prospective is that the provider grants a discount in order to get business: The self-pay customer represents business, just like the PPO customer. But the self-pay customer can't get the PPO price, and the PPO price is the true price of the service. This prevents the bargaining-for-a-good-deal seen in the parts of the free-market system that function smoothly and hold down prices.
That the typical person cannot get the best price for health services is the big obstacle to transitioning away from the pass-along mentality that dominates health care. Right now Americans gripe about health insurance costs, but as this fascinating article by Ron Haskins shows, don't directly pay most of the cost -- most is paid by employers or government (which, in the latter case, means billed to the young via deficit spending). If you're not directly paying most of the costs, you have little incentive to make smart consumer decisions. And if you can't buy at the best price, you can't make smart consumer decisions.
[+] Enlarge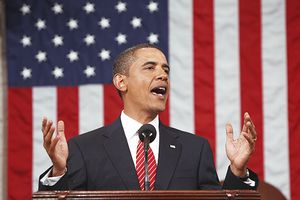 AP Photo/Jason Reed"My fellow Americans, if health care reform passes, I promise to personally review your claims."
Think about a radically different way to attain health care -- in which most people carry only catastrophic-cost insurance, then pay other health costs themselves. No one can budget for a severe illness or injury; every family will always need insurance against catastrophic medical expense. Suppose insurance covered only catastrophes, and you paid the rest. You might think, "No way I am paying some doctor hundreds of dollars to set a broken arm." But today a typical family's health care policy that appears to cost the family $5,000 a year actually costs $15,000, it's just that much of the money is hidden as employer's costs -- and thus, as higher wages the employer can't pay. If you spent $5,000 a year for catastrophic coverage but earned an additional $10,000 a year, you could cover those strep-throat and broken-arm bills yourself, and probably come out ahead. Plus you'd have a keen incentive to comparison shop. Doctors could no longer loftily say, "We don't discuss prices."
Homeowner's insurance is catastrophe insurance. It pays if the house burns down -- the kind of thing no one can budget for. It doesn't cover all costs of maintaining a home; you pay most ownership costs and you comparison shop. If homeowner's insurance worked like American health insurance, it would not only pay for fires but also cover utility bills, replacing broken appliances, baseballs hit into the window and all the food, drink and paper towels that pass through the kitchen. Certainly, a company could offer an insurance product that covered absolutely every expense of living in a home. But such insurance would be phenomenally expensive and full of ultra-complex rules; the insurer would also acquire an incentive to dream up excuses to deny payment. Just like American health care insurance!
Gradually transitioning to a system in which most people carry catastrophic-cost medical insurance but pay the rest themselves could rationalize health care economics while restraining costs, because the wasteful paperwork aspect of the system would decline. The first step would be a standard-price rule -- specifying that providers must offer the same price to all comers, whether insured patients, self-pay or Medicare. And the standard price must be published to allow comparison shopping. Good physicians and hospitals could still distinguish themselves through quality of care; in most of the free market, prices are similar, and quality is the basis of sales appeal. Stipulating that health care providers offer standard, published prices would lay the groundwork for an informed free market in health care delivery -- and free markets control costs. They do it on their own, without layers of agencies and regulations. We've got to control health care costs or the future doesn't work. Yet the current health-care reform plan is to add more agencies and regulations.
In Praise of Unknowns: Miles Austin, undrafted out of Monmouth, has an incredible 421 yards receiving in his first two pro starts. Pierre Garcon of Indianapolis, low-drafted out of Division III Mount Union, and low-drafted unknown Julian Edelman of New England, are also playing well at wide receiver, while numerous high-drafted big-bucks receivers perform poorly. My guess is that Austin, Garcon and Edelman don't have ego problems. They are happy to be in the NFL, work tirelessly, and don't whine if everything is not exactly precisely what they wanted. And what two running backs are getting most of the carries for the league's top offense? Undrafted Pierre Thomas and undrafted Mike Bell.
Carolina -- Run the Ball!: Carolina managed to lose to Buffalo despite a 425-167 edge in offensive yards; three Jake Delhomme interceptions doomed the home team. TMQ has been asking all season and asks again, with Delhomme playing poorly and the Panthers' rush offense strong, why do Carolina coaches continue calling so many passes? Against the Bills, counting sacks and scrambles, Cats coaches radioed in 25 rushing plays and 46 passes. The Panthers gained an average of 4.6 yards per rush, facing a team that is ranked last in the NFL against the run and allowed 318 yards rushing in its previous game. Delhomme may be throwing to the wrong team -- but it's Carolina coaches who are telling him to throw. For its part, the Buffalo defense has a hard-to-believe nine interceptions in its past two games -- but doesn't hold sole possession of the league lead in picks! Buffalo is tied with New Orleans for No. 1 at 13 -- another indicator that the Saints' defense is a bigger factor than generally realized.
[+] Enlarge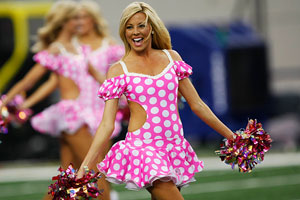 Scott Boehm/Getty ImagesDallas cheerleaders cheer for the team's first monster win since -- we'll get back to you on that.
Buck-Buck-Brawckkkkkkk No. 1: Dallas leading Atlanta 27-14 with nine minutes remaining, the Falcons faced fourth-and-2. Matt Ryan pleaded with coach Mike Smith to go for it -- Atlanta averaged 4.6 yards per offensive play. Smith did the hyper-conservative thing and ordered a punt. So what if the ball was on the Atlanta 28 -- a conversion was likely, while punting all but assured a Cowboys victory. Outraged, the football gods allowed Dallas to return the punt for a touchdown.
Buck-Buck-Brawckkkkkkk No. 2: Trailing San Diego by 17 points late in the second quarter at home, the Chiefs attempted a field goal on fourth-and-2. Kansas City came into the contest having lost 30 of its past 36 games. The team has developed a loser's psychology; timid calls will not change a loser's psychology! Outraged, the football gods pushed the kick aside.
Buck-Buck-Brawckkkkkkk No. 3: Trailing Arizona 24-14, Jersey/A faced fourth-and-1 on the Cardinals' 2 with nine minutes remaining. Tom Coughlin did the hyper-conservative thing and sent in the field goal unit; it would have been better to try and fail, pinning Arizona against its goal line, than settle for a field goal when close to paydirt. On its final possession, Jersey/A was in Arizona territory but had to play for the touchdown, and failed; had the Giants gone for it from the Arizona 2 and succeeded, at the endgame they could have played for a field goal.
Stop Me Before I Blitz Again! (College Edition): Michigan State led undefeated Iowa 13-9 with two seconds remaining, Iowa ball on the Michigan State 7. All the Spartans need is a stop and the game ends with a monster upset. A sack is not needed; in fact, meaningless. As seven Michigan State defenders crossed the line at the snap, yours truly said aloud, "Iowa wins." And yea, verily, it came to pass.
[+] Enlarge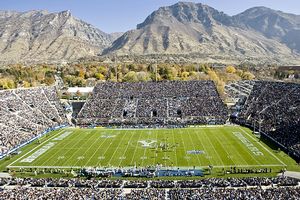 BYUThe most beautiful stadium location in American sports.
Buck-Buck-Brawckkkkkkk (College Edition): Trailing TCU, the nation's eighth-ranked team, by 17 points midway through the third quarter at home, BYU faced fourth-and-2 at midfield -- and punted. TMQ wrote the words "game over" in his notebook. The home crowd booed the punt team loudly, and the home crowd was right. At least the home crowd was sitting in the most beautiful stadium (in scenery terms) in American sports.
Raise the Age: The NBA's rule that players must be at least 19 years of age is controversial again, as Jeremy Tyler, a 17-year-old prep phenom, went straight to Europe to play so that he won't have to spend even one moment in college -- what a fate! -- and said he would declare for the 2011 NBA draft. With NBA labor negotiations upcoming, the player's union may fight the 19-years rule. Publicity seekers are weighing in, with Rep. Steve Cohen of Tennessee calling the rule "a vestige of slavery." It's "slavery" to attend a pleasant college? People pay $50,000 a year for this privilege! (Here is Cohen's bio of himself, in which he claims to have won 45 awards, including the Alpha Kappa Alpha Beta Epsilon Omega Chapter Award for Outstanding Public Service in the Area of the Economic Keys to Success.) The 19-years rule should in fact be overturned -- and replaced with a 20-years requirement.
There's no "right" to be a 19-year-old doctor or airline pilot, and no "right" to play in the NBA. The league is a private enterprise that sets its internal rules, and a 20-years minimum would very much be in the interest of the NBA. Allowing players to jump into the league at 19 lowers quality of play; older players are both physically more mature, and have more polished games. The current "one and done" exception -- one year of college, then declare for the pros -- means players who might have become well-known college stars, and arrived in the NBA with high public standing, instead are barely known at the college level, then enter the pros as unknowns with little promotional potential. When the age limit was 18 for a while, quality of NBA play notably declined, and the fans aren't fools -- ratings and ticket sales fell. Since the 19-year standard took effect in 2005, quality of play has improved; so have ratings and the gate. That makes an age minimum a "bona-fide occupational requirement" -- what the law mandates about standards that businesses impose on whom they employ. There's no question a 20-years requirement would be lawful, and no question it would be positive for the sport.
Increasing the minimum NBA age would be good for the league, good for college basketball -- major-program college basketball increasingly is an exercise in cynicism if not corrupt, and at some point there will be a backlash -- and good for players, too. Why? Jumping too soon is bad for total career earnings. This Washington Post article says of the NBA players union, "Some within the union are beginning to express regret over hurting the long-term earning potential of players capable of entering the league out of high school" because the union supported the 19-years rule. This is exactly backward. A handful of stars, such as LeBron James, maximize their career earnings by staring as early as possible. Most who jump to the NBA early only insure they will never go on to sign a mega-contract.
[+] Enlarge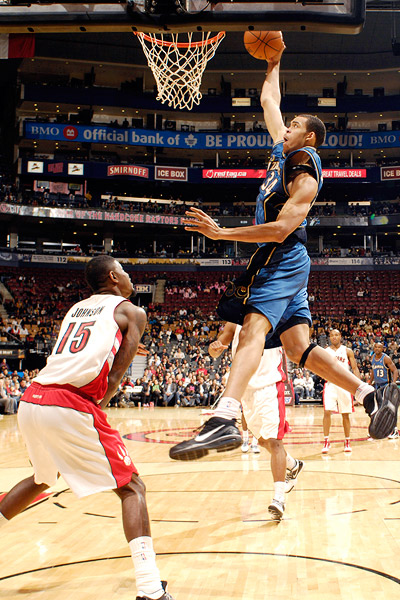 Ron Turenne/NBAE/Getty ImagesInstead of "Wow, there goes JaVale McGee," it's, "Who is JaVale McGee?"
Consider JaVale McGee, who left college for the 2008 draft as a 19-year-old sophomore. McGee went in the first round to Washington, but is a raw talent who did not play particularly well in his one year on the court in college. Had he stayed in college and become a great player, fans would say, "Wow, the Wizards got JaVale McGee!" Instead fans say, "Who is JaVale McGee?" Because McGee jumped too soon, odds are he will have a hard climb to be more than a journeyman in the NBA, because at the pro level, he's not getting the minutes he needs to learn. As a rookie he averaged six points and four rebounds -- dismal figures for a 7-footer advertised as a power center. My guess is five years from now, even basketball addicts still will say, "Who is JaVale McGee?"
Coming out early in 2008 allowed McGee to draw a salary two years sooner than if he'd stayed in school. But most likely his lifetime NBA earnings will go way down, since his odds of becoming a star declined substantially when he jumped early. From 2008 to 2010, McGee will earn about $3 million he otherwise would not have earned, leaving him ahead at the two-year mark. But 10 years from now, McGee may have lost millions more he otherwise would have earned, if he never becomes an NBA star and thus never signs a mega-deal. The NBA, and its union, must come to grips with this bit of economics.
Another example is Chris Wilcox, who left college in 2002 after a decent sophomore year and was drafted eighth overall. Had Wilcox stayed in school and improved, by senior year he might have been a celebrated player. Fans would be saying, "Wow, Chris Wilcox is coming to town, let's get tickets and go see him!" Instead Wilcox is a career nobody -- can you name any of the many NBA teams whose jerseys Wilcox has worn? Today, Wilcox's odds of signing a mega-contract have declined to nearly nil. Coming out early may have put a million dollars in his pocket when he was 19, and may allow him to earn $3 million this season for his current team (which surely you know), but it might cost him millions more over the length of his career.
Another example is Sebastian Telfair. He's just 24 years old and already has been unloaded by Portland, Boston and Minnesota. Every NBA team wants the player Sebastian Telfair might have become, had he not jumped directly from high school to the pros. No team wants the player Telfair actually is -- a me-first type who won't listen to coaches. The Sonny Vacarro types -- Vacarro is lobbying to restore the direct-from-high-school nonsense; at this point he's seeking some kind of vengeance by destroying professional basketball altogether -- and the union tout Dwight Howard and Kevin Garnett, who went straight from prep school to the pros and kept their acts together, improving their games and maturing mentally. They don't mention promising athletes like Wilcox, Telfair or Kwame Brown, who might have been great but instead are barely hanging on.
You can't expect a 19-year-old who hears the phrase "one million dollars" to think through issues like long-term earnings potential. But the league and its union should think these matters through and raise the minimum age, in the interest of better quality of play (thus protecting the golden goose) and higher long-term earnings potential for the majority of basketball players who are not overnight superstars.
Hidden Play of the Week: Hidden plays are ones that never make highlight reels, but stop or sustain drives. Trailing Pittsburgh 13-10, Minnesota reach first-and-goal at the Steelers' 10, from which Brett Favre threw a touchdown pass that appear to put the Vikes in the lead. But the play was nullified by a tripping penalty that made me scratch my head: What Jeff Dugan did not only looked clean, it looked like textbook blocking. Three snaps later, on third-and-goal from the 8, Favre fumbled and the rock was returned for a touchdown by Pittsburgh linebacker LaMarr Woodley. Rather than Minnesota up 17-13, Pittsburgh led 20-10, owing to a hidden-play penalty.
Not only did the Steelers get two length-of-the-field touchdowns from linebackers -- Woodley went 72 yards, Keyaron Fox returned a Favre interception 82 yards to the end zone -- the length of these returns indicates how close Minnesota had been to scoring. In the second half, Minnesota had drives that reached the Pittsburgh 1, 8, 19 and 19 for a net of minus-11 points -- the Vikings got a field goal while the Steelers got two touchdowns from turnover returns. Reaching first-and-goal on the Pittsburgh 1 in the third quarter, Minnesota, aided by a penalty, ran four snaps and did not advance, then settled for a field goal from the 1. Spectacular Steelers defense, though one wonders why two of the four plays were incompletions: It's hard to believe even Pittsburgh could have stopped Adrian Peterson four straight times when only a yard was needed.
As for the Woodley return, by the time he reached the Minnesota 25, there were seven other Steelers versus three Vikings in the picture. James Harrison's length-of-the-field interception return in the Super Bowl, coupled with two long touchdown returns by linebackers Sunday, show that you don't need to be lightning fast to go the length of the field. What you need is all-out hustle by your teammates to provide blocks.
Amusing NBA Trades No. 2: In February, the Celtics traded Sam Cassell, who had not played in the 2008-09 season, plus $500,000 to Sacramento for a conditional second-round draft choice in 2015. The following day the Kings waived Cassell, voiding the pick. So the Celtics gave Sacramento half a million dollars and received nothing in return. Or did they? Because of a quirk in Cassell's contract, the Kings were able to waive Cassell by paying him about $160,000, with the NBA itself paying the remaining $800,000 due. (The contract called for Cassell to receive $960,000 whether he played or not.) Had Boston waived Cassell, the Celtics would have owed the entire $960,000. Thus it was cheaper for Boston to remit $500,000 to Sacramento for processing Cassell's career-ending paperwork, fobbing Cassell's final paycheck onto the league, while the Kings cleared a nice $340,000 commission for handing Cassell a jersey they knew he would never wear.
The following day, the Kings traded Brad Miller and John Salmons to Chicago for Andres Nocioni, Drew Gooden, Michael Ruffin and Cedric Simmons, then immediately traded Ruffin to Portland for Ike Diogu. Sacramento actually wanted only Nocioni -- the benefit of ending up with Diogu, Gooden and Simmons was that all had expiring contracts, and all were promptly waived or bought out. To sum up these deals: In two days, the Kings acquired five players, in order to waive four and keep one.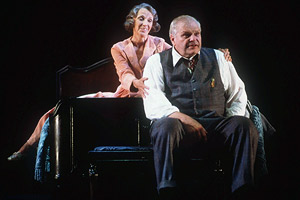 AP Photo/Eric Y. Exit"He died the death of a salesman, in his green velvet slippers."
TMQ's NBA Man of the Year:
Cassell, who has played for the Houston Rockets, Phoenix Suns, Dallas Mavericks, New Jersey Nets, Milwaukee Bucks, Minnesota Timberwolves, Los Angeles Clippers, Boston Celtics and then capped his 16-year career by being on the Kings' roster for 24 hours and was paid $960,000 for that day. What an NBA way to go -- he died the death of a salesman! (The title "The Death of a Salesman" is tragic, but within the context of the dialogue, "the death of a salesman" is actually something to be desired -- the phrase means to do as well as possible in your profession.)
NBA Officials Check Passports Before Calling Traveling: TMQ has long contended that football rules are too complex; also, the NFL refuses to reveal its officiating manual, which explains such things as how a zebra determines what counts as pass interference. The NBA by contrast recently put its rulebook online, complete with multimedia examples of what is and isn't legal. Great idea -- do the same, NFL. In the new rulebook, I did find this interesting definition:
TRAVELING. If the player with the ball walks off the court and out of the arena, hails a cab, goes to the airport, and buys an airline ticket, at the point that he boards the plane, he shall be whistled for "traveling."
Will Future NBA Trades Include an 18 Percent Gratuity if More Than Four Teams are Involved? The Suns traded Shaq to Cleveland, the Cavs actually wanting O'Neal -- this year it was rare for an NBA team actually to want a player it traded for! -- while Phoenix's goal was to off-load the big guy's mega-salary. In return, the Suns received Ben Wallace and Sasha Pavlovic, plus a second-round draft choice. Wallace and Pavlovic were immediately bought out of their contracts and let go. So -- a Hall of Fame gentleman, if aging and at times singing off-key, was sent packing in return for a second-round draft choice? Chris Broussard of ESPN: The Magazine ("Published on Earth, the Planet") calculated that between the Shaq salary discarded and an NBA "luxury" penalty avoided, Phoenix will save about $10 million next season owing to the trade. But wait, in addition to a late-round pick, Phoenix also received $500,000 from the Cavaliers. The Suns were tipped! "Here you are my good man, here are your unwanted players with their expiring contracts and your face-saving late draft choice, and I've put in a little something extra for your trouble."
[+] Enlarge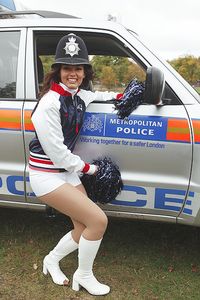 AP Photo/Sang TanIn London, the New England cheerleaders dressed as bobbies. Then they arrested the Tampa defense.
Good Teams Constantly Change Tactics: Against Minnesota, Pittsburgh tried some "voodoo" defense -- everyone standing and lunging backward and forward as the Vikings called signals. Voodoo defense is a common trick in high school, not often seen in the pros; on a third-and-5 it caused Minnesota to false start, leading to a third-and-long, then a punt. New England showed the "quirk," four receivers on one side. (Trips is short for triple, so TMQ contends quirk should be short for quadruple; a quint is possible, though one of the five players would have to be ineligible.) Why the Flying Elvii wasted their quirk on the lowly Bucs is the only question -- now defensive coordinators have some film of this. New England continues to rival New Orleans (and suddenly Houston!) for best-drawn-up plays. Wes Welker scored a touchdown on a perfect hitch screen on which linemen Logan Mankins and Sebastian Vollmer were ideally positioned for blocks.
Maybe David Stern Gets a Commission on Every NBA Trade: In 2007, New York traded Steve Francis, a selfish highly paid player the Knickerbockers were desperate to get rid of, to Portland for Zach Randolph, a selfish highly paid player the Trail Blazers were desperate to get rid of. Portland waived Francis a few days after trading for him. Inexplicably, the Houston Rockets signed Francis. Within a year, the Rockets were desperate to get rid of Francis, who to their amazement they discovered to be a selfish highly paid player, and traded Francis plus a second-round draft pick to Memphis for a second-round draft pick. Got that? A player plus a pick for an equal pick. A month later, Memphis waived Francis. Soon New York was desperate to get rid of Randolph, who to their amazement they discovered to be a selfish highly paid player. The Knicks traded Randolph to the Los Angeles Clippers for a player who immediately retired and a player the Knicks immediately traded to Chicago. That is -- the Knicks traded a supposed star and in return got nothing at all, other than the relief of being rid of the supposed star. The Rockets, the Clippers -- how could they not know they were investing in players other teams were desperate to get rid of? Randolph was with the Clips a mere eight months; desperate to get rid of him, last summer Los Angeles traded Randolph to Memphis. The Grizzlies in return gave Quentin Richardson, a selfish highly paid player whom Memphis had obtained a few days before from New York in exchange for Darko Milicic, a swap of players both teams were desperate to get rid of. How long until the Clippers became desperate to get rid of Richardson? Three days; Los Angeles traded him to Minnesota for minor players with expiring contracts. How long till the Wolves became desperate to get rid of Richardson? Three weeks; Minnesota traded him to Miami. (In total, Richardson was traded four times in two months.) How long till the NBA changes its all-guaranteed-contracts structure so that selfish players have to listen to their coaches?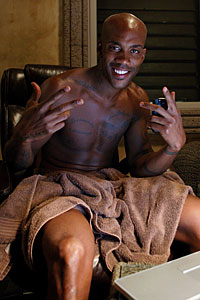 Shareif Ziyadat/Getty ImagesStephon Marbury -- get rid of him and your team will improve.
When Gaslighting Is Justified: Mike D'Antoni of the Knicks will be a contender for TMQ Person of Year for benching Stephon Marbury, then gaslighting him until he agreed to a buyout and the waiver wire. Marbury contends that fans want a playground-style pro basketball league that is all about self-centered stars pointing at themselves, and would rather watch that than teamwork. Maybe: It's a legitimate possibility. If Marbury or anyone else ever founds such a league, they can run the experiment and see if an ego-based pro basketball league would sell. But if a player wants the privilege of performing in the NBA, he must perform by its standards. Finally someone, in this case D'Antoni, made that clear. On the day Marbury signed with defending champion Boston, the Celtics were 47-12 (.797). Boston immediately lost to Detroit on national television, and for the remainder of the season went 23-15 (.605) and was bounced from the playoffs. Sure, the injury to Kevin Garnett was a huge factor, but Garnett was out well before Marbury arrived. The Nets, Suns and Timberwolves all improved promptly after dumping Marbury; this augurs well for the Knicks next season.
The Football Gods Promised an Investigation: The Steelers went shotgun spread, five-wide on third-and-3; the Packers went shotgun spread, five-wide on third-and-goal from the Cleveland 2.
This Would Have Offended a Professional Sports Opponent, But the Jets Were Playing Oakland: The Jets-Raiders game was such a walkover, Mark Sanchez ate a hot dog on the sideline.
Reader Comments: I've been pounding the table about the increasing number of government officials who travel with bodyguards not owing to any genuine need, just to make themselves seem more important (and to prevent voters from ever actually speaking to the official.) Jeff from Milwaukee points out this news article in which the Secret Service declares budget problems caused by the ever-increasing number of officials the service is tasked to follow around. Of course, all government agencies always claim to have budget problems and always claim that more money, not improved efficiency, is the sole possible cure. Jeff notes, "Expect to hear the Secretary of the Treasury announcing a crisis for Secret Service security details, and requesting more money."
[+] Enlarge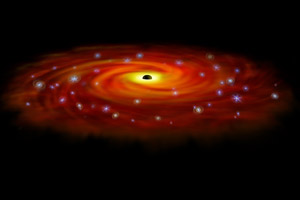 AP Photo/NASA, CXC, M. WeissNext, will China make miniature black holes for the export market?
TMQ fears that the Large Hadron Collider in Switzerland, designed to simulate conditions of the Big Bang, will do such a great job that Earth will flash of out of existence. One worry is "strangelet" particles that normal atomic particles bind to would become black holes. Scott Kelber, a physics grad student at Cal Tech, writes, "Saying the black holes created in the LHC could destroy the earth is simply wrong. First, black holes that might be created would be smaller than an atom. These sub-atomic black holes would require a particle density many of orders of magnitude larger than what the LHC is capable of producing to even grow to the size of an atom, much less a macroscopic scale that could be become a threat. Second, and more convincing, is that the collisions that happen in the LHC happen in Earth's upper atmosphere all the time. It's just a lot easier to study these collisions by reproducing them in an admittedly very expensive device than trying to suspend one of these fancy many-ton particle detectors in the upper atmosphere to study collisions that already occur naturally. For now, the LHC remains a $10 billion toy that employs a lot of engineers and physicists to break expensive equipment. Once it starts running at full power, it could make scientific discoveries that could impact our technology and lives at least as much as the quantum mechanical revolution that, among other things, has given us the transistor and MRI scans." Ken Olson of Bellevue, Wash., notes Chinese scientists have beaten the Euros to it -- they have already created extremely small artificial black holes. I'm certain it's totally safe!
I warned that Jan. 2 will be a rare palindrome day -- 01022010. An ideal day for visitors from space to arrive! Many readers, including Genevieve Mardelle of Lille, France, pointed out that since the Continental date format is day-month-year, the upcoming palindrome date in her part of the world is Feb. 1: 01022010. "Surely since Old Europe is more sophisticated than America, the first flying saucer will land here, and on that day, not on 2 January," she writes. Of the U.S. date system, Ken Grix of Eastpoint, Mich., writes, "Combining your palindrome threat and creep theories, after having only two dates in the last thousand years that were palindromes (08311380 and 10022001) we will have three in the next three years (01022010, 11022011, and 12022012). The palindrome doom threat is creeping!" The threat's worse in Continental dating terms. S. Andrew Brown of Chesley, Ontario, writes, "Those using day-month-year will experience 58 palindrome dates this millennium. Fortunately for us though, they will end in the year 2192, after which it should be smooth sailing for Canadians until 3001."
Finally, I said the NFL acts like a drug. It turns out there is an academic paper on that very topic, which concludes, "NFL fans display characteristics of rational addiction in their consumption behavior." The lead author is Erin LeAnne Spenner of TMQ's beloved alma mater, Colorado College.
Amusing NBA Trades No. 3: Milwaukee traded Richard Jefferson, a good player, to San Antonio for Bruce Bowen, Kurt Thomas and Fabricio Oberto, none of whom the Bucks actually wanted, and all of whom were promptly waived. Indeed, there was jostling among NBA clubs to get Bowen, Thomas and Oberto, solely for the purpose of being able to waive them. San Antonio's enviable ability to package three expiring-contract gentlemen put the Spurs in the driver's seat, allowing them to obtain a quality player in exchange for -- nothing.
Obscure College Score of the Week: Adrian 7, Hope 6. Located in Adrian, Mich., Adrian College is reorganizing itself into institutes that teach interdisciplinary material. This seems to TMQ quite a good idea. The standard collegiate structure, in which the sociology department never speaks to the physics department, has been obsolete for some time. Interdiscplinary majors such as "ethics and technology" are the future.
[+] Enlarge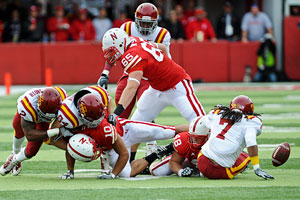 AP Photo/Dave WeaverThe football gods exact vengeance on Nebraska for running up the score in a cupcake game.
Bonus Obscure College Score of the Week: Carson-Newman 77, Brevard 7. Located in Jefferson City, Tenn., Carson-Newman is holding 12 events in connection to the upcoming inauguration of a new president. He's just a small-college president, not a head of state! Carson-Newman even calls the new president and his wife the First Couple.
Running Up the Score Watch: Possession results for Nebraska versus Iowa State: fumble, punt, touchdown, interception, punt, fumble, punt, fumble, fumble, fumble, punt, interception, interception (noted by reader Andrew Miller of Arlington, Va.). Can it be coincidence that Nebraska is 1-2, with a disastrous eight turnovers Saturday, since the day the Cornhuskers ran up the score to 55-0 against hapless cupcake Louisiana-Lafayette? And as noted by reader Steve Sayre of Redmond, Wash., perhaps the football gods are punishing Texas Tech -- which lost big at home on Saturday -- for scoring a touchdown on the game's final play against New Mexico, despite leading 42-28 with two seconds remaining.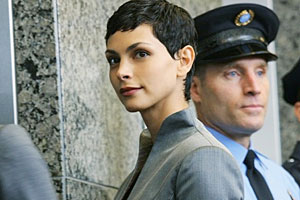 ABC/David GrayBeware of sinister space alien megababes who scheme to rule the galaxy.
Cupcake Watch: Reader Tom Lewis of Seattle notes that the University of Washington just dropped BYU, a tough opponent, from future schedules, while adding two Division I-AA cupcake schools, Eastern Washington and Portland State . Notre Dame, UCLA, USC and Washington were the sole remaining Division I football programs that had never played a lower-division school; so scratch the Huskies off the we've-still-got-our-pride list. Of scheduling gimmick opponents who have absolutely no chance of winning, Washington coach Steve Sarkisian said, "I think it's pretty commonplace now in college football. Everyone basically does it outside of a couple of teams. ... You've got to schedule to give yourself the best opportunity to get enough wins to be bowl eligible." The problem, Sarkisian further told the Seattle Times, was that the Huskies are only willing to host Division I-AA schools, not to engage in a home-and-home. That's what the boosters want, to party-party-party by the home field on the day of a 50-point auto-victory. Surely Eastern Washington and Portland State agreed to travel to Seattle and be pounded in return for a fat check.
Next Week: Alien megababes attack Earth! (This actually does happen next Tuesday, at least on television.)
Author of "The King of Sports"
Former Fulbright distinguished fellow
Contributing editor to "The Atlantic"
NFL WEEK 8 PREVIEW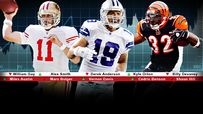 PICKS
POWER RANKINGS
MNF: Falcons at Saints
FINAL WORD
STOCK WATCH: Fallers, risers
COLUMNS/BLOG POSTS
HOT READ: Green Bay GM Ted Thompson
JOE FLACCO
HOW LONG WILL IT LAST?
FANTASY
SCOUTS INC.
PAGE 2