Commentary
Dreaming of Colts vs. Saints on Feb. 7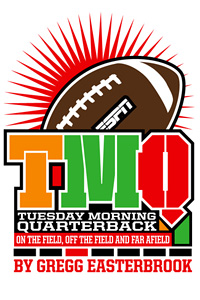 Kiss good-bye to pairings of undefeated teams. Perhaps two undefeated college teams will meet in a bowl game, or in the SEC championship game, but don't be surprised if there is no such contest left in the major-college season. In the NFL, Indianapolis and New Orleans are still standing, and could meet as undefeateds in the Super Bowl. That would require both to go 18-0. Only one NFL team has ever reached 18-0 -- two teams won't achieve that in the same season. Imagine if the Colts and Saints have both locked up top seeds at 13-0 when the sun sets on Dec. 13 -- both would have considerable trouble staying motivated until the divisional round a full month later.
But we get ahead of ourselves! New Orleans first must get fired up for its next three opponents: Carolina, St. Louis and City of Tampa, with a combined record of 4-18. Indianapolis has a slightly tougher assignment with its next three opponents: Houston, New England and Baltimore, with a combined record of 14-8.
The Saints have emerged as this season's most fun team to watch. They're zany and emotional; the Colts are cool and efficient. The two would make a fabulous Super Bowl pairing, owing to their contrasting styles and lack of negative storylines. But the Colts and Saints have one thing in common -- lots of nobodies playing well.
Indianapolis starts numerous players who were undrafted (Gary Brackett, Ryan Lilja, Daniel Muir, Gijon Robinson, future Hall of Famer Jeff Saturday) or who came out of nowhere (Pierre Garcon, from Division III Mount Union College). The New Orleans lineup is heavy on out-of-nowhere players, or those unwanted by previous teams. Starting Monday night were undrafted players Mike Bell, Jo-Lonn Dunbar and Jabari Greer, while the undrafted Pierre Thomas came off the bench to rush for 91 yards and catch the game-winning touchdown pass. Jahri Evans of Bloomsburg University, a Division II school, started on the offensive line with Jermon Bushrod of Towson University, a Division I-AA college. Jonathan Goodwin, Anthony Hargrove, Scott Shanle and David Thomas, all let go by other teams, started for the NFC's only undefeated club. New Orleans standouts Drew Brees, Darren Sharper and Jonathan Vilma were players other teams actively wanted to unload. Brees, the best quarterback in the NFC, was shown the door by San Diego, then rejected when he offered to sign with Miami; Green Bay let Sharper walk as "washed-up" five years ago! Scan around the NFL and behold team after team stacked with big-money first-round draft choices who don't perform. Give me motivated castoffs any day.
In other football news, it would be weird to wake up and find your team has the league's leading rusher, plus the No. 1 rushing attack in terms of average gain -- a spectacular 5.5 yards per carry -- yet also find your team is 1-6. That's how the Tennessee Titans find themselves after hosting the Jacksonville Jaguars in a game that produced a combined 522 yards rushing and 238 yards passing. It would be weird to wake up and realize you had rushed for 177 yards on just eight carries Sunday, yet only touched the ball once in the fourth quarter. That's how Maurice Jones-Drew finds himself right now.
Those 522 combined rushing yards did not come from power sets; on nearly every big run in the Jax-Flaming Thumbtacks contest, the offense was in a spread formation and the action was a draw play. Good blocking and sloppy tackling were the reasons for rushes of 89, 80, 79 and 52 yards. But tactical evolution was a reason, too. Not long ago, many coaches would have said the reason quarterbacks aren't always in the shotgun -- it's easier to throw if you're scanning the field from the snap rather than wasting time dropping back -- is that teams can't run from a shotgun formation. Increasingly the reverse is true -- teams run better from the shotgun than from conventional sets. Linemen have gotten so much bigger that there simply isn't room to run from a conventional set against a defense putting seven players in the box. Spread formations make it impossible to load seven defenders into the box, thereby creating running room. They also distract the defense into worrying so much about the pass that the rush becomes an afterthought. Chris Johnson's 89-yard touchdown run came on third-and-4, with the defense expecting a pass; Johnson was just 15 yards downfield when he'd already gotten by all but one Jacksonville defender! Sunday's Jacksonville at Tennessee game meant nothing to the standings, but may have been a preview of the next big fad in football: the rush-oriented spread offense.
The Crabtree Curse continues. San Francisco was 3-1, with its only defeat a fluky last-play loss; then the 49ers signed Michael Crabtree, and are 0-3 since. All that work Mike Singletary did building team spirit on the Niners went out the window when management decided a player could jerk the team around all he wanted and still get a $17 million reward. On the key down of San Francisco's loss at Indianapolis -- third-and-10 for the 49ers with six minutes remaining -- Alex Smith fell on a "coverage sack" when no one was open. Megabucks me-first diva Crabtree was nicely handled by undrafted free agent cornerback Jacob Lacey.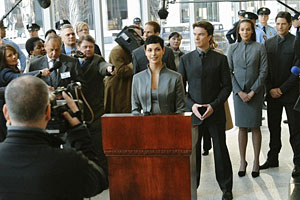 ABC/David Gray"And if you do exactly as we say, we promise not to swarm your planet with thousands of clones of Keanu Reeves."
In television news, the big-budget remake of the kitschy 1980s sci-fi series "V" begins Tuesday night. Word is the special effects are movie-quality, while the amusingly tacky tone has been replaced by somber and serious. The space-alien mega-babe who is the invaders' sinister leader is played by Morena Baccarin, who also played a space-alien mega-babe who was the sinister leader of aliens attacking Earth in the SyFy Channel series "Stargate SG-1." Baccarin is the first actress ever to be typecast as a sinister space-alien mega-babe scheming to rule Earth! On "Stargate," she wore a revealing outfit that looked like a bondage harness -- after all, who can say what norms of personal appearance may be on other planets? -- though in the new series, she is modestly attired. Must be the difference between cable and network TV. TMQ warned two years ago, "Spacemen of the future: Should you ever encounter on an alien world a gorgeous mega-babe wearing nothing but strap-up heels and a bondage harness, run! She's a sinister superbeing!"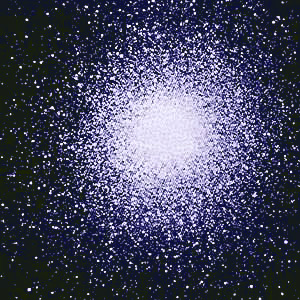 thegalaxyguide.comWhy would aliens invade planets to seize resources when infinite resources are available in space, and closer to their own home worlds?
In the kitschy "V" of the 1980s, the aliens' ultimate plan was to steal Earth's water. Since water is a common substance in the universe -- comets are mainly water-ice -- this made little sense. The Oort Cloud on the boundary of our solar system contains orders of magnitude more water than Earth's oceans, right there for the taking. Reptilian aliens wouldn't need to engage in complex conspiracies, let alone dress in latex masks, to get that water -- they could have all they want. What will be the aliens' sinister purpose in the new "V"? Please don't tell me they've come to steal our resources. The Milky Way offers essentially infinite resources, the bulk of them available without having to overcome resistance on a populated world.
In other sports new, last week TMQ animadverted about the NBA; see college basketball points below. And Christmas Creep has itself crept so much that now Christmas commercialization seems normal as soon as November arrives; waiting until you spy Santa at the Macy's Thanksgiving Day parade is so yesterday. Thus Christmas Creep must take a bow; see the incredible season finale below.
Stats of the Week No. 1: Indianapolis has won 16 of its past 17 games, with the sole loss an overtime contest in which the Colts never had a possession in OT.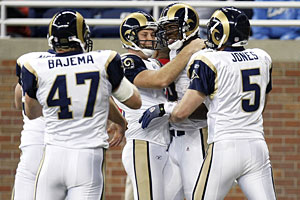 Gregory Shamus/Getty Images"We did it! We've still got a shot at a second consecutive 2-14 season!"
Stats of the Week No. 2: The Giants have dropped three straight games and have been outscored 112-61 in those games.
Stats of the Week No. 3: NFC West teams have been outscored by a combined 135 points.
Stats of the Week No. 4: Detroit and St. Louis, which met Sunday, are on a combined 3-46 stretch.
Stats of the Week No. 5: Jim Caldwell and Josh McDaniels, both in their first years as NFL head coaches, are a combined 13-1.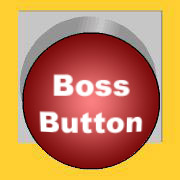 Stats of the Week No. 6: If every pass a quarterback attempts falls to the ground incomplete, his QB rating is 39.6. Derek Anderson's quarterback rating is 36.2.
Stats of the Week No. 7: In the third quarter of the Dolphins-Jets game, there were five touchdowns in 9:35 of play.
Stats of the Week No. 8: (Bonus college stat) Houston and Southern Mississippi combined for 1,358 yards of offense and 67 first downs when they faced each other Saturday.
Stats of the Week No. 9: The Texans are two games above .500 for the first time in franchise history.
Stats of the Week No. 10: The New Orleans Saints have more interception returns for touchdowns than the Cleveland Browns, Detroit Lions or Oakland Raiders have touchdown passes. Noted by reader Jon Allen of Logan, Utah.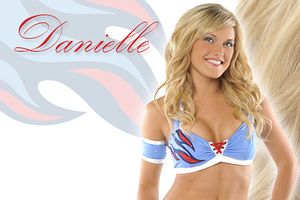 Tennessee TitansLocal girl makes good -- Danielle Westerman made the papers back in Nebraska.
Cheerleader of the Week: Reader Tommy Lau of Omaha, Neb., nominated Danielle Westerman of the Titans, who according to her team bio is a graduate of the University of Nebraska-Omaha. This article about Westerman, from the Omaha World-Herald, notes she once performed for the Prime Beef Dancers of the Omaha Beef of the Indoor Football League. The league's other teams include the Fairbanks Grizzlies and Bloomington Extreme.
Sweet Play of the Week No. 1: Miami's game-winning touchdown came on second-and-goal at the Jersey/B 5-yard line. The Marine Mammals lined up with three tight ends; reserve tight end Joey Haynos, who rarely touches the ball, came in motion right, then stopped as if to block for an off-tackle run right; instead there was a play-fake, and Haynos ran a shallow pattern right, as the wide receiver on that side dragged the safety out of the play. Sweet. But why did Miami go for the two-point conversion? The touchdown made it Dolphins 30, Jets 19 -- an 11-point edge. A PAT kick gives you a 12-point edge there, which would "protect" Miami against a Jets touchdown, field goal and successful deuce. Thus, after a single PAT kick, Jersey/B would need to score two touchdowns. The Miami deuce, if successful, would have created a 13-point lead and Jersey/B would still be playing for two touchdowns. Maybe coach Tony Sparano, who continued wearing ultra-dark sunglasses even after the sun declined behind the stadium wall, couldn't see the scoreboard correctly.
[+] Enlarge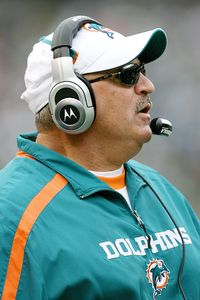 Chris Trotman/Getty ImagesMaybe dark glasses in no direct sunlight kept him from seeing the scoreboard?
Sweet Play of the Week No. 2: Tailback Joseph Addai threw an option pass to Reggie Wayne for the winning points as Indianapolis remained undefeated. Addai sold his fake by sprinting for a moment as if it were really a sweep, and the call came on first-and-10, when the defense expects a rush. Sweet.
Sour Play of the Week No. 1: Rookie glam-boy Mark Sanchez ran a nice naked bootleg for a touchdown against Miami. The play was full-frontal naked -- not only did Sanchez have no blocking, but no one else on the Jets even knew he was going to keep the ball. But well before paydirt, Sanchez started waving the ball in the air to taunt the Dolphins -- sour in itself, but especially because even after the touchdown Jersey/B still trailed.
Sour Play of the Week No. 2: The 49ers scored to make it San Francisco 14, Indianapolis 6 with 32 seconds remaining in the first half -- then Josh Morgan was hit with the infamous celebration penalty. TMQ doesn't like the rule -- why should jumping around after a touchdown be illegal? -- but the rule is the rule, and professionals must know that. San Francisco had to kick off from its own 15-yard line, giving Indianapolis good field position, and the Colts converted that into a field goal on the final snap of the first half.
Sweet 'N' Sour Play No. 1: Place-kicker Josh Brown of St. Louis threw a 36-yard touchdown pass to Daniel Fells on a fake field goal attempt, then kicked the extra point; that was sweet. The two situations in which a fake field goal attempt are likely are fourth-and-short, or a long attempt that would probably miss anyway. Les Mouflons lined up for what would have been a 53-yard kick. Yet Detroit fell for the fake. Also, Detroit had no one back deep to return a potential short kick -- if there had been a deep man, he might have stopped the touchdown. The Lions' falling for an obvious trick was sour.
Sweet 'N' Sour Play No. 2: James Butler of St. Louis intercepted a Matt Stafford pass in the end zone to stop a Detroit drive, which was sweet. Rather than kneeling for a touchback, Butler ran out of the end zone, was surrounded, then ran back into the end zone where he was tackled for a safety, which was sour. The same player was both sweet and sour on the same play!
Clang! Clang! Clang! Last season, Illinois and Penn State combined to shoot 28-for-96 from the field as the Nittany Lions beat the No. 18 Illini 38-33 in men's basketball. At least Penn State was a respectable 9-for-11 from the foul line. How did the Illini do from the line? They didn't! Illinois was not awarded a free throw.
Clang! Clang! Clang! In the men's NCAA tournament last season, Mississippi Valley State shot 1-for-14 from behind the 3-point line, 12-for-52 on regular attempts, and 2-for-6 from the free throw line on its way to 29 points against UCLA, the lowest total in the men's tournament since 1946.
[+] Enlarge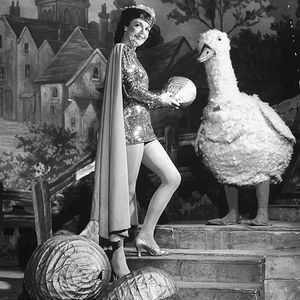 Hans Wild//Time Life Pictures/Getty ImagesThe me-first basketball style encouraged by the AAU threatens the goose that lays the sport's golden eggs.
The Menace of the AAU: Recently the NBA and NCAA signed a $30 million deal to establish some kind of prep academy for top basketball players, in hopes of reducing the negative influence of basketball-based "high schools" where athletes spend more time in the gym than in class. (The insidious aspect of basketball academies is that all states require public school students to pass proficiency exams to receive high school diplomas; but there are no such rules for private schools, which can issue any diplomas they please, thus encouraging the diploma-mill approach to circumventing the high school graduation requirement.) The NBA-NCAA plan is an effort to undercut the AAU, where the basketball emphasis is on flash, stats and strutting, while teamwork is a taboo. The NBA and NCAA have worried for years that AAU influence -- top high school players are constantly participating in "all-star games" where there isn't even any attempt to engage in team basketball -- is lowering the overall quality of play. This threatens the goose that lays the golden eggs.
[+] Enlarge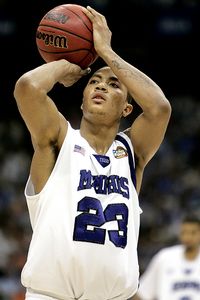 AP Photo/Mark HumphreyIf he'd stayed in school and stayed eligible, Memphis might have had a team to remember, instead of a team to forget.
And it inculcates an attitude that all that matters is showing off for the NBA draft, not achieving anything lasting. Think of the Ohio State team that lost the NCAA men's championship game in 2007, or the Memphis team that lost the following year. Either team, if together a while, might have become really memorable -- Ohio State had Greg Oden and Mike Conley Jr., Memphis had Derrick Rose and Chris Douglas-Roberts. Since three of those four were freshmen, if they'd all stuck around in college longer and stayed eligible, those teams might have improved and become truly great a year or two down the road. Instead, everybody split early for the pros. It's said that in the locker room after Memphis botched the final two minutes of what would have been a national championship, Rose cried inconsolably. He'll make lots of money in the pros, but will he ever be involved in anything worth crying about?
Clang! Clang! Clang! Against Florida Gulf Coast last season, the University of Pennsylvania shot 8-for-42 overall; Penn's six points in the first half were the lowest total by a men's Division I team since the shot clock came to college basketball in 1986. Against Kansas State, Savannah State shot 1-for-23 in the second half.
"Monday Night Football" Analysis: Good teams constantly change tactics. New Orleans, which has been playing a lot of shotgun spread, came out for most of the first half with Drew Brees under center and tight formations -- often no split receiver, just a "bunch" near the linemen. From the tight formations, New Orleans, with a pass-wacky reputation, ran often. Counting sacks and scrambles, Sean Payton called 36 passes and 34 rushes. The Saints showed an unbalanced line, a new tactic for them, then zone-blocked one way and ran the opposite way -- a Falcons run-game tactic! -- for an early touchdown.
For its part, Atlanta, which has been playing conservative defensively, came out blitzing. The game turned in New Orleans' direction when the Saints began to anticipate and beat the blitz. Just before the two-minute warning of the first half, Atlanta rushed six and Brees connected on a 30-yard strike; on the next snap Atlanta again rushed six, and Brees connected on a 24-yard strike. A touchdown followed, and the Boy Scouts never looked back.
New Orleans' game-winning touchdown was an example of TMQ's rule that short-yardage plays must include misdirection. Facing third-and-goal at the Atlanta 1-yard line with 3:09 remaining, the Saints lined up in a three tight end formation; then sent a man in motion left; then threw a flare pass right to Pierre Thomas, as right tackle Jon Stinchcomb pulled and knocked over two defenders. To parts of the Falcons' defense, this play appeared to be going to the offensive left; to the center of the defense, it seemed like a chance for a sack, since two blockers deliberately let their men come through; suddenly the play was headed to the right corner. Increasingly TMQ is convinced that the short-yardage plays that fail are the ones on which a tailback simply plows straight ahead. With defenders cranked on short-yardage downs, a little misdirection creates the moment of hesitation that makes the play work.
Keep 'Em In College: Last week, yours truly defended raising the NBA minimum age to 20; see the counterargument here, from Buzz Bissinger. Many readers, including Tanya Clarity of San Francisco but living in Milan, Italy, wrote to note it is common for Europe's best basketball players never to attend any college. OK, but it's also common in Europe to take dogs into restaurants! European sports has European rules, American sports has American rules. Many aspects of what ESPN's Brian Kenny calls "the athletic industrial complex" operate differently on different continents. In the United States, one of the roles of sports is to promote college attendance: and the United States has more than twice as many college degrees per capita as Europe, so maybe this works. Thus, I think it's fine, and also good, for the NBA to require players either to have attended some college or spared time for same.
Bissinger's argument boils down to: (1) some fresh-out-of-high-school players can in fact handle the NBA and (2) if they did play in college, a lot of them would just skip class anyway. The latter, sadly, is all too true. If the standard should be that the only thing a professional athlete does is pursue his personal fame and fortune, then let 'em play at 18. But star athletes are role models, looked up to by the young, especially boys. When a high-profile basketball player spends at least some time in college, the role-model message is, "Go to college; college is important and fun." When a high-profile basketball player makes a huge point of saying, "Skip college; to hell with books," what's the role-model message there? Playing in the NBA, or in any pro athletics league, is a privilege, not a right. If the NBA or any league makes one of its requirements "set a good example about education," then people who broadcast the message "to hell with college" should be excluded. If each teen who jumps directly to the NBA influences thousands of boys to think college doesn't matter, that is a corrosive impact on society.
[+] Enlarge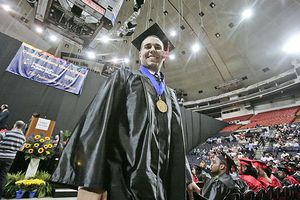 AP Photo/Gene J. PuskarAthletic scholarships create free education -- what to make of that opportunity is always up to the student.
If players who might sprint the court in the NBA are required to spend some time in college, does this mean they are being exploited? Last winter, Richard Vedder of the Center for College Affordability and Productivity, what we call in Washington a "boutique" think tank (it's really small), argued in the Wall Street Journal that college sports stars "receive compensation that amounts to only a very small percentage of what they would have earned if they sold their services in a competitive market." Vedder noted that Kevin Durant got about $33,000 in "compensation," in the form of tuition and expenses, in his year at the University of Texas, then jumped to $3.5 million a year when he entered the NBA. Colleges are keeping the money that basketball stars generated, Vedder contends, and therefore college athletes should form unions and demand pay.
It's not clear how paying athletes would improve "college affordability and productivity," but set that aside. Many, including TMQ reader Nasr Abdul-Mujeeb of Detroit, also think Division I football and men's basketball players should be paid: "The NCAA is using a free-labor system that lines the pockets of coaches, ADs and NCAA administrators, but provides little benefit to players, many of whom don't get a college education anyway." (Under "one and done," a college basketball player can attend classes in the fall, and then pay much less attention to classes in the spring, continuing to perform for that college while maintaining eligibility based on fall credits.) Surely if one considers only star players such a Durant, the NCAA is indeed benefiting from a free-labor system. But is that the way we should look at matters?
During Durant's college season, 2006-07, there were 343 Division I men's basketball teams, each awarding 13 full scholarships, and 270 Division II basketball teams, each awarding 10 full scholarships, for a total of 7,159 men's basketball scholarships. (The numbers are now slightly different.) The following season, Durant's rookie year, there were 55 NBA players who had just left college, either early or as seniors. Since 55 from that college season advanced to the NBA, we can roughly judge that 55 of the 7,159 major-program basketball players that year were being exploited financially, while the other 7,104 were not. The other 7,104 players were coming out way ahead financially, as they were receiving free college educations -- if they had enough sense to go to class -- plus experiences that might help them in later life, especially in the business world. ("Wow, you played basketball at Boston College?")
[+] Enlarge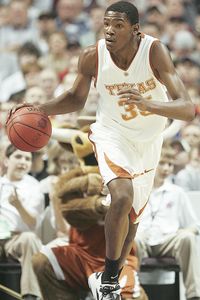 AP Photo/Rick BowmerHe actually made $4.3 million in his college season -- it's just that the money was donated to others.
Divide 7,159 by 55, and get 130. So each player from Durant's college season who might have been earning an NBA salary was supporting the college educations of another 130 players. This is the key thought missing from free-labor complaints about college basketball. Yes, the tiny fraction of players capable of advancing to the NBA do perform for far less than their market price, but they create economic value that lets large numbers of others go to college on scholarship. Assume the typical basketball scholarship is worth $33,000, which sounds a little low. (Full cost at the University of Texas for out-of-state students is currently $40,426) Those 7,159 scholarships are worth $236 million. So it's not pure exploitation -- $236 million is going to the players who make the college basketball system possible. It's up to those players to have the good sense to attend class and study -- what you accomplish in life is ultimately always up to you. But the scholarships created by the "free" play of NBA-capable collegians are the key consideration. In Durant's college year, he essentially donated 130 scholarships to other basketball players, worth $4.3 million. So actually his "compensation" was more than the $3.5 million he received the following season in the NBA. It's just that the compensation was not money in his pocket, it was the admirable act of financing other people's educations. TMQ thanks Larry Schwartz for compiling some of the data in this item.
More Proof of the Decline of Western Civilization: Possibly you heard something about Brett Favre returning to Green Bay. Did you see the incredibly weird Favre Cam? During the game, the Fox Sports Web site had a camera that did nothing but show Favre on the sideline -- looking at photos, drinking Gatorade, scratching his nose. That was it -- endless live video of Favre standing around. If Fox had not had exclusive rights to the game, maybe ESPN and the BBC would have had Favre Cams, too.
Leading 31-26, the Vikings took possession late on their 41 after a missed field goal, and ran one of Bill Walsh's favorite plays: Favre faked a handoff to Adrian Peterson, looked the opposite way, then turned back and threw a screen pass to Peterson. A staple of the West Coast offense -- and a play now often used by the Patriots -- calls for faking to the running back, letting the defense assume the fake means the running back won't get the ball, then tossing him the ball. Peterson motored 44 yards down the sideline. Now it's third-and-11 at the Green Bay 16 with 3:54 remaining. If the Packers hold the Vikings to a field goal, they face a manageable eight-point deficit; if the Vikings get a touchdown, the game is over. As six Green Bay defenders crossed the line at the snap, TMQ said aloud, "Minnesota wins." And yea, verily, it came to pass, in this case, a touchdown pass. Not only does a skilled quarterback like Favre want to be blitzed on third-and-long, a sack here is meaningless, since even after a sack, the Hyperboreans would have been in field goal range. What Green Bay needed on this down was a stop. Instead, the Packers played for a sack. Ye gods.
[+] Enlarge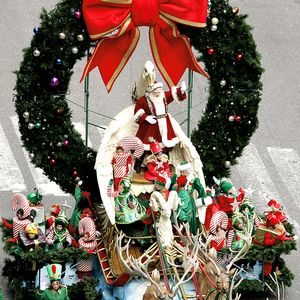 AP Photo/Jeff ChristensenWhy wait for the Macy's Thanksgiving Day parade when you can listen to Christmas-format radio while we were still in daylight savings time?
Season Finale of Christmas Creep: Jenny Main of San Luis Obispo, Calif., reports that for Halloween, she dressed as Christmas Creep, in an elf outfit. Now that's scary! Brian Owen of Brooklyn writes," My office is across the street from Radio City Music Hall. I came in to work on Monday, Oct. 26, to find they put up their Christmas tree over the weekend." For years, Tuesday Morning Quarterback has lamented the creep of the Christmas music format at radio stations, from the traditional start on Thanksgiving to a recent consensus of mid-November as the start time in many cities. Sebastian Moster of Batesville, Ind., reports, "On Oct. 28, I turned on the car radio to hear the opening lyrics of 'Rudolph, the Red-Nosed Reindeer,' which caused me to immediately change the station. Disbelieving they could actually switch over to Christmas music while daylight savings time is still in effect, I checked back with that station a few minutes later. To prove it was no fluke, the DJ announced that 'You're listening to Cincinnati's official Christmas music station' and began to air a rendition of 'Frosty the Snowman.'"
[+] Enlarge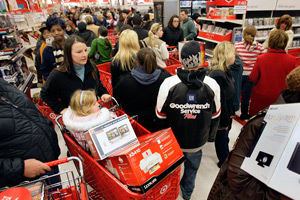 AP Photo/Amy SancettaNow we'll have even more of the worst aspect of Christmas -- Black Friday.
And as reported by many, many readers, including Christy Weaver of Santa Fe, N.M., Sears began promoting Black Friday sales on Oct. 30, planning a Black Friday every weekend until Christmas. Not only does this mean an event that traditionally occurs after Thanksgiving has crept till before Halloween -- Black Friday is the single worst thing about Christmas: crowds, stress, runaway materialism. Black Friday is not sleigh rides through the snow, it's everything that makes you gag about Christmas commercialization. Now we'll have even more of the worst aspect of the holidays, as well as more distraction from whatever tiny glint of religious significance remained. Bah humbug! I'll retire to Bedlam!
If I Could Pick Just One Game This Season to Attend … It would be Indianapolis at Baltimore, Nov. 22. The Ravens' three losses have all been down-to-the-wire games against teams which are a combined 17-5. On Sunday, Baltimore basically toyed with previously unbeaten Denver; the Nevermores' defense looks as good as it ever has. Indianapolis has won 16 consecutive regular-season dates and looks Efficient with a capital E. Considering Baltimore is on a 15-4 run in the month of November, this pairing should be a monster contest.
[+] Enlarge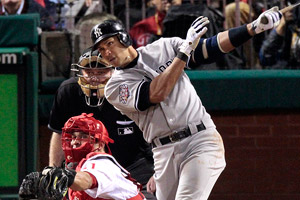 AP Photo/Eric GayHow long until the final game of the World Series is played on Thanksgiving?
Unified Field Theory of Creep: Kurt Leinenbach of Jasper, Ind., was among many readers to note that Kia is already advertising the 2011 Sorrento, which goes on sale in January 2010. Derek Knowlton of Syracuse, Utah, contends the ever-later baseball season represents reverse creep: "the World Series schedule calls for Game 4 to be played on November 1, meaning the champion cannot be determined until November; if the Series goes to all seven games, the champion is not determined till November 5. Is the Winter Classic in our future? Last spring, the NBA championship was not determined until June 14, in Game 5; had that series gone to seven, the NBA season would have lasted almost to summer solstice. The NFL is talking about adding more regular-season games, which would push the Super Bowl past Valentine's Day. Will these reverse creeps all merge into one? At least with baseball overlapping the opening of the NBA season, we are treated to one week when all four major American sports are in swing simultaneously."
In Court, Confess; in Sports, Do Not Confess: Marcus Trufant of the Green Men Group was called for pass interference three times as Dallas pounded Seattle. On the third occasion, as he collided with a receiver, Trufant threw his hands up in the "I didn't do anything" gesture -- and only then did the nearby zebra reach for his flag. Never make the "I didn't do anything" gesture! It only alerts officials that you did, in fact, do something.
[+] Enlarge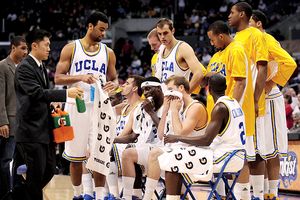 Harry How/Getty Images"Hey, where's my monogrammed timeout stool covered with fine Corinthian leather?"
HMS Pinafore Had Nothing on UCLA: Here's a hilarious article about college basketball teams orchestrating their timeouts with midcourt chairs and seating charts. UCLA brings six specific timeout stools to games -- five with white pads for the five players in the game, one with a blue pad for the head coach. Doesn't it seem absurd that staffers are present to carry stools? But the staff needs something to do! UCLA basketball has a 17-person staff. The staff includes four coaches, a director of basketball administration, a director of basketball operations (how does administration differ from operations?), four managers supervised by a head manager and my personal favorite, a men's basketball athletic performance coach. Just exactly in what way does an athletic performance coach differ from a coach? UCLA basketball has 17 staffers for 18 players -- nearly a 1-to-1 ratio. I counted 122 teachers and staffers in the UCLA English department, serving 37,674 students -- a 1-to-308 ratio. And the students are the paying customers!
Clang! Clang! Clang! Duke missed 66 shots -- 1.7 missed shots per minute -- in losing to Villanova in the NCAA men's basketball tournament. Villanova then missed 22 3-point attempts in losing to North Carolina in the tourney. Oklahoma went 2-for-19 from the 3-point arc in losing to the Tar Heels. At one juncture, Oklahoma was 0-for-15 on 3-point attempts.
[+] Enlarge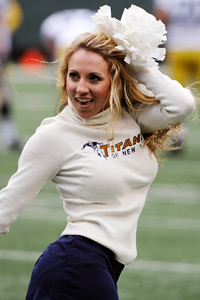 AP Photo/Bill KostrounThe Jets team and cheer squad wore their New York Titans throwbacks on Sunday, then played like the current Titans.
'Tis Better to Have Rushed and Lost Than Never to Have Rushed At All: Trailing 30-25, Jersey/B reached second-and-7 on the Miami 9 with 1:50 remaining, holding two timeouts. The Jets went scramble, sack, incompletion -- turnover on downs. Seven of the Jets' last eight play calls were passes, though Mark Sanchez is a rookie -- and the Jets have the league's No. 1 rushing offense. It was as if media-conscious coach Rex Ryan wanted to let Sanchez win the game, so sportswriters would call Ryan a genius for getting and starting the rookie. Next time, just win the game.
Contrapositive Proves the Rule: Buffalo has the league's last-ranked rushing defense, yet in consecutive weeks, the Jets and Panthers featured the pass against the Bills, and lost. On Sunday, Houston came to Buffalo featuring the pass; reaching third-and-goal on the Ivies' 4, Houston went empty backfield, sack, field goal. At that point, someone in the Houston organization must have glanced at the league stats on ESPN.com. After rushing 13 times in the first half and trailing at intermission, the Texans rushed 27 times in the second half and won comfortably. The Bills, once near-invincible at home, are on a 1-8 home stretch, and in five of those games they have failed to score a touchdown.
TMQ has been wondering when Carolina would wake up to the fact that using its effective rushing attack is better than having Jake Delhomme throw more interceptions. At Arizona, Cats coaches finally woke up -- calling 43 rushes and 17 passes, which translated into 270 yards gained on the ground and a victory over the defending NFC champions. DeAngelo Williams went 77 yards before being touched on a simple off-tackle rush -- that kind of thing demoralizes a defense.
[+] Enlarge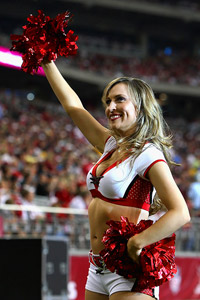 Christian Petersen/Getty ImagesThose 2:15 p.m. starts throw everybody off.
The Cardinals are quietly struggling: Dating back to the Super Bowl, they are on a 4-4 stretch. One reason is lack of discipline. Cards cornerback Dominique Rodgers-Cromartie has nine interceptions in his past 19 starts, the kind of stat announcers praise, but he gambles constantly and gets torched. Carolina ran a simple hitch and go to Steve Smith -- Smith took one step backward as if to catch a hitch, then shot down the field. Rodgers-Cromartie so totally bought on the hitch action, gambling for an interception, that he was barely in the picture as Smith caught a 50-yard touchdown pass. The game started at 2:15 p.m. local time, a time no football player's body clock is set to.
Concussion Awareness: Congressional hearings have increased the pressure on the NFL to take action to prevent concussions -- the league still refuses to mandate concussion-reducing helmets, such as the Riddell Revo and Schutt DNA. If the NFL mandated such headgear, colleges would follow. The NFL also won't mandate the double-sided mouthguard, as is used in boxing. These don't look cool, and NFL players like to look cool, but almost certainly double-sided mouthguards reduce concussion incidence. If everyone in the NFL had to wear them, then the fashion-statement aspect would be negated. College and high schools would follow the NFL's lead. While buying $200 advanced-design helmets is a problem for many public high school systems, $8 double-sided mouthguards could be put into every high school football player's mouth affordably.
And it's high school, not the NFL, where many of the concussion problems are -- partly because slightly more than a million boys play high school football, versus fewer than 2,000 players in the NFL, and because medical treatment is rudimentary at many high schools, while players feel pressure to return to the game with a concussion to prove their manhood. Here is a chilling passage from Alan Schwarz of the New York Times, who's doing a great job pressuring the NFL to deal with concussions: "Only 42 percent of high schools have access to certified athletic trainers, according to the National Athletic Trainers' Association, let alone the doctors and neurologists employed by N.F.L. teams. About 400,000 concussions occurred in high school athletics during the 2008-9 school year -- more in football than any other sport -- according to researchers at Nationwide Children's Hospital in Columbus, Ohio, and Ohio State University. Those researchers reported that 15.8 percent of football players sustaining a concussion severe enough to cause loss of consciousness returned to play the same day."
Loss of consciousness -- a Grade III concussion -- should mean at least a month off and no return until examined and cleared by a neurologist; often it should mean the player's season is over. That hundreds of high school players sustain a Grade III concussion and go back in the same day is shockingly irresponsible on the part of coaches and high school administrators. High school football players are, legally, children; their coaches are, legally, their temporary guardians. A grown man in the NFL might decide to take a health risk; high school coaches should be protecting children from health risks. State high school sports associations should enact concussion rules -- such as that one Grade III or two Grade II concussions always end a player's season, while anyone sustaining even a mild Grade I must sit out a week. If this were a rule, then there would be no pressure to force players back into the game or back to practice.
Snyder Bans Posting of Score at Redskins Games: Chainsaw Dan Snyder, who's already suing some of his own season-ticket holders, made another bid to drive away customers by declaring that no critical signs will be permitted at FedEx Field. Guards are to seize any signs Chainsaw Dan doesn't like. Reader Ashley Tate of John's Creek, Ga., notes this fantastic idea -- spectators at the next home game use the grid to determine which Skins color to wear, then spectators themselves would spell out FIRE SNYDER.
TMQ Still Not Sold on Giants: Philadelphia had scoring drives of 0:16, 0:48, 0:52, 1:34 and 1:41, allowing the Giants to dominate time of possession! On the 54-yard touchdown pass to DeSean Jackson, Jackson simply sprinted through a Cover 2 uncovered by anyone. It's been a while since Jersey/A had pure-blunder plays like that. When the G-Persons were on offense, the Eagles usually showed seven or even eight in the box on first downs, yet Eli Manning did not audible to play-fakes, simply handing off as planned. It's been a while since Eli made mental blunders like that.
Magic Touch? Beginning next year, the NCAA will not allow basketball recruits to void their letters of intent if the head coach they signed with flees the campus. Call this the Calipari Rule. After John Calipari walked out on Memphis for Kentucky -- for more money, or perhaps to escape yet another recruiting scandal, the latter remains to be seen -- highly regarded prep player Xavier Henry asked to be released from his commitment, and is now at Kansas. Prep star Nolan Dennis was also released from his commitment, and headed to Baylor. The reasoning seemed to be that the players had signed with Calipari, not with the university. As of next year, this nonsense won't fly -- though surely some new kind of nonsense will crop up.
Why did players want out of their Memphis commitments when Calipari left? The sportsyak grapevine said they only were drawn to Calipari because he has "the magic touch" in getting players into the NBA. (Surely not in getting them educations -- Kentucky, it may not be long until your first Calipari scandal.) But is it really true that he has some kind of added ability to prepare players? Calipari began at Memphis in the 2001-02 season. Seven roundballers he coached at Memphis have played at least one year in the NBA: Dajuan Wagner, Antonio Burks, Rodney Carney, Shawne Williams, Joey Dorsey, Chris Douglas-Roberts, Derrick Rose. (This count stops at players who have been in the league at least one year, so it doesn't include Tyreke Evans, who almost certainly will achieve that milestone but hasn't yet.) During the same span, 12 UCLA players left their school and spent at least one year in the NBA, along with 11 Duke players, eight Kansas players, eight North Carolina players and eight Florida players. So Calipari doesn't have any kind of unusual ability to send players on to the NBA. Even at a Memphis program that appeared to be win-at-all-costs and academics-be-damned, he produced fewer NBA players than schools, such as Duke and North Carolina, that enforce academic rules for men's basketball. Thanks to David Schoenfield for research on this item.
Hidden Plays of the Week: Hidden plays are ones that never make highlight reels, but stop or sustain drives. On the snap before Jason Elam missed a short field goal against New Orleans, the Falcons' Michael Jenkins dropped a pass that would have given Atlanta first-and-goal. With seven minutes remaining in the game, Drew Brees threw incomplete on third-and-5, and the Saints would have punted. But Falcons linebacker Mike Peterson was called for defensive holding; the Saints kept possession and scored the winning touchdown on the drive.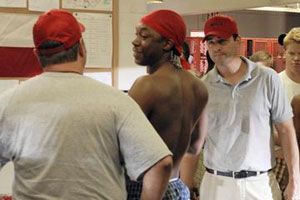 NBC UniversalEric Taylor, right, in the red of the East Dillon Lions.
"Friday Night Lights" Update: The fourth season has begun on DirecTV, to migrate to NBC this winter. Most of the perpetual-senior characters finally have graduated from Dillon High, while SuperCoach Eric Taylor has been fired and has taken over the football program at decrepit East Dillon High, a crumbling facility reopening due to population growth. I'll have more next week. For now, these tidbits:
• Previously we were told that Dillon, Texas, was a dying rural town with two motels, a strip joint and an ice cream stand. Suddenly a population boom requires a new high school, which is located in Dillon's inner city.
• Last season an obnoxious rich guy moved into Dillon and basically bought control of the Panthers' football program so his son could be the quarterback. When we saw the guy's house, it was a McMansion in a subdivision of McMansions. How could there be a subdivision of McMansions in small, dying Dillon, Texas? This year when we see the obnoxious rich guy's house, it is a 50,000-square-foot true mansion that would be considered ostentatious in the oil-wealth districts of Dallas.
• The new Dillon coach asks SuperWife Tami Taylor, now principal of Dillon High, to call the ceremonial coin toss for the opening game. He instructs her, "If you win the toss, say we want to play defense." She wins the toss and tells the referee, "We'll start on offense," just to cheese off the new coach, whom she despises. But "we'll play defense" or "we'll start on offense" make no sense at a coin toss. Texas public high schools use the NCAA rulebook, which presents the toss winner these choices: kick, receive, select a goal to defend, or defer. Except in very strong wind, the toss winner always says either "receive" or "defer." (In strong wind you might choose a goal; no one ever chooses "kick," which gives the opponent the ball and the choice of goals to open the game, then the ball again to start the second half.) If as instructed by the coach, SuperWife had said, "we'll play defense," the referee would have responded, "Huh?"
Reader Comments: I supposed that coaching is overrated because the most the best coaching could add to performance is 10 percent. Robert Lipson of New York City counters, "If coaching can make a 10 percent difference then coaching is everything. At the elite athletic level the difference between greatness and also-ran is much less than 10 percent. Take, for example, Usain Bolt's 100 meter victory at the 2008 Beijing Olympics. He shattered the world record. Yet he was only two percent faster than the silver medalist and 3.5 percent faster than the eighth place finisher. I think it is more likely that a top coach like Bill Belichick gives his team a two or three percent edge over poorly coached teams. But that is all they need. Kind of like the house's advantage at a casino -- a small advantage over the long run will pay off handsomely."
I proposed that most people would be better off with insurance only for catastrophic health problems such as severe illness, while paying for routine exams and minor issues themselves -- if the typical family earned an added $10,000 per year for the money employers and government would not need to spend on comprehensive health insurance. Randy Rasmussen of Mantua, Utah, writes, "Health insurance is not insurance in the classical sense. Insurance in the classical sense means paying a relatively small sum to guard against a large contingence. Classical insurance is something you buy hoping you will never use it. Health insurance on the other hand is something everyone expects to use continually." In most types of insurance purchases, the ideal outcome is that 100 percent of the buyer's cost is wasted. Home insurance, car insurance -- if your home never burns down and you're never in an auto accident, then all your premium dollars are total waste. But that's the ideal outcome! Waste is the ideal outcome for life insurance, since you'd much rather live to 65 -- the age past which insurers won't indemnify males, at least at realistic prices -- than die young and have your heirs receive a check. Health care needs by contrast are ongoing; even those who experience good luck with their health need regular physician and clinic services. Yet Americans use insurance, a product devised for rare and unlikely events, to finance common, continuous events. Small wonder the health care system is so fouled up.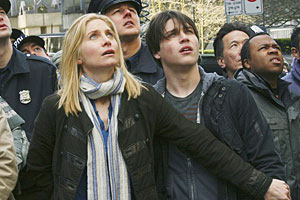 ABC/David Gray"Oh no! Earth is being invaded by computer-generated special effects!"
I further said true health care payment reform is impossible until patients can comparison shop, and physicians and hospitals fight like the dickens to keep pricing information inaccessible. Marcy Kimmel of Edmonds, Wash., recommends this Web site, which allows you to get an estimate of the true prices of health care services -- the amount insurers actually pay -- versus the inflated list prices. She also reports, "There's a minor movement in the Pacific Northwest for people to go without insurance, and for physicians to refuse to accept any insurance; the docs who do this post their prices on the web, and people comparison-shop." There's a lot to be worked out in self-pay medicine, including the need for catastrophe insurance and the need for employers to convey, as pay, money that would have been spent on health care insurance; plus employer-paid plans are tax-favored while Medicare and Medicaid are taxpayer-funded, which causes numerous complications for those willing to go it alone. A future world in which most people earn more, pay most of their health care costs out of pocket, and carry only catastrophe coverage might or might not work. But one can imagine such a world controlling costs and rationalizing services. One can't imagine that from current Democratic proposals (new bureaucracies, more rules, avalanche of debt-funded subsidies) or Republican proposals (no structural reform, more subsidies only to blocs that reliably vote Republican).
I've been giving a hard time to Dick "Cheerio, Chaps" Jauron, who seems to me to sleepwalk through games, if not through his entire coaching career. Joe Petralia of Baltimore counters, "I strongly disagree with your negative view of Cheerio, Chaps. Surely the team the front office has assembled is the primary problem in Buffalo. Jauron falls at the positive end of coaching influence. While the Bills teams of the past few years have certainly not been the most talented, they have always shown up for games and the coach has an uncanny ability to inspire the players to compete. Look at the way the Bills played the Pats and Saints this year, both games hotly contested into the fourth quarter."
TMQ noted that new University of Washington coach Steve Sarkisian is busily rigging his team's schedule by removing strong opponents and replacing them with Division I-AA pushovers. Then in a few years he will claim to be a coaching genius because the Huskies' record has improved! Mike McLaughlin of Spokane, Wash., writes, "There are other examples. Last spring University of Washington and Washington State were in negotiations to move the annual Apple Cup rivalry game to a neutral site. Washington proposed Qwest Field in Seattle -- 6 miles from the UW campus, 315 miles from the WSU campus. Washington also asked for a larger ticket allotment than WSU for this 'neutral site' game. At least the proposal was rejected."
Mark Weis of Boston makes a great point about the end of the first half of Saints at Dolphins, when Miami inexplicably helped New Orleans by calling a timeout: Five seconds were left and the clock would have started when a replay review ended, but the timeout stopped the clock and allowed the Saints to run a play for a touchdown: "Marques Colston caught [what] was initially ruled a 21-yard touchdown pass, then corrected to a 20-yard pass to the Miami 1, Colston was tackled with five seconds remaining. New Orleans had no timeouts. Had the ball been correctly spotted at the 1 in the first place, there's no way the Saints' offensive line could have hustled into position to run one more play or spike to stop the clock; no chance at all the field goal unit could have come on the field. Once the play was ruled no longer a touchdown, the half should have ended. The media focus has been on the fact that during the review, New Orleans put its field goal team onto the field; then during the timeout, decided to go for the touchdown. New Orleans could not have brought out the field goal unit in the first place if the initial call had been correct on the field. Thus the review, whose purpose is to 'get the call right,' got the outcome wrong -- creating for the Saints a scoring opportunity they should not have had."
On the minimum NBA age, this from William Lang of New York City: "You said there's no more 'right' to be a 19-year-old NBA player than to be a 19-year-old physician or airline pilot. The analogy of basketball players -- or entertainers in general, like musicians -- to doctors and pilots is flawed. Doctors and pilots are responsible for other people's lives. Basketball players entertain. No one is going to be harmed at a basketball game, unless maybe Ron Artest gets really ticked off. As a musician, I have learned that once you are good enough to play with the pros, you get to play with the pros. There have been 17 and 18 year old winners of orchestral auditions, numerous child prodigies who appear as concert soloists among much older performers. If we don't require musicians to attend college once their skills are sufficient to entertain, why require this of basketball players?
"Your argument centers on the issue of maturation. I am not sure basketball players will automatically become more mature due to college. Michael Jordan attended college for three years, and does he seem to you a well-adjusted individual? [Allen] Iverson was at Georgetown, one of the nation's best colleges, for three years, and he is represented (unfairly, in my opinion) as everything that's wrong with the sport. Contrast that with LeBron James. Widely seen as a pretty good though of course flawed person, he attended no college. Now, if all college basketball players could play for John Wooden, maybe the argument for a higher age would be stronger. But for every good college [coach] who really cares about his players' educations, there are two who care only about winning. That's just the reality."
[+] Enlarge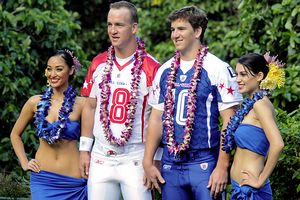 AP Photo/Ronen ZilbermanAt the current rate of Pro Bowl Creep, we might as well choose the 2011 squad now.
Pro Bowl Creep: Pro Bowl balloting began last week, after most teams had played six games -- 38 percent of their season. The 38 Percent Pro Bowlers! Wouldn't it be nice if the NFL required even half the season to pass before we decided who are the best performers? Every year there are several players, at least one named "Tony Romo," who look great early, get balloted into the Pro Bowl, and by season's end, would not be starting for the Rams. On Wednesday, with 38 percent of the season in the books, NFL.com ran a video segment headlined, "Our Experts Pick Their Midseason MVPs" -- picking the midseason MVPs two weeks before midseason!
By Saying This, We Do Not Mean to Insult Ryan Leaf: San Diego has won 13 straight against Oakland. JaMarcus Russell's career stats: 17 touchdown passes, 21 interceptions, 36 fumbles, 60 sacks. Isn't it time to accept that Russell is the new Ryan Leaf?
[+] Enlarge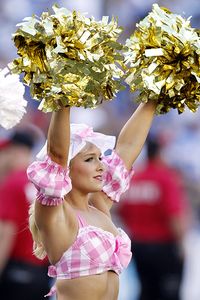 AP Photo/Denis PoroyIt's always a party when the Oakland Raiders come to San Diego.
Obscure College Score of the Week: Hamline 34, Carleton 17. Located in Saint Paul, Minn., Hamline University is "one of only 276 Phi Beta Kappa institutions in the country."
Bonus Obscure College Score of the Week: North Texas 68, Western Kentucky 49, in a game with 16 touchdowns, a field goal and a safety. Located in Bowling Green, Ky., Western Kentucky University has "international reach."
Cupcake Update: Is the rigged college schedule actually a century-old tradition? Caroline Svenson of Rochester, Minn., notes a Wall Street Journal article last week on the bygone days when the University of Chicago was the 800-pound gorilla of college football -- performing before huge crowds and regularly pasting Michigan and Notre Dame -- includes the sentence, "Seldom did the University of Chicago play road games, foes came to the South Side because the pay was too good." (The University of Chicago still plays football, but in Division III.)
Don't Cancel Class: This Washington Post article reports that Virginia Tech canceled Thursday afternoon classes last week so students could prepare to attend the home football games against North Carolina. School administrative offices closed at 4 p.m. so parking lots would clear. Big-deal football games are part of the excitement of attending college, but shouldn't Mom and Dad get a tuition rebate whenever classes are canceled for a school promotional event? Kudos to the University of Florida for not canceling classes in January on the Friday after the football team won the national championship; there was pressure for Florida to do so. But it's common at football-factory schools for instructors to report low class turnout on the day of a football home game, or the Friday before an away game within driving distance -- Georgia at Florida on Saturday, for example. Football players themselves are almost never in class the day of a home game or the day before; at many football-factory schools, the team checks into a hotel the day before a home game. Why couldn't the NCAA simply ban this kind of thing? Expenses for athletics would go down -- the NCAA reports that only 25 colleges actually come out ahead financially on athletics -- while at least there would be a chance some football players would wander into class.
Stop Me Before I Blitz Again! (College Edition): Underdog Wake Forest led Miami 27-21 with 1:51 remaining, the Hurricanes facing fourth-and-16 in their territory. All Wake Forest needs to do is play straight defense and victory is highly likely. As seven defenders crossed the line at the snap, yours truly said aloud, "Miami wins." And yea, verily, it came to pass.
Next Week: After getting a look at the U.S. and Japanese national debts, space aliens decide to invade a different planet.
Author of "The King of Sports"
Former Fulbright distinguished fellow
Contributing editor to "The Atlantic"
NFL WEEK 9 PREVIEW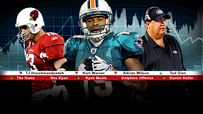 PICKS
HOT READ: Jacksonville viable for NFL?
FINAL WORD
POWER RANKINGS
DANGEROUS PLAYERS
MNF: Steelers at Broncos
COLUMNS/BLOG POSTS
FANTASY
SCOUTS INC.
PAGE 2