Commentary
The Crabtree Curse haunts San Fran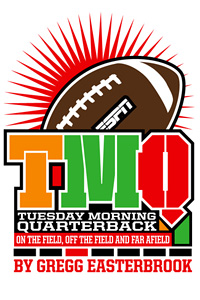 Beware the Crabtree Curse! San Francisco opened the season 3-1, with its sole loss to powerhouse Minnesota on the game's final snap. Since signing Michael Crabtree, San Francisco has lost four straight -- the Niners just rolled over at home against the Titans, who came into the contest 1-6. Coach Mike Singletary had San Francisco's players buying into the notion that no one's bigger than the team. Then, suddenly, you can jerk San Francisco around all you want and get $17 million guaranteed as your reward. San Francisco management's cave-in to the me-first Crabtree triggered an instant losing streak, by communicating to other 49ers the message that the team-first stuff was always just empty talk. Caving in to Crabtree may cost the Niners their season.
Squared Sevens apologists have put word on the grapevine that team management should be praised because the contract Crabtree signed in early October was the same one offered before his nutty holdout began -- no added sweeteners were offered. So Crabtree shafts his team, and the team responds by not upping its offer -- talk about profiles in courage! Once training camp broke, San Francisco should have reduced its offer to Crabtree, since he was worth less at that point. A rookie who holds out is worth less every week; by season's start he is worth substantially less, since he becomes less likely to succeed as a pro, while projecting waves of negativity onto the team.
Yet Crabtree was allowed to take training camp and the first month of the season off, sitting on his couch -- and then he was given just as much money as he would have received had he reported on time and put in the work like everyone else. To boot, when he finally bothered to show up, Crabtree was treated by the Niners as a conquering hero. The result is four straight defeats for a team that previously looked primed for a playoff run. And don't tell me the Niners have offensive line injuries -- it's the NFL, everybody has injuries. Owing to a featherbed schedule -- only two of San Francisco's remaining eight opponents have a winning record -- this team still might stumble to a decent finish. But before Crabtree, Singletary did not tolerate excuses -- but suddenly the San Francisco franchise is all about excuses. Beware the Crabtree Curse!
Regarding the two remaining undefeated teams, Indianapolis and New Orleans -- Tuesday Morning Quarterback's preseason Super Bowl picks, a prediction that's faring much too well to have come from TMQ -- they remain a study in contrasts. New Orleans is zany, wacky and emotional -- you never know what's going to happen in a Saints game, and you get the feeling the Saints' players have no idea, either. Indianapolis is as coolly efficient as the TGV on a straight track. You know exactly what the Colts are going to do -- you just can't stop them from doing it. Indianapolis is a spectacular 51 percent on third-down conversions without using any kind of wild tactics, just cool efficiency. Jim Caldwell, who had never been an NFL head coach before taking the Colts' helm, is 8-0 -- the first pro football rookie head coach at 8-0 since Potsy Clark of the Portsmouth Spartans.
[+] Enlarge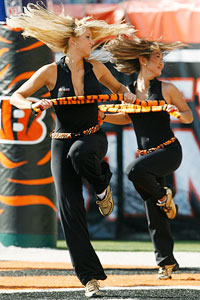 John Sommers II/Getty ImagesThey waited a long time for something worth cheering.
In other NFL news, could it really be that Cincinnati is for real? The Bengals are 6-2 and playing stout defense -- they held Baltimore to 55 yards rushing on Sunday, beating the Ravens for the second time in four weeks. The Cincinnati offense is excelling in the red zone. Marvin Lewis is employing aggressive decision making for the first time in his head coaching career. The Bengals have gone for it on fourth down 12 times this season -- near the league high -- converting eight times. And that stat doesn't include two fourth-down attempts converted by penalty. The key to all this must be linebacker Dhani Jones, a graduate of my kids' high school. Next week's Bengals at Steelers game is suddenly a monster contest.
What about Baltimore? After going a long stretch without allowing a 100-yard rusher, the team has now allowed one in three of its past four outings. The Nevermores' offensive line is a mess -- it allowed four sacks against Cincinnati, while clearing few rushing lanes -- and the offensive line is always the best window into a team's psychology. Right now, rookie left tackle Michael Oher looks terrible. Oher has, at a tender age, already had a lifetime of complex emotional experiences, plus been the subject of a book that's been made into a big-studio movie that opens next week. When Oher was drafted, TMQ noted, "The true story of an impoverished African-American boy adopted by an affluent white family has obvious Hollywood appeal, but can any 22-year-old handle such media pressure?" Maybe Baltimore needs to take him out of the lineup for a while.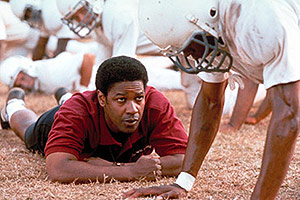 Walt Disney Pictures"You'd better play well, because this school is not going back to the playoffs for a long time."
In high school football news, hooray for the option run! Miami Dolphins High School and Tennessee Titans High School used the option run -- ubiquitous under Friday night lights, unheard of in the pros -- for touchdowns on Sunday. Next week, the Dolphins and Titans will sprint out onto the field through a big paper banner signed by all the cheerleaders. More high school news: T.C. Williams of Virginia, the school featured in the movie "Remember the Titans," lost its final game Friday night and missed the playoffs. T.C. Williams has not made the playoffs since 1990, around the same time the "Remember the Titans" script began circulating in Hollywood.
And in other movie news, the world gets destroyed yet again on Friday, when "2012" opens. At least there are no zombies!
Stats of the Week No. 1: Indianapolis has won 17 of its past 18 games, with the sole defeat an overtime loss in which the Colts never had an offensive possession.
Stats of the Week No. 2: Kansas City does not have a rushing touchdown this season.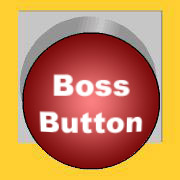 Stats of the Week No. 3: Tom Brady is 37-8 versus the AFC East in his career.
Stats of the Week No. 4: Green Bay is 1-7 at Raymond James Stadium.
Stats of the Week No. 5: Undrafted Miles Austin has 531 yards and six touchdowns receiving in his first four starts; that is a rate of 2,124 yards and 24 touchdowns for a full season.
Stats of the Week No. 6: Chicago has two wins by 20 or more points, and two losses by 20 or more points.
Stats of the Week No. 7: The New Orleans defense has more touchdowns (7) than the Cleveland offense (5).
Stats of the Week No. 8: (Bonus college stats) Against Connecticut, Cincinnati gained 711 yards on offense -- and won by two points. Against Tulsa, Houston gained 695 yards on offense -- and won by one point.
Stats of the Week No. 9: Ronde Barber, a defensive player, has 13 career touchdowns.
Stats of the Week No. 10: Steelers coach Mike Tomlin is 5-0 on "Monday Night Football."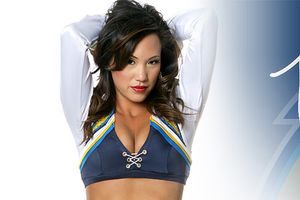 San Diego ChargersTiffany of the Chargers' cheerleaders, improving parent-teacher conference turnouts in California.
Cheerleader of the Week: Reader Jacob Garbin of Terrytown, La., nominates Tiffany of the Chargers, who, according to her team bio, was born in Taiwan, moved to the United States as a child, attended the University of California at Irvine, and now works as an algebra teacher in the Orange County public school system. Garbin asks, "How many fathers do you think miss my parent-teacher conferences?"
Sweet Winless-Team Plays of the Week: TMQ maintains that NFL teams, which are surprisingly squeamish about attempting to block punts -- ultra-conservative coaches are more afraid of roughing calls than enticed by blocks -- should go after punters more often. That means sending seven or eight rushers; winless City of Tampa sent seven on a Green Bay punt, and the result was a block returned for a touchdown. Trailing 28-23, the Bucs reached fourth-and-4 on the Packers' 7-yard line with 4:20 remaining, and rather than do the ultra-conservative thing -- many NFL coaches would take the field goal in this situation -- rookie head coach Raheem Morris went for the win. The Bucs sent five receivers out; only a team with a strong offensive line sends five receivers out near the goal line. Stop-and-go to rookie seventh-round draft choice Sammie Stroughter for the touchdown, and no Green Bay pass-rusher was anywhere near rookie quarterback Josh Freeman. Then the Bucs went for the deuce -- again with five receivers out, again no Green Bay pass rush. Not only did Tampa have its team and cheerleaders in 1979 throwback uniforms, the logos painted on the field were from 1979.
[+] Enlarge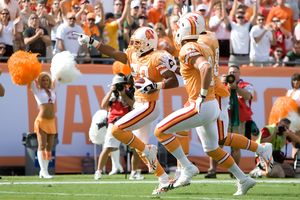 J. Meric/Getty Images"We did it! We locked up a better record than the 2008 Lions!"
As for the Packers, their offensive line is atrocious, and their front seven on defense isn't much better -- even though Green Bay invested seven of its past 12 first-round draft choices on linebackers and defensive linemen. The Packers' offensive line allowed six sacks, while their defensive front seven got just one sack against a quarterback making his first career start. Green Bay is only 4-4 against a squishy-soft schedule -- the Pack have already faced Cleveland, Detroit, St. Louis and Tampa, which have combined for four victories total on the season.
Sour Play of the Week: With Jax leading 7-6 at Kansas City, the Jaguars had first-and-10 on their 39-yard line. Receiver Mike Sims-Walker -- hard to find in some football guides because he changed his name from Mike Walker -- ran an out-and-up. Kansas City cornerback Brandon Carr simply ignored Sims-Walker. Just to prove it was no fluke, the safeties ignored him too; it might have been the easiest 61-yard touchdown catch in NFL history. Also, Jax offensive tackle Eugene Monroe had a perfect block at the point of attack as Rashad Jennings, a seventh-round choice from Division I-AA Liberty, ran 28 yards for a touchdown.
Sour Kicking Plays of the Week: Kansas City and Chicago both acted surprised when Jax and Arizona had return men in on long field goal attempts on the final play of the first half; in both cases, touchdown returns were nearly allowed. This was especially sour because it was only three years ago when Chicago returned a long field goal attempt for a touchdown on the final play of the first half against the Giants.
[+] Enlarge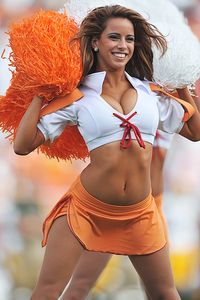 Larry French/Getty ImagesKeep the orange! Keep the orange!
Sweet 'N' Sour Turnaround: A week ago, Kurt Warner threw five interceptions as the Cardinals were totally outplayed by the Panthers; this week he threw five touchdown passes as the Cardinals totally outplayed the Bears. Since the Bears and Panthers are second-tier teams, it's hard to know what to make of either outcome -- the NFC's defending champions have yet to post what TMQ calls an "authentic" win, a high-pressure victory over an elite opponent. Arizona's win at the Giants might have seemed authentic in October, but it doesn't now with Jersey/A on a four-game losing streak. Note the Cardinals are 4-0 on the road, and performed well on the road during last season's playoffs. Maybe the sunsets-and-tequila atmosphere of Arizona living keeps this team from being serious at home. And note that with the Cards holding a seemingly secure fourth-quarter lead, Matt Leinart entered the game -- his first and only pass attempt was a pick, and Warner was hustled back in.
Sweet 'N' Sour Series: Game tied at 13, Philadelphia went for it on fourth-and-1 on the Dallas 45-yard line midway through the fourth quarter and failed. For Dallas, that was sweet, as was the game-winning 49-yard touchdown pass to Miles Austin, undrafted out of Monmouth, four snaps later. For officials, the play was sour -- Donovan McNabb reached the 44-yard line, and even the in-house announcers of the NFL Network said the play should have been ruled a first down. For the Eagles, the entire sequence was sour. On first down, DeSean Jackson caught a pass on a curl for an apparent 11-yard gain, but then ran backward and lost 2 yards. Never run backward! Then it was second-and-1, and Philadelphia ran for no gain. Then it was third-and-1, and Philadelphia ran again for no gain. Then, a run for no gain on fourth-and-1. All three runs were straight-ahead rushes -- no shifts, no misdirection. Increasingly, TMQ is convinced that the key to success on short-yardage plays is a little misdirection -- the defense is cranked to go straight ahead, so feint one way and then go the other. Three times Philadelphia simply went straight ahead.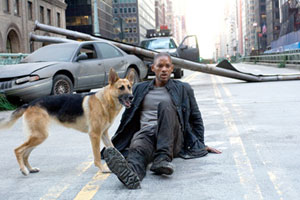 Warner Bros. PicturesThe Cash for Clunkers program meets an apocalypse movie.
The Sequel, "2013," Will Be a Gray Screen: Hollywood sure likes to destroy the world. Recently the world was destroyed in the flicks "Knowing," "9," "The Day After Tomorrow" and "Wall-E"; the world will be destroyed again on Friday, when "2012" opens. That's not all -- the world will be destroyed in upcoming flicks "The Book of Eli" and "The Road." Just in time for the festive holiday season! Much of the United States was destroyed in the movies "Watchmen," "Deep Impact" and "Independence Day," in the television series "Jericho" and in the television movie "Meteor." General global devastation begins the current television series "FlashForward" while the United States gets destroyed again in the upcoming TV series "Day One." A coming worldwide catastrophe is hinted at in TV shows "Fringe," "Heroes" and "V;" Paris got clobbered in the movie "G.I. Joe," which is based on a toy! Lest we forget, the world was also laid to waste in the endless "Mad Max" and "Planet of the Apes" flicks, plus in "Waterworld" and "The Postman," plus in the numerous "Resident Evil" and "Terminator" movies, plus in "28 Days Later" and in "Reign of Fire" and in "I Am Legend" and in … you get the point.
Why does Hollywood like apocalyptic flicks? One reason is obvious: Directors want to show things blowing up. The most reliable standbys of modern filmmaking are explosions and breasts. Somehow, in the current environment, the former are more acceptable at suburban mall theaters. Destruction is also a substitute for plot and dialogue. If the world is ending, all actions, statements and gestures take on significance: Even the worst-imagined character may hold viewers' interest when running down a street of collapsing buildings. Subtlety or cleverness are not required. Clichés can be trotted out without reservation.
[+] Enlarge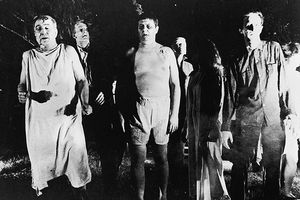 Pictorial Parade/Getty ImagesZombies -- or the scriptwriters for "2012"?
Scriptwriters meeting:
SCRIPTWRITER A: What if a tear in the space-time continuum caused half of Los Angeles to go into the past and the other half into the future, and a good-looking single mom struggling to connect with her rebellious 15-year-old son was caught between the two zones?
SCRIPTWRITER B: What if strange dust from a comet killed everyone on Earth except 100 Las Vegas showgirls?
SCRIPTWRITER C: What if the moon fell on California?
CHIEF SCRIPTWRITER: I see a good-looking single mom struggling to connect with her rebellious 15-year-old son. I see an embittered military man who can be redeemed. I see a misunderstood African-American guy who gets killed doing something heroic. I see a stripper whose dream is to become a Las Vegas showgirl. I see a cynical newscaster who only wants to get ahead. I see a super-corrupt CEO with limitless power. And pieces of the moon are hurtling toward them!
TMQ thinks another reason for the popularity of global destruction in Hollywood is that post-apocalyptic movies are easy to film. You do location shots in a desert or in canyons, and there are both near Los Angeles. For costumes, buy out a consignment shop, then rip and dirty the clothes. Need zombies? Just hire extras and put some ridiculous makeup on them. Computer-generated special effects can be aggressively phony, since no one really expects the studio to hurl an actual aircraft carrier at the actual White House. Voilà, movie! Advance stills from "The Road" look so much like Mad Max scenes -- ripped clothing, beat-up trucks -- that the movie may be one of the "Mad Max" films with new dialogue dubbed over, like the Woody Allen movie "What's Up, Tiger Lily?" which was a Japanese gangster schlock film with dialogue dubbed over.
If the Wikipedia plot spoiler for "2012" is correct, "As worldwide floodings get worse … the U.S. government declares the end of the world." Then surely refuses to take questions! Wait, maybe the end-of-the-world declaration will stall in the Senate. A TMQ pal who is scientifically adept writes, "According to the New York Times, the premise of '2012' is that neutrinos from a solar flare heat Earth's core and cause the crust to buckle, creating super-volcanoes and mile-high tsunamis. Put to one side that billions of neutrinos per square inch already pass through the Earth yet don't interact much with matter. Suppose a truly stupendous number of neutrinos was emitted by the sun. Then all matter in the sun's vicinity would be heated the same amount (per gram). The Earth's core is denser, meaning more grams per cubic centimeter, so the core would receive the most heat by unit of volume. But the mantle of Earth is pretty dense, too. If the core was heated by 10,000 degrees, the mantle would be heated by 5,000 degrees, and people standing on the surface would be heated by 2,500 degrees. Water in our bodies is about half as dense as rock in the mantle. If the sun really did emit stupendous amounts of neutrinos, everyone would fry, and the movie would end at the outset. Anyway, the only way the sun could emit the requisite numbers of neutrinos would be to go supernova, and then tsunamis would be the least of our worries."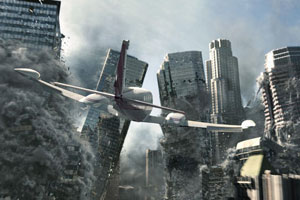 Columbia Pictures"Pilot, pull up! A huge column of pixels is falling toward us!"
Apocalyptic note: No computer-generated special effect in "2012" will look as scary as this actual photograph taken by Jane Wiggins in Iowa in 2006. What she saw has been named undulatus asperatus.
"Monday Night Football" Analysis: Gain 1 yard rushing in the second half at home, and you'll lose the game -- this is a supersophisticated analysis of Pittsburgh versus Denver on "Monday Night Football." Denver was held to just 27 yards rushing in the game with just 1 yard in the second half. As Pittsburgh's offense got untracked and began to move the ball -- the Steelers ran for 150 yards after the intermission -- Denver couldn't reply by holding the ball, running the ball and asserting some control over tempo. The Broncos' second-half possessions: four snaps, punt; four snaps, punt; three snaps, punt; one snap, interception; three snaps, punt; three snaps, interception. With Pittsburgh leading 21-10, the Broncos took possession with seven minutes remaining, in a put-up-or-shut-up situation, and went incompletion, incompletion, sack, punt.
Of course, Denver was facing the league's best defense. Recent complaints about how NFL players don't tackle well? Not a problem for the Steelers, whose cornerbacks tackle better than any others in the league. Pittsburgh plays team-oriented defense, not everybody-look-at-me defense -- Albert Haynesworth and Shawne Merriman would have no place in the Steelers' scheme. Team-oriented defense works.
Unorthodox fronts are one of the defensive answers to multiple-receiver sets, and late last season the Steelers began to play some 1-5-5. Monday night, they added what TMQ calls the Times Square Defense: everyone milling around, seemingly at random, before the snap. Bill Belichick started the Times Square Defense many years ago when he was the defensive coordinator of the Giants; recently it has been employed by Baltimore (including against Cincinnati on Sunday) and the Jets. Monday night, when Pittsburgh went 1-5-5 and Times Square simultaneously, the Steelers showed about as wild a look as a defense can show. And it worked, including against the run. Unorthodox has practically become orthodox -- on offense, Denver opened with six offensive linemen, Pittsburgh opened with an empty backfield. But regardless of tactics, the key is how good your players are, and the Steelers' defensive players are very good.
As for the Broncos, let's not panic -- they have lost two straight but remain 6-2. (TMQ's immutable Law of Composure holds: Don't panic, there will be plenty of time for that later.) The Broncos have developed a habit of starting strong, then fading. Last season they had a three-game lead in the AFC West with three games to play but lost all three games and missed the playoffs. In 2006, the Broncos opened the season 7-2, then went 2-5 down the stretch and missed the playoffs. The Broncos also have a habit of fading within games as the season progresses, and so far that's holding, too. In Denver's first six contests this season, the Broncos outscored their opponents by a combined 73-16 after halftime; in their two most recent games, the Broncos have been outscored 45-14 after halftime.
What's going on with Denver's fades? Tuesday Morning Quarterback thinks the altitude advantage means a lot early in the season but steadily less as the season progresses. It's not just that the Broncos play a mile high, they also train in high altitude, at Englewood, Colo. Thus they gain the wind advantage held by distance runners who train at high altitude. Early in the season that really helps, including when the team plays at sea level -- in the second halves of early-season games, the Broncos have the fitness edge. As the season progresses, the Broncos are progressively further from their training-camp regimen, so that edge begins to soften. (NFL teams don't do hard conditioning in-season because the players' bodies are breaking down from game stress as it is.) About the time the leaves have finished falling, the Broncos no longer have a clear fitness advantage, so their stats and W's tend to tail off, regressing to the norm. By the playoffs, even their stadium-altitude advantage may not be large, because at that point opponents are so pumped they don't care about oxygen pressure.
[+] Enlarge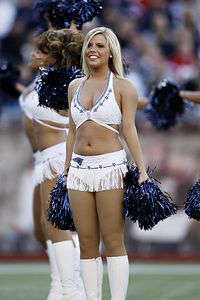 AP Photo/Winslow TownsonThe Patriots' cheerleaders came out in swimsuitlike attire in New England in November, showing outstanding cheerleader professionalism.
Wildcat Update: The Dolphins are 3-5 despite being the only team other than Indianapolis above 50 percent for third-down conversions. Maybe the Dolphins would have a better record if their highly paid professional wide receivers learned how to catch a football! Ted Ginn Jr. has dropped everything but Jay Leno's name. With Miami trailing at New England by seven points, the Marine Mammals had the ball on their 32 with three minutes remaining. Brian Hartline dropped a perfectly thrown pass that would have given Miami a first down in Patriots territory; the Dolphins ended up surrendering the ball on downs. The Wildcat continues to work. With rookie Pat White at quarterback, Miami executed an option run touchdown with Ricky Williams as the pitchman; Flying Elvii linebacker Adalius Thomas, who probably hadn't defended an option run since high school, looked confused and took the quarterback rather than the pitchman. Off a Wildcat snap, tailback Ronnie Brown threw his second career touchdown pass (both were in Gillette Stadium).
But two Wildcat touchdowns and no conventional-offense touchdown is not a formula for long-term Miami success. With New England leading 7-3 and Miami facing third-and-13 on the home team 33 -- a sack here knocks the visitors out of field goal range -- New England ran "cover zero," the extreme rare double safety blitz, and got a sack. No Dolphin ever touched safety Pat Chung. With New England leading 24-17 at the end of the third quarter, Miami faced second-and-8 on the Patriots' 44. Brown lined up at quarterback, while Chad Henne split wide, then came back toward the formation for a lateral from Brown for a trick-play pass. Chung saw Henne head back and simply followed him, knowing something must be up; the Dolphins' right tackle had to block Chung, which let Thomas come through uncontested for the sack. These two Maroon Zone breakdowns were killers for Miami. Really, how can you draw up a play in which your quarterback splits wide and then springs backward toward the center of the formation, and think no one on the defense will notice this?
For their part, the Dolphins dared New England to rush, using a three-man line with the defensive ends spread wide. Bill Belichick responded by putting six offensive linemen into the game and running; for a goal-line play, Belichick sent in seven offensive linemen. With Miami leading 17-16 and the Flying Elvii facing third-and-1, the Dolphins came out with eight defenders smack on the line of scrimmage. Six came after Tom Brady, who threw a simple crossing pattern to Randy Moss, who legged it out 71 yards to the end zone. Where were the Miami safeties on this play? Your guess is as good as mine.
[+] Enlarge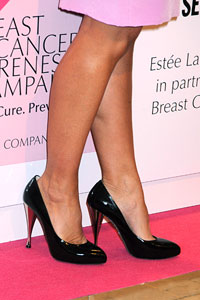 Dave M. Benett/Getty ImagesAre these the real stimulus package?
Moss now has 63 games of 100-plus receiving yards, trailing only Jerry Rice, at 76. Rice's record margins are so high -- he had 197 receiving touchdowns, trailed by Moss and Terrell Owens at 140 -- that I once thought no one would ever pass Rice in any category. Moss now has a shot, at least, at the 100-plus games record.
NFL Ratings Advice -- Have the Cheerleaders Wear High Heels: Recent news reports brought word that although economic growth remains slow, sales of high-heeled shoes are strong. Guys have long believed that if a woman wears heels on a date, this is a sign she's in the mood. Italian researcher Maria Cerruto, who likes to wear stiletto heels, gives incredibly scientifically advanced arguments that high heels actually do increase a woman's sex drive.
Danger, Will Robinson! This year, "Monday Night Football" has been on a tear of really good games. But all good matchups must end. On the next MNF, Baltimore faces Cleveland. Since November 2008, Cleveland is 2-0 versus the Bills, 0-15 versus all other teams.
[+] Enlarge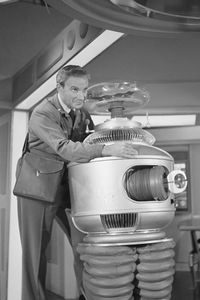 CBS Photo Archive/Getty Images"Warning! Warning! Cleveland Browns on 'Monday Night Football'!"
Adventures in Officiating: I watched the play five times and still don't understand the ruling late in the first half of Houston at Indianapolis. Moo Cows runner Ryan Moats was hit at the Colts' 1, rolled atop an Indianapolis player whose body was mainly out of bounds and lost the ball. Another Indianapolis defender grabbed the ball as it touched the goal line, then stepped out of bounds. After lengthy deliberations, zebras called it a touchback for the Colts. But a player with any part out of bounds is out of bounds, so why wasn't the ball initially out of bounds because Moats let go while atop an Indianapolis player who was out of bounds? (If a player with one foot out of bounds touches a rolling football, it's out of bounds even if the ball itself is inbounds.) If this was a recovered fumble, why wasn't it spotted at the Colts' 1, where the recovering player stepped out of bounds, rather than ruled a touchback? The play certainly did not end just because the recovering Indianapolis player held the ball over the goal line!
Indianapolis also got another favor from the officials. Game scoreless, Colts facing third-and-3 on the Houston 7, Indianapolis sent four wide receivers into the end zone, then flipped the ball forward to Joseph Addai for a middle-screen touchdown. Sweet play, and only a team with a strong offensive line sends five receivers out near the goal line. But Colts guard Ryan Lilja was well downfield to screen-block when the pass was thrown; the play should have been flagged.
NFL -- You Are Setting a Bad Example on Concussions: Brian Westbrook sat out Sunday's game, yet considered playing just two weeks after a serious concussion. If he'd decided to go, the Eagles and the NFL would have let him. Last week, Kojo Nnamdi -- in case you're not familiar with him, he's one of the best talk-show hosts working -- talked to Westbrook's high school coach, Bill McGregor, and to others about sports concussions. Listen to the show, and you'll think there is no way Westbrook should consider coming back on the field till December. He's risking another concussion -- like ankle sprains, concussions are much more likely when you've recently had one -- to say nothing of risking long-term neurological damage. Again, like ankle sprains, after a concussion, if you wait long enough for the brain to heal, then you're fine again and the added risk disappears. But typically the healing period for a severe concussion is a month or longer.
[+] Enlarge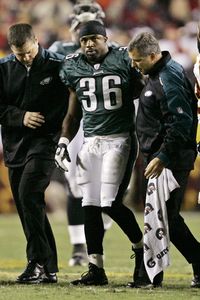 AP Photo/Manuel Balce CenetaBrian Westbrook leaves the field after suffering a concussion. As for high school players with concussions, where you belong is off the field.
NFL players are adults, and an adult may volunteer to take a medical risk, however foolish -- Aaron Kampman of Green Bay suffered a concussion early Sunday, and returned to the game. But why does the NFL let its players make foolish choices about concussions? The league should have clear guidelines mandating sufficient rest periods in the wake of a concussion. For decades, the NFL has maintained that only clubs themselves can impose medical rules. But that's an obvious cop-out -- plus a concussion standard would need to apply to all teams, to prevent those that pressure players to return to action from gaining an advantage on teams that protect their players' health.
More importantly, by refusing to adopt concussion-recovery rules, the NFL sets a terrible example for college and high school programs, where the overwhelming majority of football concussions occur. (There are about 500 high school and college football players for each NFL performer.) Some colleges and many high schools do not have skilled medical staffs, or even certified trainers, to evaluate players with concussions. Players pressure themselves to act tough by returning too soon, when their heads still throb and ears still ring -- remember, pain is evolution's way of warning that you are damaging your cells, in this case brain cells -- while high school and college coaches may pressure their players not to sit out. When NFL performers come back too soon from concussions, this is not just a private act -- it sends the message to high school boys that they ought to do something really stupid. It has been many years since an active NFL player or coach smoked a cigarette in public, because kids are impressionable, and the NFL doesn't want to encourage smoking. How come it's OK for NFL players and coaches to set a bad example when it comes to concussion safety? Even league announcers send the wrong message. As noted by reader Richard Searle of London, on NFL Network's highlights of Sunday's Redskins-Falcons game, Deion Sanders mocked Clinton Portis for sustaining a concussion about 20 seconds in. It is setting a terrible example when the NFL's own voices treat concussions as a laughing matter.
As for Westbrook's prep coach, McGregor of DeMatha High in Hyattsville, Md., listen to the Nnamdi segment in which he describes the excellent medical standards at the school and the cautious care players receive from head trainer Wendy Norris. DeMatha is perennially one of the country's high school football powers -- right now, No. 11 in the ESPN RISE national rankings. The school's success proves you can have a winning football program and still be conservative in caring for players with concussions. How come a high school is setting a better example on concussion safety than the NFL?
'Tis Better to Have Rushed and Lost Than Never to Have Rushed at All: Trailing New Orleans 23-20, Carolina reached second-and-8 on the Saints' 43 with 3:02 remaining. Considering the quick-strike New Orleans offense, the circumstances dictated the Cats try to use up clock in driving for a touchdown. This seemed promising, since Carolina was running the ball well -- 183 yards rushing to that point. But as TMQ keeps noting, despite a strong rushing offense and a turnover-happy pass attack, Carolina coaches keep calling passes. From this point the Panthers went incompletion, incompletion, sack/fumble, and TMQ wrote the words "game over" in his notebook.
[+] Enlarge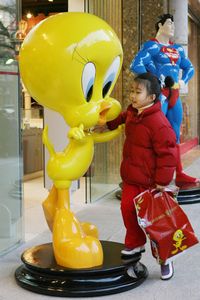 Mark Ralston/AFP/Getty ImagesPutty Tat has been sending out nasty tweets about him.
Cats note: The Panthers entered the season with the best fullback situation in the league, with quality starter Brad Hoover backed by fourth-round choice Tony Fiammetta, the highest-chosen fullback of the 2009 draft. On Sunday, both were hurt, and with first-and-goal on the New Orleans 1 in the third quarter, the Panthers put guard Mackenzy Bernadeau, out of Division II Bentley, in at fullback. He collided with Jake Delhomme, causing a fumble and lost yardage; Carolina settled for a field goal. Four more third-quarter points for Carolina might have changed the entire endgame dynamic.
Tweety Bird Should Have Trademarked "Tweet": TMQ believes the mainstream media are gaga about Twitter and Facebook because they are the sole Internet technology developments of the past decade that people over 40 understand. Here, the New York Times notes Princeton professor Cornel West has 2,129 electronic followers, seeming to think this an impressive number. West needs only 978,228 more to catch Bill Simmons.
Stop Giving to Harvard! The stock-market decline caused Harvard's endowment to shrink from a peak of $37 billion to a mere $26 billion, though much of the loss is only on paper. (Until you sell an asset, its price is an abstraction; people who left their retirement savings alone last fall when the market fell should eventually be fine, those who listened to CNBC talking heads and pulled their money out are the ones harmed.) That $26 billion is still the largest college endowment in the world, and exceeds the GDP of Ethiopia. Nevertheless, Harvard is bidding for our pity: reader Joel Bogosh of Geneva, Ill., points out this heart-string-tugging article that announces such misery as cereal and fruit replacing weekend hot breakfasts at residential houses. And no more "free" coffee for students! Bogosh notes students always paid for their "free" coffee, just through tuition bills.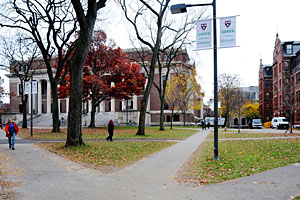 AP Photo/Lisa PooleHah-vuud Yard, at a college that already has far too much money.
Last week, a group of Harvard alums expressed outrage that even though the endowment value has gone down, the endowment's six top managers received $26.8 million in pay. How is that different from polite embezzlement at AIG and Bear Stearns? Reader Anthony Dribben of Tallahassee, Fla., noted this Chronicle of Higher Education article by Kevin Carey, which makes the most telling point. Of the roughly $32 billion in gifts and endowment returns that Harvard enjoyed since 1990, "Harvard spent the money on many things, but not a dollar went to increasing the number of undergraduates it chose to bless with a Harvard education. In 1990 the university welcomed slightly more than 1,600 students to its freshman class. In 2008, $32 billion later, it enrolled slightly more than 1,600 freshmen. That is remarkable stinginess." Harvard has used its bags of gold not to open doors but to shower bonuses on investment managers, pay Lawrence Summers nearly $600,000 to be a "professor" in a year in which he was rarely present at the school, and go on a construction spree.
Not only does Harvard still have the largest college endowment, in fiscal 2009 the school received $602 million in new gifts. That means Harvard in 12 months hauled in more additional money than the entire endowments of Bucknell, Colby, Haverford or William & Mary; in 12 months, Harvard took in more in donations than the entire endowments of Hofstra, Illinois Wesleyan and New Mexico State combined. (Check the fiscal 2008 endowment size of any college here; fiscal 2009 numbers are due soon.) Rich people, stop giving to Harvard! Give to any of the hundreds of worthy colleges and universities where your money will make a difference.
[+] Enlarge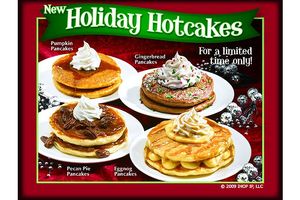 IHOPEggnog pancakes, just in time for Sadie Hawkins Day.
Unified Field Theory of Creep: Kevin Ong of Forest Hills, N.Y., notes that on Nov. 3, IHOP began serving "holiday hotcakes" -- eggnog or gingerbread pancakes. "Surely, the holidays they were referring to were Election Day and Veterans Day," Ong writes. IHOP will sell eggnog pancakes "for a limited time only." You mean they won't be offered for all eternity? Steve Langley of Wrentham, Mass., notes that, as reported by The Boston Globe, Republican House Whip Eric Cantor declared he opposed health care reform because "jobs and the economy" must come first "in this holiday season." The statement was made on Nov. 5. Happy Armistice Day!
A Cosmic Thought: Researchers using the big twin telescope at the Keck Observatory in Hawaii recently proposed that "dark bursts" -- strong gamma rays emitted from deep space, without accompanying light -- are signs of distant star formation. Light is present, they supposed, but blocked from our view by clouds of galactic dust. If true, this finding suggests that new-star formation in several types of galaxies is much more common than previously supposed.
[+] Enlarge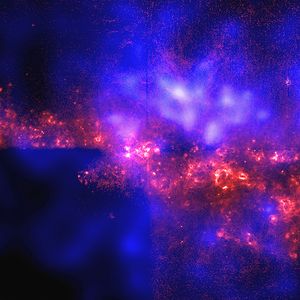 Courtesy of NASA/Getty Images"Dark bursts" -- they mean star formation at max throttle.
What's Wrong With the Giants? Four-game losing streak. Leading San Diego 17-14 at home with 3:14 remaining and first down on the Chargers' 4, the Hackensack River crowd as loud as it has ever been, how could Jersey/A lose? The Giants looked sluggish, then settled for a field goal. Still, at the two-minute warning, San Diego was on its 29 with only one timeout, needing 71 yards against the crowd noise and a once-monster defense. How could Jersey/A lose? On the winning touchdown pass to Vincent Jackson with 29 ticks remaining, Jackson was single-covered deep though he is at or near the top of the NFL in every stat key -- yards per catch, first downs per catch, receptions of 20-plus yards. Veteran corner Corey Webster seemed to freeze for an instant as Jackson broke for the end zone -- San Diego needed a touchdown to win, where else was the pass going to go? And since Webster had already been called for a 29-yard pass interference penalty trying to guard Jackson on a similar play, why wasn't he focused on his man? What's wrong with the Giants?
Buck-Buck-Brawckkkkkkk No. 1: Game tied at 7, Jersey/A punted on fourth-and-1 from the San Diego 45 in the third quarter. The Jersey home crowd booed loudly, and the Jersey home crowd was right. It took the Bolts just three plays to pass the point where the ball would have been if the Giants had gone for it and missed; this play set the retreating, afraid-to-lose tone that characterized Jersey/A for the remainder of the game. Leading 17-14 with 2:11 remaining and San Diego down to one timeout, the G-Persons faced fourth-and-goal on the Bolts' 4, and kicked a field goal. Had Jersey/A gone for it here, a touchdown would have ended the game, while a failed try would have pinned the Chargers against their own goal line.
Buck-Buck-Brawckkkkkkk No. 2: With six minutes remaining, Tony Sparano ordered a punt on fourth-and-5 from the Patriots' 42. You're down by a touchdown with six minutes remaining -- why are you punting in opposition territory! It took the Flying Elvii just three snaps to pass the point where the ball would have been had Miami gone for it and missed.
Reader Comments: Two weeks ago, when Sparano made his puzzling decision to go for two with the score Miami 30, Jersey/B 19 -- a 12-point lead is a lot better than an 11-point lead -- TMQ suggested that because Sparano was wearing dark glasses though the sun had set behind the stadium wall, maybe he couldn't see the scoreboard. Many readers, including Dorothy Clarke of Naples, Fla., noted that because of an accident that injured his eyes when he was a teen, Sparano must wear dark glasses at all times. Sorry -- that's the sort of thing I should have known.
I have been pounding the table about politicians and government officials who travel in mega-SUVs with taxpayer-funded bodyguards present not for any real security need, simply to make themselves feel important. Jamal of Nairobi, Kenya, notes this refreshing article about Boris Johnson, the mayor of London, breaking up a street fight. The mayor happened upon the fight when riding home from work on his bicycle. Scott Sloan of Denver notes this equally refreshing story: "I was having coffee at a Starbucks in downtown Denver and noticed Colorado Governor Bill Ritter walking past the window. I gave him a thumbs up, he waved. He walked in alone, ordered a coffee, paid cash and left a tip, chatted with the staff and walked out. No security. Made my day."
[+] Enlarge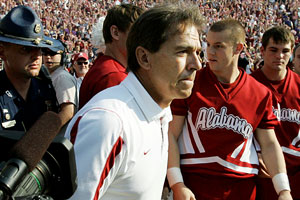 AP Photo/Tony GutierrezWhy do college coaches have tax-funded state troopers as security details? Aren't the coaches already surrounded by dozens of muscular men in armor?
Before you feel too refreshed, David Rosenfeld of Baltimore points out this article about Baltimore Mayor Sheila Dixon's spending $4,500 in tax money to have two police officers accompany her last summer as bodyguards on her vacation in Miami. You know how dangerous those Florida beaches can be! This seems such a transparent abuse of public funds -- the bodyguards were not present to protect Mayor Dixon from terrorists disguised as bartenders, they were there to make her seem important -- that TMQ can't understand why a mayor vacationing with two bodyguards was not national news. Have we reached the point at which we assume it is normal for government officials to abuse public money? And the $4,500 was just the officers' travel expenses: They were also receiving pay and benefits to sightsee, rather than to work to reduce Baltimore's crime rate. The officers' travel funds included $1,900 for 10 days of rental car -- that's $190 a day, which is absurdly high. Hertz quotes 10 days of a Lincoln Town Car, for pickup at Miami International Airport next July, at $1,078 all inclusive. Ten days of a Chevy Impapa, the sort of car a public official ought to ride in, is quoted at $890, all inclusive. Baltimore is in terrible fiscal condition, with cutbacks in essential services, and the mayor is wasting taxpayers' money on a couple of guys to carry her luggage. Meanwhile, Nathan Nailling of Floyd, Ark., reports, "ESPN showed Tim Tebow being escorted by five Florida state troopers as he entered the stadium Saturday."
[+] Enlarge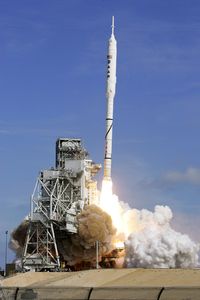 Joe Raedle/Getty ImagesNASA's Ares I-X on its first blastoff last month -- and it's not you, the rocket is tilted.
John Skrabutenas of Buffalo Grove, Ill., notes of suggestions that college athletes in the revenue-earning sports be paid, "Why get worked up about unpaid NCAA athletes when it is quite common, both today and historically, for young people to gain experience and contacts in desirable industries by competing for and obtaining unpaid internships? Cannot NCAA athletics be looked at as an internship? After all, most turn out not to be employable in pro sports -- they do not make the NFL or NBA -- but all find it a great thing to have on your résumé."
Last month, TMQ supposed that the NASA review report due out soon would cleave to the tradition of Washington commissions via this formula: offer "vague language about sweeping reform; then cite every item on every wish list of every interest group with a finger in this pie; then recommend nothing specific, so as to offend no interest group; then close with a call for higher subsidies." Here's the report, a disjointed laundry list of every proposal ever made by every space interest group, ending with nothing specific except a call for a NASA budget increase. The report has all the weight of something written by an aerospace industry PR person. Which is exactly what NASA was hoping for!
Finally Tuesday Morning Quarterback doesn't worry about a pole shift in the year 2012, I worry about the Large Hadron Collider ever reaching full power and creating a novel subatomic template that crushes Earth out of existence. The purpose of the $10 billion machine is to simulate conditions of the Big Bang -- surely that's totally safe! Jamieson Kassner, a Canadian living in London, notes this reassuring story from Sky News -- the collider just malfunctioned because a bird dropped a piece of baguette into a magnet: "Sections of the machine, which fires protons round a 17-mile-long tunnel at close to the speed of light in order to smash them in to each other, then overheated ... according to scientists, had the collider been in operation at the time it would have shut down automatically." Whew -- automatic safety protocols to protect against baguettes! I'll sleep better tonight. Go to the Large Hadron Collider Web site and click on "LHC Safety" in the upper left. You are not authorized to know why European bureaucrats consider the device safe!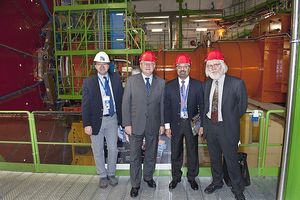 mediaarchive.cern.chInspectors at the Large Hadron Collider. Surely you feel safer now.
Obscure College Score of the Week: Bethel 48, Faulkner 6. Faulkner University is sufficiently obscure that the school has a Web page titled, "Where Is Faulkner?" Here is how William Faulkner would have reported the game: "And so it began, and so Bethel kicked off, they have a word for it, kickoff, and it means to kick, but off into what; into some phenomenon of the body, perhaps into some void -- and the runner brought it back a certain number of yards but yards are facts that tell nothing. Vines descended upon the stadium."
Bonus Obscure College Score of the Week: Fairleigh Dickinson 28, King's of Pennsylvania 21. Fairleigh Dickinson has campuses in Teaneck, N.J., Florham, N.J., Rutherford, N.J., Vancouver, British Columbia, and Wroxton, England. There are schools named King's College in Wilkes-Barre, Pa. Charlotte, N.C., and New York City. How did the teams figure out what field to go to?
The Curse Lives On: Earlier this season, Sports Illustrated put Oklahoma State on the cover, and the Cowboys immediately lost. Thursday's Sports Illustrated featured undefeated Iowa as "the most charmed team of 2009." The Hawkeyes immediately lost.
Buck-Buck-Brawckkkkkkk (College Edition): Greg Veregin, a Wyoming graduate, attended the BYU-at-Wyoming game. He notes that playing at home against a highly ranked opponent, Wyoming, on its first possession, punted on fourth-and-inches at midfield. The football gods punished that with a 52-0 BYU win.
Pass Wacky ≠ Victory: TMQ detailed a month ago how the supposed "explosion in scoring" in college football supposedly caused by shotgun spread passing is an artifact of more cupcake games; when equal opponents meet, scoring isn't high. This could not have been shown better than Saturday's Nebraska 10, Oklahoma 3 contest. Oklahoma scored just three points despite calling 61 passes.
Next Week: A pair of stiletto heels is accidentally dropped into the Large Hadron Collider.
Author of "The King of Sports"
Former Fulbright distinguished fellow
Contributing editor to "The Atlantic"