Commentary
Passing = winning in the NFL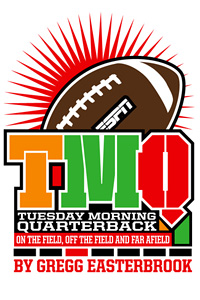 Kerry Collins goes out, Vince Young comes in, and immediately the Titans snap to life, winning four straight games. JaMarcus Russell goes out, Bruce Gradkowski comes in, and immediately the Raiders snap to life, with a major win. In Russell's case, he has 17 career touchdown passes versus 35 interceptions and fumbles lost; he does not command the huddle, and shows no leadership skills. It's time to ask -- is Russell the new Ryan Leaf? (In saying this, I don't mean to insult Leaf.)
In Young's case, he does have a good sense of the field and leadership skills -- it's no coincidence Young is 22-11 as an NFL starter. Football is a team game, and there's always a lot more going on than who lines up at quarterback. But the dramatic examples in Oakland and Tennessee of success based on quarterback changes remind us that quarterback remains the key position in the sport.
The relationship between quarterback effectiveness and victory underscores the pre-eminence of the pass in the NFL. None of the top four rushing teams in the NFL this season (Tennessee, N.Y. Jets, Carolina and Miami) has a winning record. By contrast, 11 of the top 12 passing teams have winning records. Right now there are 14 NFL teams with winning records, and only three of those clubs are in the lower half of the league in terms of passing yards.
Considering the centrality of passing effectiveness to NFL success, you'd think everything there is to figure out about game planning for the pass has been figured out, right? Surprisingly, in an era of stats obsession and assistant coaches with laptops, this is not the case. NFL teams should pass more often on first down than they do. The indicators are strong. Yet, week in and week out, many NFL teams predictably rush on first down.
Last season, the teams that passed most on first down were New Orleans (58 percent), Denver, (58), Arizona (58) and Houston (54). And the top offensive teams of 2008 were New Orleans, Denver, Houston and Arizona. This outcome was not ironclad -- Atlanta finished sixth on offense last season, and passed a league-low 31 percent of the time on first down. But in general last season, throwing frequency on first down directly correlated with offensive success.
This season, the case for throwing on first down remains. Here are the 10 teams that pass most often on first down: Chicago (60 percent), Seattle (60), Philadelphia (59), Tampa (55), Arizona (54), New England (54), San Francisco (53), Indianapolis (52), Green Bay (51) and Houston (51). Five of those teams have winning records, and five of the teams (New England, Indianapolis, Green Bay, Arizona and Houston) that pass most often on first down are in the top 10 for total offense. On the opposite side of the coin, here are the 10 teams that run most often on first down: N.Y. Jets (72 percent), St. Louis (61), Tennessee (59), Cincinnati (59), Minnesota (58), Cleveland (57), Carolina (57), Buffalo (56) and San Diego (56). Only three of the teams most likely to run on first down have winning records, and only one (Minnesota) is in the top 10 in total offense. Tuesday Morning Quarterback thanks Aaron Schatz of Football Outsiders, hands-down the best independent Web site about football, for compiling these stats.
Passing success on first down shouldn't come as a surprise. Most of the time, NFL defensive coordinators put out a rush defense on first down. You'd rather throw against a rush defense than against a pass defense. First down is also a good down for the play-fake; nobody buys the play-fake on third-and-long. Yet, at least for the past decade, NFL teams as a group have rushed more often on first down than they've passed. The mindset seems to be, "First down is when you run."
[+] Enlarge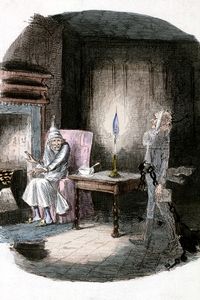 Time Life Pictures/Mansell/Time Life Pictures/Getty Images"Ebenezer, I have come to warn you -- do not draft Michael Crabtree."
Since pass attempts average more yards gained than rushes (7.1 yards per pass attempt versus 4.1 yards per rush leaguewide in 2008), people sometimes ask why football teams don't simply always pass. The answer is, this would allow the defense to always be in a pass-defense package -- forcing the defense to be ready for either a run or a pass makes the pass more effective. Considering first down is when defenses are most likely to assume run, why not feature the pass then? Why wait until third down, when -- unless it's a short-yardage situation -- defenses assume a pass is coming? (And rightly so, since NFL teams passed the ball 76 percent of the time on third down last season.)
In Christmas-is-coming news, man of the worldly mind, do you believe in the Crabtree Curse? San Francisco was 3-1 before signing Michael Crabtree and is 1-5 since. Do you believe in the Kern Kurse? As noted by reader Diego Arias of Delray Beach, Fla., the Broncos were 6-0 with Brett Kern as their punter, and have gone 0-4 since waiving him. The Titans were 0-6 without Kern, and are 4-0 since claiming him off waivers from Denver.
In college football news, even TMQ would have punted! Leading Harvard 10-7 with 3:24 remaining in the fourth quarter, Yale faced fourth-and-22 on its own 25-yard line -- and went for it! The call was a fake punt. Fake kicks are most attractive when only a few yards are needed for the first down. The fake gained 15 yards, but that still handed Harvard the ball on the Yale 40-yard line; Harvard scored the game-winning touchdown four snaps later. Courage on fourth down is one thing; going for it on fourth-and-22 in your own territory when holding the lead is … what, exactly? Somehow, Bill Belichick must be behind this.
[+] Enlarge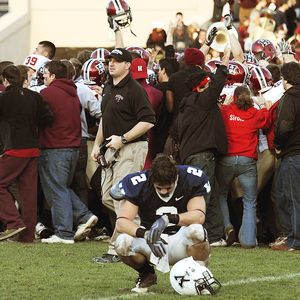 AP Photo/Bob ChildNew question on the Yale admissions application -- should you go for it on fourth-and-22 in your own territory when leading?
Stats of the Week No. 1: Indianapolis has won 19 of its past 20 games, with the sole loss an overtime game in which the Colts never had an offensive possession in OT.
Stats of the Week No. 2: Cincinnati is 0-10 all time in games at Oakland.
Stats of the Week No. 3: Chicago is 0-4 in night games, with 12 interceptions by Jay Cutler in those games. Indianapolis is 4-0 in night games, with 11 touchdown passes by Peyton Manning in those games.
Stats of the Week No. 4: Stretching back to last season, Denver has followed an 0-3 streak with a 6-0 streak and then with an 0-4 streak.
Stats of the Week No. 5: Against the Jets, Wes Welker had more receptions and receiving yards (15, 192) than all Jets receivers combined (8, 136).
Stats of the Week No. 6: In his first 10 games, Jets rookie QB Mark Sanchez has 19 turnovers -- 16 interceptions and three lost fumbles.
Stats of the Week No. 7: Tony Romo is 14-2 in November.
Stats of the Week No. 8: Pittsburgh has allowed a touchdown return (interception, fumble or kick) in eight consecutive games.
Stats of the Week No. 9: Cleveland had more touchdown passes against Detroit (4) than in its previous nine games combined (3).
Stats of the Week No. 10: Arizona, Indianapolis and New Orleans are a combined 15-0 on the road.
[+] Enlarge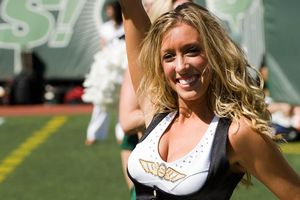 New York JetsGuess who couldn't afford to sit in the Jets' club seats?
Cheerleader of the Week: Lauren Z. of Jersey/B, which rhymes. According to her team bio, Lauren is a dance teacher who likes Broadway shows. Also, according to her team bio, if she could have dinner with any four people from history, she would choose Jesus, Thomas Jefferson, Martin Luther King Jr. and Justin Timberlake. That would be quite a dinner -- except Timberlake would monopolize the conversation. "Dudes, passive resistance, all men are created equal, turn the other cheek -- way cool! Now, what do you guys think of Taylor Swift?" Timberlake's "Why I Love Sports," written for the 2008 ESPYS, was pretty damn clever, and yes, that's Greg Oden accompanying on the piano.
Sweet Play of the Week: All eyes are on Peyton Manning, but the mostly "who-dat?" Indianapolis defense continues to perform well. On the snap before Baltimore missed a field goal that would have given the Ravens a third-quarter lead, Indianapolis stopped a third-and-1 rush for a loss -- undrafted free agent signee Daniel Muir made the tackle. Baltimore reached first-and-goal on the 1-yard line in the fourth quarter, and Indianapolis stuffed three consecutive rushes before the Nevermores settled for a field goal -- Muir had a tackle on that series, as did undrafted free agent signee Gray Brackett. (Undrafted free agent signee Melvin Bullitt made the tackle that stopped New England in the final minute last week.) On the day, Baltimore drives reached the Indianapolis 28, 26, 20, 18, 14, 12 and 1, yet the Ravens never scored a touchdown -- that's sweet defense. The Colts have won their past four games by a combined 10 points -- that's also sweet defense.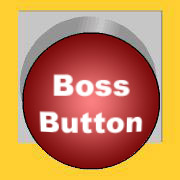 Sour sidelights: Reaching first-and-goal on the Colts' 1, the Ravens went straight ahead on three consecutive snaps -- no misdirection, no shifts. A bit of misdirection is essential for success on short-yardage downs, since the defense is cranked to go straight ahead. Leading 17-15, Indianapolis faced third-and-1 with 2:26 remaining; Manning threw to Reggie Wayne for the first down. Baltimore coach John Harbaugh called timeout, then decided to challenge the spot of the ball, even though the spot looked correct. The lost challenge cost Harbaugh a second timeout. Why didn't he just challenge to begin with? Indianapolis ended up punting back to Baltimore with 28 seconds remaining. Had Harbaugh not wasted a timeout, the Colts would have punted with about a minute remaining, and Baltimore, needing only a field goal, would have had a much more promising situation. Maybe the football gods were punishing Harbaugh for his brother Jim's poor sportsmanship at Stanford? See below.
Sour Play of the Week: With Pittsburgh leading 24-17 with seven minutes remaining in regulation at Kansas City, Matt Cassel pump-faked right, then threw deep left 47 yards to Chris Chambers, setting up the touchdown that forced overtime. On the play, cornerback Ike Taylor let Chambers go when Cassel pump-faked, and no Pittsburgh safety picked him up -- three Steelers were standing like topiary in the middle of the field, covering no one, as the opposition's deep threat streaked deep. But the Pittsburgh defense could get even more sour than that. See below.
Double Sour Play of the Week: Football purists are puzzling over Eric Mangini's timeout call before the final snap of Cleveland at Detroit. A pass interference penalty had given the Lions an untimed down on the Browns' 1-yard line, do or die, to win the game. Matt Stafford had been injured on the previous play; Detroit had no timeouts; unless there is a timeout, an injured player must leave the game for one down; backup quarterback Daunte Culpepper, who had not warmed up, entered for the game-deciding snap. Then Mangini called a timeout. Why? During the stoppage in play, he screamed heatedly at the officials -- Detroit had signaled for a timeout despite not having any left, and normally this would cost the offending team 10 seconds off the clock. Mangini thought a clock runoff should end the game. But because the clock had already expired, the normal penalty call was irrelevant; the principle that a half cannot end on a defensive foul took precedence. Mangini's timeout allowed Stafford to return to the contest, and he threw the winning touchdown pass. The officials looked confused throughout this sequence -- in Mangini's defense, there should have been an official timeout to explain what was happening. And the league's Game Book does not help. Its entry for the ruling in incomprehensible.
More sour than the timeout was the pass interference -- Cleveland safety Hank Poteat wrapped both arms around Detroit's Bryant Johnson as the ball approached. Obvious pass interference on a Hail Mary! The down began with Detroit on the Cleveland 32-yard line and eight seconds remaining on the clock. Because Detroit had no timeouts, the pass had to go to the end zone. The Lions sent four receivers downfield; the Browns dropped eight defenders into coverage; with eight to guard four, Johnson was all by himself in the end zone. This was a spectacular screw-up on Cleveland's part. The pass was coming straight to Johnson, which was why Poteat grabbed him. Tootsie Roll defenders seemed to be watching Stafford scramble around rather than guarding their men. For that matter, since Detroit's sole hope, absent a defensive foul, was a touchdown on what would have been the final play, why weren't all eight Cleveland pass defenders lined up in the end zone?
Sweet 'N' Sour Play: It's cheerio to Dick "Cheerio, Chaps" Jauron. What in tarnation was the point of retaining Cheerio Chaps last offseason only to fire him midway through this season -- did Buffalo management suddenly discover that he was Dick Jauron? Buffalo's recent blown first-round draft picks (J.P. Losman, Mike Williams, John McCargo, Donte Whitner, perhaps Aaron Maybin) and disastrous player-management decisions (megabucks for Langston Walker, who two years later was waived and out of the league, while Jason Peters, Pat Williams, Jim Leonhard, Mario Haggan, Justin Bannan and Jabari Greer were shown the door and all are now starters for better teams than the Bills) were front-office decisions, not head coach decisions.
Anyway, trailing 10-9 at Jacksonville, Buffalo was pinned on its own 2-yard line. Harvard alum Ryan Fitzpatrick was at quarterback (and maybe a little extra fired up because Harvard beat Yale the day before). He came to the line and saw no safety "above" Terrell Owens (no safety on Owens' side of the field). Fitzpatrick audibled to a fly pattern for Owens, and completed a 98-yard touchdown pass, which was sweet. Sour was the fact that cornerback Tyron Brackenridge was playing 10 yards off the line and retreating at the snap, yet still got burned deep. Sour also was the fact that the Jax defense did not respect Fitzpatrick's arm -- Jax probably thought no Harvard boy could throw that far.
[+] Enlarge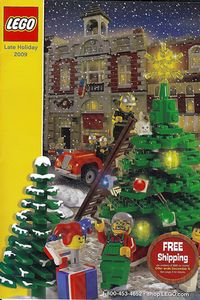 Lego GroupIt's nearly Thanksgiving, get out your Lego Late Holiday 2009 catalogs.
Note 1: Though Owens caught nine passes for 197 yards, he dropped a pass that would have put Buffalo in field goal range in the closing seconds. Note 2: Rather than "hut, hut," Fitzpatrick uses a cadence of "pip, pip."
Unified Field Theory of Creep: John Marx of Scranton, Pa., writes, "On November 18, a Lego catalog arrived at my house titled Late Holiday 2009. Apparently the week before Thanksgiving is now late in the holiday season." Ersal Aslam of New Milford, N.J., notes the Telegraph of London has already named "Avatar" one of the top 100 movies of the past decade -- though no one's seen the film, which opens next month.
Sam LaRoque of St. Paul, Minn., notes Mercedes is already running television advertising for the Mercedes-Benz Winter Event: "The ad concludes with the announcer saying, 'Hurry, offer ends soon.' Will the Winter Event end before meteorological winter starts, on December 1?" No, it ends on Jan. 4 -- thus the Winter Event stops two weeks after winter starts, as reckoned by this year's solstice, which falls on Dec. 21. And many readers, including Becca Josselin of Redwood City, Calif., noted Amazon began a Web-based Black Friday sale on Monday, four days before Black Friday.
[+] Enlarge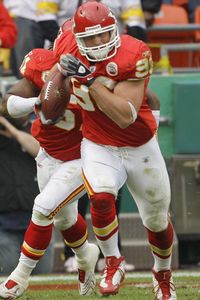 AP Photo/Charlie RiedelDivision III boy makes good!
Division III Player of the Week: While Pierre Garçon, out of Division III Mount Union, was catching six passes for 108 yards against Baltimore, Andy Studebaker, out of Division III Wheaton, ran an interception back 94 yards against Pittsburgh, setting up a score in Kansas City's huge upset. Now a linebacker, Studebaker was a defensive end in Division III; on the play, he outran several highly drafted Division I gentlemen.
'Tis Better to Have Rushed and Lost Than Never to Have Rushed At All: Leading 17-14 at Kansas City, Pittsburgh reached first-and-goal on the Chiefs' 9; the call was a shotgun spread pass, intercepted by Studebaker. Kansas City entered the game 27th in rushing defense. The Steelers won the Super Bowl last season without being able to rush -- what are the chances they can accomplish this again? And, as noted by reader Jesse Mendelson of Pittsburgh, in overtime on Sunday the Steelers punted on fourth-and-5 from the Kansas City 38-yard line. The Steelers gained 515 yards on offense in the game and averaged 6.6 yards per offensive snap -- don't punt in overtime in opposition territory!
Adventures in Officiating: In the Washington-at-Dallas contest, there was an eight-minute stoppage in play while officials and coaches argued about whether the Redskins should be called for … delay of game.
Football Gods Appeased? Last week, TMQ supposed of Bill Belichick's failed fourth-and-2 attempt from his own 28, "Though the fourth-down try failed to defeat Indianapolis, Belichick might still profit down the road. By being hyper-aggressive, he challenged his young Patriots offense to show it can finish games." On Sunday, New England delivered an excellent offensive performance. Had one of the football gods appeared to Belichick two weeks ago and said, "You may beat either the Colts or the Jets, now choose," Belichick would have answered the Jets without hesitation, since division games are more important to most playoff calculations.
[+] Enlarge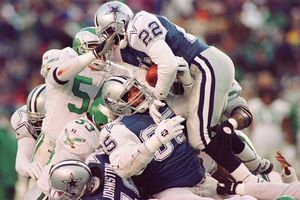 Getty ImagesEmmitt Smith was stopped on fourth-and-1 in his own territory, just as the Patriots were stopped -- and the Cowboys ended that season with the Vince Lombardi Trophy.
Note 1: My favorite football god is Lambasthor, god of halftime tirades. Note 2: Reader Jeff Swearingen of Edmonds, Wash., reminds that in 1995, Dallas went for it on fourth-and-1 from its own 29 in the closing moments of a tie game, in order to avoid punting back to the Eagles. The Cowboys were stuffed, and went on to lose by three -- the Cowboys also went on to win the Super Bowl that season. Note 3: Reader Shawn Dolan of Ottawa, Ontario, reports (and bear in mind that under Canadian rules, third down is fourth down): "In Saturday's Mitchell Bowl, the Canadian college football semifinal, the Queens Gaels faced third-and-2 early in the fourth quarter and went for it, getting the first down. Later, facing another third-and-2 near midfield and clinging to a three-point lead with three minutes to go, [they] went for it and converted. Queen's University held on to upset heavily favored Laval and secure a berth in the Vanier Cup, the championship game of Canadian college football."
Thanksgiving Creep: Chris Foster of Melbourne, Fla., blames government for encouraging creep: "Until the 1930s, Thanksgiving was observed whenever the presidential proclamation went out -- traditionally, on the last Thursday of November. In 1939, the last Thursday of November fell on the 30th; Franklin Roosevelt moved Thanksgiving up to the 23rd, in response to requests from retailers who wanted a longer Christmas shopping season. After some resistance, the early date stuck. In this century, there will be a few Thanksgivings on the 28th, but none observed any later in November than that." In 2012, Thanksgiving will fall on Nov. 22, rather than the 29th as it would have pre-FDR, creating a 32-day Christmas shopping season -- almost a 10th of the year will be Christmas shopping season! Possibly this will, after all, cause the world to end in 2012.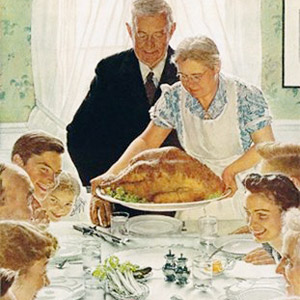 Norman RockwellChildren, give thanks for holiday creep.
Falcons Meet Giants; Somebody Has to Win: Atlanta at Jersey/A was a desperation game for both teams, which were 2008 playoff clubs, but entered the contest on a combined 1-7 stretch. The Giants won, and at 6-4, hold a decent hand; Atlanta at 5-5 is now in trouble. Kevin Boss of Jersey/A -- an afterthought in the 2007 draft, when he was chosen late out of Division II Western Oregon -- caught two touchdown passes, and now may be the NFL's best tight end. Dallas Clark and Tony Gonzalez are better pass-catchers, but Boss is the better blocker: If NFL general managers held a draft of tight ends, I bet Boss would be the first selection. On his second touchdown reception, with the Giants facing third-and-3 on the Falcons' 4, he lined up in-line, in the traditional tight end spot, but standing up rather than in a three-point stance. Just this slight variation on routine seemed to confuse the defense about whether he would block or go out, and Atlanta allowed him to run a simple turn-in for six.
As for Atlanta, since taking the field for their playoff appearance in January, the Falcons are 5-6. Obviously injuries haven't helped, with Michael Turner out of the lineup and Peria Jerry and William Moore, Atlanta's first two draft selections of 2009, on injured reserve. But in the NFL, everybody has injuries: The Indianapolis defense continues to play well despite losing Bob Sanders and two other starters for the season. Matt Ryan might be having a sophomore slump -- Joe Flacco, the other rookie quarterback star of 2008, is also in a slump. Ryan keeps trying to force the ball to Roddy White, Atlanta's big-play threat, but it's not working. On Sunday, Ryan threw to White 12 times, yielding four receptions and just 45 yards. Atlanta's defense is weak -- ranked 28th, it trails Buffalo, Oakland and Tampa, which is not pretty. The ultimate problem may be that Atlanta just isn't that good. Last season, the Falcons were 2-3 against teams which made the playoffs. So far this year, the Falcons are 0-3 against teams that would make the playoffs if the season ended today. Atlanta needs to do a lot better in big games if it's going to record the first back-to-back winning seasons in franchise annals.
[+] Enlarge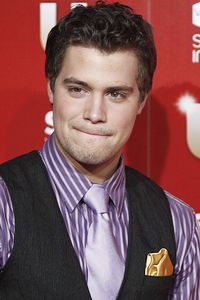 AP Photo/Matt SaylesTake it off! Take it all off!
More Proof of the Decline of Western Civilization: "LEVI JOHNSTON'S PLAYGIRL SHOOT WAS 'FANTASTIC,' INVOLVES HOCKEY STICK." -- Actual Associated Press headline last week.
Hidden Plays of the Week: Hidden plays are ones which never make highlight reels, but stop or sustain drives. Jersey/A leading 24-14, Michael Jenkins of Atlanta dropped a perfectly thrown pass in the end zone on the snap before the Falcons settled for a field goal. Ultimately, the Giants won in overtime; had Jenkins caught the pass, the fourth quarter of this game would have been very different.
Three snaps before the 29-yard touchdown pass to Louis Murphy, which tied the Oakland-Cincinnati game at 17 with 33 seconds remaining, the Raiders faced third-and-10 on the Bengals' 45. Cincinnati cornerback Jonathan Joseph dropped an interception that would have ended the contest; it was no easy catch, but Joseph did have both hands on the ball. Then on fourth-and-10, Bruce Gradkowski threw 16 yards to Chaz Schilens for the first down that set up the tying touchdown. Gradkowski's four final pass attempts were directed to the unknown Schilens or the little-known Murphy, who were single-covered as Cincinnati doubled up on the mega-hyped, mega-bucks, underachieving Darrius Heyward-Bey. Had either of the hidden plays gone Cincinnati's way, no upset would have occurred. And then -- krumble on the play! Cincinnati fumbled the ensuing kickoff, and TMQ contends that the fumbled kickoff is the most damaging of turnovers, since a team that has just scored gets the ball right back.
Half of the Oakland players and coaches along the sideline wore heavy woolen ski caps -- in California! The kickoff temperature was 54 degrees. If Oakland players and coaches need ski caps to withstand California weather before Thanksgiving, how are they going to handle the elements when the Raiders play at Cleveland after Christmas? Many Bears players and coaches wore woolen ski caps on the sideline at Chicago, with a kickoff temperature of 47 degrees. Didn't the Monsters of the Midway once laugh at cold?
'Tis Better to Have Rushed and Lost Than Never to Have Rushed At All (Part 2): TMQ continues to be unable to understand the Carolina Panthers. Carolina came into its Miami game ranked third in rushing and 21st in passing, with five rushing turnovers and 15 turnovers on passing plays. So what did the Cats feature? Game scoreless, Carolina reached first-and-goal on the Miami 7 and went incompletion, incompletion, sack, field goal. Later, facing third-and-1, the Panthers threw incomplete, then punted. Later, trailing 14-3, with third-and-3 on the Marine Mammals' 24, Jake Delhomme heave-hoed the ball -- interception. To that point, the Panthers had 130 rushing yards and 45 passing yards; had the Cats simply run on third-and-3, at least a field goal was likely, and the fourth quarter might have been far different. On the night, Carolina averaged 6.7 yards per rush and 4.4 yards per pass -- it's rare for the rush average to exceed the pass average. Yet, counting sacks and scrambles, Carolina coaches radioed in 48 passing plays and 25 rushes. The Panthers were not playing catch-up against a big lead; the game was close all night. In his past 11 games, Delhomme has thrown 19 interceptions -- and Carolina coaches keep calling passes. I just do not understand what is going through the minds of the Carolina coaching staff.
Little Things Matter: Mark LeVoir, New England's third-string left tackle, was pressed into service in the second quarter against Jersey/B, and mainly played well, though the Patriots' offensive scheme does not give help to the left tackle. On the second-to-last snap of the first half, LeVoir had an "olé" moment -- Bart Scott burned him badly on a swim move and hit Tom Brady as Brady released the ball. On the next snap, LeVoir had help blocking Scott; New England coaches reacted immediately to indication of a problem.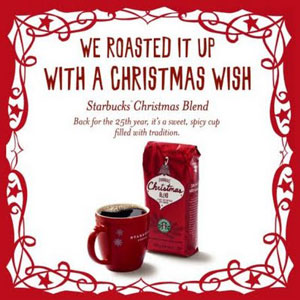 StarbucksTMQ couldn't stop himself.
I Am a Bad, Bad Person: On Saturday, Nov. 21, I ducked into a Starbucks for a coffee. And I could not prevent myself from buying two pounds of Christmas blend.
"Monday Night Football" Analysis: Everybody's saying the Flaming Thumbtacks are back because of Vince Young; TMQ readers are clued in to the real reason: Brett Kern. Let's be realistic -- Young still has a lot to learn about the passing game. Monday night he threw 22 times for a net of 116 yards, which is modest at best. The "MNF" announcers were praising Young's passes so lavishly, it was as if an NFL quarterback's completing a 10-yard buttonhook represented a remarkable achievement in human history. Other quarterbacks who threw for only 116 yards in a game would worry about getting the hook. But Young's field awareness and running ability bring so much to the table, his teams win even when his passing performance is bland.
Quarterbacks who can suddenly change direction and sprint down the field drive defenses crazy. Young's sprinting ability forces the back side of the defense to "stay home," which helps Tennessee's running backs to be effective -- no defense dares overpursue against Young.
It's been only four games, but if the Titans keep winning, not only will Jeff Fisher's job be saved and 2010 look bright for the franchise -- Young will earn millions of dollars for Tim Tebow. For months, NFL scouts and touts have been debating whether Tebow should be a first-round pick. Young is the NFL player most similar to Tebow; if Young's comeback continues, Tebow's stock will soar.
Sweet play of Monday night: Facing third-and-3 on the Houston 13-yard line, Tennessee brought a man in motion from right to left; faked an end-around going left; Young rolled right, with Chris Johnson directly in front of him, which made the defense think the action really was a bootleg right and short toss to Johnson; then Young threw deep to Kenny Britt, crossing left to right from the far left. Sweet play -- first it looked like an end-around left, then like a bootleg right and short pass, but always was intended to go to Britt deep down the field. Not only was there plenty of misdirection, what Young saw was a simple picture: His progression was "look for Britt, and if he's not open, check down to Johnson," with Johnson in the same frame, where he would be easy to spot. Well-drawn play.
As for the Texans, this is the franchise's eighth season, and it has yet to win a high-profile game. The Texas have never been to the postseason, and are a long shot now at 5-5. Monday night should have been their coming-out party, considering it was "Monday Night Football" at home. At the last, the Texans were too timid. Trailing by three, they had the ball on the Tennessee 31-yard line with eight seconds remaining, holding a timeout; coach Gary Kubiak had Matt Schaub take a dive to position the ball at the center of the field, then in came the kicker -- a kicker who's not having a good season. With eight seconds and a timeout, the Texans could have run a play to make the field goal attempt shorter, or taken a shot at the end zone and tried to win! Last season, the Texans were 2-5 against teams that made the playoffs; so far this year, they are 1-2 against teams that would be in the playoffs if the season ended today. The Texans may have the same core problem as the Falcons: Fundamentally, they're just not good enough. Too bad Monday night's game wasn't a throwback special -- in throwback terms, it would have been Houston at Houston.
In Defense of Being Pass-Wacky: Do teams such as Indianapolis, New England and New Orleans pass so much because they can't run? They pass so much because other things being equal, passing gains more yards than rushing. But they run when they need to. Indianapolis picked up a power-rush touchdown against Baltimore, after winning on a power-rush touchdown the week before. Hosting Jersey/B, New England converted a fourth-and-1, and four third-and-1s, with power rushes. Reaching the City of Tampa 35 at the start of the fourth quarter, New Orleans iced the game with seven consecutive rushes, the last for a touchdown. For all its pass-happy rep, New Orleans is quietly fifth in the NFL in rushing, ahead of traditional rushing powerhouses Jersey/A and Minnesota. A passing-oriented offense which can rush when needed is an offense built for the postseason.
Programming note: The Packers-at-Vikings "Monday Night Football" game earlier this season set numerous ratings records. Will the upcoming Patriots-at-Saints game on Monday night break those records? New Orleans has the best scoring margin in the NFL, plus-165, meaning its average victory margin is 16.5 points. New England has the second-best margin, plus-126.
[+] Enlarge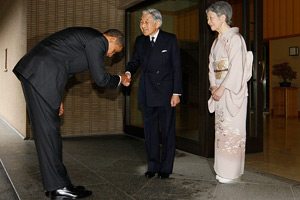 AP Photo/Charles DharapakAmericans respect Japan -- but we do not bow before anyone's royalty!
Mr. President -- Americans Don't Bow to Royalty! The right-wing wing-nut faction is blasting Barack Obama for bowing to His Imperial Majesty the Emperor. That's how you are supposed to address the guy; you are not supposed to speak his name, Akihito. The wing-nuts are correct in this case: Americans, do not bow before royalty! That has pretty much been our policy for the past 233 years. Only the Japanese can say why Japan should still have a royal figurehead, much less with the goofy title "emperor." The United Kingdom, the Netherlands, Sweden and other nations can say why figurehead royalty still exists. But Americans don't bow to aristocrats. Our national spirit rejects the legitimacy of inherited positions.
Local custom, you say? TMQ does not much like Dick Cheney, but when he met Akihito in 2007, they shook hands. When Norman Schwarzkopf received an honorary knighthood in 1991, he said he would do so only if he were not required to kneel, because Americans do not prostrate themselves before royalty, even the royalty of good friends. Elizabeth II gave Schwarzkopf a box containing emblems of his knighthood, then they shook hands. If Akihito had bowed back to Obama, maybe that would have been OK as local custom. (You take turns bowing in Japanese culture.) If Obama had bowed to Prime Minister Yukio Hatoyama, the democratically elected leader of Japan, and Hatoyama had bowed back, that would have been fine -- Hatoyama represents the free choice of his people. For the democratically elected leader of the United States to humble himself before a royal who acquired his wealth and status entirely by accident of birth, while the "emperor" looks on smiling, is outlandish.
Rush Seven to Block That Kick: TMQ contends NFL coaches don't try to block punts as often as they should. Use your DVR, and observe that usually only three or four men rush the punter; most of the time, most are peeling back to set up the return. But a punt block, which is as good as a turnover, is more likely than a monster return. Against New England, Jersey/B sent seven gentlemen after a punt, and the result was a block recovered for a touchdown.
Pull Starters Once the Game Is Secure: Why was Drew Brees on the field in the fourth quarter with the Saints ahead 31-7? When Minnesota led Seattle 28-3 late in the third quarter, Brett Favre sat down. Brees has never been injury-prone, but there's no need to tempt fate. TMQ is not sold on the Vikings: To me they seem ripe for a late-season collapse. Brad Childress enters the season 24-25 as Minnesota coach, goes on a terrific run and immediately gets a long-term contract extension. Did he really suddenly become a much better coach in 2009? That sort of thing makes me think the Hyperboreans are ripe for a late-season collapse. But if the season ended today, Favre might best Brees and Peyton Manning for MVP.
Hurricanes? Worry About Tornadoes! The 2009 Atlantic hurricane season ends in a few days, and fortunately was quiet -- three hurricanes, below the historical average of six per season, and only one storm (Bill) above Category 3. Because 2005 was a horrible year for hurricanes reaching the United States -- Katrina, Rita -- some people who seem like they know what they are talking about, such as former vice president Al Gore, began claiming hurricane activity is rising owing to artificially triggered climate change. "The scientific community is warning us that the average hurricane will continue to get stronger because of global warming" Gore said in a 2005 speech likening hurricanes to al-Qaida and the approach of World War II. But 2006 and 2007 were below-average years for Atlantic hurricanes in number and in strength, 2008 was average, and now 2009 finishes below-average. That's four consecutive hurricane seasons that have not been bad.
[+] Enlarge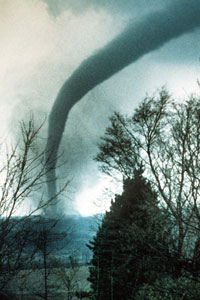 AP Photo/Carston BuehlerDeadly -- and climate change harbinger?
Four years of quiet on the hurricane front do not disprove climate change. The National Academy of Sciences has found that human action now has an impact on climate, which may raise the temperature of oceans, which might someday lead to more or stronger hurricanes. But so far, there's no evidence that Atlantic hurricanes are behaving any differently than they did before significant human-caused emissions of greenhouse gases. Through the past century, hurricanes striking the United States have tended to be less deadly and more costly; better forecasting reduces deaths, but ever-more construction in sought-after coastal areas means greater damage. There is no discernible century-long trend of rising hurricane incidence or intensity.
Tornadoes are another matter. A decade ago, yours truly wrote in The New Republic that the rise in tornado activity was worrisome; in the past five years, it's gotten worse. Because Doppler warning horns in tornado-alley states have improved awareness, tornado fatalities are lower than in the past, just as hurricane fatalities are lower. But tornado incidence is trending up. Why? Maybe bad luck, maybe natural variation -- or maybe a harbinger of artificial climate change.
Because tornadoes appear suddenly and don't exactly allow you time to scan the Internet for safety procedures, it's a good idea to review tornado safety when the sun is shining. This guide from the National Severe Storms Laboratory has the basics. Get into a basement, or a ground-floor room far from windows -- bathrooms and closets are best. Avoid highway overpasses. If in a mobile home, simply get out; your odds are better lying on the ground. Far more tornado victims die from being hit by flying objects than by soaring off into the air, which is why avoiding windows and lying flat are important.
Substantial media attention has been granted to the dubious notion of hurricanes as harbingers of global warming, while zero national media attention goes to tornado trends. Hurricanes generate spectacular visuals for television, and last several days, making them "stories with legs" in media terms. Tornadoes are notoriously difficult to photograph, and last a few minutes. They may bear the stronger message about climate trends.
[+] Enlarge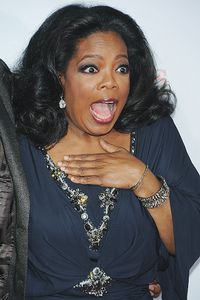 Jeffrey Mayer/WireImageBrett Favre received a text mail from Oprah, indicating she is rethinking her retirement plans.
Maroon Zone Play of the Day: Trailing Arizona 21-6 in the fourth quarter, St. Louis went for it on fourth-and-7 at the Cactus Wrens' 41, converting on a penalty -- then went for it again on fourth-and-11 at the Arizona 26 with eight minutes remaining. Most NFL coaches would have taken the field goal at that point, in order to reduce the final margin of defeat; the football gods rewarded Les Mouflons' boldness with a touchdown on the possession, and the remainder of the contest was interesting. Too bad this wasn't one of the season's designated throwback games -- rather than Arizona at St. Louis, it would have been St. Louis at Los Angeles.
Oprah Creep: As many readers, including Grace Leon of Lincoln Park, Ill., noted, Oprah said goodbye to her viewers almost two years before she actually plans to leave. Oprah further described the time between now and her CBS show's announced end in September 2011 as "an 18-month ride." It is a 22-month ride.
Buck-Buck-Brawckkkkkkk No. 1: Trailing 21-0 in the second half at Minnesota, Seattle punted on fourth-and-1 at midfield. Then trailing 28-0 at the end of the third quarter, the Seahawks kicked a field goal. Even if the Green Men Group rushed for only a total of 4 yards on the day (actual figure), they should at least try to win.
[+] Enlarge
AP Photo/Chris SchneiderThe Broncos' team needs the same "giddyup" spirit as the cheerleaders.
Buck-Buck-Brawckkkkkkk No. 2: Trailing San Diego 13-0 in the third quarter, Denver's Josh "When Does the Frat Party Start?" McDaniels sent the kicking unit onto the field on fourth-and-goal from the Bolts' 5. Needless to say, Denver went on to lose, by a final of 32-3. Down 13 in the second half, you need touchdowns, not figgies; Denver would have been better off going for it and failing, thus pinning the Chargers deep, than launching a mincing kick. The Broncos did follow with an onside -- but the gamble should have come from the San Diego 5. In the endgame, trailing 26-3 and facing fourth-and-15 on the San Diego 19, then McDaniels went for it. This is the classic example of the football coach who does the conservative thing when a gamble might still win the game, then gambles when it makes no difference.
Chicago: Graveyard of Quarterbacks: Whine, whine, whine -- at Denver, Jay Cutler sure did whine about not being appreciated enough. If you're going to talk about how great you are, you better back it up with performance, which Cutler obviously is not doing in Chicago. Philadelphia leading 10-0, the Bears had second-and-2 on the Eagles' 27, and on consecutive snaps Cutler, with good blocking, badly missed open receivers. Chicago settled for a field goal. Chicago gave up two first-round choices and other booty to get Cutler, then last month signed him to a mega-bucks extension to stop him from whining about his contract. Shouldn't Chicago first have waited to see if Cutler would perform? The Bears may be in the market for a new quarterback as soon as January.
[+] Enlarge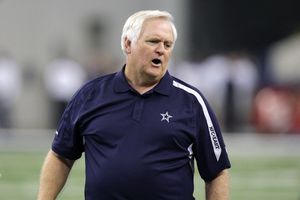 AP Photo/LM Otero"My stars. Land's sakes. For the love of McGillicuddy."
Buck-Buck-Brawckkkkkkk No. 3: Leading 3-0 in the third quarter, Washington punted from the Dallas 38. Knowing only this fact, which team do you think won the game?
The Football Gods Chortled: When coach of the University of San Diego, Jim Harbaugh once went for two with a 47-7 lead. Did Harbaugh learn a lesson about sportsmanship? Apparently not. Leading USC 48-21 in the fourth quarter, Stanford went for two in a frantic attempt to run up the score. This act of poor sportsmanship was repaid over the weekend as the Cardinal lost to Cal, ending Stanford's Rose Bowl hopes.
Reader Comments: TMQ thinks celebration penalties are ridiculous. Peter Wunsch of East Northport, N.Y., notes that when Legedu Naanee of San Diego knelt to present a football to the Chargers' cheerleaders after scoring a touchdown -- the photo is at the bottom of last week's TMQ -- it drew a 15-yard celebration penalty: "Yet jumping into the stands at Lambeau Field is allowed." I checked, and there is nothing in the NFL rulebook that says, "Celebration penalties do not apply in Wisconsin." Why is jumping into the stands fine at Lambeau, but jumping up and down a foul at other stadia? Come on NFL, NCAA and NFHS -- football is entertainment, get rid of the ridiculous celebration penalty. Celebrating touchdowns should be encouraged!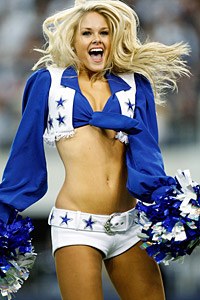 Ronald Martinez/Getty ImagesAt this point, a 7-6 final score is considered exciting in Dallas.
After the Patriots-Colts game, there was a brouhaha when some oaf from the New England staff shoved an NBC cameraman. Bill Rather of Franklin, Ind., provides the photo. Chris Mortensen of ESPN reported Sunday that the oaf, Mark Briggs, has been reprimanded by the league. Rather shifts to the more pertinent question: Why does an NFL coach need a bodyguard? He asks, "Does he not have faith in his numerous 300-pounds-plus, heavily armored lineman to protect their coach going to the locker room? Or is the bodyguard just for his ego?" At least this security detail is not taxpayer-funded. Brent Wunderlich of Anchorage, Alaska, writes, "During the LSU-Ole Miss game, the cameras often showed LSU coach [Les] Miles. Behind him, I saw a state trooper with Louisiana insignia on his uniform. This wouldn't have been weird, except that the game was played in Oxford, Mississippi!"
Public officials traveling with bodyguards in order to make themselves feel important is matched in offensiveness by public officials traveling in private jets in order to make themselves feel important. Daniel Jenkins of Xenia, Ohio, notes this story appears to say Ohio is cutting back on ego-flattering private aircraft for state officials -- but if you read to the bottom, you find that Ohio wants to spend $10.2 million on new planes. Ohio has all kinds of budget problems; Gov. Ted Strickland has twice this year pleaded with Washington for a special bailout. Yet the state wants to spend $10.2 million on new luxury aircraft for its officials. Jenkins asks, "Why can't state government officials fly commercial like everybody else?" Ohio is not especially large geographically, so you don't need to fly to get around; officials could simply ride in cars, like taxpayers do. But private aircraft make them feel important -- "I am so astonishingly important, an aircraft must be waiting for me. I am much too super-important to stand in an airport line!" When Strickland goes to Washington to plead for more subsidies, does he fly in a private plane, like a Detroit CEO?
James Smith of Milton, N.H., provides this hilarious video of Bethel of Kansas scoring a touchdown against Sterling by using an over-the-head no-look trick pass. The touchdown was caught by a defensive end lining up as an extra tight end.
On the basketball cupcake-game front, Jonathan Nixon of Newport, N.C., writes, "Why wasn't [there] outrage over Tennessee's drubbing of UNC-Asheville by 124-49? In my opinion, this was the most disrespectful display of unsportsmanlike conduct by a team in a very long time, and not really because of the score. ESPN showed highlights of UT players throwing down fancy dunks and bombing threes even after the team passed 100 points. Tennessee attempted 16 three-pointers in the second half! UT was clearly better at the game of basketball, but I can't say they were the better team." On the sportsmanship front, defending champion Florida bravely faced Florida International -- which entered the game having lost 37 of its past 46 games -- and leading 49-3 at the start of the fourth quarter, furiously ran up the score by continuing to pass, with two touchdown passes in the final stanza. And, as noted by reader Lee Albacker of Boston, after furiously running up the score to 63-6 against Division I-AA Delaware State -- including continuing to throw passes when ahead by 50 points in the fourth quarter -- Michigan went on to lose its next five games and drop out of bowl contention.
[+] Enlarge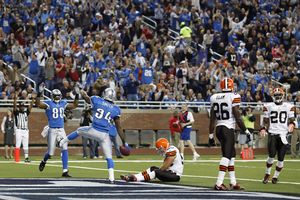 Joe Robbins/Getty Images"We did it! We defeated a 1-8 team!"
Finally, last week I credited futurist Ray Kurzweil with the term "technological singularity," a hypothesized coming moment when technology accelerates so much that artificial intellect or some similar weird breakthrough happens. Official Brother Neil Easterbrook informs me this concept should be credited to computer scientist Vernor Vinge, "who coined the term in a talk to NASA engineers, given in 1992. He guestimated the technological singularity would happen in about 20 years. That's 2012."
Cleveland, Detroit on a Combined 7-45 Stretch: When 1-8 Cleveland played at 1-8 Detroit, the game was blacked out locally, for humanitarian reasons. It turned out to be quite an entertaining contest. You've got to love any game in which the Detroit Lions, entering on a 2-31 stretch, were three-point favorites.
Actual Friday Night Lights: Here's the game you wish you had been at Friday night: Old Mill and Arundel, two high schools near Annapolis, Md., played to a 58-55 overtime victory for Old Mill. Arundel, which uses a hyper-hurry-up all-passing attack, attempted 60 passes in the contest. An NFL team typically attempts 30-35 passes during a game that lasts 60 minutes; 60 passes during a game that lasts 48 minutes is a hard-to-believe pace. Old Mill countered with a running back named Josh Furman who rushed for 414 yards; the kid has 1,165 yards rushing in his past five games! To top things off, the winning overtime field goal was hit by a player who missed four PAT kicks in regulation.
[+] Enlarge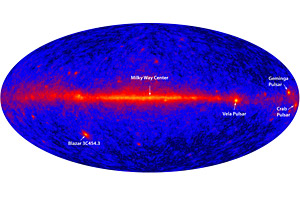 NASAThe "blazer galaxy" is 7 billion light-years away, yet still appears bright from Earth. Good thing this galaxy isn't closer.
Creepy Cosmic Thought: This image from NASA's Gamma Ray Large Area Space Telescope, orbiting Earth, shows our galaxy's central region with red indicating bright gamma-ray sources. On the right is Geminga, the remnant of a supernova that occurred about 300,000 years ago; on the lower left is 3C 454.3, a distant galaxy. Called by astronomers a blazer galaxy, 3C 454.3 is more than 7 billion light-years away, yet so bright it shines right through the thick disc of strong "local" stars at the middle of the Milky Way. Note 3C 454.3 appears roughly at the same brightness as Geminga, despite being 24,000 times farther away. In 2005, galaxy 3C 454.3 was extremely vivid on optical wavelengths; in 2007, it began to dazzle by gamma-ray measures. Astronomers don't know what could cause an entire galaxy to generate so much power, or cause an entire galaxy to vary between visible light and gamma rays, as if a cosmic switch were being thrown. Here is what creeps me out. Gamma radiation is "hard" radiation, deadly to all known forms of life. If 3C 454.3 was a neighbor galaxy to ours, rather than halfway across the universe, all planets in the Milky Way might be lifeless.
Obscure College Score of the Week: Wisconsin-Whitewater 70, Lakeland 7 -- opening round Division III playoffs. The Muskies, a playoff team, lost by 63 points. Located in Sheboygan, Wis., Lakeland College offers an on-campus Breakfast with Santa next month. "Dear Santa, I would like a job when I graduate ..."
Bonus Obscure College Score of the Week: Franklin & Marshall 29, Wilkes 24 -- ECAC South Atlantic Bowl. Several small-college conferences conclude their seasons with bowl games slightly less well known than the Rose or Orange. Located in Wilkes-Barre, Pa., Wilkes University says it offers a "mentoring brand."
Weasel Coach Update: Michigan played in 33 consecutive bowl games before the arrival of weasel coach Rich Rodriguez. Now the 5-7 Wolverines will miss a bowl for the second consecutive year, and with 68 of the 120 Division I football teams headed to a bowl following this season, it's actually getting hard for a major program to miss a bowl invitation. Michigan has fallen from the top to the bottom of the Big Ten, and a program once synonymous with the phrase "above reproach" is now synonymous with the word "investigation." While the university's educational budget continues to suffer, Michigan is spending $226 million to build 82 luxury suites at its stadium for the super-rich. Only 55 suites are spoken for, and nobody's yet actually ponied up the money for the luxo-suite fee. No major-collegiate athletic program has gone from good vides to bad vibes faster than Michigan football.
Single Worst Play of the Season -- So Far: Kansas City facing third-and-5 on its 35 in overtime against defending champion Pittsburgh, the Chiefs threw down-and-out to Chris Chambers, a player San Diego actively wanted to get rid of. Chambers caught for what looked like a short gain: He was surrounded by Steelers, and the Steelers tackle better than any other NFL team. Then he started to motor up the right sideline, and Pittsburgh defenders Ryan Clark, Tyrone Carter and Super Bowl MVP James Harrison all quit on the play. Watch the tape: All three jog rather than sprint after Chambers, each assuming somebody else will get him. But wait, Kansas City tight end Leonard Pope also quit on the play -- he's on the same sideline as his teammate but makes no attempt to block or hustle into the action; he just stands there watching. Chambers himself quits on the play! Reaching the Steelers' 4, Chambers simply steps out of bounds, rather than cut back, though there's only one man left to beat. Kansas City kicked the winning field goal on the next snap, but why didn't Chambers try to get into the end zone and conclude the matter? Pittsburgh Steelers and Kansas City Chiefs, you are both guilty of the single worst play of the season -- so far.
Next Week: Oprah announces she will come out of retirement if she's traded to the Minnesota Vikings.
Author of "The King of Sports"
Former Fulbright distinguished fellow
Contributing editor to "The Atlantic"