Commentary
TMQ's "Twelve Days of Christmas"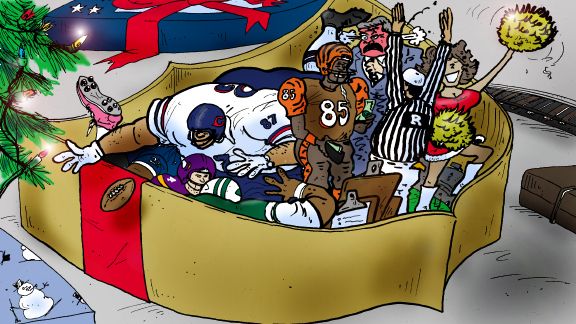 Kurt Snibbe
With Indianapolis the last undefeated team standing, the question is: Why can't anyone figure out the Colts' no-huddle shotgun offense? Lots of NFL teams now go no-huddle occasionally; at the college level, huddles are practically becoming rare. But only the Colts consistently make the no-huddle shotgun click. The Saints usually huddle, and Drew Brees is often under center. The Patriots usually go with the shotgun, but after a huddle. The Steelers and Packers just slugged it out against each other to a 37-36 finish with both teams in the shotgun, often empty-backfield, almost the entire game -- but both teams huddled. The Browns won a game by surprising an opponent with the no-huddle, then went back to a conventional offense. The Bills' no-huddle was a fiasco. In the NFL, only the Colts consistently make the no-huddle shotgun click.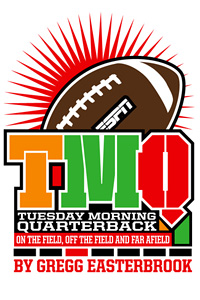 Indianapolis' no-huddle shotgun success is doubly vexing, because the Colts are first in passing yards, but tied for last in rushing yards. When this team approaches the line of scrimmage, it's not like there is some enormous mystery regarding what they're going to do. So how do you explain the success of the Colts' no-huddle?
One explanation is great offensive line play, led by TMQ's main man, undrafted future Hall of Famer Jeff Saturday. The Colts' offensive line has allowed the fewest sacks in the league, and also allowed the fewest quarterback hits. Another explanation is continuity -- Peyton Manning has worked with the same offensive coordinator his entire NFL career. Another reason is Manning himself -- he's fairly good. Another reason is that the no-huddle pace is so fast, defensive substitutions are limited. That means in the second half, the Colts face a tired defense, since playing defense is more tiring than playing offense.
But here, TMQ thinks, is the real reason the Indianapolis attack is so hard to stop, generating 23 victories in its last 24 games: Manning is the sole NFL quarterback who calls his own plays. Tom Moore says he radios in "suggestions" to Manning, and he's not being cute. Many plays drawn up by Moore and Manning have multiple options -- any one of several things can happen, depending on the defense. When Manning comes to the line, he chooses which variation to use. Most of the time, Manning simply calls whatever he wants to call. Often several of the receivers are running "sight adjustments." They don't have a specific pattern called at the line -- rather, they run what seems likely to be open given the defensive set.
Having Manning call his own plays is extremely effective. Obviously, many quarterbacks lack his level of ability. But TMQ thinks the real reason more NFL quarterbacks don't call their own plays is coaching bureaucracy. The coaches want to be in control, and maintain their illusion of possessing super-ultra-secret insider knowledge. No mere player could call a down-and-out -- only coaches have that kind of skill! By not letting quarterbacks call their own plays, NFL teams concede an advantage to the Colts. Which, needless to say, is fine with the Colts.
In other football news, Pittsburgh gained only 65 yards rushing, allowed five sacks, committed 10 penalties, gave up 436 yards on defense, and won Sunday. Did the final drive against Green Bay save the defending champions' season? The Steelers now have at least some hope of a wild-card invite. Officially, the Steelers' final drive was 11 plays and 89 yards -- but Pittsburgh snapped the ball 16 times, with five plays being nullified by penalties. No rushing; 16 consecutive called passes. On that drive, Pittsburgh faced a fourth-and-7, a first-and-20 and a third-and-15. Green Bay played most of the drive in the infamous "prevent" defense, which prevents only punts -- a three-man rush and the secondary soft. On the fourth-and-7 conversion, linebacker Nick Barnett ended up covering Santonio Holmes, even though Green Bay had eight defenders to cover five receivers; three Packers covered no one at all while February's Super Bowl MVP was chased by a linebacker, and gained 32 yards. But that wasn't the worst moment for Green Bay -- see the end of the column for the worst.
This week's TMQ Christmas Wonderland includes cartoons by Kurt Snibbe illustrating my "NFL Twelve Days of Christmas," which appears in its entirety at the end of the column. Get together with your friends, drink a cup of wassail, bake some figgy pudding and sing the song!
In college news, TMQ contends that football-factory coaches emphasize winning above all else because there is no reward for academic outcomes. Cory Scott of Ambler, Pa., notes this column by Jay Paterno, the quarterbacks coach at Penn State and Joe's son, proposing that academic success be added as a factor in the BCS formula. If it were a factor, Jay Paterno finds, Alabama would still be in the title game next month -- but facing TCU rather than Texas. Here, Lindsey Luebchow of Yale Law School takes a similar approach with her third annual Academic BCS rankings. Luebchow analyzes the top 25 football schools at season's end and factors in both graduation numbers and the NCAA's "academic progress rate." Looked at this way, with more classroom emphasis than Paterno's ranking, the BCS Championship Game would pit Penn State against Stanford -- while Texas, with horrible academic stats for football, plummets all the way down from No. 2 to No. 25 and an appearance in TMQ's Tuesday Morning Quarterback Bowl Presented by TMQ.
[+] Enlarge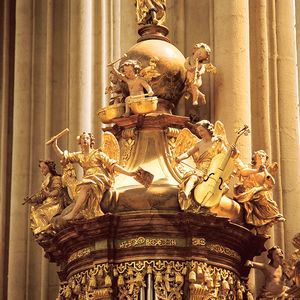 Imagno/Getty ImagesThe chorus angelorum sends holiday good wishes to all space aliens, mega-babes and football enthusiasts.
Paterno and Luebchow are on to something big. The BCS is all about elaborate computer formulas. Football-factory coaches and boosters often claim for the sake of show they care about academics. Make it official -- add academic measures to the BCS computer formula! Do this, and within a single year there would be intense focus on classroom performance at every BCS-hopeful school. This isn't a whimsical idea, it is a perfectly serious and practical idea -- if the NCAA and the BCS want to prove they're not just moving their mouths when they say they care about GPAs and graduation.
In thoughts-for-the-holidays news, do you consider the universe complete? Actually, the cosmos is still forming -- getting both bigger and brighter. See more below. Tuesday Morning Quarterback sends holiday good wishes to all space aliens, mega-babes and football enthusiasts. Bells are ringing all across the local star cluster!
Stats of the Week No. 1: Indianapolis has won 23 of its past 24 games, with the sole loss an overtime game in which the Colts never had an offensive possession in the OT period.
Stats of the Week No. 2: Going back to last season, Tennessee has had a 13-2 stretch, followed by an 0-8 streak, followed by a 7-1 stretch.
Stats of the Week No. 3: Oakland is 19-5 all time against Denver in December.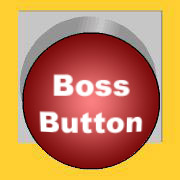 Stats of the Week No. 4: Kansas City gained 491 yards at home on Sunday, and lost.
Stats of the Week No. 5: Atlanta and Carolina won, and were eliminated from playoff contention; Minnesota lost, and clinched its division.
Stats of the Week No. 6: Philip Rivers is 26-6 at home as San Diego's starting quarterback.
Stats of the Week No. 7: New England has beaten Buffalo 13 straight times, outscoring the Bills 363-121.
Stats of the Week No. 8: At 10:26 p.m. ET on Thursday, in the fourth quarter, the first punt of the Indianapolis-Jacksonville game occurred.
Stats of the Week No. 9: Late in the second quarter Monday night, the Giants had 226 yards of offense, and the Redskins had minus-2 yards.
Stats of the Week No. 10: Green Bay has not won in Pittsburgh in 39 years.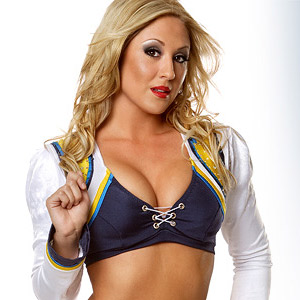 San Diego ChargersThe go-to cheerleader for college admissions guidance.
Cheerleader of the Week Carly S. of San Diego, who, according to her team bio, has a bachelor's degree from California State University, Sacramento, and hopes to attain a master's degree in education, with the goal of becoming a college counselor. Boys' interest in college will skyrocket at whatever high school she works.
Sweet Play of the Week: With mega-underdog Carolina trailing Minnesota 7-6 near the end of the third quarter, undrafted free agent QB Matt Moore threw deep to Steve Smith, whose 26-yard touchdown catch was nullified by a penalty against the Cats. Now it was third-and-26 on the Minnesota 42-yard line. Carolina called the same pattern for Smith, who caught a perfectly thrown touchdown pass -- TMQ loves the tactic of coming right back to a play that just failed. Then, with Carolina leading 19-7 late in the game, Moore faked a toss left, bootlegged right and threw a perfect 55-yard strike to Gary Barnidge, icing the game. The undrafted Moore totally outperformed Brett Favre. Perhaps this is the Carolina team we might have seen all year, if the Panthers were not handicapped by Jake Delhomme's interceptions and fumbles.
What defensive gimmicks did Carolina use to shut down Adrian Peterson and contain Favre? The gimmick was no gimmick -- the Panthers played a conventional 4-3 on most downs. It's come to the point where sports commentators think an effective defensive game plan must be based on wild blitzing and unorthodox fronts. Quarterbacks have gotten so concerned about diagnosing unorthodox fronts that now conventional defense seems like a trick!
[+] Enlarge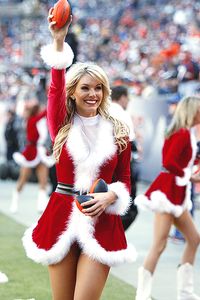 AP Photo/Jack DempseyIn Denver, there was plenty of Christmas cheer until the final snap.
Sour Call of the Week No. 1: Leading 16-13 with six minutes remaining, Denver had a fourth-and-goal on the Oakland 3-yard line, and sent in the kicking unit. A six-point lead is still a one-score lead! The Raiders got a touchdown on the game's final snap, and prevailed, 20-19. A successful try on the fourth-and-goal would have won the game for Denver; a failed try would have left the Long Johns pinned against their own goal line. As the mincing field goal attempt sailed through the uprights, you got the impression Josh "When Does The Frat Party Start?" McDaniels thought the game was already over. Last season, Denver opened 4-1, then went 4-7 the rest of the way. This season Denver opened 6-0, and has gone 2-6 since. The Broncos seem determined to overtake the Cowboys for late-season fades.
Sour Call of the Week No. 2: With the game tied at 24, Cincinnati had San Diego facing a second-and-10 at midfield with 12 seconds remaining in the fourth quarter, and the Bolts out of timeouts. A stop here and the contest would proceed to overtime. Since NFL passing plays average about 7 yards gained -- the Chargers averaged 7.4 yards per pass attempt in this contest -- if Cincinnati used a conventional defense, the odds are San Diego would be stopped short of field goal range. Instead, the Bengals rushed six defenders, basically inviting San Diego to make a big play.
But that's only half the sourness. Because the snap began with 12 seconds remaining and San Diego out of timeouts, San Diego really couldn't risk throwing the ball down the middle -- there might be no time to run up to the line of scrimmage and spike the ball after a completion. The pass had to go either to the end zone or to the sidelines, where the receiver could step out of bounds. Because of the big blitz, the Cincinnati secondary couldn't cover out-routes, they could only defend the center of the field! Malcom Floyd caught a 15-yard sideline route, stepped out of bounds, and San Diego kicked the winning field goal on the game's final snap.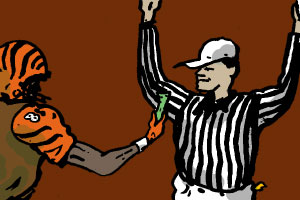 Kurt SnibbeOn the first day of Christmas, the NFL gave to me, a dollar bill for the referee.
Sweet 'N' Sour Play No. 1: Trailing 7-3 at Jersey/B, the Falcons faced fourth-and-goal on the Jets' 6-yard line with 1:42 remaining. Speed receiver Roddy White went in motion left, then spun back in motion right; when no one followed him, this told Atlanta quarterback Matt Ryan the Jets were in a zone look. (Often the point of man-in-motion is to get a clue about whether the defense is playing zone or man.) White ended up as the outside man in a trips right, with tight end Tony Gonzalez the inside man. Gonzalez is 6-foot-5 and had 81 career touchdown receptions up to this point; who do you think the play was designed for? White ran a short post, cutting in front of Gonzalez in a semi-pick; Gonzalez went into the end zone and simply turned around to catch the game-winning touchdown pass. On the play, Jersey/B dropped eight men into coverage against four receivers, with the eight men guarding the relatively small area of the end zone. Yet no one jammed Gonzalez!
Wait though, the game was not over -- after the kickoff, the Jets had 1:32 to work with and two timeouts, needing a field goal to force overtime. Considering the Jets quietly have the league's No. 1 defense, even an average offense would make this team dangerous. But on first down, Alan Faneca was called for a late hit, pushing the ball back from the Jersey/B 32 to the 17. Then erratic glam-boy quarterback Mark Sanchez heave-hoed another interception. (Sanchez has 20 picks, and seems determined to catch Jay Cutler.) Faneca's penalty was among the dumbest you'll ever see.
Sweet 'N' Sour Play No. 2: On the Colts' game-winning play, Reggie Wayne ran an out-and-up, and Peyton Manning pump-faked; the result was a 65-yard touchdown, and the Colts are 14-0 -- sweet. On the play, Jags cornerback Derek Cox simply let Wayne go deep, even though Wayne came into the game as the league's No. 3 receiver. Safety Reggie Nelson initially went toward the center of the field to double-team tight end Dallas Clark, who was covered by a linebacker and had scored a touchdown earlier against linebacker coverage. The result was that for a critical few seconds, no one was covering the league's No. 3 receiver. That was sour -- not only a cornerback simply letting Wayne go, but a defensive alignment that puts a linebacker on a receiver who entered the game with eight touchdown catches.
Sell the Silver Sword on eBay: Al Kamen of the Washington Post details some of the ridiculous ceremonial gifts George W. Bush received as president: a riding coat, a samovar, Moser crystal champagne flutes, a silver sword "with elaborate detailing and carnelian stones." Why the taxpayers of Australia had to pay for an $852 fishing rod given to a man who's already quite rich is not clear -- especially since other nations should know U.S. law forbids the president and cabinet officials from keeping state gifts worth more than a token amount. (Gift specifics for the Obama Administration won't be available till 2010.)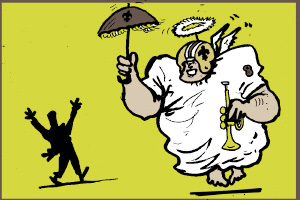 Kurt SnibbeOn the second day of Christmas, the NFL gave to me, ANOTHER NEW ORLEANS TOUCHDOWN!
At White House gift-giving ceremonies, there is always an official present who catalogs the gifts and confiscates them once the foreign dignitary departs. The ceremony at which Italian diplomats presented Bush with 18 Marinella and Ferragamo silk ties, paid for with money forcibly extracted from the pockets of Italian taxpayers, must have been a hoot. Not only was the gift meaningless since Bush couldn't keep it, but why was the president wasting the nation's time ceremonially accepting a bunch of neckties? Kamen reported former Secretary of State Condoleezza Rice received a $230,000 diamond-and-sapphire necklace from King Abdullah of Saudi Arabia. Is the Saudi embassy in Washington so dim it doesn't know U.S. law prevented Rice from keeping the jewelry? Plus that $230,000 didn't come out of the king's pocket, it was presumably stolen from the Saudi people. Abdullah gave Lynne Cheney, the wife of former Vice President Dick Cheney, two pairs of Dr. Scholl's clogs. One can imagine the ceremony: "For you, madam, this priceless set of diamonds and sapphires. And for you, madam, some clogs that were on sale at the CVS."
There is now a huge swag pile accumulated during Bush's terms, and the stuff will go to … a government archive. That is, it will be put away in an enormous storage room like the one at the end of "Raiders of the Lost Ark," never to be seen again. Why aren't the gifts auctioned off to reduce the federal debt? The $495 Montblanc fountain pen given to Bush will be wasted if it's locked up somewhere. Future historians are not going to study the pen, but somebody might pay money to possess the thing. Same for all gifts to presidents and secretaries of state. Auction them off! The fact that the existence of the gifts is fundamentally stupid is no reason their economic value should be thrown away.
[+] Enlarge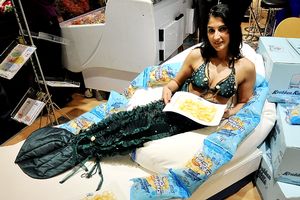 HENNING KAISER/AFP/Getty Images"Hey, baby, want a ride in my personal submarine?"
TMQ's Christmas List: Since this column praises undrafted future Hall of Famer Jeff Saturday, I hope my stocking contains his action figure. Saturday was the Tuesday Morning Quarterback Non-Quarterback Non-Running Back NFL MVP of the 2006 season. I was on to this guy three years before Sports Illustrated noticed him. I'd also like Santa to bring me a personal submarine -- bet I could pick up mermaids cruising in one of these fancier models. But where's the James Bond-inspired deep-sea-diving champagne bucket? Once having picked up a mermaid, I'd maneuver her under this lovely acrylic mistletoe -- acrylic, how romantic! When you spy mistletoe, remember, "Somebody waits for you; kiss her once for me."
Ultra-Sophisticated Holiday Gift Suggestion: "Don't give me books for Christmas; I already have a book." So once said Jean Harlow -- but what did she know? At any bookstore or online seller you can pre-order my next book, "Sonic Boom," about the pluses and minuses of current economic and social trends. The volume doesn't go on sale till Dec. 29, but pre-orders are crucial to a successful book launch -- and ordering one now shows you're thinking ahead! Carl Schramm, president of the Ewing Marion Kauffman Foundation, just said, "'Sonic Boom' is the thinking person's 'Future Shock.'" Links to the major online sellers of the book are at the bottom of this page.
Why the title? Obviously you'll have to read to find out, but it has nothing to do with aeronautics. This time of year, perhaps I should have titled the book, "The Perfect Gift for Anyone on Your List." Or just "The Perfect Gift," as in, "Hey, I got you 'The Perfect Gift.'"
"Monday Night Football" Analysis: Only in Washington could you have one guy calling the running plays (Sherman Smith), another guy calling the passing plays (Sherman Lewis) and a third guy calling the fourth-down plays (Jim Zorn). Maybe what the Redskins need is an even more top-heavy coaching staff -- a guy who calls only screens, a guy who specializes in calling curls, a guy who calls only counter plays to the right on first down in the third quarter. Only in Washington could it seem to make sense to address a problem by putting more people at the top and giving them confused, overlapping responsibilities. Bear this in mind as you hear that more rules and more bureaucracy are the solutions to health care and greenhouse-gas problems.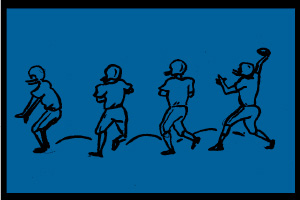 Kurt SnibbeOn the third day of Christmas, the NFL gave to me, a three-step drop.
The Redskins' nutty top-heavy structure revealed itself perfectly Monday night when, trailing 24-0, they lined up for an apparent field goal attempt from the Jersey/A 20-yard line on the final play of the first half. The Redskins then shifted to a trick-play set; the Giants called timeout. Then, after the timeout, Washington did exactly the same thing, lining up for an apparent field goal attempt and then shifting to a trick-play set. Earlier this season, the Redskins showed a field goal trick-play set against Denver, then called timeout, then showed the same trick play again -- and the result was a touchdown. Reverse psychology -- the Broncos were surprised the Redskins would run an action they had just tipped off. But now everyone in the league has film of that, so you can't expect it to work twice! Weirdly, the play looked promising for a moment -- after the shift, Washington had eight players in the left flat defended by five Giants. Holder Hunter Smith was supposed to throw a screen left to tight end Fred Davis. But Smith never had a chance to set up because three Giants came straight at him unblocked. The swinging-gate action is designed for two-point conversion situations -- where, if the defenders in the center of the field come straight at the passer, he just flips the ball forward to the center (who is eligible because he's at the end of the line) for two points. Because the play was run from the 20-yard line, Smith couldn't just flip the ball forward. He ended up heave-hoing an interception that was nearly returned for a touchdown. This is the kind of thing that happens when too many people are in charge.
Who's in charge in Minnesota at the moment? Brett Favre, who refers to the Vikings' coach as "Brad." Not only did Favre refuse an order to leave the game Sunday night against Carolina, in the news conference afterward, he basically announced that Brad takes his orders from Brett. Peyton Manning does not call his coach Jim in public, he calls him Coach Caldwell. Donovan McNabb does not call his coach Andy in public, he calls him Coach Reid. The Vikings seem poised for a meltdown.
Who Looks This Stuff Up? "The last time the Giants had a 16-play game-opening drive was against the Bengals in 1991." (Mike Tirico on "Monday Night Football," seconds after the Giants completed a 16-play game-opening drive.)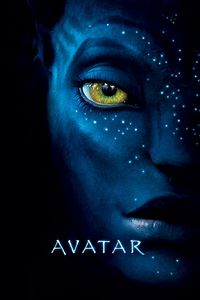 20th Century FoxAn award-nominated movie even before anyone had seen it.
Unified Field Theory of Creep: Becky Kingston of San Bernardino, Calif., was among many readers to note that the outer-space mega-cartoon "Avatar" received a Golden Globe nomination for Best Picture three days before the general public in the United States could see the movie. On Dec. 21, I received the following message from the BlackBerry of the Official Wife of TMQ: "You're not going to believe this, Target has a Valentine's section." Eric of Duncanville, Texas, reports, "On December 16, I passed a Dr. Pepper billboard on the freeway. The tastiness of Dr. Pepper was being touted by -- the Easter Bunny." Mark Eichelberger of Plainfield, Ill., reports, "On Dec. 19 at my Chicago-area Lowe's home center, the top of my receipt said 'Welcome Back Spring.' It wasn't even officially winter yet!" David Leiphart of New York City notes, "On Ford's Canadian Web site, you can register for a chance to win a Ford Fiesta -- specifically, a 2011 Ford Fiesta."
1972 Dolphins Breathe Their First Sigh of Relief: The Saints were lucky to beat woeful Washington, then played only so-so against stumbling Atlanta, then played poorly against Dallas. Tuesday Morning Quarterback thinks the Saints' playoff outlook actually improved with the loss to the Cowboys -- better to have your wake-up call when it doesn't matter than to lay an egg in mid-January. The loss should motivate New Orleans for the final two regular-season tilts, since it remains possible Minnesota could pass the Saints for the top seed in the NFC.
Against the Cowboys, the Saints just did not perform well -- the offensive line was not solid, Drew Brees was off target, two potential touchdown passes were dropped and there was way too much impatient blitzing by tastefully named defensive coordinator Gregg Williams. When the Cowboys led 24-17 with 6:23 remaining and faced third-and-7, a New Orleans six-blitz enabled an easy hook completion to Miles Austin, who ran 32 yards. Though Dallas missed the field goal at the end of the series, New Orleans did not get the ball back till just shy of the two-minute warning. Had Dallas been stopped on the third-and-7, the endgame of this contest might have been very different.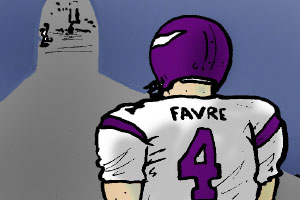 Kurt SnibbeOn the fourth day of Christmas, the NFL gave to me, four on Brett Favre.
As for Dallas, it's just so hard to take the Cowboys seriously. They're on a 4-7 run in December, and last year, needing a win in their final December contest to reach the playoffs, lost 44-6. If Dallas reaches the postseason, next up will be stories about how coach Wade Phillips is 0-4 in his career in the playoffs. I don't want to have to watch poor Wade wince, frown and cringe through another playoff loss, do you?
19th Century Christmas Creep: Reader Katie Hill of Nashville, Tenn., writes, "Everyone's heard of the famous New York Sun editorial, 'Yes Virginia, There Is a Santa Claus,' reassuring 8-year-old Virginia O'Hanlon that Santa does exist. Date of publication? Sept. 21, 1897. Christmas Creep started 112 years ago."
Christmas nostalgia was common in the 19th century, too. Washington Irving's book "Old Christmas," written in the 1840s and published posthumously in 1875, is devoted to "the holiday customs and rural games of former times." Irving's 150-year-old premise was that observation of Christmas is fading away -- maybe it's just as well he did not live to see the suburban mall in December. Irving writes wistfully of how Christmas once was done, including elaborate all-night dances at places of business. In Charles Dickens' "A Christmas Carol," published in 1843, old Scrooge sees young Scrooge happy at an all-night Christmas dance at Fezziwig's warehouse, since put out of business by Scrooge and Marley, and longs for the days of traditional Christmas celebrations -- traditional in this sense meaning circa 1800. Irving's book contains a notation that the old-fashioned mistletoe custom was that each time two people kissed beneath the sprig, a berry was removed; when the berries were gone, the kissing stopped. So maybe acrylic mistletoe really is progress!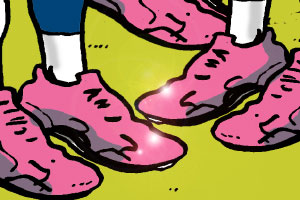 Kurt SnibbeOn the fifth day of Christmas, the NFL gave to me, five pink cleats.
Man of the Worldly Mind, Do You Believe in the Crabtree Curse? Under Mike Singletary, the Forty-Niners are 8-5 without Michael Crabtree and 3-7 with him.
Post-Christmas Creep: Phil Lowe of Cary, N.C., reports that used Christmas tree pickup service began in his town on Dec. 14.
Will the Easter Sunrise Service Be Held the Night Before? As noted by numerous readers, including Maureen Shaugnessy of Dublin, Ireland, Friday's papal Christmas Midnight Mass will be held at 10 p.m.
Tomlin Wins Points with TMQ: After scoring to take a 30-28 lead with four minutes remaining, Pittsburgh attempted an onside kick. On NBC's "Football Night in the Known Universe," Tony Dungy said he was "shocked" by the call. That's the point! The Packers were shocked too -- completely unprepared -- and the gamble might have won the game then and there had Ike Taylor of the Steelers not recovered the ball 1 yard too soon. Football pundits fell all over themselves assailing Tomlin's decision, which TMQ thought was a great call. This is another example of the phenomenon that sports-yak types don't want coaches to make innovative or risky calls (Bill Belichick on fourth-and-2 at Indianapolis and so on). Instead, they want game action to be ultra-predictable -- because the commentators don't want to be taken by surprise. Plus, here were the Green Bay possession results in the fourth quarter: touchdown, touchdown, touchdown. Tomlin knew his defense, especially his secondary, wasn't performing. The onside attempt made eminent sense.
A Cosmic Thought: Last week, the Hubble Space Telescope consortium released these images of 30 Doradus, a star-forming region in the Large Magellanic Cloud, a small galaxy relatively close to the Milky Way. "Small" in this sense means the Cloud contains only around 10 billion stars; "close" in this sense means about 180,000 light-years from Earth.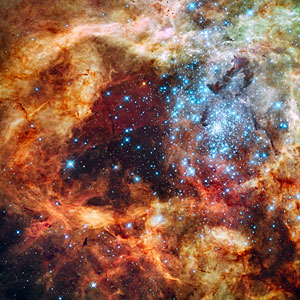 AP Photo/NASAThe universe is 14 billion years old -- and not yet finished forming.
Visible only from the southern hemisphere, the Large Magellanic Cloud is called a cloud because that's how it appeared to the eyes of the ancients -- a hazy region thick with points of light. NASA says the area offers "hundreds of brilliant blue stars wreathed in a warm glow." Actually, it's wreathed in radiation that would kill our form of life on any planets that may be present -- but there are lots of stars, for sure. Blue stars are the largest kind, some 100 times the mass of our sun. They burn relatively quickly. Then they explode, casting heavy elements into the cosmos. The matter in your body most likely originated in a blue star, which took the simple hydrogen of the creation era and fused it into progressively heavier substances, finally exploding and hurling outward the carbon essential to our form of life, plus the heavy elements from which planets coalesce. Astronomers once thought blue stars existed mainly in the mist of the dawn eons. It turns out they are still being formed, in huge numbers, including "nearby." At the core of 30 Doradus is a star-forming region about 35 light-years wide that contains perhaps 25,000 times the matter density of the area of space in which our solar system resides. The young stars of the region are so bright and closely packed they can be seen with the naked eye 180,000 light-years away. If 30 Doradus were within our galaxy, it would be bright enough to cast shadows at night.
The universe appears to be about 14 billion years old and yet, as TMQ reminds at this time of year, stars are still forming. Stars are still forming in great numbers, and even relatively nearby -- as "close" as the star-forming region of the Orion Nebula, within our Milky Way, about 1,300 light-years from Earth. Because the cosmos is old compared to us, we tend to conceptualize it as aging and drawing down. But compared to itself, creation glistens with the dew of morning. The universe may exist for hundreds of billions of years, if not eternally. Stars are still forming -- the basic task of making the universe is not yet complete. We are part of a continuum of power and majesty whose full scope we can barely begin to speculate upon. Who can say where the cosmic enterprise may lead?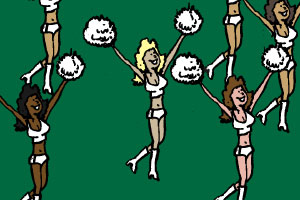 Kurt SnibbeOn the sixth day of Christmas, the NFL gave to me, six cheer-babes dancing.
Browns Held to 41 Points: Jerome Harrison's 286-yard rushing day for Cleveland -- the third-best total in NFL history -- didn't start off like much. He had 73 yards at halftime, a decent half but nothing to suggest the record books were about to be opened. His 213-yard second half would be a memorable game in itself. Kansas City kept giving up rushing yardage -- Cleveland ran for 259 yards as a team after the intermission -- though the Browns were making no pretense of showing the pass, just pounding forward. On Harrison's game-winning 28-yard rush, tackle John St. Clair and fullback Lawrence Vickers got good blocks. Kansas City linebackers barely bothered to chase the play while Chiefs cornerback Brandon Flowers, the corner on the play side, simply stood and watched, not pursuing at all.
With no one from Kansas City bothering to pursue, the tailback tiptoed along the goal line for several seconds on the winning play, running down the clock further. He's the second NFL gentleman to do this in 2009 on a late game-winning touchdown. TMQ warns again that officials can whistle a play dead if they determine the runner is not attempting to advance the ball. Coaches, tell your players not to tempt fate in this manner. Harrison's impressive rushing day was noted on his Wikipedia page at 4:45 p.m. ET, about half an hour after the game ended. Did Harrison update his own page from the locker room using an iPhone?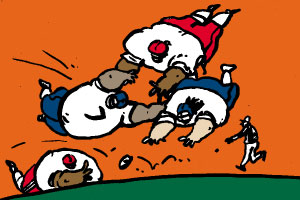 Kurt SnibbeOn the seventh day of Christmas, the NFL gave to me, seven fumbles bouncing.
"Friday Night Lights" Update: After six episodes of the fourth season (running now on DirecTV, and will migrate to NBC this winter) the woeful East Dillon Lions are 0-5, but just played a close game against undefeated powerhouse McNulty High. Presumably we are building up to an 0-9 East Dillon team beating Dillon in the autumn's finale. With a 99-yard touchdown on the last play, let's hope. The new season is of high quality, recapturing the slice-of-life essence that made the first season such a success. "Friday Night Lights" is the best television show ever about sports; it's the best television show ever about typical American life; beyond that, it's simply the best show on television.
Spoiler alert! You'll have to catch up on all the stolen kisses and longing glances yourself, but one romance subplot of FNL took a troubling twist -- in musical terms. At the end of last season, Matt Saracen, the introspective, artistic character, graduated from Dillon High but turned down a scholarship to the Art Institute of Chicago -- or as the place insists on calling itself, the Art Institvte of Chicago. Matt felt honor-bound to care for his senile grandmother, plus didn't want to leave girlfriend Julie, who remains a perpetual senior in high school. This season Matt's father, a soldier, is killed in Iraq. The death benefit makes his grandmother financially secure, so Matt says goodbye to Dillon -- and to the show.
The "Friday Night Lights" producers are music-obsessed, using songs not just for atmosphere but as plot elements. As Matt takes his final look at various places and people in Dillon, then drives away -- last year when the Smash Williams character left Dillon and the series there was extended sentimentality, but since Matt will become an artist, he simply leaves alone -- 1960s music plays for the first time in "Friday Night Lights" annals. Normally we hear ultra-trendy tracks from the contemporary Austin music scene. This time it's Bob Dylan crooning "Don't Think Twice, It's Alright," in the original version, from his harmonica phase. In addition to containing excruciating clichés ("I'm walkin' down that long, lonesome road, babe"), this song is about a man finally breaking free of a woman who's holding him back. Maybe the piece, which Dylan wrote at age 22, was his revenge on a former flame. As Matt's beat-up station wagon heads north past the farms outside town -- he's leaving Dillon and will not return, he will become a big-city success while his high school friends fritter away their lives -- the song builds to the concluding line, "You could have done better but I don't mind/You just kinda wasted my precious time." That seems a harsh musical judgment on Julie, who just helped Matt get over his father's death and is, after all, naught but a high school kid.
Kurt SnibbeOn the eighth day of Christmas, the NFL gave to me, eight tattooed biceps.
Concussions Update: The NCAA is considering a rule that would require any athlete who loses consciousness from contact not to return to competition or practice that day. What pussyfooting! Someone who loses consciousness from a collision belongs in an emergency room, and even if all goes well, shouldn't return to athletics for a week or two. To prohibit competition for only one day makes the NCAA seem more concerned with shedding liability and managing PR than with athletes' health. Some of this is economic -- football and men's basketball players generate cash for the NCAA and member schools, but are not viewed as assets since they don't represent an investment and if severely harmed, are simply replaced by someone else who's unpaid.
Adventures in Officiating: In overtime of the Miami at Tennessee collision, Michael Griffin of the Flaming Thumbtacks intercepted a pass, ran it back to the Marine Mammals' 42, went down to the ground and seemed to end the play. Miami's Greg Camarillo, approaching to make the tackle, came to a stop; no whistle sounded. When Griffin started to get up again, Camarillo tackled him. The flag on Camarillo for late unnecessary roughness seemed totally bogus -- Griffin had not been tackled, and in the NFL you can go down and then get up again. The hit was not excessive, either -- all Camarillo did was make sure the runner was down. The penalty moved the ball into field goal range. Most bad calls are washed out in some way by subsequent action, but this one effectively awarded Tennessee the game.
Adventures in Coaching: At the end of regulation, Miami had the ball on its 1-yard line with 56 seconds remaining, Tennessee holding all three timeouts. Yet Jeff Fisher didn't call any timeouts, allowing Miami to kill the clock and force overtime. This was extremely puzzling -- the Titans might have forced Miami to punt and then tried to win on TMQ's favorite play, the free kick after a fair catch. Perhaps Fisher will donate his unused timeouts to charity.
[+] Enlarge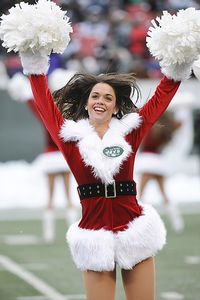 AP Photo/Bill KostrounThe Jets' coach may think they are out of the playoffs, but the cheerleaders have not given up hope.
Bears Weather Report: Snowed In: The Bears couldn't get to Baltimore until midnight Saturday because they had no idea, just no idea, a blizzard was coming. Not one single person in the Chicago organization has a laptop? In the Washington area, we knew early on Thursday that a storm was due Friday night. Why didn't the Bears change their plans on Thursday? Well-run teams keep apprised of weather predictions in places they must fly to. Whoops, just said "well-run." It's just three years since their Super Bowl bow, and the Bears at this point are embarrassing to watch, losing 31-7 at Baltimore. The gruntled Jay Cutler -- acquired by Chicago at fantastic cost in draft choices and bonus money -- now has 43 interceptions in his past 30 games, and a passer rating lower than that of Jason Campbell, Chad Henne and Matt Cassel. Unless something dramatic happens, the Cutler trade may rank as one of football's worst ever. The Bucs and Redskins -- who also made bids to Cutler -- are now immensely relieved their bids failed.
Laptops note: No one in the Jersey/B organization seems to own one either, since after Sunday's game, Jets coach Rex Ryan declared, "We're obviously out of the playoffs." The Jets are not, though they now need a lot of help. NFL coaches are all about lowering expectations -- but claiming to be out of the playoffs when you're not seems a bit extreme.
Other Make-Believe Nations, Such as "France," Were Jealous They Did Not Think of This First: Last week the nano-nation called Nauru got $50 million from Moscow for extending diplomatic recognition to Abkhazia, an aspiring mini-country the Russian government wants accepted into the family of nations for political reasons. This got me thinking: Venture capitalists, found a new nation and charge what the market will bear! Suppose the nation of Stanistan was founded on an outcropping of rock on the Isle of Wight. It could charge other governments to:
[+] Enlarge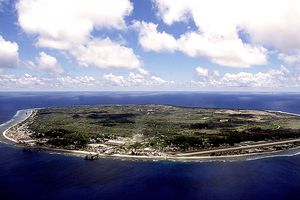 Torsten Blackwood/AFP/Getty ImagesNauru: Got a diplomatic problem? Purchase your solution here.
• Extend diplomatic recognition to disputed political entities in Asia, the Middle East or Belgium. (Free the Walloons!)
• Allow airspace to be violated for illegal covert bombing missions.
• Place flags on unsafe vessels.
• Serve as a way station for "extraordinary rendition." (Of course, this never occurs.)
• Sell its vote in the United Nations.
• Sue Microsoft.
Time of Possession May Not Matter: Jacksonville scored 31 points and had an impressive 35:26-24:34 edge in time of possession against Indianapolis and lost anyway. The Colts' no-huddle offense scored quickly while the visitors had a kickoff return touchdown plus six offensive plays of at least 20 yards, versus one 20-plus play for the home team. Time of possession only matters as a stat if the other team doesn't score quickly.
Hail the Dreamliner: The Boeing 787 took flight last week after two years of delays, and air travelers everywhere should be pleased. Among other things, the Dreamliner is the first jetliner designed to reduce the sensation of turbulence for passengers. All previous jetliner designs have assumed that turbulence is just something you grit your teeth and tough out. The 787's engineers sought ways to make the plane pass more smoothly through the air, and calculated that an oval-shaped fuselage, rather than the traditional cylinder, would accomplish that. No way to be sure until the aircraft is in service, but if the Dreamliner does fly more smoothly than existing jets, passengers will consider it worth the wait.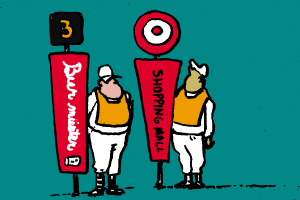 Kurt SnibbeOn the ninth day of Christmas, the NFL gave to me, nine product placements.
Last week also saw the maiden flight of the Airbus A400M, an airborne moment to bureaucracy. This plane, the next main cargo aircraft for most European armies, has a few interesting technical features, including counter-rotating, scimitar-shaped propellers: instead of both engines on the same side spinning in the same direction, they spin in opposite directions, which has some advantages over the standard arrangement. But this aircraft has about the same speed and range, and only a somewhat better payload, as the C-133 Cargomaster, which the United States built in the 1950s. Just like NASA is now struggling to build new rockets little different from the ones it had in the 1960s, Airbus is struggling to build a cargo plane not that much different from models of the 1950s. Seven years passed between the decision to manufacture the aircraft and the first flight of the prototype!
Louis Gallois, the executive heading the A400M project, said in 2008, "We accepted a timetable that was unachievable, delivery in six years. No military aircraft in the world has ever been delivered in less than 12 years." This is an indication of the sort of excuse-making common in multiple-government projects. The C133 program took six years. The C130, the primary U.S. military cargo aircraft, was five years from initial contract to delivery. The C5, the largest U.S. cargo aircraft, was eight years from contract awards to operational. Here's a list of U.S. military aircraft that required less than 12 years to develop: the B17, B24, B25, B26, B29, B32, B36, B47, B50, B52, B57, B58, B66 and F111 bombers; the F6, A39, P38, P40, F4U, A24, P47, P51, A1, F80, F84, F86, F100, F101, A4, F3, F102, A5, F104, F105, F106, F4, A7, S3, F14, F15, F16, A10, F117 and F18 fighters; and the C47, C130, C133, C141, C5 and C17 cargo planes. The money wasted on A400M development, more than $5 billion, would be a scandal if the plane were American-made.
[+] Enlarge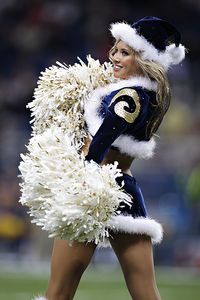 AP Photo/Jeff RobersonSince the Rams play in a dome, how does Santa get in?
Hell's Sports Bar: On Sunday in hell's sports bar, for the highlight show, patrons saw nothing but, over and over, 1-12 St. Louis, trailing Houston, punting from midfield with 2:39 remaining.
Reader Comments: I have been pounding the table about taxpayer money wasted on bodyguards and security details that exist solely to make minor government officials feel important. California's budget is in awful shape and yet, as noted by Brendan Wright of San Francisco, that city spent $2 million last year providing bodyguards for officials, including for Mayor Gavin Newsom's political campaigning and for his wedding in Montana.
I said it was amusing that Accenture fired Tiger Woods for impropriety, when Accenture itself was spun off from Arthur Andersen -- the crooked accounting firm that helped Enron steal. Adam Devine of Columbus, Ohio, counters, "Accenture is the current form of what was Andersen Consulting, which split from Arthur Andersen in 1989, long before the Enron accounting adventures. There was so much acrimony between the two entities that in 1998, Andersen Consulting became Accenture, and paid Arthur Andersen $1.2 billion to sever all ties. Accenture may be guilty of some of the same excesses as other companies, but was divorced from Arthur Andersen several years before the Enron scandal."
Last week's column asserted that since 95 percent of Division I football players never take a snap in the NFL, if they didn't study in school, "they leave college practically empty-handed." Evans Brittain of Montgomery, Ala., counters, "One thing that you fail to take into account is that without football, some players you refer to that do not make the NFL would never have had the opportunity to go to college at all. College football gives them an opportunity that they would not otherwise have. Some take advantage of that opportunity, some do not. That is an individual decision -- not a decision made by any coach. I have met many individuals who played for Bear Bryant, none of whom went on to the NFL. Without fail, each of them say they would not be the man they are today had it not been for the discipline and work ethic they learned in college football. Surely you are right that the majority of those playing for Nick Saban right now will never earn a dollar in the NFL. Yet I'd bet the vast majority will be better off for having had him as a coach, and will achieve more than they otherwise would have without football."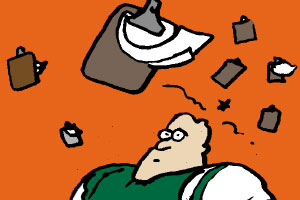 Kurt SnibbeOn the 10th day of Christmas, the NFL gave to me, 10 hurled clipboards.
I asserted Notre Dame's high academic standards for athletics, not coaching, are what prevent it from being the dominant football power it once was -- because colleges with lower standards have a recruiting edge. Mike Burke of Chicago counters, "For 28 straight years, Notre Dame has been honored by the NCAA for its graduation rates. This has extended not merely back to the days of Bob Davie, when the current Irish football slump began, but back to 1981, when the NCAA graduation distinctions were first given out. Academics didn't preclude winning then.
"If you'd like to make the argument that today's standards are different than 15 years ago, so be it. Let's take a look at the Notre Dame Graduation Success Rate: 2006, 95 percent; 2007, 93 percent; 2008, 94 percent, 2009, 96 percent. Now the recruiting-class rankings, according to Rivals.com: 2006, 8th; 2007, 8th; 2008, 2nd; 2009, 21st. Now let's look at the Notre Dame final BCS ranking: 2006, 19; 2007, ugh; 2008, ouch; 2009, oh no. True student-athletes? Check. Recruiting success? Check. Lots of wins? No. Charlie Weis just couldn't coach good, smart players to win.
"Now to the rumors that Notre Dame made academic concessions to hire Brian Kelly. If you'd taken a look at Kelly's statements since his hiring, they have been nothing but supportive of Notre Dame's academic mission. One Kelly statement: 'If you're going to college just to get to the NFL as quickly as you can then Notre Dame is not for you. If you want to go to college, graduate with a world-class education, and still go to the NFL, then you're my kind of guy.' Sure, these are just statements, we'll see what actually happens. But after a century of academic greatness, do you think Notre Dame would suddenly toss that to the side now? If you must dignify rumors, you should have given equal weight to the rumors that either Urban Meyer or Bob Stoops would be wearing the Blue and Gold if football academic standards were lowered, yet the school administration refused." Mike's right.
On the point of offering an incentive for academics to college coaches, Joe Hudson of Huntington Station, N.Y., would go farther than factoring graduation rates into the BCS computation -- he'd put them on the scoreboard: "Wouldn't it be nice if graduations rate were used as a multiplier to determine the final score? Using that criteria, Nebraska, whose team has a highly respectable graduation rate of 72 percent, would have beaten Texas (49 percent), while the Alabama (48 percent) versus Florida (69 percent) blowout would have been a much closer."
Dr. Seahawk and Mr. Seattle: The Seahawks, who earlier this year won 41-0 versus Jacksonville, a team now in playoff contention, lost 24-7 on Sunday at home to City of Tampa, a team that is now 2-12.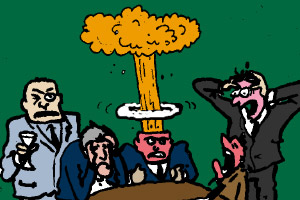 Kurt SnibbeOn the 11th day of Christmas, the NFL gave to me, 11 angry owners.
Buck-Buck-Brawckkkkkkk: Trailing Carolina by 12 points, Minnesota punted on fourth-and-5 with eight minutes remaining. TMQ wrote the words "game over" in his notebook. I don't care if it's fourth-and-5 from your own 5-yard line -- you are down by two touchdowns with eight minutes remaining. It took the Panthers just five snaps to pass the point where the ball would have been, had the Vikings gone for it and failed.
Obscure College Score of the Week: Villanova 23, Montana 21 (Division I-AA championship). Villanova isn't obscure, but with an average freshman math SAT score of 670, supports TMQ's theory that colleges that are serious about education also can do really well in football. Located in Villanova, Pa., the official crest of Villanova University has a cincture, a crosier and a flaming heart.
Bonus Obscure College Score of the Week: Wisconsin-Whitewater 38, Mount Union 28 (Division III championship). Located in Whitewater, Wis., this school little-known outside the upper Midwest bustles with 11,000 students. Wisconsin-Whitewater offers a science-business major -- interdisciplinary majors like this may be the next big thing in higher education. The student union has its own separate mission and vision statements.
Obscure College Sign-Off: This item folds its tent and steals off into the desert, as the colleges that play from here on out tend to be pretty well-known. For years at this point in the season TMQ has said, "I find it reassuring that long after you and I have left this mortal coil and are trying to scalp tickets to meet the football gods, every Saturday at small colleges across our great nation, plastic-clad gentlemen will be slamming into each other as leaves fall, boys try to get girls' phone numbers and car alarms go off in the parking lot. This is part of the football link of the Great Chain of Being." At current rates of advance in technology, someday boys will be trying to get girls' prefrontal cortex telepathy routing codes. The car alarms, I feel quite confident, still will be going off in the parking lot.
TMQ Awards Season Is Coming: Now that the winner of the Heisman Trophy for the Quarterback or Running Back Who Receives Most Publicity has been chosen, your columnist is contemplating TMQ's annual accolades -- first the All-Unwanted All-Pros, then the coveted "longest award in sports," the Tuesday Morning Quarterback Non-Quarterback Non-Running Back NFL MVP. Weirdly, I wait until the season has been played before assessing who had the best season -- unlike the Pro Bowl, which allows voting after just six games, and whose voting closed yesterday. That's right -- two games are yet to be played but you can't vote for the Pro Bowl anymore, because the NFL has already decided who had the best season. TMQ calls the gentlemen who make that roster the Eighty-Eight Percent All-Pros, since voting is based on 88 percent of games.
Annoyingly, the NFL still allows Pro Bowl voters to choose only quarterbacks, running backs and wide receivers, and skip linemen. As a consequence, late last week, 1.1 million votes had been cast for Drew Brees, versus 450,000 for Jeff Saturday, the offensive lineman with the most votes. The urge to honor ball-handlers over lineman is universal, though 90 percent of football action occurs away from the ball. Last week, the Washington Post announced its All-Met players for the 2009 high school season. In the paper's special section were 32 quarterbacks and running backs, and 15 offensive linemen. Of the featured high school football characters on "Friday Night Lights," there have been eight quarterbacks and running backs, one place-kicker, one linebacker and no linemen.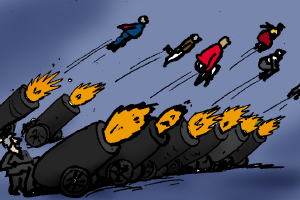 Kurt SnibbeAnd on the 12th day of Christmas, the NFL gave to me, 12 fired coaches.
"The NFL Twelve Days of Christmas" The full lyrics:
And on the twelfth day of Christmas, the NFL gave to me:
Twelve fired coaches
Eleven angry owners
Ten hurled clipboards
Nine product placements
Eight tattooed biceps
Seven fumbles bouncing
Six cheer-babes dancing
Five pink cleats
Four on Brett Favre
A three-step drop
ANOTHER NEW ORLEANS TOUCHDOWN!
And a dollar bill for the referee.
Single Worst Play of the Season -- So Far: Green Bay leads Pittsburgh 36-30 with three seconds remaining, Steelers on the Packers' 19. Green Bay hasn't won in Pittsburgh since 1970; stopping the final play advances the Packers to 10-4 and keeps alive their chance of winning the NFC's second seed. Pittsburgh sends out five receivers, Green Bay rushes three, meaning eight available to cover five. Mike Wallace, on the far outside left, is covered man-on-man by journeyman nickel back Josh Bell. Bell's sole assignment on the play is to guard Wallace; there was a safety behind Bell, so he had no other responsibilities. In man coverage, you glue your eyes to the receiver's waist and never look at anything else. You sure don't crane your neck around to look into the offensive backfield. Yet twice on this down, Bell took his eyes off Wallace to look around, as if wondering, "Is the play over? Has the game ended?" Rather than simply stick to his man till the whistle sounds, Bell twice takes his eyes off his man, who proceeds to catch the winning touchdown pass. Green Bay's loss gave Minnesota the division; if both finish 11-5, the Vikings hold the tiebreaker. Josh Bell, you are guilty of the single worst play of the 2009 NFL season -- so far.
Next Week: Why TMQ loves Christmas but hates New Year's Day.
In addition to writing Tuesday Morning Quarterback for Page 2, Gregg Easterbrook is the author of the forthcoming "Sonic Boom," and six other books. He is also a contributing editor for The New Republic, The Atlantic Monthly and The Washington Monthly. His Web site can be found here.