Commentary
Championships are won in the trenches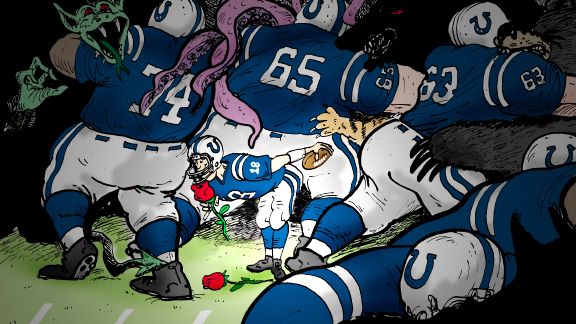 Kurt Snibbe/ESPN.com
Brett Favre, Peyton Manning, Drew Brees -- the run-up to Title Weekend is sure to focus on them. For my money, the Colts, Jets, Saints and Vikings made the championship round because they have the league's four best offensive lines.
Ninety percent of the action in football occurs away from the ball. When Jersey/B runners burst into the clear, or Favre casually dissects a defense, what's going on is terrific blocking. Manning was sacked less than any other NFL quarterback this season because the Colts' offensive line is tremendous. The Jets are in the championship round because of the holes their blockers open. The Vikings' and Saints' offensive lines both pass-block and run-block equally well, which is a rare combination. The TV commentators will be watching the glory boys holding the football. I'll be watching the offensive lines. All four are tremendous.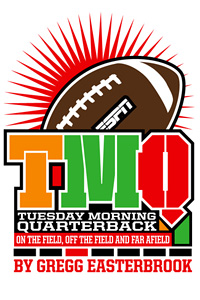 Here are some title game talking points:
• Surely Colts players will say this week that they welcome a rematch with the Jets, the team they laid down against last month. What they won't say is how relieved they are not to be facing the Chargers. San Diego may be a postseason fade-out team, but the Chargers have the Colts' number -- in the past four years, Indianapolis is 0-2 against San Diego in the playoffs, and 4-0 against all other teams in the playoffs.
Indianapolis is viewed as a mega-offense squad, but this season, the Colts have been winning close games with defense. The Colts finished last in the league in rushing -- this hardly rules them out; a season ago, the Cardinals finished last in rushing and made the Super Bowl -- and second in both passing yards and pass attempts. When they won the Super Bowl in 2007, the Colts surprised opponents in the postseason by rushing more than expected; this is the tactic waiting to be tried. The Jets' defense is addicted to the blitz, and no NFL quarterback likes to be blitzed more than Manning. He'd request a blitz on every snap if he could. The Ravens just went all-out attempting to sack Manning, and the result was a 20-3 defeat. Manning expects the Jets to go all-out attempting to sack him, so the defensive tactic waiting to be tried by Jersey/B is not blitzing.
See more below on what makes the Jets' blitzing different from other teams' defensive tactics. Can you really win a title game with a quarterback whose season-long QB rating was 63.0, among the worst in the league, and then 60.1 in the divisional round? We shall find out. As TMQ notes, with defenses choking up to stop the Jersey/B run, all Mark Sanchez needs to do is hit one long pass per game, and the Jets' offense will become dangerous.
Pregame key: Watch Matt Stover in warm-ups. All five postseason field goal attempts against the Jets have been misses, one reason for Jersey/B's improbable run. Cincinnati and San Diego place-kickers missed tries from the 28, 35, 36 and 40, and NFL kickers average about 85 percent success in this range. If these kicks went through the uprights, we wouldn't be talking J-E-T-S today.
TMQ CHEAT SHEET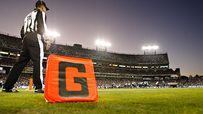 Gregg Easterbrook on …
• Minnesota at New Orleans -- between a first-ever chance to host an NFC title game, and the travails of the city of New Orleans, there will be more energy in the Superdome on Sunday than in Iron Man's pulse reactor. The sheer atmosphere-power within the facility may exceed the crowd feeling of any other game in NFL history. The Vikings are 9-0 at home this season, and 4-4 on the road -- the only quality team they beat on the road was the Packers. NFL players are not intimidated by crowd noise. But it won't just be crowd noise, it will be energy. The Vikings face an uphill climb.
Adrian Peterson -- remember him? He hasn't had a 100-yard rushing game since Nov. 15. The New Orleans run defense is weak, while its pass defense is strong. A conservative, rush-oriented game plan might be just what the doctor ordered considering New Orleans' personnel and the need to keep the Saints' league-leading offense off the field. But with Brett Favre and Brad Childress both preoccupied with pumping up Favre's stats (see below) will Minnesota be able to bring itself to do the smart thing and use a conservative game plan?
When the Saints have the ball, you just never know what is going to happen. They probably don't either, which is the joy of watching this team. When attention turns to the Vikings, all eyes are on Favre. But what makes Minnesota special is the best pair of lines in the league. The offensive line is stout, the defensive line is fantastic. The Vikings just clobbered the Cowboys via superior line play -- if they are to win in New Orleans, their lines will be the key.
Stats of the Divisional Round No. 1: Pro Bowl place-kicker Nate Kaeding had made 59 consecutive field goal attempts of 40 yards or closer; he had not missed from the 40 or closer since September 2007. Against the Jets, he missed from 36 and 40.
Stats of the Divisional Round No. 2: Nineteen players have scored touchdowns for New Orleans. Eight of them were undrafted.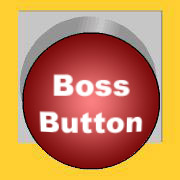 Stats of the Divisional Round No. 3: In two games against Indianapolis this season, Baltimore failed to score a touchdown.
Stats of the Divisional Round No. 4: Arizona surrendered 70 points in a four-quarter stretch, from the second half of its win over Green Bay in the wild-card round through the first half of Saturday's loss to New Orleans.
Stats of the Divisional Round No. 5: Kurt Warner is 0-3 in the postseason at the Superdome, and 8-1 in the postseason at all other stadiums.
Stats of the Divisional Round No. 6: The Jets are on a 7-1 stretch.
Stats of the Divisional Round No. 7: The Chargers have lost their last two home postseason games against the Jets.
Stats of the Divisional Round No. 8: The Colts are on an 8-0 streak against the Ravens.
Stats of the Divisional Round No. 9: The Cowboys are on a 1-7 stretch in the postseason.
Stats of the Divisional Round No. 10: After hosting six Super Bowls and three college football national title games, the New Orleans Superdome will finally host an NFC Championship Game.
[+] Enlarge
Philadelphia EaglesMaybe she can choreograph the next DeSean Jackson touchdown dance.
Cheerleader of the Divisional Round: Lindsey of the Eagles, who according to her team bio is majoring in jazz dance in college and hopes to become a choreographer. Also, according to her team bio, Lindsey's favorite Eagles player is Chuck Bednarik, while her favorite Eagles moment was the Wilbert Montgomery touchdown run against Dallas in the 1981 NFC title game. That's good knowledge of team history, since the run occurred before she was born and Bednarik played his final game in 1962. In the warm-to-the-touch standard of Philadelphia cheer-babe land, Lindsey's team bio page contains video of her with her swimsuit top off. This is one of many reasons the Eagles cheerleaders' Web area begins with a warning of "mature content."
Sweet Play of the Divisional Round: On the flea-flicker touchdown by New Orleans that staked the Saints to a 28-14 lead, first two tight ends lined up left, then they shifted right, then one came in motion back left. It was first down, and all this movement by the tight ends sure looked like it was the setup for a power run, making the run-fake up the middle persuasive. After taking the handoff and flicking the ball back to Drew Brees, undrafted tailback Pierre Thomas threw a perfect block.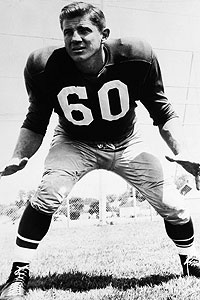 AP PhotoToo bad for Chuck Bednarik, he played before the era of mega-babe cheerleaders.
Sour Play of the Divisional Round: With Indianapolis leading 10-3 with seven seconds remaining in the first half, the Colts eschewed the field goal -- sportswriting is fun because you use words like "eschew" and "ensuing" -- and lined up on the Ravens' 3-yard line, out of timeouts. The play must, absolutely must, go to the end zone. Yet the Ravens' defensive backs lined up soft! Domonique Foxworth, who was covering Reggie Wayne, was backing off at the snap, retreating into the end zone, practically inviting Wayne to run a quick slant -- which he did, for a touchdown. If you know it has to be a super-quick action to the end zone, jam the receivers, don't back off! Talk about sour defense. The Ravens even took a timeout before the play to get set properly.
Sweet 'N' Sour Play of the Divisional Round: With Indianapolis leading 17-3 midway through the third quarter, Baltimore's Ed Reed timed a jump on the ball perfectly, cut in front of receiver Pierre Garcon, intercepted Peyton Manning and headed up the left sideline for a return deep into Colts territory. That was sweet.
Chasing the first-round draft pick Reed was Garcon from Division III Mount Union College, where a winner of the Ohioan Book Award will soon present the school's annual endowed lecture. Not only did a true son of Mount Union give all in chasing Reed. As noted by reader Scott St. Laurent of Enfield, Conn., though Reed was running along the left sideline, he had the ball in his right hand. Kids, the ball should always be in the same hand as the nearest sideline -- that protects the ball from most impacts. When Garcon caught Reed, the ball was exposed, and Garcon punched it out; Indianapolis recovered Reed's fumble, and Baltimore was done. Reed's failure to carry the ball in the correct hand was sour. (A few plays later, a Reed interception was negated by a pass interference penalty -- but the interception would not have occurred if a Baltimore defender had not grabbed the intended receiver, so Nevermores faithful should have no complaint here.)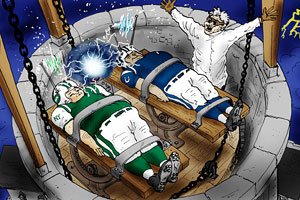 Kurt Snibbe/ESPN.comKurt Snibbe's TMQ cartoon from last week. Now it's championship week and the Jets -- they're alive! Alive! Hahahahaha!
Jersey/B at San Diego Analysis: The whole "mad scientist transfers victory essence to Jets" theory that led last week's TMQ -- maybe that really happened? Power defense and power running are the traditionalist formula in football, but in a pass-wacky year, suddenly the Jersey/B approach seems like an unorthodox innovation. You'd think no team could win in the modern NFL with a 31st-ranked passing attack, but Jersey/B has reached the AFC title game on the best winning streak of any team in the final four. Because in the single-elimination NFL format, each individual postseason game means so much, often the team that prevails at season's end is the one that enters the tournament on a rising note. And the Jets sure are on a rising note.
The Jersey/B running game works because the blocking is good, and because offensive coordinator Brian Schottenheimer -- who must have been pleased to beat the team that fired his father -- doesn't abandon the run if it does not work in the first quarter. Strong-rushing teams often start slowly, when the opposing defense is fresh, and then prevail in the second half as the defense tires -- that's exactly what happened versus San Diego. The Jets' offensive line has four first-round draft choices. Tackle D'Brickashaw Ferguson -- a finalist for the upcoming Tuesday Morning Quarterback Non-Quarterback Non-Running Back NFL MVP -- absolutely pancaked a Chargers defensive end at the point of attack on the Shonn Greene 53-yard touchdown run that turned the contest New Jersey's way. When Rex Ryan went for it on fourth-and-1 with a minute to play -- Jersey/B gained the first down that iced the contest -- he was challenging his offensive line to win the game, and it did.
TMQ keeps predicting Ryan's constant-blitzing schemes will backfire. They sure did not at San Diego, where the Bolts seemed unprepared for overload blitzing -- there is practically a billboard above the Jets' sideline that reads "WE OVERLOAD BLITZ" -- six times, allowing a blitzer to come straight at Philip Rivers without being blocked by anyone. Normally, blitz-wacky teams have their corners play deep to prevent long gains -- the Jets use press corners when they blitz to prevent quick slants, the standard response to a blitz. Six-man rushes combined with press corners is a tactic no NFL team but the Jets employs, and the tactic works because Darrelle Revis (another TMQ MVP candidate) and Lito Sheppard are so good. Rivers' first interception was against an overload the Chargers failed to block. The second pick came when Jersey/B showed big-blitz and then backed out of it -- Ryan's defenses almost never back out of the blitz. Rivers assumed that a quick-curl route would be open because of the number of blitzers; instead the intended receiver was double-covered by safety Jim Leonhard, whom Rivers thought would be blitzing.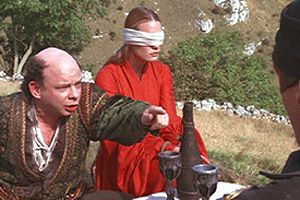 20th Century Fox"You assume I will blitz, so I will play straight coverage. But perhaps you assume this. Because I know you assume I will play straight because you assume I will blitz, I should blitz. Then again ..."
The Chargers seemed overconfident and ill-prepared, as if they thought all they needed to do was show up. The hosts dominated the first-half stats but led by only a touchdown at intermission -- a touchdown lead can disappear in one play -- yet seemed to think the game was already won. Rivers is now 3-4 in the postseason. Talk, talk, talk -- that Philip Rivers sure can talk.
Norv Turner was his usual timid self, and it hurt the Chargers dearly. Two years ago against New England in the AFC Championship Game, Turner's Chargers were trailing 21-12 with nine minutes remaining -- that's a two-score fourth-quarter deficit -- and Norv ordered a punt from the Patriots' 36-yard line. That was the worst Preposterous Punt yours truly has ever seen. With Sunday's game scoreless in the first half, San Diego faced fourth-and-4 on the Jets' 36 -- and Turner ordered a punt. San Diego was the heavy favorite, and in the first half things were going the home team's way. Don't mince around, knock 'em out! Instead, the Chargers minced around, which let the Jets hang around. Turner has now twice ordered punts from the opposition's 36-yard line in playoff games. You can't be surprised he lost both games.
Later, with San Diego leading 7-0, Turner ordered a punt on fourth-and-inches from midfield. Don't mince around, knock 'em out! With 4:42 left in the fourth quarter, and San Diego trailing 17-7, he ordered a field goal attempt on fourth-and-2 from the Jets' 22-yard line. Nate Kaeding is a good kicker -- it was a surprise when his attempt sailed wide. But you have one of the league's top offenses and you only need 2 yards. Don't play for 10 points to force overtime (which Turner was doing) -- play to win! That's what Ryan was doing.
Turner's onside kick decision at the end was puzzling as well. Pulling within 17-14 with 2:14 remaining, San Diego had one timeout left. Unexpected onside kicks are 60 percent successful, expected onside kicks are 10 percent successful. Had the Bolts kicked deep and then held the Jets, considering the clock stops at the two-minute warning, San Diego would have gotten the ball back with about a minute to play, trailing by three. You've got a better chance of getting into field goal range with one minute on the clock than of recovering an expected onside kick. True, if you recover the onside kick, you are in a position to win the game. But it's very unlikely you will recover an onside kick under these circumstances.
Thus, when Turner faced an attractive gamble (fourth-and-1, fourth-and-2), he was timid, and when he faced an unattractive gamble (expected onside kick) he went wild. Considering that gigantic Chargers coaching staff -- 17 coaches, including an assistant linebackers coach -- doesn't Norv have someone who knows the percentages of various football situations? Six seasons ago, the Chargers went 12-4, won a bye, then lost at home in the divisional round to the Jets. Marty Schottenheimer was fired in the aftermath. This season they went 13-3, won a bye, then lost at home in the divisional round to the Jets. The aftermath is a contract extension for Turner.
Sidelight: Mark Sanchez threw an interception, giving San Diego the ball, leading 7-3. On the first Bolts snap, a pass to Vincent Jackson advanced the ball to the Jersey/B 30-yard line, but Malcolm Floyd was called for an illegal block, moving the spot back to the 40-yard line. Two snaps later, Rivers tossed his first interception. During the penalized play, Floyd threw his hands up in the air in the "I didn't do anything" gesture. As TMQ cautions, football players should never make the hands-up gesture to officials -- it serves to alert the officials that you think you committed a foul.
[+] Enlarge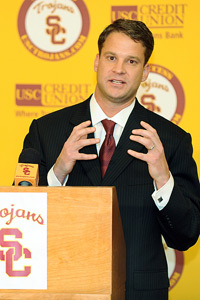 Harry How/Getty ImagesMustela nivalis: a North American weasel, in its native habitat.
Weasel World: Lane Kiffin, Pete Carroll, Nick Saban, Rich Rodriguez, Brian Kelly, Bobby Petrino -- we could save space by listing the big-college coaches who aren't weasels. Carroll promises USC recruits he will stay at the school, then promptly walks out for more money. Kiffin promises Tennessee recruits he will stay at the school, then promptly walks out for more money. Meanwhile, the coaches at Kansas, Texas Tech and South Florida are fired for allegedly abusing players. NCAA football looks worse every minute. TMQ reiterates my proposal that the same one-year premise that binds NCAA scholarship athletes also binds NCAA coaches. If a coach whose contract has not expired leaves one school for another, he or she must sit out one year. Coaching in college is a privilege, not a right. The NCAA and its member schools should stop letting themselves get pushed around, and played for fools, by weasel coaches who make collegiate sports look bad.
At least there is one anti-weasel -- David Cutcliffe of Duke, who did not walk out on his promises for more money at Tennessee.
Why was USC so eager to sign Kiffin and recruiter Ed Orgeron? Kiffin is 12-21 in his past three seasons. He left the Oakland Raiders an embarrassing mess. Then he had one weak year (7-6) at Tennessee in which he failed to win a bowl game despite Tennessee's incredible built-in advantage in recruiting power, and left the school with possible broken NCAA rules in his wake and a recruiting investigation in progress. Orgeron, for his part, is the Hansel and Gretel of recruiting -- a trail of violations everywhere he goes. Orgeron has already admitted that within hours of being hired by USC, and while still on the Tennessee campus, he was calling Tennessee's top recruits to inform them they needn't enroll. Reader Jared Pike of Fort Myers, Fla., notes Kiffin and Orgeron allegedly advised Tennessee recruits not to begin attending class so they could play somewhere else, like USC -- which makes a mockery of any residual "student-athlete" contentions.
Kiffin and Orgeron, two of the seediest weasels in college sports, are now on the grounds of USC, which itself is believed to be in danger of NCAA sanctions. They are a perfect fit for the Trojans program!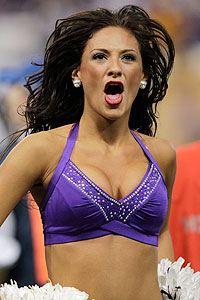 AP Photo/Paul SancyaAt Minnesota, even the cheerleaders were fired up.
Dallas at Minnesota Analysis: Apparently TMQ spoke too soon last week in praising the Cowboys' offensive line, which was dreadful as Tony Romo was sacked six times and hit numerous other times. Flozell Adams went out injured, but the Dallas O-line was dreadful before his departure. Four times right tackle Marc Colombo barely brushed the Vikings' Ray Edwards, then simply turned around to watch Edwards hammer Romo. On the first Dallas possession of the second half, with the game still close, Edwards threw Marion Barber for a 7-yard loss on a play in which no Cowboy even attempted to block him -- and he was the defensive end on the play side! The Cowboys' last gasp was a third-and-4 early in the fourth quarter, trailing 20-3. Colombo, Kyle Kosier and Pro Bowler Leonard Davis were all standing like topiary, not even attempting to block anyone, as defenders zeroed in on Romo for the sack. And megabucks-but-worthless receiver Roy Williams, who whined after the game about not getting passes thrown his way -- did he block on even one rushing down? The sun always rises, the sun always sets, and every NFL season an overpaid Cowboys wide receiver whines following a Dallas playoff loss.
Wade Phillips must have been celebrating after finally recording his first playoff victory at age 62 last week, and gave his fellow coaches the week off. Dallas executed the shaggiest-looking kickoff return throwback play yours truly has ever seen. Patrick Crayton cut to the sidelines and then threw the ball back to the center of the field -- for a negligible gain, since the center of the field was thick with Minnesota players. On a throwback, the ball should be lateraled toward the sideline. Phillips ought to know: He was Buffalo's coach when Tennessee won the Music City Miracle playoff game in the final seconds with a proper kickoff throwback that started in the center of the field, then was lateraled toward the sideline. With Minnesota punting from its own 16 with 23 seconds remaining in the first half and Dallas holding no timeouts, the Cowboys went after the punter, right? Three-man rush. Down 27-3 with six minutes remaining -- no hope at all -- Phillips started calling his timeouts. Phillips' nuttiest decision is below.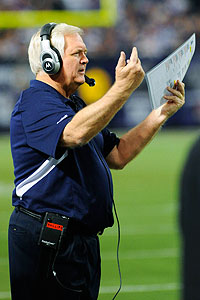 AP Photo/Jim Mone"We'll punt. Surely the defense will get three quick stops."
The Vikings sure played sweetly -- Minnesota at New Orleans should be a tremendous championship tilt. On the first of Brett Favre's three touchdown passes to Sidney Rice, Favre faked a hitch pass left, then faked a draw, then threw deep. Boys corner Terence Newman aided the play by making the high school mistake of "looking into the backfield," just standing there staring at Favre, making no attempt to cover Rice, who was blowing by. On the second Favre-to-Rice touchdown, Marcus Spears had the graying quarterback in his sights for a sack. Then Spears jumped into the air and Favre ducked under. Kids learning to play football: If approaching the quarterback, never leave your feet. It was sweet to watch the 40-year-old trick a much younger athlete into a classic mistake. Rice, who had blitz-blocked on the play, which was intended for someone else, saw Favre in trouble, leapt and found some open space. Really well done.
Why was Favre even still on the field with Minnesota ahead 27-3 with five minutes remaining? It seems pretty obvious Brad Childress wanted to pad Favre's stats. Why was Favre not only still throwing but play-faking at the two-minute warning, with Minnesota leading by 24 points? Bad sportsmanship, which always comes back to bite you. It's not just that Minnesota's bad sportsmanship makes the Vikings hard to root for. Their behavior, followed by boasting after the game about the margin of victory, is immature, which always comes back to bite you.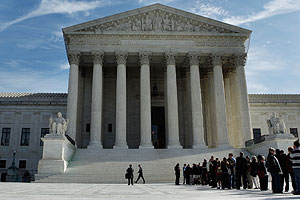 Chip Somodevilla/Getty ImagesIt would be healthy if the justices cut the NFL down to size a bit.
Would it be Good if the Supreme Court Rules Against the NFL? Though TMQ loves football, I don't love the NFL's longstanding how-dare-you-question-us stance. The National Football League is too big for its britches in many senses -- demanding taxpayer subsidies for stadia but tax exemption for the league office, refusing to allow viewer choice by blocking cable customers' access to NFL Sunday Ticket, setting a poor example for high schools and youth football on concussion safety and stonewalling bad news. Because I love football, I worry that the NFL's arrogance will trigger some turn of events that diminishes public standing of the sport -- human beings can live without NFL tickets, as marketers of the new Giants' and Jets' stadium seats are discovering -- or that the NFL will go so far that Congress passes legislation to cut the league down to size.
Thus I root for those instances in which the league fails to get its demands. The NFL made all kinds of demands of cable television regarding NFL Network -- and failed, ultimately backing down. It's healthy for the NFL to back down once in a while! In its puffed-up superciliousness, the league may have over-reached in its current effort to turn a legal dispute about apparel sales into a test case the NFL hoped would generate a ruling calling the league exempt from most aspects of antitrust law. As last week's oral arguments before the Supreme Court showed, the justices are skeptical that they should award the NFL a special favor that Congress itself has declined to award. Running to the courts to demand a sweetheart deal -- all the while maintaining that the rest of your activities are private, so the government should keep its hands off, etc. -- is classic self-importance. The ploy may backfire on the NFL if the Supreme Court not only doesn't grant the special deal the league wants, but reduces pro football's current partial protection from various types of restraint of competition claims. I hope this happens -- it would be a healthy development for the NFL to go crying to Washington with a special pleading, and lose.
Note: In legal filings for the case, the NFL refers to what it produces as "an entertainment product." TMQ for years has been pointing out that professional sports is, fundamentally, a form of entertainment -- nice that this is now official.
Baltimore at Indianapolis Analysis: Drip, drip, drip -- that was the Indianapolis offense. New Orleans used the bye week to insert new wrinkles in its offense; Indianapolis simply worked on timing, since the plays looked exactly like they've looked all year. With the Saints, you never know what you're going to get. With the Colts, you know exactly what you're going to get. The question is whether you can stop it. Slant after slant after slant, including three slants caught by Reggie Wayne with a defender hanging on him. The longest Indianapolis offensive gain was 20 yards. Counting sacks, Indianapolis averaged a mere 5.1 yards per pass call. The Colts and Ravens ended the day with about the same yardage, but Baltimore committed more turnovers and Indianapolis held serve with 10 more first downs. Drip, drip, drip.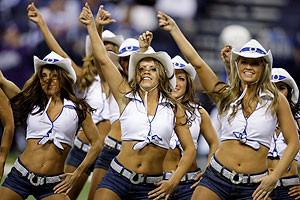 AP Photo/Darron CummingsThe Indianapolis cheerleaders say, "Giddyup!"
Sports pundits touted Indianapolis for a "huge gamble" when, with the scored tied at 3, the Colts went for it on fourth-and-4 from the Baltimore 36. This was no gamble, just playing the percentages. The spot was beyond the range of graying Colts kicker Matt Stover, but a punt likely would have rolled into the end zone -- a classic Maroon Zone dilemma. Why not go for the first down? The call was a quick out to the tailback, Joseph Addai. A quick out to the tailback was the same call Bill Belichick used at Indianapolis in his infamous failed fourth-and-2 try! For Indy, the call worked -- touchdown on the drive. Note Indianapolis went for it from the opposition 36, while San Diego punted from the same yard line. Note who won and who lost.
Now it's Indianapolis leading 10-3, third-and-goal on the Baltimore 3 with seven seconds remaining in the first half and the Colts holding no timeouts. Going for it here -- now, that was indeed a roll of the dice. A field goal made a lot of sense: It would have given Indianapolis a 10-point lead over a low-voltage offense which has trouble scoring. Any play stopped on the field would have meant Indianapolis blew a golden scoring chance. Slant to Wayne, touchdown, and fortune favors the bold.
As for the Ravens, at New England they had good luck; every bounce went their way. At Indianapolis, they had bad luck; every bounce went the other way. We want to believe that events are under control, and we sell short the role of luck in everything from sports to our lives. A week ago, Baltimore had good luck and seemed like a great team. On Saturday, Baltimore had bad luck and seemed like a troubled team.
Indianapolis opened in an unusual 4-4 defense to stop the Baltimore power rush; the Ravens responded by throwing on their first possession, and the pass worked early. But Nevermores coaches failed to notice that on the second Baltimore possession, the Colts switched out of the 4-4 and went with a 4-3 or a 4-2-5 nickel. Baltimore kept trying to throw, and it didn't work. Baltimore, you are a power-rush team. Dance with the one what brung you!
Indianapolis leading 3-0, Baltimore had second-and-goal on the Colts' 6 and went incompletion, incompletion, field goal. On its next possession, Baltimore faced third-and-2 -- incompletion, punt. On its next possession, after second-and-6, Baltimore went pass for a loss, sack, punt. In the third quarter, Baltimore had third-and-3 on the Indianapolis 45 and went incompletion, punt. On the next possession, Baltimore again had third-and-3 on the Indianapolis 45 and went incompletion, incompletion, Colts ball. Dance with the one what brung you! The Ravens averaged 4.6 yards per rush on the day, yet repeatedly heave-hoed incomplete in short-yardage situations.
Non-rushing was especially painful at the end of the first half. Trailing 10-3, Baltimore took possession on its 18 with 1:55 remaining before intermission. The Ravens went rush, incompletion, incompletion, punt. Those two incompletions stopped the clock, leaving Peyton Manning enough time for the Colts' pivotal touchdown on the final snap of the first half.
Grade Inflation Comes to Football Titles: College and high school football have concluded; already we look forward to that glorious time in August when practice begins anew. This year there were 68 bowl invitations for the 120 football schools of the Football Bowl Subdivision, meaning 34 of them, or 28 percent, ended the postseason in victory. If only all life were so auspicious.
[+] Enlarge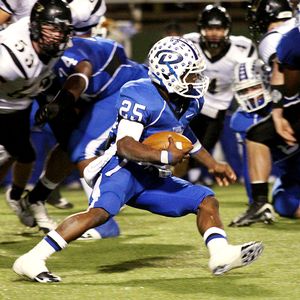 AP Photo/Mark RogersOne of this season's 326 high school state championship games -- in a nation of 50 states.
Then there are the high school crowns. With each passing year, there are more. A generation ago, many states did not even have high school football playoffs; by 2007, there were 314 state high school football champions; in 2009, the total rose to 326. This season, Texas had 10 high school state football champions, much smaller Oklahoma and Tennessee each had eight state champions, Massachusetts had 14 state champions, Alabama had 11 champions and sparsely populated North Dakota had four state champions. A few states -- Pennsylvania, with four champions; California, with five -- kept things in perspective. But in some states, it was hard to avoid being a state high school football champion. New Jersey named 20.
Texas has 1,425 high schools this academic year and 10 football champions. New Jersey has 397 high schools and 20 football champions. Thus, a New Jersey high school is seven times more likely to win a state football championship than a Texas high school. California has 1,839 high schools and five state champions, which means a New Jersey high school is 18 times more likely to win a state football title than a California high school. My state, Maryland, has 5.6 million residents and awards five state high school football crowns, one per 1.1 million residents; New Jersey has 8.7 million residents and awards 20 state football titles, one per 435,000 residents. So kids, if you want to be champions, move to New Jersey! Or to Wyoming, which has 63 high schools, and this year named five state football champions.
[+] Enlarge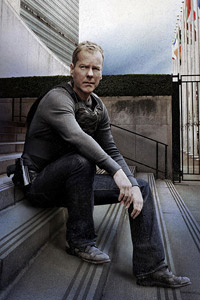 FOX/Brian Bowen Smith Using only a cell phone and sidearm, he will single-handedly prevent an invasion of the United States. Luckily, he has one of those guns that never needs to be reloaded.
Shut Down the Pentagon, Have Liam Neeson Punch Our Enemies: Once again, the country is under attack, and Jack Bauer is the sole person in the entire United States government able to respond -- everyone else is in a meeting. James Parker has it right in the latest issue of The Atlantic that "24," which just premiered its new season, is entertaining because the show is "pure nonsense." Not that it's implausible, not that it strains belief -- the show consists entirely of material that makes no sense. Which is, Parker maintains, in its way a demanding form. My favorite pure-nonsense aspect of "24" is that in order to compress the action to suit the ticking clock, Jack travels during commercials! Watch closely -- it will be 8:33 when the show goes to commercial, 8:36 when the show comes back, and Jack will have moved 20 miles.
Another fun aspect of "24" is inaccuracy presented as realism. Terrorists invaded the White House by swimming up to it in scuba gear -- the nearest water to the White House is two miles away. Jack caught a bad guy hiding among tramp freighters at the "Port of Alexandria" on the Potomac -- the waterline of Alexandria, Va., is a trendy shops-and-restaurants zone, and there are no docks. In last season's finale, a terrorist boarded the subway -- specifically, the "westbound Red Line to Washington Center." The Red Line in D.C. runs north-south, and there is no Washington Center. When the bad guy entered the subway, he saw ticket sales booths, as in the New York subway -- there are no tickets sales booths in Washington, as all farecards are electronic. The station was packed with people at 5:13 a.m. on the ticking clock. The bad guy approached a policeman at the ticket sales booth, attempting to confess. The policeman was a conspirator! The conspiracy was so vast, it had enlisted all the policemen in the entire subway system.
A pure-nonsense highlight from last season came when Jack, while handcuffed, killed three men in mere seconds. He snapped one man's head with a single glancing blow, and the man dropped dead instantly. Is there a person alive strong enough to snap another person's head with a single glancing blow? Jack slashed another man in the chest with a scalpel: The man did not begin to bleed but simply dropped to the ground instantly dead. An actual person slashed in the chest with a scalpel would take quite a while to die, and of course would not just stand there but would put pressure on the wound to stop the bleeding. On "24," a bad guy with a small slash wound dies instantly.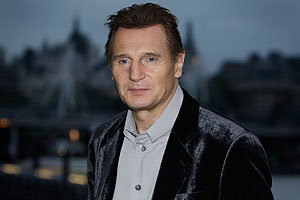 AP Photo/Joel RyanA guy who could kill five strong men in mere seconds using only his bare hands.
Scenes in which the hero beats up and knocks out or kills others in mere seconds, usually with the first punch, have become endemic in Hollywood, and are part of the pure-nonsense art form -- considering that most professional heavyweight prizefighters have never knocked anyone out with a single first punch. In "Mission Impossible III," Tom Cruise knocked out three huge guys in mere seconds, sending each of them to unconsciousness with a single punch. On "Fringe," a woman was shown killing a man with a single gesture that snapped his head: The woman had no superpowers or super-strength, and was even slightly built. On "Battlestar Galactica," at one point Adama and Tigh, both in their 60s with paunches, in mere seconds beat up two muscular young space marines -- who were wearing body armor! In "The Dark Knight," the Joker kills a man by stabbing him with a ball-point pen: The man falls to the ground instantly dead. In "Taken," Liam Neeson required mere seconds to kill five men, all of them armed. Neeson had no gun; all of them dropped to the ground instantly dead from a single punch.
An Alternative to Mega-Bonuses: Last week big banks and investment bankers handed out some $145 billion in bonuses for 2009, much (not all) of this money essentially pilfered from taxpayers. The situation has gone from distasteful to disgusting -- federal funds are short for education and antipoverty programs, but unlimited taxpayer money is available to enrich an elite that already makes far more than warranted. Here is a smartly written piece railing against the big banks' "emphasis on profit to the exclusion of other values." This article ran not in The Nation, but in the Wall Street Journal.
Taxpayers and government, not the Wall Street elite, should be blamed for the situation, as the former are the suckers. It's been common to hear bankers and stock traders denounced as "clueless" for continuing to award themselves mega-bonuses despite public outrage. This is an extremely na´ve view: Wall Street knows exactly what it's doing! The bankers and fund executives taking the tax-underwritten bonuses are simply stuffing the maximum number of dollars into their pockets, and will continue to do so until someone stops them. It is government that is clueless here: Congress, the White House and federal regulators have behaved as if you can place vast amounts of zero-accountability free money in front of business people and they would never, ever dream of keeping any! On Saturday, Barack Obama denounced "the irresponsibility of banks and financial institutions on Wall Street" for converting taxpayer subsidies into personal bonuses. It was Congress and the White House, of both parties, that behaved irresponsibly by giving banks and Wall Street public money without strings.
Wall Street, hedge funds, accounting firms and big banks must pay stratospheric salaries because they are run by financial geniuses. That's the self-serving lobbying line such companies have pushed to demand taxpayer-funded multimillion-dollar bonuses. Financial-genius firms that in the past decade have folded for financial reasons, or lost nearly all their value, or been shown to be utterly fraudulent: AIG, Arthur Andersen, BankUnited, Bear Stearns, IndyMac, Lehman Brothers, Madoff Securities, Merrill Lynch and Washington Mutual. Financial-genius firms whose performance in recent years has been extremely poor: Bank of America, Citigroup, Fannie Mae, Freddie Mac, Moody's and Standard & Poor's. These "financial geniuses" who get the big bonuses have consistently performed poorly. Their true genius lies in manipulating Washington into subsidizing them.
All past financial scandals had reactions that caused unintended consequences. The corporate pay scandals of the late 1970s led to stock options rules, which led to Enron and WorldCom, because they created a strong incentive to manipulate share values. Enron and WorldCom led to Sarbanes Oxley, which included the infamous "mark to market rule," mandating that when the overall market for an asset declines, the securities-holder must publicly declare their portfolios in decline -- even if they had no intention of selling the asset, and thus its market value was academic. The mark-to-market rule helped trigger the 2008 financial meltdown, by making Bear Stearns, Lehman Brothers and other firms appear to be losing fantastic sums very rapidly when they had few actual losses, only losses on paper.
What unintended consequence might post-meltdown reforms have? Below is a passage from my new book "Sonic Boom" -- I hope you caught me yesterday on MSNBC's "Morning Joe" discussing the book -- describing how the reforms might backfire, and proposing what might be a better alternative. "Sonic Boom" is now in all bookstores: links to the leading online sellers are at the bottom of this page.
"Congress is considering legislation that would tie corporate bonuses very closely to company performance. Since many CEOs are overpaid, this is the kind of legislation that's easy to root for. But if corporate bonuses were tied very closely to how much money the firm makes in a given year, the unintended consequence might be to discourage research and development -- which cuts into profits in the current year and probably won't produce any benefits until the current CEO has left his post. Thus regulating bonuses by tying them tightly to corporate numbers could have an unpleasant unintended result: discouraging investments that result in innovation.
"My proposal for reigning in executive pay: limit a CEO's income to 100 times the annual income of the lowest-paid worker in the firm. Only an appalling egotist could claim to deserve, for shuffling papers and initialing memos, more than 100 times the income of a cafeteria worker. Taking into account the current federal minimum wage, 100 times the lowest worker's pay would be $1.4 million, and if a $1.4 million annual income isn't enough to motive a business executive, then the problem lies with that person, not with society. Formally stating CEO pay as a multiple of an underprivileged person's means might shame top executives into being content with millions rather than dozens of millions. More important, in the times-the-lowest concept, the CEO could make more only if those in most need got raises, creating a positive incentive rather than a perverse incentive."
Your Trademark Here Stadium: It looks like the place in "South Florida" where the Super Bowl will be played will be called Sun Life Stadium on that day; it's the seventh name in the facility's annals. TMQ continues to think some stadium should auction its naming rights on a daily basis. Or at least, there should be a futures market in stadium names.
Haiti Reminds Us What a Crisis Is: The earthquake in Haiti is a calamity, far worse than the 1755 Lisbon earthquake that left such an imprint on Western thought. The best way to donate is through the Red Cross Web site; texting "Haiti" to 90999 donates $10 to the Red Cross. The Red Cross is honest, reputable and audited -- be wary in the weeks to come of Haiti funds suddenly opening their doors. Doctors Without Borders is another noble, and entirely reputable, charity active in earthquake response; donate here.
The Haiti earthquake, all too real as a crisis, ought to remind us how often the word "crisis," and its synonyms, are overused. "Obama Takes Oath, and Nation in Crisis Embraces the Moment," read the 48-point-type New York Times headline on the morning of the 2009 presidential inauguration. Crisis? America's current problems are quite moderate by the standards of history, including of recent economic history -- things were worse in the late 1970s. "The nation faces a calamity," Speaker of the House Nancy Pelosi said last winter. "We are on the verge of complete collapse," David Obey, chair of the House Committee on Appropriations, said last year. The United States faces "an economic crisis, a health care crisis and an environmental crisis," prominent columnist Paul Krugman declared last spring. Environmental crisis? In the United States, except for greenhouse gas emissions, all environmental trends are positive. The United States faces "catastrophe," Obama said not long after taking office. In his first State of the Union address, Obama used the word "crisis" 11 times; Bill Clinton used this word an average of once per State of the Union address. America faces "an unprecedented crisis, the worst in our history," Minnesota senator Al Franken said last year. Worse than the Depression? Worse than the Civil War? The word "crisis" has been so trivialized that a recent Times head read, "Crisis Stings Britons in France and Spain." The "crisis" was that British citizens who own vacation homes in France are being inconvenienced by the pound-Euro exchange rate.
It's time to retire the word "crisis" from most uses, especially its devalued usage of "whatever I or my constituents or donors don't like." Saying "crisis" all the time regarding conditions in the United States, where there is nothing like a crisis by historical standards, may keep us from doing enough about true crises such as the Haitian earthquake. False claims of crises also may be used as political rationalizations for borrowing to excess, straining our ability to respond if a genuine crisis should arise. Suppose a Haiti-like earthquake ruined a large U.S. city -- the federal government has borrowed so many trillions of dollars in the past three years, in response to problems that are genuine but historically moderate, that America might lack the means to respond to a true crisis.
[+] Enlarge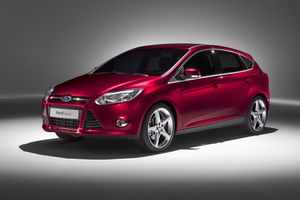 Ford Motor CompanyThe 2012 Ford Focus will be in showrooms soon. Buy it fast before the 2013 arrives.
Unified Field Theory of Creep: Jay Lenrow of Baltimore just got this offer of a cruise discount if he plans his 2011 vacation today. Paul Wolfe of Eugene, Ore., reports he recently subscribed to Wired magazine and "before I received the first issue, I got two separate letters asking if I would like to renew my subscription." Rich Fetcho of Coplay, Pa., notes, "I checked ESPN.com as part of my morning routine and found this article on the 2010 Heisman Watch -- posted the morning after the college season ended. John Bieniewicz reports that Ford just unveiled a 2012 model.
Arizona at New Orleans Analysis: New Orleans surely used its bye week to good effect. The offensive game plan had lots of wrinkles. This season, the shotgun spread has been the NFL rage; on Saturday, Drew Brees was under center for all but one snap in the contested portion of the contest. The Saints use more man-in-motion than most teams; in the contested portion of the contest, New Orleans always had a man-in-motion, sometimes following a double shift. Once Marques Colston went man-in-motion from a tight set to way outside right, then New Orleans ran off-tackle as the Arizona defense was furiously spreading wide for what looked like a sure pass play. Wrinkles like these were just enough to keep the Cardinals' defense off-balance, allowing the hosts to score touchdowns on each of their first three possessions. And man did the New Orleans offensive line play well, led by Jahri Evans, of Division II Bloomsburg. Do you even know what state Bloomsburg University is in?
On defense, the Saints blitzed a lot -- too much; Minnesota will block wacky blitzes. But the tastefully named Gregg Williams, the Saints' defensive coordinator, knew that Cardinals left tackle Mike Gandy was out injured. Megabucks Cardinals right tackle Levi Brown had a horrible game, often just standing around watching. On his interception, New Orleans defensive end Will Smith was blocked at the line -- so when he saw Kurt Warner cock to throw short, he hustled backward into coverage. Key defensive stat: The longest catch by Larry Fitzgerald was 16 yards. TMQ still worries about New Orleans' tackling. Darren Sharper played a mostly good game, but totally whiffed on two tackles, including his chance to stop the 70-yard Tim Hightower touchdown on Arizona's initial snap. The occasional "SportsCenter" class big hit, which Sharper gambles for, means less than routine wrap-up, form tackling.
[+] Enlarge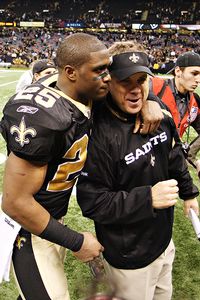 Scott Cunningham/Getty ImagesThey kissed. Reggie Bush said so. Would you make that up?
The Cardinals turned back into pumpkins. You probably can't give up an average of 45 points per game in the playoffs and expect to advance. Arizona had injuries on defense, and did not perform well in many areas. New Orleans leading 28-14 and facing first-and-goal on the Arizona 17, the Cardinals lined up to safety blitz. Brees saw this and elaborately called a protection audible, moving Thomas into position to block the safety. But Arizona didn't react by backing out of the blitz! The safety was blocked and Brees threw an ally-oop to Colston on the 2. Now it's second-and-goal from the 2. Colston lined up wide left with Arizona corner Bryant McFadden across from him, lined up in the end zone! When the receiver lines up on the 2, if you line up in the end zone, all the receiver need do is step across the line and turn around for a touchdown -- which is exactly what happened. At the goal line, corners must jam.
Arizona coach Ken Whisenhunt made curious tactical decisions. When the Cardinals scored to pull within eight (21-13), New Orleans was offside on the successful Arizona try. In this situation, the "offended team" chooses between replaying the down with half the distance walked off, or taking the point and kicking off from 5 yards closer to midfield. Whisenhunt chose the latter. But half the distance places the ball at the New Orleans 1 -- gain a single yard, get a bonus point. Arizona was playing the NFL's highest-scoring team: Be aggressive, go for two! Don't tell me you can't gain a single yard!
Trailing 38-14 midway through the third quarter, Arizona faced fourth-and-6 on its 38. Whisenhunt sent in the punt unit. This is the playoffs, there is no tomorrow! You're down by four scores in the third quarter! Your defense has given up 11 touchdowns in its past two games, a quick stop is not likely! What are you afraid of? Your offense gained 532 yards the previous week! What exactly is a punt supposed to accomplish???????? As the punt boomed, TMQ wrote the words "playoff game over" in his notebook. Outraged, the football gods instructed Reggie Bush to run the punt back 83 yards for an untouched touchdown.
This really must be the 21st century: After the game, Saints coach Sean Payton kissed Bush.
Reader Comments: Of the BCS championship game, I chided Nick Saban for running up the score with a closing-seconds touchdown when he might have done the classy, sportsmanlike thing by having Alabama kneel to end the game. I added that if Texas hadn't kept Colt McCoy in games late to run up the score, his understudy, Garrett Gilbert, might have been ready when McCoy was injured in the title contest. Mark Metts of Houston writes, "There have been countless threads on Longhorns message boards throughout the year that Garrett should have gotten more meaningful playing time. The rebuttal is that Colt needed to be left in for style points -- to impress the BCS. The issue Mack Brown faced with TCU, Cincinnati and Boise States undefeated was making sure UT stayed in the top 3, since Bama and Florida were going to play each other with the winner assured of one title game slot. Brown felt he needed to keep Colt in games longer than he otherwise would have, to make the victory margin impressive to those large numbers of BCS voters who cast ballots despite not seeing the teams in question play. What are they voting on? Margin of victory. Despite claiming not to, the BCS rewards margin of victory. That can leave a team angling for the top of the BCS little choice but to keep starters in late during the regular season. Even once in a bowl, you still have incentive for running up the score to improve your final ranking, which boosters obsess about.
[+] Enlarge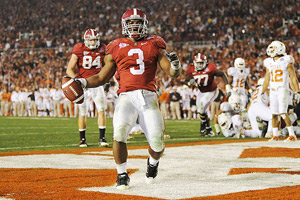 AP Photo/Mark J. TerrillThe Crimson Tide running up the score has nothing on the Minnesota Vikings.
"The one big-college football game each year where margin of victory does not matter is the BCS championship. You're in the ultimate game -- style points add nothing. Saban did not need another touchdown when ahead 31-21 in the final minute, he was already assured of victory in the BCS championship game and already assured of the season-ending number-one ranking. Saban could have been classy and taken a knee, and UT was clearly caught off guard that he didn't. At the end of the 2004 Texas-Oklahoma game, Bob Stoops told his team to kneel rather than score a touchdown that wouldn't impact the outcome but might have helped the Sooners in the BCS. Stoops was sportsmanlike when he had something to gain, Saban was a bad sport when all he stood to gain was vanity. To have less class than Bob Stoops is an impressive feat, but Saban pulled it off."
Jason Altman of Atlanta notes the Bears stocked two of the league's best running games by supplying Thomas Jones to Jersey/B and Cedric Benson to Cincinnati. The Jets and Bengals both made the playoffs while Chicago, 29th-ranked in rushing, stayed home. Chicago got nothing for Benson. A complex series of trades involving Jones netted out this way: the Bears gave up Jones and a second-round choice for Dan Bazuin, Garrett Wolfe, Kevin Payne and Marcus Harrison. I wrote, "The three teams that fired offensive coordinators on the season's eve -- Buffalo, Jacksonville and Tampa -- finished a combined 16-32." Travis Taylor of Ormond Beach, Fla., notes the three were in fact Buffalo, Kansas City and Tampa -- which finished a combined 13-35.
The fact that college athletes lose their NCAA scholarships if for any reason they stop playing sports causes many of such persons to pay more attention to the team than the books, and is one of the many forms of cynicism practiced by the NCAA -- which claims athletes aren't unpaid employees, yet stops funding them the instant they stop performing. Rob Carlisle writes, "I grew up in England. When I came to the United States, I was seriously shocked when I heard NCAA athletes lose their scholarship if they stopped playing. In England a good athlete might get a leg up getting into a better school, but nothing about financial aid changes if they stop participation in the sport. The captain of the rowing crew was in my dorm at Cambridge: he chose to keep rowing, but he wouldn't have lost anything if he stopped. Colleges should be required to make athletic scholarships non-conditional. Then it's up to the students to balance their lives, rather than be at the mercy of coaches and boosters."
I said planets outside the solar system are hard to detect because "planets do not give off light." Christopher Kletecka of Cleveland, an optical physicist, writes, "Planets do indeed give off their own light, called blackbody radiation. If the planets' equivalent blackbody temperature is hot enough then the photons given off by the planet can be in the visible portion of the spectrum and we can see it. If the planet is too cold, then the light has an infrared frequency that our eyes are too limited to see, but many detection satellites are sensitive to. The optical physics community refers to anything from ultraviolet to visible to infrared as 'light,' since the cutoffs among these types are only determined by our eyes and not the ever expanding ability of technology to detect energy. To say planets don't give off light suggests there is a fundamental difference between optical light and IR light, which isn't true. The difference is only in the frequency of the wave. Our eyes see one but not the other; to a device that sees both, they both appear as light. There's no reason in principal why both could not appear as light to a biological eye. Maybe this happens on Pandora."
[+] Enlarge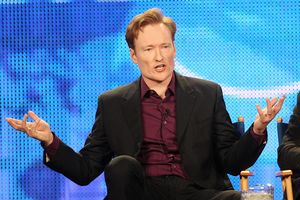 Frederick M. Brown/Getty ImagesWas he once part of the Herschel Walker trade?
I have been pounding the table about government officials who demand taxpayer-funded bodyguards not for any real security need, but to make themselves feel more important. Ryan of Tucson, Ariz., writes, "I was in Salt Lake City around Christmas time, and some family members and I went to Costco. Who do we see sitting in the food area eating a polish dog? Senator Orrin Hatch. One of my family members approached him to say hi. No men in sunglasses jumped out -- there wasn't any security present. On the walk back to our car, I checked for a motorcade, with flashing lights, and that wasn't around either. To top it all off -- he was having a hot dog with his own wife."
Finally, Greg Rossi of Santa Monica, Calif., nets out all the NBC transactions involving late-night hosts: "In effect, NBC traded Conan O'Brien and $40 million for Jimmy Fallon. After all its transactions involving evening talk shows, the net is that Jay Leno is back at the same place (most likely with lower ratings due to all the changes and bad press), Conan is gone and Fallon is in the slot O'Brien initially vacated. Surely Al Davis would make a similar trade if given the opportunity."
[+] Enlarge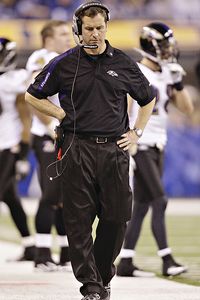 AP Photo/Michael ConroyJohn Harbaugh orders a punt because he's worried about his BCS rankings. Plus, how will the Ravens do in their rivalry game versus Cal?
Single Worst Play of the Season -- So Far: Trailing Indianapolis 20-3 with 8:11 remaining, Baltimore punted. Who cares if it was fourth-and-8, who cares if the ball was on the Ravens' 25? This is the playoffs, there is no tomorrow. Trailing by more than two touchdowns with 8:11 remaining in a playoff game, coach John Harbaugh sent out the punt team, as if he was a college coach worried about holding down the margin of defeat for the BCS standings. Maybe that was Jim Harbaugh on the Baltimore sideline. Punting with eight minutes left in a playoff game in which you trail by 17 points -- buck-buck-brawckkkkkkk doesn't even begin to describe this.
The Cowboys, playing at Minnesota, also trailing 20-3, with 12:07 remaining in the fourth quarter, ball at midfield, were ordered by Wade Phillips to punt. Who cares if it was fourth-and-11 -- who cares if it was fourth-and-99? You are down by more than two scores in a playoff game in the fourth quarter. Why are you punting??? John Harbaugh and Wade Phillips, you are guilty of the single worst play of the season -- so far -- and it's exactly the same play!
Next Week: USC recruiters demand verbal commits from middle-school players.
In addition to writing Tuesday Morning Quarterback for Page 2, Gregg Easterbrook is the author of the new book "Sonic Boom," and six other books. He is also a contributing editor for The New Republic, The Atlantic Monthly and The Washington Monthly. His Web site can be found here.