Commentary
Brett Favre, felled by his fatal flaw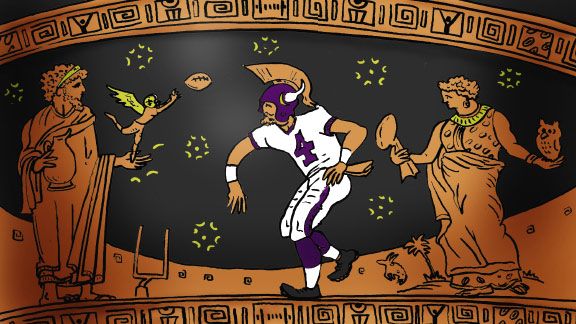 Kurt Snibbe
Hamartia. The "tragic flaw" described by Aristotle: A leader cannot control his own inner shortcoming, which causes him to achieve the reverse of what he desired. In "Antigone," the king, Creon, tells himself he is acting in the interest of the city, when actually he is acting to glorify his own ego -- this hamartia destroys him. Brett Favre comes up a bit short of a character in ancient Thebes, but on Sunday he was brought low by hamartia all the same. It was not enough for Favre's team to reach the Super Bowl -- he had to get the credit. Game tied with 19 seconds remaining, Favre scrambled at about the New Orleans 40-yard line, with open field ahead of him. All he needed to do was run a few yards, hook-slide, call timeout, and the Vikings' strong-legged kicker, Ryan Longwell, had a solid chance to win the NFC championship. But the credit had to go to Favre; he had to throw a spectacular pass at the end, so television announcers would swoon. So he heave-hoed a dramatic across-the-field pass. It was intercepted, and the Saints won in overtime.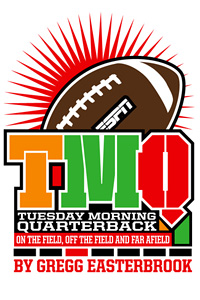 Perhaps you are thinking, "It was just a dumb mistake, and the whole thing happened in a couple of seconds." No. Two years of Favre's life built up to that moment. For two years, Favre has insisted that entire NFL franchises, the Jets and the Vikings, become thralls to his celebrity. He has used his stature to demand, demand, demand -- the crux of the demands are always attention and publicity for himself. Now he is brought low. In two of the past three seasons, Favre has lost in the NFC Championship Game. Each time, his team seemed poised to win at the end; each time, Favre's final play was a disastrous interception. And each of those title losses eventually came in overtime -- to punish Favre for his hamartia, twice the football gods allowed him to come so close, so close, then denied him. Favre has been brought so low, he is now being laughed at in Wisconsin, and he has only himself to blame. Aristotle would not be surprised by the ending of the Favre saga. If, of course, it was the ending.
In other football news, someone clever, handsome and irresistible to women predicted an Indianapolis-New Orleans Super Bowl. Why, that must have been me! At the season's start, yours truly said on "The Brian Kenny Show" that I liked the Colts and Saints to meet in Miami -- the clip is here, my prediction is toward the end. I repeated the prediction here on Sept. 15. Considering my column motto is All Predictions Wrong or Your Money Back, and my Super Bowl prediction failed to be wrong, you get your money back. Since TMQ is free -- oh, never mind. Anyway, Colts-Saints was the pairing I had hoped to see when I arrive on Feb. 7 at that stadium where the South Florida Dolphins perform. Now I will be happy.
TMQ CHEAT SHEET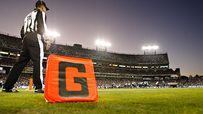 Gregg Easterbrook on …
Of the 88 players who started on championship Sunday, 19 were undrafted. Countless megabucks first-round draft choices sat at home drinking blueberry wheat microbrews and munching genetically modified maize chips while watching undrafted gentlemen perform on the big stage. Kids -- never give up! TMQ admires those players who excel despite being undrafted, waived, or both. Next week I will honor the best with my annual Tuesday Morning Quarterback All-Unwanted All-Pros.
In stats-obsession news, let the scramble for Indianapolis and New Orleans stats begin! Both are dome teams that play indoors on turf; in the Super Bowl, they will meet outdoors on grass. But this shouldn't be a factor. The Colts are 5-0 on grass, the Saints are 4-1.
In cultural news, the other day I took a United Airlines flight from Toronto to Washington. Scheduled departure time was 10:03 a.m. -- not 10:00, 10:03. Throughout this column you'll find TMQ's annual review of absurd pseudo-precision.
Stats of the Championship Round No. 1: Minnesota gained 475 yards on offense, made 31 first downs, and lost.
Stats of the Championship Round No. 2: Discounting the December Jets-Colts game in which Indianapolis pulled its starters, Peyton Manning is 5-0 against Rex Ryan defenses.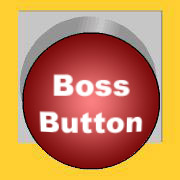 Stats of the Championship Round No. 3: The best offense (Saints) and the best defense (Jets) in the NFL made the championship round. But the second-, third- and fourth-best offenses (Cowboys, Patriots and Texans) and the second-, third-, fourth- and fifth-best defenses (Packers, Ravens, Bengals and Steelers) did not.
Stats of the Championship Round No. 4: In the past decade, road teams playing indoors in the postseason are 4-18.
Stats of the Championship Round No. 5: Minnesota and New Orleans, which met for the NFC championship, opened a combined 23-1 and are a combined 5-7 since.
Stats of the Championship Round No. 6: No head coach in the championship round had previously won a championship game.
Stats of the Championship Round No. 7: The Vikings finished 9-0 at home, 4-5 on the road.
Stats of the Championship Round No. 8: The Jets have lost three straight conference championship games.
Stats of the Championship Round No. 9: The Vikings have lost five straight conference championship games.
Stats of the Championship Round No. 10: The Colts will appear in their fourth Super Bowl -- all played in Miami.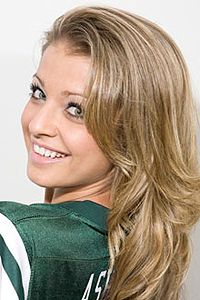 New York JetsNot even her psychology degree would enable her to explain Rex Ryan.
Cheerleader of the Championship Round: Ashley of the Jersey/B Jets, who according to her team bio has a psychology degree from Montclair State. NFL team cheerleader bios contain a lot of silly questions ("What's your pet peeve?") that must be hard to answer without sounding trite. Ashley's bio actually has a thoughtful answer. To "What's your favorite thing about New York City?" she answered, "The lights, the glitz, roasted almonds, theater life, the chaos, Christmas time and people watching."
Sweet Play of the Championship Round: In overtime, the host Saints -- outplayed by the Vikings in every respect save turnovers -- faced a fourth-and-1 on the Minnesota 43-yard line. This is do-or-die -- you cannot give the ball back to the other team in overtime. Three times earlier in the game, New Orleans needed 1 yard for a first down, and all three times the Saints were stuffed. Sean Payton sent in a goal-line play -- one in which tailback Pierre Thomas leaps above the trench, as if at the goal line. Why do coaches only call the leap at the goal line? Because the most it can gain is 2 yards; the runner crosses the line of scrimmage, then slams to the ground. That's fine at the goal line, but in the middle of the field, coaches want to maintain the chance of a long run. But if you're going for it on fourth-and-1, all that really matters is gaining 1 yard. Tuesday Morning Quarterback long has wondered, why not call the goal-line leap for 1 yard in the middle of the field? Payton did, and five snaps later, his team was on the way to the Super Bowl.
Sour Play of the Championship Round: Midway through the fourth quarter, Indianapolis led Jersey/B 20-17 and faced a second-and-6 on the Jets' 15-yard line. Manning play-faked against a 4-2 front; Dallas Clark ran a seam, every tight end's favorite pattern; neither Jets inside linebacker made any attempt to cover Clark, who scored an easy touchdown as the hosts pulled away to earn a Super Bowl invite. That's the kind of play you might expect from a finalist for the TMQ Non-Quarterback Non-Running Back NFL MVP! Clark entered the game with 107 receptions and 10 touchdown catches on the season -- yet in the very field position and down-and-distance in which Manning likes to look for Clark, no one covered him. Very sour for the league's top-rated defense.
Sweet 'N' Sour Plays of the Championship Round: With the Jets leading 17-6 with 1:19 remaining in the first half, the Colts had a first-and-10 on the Jersey/B 16-yard line. Touchdown pass to Austin Collie -- the score at intermission is 17-13, and the Colts' comeback begins. On the final drive of the first half, Collie caught three passes for 80 yards -- that was sweet. During the Colts' divisional-round game, Collie (who was born in Canada) beat Ray Lewis for a touchdown; in the championship game, he broke a Darrelle Revis tackle for a first down. Those were extra-sweet.
As for the Jets, on the second play of that Colts drive, they big-blitzed; the Colts blocked the blitz, and gained 18 yards via Collie. On the next play they big-blitzed; the Colts blocked the blitz, and gained 46 yards via Collie. The tactic has just failed twice in a row. Maybe you should try something else? Instead, Rex Ryan called another big blitz; the Colts blocked the blitz, touchdown. What's worse, no one covered Collie -- the safety on his side, Eric Smith, stood like topiary, never covering anyone. Collie had just caught two passes on consecutive plays for 64 yards, and on the very next snap no one covered him. For the league's top-rated defense, this sequence was incredibly sour.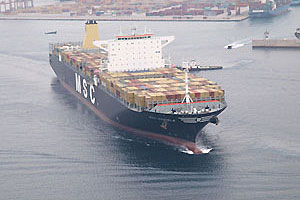 MSC GreeceSurely 30 crewmembers are plenty for the MSC Daniela, a vessel larger than an aircraft carrier.
4,400 Tons of Responsibility Per Crew Member -- Before the Ship is Loaded: The container vessels that ply the world's oceans continue to get bigger. Many are now too big to pass through the Panama Canal. Many are engineered for specific "strings" -- for instance, to shuttle endlessly between Singapore and Rotterdam, Netherlands, never serving any other ports. Mediterranean Shipping Company, based in landlocked Switzerland, just launched the largest ship so far, the MSC Daniela, capable of carrying 14,000 standard shipping containers. The ship weighs about 133,000 tons -- about a third more than the final Nimitz-class supercarrier, the recently launched George H. W. Bush. STX Shipbuilding of South Korea is working on a vessel that would carry 22,000 standard containers, and be twice the mass of the largest aircraft carrier.
Here is something that dazzles me: MSC, the world's second-largest container shipping company, was founded in 1970, when an Italian sea captain bought an old cargo ship and offered to carry anything anywhere. Global trade has exploded so fast that a company which now owns 376 large vessels, including the largest in the world, was founded a mere 40 years ago. And here is something that creeps me out. Counting aviators, the George H. W. Bush has a crew complement of about 5,500. The larger MSC Daniela has a crew complement of 30.
That 50.3 Percent Chance is Definitely Not a 50/50 Chance! In mid-December, nfl-forecast.com declared New England had an "88.78 percent" chance of winning its division, while Minnesota had a "98.38 percent" chance and Buffalo clung to a "0.04 percent" chance. Dallas, meanwhile, had a "50.3 percent" chance of reaching the playoffs. Accuscore.com now predicts game results for the Wall Street Journal. For the NBA's opening day, it forecast -- I am not making this up -- a final score of Cleveland 92.6, Boston 90.4.
According to new reports from last summer, New England fourth-round draft choice Rich Ohrnberger got a $451,000 signing bonus, while Donovan McNabb received a $5.34 million raise. Why are oddly specific numbers common in NFL contracts?
Minnesota at New Orleans Analysis: The Vikings played a lot better than the Saints did -- except for putting the ball on the ground. Statistically, Minnesota came into the game the best team of any of the final four -- ranked fifth in offense and sixth in defense. Those numbers are a little deceptive because the Vikings ran up huge statistical margins at home while going 9-0, then were an average team statistically on the road while going 4-5. Still, in the NFC title game, Minnesota gained 218 more yards than New Orleans and made 16 more first downs. And that's considering the Vikings never had an overtime possession: At the end of regulation, the Minnesota edge was 250 yards and 18 first downs. Double the opponent's yardage and gain 18 more first downs -- you can only lose that scenario with turnovers.
[+] Enlarge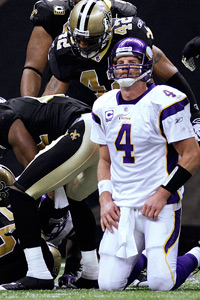 AP Photo/Mark HumphreyHe wore earplugs. At least they weren't supplied by Medicare.
Were the Vikings' turnovers caused by nervousness? By crowd noise? Maybe they were caused by earplugs! The Minnesota defense, which played very well, wore no earplugs. The Minnesota offense wore earplugs. Plus-nine on turnovers in their first 17 contests, the earplug-wearing Vikings were minus-four in the title game. It's not just that Minnesota offensive players had trouble communicating -- wide receivers sometimes didn't know the play and several line calls were blown, one reason the previously stout Vikings offensive line allowed Favre to be hit over and over. The Vikes fumbled six times, losing three. In his 17 previous contests, Favre had 37 touchdown passes and seven interceptions; he put earplugs in his ears and threw one touchdown pass and two interceptions. The sense of balance originates in the inner ear. Push earplugs into your ears and your balance may be subtly altered. And the Vikings looked off-balance all night.
Last week, TMQ wondered if Head Coach Favre and his intern, Brad Childress, could resist the urge to let Favre win the game and the glory with his arm, and instead mainly rush against the Saints' defense. Counting sacks and scrambles, Minnesota called 50 passing plays and 35 rushing plays, with 150 yards gained by tailbacks Adrian Peterson and Chester Taylor. Yes, the running game caused two turnovers, but the passing game caused three. Oh, what might have been had Minnesota mainly rushed against the Saints, whose weakness is run defense. But Favre's hamartia is wanting all the glory for himself, and whether the pass calls were coming in from the sideline or Favre was making them, pass calls they were. Constant passing also exposed Favre to the hammering he took -- more runs would have kept the 40-year-old away from contact.
Featuring the pass all day, when Minnesota reached the New Orleans 33 with 1:06 remaining in regulation, game tied, the Vikings holding two timeouts, Childress had his charges take their sweet time on two running plays; the clock ticked down to 19 seconds before a penalty made the situation third-and-15 from the 38. Childress seemed to think the game was already over -- but field goal kickers can miss! The penalty, for 12 men in the huddle, came after a Vikings timeout. That is a mistake by the sideline, not the players. As he often has, Childress seemed befuddled in a clock-management situation. In 2008, against the Titans, trailing by 13 points at the two-minute warning and out of timeouts, Childress ordered a punt, later saying he thought there was plenty of time for the Vikings to get the ball back twice. If Favre returns, and his intern Childress returns, the Vikes should hire a clock coach.
The tastefully named Gregg Williams, the New Orleans defensive coordinator, used a Jets-like game plan of constant big blitzing on passing downs, combined with press coverage, a mix New Orleans had not shown this season. Just as it did for the Jets, this game plan backfired by allowing the opponent big play after big play, and a 7-of-12 third-down conversion rate.
Saints players came after Favre so hard -- four times slamming him in ways that invited late-hit or roughing penalties, only two of which were called -- that TMQ had the impression Williams told his charges something along the lines of, "Pound Favre every time you can; we will take a couple of roughing flags in return for making an old guy worry about the next hit." That was what happened at the end of regulation. Game tied, Minnesota ball on the New Orleans 38, the Vikings faced third-and-15, holding a timeout. Favre rolled right and might have run for at least 5 yards, then performed a hook slide and called the timeout, setting up a 50-yard field goal attempt (the Vikes have a good kicker in Longwell). Was it Favre's hamartia that made him throw that crazy cross-field pass -- or fear that he would be hammered again?
[+] Enlarge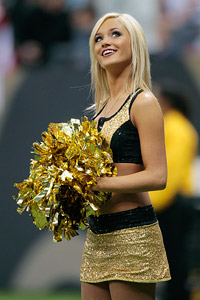 AP Photo/Dave MartinSouth Florida bound! (Miami? Where is that?)
Williams nearly blitzed New Orleans out of the Super Bowl. The Vikings had nine expected-passing downs in the second half: second-and-long or third-and-long. Williams called big blitzes on seven, and the result was one incompletion, six first downs and 125 yards gained by Minnesota. On two of the long-yardage downs, Williams called a conventional four-man rush. The result was Favre's two interceptions. If the Saints blitz to excess against Indianapolis, outside the confines of their noise cone, they will be doomed.
As usual, the Saints had some new tricks on offense (New Orleans varies its plays and sets more than any NFL team). Reserve tight end Dave Thomas often lined up as a slotback, and he had a fine game. (Thomas, whom the Saints picked up from New England for a seventh-round draft choice, is yet another castoff prospering under Sean Payton.) Reserve tackle Zach Strief took some snaps at fullback and twice went in motion. On one snap, the running backs in the New Orleans backfield were … a tight end and an offensive lineman.
New Orleans' blocking was generally good. Jahri Evans of Division II Bloomsburg pulled and wiped out two defenders on the 38-yard touchdown screen pass to Pierre Thomas. On Thomas' 9-yard touchdown run, Evans threw Ticonderoga class Minnesota defensive tackle Pat Williams to the ground, one of the best blocks TMQ has ever seen. Evans' performance was of the caliber one expects from a finalist for the TMQ Non-Quarterback Non-Running Back NFL MVP.
But in the main, the New Orleans offense sputtered. Brees' throws were off-target or wobbled. An elaborately set up reverse to Reggie Bush -- Payton called prior plays intended to distract Minnesota from the reverse when it came -- was lucky to get back to the line of scrimmage. Despite having the league's highest-ranked offense, New Orleans punted three times on fourth-and-1 (once deep in Saints territory, which made sense) and twice on fourth-and-2. (One fourth-and-1 punt shows in the books as fourth-and-6 because it followed a failed attempt to draw the Vikings offside.)
Most importantly, the Saints could not, until the very end, convert short-yardage downs. Third-and-1: stuffed, punt. Third-and-1: stuffed, punt. Third-and-4: pass dropped, punt. Third-and-1: stuffed, punt. This sort of thing will not git 'er done against the Colts, who like to hold serve with lots of first downs.
[+] Enlarge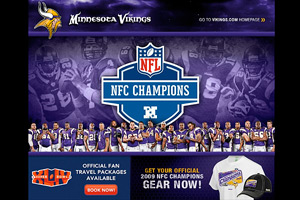 Minnesota VikingsWe won! We won! On the Web, at least.
The Jets' selling AFC champ merchandise the week before the game was bad enough. Reader Brian Ploessl of Cassville, Wis., notes that in the fourth quarter on Sunday night, the Vikings posted the accompanying screen on their team Web site, announcing Minnesota was going to the Super Bowl. Of course, the announcement did not say what year.
All 15 Callers Were Brian Billick: Last week, the Bills named yet another bland guy as head coach, this time Chan Gailey. Since Marv Levy and then his assistant Wade Phillips, the Bills have fielded a succession of nondescript coaches who never express any form of emotion, who never appear the slightest bit perturbed by yet another losing season, who barely seem aware when a game is in progress. Gailey needs to shake up the Bills' culture, which once was win-oriented, but in the past decade has been excuse-oriented. At the high school level of football, building character is more important than winning. At the NFL level, winning is nearly everything. If a team doesn't win in one specific season, that could be bad luck. If a team doesn't make the playoffs for a decade, something is wrong with the coaches, management and the team's culture.
While introducing Gailey, new Bills general manager Buddy Nix gave the Buffalo headphones assignment this incredible vote of confidence: "Don't ever think you can't fill coaching jobs, even if they're bad." Beyond the fact that Nix's opening move was to insult his own team -- click here to hear the audio -- Nix sounds exactly like Slim Pickens as Major Kong in the black-comedy classic "Dr. Strangelove." Part of the lore of that film is that to get Pickens to deliver his lines super-straight, director Stanley Kubrick did not tell the actor that the film was a comedy. Nix may not have been told that the post-Levy Buffalo Bills are a comedy!
[+] Enlarge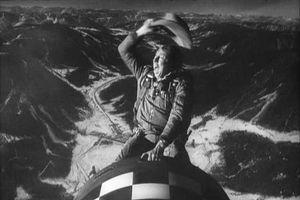 Columbia Pictures for ESPN.comSlim Pickens in "Dr. Strangelove" -- we'll meet again at One Bills Drive.
Throughout their head-coaching search, the team did nothing to counter rumors that top candidates were turning offers down because they didn't want to be associated with the Bills' inept front office. This generated negative publicity and made it seem Gailey's leading qualification was that he was the sole person willing to take the job. While introducing Gailey to the press, Nix espoused wild claims about the search process -- "We probably got, and I'm trying not to exaggerate, 15 calls a day, begging for an interview and wanting this job" -- then refused to give specifics, causing Nix to seem like a grinning buffoon. (Media advice: Never make a claim you can't back up.) Neither owner Ralph Wilson nor team president Russ Brandon attended Gailey's introduction, which made it seem as if both are already distancing themselves from the hire and lining up their excuses for when Nix and Gailey are fired. Attention Buffalo Bills, it is no longer 1962. Could we bring our public relations practices at least into the 1970s? Time to ditch the mimeograph machine and replace the rotary-dial phones. NFL franchises which excel in the marketplace -- Dallas, Denver, Houston -- are exceptionally image-conscious. The Bills behave as if dismantling the team's image is an organizational goal.
Absurd Precision Around the Sports: Derek Knowlton of Syracuse, Utah, writes, "Watching the World Series, I noticed an instance of outlandish specificity by the Fox network. Every once in a while, they show speed of the pitched ball at the time of release and its speed at the time it crosses the plate. The third number they give us is the reaction time the batter has to hit the ball. The example I saw showed that a 96 mph fastball crossed the plate at 88 mph, and the batter had .354 seconds to react. They gauge this to the thousandth of a second? It's a good thing that batter didn't have .355 seconds to react or he might have hit it out of the park."
[+] Enlarge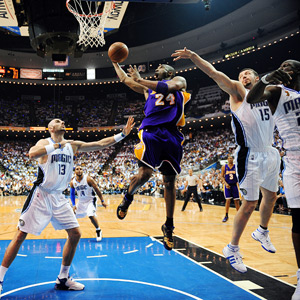 AP Photo/Stan Honda, PoolHe's sure to come down with a couple extra tenths of a second to spare.
Shawn Fury of New York City notes of a Bulls-Nuggets contest, "With 0.6 seconds left, Chauncey Billups was fouled in a tie game. He made the first free throw, putting Denver ahead. He missed the second on purpose, figuring time would expire the instant the ball hit the rim. Nope. Chicago grabbed a rebound, called timeout and the clock showed 0.3 seconds. The Bulls inbounded to Brad Miller, who catches the pass, pivoted and fired a shot. Chicago wins! Then the refs review it and say no goal, the ball was on his fingertips when time expired. So according to the NBA, in the span of 0.6 seconds, the Bulls could grab a rebound, call a timeout, throw to a player who catches the basketball, pivots and raises the ball to shoot. Imagine what he could have done with 0.7 seconds!"
In Game 2 of the 2009 NBA Finals, time appeared to expire as the ball caromed out of bounds at the end of regulation. Officials Steve Javie, Tom Washington and Monty McCutchen huddled and put 0.6 of a second back on the clock, allowing Orlando a chance to win. NBA officials can sense three-fifths of a second!
In last year's Pittsburgh-Baltimore AFC Championship Game, as Pittsburgh called time to avoid a delay-of-game penalty, announcer Jim Nantz declared, "There was half a second left on the play clock." NFL play clocks show only whole seconds -- but announcers can sense half seconds! Bills scout Tom Modrak told Mark Gaughan of the Buffalo News that college shotgun spread offenses make it hard to evaluate the pass-blocking ability of offensive linemen because, "The quarterback always throws the ball in 1.7 seconds." College quarterbacks can sense tenths of seconds!
Want more info? There's now an entire book devoted to the tenth of a second.
[+] Enlarge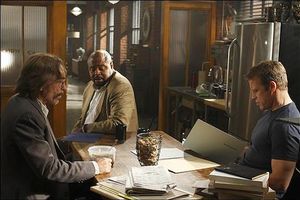 FOX"According to this script, dozens of bad guys will fire machine guns at me at point-blank range, and every shot will miss."
Air Shafts Star in New Action Show: Last week's column noted that the core appeal of the Fox series "24" is that it is pure nonsense -- nothing in the show makes sense -- and pure nonsense is a demanding form. Fox's new detective action show, "Human Target," also rises to the pure-nonsense form. In the pilot, an $80 billion high-speed train takes VIPs on a special ride even though final testing is not complete. Only in pure-nonsense drama do such things happen. The train is shown hurtling across the empty, barren landscape on the coastline between San Francisco and Los Angeles; surely you know about that forsaken, undeveloped California coastline. (The landscape looks as empty as that crossed by the Qinghai-Tibet express, the world's most interesting train -- which operates at such high altitude that it carries its own oxygen.) Needless to say, because testing is not complete, the brakes fail. Runaway train! Through the course of the pilot episode, it never occurs to anyone aboard the runaway train to shut off the engine. The train just keeps hurtling along at 200 mph, toward the sharply curved tunnel (is there such a thing as a sharply curved rail tunnel?) that leads deep into a towering mountain. You know, that towering mountain between San Francisco and Los Angeles.
Our hero, the detective, has to stop a killer trying to murder someone on the runaway train. At the episode's end, we find out the bad guy wanted to kill the glamorous female guest star "without attracting attention" -- somehow I think destroying an entire super-advanced train would attract attention. Best part of the show: The super-advanced train of the future not only has air shafts you can crawl through, they are big enough for two people to stage a climactic fight scene inside the air shaft.
Large, comfortable, well-lit, well-ventilated underground passageways also continue to star in nonsense entertainment. In the recent remake of "Pelham 1-2-3," the bad guys discover an "abandoned subway tunnel" that opens directly into … the lobby of the Waldorf Hotel. At what point, exactly, did the subway once run through the Waldorf? (Addendum: Numerous readers, including Pete Klaiber of Moscow, Idaho, are reporting there actually is an abandoned subway line to the Waldorf Astoria.) In the movie "Angels and Demons," the Tom Hanks character uses "an abandoned sewer" to reach the papal chamber at the center of the Vatican. Vatican City has been studied for a thousand years; no one knew a sewer leading directly to the papal chamber was there, yet Langdon found it in minutes -- and the doors, abandoned for centuries, still worked!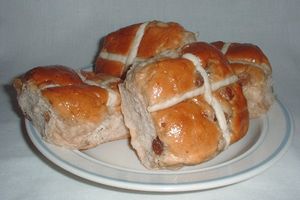 eatingabroadtogether.euHot cross buns -- be sure to finish this Easter treat by the January use-by date.
Unified Field Theory of Creep: Chad of Columbus, Ohio, writes, "I was on the Best Buy website and saw I could pre-order a video game that isn't scheduled to be released until March 28, 2012." Andrew of Melbourne, Australia: "Australia's two largest supermarkets, Coles and Woolworths, already are selling Easter hot-cross buns. My wife bought a pack in early January that had a use-by date of 18th January. Easter is 4th April." Dave Tucker of Rockville, Md., provides this chilling report: "House Agriculture Committee Chairman Collin Peterson announced he will be propelling the 2012 farm bill into motion by holding the first hearings this spring -- two years before the current farm bill expires. Is this a gimmick to generate a phony crisis and ensure more giveaways to Peterson's campaign donors? Or is it extreme government inefficiency that requires a bill to be worked on two years in advance so it can be passed on time?" Either way, Congress looks like a ship of fools.
College Pairings TMQ Wants to See: Here are college matchups we'd like to see next season:
• Springfield College of Massachusetts versus Springfield College of Illinois with the winner to meet the University of Illinois at Springfield.
• Monmouth College versus Monmouth University.
• Trinity of Texas versus Trinity of Connecticut with the winner to play Trinity International.
• Georgetown College versus Georgetown University; winner meets the winner of Cornell College versus Cornell University.
• Charleston College versus Charleston University with the winner to meet Charleston Southern.
• A bracket of Bethel College of Indiana versus Bethel College of Tennessee; winner meets the winner of Bethel College of Kansas versus Bethel University.
• Dickinson College versus Dickinson State with the winner to meet Farleigh Dickinson.
• Carroll College versus Carroll University with the winner to meet John Carroll University.
• Luther College versus Martin Luther College. The game could be conducted in a torture chamber!
• Round-robin tournament of King's College of New York versus King's College of North Carolina versus King's College of Pennsylvania versus King's College of California.
[+] Enlarge
AP Photo/Steve HelberWilliam & Mary has a cannon to defend itself from all the other colleges with the word Mary in their names.
• Franklin College versus Franklin University with the winner to play Franklin & Marshall.
• Mars Hill versus Black Hills with the winner to play Hillsdale.
• Washington & Lee versus Washing & Jefferson with the winner to play Washington State; Washington College versus the University of Washington with the winner to play Washington University in St. Louis.
• An all-John bracket to include St. John's College of Maryland, St. John's College of Illinois, St. John's University of New York, St. John's University of Minnesota and St. John Fisher College.
• An all-Wesleyan bracket of the 18 colleges with the word Wesleyan in their names. Saying, "I went to college at Wesleyan" doesn't tell much.
• An all-Mary bracket, to include St. Mary's College of Indiana, St. Mary's College of California, St. Mary's College of Maryland, St. Mary's University of Texas, St. Mary's University of Minnesota, St. Mary-of-the-Woods College, the University of St. Mary, Mount St. Mary's College of Maryland, Mount St. Mary's College of California, the College of St. Mary, Marymount College of New York, Marymount College of California, Marymount University of Virginia, Maryville College, Maryville University, Marywood University, Mount Mary College, the University of Mary Washington, the University of Mary Hardin-Baylor, Mary Baldwin College, the College of William & Mary and the University of Mary.
[+] Enlarge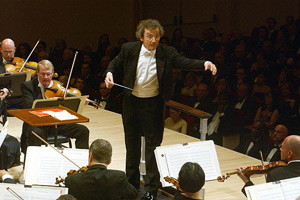 AP Photo/Osamu HondaThe Cleveland Orchestra went on strike, demanding more charity.
Poets Can't Strike for More Charity Since They Don't Get Any As Is: Last week the Cleveland Orchestra, which performs beautifully, went on strike for a day. That is, the orchestra staged a strike to demand more charity -- considering most major urban symphonies rely on donations to exist. Cleveland's orchestra has been losing $4 million a year and spending its endowment principal to remain in business -- the endowment, $146 million in 2006, has fallen to $97 million. In the arts, as in higher education, spending your endowment principal (as opposed to dividends and interest) initiates a death cycle, since the whole point of an endowment is perpetual funding. In turn, no rich person or foundation will donate fresh endowment funds to an institution already mismanaging its existing funds. It would be nice to think that we live in a society in which a large number of skilled classical musicians hold secure jobs at high pay. But we don't. Orchestras striking to demand more charity will only hasten the demise of the resident urban orchestra. The silly strike also broadcasts this message about Cleveland itself: "Stay away, we are declining." Thanks a lot, Cleveland Orchestra.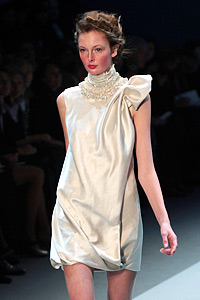 Antonio de Moraes Barros Filho/Getty ImagesIn 476 milliseconds, think "unhealthy thin."
Thin Reasoning: An article in the Journal of Consumer Research claimed to detail women's reactions to images of thin and heavy models. The blazing insight produced was that images of thin models caused women to think of thinness, while images of heavy models did not cause women to think of thinness. Researchers claimed women began to think about thinness in 476 milliseconds, but required 523 milliseconds to think about non-thinness. Supposedly this is hugely revealing. The difference between the numbers is one-twenty-fifth of a second!
"Get Me a Back Who's One-Third of 1 Percent Faster," Growled the Head Coach: After New England beat Tennessee 59-0, The New York Times said Vince Young's passer rating was not zero but "0.0." The Times also said the best 40 at the combine was a "4.30" by Darrius Heyward-Bey. Ross Tucker of Sports Illustrated reported that at his pro day, Aaron Maybin "shaved over .10 seconds off his 40 time." And if, like TMQ, you are tired of hearing 40 times discussed down to hundredths of seconds -- Maybin runs the 40 "somewhere between 4.59 and 4.64," according to Tucker -- the combine shuttle and cone-drill times are in hundredths too. In February 2009, Bernard Scott was the best running back in the three-cone drill at 6.82, which was one-third of 1 percent faster than the second-best, Knowshown Moreno at 6.84.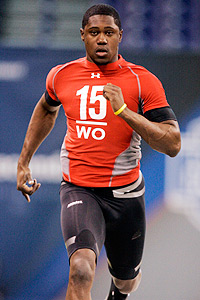 AP Photo/Michael ConroyDarrius Heyward-Bey at last year's combine. Experts continue to debate how many hundredths of a second were in his 40 time.
Jersey/B at Indianapolis Analysis: TMQ has been warning all season that the big-blitz would come back to haunt the Jets, and at Lucas Oil Stadium, it did. Rex Ryan called blitzes on 28 of the 41 Indianapolis passing plays, and all but three blitzes were six-man or seven-man, often delayed safety blitzes. The result? Indianapolis netted 360 passing yards and three touchdowns, with no passing-game turnovers. On the first two Indianapolis possessions, the Jets recorded two sacks. Then the terrific Indianapolis offensive line -- which started three undrafted players -- adjusted to the feeling of the Jersey/B blitz, and the Jets never got to Manning again. Early in the game, the Jets got one of the Colts' tackles to turn outward, then delay-rushed a linebacker into the gap created. After the two series, Indianapolis never fell for this twist again, but Jersey/B just kept running it.
The Colts had seven plays of at least 20 yards. By the time it was over, there were scorch marks on Ryan's No. 1-rated defense. And don't tell me about the Jets' secondary injuries! All NFL teams have injuries. Two of the four Indianapolis secondary starters are on injured reserve, and you do not hear the Colts cryin' about injuries.
The Jersey/B big-blitz was so predictable that late in the first half and early in the second, as the Jets were losing their lead, the Colts were moving nearly at will. But Jersey/B never changed tactics, just continued to do exactly what Indianapolis expected. In most of the game, the Jets stuck to their usual mix of big-blitzing and press coverage, with eight or even nine defenders on the line. Block the big-blitz and a long gainer awaits. When Manning hit consecutive first-half passes of 27 and 36 yards to Division III's Pierre Garçon, both times the Colts blocked a big-blitz and Garçon beat press coverage. Jersey/B did not learn from this. Colts leading 27-17 and facing third-and-9 with 4:12 remaining, Jets down to their final gasp, Jersey/B called big-blitz with press coverage on Garçon -- 23-yard gain, and TMQ wrote the words "AFC Championship Game over" in his notebook.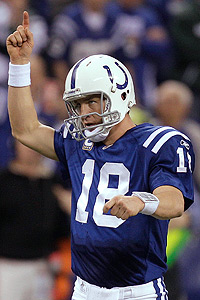 AP Photo/Rob Carr"Oh please -- please don't throw me into that blitz patch."
No football team of the moment executes an offense -- especially line calls and slants -- better than the Indianapolis Colts. In the second quarter, the Jets tried a two-man defensive line that was essentially a 2-4-5. Manning noticed this and began to hand off against the light front; by late in the third quarter, the Jets went back to four defensive linemen. But the mega-blitzing never stopped. "Please don't throw me into that briar patch," Manning must have been saying to Jersey/B defenders. To top it off, Indianapolis did not use a single new play the Colts hadn't previously shown: The league's No. 1-rated defense gave up 30 points against plays it had on film.
The Jets showed some variation on offense, enough to throw a scare into the hosts. Jersey/B came into the contest rushing a league-high 74 percent of the time on first downs. The Colts choked up with a very tight 5-2-4 on first downs in anticipation of Jets runs, and Jersey/B surprised them with six play-fake passes on first down. Early on, it worked -- especially the sweet-looking play fake that fooled the entire Colts team for an 80-yard touchdown pass to Braylon Edwards. The Indianapolis safety on the play side, Antoine Bethea, was so badly fooled the ball was already flying above his head before he realized the play was a pass.
Then Indianapolis adjusted to the Jets' first-down tactics -- no team adjusts in-game better than the Colts. In the first half, Mark Sanchez was 6-for-8 passing for 160 yards as Jersey/B jumped to a 17-6 lead. From then on until the final two minutes of garbage time, Sanchez was 8-for-18 for 97 yards and an interception. The Colts, who mainly play straight defense, blitzed Sanchez on every third-and-long in the second half, and it worked, leading to incompletions. Sanchez lacks the polish to realize an opponent was changing defensive tactics in-game. He'll be able to pick those sorts of things up someday, but he couldn't this time.
The Jets beat Cincinnati and San Diego in the postseason by sticking to the run, and gradually wearing down opposing defenses. Indianapolis did not wear down. The Colts held the Jets to 86 yards rushing. Indianapolis' shutdown of the No. 1 NFL rushing attack was led by undrafted linebacker Gary Brackett, who threw his body around against the rush, but did not come off the field on passing downs. That's the kind of performance one might expect from a finalist for the TMQ Non-Quarterback Non-Running Back NFL MVP. Supposedly the Colts' front seven is undersized; they played big against the Jets' power backs and three Pro Bowl offensive linemen.
[+] Enlarge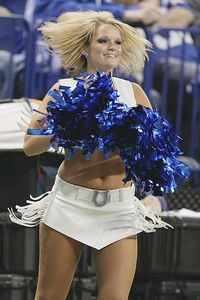 AP Photo/Mark DuncanSouth Florida bound! (Just don't mention Miami.)
Jersey/B offensive coordinator Brian Schottenheimer called a nice rollout Wildcat pass by slash player Brad Smith, who had only one pass attempt in the regular season. Otherwise, the Jets were too content to run in situations in which sophisticated teams need to pass. Game scoreless, Jets facing third-and-8, Jersey/B simply ran up the middle, then punted. Leading 14-6 with 3:40 remaining in the first half, the Jets recovered a fumble on the Colts' 29. A penalty made it second-and-12, and Jersey/B did the safe thing by rushing twice, then kicking a field goal for a 17-6 lead. Which lasted about a minute, Indianapolis going the length of the field to make it 17-13 at the half.
As noted by many readers, including Melissa Rebman of Pelham, N.Y., apparel proclaiming the Jets AFC champions -- which the team offered via its Web shop during the week -- vanished from the Jets' site within minutes of the game ending. At least the Jets, unlike the Vikings, had the dignity to avoid announcing that they had won!
Home Prices Waver By Two-One-Hundredths of a Percent: The latest Case-Shiller Home Price Index, an estimate of average prices in the 20 largest cities, was 148.58. The peak was 206.52 in July 2006, meaning home prices have declined 28 percent overall since their peak. Then again, even after that decline, home prices are up 85 since 1999, and an 85 percent rise in one decade still means the overwhelming majority of homeowners came out ahead. The Case-Shiller index is an approximation, yet is stated with absurd precision as "148.58." This approximation is derived by multiplying a series of estimates, then treating the result as meaningful to the second decimal place.
The Football Gods Chortled: After five field goal attempts were missed against them in the first two playoff rounds, the Jets missed two field goal attempts in the AFC championship.
The Football Gods Exact Vengeance: ESPN.com editor Thomas Neumann notes the Vikings' fight song implores the team to "run up the score," at about the 15-second mark.
[+] Enlarge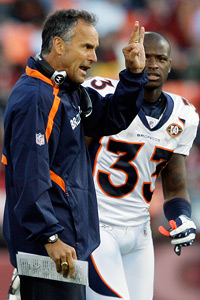 AP Photo/Jeff ChiuBetween the Niners and Broncos, Nolan was fired twice in less than 12 months -- which for the coaching profession makes him normal!
Stop Me Before I Fire the Defensive Coordinator Again: From TMQ's AFC preview in August: "Over the last seven seasons, the Broncos have cashiered five defensive coordinators -- Jim Bates, Larry Coyer, Ray Rhodes, Greg Robinson and now Bob Slowik." As of last week, add Mike Nolan to the list, cashiered as the Broncos' defensive coordinator despite raising the team's defensive ranking from 29th in 2008 to seventh in 2009. Six fired defensive coordinators in eight seasons: Not exactly Indianapolis-style stability.
The 0.99 Factor: The Michigan state personal income tax is now 3.95 percent -- it's certainly not 4 percent! The New Jersey top state tax rate is now 8.97 percent -- certainly not 9 percent! Where I live, in Montgomery County in Maryland, the top state-and-county combined tax rate is 9.45 percent -- certainly not 9.5 percent!
The New Yorker now retails for $4.99 -- it's certainly not $5! Amazon sells books for the Kindle at $9.99 -- they certainly don't cost $10! For my wife's 50th birthday, I took the family to a swank woodlands resort. The package fee was $1,899.92 -- it certainly did not cost $1,900!
Reader Comments: I said the Sarbanes-Oxley legislation of 2002 was to blame for the "mark-to-market" rules that made corporate value and investment savings appear to vanish rapidly as the 2008 financial meltdown began. Don Thurman Jr., of Houston, the chief compliance officer of a major corporation, writes: "Generally Accepted Accounting Principles, GAAP, are to blame for the current mark-to-market conundrum. The thinking around how assets should be valued, and how their market value should be considered in making this determination, started long ago with rules such as Internal Revenue Code section 475. Once clever Wall Street types began to creatively to pick and choose how they would report values of securities to benefit themselves most, the Financial Accounting Standards Board recognized there was a problem and tried to add clarity with a pronouncement called FAS 115, in 1993. As the less forthright continued to prove they could manipulate IRC 475 and FAS 115 guidance unfairly in their favor at the expense of others, FASB released FAS 157 in 2006 to try to reign them in. FAS 157 is hugely unpopular, especially with bankers and Wall Street types. Thus, FASB and others are now deliberating anew how value reporting should be done. Expect more FASB releases soon. Sarbanes-Oxley, on the other hand, is a federal law that dictates how SEC-registered companies monitor and disclose to the public the state of their internal controls over financial reporting. Sweeping as it is, SOX does not prescribe how specific transactions and balances are to be handled in ledgers and reported to the public." (What, Sarbanes-Oxley isn't discussed in other football columns? Contact their editors and demand more accounting news.)
Listing the many collegiate weasel coaches, I praised David Cutcliffe of Duke for not walking out on his promises for a bigger payday at Tennessee. Benjamin Berk of Syracuse, N.Y., notes Doug Marrone of Syracuse University turned down other jobs this offseason; Anthony Stinton of Dayton, Ohio, notes Troy Calhoun of Air Force Academy turned down other jobs at higher pay; Jessica Aiden of Kearns, Utah, notes that Utes coach Kyle Whittingham, whose income is below the football-factory coach average, has turned down several opportunities for a bigger paycheck.
A reader noted that infrared and ultraviolet light are similar to visible light and would appear as light to any biological eye able to sense them, adding, "Maybe this happens on Pandora." Iain Dawson of the department of cellular biology at Yale University writes, "Biological eyes right here on Earth detect both UV and IR as light. Birds and insects can see into the UV spectrum. Certain snakes -- the pit vipers and some boas -- have 'heat vision.' They detect IR radiation using something called a pit organ, located between the eye and the nostrils. I'm sure weasel coaches look just as bad, and cheer-babes just as good, in both UV and IR."
[+] Enlarge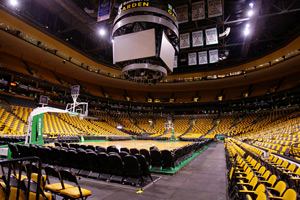 AP Photo/Charles KrupaTD Banknorth Garden replaces what used to be called the Boston Garden. Do you know what the TD stands for?
As the football stadium where the Dolphins played changed names for the seventh time, I renewed my proposal for a Your Trademark Here Stadium that would have an open auction for its naming rights -- whoever bid highest that day would choose the name. Dave Cohen of Hoboken, N.J., writes, "As a result of Bank of America's 2004 merger with Fleet (remember back when BoA wasn't forced into its mergers?), the latter of which had inherited naming rights to then-FleetCenter as a result of its merger with Shawmut Bank, a lump-sum payment was provided to release the newly merged bank from the arena's naming rights. While a bidding war was underway for a new permanent corporate sponsor, which ended up being TD Bank, the FleetCenter auctioned off single-day naming rights to individuals and companies via eBay, with proceeds going to charity." Now the facility is called TD Garden -- and how many people even in Boston know the initials stand for Toronto Dominion? Brad Russell of Indianapolis notes the Peoria Chiefs, a minor league baseball team, have begun selling naming rights for their stadium on a game-by-game basis.
I said the Jets-at-Bengals playoff game was lost by the home team when Cincinnati linemen did not come out into the cold with bare arms, as Cincinnati linemen once did in a freezing-cold playoff game against San Diego. Steve Lieber of Cleveland notes, "I heard Steve Tasker said that when he played in Buffalo, [on] cold days the linemen would come out for warmups with bare arms, intimidating the visiting team. The other team's linemen would be embarrassed, change, and come out with bare arms for the game -- while the Bills linemen would be comfortable, having changed pregame into long sleeves."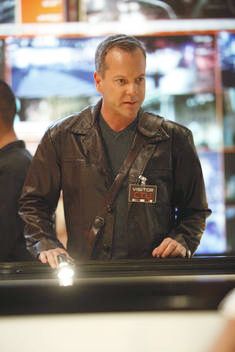 FOXHe's searching for any hint of logic in the plot.
I noted that on "24," Jack Bauer saves critical minutes by traveling during commercials. Kevin Woods of Santa Rosa, Calif., provides further details on time dilation in the series: "In the first season, in 2001, Jack was a highly successful federal agent with a 15-year-old daughter. Although Jack's age was never stated, he had to be at least 40. He was a college graduate who had received his master's in criminology, then joined the U.S. Army, reaching the rank of captain in the prestigious Delta Squad. After the Army, he worked for Los Angeles SWAT team, then joined the CIA in its clandestine wing. After this, he was recruited to the CTU, the mysterious agency where Jack toils when the series begins. Jack had to be 40 when the series began.
"Let's assume 43. Here is where the time line gets tough. Season 2 was 18 months after season 1, making Jack 44-45. Season 3 was three years after season 2, making Jack about 47-48. Season 4 was 18 months after season 3, making Jack about 50. Season 5 was 18 months after season 4, making Jack about 52. Season 6 was 20 months after season 5, making Jack about 54. 24-Redemption, a two-hour movie that supposedly tied things together, was four years after season 6, making Jack about 58. Season 7, happening shortly after Redemption, still has Jack at around 58. Season 8, looks to be two-three years after season 8, because Jack's grand-daughter is seen having conversations with him, making Jack around 60 years [old]. He's quite spry for 60! Also, add up the years and it is now 2014 in the series. Maybe that explains all the CTU super-technology that does not seem to exist in our reality."
Jay Brubaker of Indianapolis writes, "As a student in my final year of law school at Indiana University, I was interested in your comments on the American Needle v. NFL litigation, in which the NFL seeks a broad antitrust exemption. The main point on which the case turns is whether NFL teams are considered to be subdivisions of one unit, making them exempt from much of the Sherman Antitrust Act, or whether NFL marketing should be considered a joint-venture in which separate enterprises come together for a specific purpose, making them subject to more scrutiny under Sherman. The NFL maintains its member teams are subdivisions of a single organization, not 32 separate units. Thus I find it interesting that some NFL owners want to end the practice of sharing revenue from game day tickets and other individual team profits. Sharing revenue among clubs would be a powerful argument that the NFL really is one entity. Refusing to share revenue certainly makes it seem more like each team is an individual entity. The NFL is telling the Supreme Court one thing about its internal structure, while the owners are telling the players' union something entirely different." George Shannon of Lawrence, Kan., writes, "Are there any corollaries to Cold Coach = Victory? In the AFC championship game, Jay Feely came out to attempt a field goal in the first quarter and I noticed he was wearing gloves -- indoors. He doesn't have to catch passes or tackle. I told my roommate there is no way Feely makes the kick because he is wearing gloves inside a dome." And verily, Feely missed. In the modern NFL, gloves are as much a fashion statement as equipment. At least he wasn't wearing earplugs.
Finally, the last word on the "Avatar" ending goes to Katie Waser of Arlington, Texas, who is in Karaganda, Kazakhstan, doing humanitarian work: "Audiences here are not bashful about being vocal during movies, but I wanted to set your American minds at ease -- the crowd here didn't cheer when the humans were getting killed at the end of the film. Maybe that's because here, the military personnel in the movie were speaking Russian."
[+] Enlarge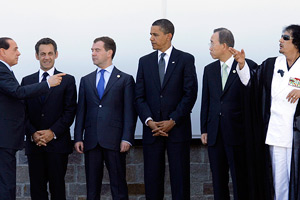 AP Photo/Markus SchreiberWorld leaders debate voluntary, non-binding, optional greenhouse gas rules that won't take effect for decades.
Forecasters Predict 99.6548733 Percent Chance That Politicians Will Give Speeches but Take no Action: At the G8 summit in Italy this summer, heads of state "agreed to try to limit global warming to 3.6F above preindustrial levels," according to news reports. Why not limit to 3.54290086 degrees above preindustrial? The Sustainability Institute forecasts that temperatures might rise 6.29 degrees Fahrenheit in a century. At least it won't be 6.294755930 degrees! Global warming is real -- the latest data show continuing mild global temperature increases. But projections are meaningless, since science can't even know what temperature trends would be without greenhouse emissions. (Climate mechanisms are poorly understood.) All we can do is regulate greenhouse gases and hope that controlling their atmospheric concentration prevents climate problems.
In November, New York Times columnist Paul Krugman opined that greenhouse gas controls will be affordable because they will only reduce annualized growth over the next 40 years "from 2.37 percent to 2.32 percent." So Krugman, who has won the Nobel Prize for economics, thinks we can make economic forecasts that are accurate down to the hundredths of a percent four decades from now. Most economists' forecasts made in the first half of 2009 were no longer accurate by the second half of 2009 -- including some made by Krugman.
Senate leaders last fall predicted the health care reform bill would cost $829 billion over 10 years. Not around $800 billion, precisely $829 billion. We can't even predict what health care spending will be in 2010! Such absurd specificity is intended to make it sound like senators know what they're doing. Here, Lori Montgomery of the Washington Post shows the apparently super-precise estimates are pulled out of the air. This is common in politics, and a reason bad legislation happens -- invent a number, then act as if it tells you something.
I Mean This In Full Seriousness: Say what you will about Brett Favre, his return was fantastic for TV ratings. The Minnesota-Green Bay "Monday Night Football" game was a record-setter; the Vikings-Cowboys playoff game was the most-watched network television event since last year's Super Bowl; the Vikings-Saints playoff game was watched by more people than any television broadcast, other than Super Bowls, since the "Seinfeld" sign-off in 1998. Favre was paid well, about $12 million from the Vikings. But consider: Albert Haynesworth made more, and didn't add a dime to ticket sales or ratings. If Favre does play again next season, he should ask for a cut of the profits.
Single Worst Play of the Season -- So Far: With Indianapolis leading 27-17 with 8:11 remaining, Jersey/B faced fourth-and-5 on its 25 -- and Rex Ryan sent in the punting unit. Why are you punting?????????? I don't care if it's fourth-and-99, this is the AFC championship -- there is no tomorrow! There is no BCS poll to confer style points for holding down the margin of defeat! Trailing by two scores with eight minutes remaining, against a team that holds serves by drip-drip-dripping first downs, going for it at this point was the Jets' last chance. The football gods, angered by Ryan's timid decision following a week of nonstop boasting and bluster, allowed the Colts a clock-killer drive that made the margin 30-17 at the two-minute warning. Rex Ryan, the man who boasts in news conferences then does the timid thing when the pressure is on, you are guilty of the single worst play of the 2009 NFL season -- so far.
Next Week: They went undrafted, were waived or both, yet now are among football's top performers -- TMQ's annual All-Unwanted All-Pros. Plus, the Tuesday Morning Quarterback Unwanted Player of the Year.
In addition to writing Tuesday Morning Quarterback for Page 2, Gregg Easterbrook is the author of the new book "Sonic Boom," and six other books. He is also a contributing editor for The New Republic, The Atlantic Monthly and The Washington Monthly. His Web site can be found here.