Commentary
Colts vs. Saints a contrast in styles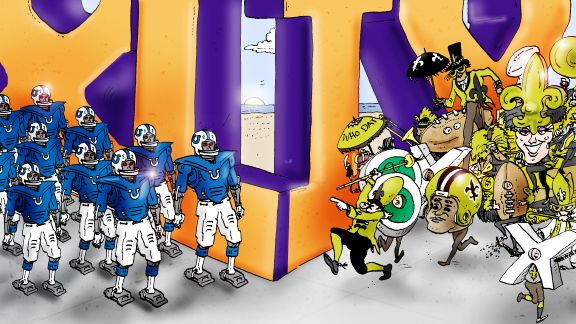 Kurt Snibbe/ESPN.com
There was a time when people complained that Super Bowls were dull or anticlimactic. Not recently, though: The past two years, the Super Bowl has been the best game of the NFL season. Giants over Patriots, then Steelers over Cardinals -- both were fantastic contests, both were decided by touchdowns in the closing seconds. Both offered the signature plays of their seasons -- the David Tyree helmet catch was the signature play of that season, James Harrison going the length of the field for a touchdown as time expired in the first half was the signature play of last year's campaign. Will the Saints and Colts give the international audience a third consecutive fantastic Super Bowl? A signature play that purists will reminisce about decades from now?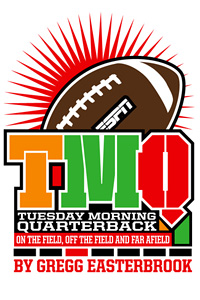 The chances are good. Back in September, yours truly forecast an Indianapolis-New Orleans Super Bowl -- both because I thought they'd be the league's best teams, and because I thought that if they did reach the Super Bowl, they'd play a memorable game. Why? In addition to having good players and smart coaches, the Colts and Saints have contrasting styles.
Watching Indianapolis is like watching a factory play football. The Colts are methodical, predictable, disciplined, mechanical. They don't run trick plays. Their offense hasn't shown a new formation, or even a new play, in months. Their defense rarely varies its fronts. The Colts win because no NFL team has better offensive timing, defensive discipline and overall precision. Review film of the Colts and you know exactly what they are going to do -- the question is, can you stop them?
Watching New Orleans is like watching an outdoor cocktail party play football. The Saints are spontaneous, unpredictable, boisterous. They love trick plays. Every week the offense shows new formations and actions. The defense uses a zany style -- blitzing way too much, gambling for interceptions way too often. No NFL team plays a more relaxed style or seems to be having so much fun. Review film of the Saints and you have no idea what they are going to do -- they probably don't, either.
When the mechanized, cybernetic Colts meet the wacky, laissez-faire Saints, I for one am expecting a fantastic game. See my scouting notes below.
And don't go anywhere during the fourth quarter! In the past two Super Bowls, a total of 37 points were scored in the first three quarters, then 44 points in the fourth quarter. In the Jersey/A-New England Super Bowl, the Pats bottled up Eli Manning until the fourth quarter, when he threw for 152 yards -- the rate of a 600-yard passing game. In the Pittsburgh-Arizona Super Bowl, the Steelers bottled up Kurt Warner until the fourth quarter, when he threw for 247 yards -- the rate of a 1,000-yard passing game. Don't go anywhere in the fourth quarter! Lately, at least, that's when the fun begins.
Next week, as part of a lavish Super Bowl column, I will bestow the coveted "longest award in sports" -- the Tuesday Morning Quarterback Non-Quarterback Non-Running Back NFL MVP. The finalists are Gary Brackett, Dallas Clark, Jahri Evans, Nick Mangold, Darrelle Revis, Sidney Rice, Darren Sharper and Kevin Williams. (Only players from the championship round are eligible -- if you're going to wear the mantle of Most Valuable, you better have created some value.) Place your bets with your local bookie now.
In other lavish Super Bowl column news: Arugula, arugula! Clear the decks, prepare to dive! The TMQ Challenge makes its annual Super Bowl return (limited engagement). See details below.
Stats of the Super Bowl Run-Up No. 1: With New Orleans in this year's Super Bowl, only the Houston Texans (in existence eight seasons), the Cleveland Browns 2.0 (in existence 11 seasons), the Jacksonville Jaguars (in existence 15 seasons) and the Detroit Lions (in existence 80 seasons) have not reached the ultimate game.
Stats of the Super Bowl Run-Up No. 2: For the second consecutive season, the team ranked last in rushing made the Super Bowl -- Arizona last year, Indianapolis this year.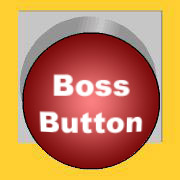 Stats of the Super Bowl Run-Up No. 3: In the fourth quarter and overtime, New Orleans has outscored its opponents 149-55 this season.
Stats of the Super Bowl Run-Up No. 4: Indianapolis allowed the fewest sacks (13) in the league this season; New Orleans allowed the fourth fewest (20).
Stats of the Super Bowl Run-Up No. 5: At age 42, Indianapolis kicker Matt Stover will be the oldest player to appear in a Super Bowl.
Stats of the Super Bowl Run-Up No. 6: The Colts and Saints were tied (with the Vikings) for the most touchdown passes this season (34).
Stats of the Super Bowl Run-Up No. 7: Indianapolis versus New Orleans marks the first time the two top seeds have reached the Super Bowl since Buffalo-Dallas in 1994.
Stats of the Super Bowl Run-Up No. 8: In the AFC Championship Game, the Colts passed for 360 yards against the Jets, who had the league's No. 1-ranked pass defense. The Saints' pass defense is ranked 26th.
Stats of the Super Bowl Run-Up No. 9: The Colts have scored three touchdowns this season on turnovers and kick returns; the Saints have scored 10.
Stats of the Super Bowl Run-Up No. 10: The Colts start eight undrafted players.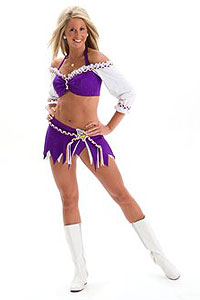 Courtesy of Minnesota VikingsAshley of the Vikings -- snowed in is not her ideal weekend.
Cheerleader of the Super-Bowl Run-Up: Ashley of the Minnesota Vikings, who according to her team bio was an All-American gymnast in high school. According to her audio bio, she hates snow and cold weather -- which seems like someone from Miami saying she hates the beach.
You Have Seen Something Like Them/In Many Amusement Halls: This year's Super Bowl halftime act is The Who, a band that would be eligible for Medicare if its members were American -- Roger Daltrey is 65, Pete Townshend is about to turn 65. Now, I like senior citizens who scream into microphones as much as the next guy, but isn't the Super Bowl halftime format getting a bit geriatric? Last year we got Bruce Springsteen, age 60. The year before -- Tom Petty, age 59. Yes, recent halftime shows have been more up-tempo than the 1970 Super Bowl halftime act: Carol Channing. But there have got to be some younger groups out there that merit the Super Bowl stage, and could broaden the appeal to those younger than the Baby Boomer demographic.
Surely The Who will sing "Won't Get Fooled Again." When rock anthems are heard on television or in advertising, often they are electronically edited to emphasize well-known lines and downplay or delete anything that might make audiences uncomfortable. When this song is heard, the refrain "We won't get fooled again!" is amped up -- it sounds bold and defiant. Done away with are other lines such as "Meet the new boss, same as the old boss" or "We'll be fighting in the streets/with our children at our feet/and the morals that they worship will be gone." And the following lyrics -- what, exactly, do they mean? "I'll move myself and my family aside/if we happen to be left half alive/I'll get all my papers and smile at the sky/for I know that the hypnotized never lie." What does any of the song mean?
[+] Enlarge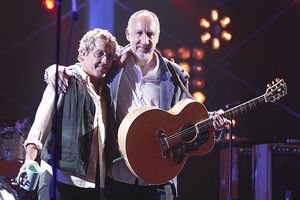 Mark Davis/AP Images for VH1"Let's get together/Before we get much older."
Originally, the song was received as anti-war or an extremely vague call to revolution. Some thinkers maintain the song is conservative -- a disillusioned revolutionary declaring that street-protest tactics are useless. Townshend, who wrote the song, maintains the lyrics are apolitical, and mean, "Don't expect to see what you expect to see. Expect nothing and you might gain everything." Huh? My guess is that, like a lot of what was received as "deep" in this field -- Bob Dylan's music, some of Springsteen's -- the lyrics don't have any coherent meaning, they're just a bunch of interesting individual lines cobbled together. I wince to think that a billion people watching the halftime show will nod happily as the line "We won't get fooled again!" echoes around the world, when the majority of those watching will, most assuredly, get fooled again.
Queen Latifah will perform the pregame rendition of "America the Beautiful," a Super Bowl custom. Please sing the whole song, not just the familiar initial verse. The later, rarely sung verses have strong political significance: "America! America! God mend thine every flaw/confirm thy soul in self-control/thy liberty in law."
In 1781, George Washington Said Federal Borrowing Was Wrong -- It "Ungenerously Throw[s] Upon Posterity the Burden Which We Ourselves Ought to Bear" Last week, in his State of the Union address, President Barack Obama spoke of the need to restore fiscal discipline and end runaway borrowing. Members of Congress clapped and nodded approval. The following day -- the following day! -- the Senate voted to raise the national debt ceiling by $2 trillion, to $14.3 trillion. Resolve about reducing debt didn't even last 24 hours in the Senate. Then on Monday, President Obama released his next federal budget proposal, complete with a projected fiscal 2010 deficit of $1.6 trillion -- the worst-ever peacetime deficit -- and $100 billion in new deficit-based spending that Obama neglected to mention when speaking to Congress. The president's resolve about reducing the debt didn't even last a week.
Just five years ago, it was considered shocking when George W. Bush submitted a federal budget containing what was then the worst-ever peacetime deficit of $271 billion, stated in today's dollars. Now no one seems to shrug when the Congressional Budget Office projects mega-deficits for at least a decade to come. America has many problems, but no national emergency. If we are already borrowing to the hilt to subsidize today's interest groups at the expense of the young, what will we do if there is an emergency?
[+] Enlarge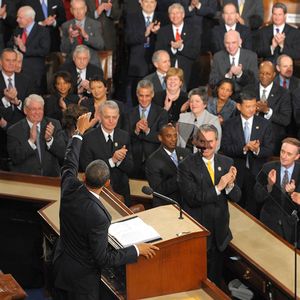 Saul Loeb/Getty Images"My fellow Americans, the days of tax and spend are over. Now it's borrow and spend."
A decade ago, the total U.S. national debt, converted to today's dollars, was $7 trillion. This year the total debt will hit $14 trillion. That means that in the past 10 years alone, the United States has incurred as much debt as was accumulated by our republic in its entire previous 211 years of existence. And the plan is to borrow, borrow, borrow more without accountability or the slightest restraint.
In his address, Obama called for a "spending freeze" not now, but next year. I'll quit smoking next year! The freeze would apply only to the roughly 15 percent of the federal budget that is not Social Security (the largest federal spending item), Medicare and Medicaid (No. 2), defense, interest on the debt -- or anything Congress stamps the word "emergency" on, such as the "second stimulus" handout many interest groups are demanding. Actually, such legislation would be a third stimulus -- Congress enacted a $152 billion debt-based stimulus bill in 2008, and a $787 billion debt-based stimulus bill in 2009. Calling the new bag of candy being demanded the "second" stimulus makes the idea sound less reckless and less like the institution of an annual giveaway to whatever special-interest groups have bought the most access that year.
In the course of conceding that no spending discipline would even be attempted until 2011 -- I'll lose weight in 2011 for sure -- the president declared, "We've already identified $20 billion in savings for next year." That amount would represent barely more than 1 percent of the projected 2011 deficit. But if the White House has "already identified" $20 billion that can be cut from the federal budget, why doesn't the cut take effect immediately? Because we'll quit smoking next year! When interest groups wanted handouts in the form of the 2008 and 2009 stimulus bills, and banks and Wall Street wanted handouts, the money began flowing right away, no waiting. When the president proposes an extremely modest spending restriction, it's delayed until the following year -- in order to give interest groups time to demand that the money be restored.
Won't we be saved by Paygo? After listening to the presidential address, the Senate voted to impose the Paygo rule on itself -- that any new appropriations must be offset by equivalent spending cuts or tax increases. The House of Representatives imposed the Paygo rule on itself in January 2007, and the U.S. national debt has risen by $5.4 trillion since. How can debt skyrocket under a pay-as-you-go system? Paygo applies to all spending bills -- unless they are security, defense, entitlements or interest on the national debt (those categories are the lion's share of federal spending) or unless they are "emergency" legislation. Essentially, every spending bill that has passed through the House in the past three years has had the word "emergency" in it somewhere, generating a waiver from Paygo. The Paygo concept is a complete fraud -- it almost seems designed for the purpose of insulting the intelligence of voters. And now the Senate has joined the fraud.
During the run-up to the 2008 mortgage-market implosion, many individual Americans and many investment firms borrowed in an outlandish manner, living high briefly while acting as if tomorrow would never come. It came. For the past five years, the U.S. government, under Republican and Democratic control alike, has been borrowing in an outlandish manner as if tomorrow will never come. It will come.
Unified Field Theory of Creep: Brian Smith of Vancouver, British Columbia, writes, "Last week I wandered into a souvenir shop in the tourist district here, and saw Vancouver 2010 Olympic merchandise -- on close-out clearance. Opening ceremonies were two weeks away."
[+] Enlarge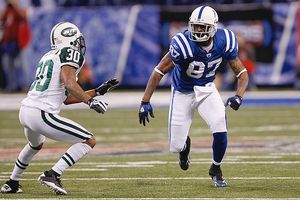 Scott Boehm/Getty ImagesIn his Sprint commercial, he lines up on the right. Don't expect that on Sunday.
Super Bowl Scouts' Notes: Where will Reggie Wayne line up? On the left. When Wayne arrived at Indianapolis, Marvin Harrison was the Colts' receiving star, and his personal quirk was insisting on always being to the right of Peyton Manning. So Wayne learned the left, and now being there is his personal quirk. On most NFL teams, the star receiver moves around to confound coverages -- sometimes right, sometimes left, sometimes in motion, sometimes in the slot. For the Colts, Wayne is always on the left, usually by himself, rarely in motion. He's like the gunfighter in a Western who always drinks in the same saloon at the same time of day -- you know where to find him. But can you cover him? He's pretty quick on the draw. Usually, predictability is belladonna to a football team. For Indianapolis -- always the same plays from the same sets -- it is proof of offensive precision. The Colts block better than other teams. They throw better. They catch better. They don't care if you know what they are going to do.
In most recent years, Indianapolis has played no-blitz, conservative defense. According to FootballOutsiders, in 2008, the Colts blitzed on just 10 percent of opponents' snaps, well below the league average of 20 percent. This year, under defensive coordinator Larry Coyer -- one of the countless defensive coordinators fired in the past decade by Denver, and doing just fine elsewhere -- the Colts are up to 24 percent blitzing. They're also showing press coverages, not just a Tampa 2 look. Like all skilled quarterbacks, Drew Brees wants to be blitzed: A blocked blitz is a great opportunity for the offense, because the outside receivers are in man coverage, what a skilled quarterback always wants to see. In the postseason so far, the Colts have blitzed novice quarterbacks Joe Flacco and Mark Sanchez, to good effect. Brees is another matter -- my guess is Indianapolis will play a lot of four-man rush, Cover 2 against Brees and hold off on blitzing. But if whatever Indianapolis tries doesn't work, the Colts will adapt as quickly as a Borg warrior. When the Colts' offense or defense is doing something that doesn't work, the team adjusts tactics immediately. There are NFL clubs that have gone through entire seasons without adjusting tactics that weren't working; nobody adjusts in-game better than Indianapolis.
In a league that's gaga for the shotgun spread -- the Colts went shotgun spread in 2005 and haven't changed a thing since -- New Orleans remains impulsive. Sometimes Brees is under center. Sometimes he's in the shotgun. Sometimes the Saints have multiple wideouts. Sometimes they have two tight ends and a sixth offensive lineman. When the Patriots set the scoring record in 2007, they constantly changed formations and personnel groups. Sean Payton has taken that lesson to heart, and the result is the highest-scoring team of this season.
New Orleans loves to bootleg, and the bootleg never worked against Minnesota in the NFC title game. Whether it will work in the Super Bowl is an important barometer. While New Orleans' passing gets the attention, the run is integral to the Saints' scoring. New Orleans is not always pass wacky -- the Boy Scouts were sixth in the league in rushing. Sometimes, the Saints will shift to a power formation and simply run three or four times in a row, a variation the Colts never use. In the NFC championship, the Vikings got the New Orleans offense off-kilter by holding the Saints to 68 yards rushing. Don't be surprised if Indianapolis tries to take away the New Orleans rushing attack, frustrating the Saints in the same way Minnesota did. Three years ago, when the Colts won the Super Bowl, their defense, porous against the run in the regular season, played very well against the run in the postseason. This year? During the regular season, the Colts' defense was 24th against the run -- then in the postseason has held the run-oriented Ravens to 87 yards rushing and the run-oriented Jets to 86 yards rushing.
[+] Enlarge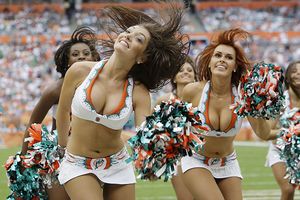 AP Photo/Lynne SladkyCheer-babes urge the South Florida Dolphins on.
Not only does New Orleans blitz way too much, the Saints play eight- or even nine-man fronts when blitzing. My guess is Manning can't wait to see that look. In the postseason, the Saints' offense has done well on long-yardage downs, then sputtered on third-and-short; the Saints' defense has done well on first and second downs, then surrendered big plays on third-and-long. As long as New Orleans is still in the Super Bowl when the fourth quarter begins, the Saints have a chance, as this spontaneous, emotional squad comes alive in the fourth quarter. And Manning is only 9-8 in the postseason. It's not as if he cannot be beaten.
Officials are likely to call the game strictly. The Saints hammered Kurt Warner and Brett Favre, two graying guys, very hard, and it seems as if their defensive coordinator, the tastefully named Gregg Williams, told his players to hit late if they got the chance -- the Saints would accept a roughing flag or two in exchange for getting Warner and Favre to hear footsteps. The league's top official, Mike Pereira, has acknowledged the zebras missed two roughing calls by the Saints against Favre, one of which would have negated an interception, and also should have called roughing the passer against Indianapolis in the Colts-Jets divisional game. (The NFL has a lot to learn about openness, but it's a positive sign that once a week, Pereira appears on NFL Network and is honest about officiating mistakes; here is his segment explaining why the referee was looking the wrong way on the two Saints-Vikings non-calls.)
[+] Enlarge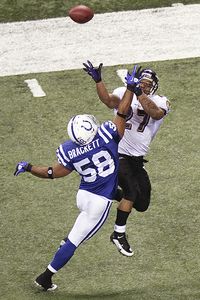 AP Photo/AJ MastGary Brackett wasn't recruited out of high school, he wasn't drafted out of college, and he's about to start in a Super Bowl.
Because of attention to the missing flags involving Favre, quarterback protection is likely to be a point of officiating emphasis in the Super Bowl, and that would seem likely to help the Colts against the blitz-wacky Saints. All those sell-out, six-man blitzes by New Orleans -- if they don't result in hard hits on Manning, they'll be wasted effort, while inviting him to throw deep against man coverage. For the Colts' part, Manning now does such an elaborate chicken dance as he shouts signals at the line that Indianapolis should be called for illegal motion. Often, Colts linemen reset during the Manning chicken dance, and it's not unusual for the tailback to set, then step forward to hear Manning's audible, then step back and reset. Why is this never flagged?
Since this week's column celebrates the unwanted player, let's note that New Orleans and Indianapolis reached the Super Bowl with a roster of castoffs and undrafted gentlemen. Saints standouts Brees, Darren Sharper, Jeremy Shockey and Jonathan Vilma were players other teams actively wanted to offload. New Orleans regulars Mike Bell, Jabari Greer, Jonathan Goodwin, Anthony Hargrove and Scott Shanle were let go by other teams. Saints' regulars Bell, Greer, Pierre Thomas, Lance Moore and Darnell Dinkins were undrafted.
As for the Colts, Division III's Pierre Garçon and fourth-round draft pick Austin Collie became stars pretty much as soon as they arrived in Indianapolis and started drinking the Indiana water. At the Super Bowl, the Colts will start eight undrafted players: Gary Brackett, Melvin Bullitt, Kyle DeVan, Jacob Lacey, Ryan Lilja, Daniel Muir, Gijon Robinson and Jeff Saturday. Indianapolis has the NFL's best offensive line, and three of the five starters (DeVan, Lilja and Saturday) were not drafted. That Indiana water -- where can I buy some?
[+] Enlarge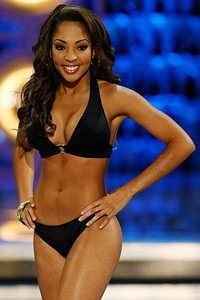 Ethan Miller/Getty ImagesMiss America, Caressa Cameron -- obviously this photo exists to justify the item.
Obviously This Item Exists to Justify the Swimsuit Photo: Congratulations to Caressa Cameron of Virginia, a student at Virginia Commonwealth University, for winning the latest Miss America pageant, which has migrated from Atlantic City to Las Vegas. In addition to wearing the crown, Cameron will be the spokesperson for National Pancake Day. Here is detailed coverage from her hometown newspaper, the wonderfully named Fredericksburg Free-Lance Star.
Perhaps There Are Astronomers on Distant Earthlike Worlds, Right Now Debating Whether a Meepzor-like Planet Will Be Found: Recently, astronomers in Hawaii detected an "exosolar" planet -- a world in another star system -- that is only four times the size of Earth. So far, nearly all exosolar planets glimpsed by astronomers have been gas giants similar to Jupiter, and our form of life is hard to imagine on a gaseous ball of extremely high gravity and atmospheric pressure. The newly discovered planet, designated HD156668b, is about 80 light-years away in the direction of the constellation Hercules. HD156668b doesn't sound particularly inviting, skimming so close to the surface of its star that that its "year" -- one orbit -- takes about four days. Temperatures there must be hellish. The smallest exosolar world discovered so far, Gliese 581 e, about 20 light-years distant, is about twice the mass of Earth and also too close to its star to be habitable by our form of life. But the ability to detect smaller and smaller exosolar planets raises the chances an Earthlike world soon will be found.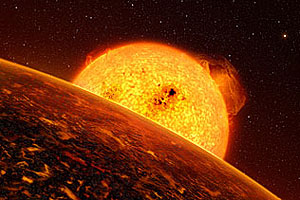 Courtesy of W.M. Keck ObservatoryArtist's conception of the view from HD156668b -- bring extra sunscreen.
The 2009 Tuesday Morning Quarterback All-Unwanted All-Pros: Each year, TMQ honors those gentlemen who became NFL success stories despite going undrafted, or being waived, or both. Here are the qualifications for my All-Unwanted All-Pros: A player must have been undrafted, or been waived, or been let go in free agency when his original club made no bona fide attempt to retain him. Players who left their teams via trade are not eligible, because the team received something of value in return; free agents whom their original teams wanted to retain, but could not for salary cap reasons, are not eligible. It is possible to be both wanted and unwanted. For example, Wes Welker gets an asterisk for being undrafted, then waived by San Diego. But his trade from Miami to New England does not count for All-Unwanted purposes, since the Dolphins got draft choices in return. If you think I've missed an outstanding performer who meets the All-Unwanted criteria, let me know at TMQ_ESPN@yahoo.com and I'll keep an eye on him next season.
A few of my All-Unwanted honorees also appear on the Pro Bowl teams; those are in bold. An asterisk means unwanted more than once. In a game, I would take my All-Unwanted squad over the Pro Bowl glory boys any day.
First team offense:
Offensive line: Tyson Clabo*, Atlanta (undrafted, waived by Broncos, Giants and Chargers); Kris Dielman, San Diego (undrafted -- a linebacker in high school, then a tight end and defensive end in college, had never played offensive line before the NFL); Jamaal Jackson, Philadelphia (undrafted out of Division I-AA Delaware State); Ryan Lilja*, Indianapolis (undrafted, waived by Kansas City, attended community college for two years after not being recruited out of high school); Jeff Saturday*, Indianapolis (undrafted, cut by the Ravens, future first-ballot Hall of Fame entrant and 2007 Tuesday Morning Quarterback Non-Quarterback Non-Running Back NFL MVP).
Tight end: Antonio Gates, San Diego (undrafted, did not play football in college).
Wide receivers: Miles Austin, Dallas (see below); Wes Welker*, New England (undrafted, waived by San Diego, not recruited out of high school despite scoring 83 prep touchdowns and kicking a 57-yard field goal, not drafted despite an NCAA-record eight punt return touchdowns in college; 2008 Unwanted Player of the Year).
Fullback: Tony Richardson*, Jersey/B. (undrafted, cut by the Cowboys, Chiefs and Vikings; has bounced around so much, he once blocked for Marcus Allen).
Running backs: Ryan Grant, Green Bay (undrafted, missed a year when injured by falling into champagne glasses); Fred Jackson*, Buffalo (undrafted out of Division III Coe College, played indoor football for the Sioux City Bandits).
Quarterback: Kurt Warner*, Arizona (undrafted out of Division I-AA Northern Iowa, played for the Arena League Iowa Barnstormers, let go by Packers and Giants, let go by Rams after he led them to club's only Super Bowl victory, future Hall of Famer).
Second team offense:
Offensive line: Kyle Cook*, Cincinnati (undrafted, waived by the Vikings); Mike Gandy*, Arizona (let go by Chicago and Buffalo); Jonathan Goodwin, New Orleans (let go by Jets); Donald Penn*, Tampa (undrafted, waived by Minnesota); Casey Wiegmann*, Denver (undrafted, let go by the Colts, Jets, Bears and Chiefs).
Tight end: Visanthe Shiancoe, Minnesota (let go by the Giants).
Wide receivers: Marques Colston, New Orleans (really shouldn't qualify for this team since he was drafted by the Saints -- but in the seventh round out of Hofstra, which no longer fields a football team); Derrick Mason, Baltimore (let go by Tennessee).
[+] Enlarge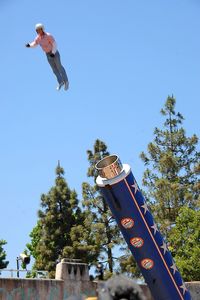 Stephen Shugerman/Getty ImagesActual footage of the Chicago Bears getting rid of Cedric Benson.
Fullback: Leonard Weaver*, Philadelphia (undrafted out of Division II Carson Newman, let go by Seattle).
Running backs: Cedric Benson, Cincinnati (practically launched out of Chicago as a human cannonball, the Bears were so anxious to be rid of him -- proved an enthusiastic team player for Bengals); Pierre Thomas, New Orleans (undrafted, did not start at Illinois as a college senior).
Quarterback: Drew Brees, New Orleans (let go by San Diego, then rejected by Miami when he offered to sign there, "too short" at 6-foot, on track to hold numerous passing records).
First team defense:
Defensive line: Tony Brown*, Tennessee (undrafted, cut by Carolina, Miami and San Francisco); Marques Douglas*, Jersey/B (undrafted out of Division I-AA Howard, cut by Baltimore, New Orleans, Tampa and San Francisco); Aubrayo Franklin, San Francisco (let go by Baltimore); Pat Williams*, Minnesota (undrafted, let go by Buffalo as washed up five years ago -- three Pro Bowl appearances since then).
Linebackers: Gary Brackett, Indianapolis (see below); Dhani Jones*, Cincinnati (let go by the Giants and Eagles, graduate of TMQ's kids' high school, hosts a travel show); London Fletcher*, Washington (undrafted, let go by St. Louis and Buffalo; best-ever player not named to the Pro Bowl -- he made it this year as a replacement; career stats essentially identical to those of Ray Lewis; the 2009 All-Unwanted Player of the Year; stands chance of being first player ever not named to the Pro Bowl but voted into the Hall of Fame).
Defensive backs: Leigh Bodden*, New England (undrafted out of Division I-AA Duquesne, waived by Detroit, had three interceptions in one game against Mark Sanchez); Jim Leonhard*,Jersey/B (see below); Darren Sharper*, New Orleans (let go by Green Bay and Minnesota); Charles Woodson, Green Bay (future Hall of Famer cast off by Oakland as washed up four years ago).
Second team defense:
Defensive line: Jacques Cesaire*, San Diego (undrafted out of Division II Southern Connecticut State ); Ryan Pickett, Green Bay (highly drafted by St. Louis, let go as part of Rams' master plan -- see Kurt Warner -- to get rid of good players); Jimmy Wilkerson, Tampa (let go by Kansas City); Mike Wright, New England (undrafted, enrolled at Division II Ashland University because no college recruited him out of high school).
Linebackers: Stephen Cooper, San Diego (undrafted out of Division I-AA Maine); James Harrison*, Pittsburgh (undrafted, played for the NFL Europe's Rhine Fire, cut by Ravens and once cut by the Steelers -- 2009 Tuesday Morning Quarterback Non-Quarterback Non-Running Back NFL MVP); Ben Leber, Minnesota (let go by San Diego); Bart Scott*, Jersey/B (undrafted out of Division I-AA Southern Illinois, let go by Baltimore, key piece of Rex Ryan's crazed defense).
Defensive backs: Chris Crocker*, Cincinnati (let go by Cleveland, Atlanta and Miami); Brian Dawkins, Denver (shown the door by Philadelphia despite seven Pro Bowl selections); Hiram Eugene, Oakland (undrafted, won starting job away from lottery pick Michael Huff); Jacob Lacey, Indianapolis (undrafted because he was "too small" at 170 pounds, was an econ major in college).
Kicking teams
Place-kicker: Matt Prater*, Denver (undrafted, waived by Detroit and Atlanta; was 10-of-13 beyond 40 yards and put 28 kickoffs into the end zone for touchbacks, second only to David Buehler of Dallas, a kickoff specialist).
Punter: Donnie Jones*, St. Louis (waived by Seattle and Miami, second in league in net average, has improved because with the Rams he gets so much practice -- against Chicago, nailed four punts inside the Bears' 10).
Kick returner: Josh Cribbs, Cleveland (undrafted despite being the all-time yardage leader at Kent State; held all the school's quarterback records until a few were surpassed by Julian Edelman, who lasted till the seventh round of the draft, and is now viewed as a steal -- meaning NFL scouts made the same mistake with the same position at the same school twice in a short period).
Special teamer: Brian Iwuh, Jacksonville (undrafted).
Unwanted head coach of the year: Wade Phillips*, Dallas. At age 62, after being fired by the Broncos and the Bills, and ridiculed for three years by the Dallas press, wins the Cowboys' first playoff victory since the Clinton presidency and receives a lucrative contract extension.
Unwanted executive of the year: Bill Polian, Indianapolis. Built the four-peat Buffalo Bills Super Bowl squad of the early 1990s, then was fired; took over the expansion Carolina Panthers and got them to the NFC Championship Game in their second year of existence, then was forced out; took over the Colts, which since the year of his arrival have more victories than any NFL team. Good at what he does but unpleasant to be around -- has a volcanic temper, yells at clerks and receptionists.
Unwanted players to keep an eye on
• Akin Ayodele, linebacker, Miami -- let go by Jacksonville and Dallas.
• Remi Ayodele*, defensive tackle, New Orleans -- undrafted, cut by Dallas (twice), Atlanta, Baltimore and New England.
• Tully Banta-Cain*, linebacker, New England -- starts for Patriots despite being waived three times by his own team.
• Jovan Belcher, linebacker, Kansas City -- undrafted out of Division I-AA Maine.
• Mike Bell*, running back, New Orleans -- undrafted despite 3,163 yards rushing at Arizona, waived by Denver and Houston.
• Davone Bess, wide receiver, Miami -- undrafted, left college early because the NFL advisory board told him he would be a second-round choice.
• Atari Bigby*, safety, Green Bay -- undrafted, waived by Dolphins and Jets.
• Mike Brisiel, guard, Houston -- undrafted.
• Melvin Bullitt, safety, Indianapolis -- undrafted, played four positions in college, was the one who stopped the Patriots' fourth-and-2.
• Brandon Chillar, linebacker, Green Bay -- let go by St. Louis, parents from India.
• Nick Cole, guard, Philadelphia -- undrafted, plays well at guard, struggled as the Eagles' emergency center.
• Blake Costanzo*, special teamer, Cleveland -- undrafted from Division I-AA Lafayette, cut by Jets and Bills.
• Kyle DeVan*, guard, Indianapolis -- undrafted, waived by the Redskins and Jets, played for the Boise Burn of Arena 2; before being called by the Colts last summer, was working as a substitute teacher.
• Darnell Dinkins*, tight end, New Orleans -- undrafted, let go by the Giants, Ravens and Browns.
• Jo-Lonn Dunbar, special teams, New Orleans -- undrafted.
• Abram Elam*, safety, Cleveland -- undrafted, waived by Miami and Dallas.
• Brett Favre, quarterback, Minnesota -- let go by Jets, appears to have 5-10 good years ahead of him.
• Larry Foote, linebacker, Detroit -- waived by Pittsburgh.
• J.P. Foschi*, tight end, Cincinnati -- undrafted, released by Jets, Broncos, Vikings, Raiders (twice) and Chiefs.
• Keyaron Fox, linebacker, Pittsburgh -- let go by Kansas City.
• Mike Furrey, utility player, Cleveland -- undrafted from Division I-AA Northern Iowa, let go by Colts, Rams and Lions, played for two Arena League teams, got snaps this season at wide receiver and safety.
• BenJarvus Green-Ellis, fullback, New England -- undrafted, struggled at tailback, played well when shifted this season to fullback.
• Brent Grimes, cornerback, Atlanta -- undrafted out of Division II Shippensburg.
• Lynell Hamilton, running back and special teams, New Orleans -- one of eight undrafted players to score a touchdown for the Saints this season.
• Anthony Hargrove*, defensive tackle, New Orleans -- cut by the Rams and Bills, did not play in 2008 owing to a suspension for drug use, is now clean.
• Spencer Havner*, tight end, Green Bay -- undrafted, cut by Washington and Green Bay, was a linebacker in high school and college, had five touchdown receptions this year in his first-ever season at tight end.
• David Hawthorne, linebacker, Seattle -- undrafted.
• Will Heller*, tight end, Detroit -- cut four times, including twice by Tampa.
• Artis Hicks, guard, Minnesota -- undrafted.
• Renaldo Hill*, cornerback, Denver -- cut by Arizona, Oakland and Miami.
• Antonio Johnson, defensive tackle, Indianapolis -- signed from the Tennessee practice squad.
• Bruce Johnson, cornerback, Giants -- undrafted.
• Damione Lewis, defensive tackle, Carolina -- a first-round choice at St. Louis, which was anxious to give him the human cannonball treatment (see Warner and Pickett), has played well for the Panthers.
• Tony McDaniel, defensive tackle, Miami -- undrafted.
• Quintin Mikell, safety, Philadelphia -- undrafted.
• Brandon Moore*, Jersey/B, guard -- undrafted, played for the Scottish Claymores.
• Evan Moore*, tight end, Cleveland -- undrafted, cut by New Orleans and Green Bay, in four years at Stanford earned his bachelor's (pre-law) and master's (sociology).
• Daniel Muir*, defensive tackle, Indianapolis -- undrafted, waived by Green Bay.
• Juqua Parker, defensive end, Philadelphia -- undrafted, let go by Tennessee.
• Kenny Peterson, defensive end, Denver -- waived by Packers.
• Mike Peterson, linebacker, Atlanta -- let go by Indianapolis and Jacksonville.
• Bernard Pollard, safety, Houston -- cut by Kansas City.
• Lyle Sendlein, center, Arizona -- undrafted, graduated from Texas with a degree in liberal arts.
• Bryan Scott*, emergency linebacker, Buffalo -- drafted as a safety, let go by Atlanta, New Orleans and Tennessee, played well as a "Will" linebacker for injury-riddled Bills defense.
• Ian Scott*, defensive end, San Diego -- cut by the Bears, Eagles and Panthers.
• Gerald Sensabaugh, cornerback, Dallas -- released by Jacksonville.
• Takeo Spikes*, linebacker, San Francisco -- graying veteran who still plays well despite being let go by Cincinnati, Buffalo and Philadelphia.
• Darnell Stapleton, guard, Pittsburgh -- undrafted.
• Randy Starks, defensive end, Miami -- let go by Tennessee.
• Andy Studebaker, linebacker, Kansas City -- let go by Philadelphia, attended Division III Wheaton College.
• Frank Walker*, special teams, Baltimore -- undrafted out of Division II Tuskegee, cut by Giants and Packers.
• Kevin Walter*, wide receiver, Houston -- cut by Bengals and Giants.
• Nate Washington*, wide receiver, Tennessee --- undrafted from Division II Tiffin, let go by Pittsburgh.
[+] Enlarge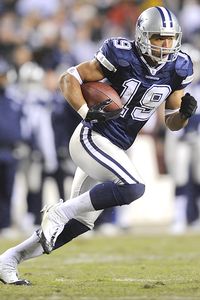 AP Photo/Nick WassHis college didn't even hold a pro day, so he had to run his 40 somewhere else.
• Brian Waters, guard, Kansas City -- undrafted, has played in four Pro Bowls.
• George Wilson, safety, Buffalo -- undrafted, waived by Detroit, has kept high-drafted players on the bench.
• Damien Woody, tackle, Jersey/B -- former high draft choice for New England, let go by Patriots and Lions, many football touts don't seem to realize he is still playing.
Unwanted Player of the Year, second runner-up. Miles Austin, wide receiver, Cowboys: Received no Division I scholarship offers out of high school, enrolled at Division I-AA Monmouth. Went undrafted by NFL despite a 12-touchdown senior season and despite running at 4.3 -- which he ran at the Rutgers pro day because Monmouth does not have a pro day. With Austin, suddenly Tony Romo is a good quarterback. Hard-working, never complains -- what a breath of fresh air compared to Terrell Owens and Roy Williams. The league's No. 2 receiver (Wes Welker) and No. 3 receiver (Austin) of 2009 both were passed over in the draft.
Unwanted Player of the Year, first runner-up. Gary Brackett, middle linebacker, Colts.: Not recruited out of high school, had to walk on at Rutgers. Went undrafted by NFL; now among the league's best linebackers. Plays at an elite level despite being a normal-sized human being at 5-foot-11, 235 pounds. Stays on the field on passing downs, a la Ray Lewis and Brian Urlacher; can rush or drop into coverage. Had a big sack versus Baltimore in the playoffs, then several big run-stops against the Jets in the AFC championship. Very active in community work -- doesn't just talk about it, actually does it.
[+] Enlarge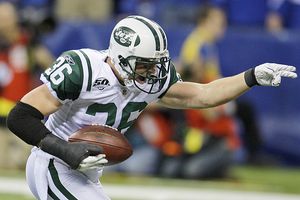 AP Photo/Darron CummingsHe's too short! All he's good at is starting for the NFL's best defenses.
Unwanted Player of the Year. Jim Leonhard, safety, Jets: Not recruited out of high school, had to walk on at Wisconsin. Did not receive an NCAA scholarship until his senior year. Went undrafted despite tying the Wisconsin career record for interceptions with 21 and holding the Big Ten career punt-return record when he graduated. Went undrafted because he is "too short" at 5-8, though he can slam-dunk a basketball with both hands. Became a starter at Buffalo, recording a 13-tackle game. Waived by the Bills after they used a high first-round draft choice on safety Donte Whitner; today, Leonhard is a significantly better player. In 2008, was a starter for a Ravens defense ranked second in the NFL. Let go by the Ravens, signed by Jersey/B, joining former Baltimore defensive coordinator Rex Ryan; in 2009 was a starter for the league's first-ranked defense. Already has started in six postseason games -- that's six more than Whitner, the guy Leonhard was cut to make room for -- and recorded two postseason interceptions and a postseason fumble recovery.
[+] Enlarge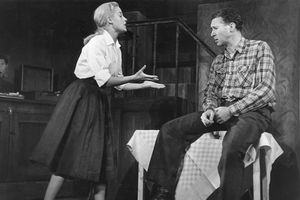 Charles Hewitt/Getty Images"A View From the Bridge" -- what was shocking in 1955 is hardly even noticed today.
Honorary Cheerleader of the Week: ESPN.com editor Thomas Neumann nominates Sarah of the Washington Capitals. Check her favorite book.
This Really Must Be the 21st Century: Arthur Miller's great 1955 play "A View from the Bridge" is enjoying a revival on Broadway. In the play, the protagonist is driven wretched by the question of whether he should reveal to authorities another character's shocking secret. The secret? The other character has entered the country illegally. In 1955, this was viewed as so rare and disturbing it could form the basis of an important piece of literary drama. Today, an estimated 12 million people residing in the United States have entered illegally.
Owners, Players -- Please Don't Kill the Golden Goose: Though there's some fear of an NFL strike or lockout in 2011, I wouldn't worry: Both sides are still at the public-bluster stage, and real negotiations have not yet commenced. The owners and the union would be total, utter fools to kill the golden goose with a strike or lockout. Then again, folly is a grand theme of history.
The first salary cap, in 1994, was $49 million in today's dollars. The 2009 cap was $128 million, 2.6 times larger in just 16 years. In 1994, an average NFL player's income was $800,000 in today's dollars, while about $27 million was spent on payments to retired players. This season the average pay was $2.1 million per player, while nearly $200 million went to retired player payments. How many professions do you know, including surgery, in which real-dollar income and payments to retirees are rising so fast? Money to active and retired players is way up because football is so popular -- and because the labor peace that has prevailed since cooperative bargaining began in 1993 insures television there will be a product to air. That makes television willing to pay premium prices. If a strike or lockout spoils this arrangement, why should television pay a premium in the future?
[+] Enlarge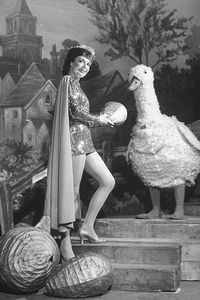 Hans Wild/Getty ImagesRoger Goodell and DeMaurice Smith meet to discuss the next collective bargaining agreement.
This is a good time to remember that when the current CBA was signed in 2006, the late NFLPA president Gene Upshaw was ridiculed in the press as a lapdog because he didn't throw bricks through windows and didn't want to harm the fortunes of his industry, attitudes that old-media types (who have done such a fine job with their own industries) wag their fingers at as insufficiently confrontational. Owners exercised their option to end the 2006 agreement two years early because when the dust settled they realized what a fabulous deal Upshaw's final CBA was for the players, who now get 60 percent of NFL revenues and whose average pay has risen 48 percent in the last four years alone. If Upshaw's 2006 deal was bad for the players as old-media types contended, why were the owners so eager to cancel the agreement?
The current bluster is silly on both sides. DeMaurice Smith, who replaced Upshaw, needs to look macho, and so is using the worn union macho position of outrage at the slightest suggestion of any concession. Isn't assurance of future pro football salaries rising at a somewhat slower rate a lot better than a year with no football and no pay at all, followed by the networks' reducing their future offers? In the NBA, owners and players have taken turns shooting at the golden goose, and the result is a declining salary cap. The NFLPA would be extremely foolish to risk starting a salary decline in the NFL, and NFLPA members would be foolish to prefer angry rhetoric over numbers in their bank accounts.
Meanwhile, the owners are crying woe is me -- after stepping off their private jets. The super-rich owners, such as Jerry Jones and Pat Bowlen, are complaining about the revenue-sharing deal by which the top 15 teams each send about $7 million per year to the bottom 15 teams, whose owners are merely rich. Owners in markets like Denver and Dallas should stop griping and sustain a revenue-sharing system that keeps the competition strong, and the fans and networks interested. Sure, $7 million is real money -- but it's only one bonus blown on a flopped free agent. By crying to the NFLPA over sums the players know are trivial to super-rich owners, the owners only reduce the credibility of their positions.
Reader Comments: Jason Hill of Louisville, Ky., writes, "I found all of the mentions of absurd pseudo-precision in this past Tuesday's TMQ especially hilarious because I'd just seen a perfect example. Louisville had just had an ice storm. I was driving behind a salt spreader. The truck had a sign affixed to its liftgate that read, 'Stay Back 38 Feet.' Not 37 feet, not 39 feet, stay back 38 feet. Not only is it impossible to tell exactly how close you are when driving, it sounds like 38 feet would be too close to follow a truck even under dry conditions."
[+] Enlarge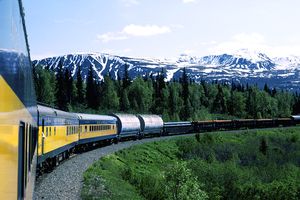 George Rose/Getty ImagesLuckily, this is not an action-movie supertrain.
Daniel Piotrowski of Atlanta writes, "Making fun of the new action show 'Human Target,' in which a runaway supertrain veers into a sharply curved rail tunnel, you posed the question, 'Is there such a thing as a sharply curved rail tunnel?' There is. At the railroad I work for, Norfolk Southern, two examples come to mind. The Algonquin, West Virginia tunnel is 1,236 feet long with an 8.5° curve and a 25 mph speed limit. The Polk Gap, West Virginia tunnel is 2,463 feet long with a 10° curve and a 10 mph speed limit. A supertrain passing through at high speed would easily derail. I'm certain there are more extreme examples, but those were easy to find. An 8.5° or 10° mainline curve is extreme for a 10,000 ton freight train, regardless of tunnel."
I chided the Cleveland Symphony Orchestra for going on strike, when it is supported almost entirely by donations. Jacob Sider Jost of Harrisonburg, Va., counters, "Profitable professional sports franchises routinely demand and receive subsidies from taxpayers, who paid $84 million to help build the Cleveland Indians' ballpark, for instance. Surely if professional athletes, who have dedicated their young lives to something totally non-utilitarian which gives great joy to audiences, receive generous government subsidies while making profits, we need not be too hard on professional musicians, who have dedicated their whole lives to something totally non-utilitarian which gives great joy to audiences at much lower cost but at a slight loss. I would argue that we should subsidize them with corresponding generosity." Here, Matthew Hall of the San Diego Union-Tribune shows that the public pays far too much of the cost of sports stadia used for private profits. Rocco Landesman, current chair of the National Endowment for the Arts and a former Broadway producer, has long maintained that the arts are a more cost-effective way to revitalize urban areas than other types of investments; you can listen to him make that case here.
[+] Enlarge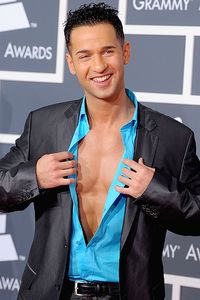 Jason Merritt/Getty ImagesMike "The Situation" Sorrentino at the Grammys. It's the 21st century, now the men provide the cleavage.
When New Orleans won the NFC championship partly on the strength of a fourth-and-1 goal-line leap play called in the center of the field, I proposed that coaches rarely call the leap play at midfield because the most it can gain is 1 yard. Aseem Garg of Westlake, Ohio, adds, "I think a good answer to why coaches never call the goal line dive in the middle of the field can be found in evidence from Sunday's game. When Thomas made the leap, the ball nearly came loose from his grasp. In the case of the goal line, it would be perfectly fine to fumble it once the player has broken the plane of the end zone. However, if Thomas had fumbled at the 43 yard line, the ball would be live." Matthew Smith of Scottsdale, Ariz., adds, "If you're in a midfield fourth-and-1, you not only need to get the ball past the first-down mark, you need to keep it there. A quick shove across the plane, which works at the goal line, won't work anywhere else, if it's a quick shove at the line-to-gain. "
Finally, I proposed college brackets for the fall, such as Dickinson College versus Dickinson University with the winner to meet Farleigh Dickinson. Doug Giron of Barrington, R.I., writes "Don't forget Union College of New York versus Union College of Kentucky with the winner to play Mount Union College." Hans Krake of Playa del Rey, Calif., notes I neglected to have my two favorite colleges, Indiana of Pennsylvania and California of Pennsylvania -- I didn't list these because they actually do play each other! Ken-Ichi Hino of Potomac, Md., proposes this ultimate all-Indiana bracket: "A round-robin between Indiana University, Indiana University of Pennsylvania and the University of Pennsylvania, with the winner to meet the winner of a round-robin between Indiana Wesleyan, Purdue University, and the incredibly over-named Indiana University-Purdue University Indianapolis."
Tuesday Morning Quarterback Challenge: The NFL hasn't used up all possible aging rock acts for the Super Bowl halftime show -- Ten Years After is still touring! The challenge: Name an aging, Medicare-eligible (or soon to be) rock group or performer the NFL could book for next year's Super Bowl halftime show. The group or artist must be one that actually could appear -- members alive and still performing. Give your arguments for the group or artists. Short and clever improves your odds, failing to mention your hometown disqualifies you. The winner will receive a signed copy of "Sonic Boom." Submit your proposed faded, aging rock group to TMQ_ESPN@yahoo.com.
Bear in mind this is a challenge, not a contest. We promise nothing, the rules are kept secret even from the judges, and the final decision will be completely arbitrary.
Next Week: That Super Bowl thing you might have heard about.
In addition to writing Tuesday Morning Quarterback for Page 2, Gregg Easterbrook is the author of the new book "Sonic Boom," and six other books. He is also a contributing editor for The New Republic, The Atlantic Monthly and The Washington Monthly. His Web site can be found here.