Commentary
The football gods smiled on the Saints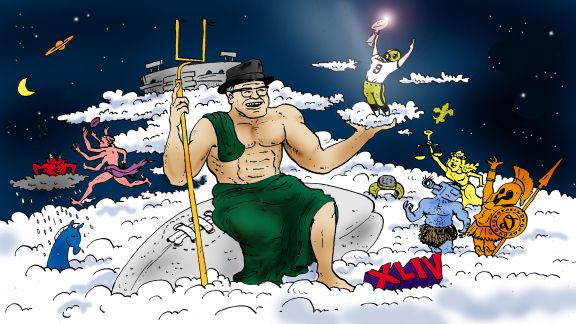 Kurt Snibbe/ESPN.com
SOUTH FLORIDA, Fla. -- Fortune favors the bold! The Saints had nothing to lose in the 44th Super Bowl, since their season was already a success regardless of the outcome. All the pressure was on the Colts, whose season would be a failure unless they won. The Saints were loose and spontaneous, the Colts were stiff and mechanical. Boldness was the key to the New Orleans victory -- not just the onside kick to open the second half, but also Sean Payton's decision to try for a touchdown on fourth-and-goal at the Colts' 1-yard line, trailing 10-3. Though that play failed, the failure was a tremendous success -- fortune favors the bold!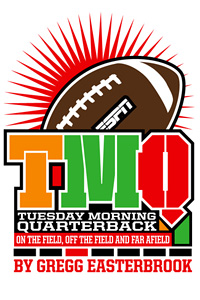 How was the failed fourth-and-goal try a success? Short-term, by improving the New Orleans situation at the end of the first half. After the turnover on downs, Indianapolis took possession on its own 1-yard line with 1:49 remaining until The Who began shrieking. Timidly -- that is, not boldly -- the Colts called three consecutive dives into the line and then sent in the punt unit, even though New Orleans had all its timeouts when the Indianapolis possession started. Using the timeouts, the Saints preserved enough time to launch a field goal as the first half ended, making it 10-6 at intermission. Thus New Orleans got the three points it would have gotten anyway had Sean Payton sent in the place-kicker on fourth-and-goal. But if he had done that, Indianapolis would have taken possession in much better field position following the kickoff, with time (and two timeouts) to score as well before intermission. Payton knew that if his fourth-and-goal attempt failed, Indianapolis would be pinned against its own goal line with the clock ticking and the Saints holding three timeouts. The Saints were better off going for it and failing on fourth-and-goal than kicking a field goal. Fortune favors the bold!
The long-term impact of the successful failure? Here are New Orleans' offensive possession results from the point of the failed fourth-and-goal: field goal, touchdown, field goal, touchdown, touchdown, kneel-down to conclude the NFL season. Following the failed fourth-and-goal, for the remainder of the game, the Saints outscored the Colts 28-7. Tuesday Morning Quarterback favors the fourth-down try because when a coach goes for it on fourth down, he is challenging his players to win the game. This column notes that often it's better to try on fourth down and fail -- challenging players to win -- than do the "safe" thing and launch a kick. Never has the virtue of the failed fourth-down try been better displayed than in the New Orleans Super Bowl triumph. And an opposite event proves the rule: Faced with a critical fourth-down choice in the fourth quarter, Indianapolis coach Jim Caldwell did the "safe" thing, leading to a fiasco. See below.
TMQ CHEAT SHEET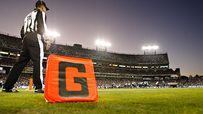 Gregg Easterbrook on …
Fortune also favors a good game plan! Once again, Indianapolis ran exactly the same looks and sets it had used in previous games, especially on offense -- see below on how this helped with New Orleans' game-icing interception. Once again, New Orleans rolled out new plays and new looks. Most importantly, the tastefully named Gregg Williams, the Saints' defensive coordinator, totally changed his tactics. All season long, the Saints have been blitz-wacky, blitzing way too much for TMQ's taste. Against Brett Favre in the NFC Championship Game, Williams called 34 blitzes -- a typical NFL defense executes 10-15 blitzes per game -- with many of them six-man blitzes and two-thirds of them involving a safety. In the Super Bowl, Williams called five blitzes -- only one was a six-man rush, and only one involved a safety.
Peyton Manning loves to be blitzed; he has an offensive line that picks up the blitz better than any other line in the league; surely the Colts spent two weeks practicing to face constant blitzing. But on Sunday, the Saints hardly ever blitzed. Often Williams sent only three rushers as the Saints used a lot of 3-3-5 formations, a look they had not shown this season. This appeared to be the last thing Manning expected -- it worked like a charm, and the football gods smiled on the New Orleans Saints.
For more on the game, see below. Also, see below for the Final State Standings, and for the Tuesday Morning Quarterback Non-Quarterback Non-Running Back NFL MVP. And don't forget -- there's one more TMQ to come. Check back here next Tuesday for my annual Bad Predictions Review.
Stats of the Super Bowl No. 1: After being plus-13 on turnovers in 16 regular-season games, New Orleans was plus-seven in three postseason contests.
Stats of the Super Bowl No. 2: For the second consecutive season, the league's lowest-ranked rushing team made the Super Bowl, and lost.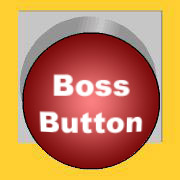 Stats of the Super Bowl No. 3: Drew Brees and Peyton Manning combined to complete 63 of 84 pass attempts.
Stats of the Super Bowl No. 4: The Colts scored three touchdowns this season on turnover and kick returns; the Saints scored 11.
Stats of the Super Bowl No. 5: The Colts gained 423 yards on offense, averaged 6.8 yards per offensive play and scored only 17 points.
Stats of the Super Bowl No. 6: Manning is 9-9 in the postseason in his career.
Stats of the Super Bowl No. 7: After setting an NFL record this season with seven come-from-behind fourth-quarter wins, Indianapolis let New Orleans come from behind in the fourth quarter and win the Super Bowl; the Saints outscored the Colts 15-0 in the final quarter.
Stats of the Super Bowl No. 8: Indianapolis and New Orleans opened the season a combined 27-0, and closed it a combined 5-6.
Stats of the Super Bowl No. 9: Discounting games it made no attempt to win, Indianapolis is on a 23-0 streak in the regular season and a 2-2 stretch in the postseason.
Stats of the Super Bowl No. 10: The Saints became the first Super Bowl victor to post three consecutive victories over teams led by quarterbacks who had won a Super Bowl (Kurt Warner, Brett Favre, Manning).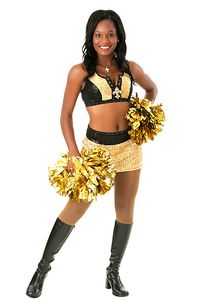 New Orleans SaintsJasmine of the Saintsations -- can she cure the hangovers down in New Orleans?
Cheerleader of the Super Bowl No. 1: Jasmine of the Saints, who attends Xavier University of Louisiana, where she is majoring in chemistry. Also, her career goal is a master's degree in pharmacy. Perhaps between a New Orleans Super Bowl win and Mardi Gras about to begin, she can serve her state by formulating a cure for the hangover.
Put It In Neutral! The Toyota stuck-throttle recall keeps getting worse. It's hard to read stories like this one about a panicked 911 call from a driver whose car kept accelerating until it crashed, killing four people. Though a California Highway Patrol officer, the driver did not know what to do. Here's what to do: Put the car in neutral!
If you're ever driving a vehicle that keeps accelerating when you lift your foot from the gas pedal, turning off the engine is not the best response, because that also turns off the steering and brakes and may lock the steering column. Put it in neutral! Shift an automatic to the "N" position, or throw a manual into the center position. The engine will decouple from the wheels, stopping acceleration. But hydraulic pumps will continue to run, allowing steering and braking. Driver's ed classes do not teach the shift-to-neutral-while-moving maneuver because unintended acceleration has been considered too rare to worry about. Apparently, not anymore. If this happens to you, put it in neutral!
Annual NFL Pinafore Count: NFL teams typically have about $250 million in revenue -- about the estimated annual revenue of Craigslist -- yet most NFL teams have more fancy titles than entire European governments. Here is a sampling, based on directories in the league's current Record and Fact Book:
[+] Enlarge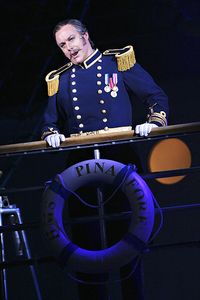 Patrick Riviere/Getty Images"I thought so little/They rewarded me/By making me a director of head coach administration/In the NFL-y."
Baltimore has an owner, a president, an executive vice president, a senior vice president, 12 regular vice presidents, one senior director and 13 regular directors. Buffalo has a vice president for stadium operations, though the Bills do not own their stadium, and two people with the title "scout emeritus." Cleveland has an owner, a president, a general manager, a senior vice president, four regular vice presidents, 17 directors (Cleveland is the league leader for directors) and an "executive advisor."
Houston has a "chairman and CEO," two vice-chairmen, a general manager, a president, a senior vice president, five regular vice presidents, a director of football administration, a director of football operations, 13 other directors and a risk manager. Jacksonville has two people with the title "chairman and CEO," a senior vice president for football operations, an executive director of football operations, three other executive directors and a general manager.
Miami has an owner/chairman of the board, a CEO, a "president and COO," an executive vice president/ football operations (that's Bill Parcells), a general counsel for football operations (Parcells has his own full-time lawyer), a general manager, three senior vice presidents, a regular vice president, a senior director, nine regular directors and a team security investigator -- which sounds like someone whose job is to investigate all the other guys just mentioned.
New England has a "chairman and CEO," a COO, a president, a chief administrative officer, eight vice presidents, a director of strategic initiatives, a director of operational initiatives, a senior advisor, a director of research, a publisher and this year's Title of the Year -- a director of head coach administration. The head coach has his own administrator!
The Jets have a "chairman and CEO," three executive vice presidents, a senior executive, 10 senior directors, eight regular directors and a coordinator for equipment. San Diego has an owner, a "president and CEO," a league-best seven executive vice presidents, a senior executive and 13 people with the titles of director or vice president. Tennessee has an "owner/chairman/CEO/president," a senior executive vice president, three regular executive vice presidents, three regular vice presidents, three senior directors, nine regular directors, two general managers, an operations manager, a national supervisor, a general counsel, an assistant general counsel -- how often do the Titans get sued? -- plus Jeff Fisher is "executive vice president/head coach."
Atlanta sure wants good press, as it has a vice president for football communications, a senior director of media relations, a director of community relations, a football communications manager and a football communications coordinator. Carolina has an owner/founder, two presidents, a general manager, a director of team administration, a director of team operations, two executive producers and 11 other directors. Chicago has a chairman, a secretary (who is ranked second in the organization -- like the secretary of state?), a "president and CEO," a general manager, nine senior directors and 17 regular directors, including a director of creative services.
Dallas has an owner/president/general manager, a COO/executive vice president/director, an executive vice president/vice president of management/president, an executive vice president/chief marketing officer, a CFO and 13 directors. Green Bay -- the only publicly owned NFL team -- has a "president and CEO," an executive vice president/general manager/director of football operations, a vice president for football administration, a senior vice president, two regular vice presidents and 15 directors. The Giants have a president/CEO, a chairman/executive vice president, a senior vice president/general manager, two other senior vice presidents, eight regular vice presidents and 13 directors, including two people with the same title, "director of information technology."
Philadelphia has a senior vice president for public affairs and government relations -- a lobbyist. San Francisco has two people with the title co-chairman/owner, a president, a general manager, a COO, an executive vice president for football operations, a regular vice president for football operations, five other vice presidents, an executive director, a senior director, a senior manager and 11 regular directors. Seattle has a chairman, a CEO, a president, a COO, a CFO, five vice presidents, a director of communications and broadcasting and a director of communications. Tampa has an owner/president, three co-chairmen, a general manager, a vice president, a senior director, 11 regular directors and six managers.
Washington has an owner, a CFO, a COO, an executive vice president for football operations, a regular vice president for football operations, three senior vice presidents, an executive director and five regular directors. If the U.S. government had the same ratio of titles to revenue as the Washington Redskins, the United States would have 16,000 presidents and 80,000 vice presidents.
Does the Phone Work in the Duchy of Grand Fenwick? Verizon ads say a new wireless phone works in "more than 220 countries." The United Nations has 192 member states.
[+] Enlarge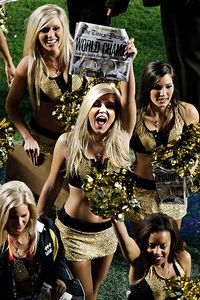 Doug Benc/Getty ImagesWho dey, who dese, who dem -- conjugating New Orleans phrases can be a challenge.
Super Bowl Analysis: Most NFL coaches dread risk taking because a failed risk shifts the blame from players to coaches. NFL coaches order punts on fourth-and-inches and punts in opposition territory while trailing, rarely call fake field goals and exhibit other fraidy-cat behavior. And NFL coaches rarely order onside kicks unless they have no choice. The expected onside kick only succeeds about 10 percent of the time. But since 2000, slightly more than 60 percent of unexpected onside kicks have been successful. If it works, you've created a turnover -- if it fails, you've surrendered about 30 yards of field position. Thus, the unexpected onside is not a "huge gamble," it is a percentage play -- in most game circumstances, a turnover is worth a lot more than 30 yards of field position. By this reasoning, Sean Payton's onside kick to start the second half of the Super Bowl was no "huge gamble," but it was bold.
The background was that trailing 10-3, New Orleans had been stopped on fourth-and-goal on the Indianapolis 1-yard line, and you'd think all the momentum would have swung to the Colts after that. But Indianapolis coach Jim Caldwell did the timid thing by having his charges dive into the line three times and then punt -- and the half ended 10-6. Regularly this season, Indianapolis has been very aggressive on the final possession of the first half; Caldwell's strange decision to be timid at that point hurt the Colts far more than pulling his starters in their first game against the Jets. Maybe Caldwell figured all was fine because the Colts would get the ball to start the second half.
New Orleans started the second half by recovering an onside kick and scoring quickly, and suddenly rather than the Colts being up 10-6 and having the ball, the Saints were up 13-10. The Saints had not attempted an onside kick all season; kickoff specialist Thomas Morstead had never tried an onside kick in the NFL. Clearly the Colts were caught sleeping. Since Indianapolis never does anything it hasn't done in prior weeks, the Colts seemed to make the mistake of assuming this must be true of New Orleans, too.
Or maybe The Who was to blame! The halftime show was sleep-inducing, despite the decibel level. Indianapolis looked drowsy when it came out to resume play, whereas New Orleans looked pumped. The Who's 20-plus-piece stage set was still being rolled off as the Colts' receiving team lined up for the second-half kickoff, and the pieces were rolling out the tunnel end -- the same end as where the Colts were. Several Indianapolis players seemed idly to be watching the final pieces of the stage and the large stage crew -- things they never see in a regular game -- rather than paying attention to the opposing kick unit. Suddenly it's an onside kick -- blame The Who!
[+] Enlarge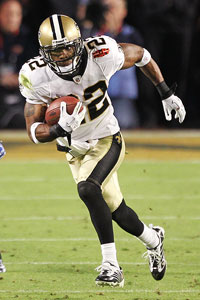 Ezra Shaw/Getty ImagesHe studied film -- and the Colts did not change their plays.
When the Patriots upset the heavily favored Rams in Super Bowl XXXVI, the Rams came into the game expecting constant blitzing, which is what happened when the Patriots and Les Mouflons had met in the regular season. Bill Belichick flummoxed the favorites by having his charges blitz just once. The tastefully named Gregg Williams pulled the same ploy out of the history books, hardly ever blitzing an offense that expected -- that wanted -- lots of six-man rushes. Williams also varied the Saints' fronts more than in any previous New Orleans game this season, using mainly a 3-3-5 formation but also showing 4-3-4, 3-2-6, 4-2-5 and 2-4-5 looks. Once, Manning noticed a two-man front and quickly audibled to a rush that gained 16 yards, but for the most part the multiple fronts worked. Williams also had his linebackers wait until Manning finished his chicken dance and made his calls at the line of scrimmage; then the linebackers quickly changed positions. This is a tactic the Washington Redskins used to defeat the no-huddle Buffalo Bills in Super Bowl XXVI, and Williams surely recalled that, too.
The Saints staged their sole big-blitz of the night on the third-and-5 on which Manning threw the pick-six to Tracy Porter. A blitz can be devastating when not expected -- it was unexpected here, because by the fourth quarter, Manning had stopped looking for blitzes. The play was both a poor decision by Manning and exposed Indianapolis' 2009 policy of never changing anything game to game.
Porter noted after the game that film study revealed that the Colts, on third-and-short, often put two guys left, bring one in motion inward, then throw a "stick" slant -- to the point of the first-down marker -- to Reggie Wayne. Porter said in a radio interview, "Once I saw [Austin] Collie motion in, I was like, 'OK, here comes the stick route,' and once I saw him try to wide [move sideways], I stepped inside and when he went to make his break to come back in, I was already in front of him and picked the ball off." TMQ had no problem finding this exact play, in exactly the same down and distance, in recent Colts games; plus, the Colts had used a similar action on a fourth-and-2 stick slant to Wayne earlier in the game, with Wayne "crossing the face" of Porter. Before the Super Bowl, perhaps Indianapolis had gotten away with endlessly running the same plays from the same sets because opponents had only a week to break down film. For the Super Bowl, New Orleans had two weeks, and Porter's recognition of what was coming was telling -- as was the fact that Indianapolis didn't bother, in two weeks, to install anything new.
Manning was doubly to blame on this play, because not only did he telegraph the pass to Wayne, he never looked toward Dallas Clark down the seam -- with the strong safety up at the line, Clark was open for a long gain and maybe a touchdown. For that matter, why didn't Manning audible to a run? New Orleans nose tackle Anthony Hargrove went out injured before this down, making a rush attractive. Indianapolis averaged 5.2 yards per rush attempt; gaining even, say, 3 yards here would have made it a very manageable fourth-and-2 on the New Orleans 28-yard line.
Prior to the game, there was a lot of talk about whether winning this game would make Manning the best quarterback ever -- there will be no more talk of that now. Manning just did not have a good game. Though the Saints used press corners almost the entire game, Manning threw up the field only four times -- including for a touchdown and a 40-yard gain. Why didn't he attack deep more? Once New Orleans lined no one up across from Collie, who waved at Manning to quick-snap and toss him the ball; instead Manning signaled Collie in motion back toward the formation, where the nickel back picked him up. Manning might still someday be considered the best QB of all time, but this Super Bowl loss, and his current postseason record of 9-9, make that a lot less likely.
[+] Enlarge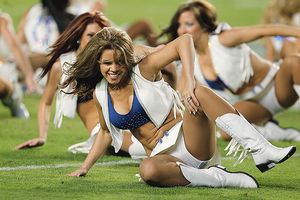 Jonathan Daniel/Getty ImagesThe Indianapolis cheerleaders had new moves to showcase -- too bad the Colts didn't.
The Saints' defense played its best game of the season, both in tactics and physical performance; the league-best Saints offense was on top of its game. Football has gone wacky for the shotgun spread, the empty backfield and trips formations. New Orleans went against type by having Drew Brees -- who's too short -- under center for all but a few snaps, showing trips just once and never going empty backfield. Again the Saints had wrinkles they hadn't shown, in this case an unbalanced line plus an extra offensive lineman in the backfield. Twice the extra lineman, Zach Strief, not only went in motion but in spin motion, starting in one direction and then spinning back the other way.
Despite its pass-happy reputation, New Orleans is among the league's best rushing teams, and Indianapolis did well to hold New Orleans to 51 yards on the ground. But New Orleans had a wrinkle ready. During the regular season and their first two postseason games, the Saints rushed on 53 percent of their first downs. In the Super Bowl, the Saints threw on 62 percent of their first downs, all but one toss off a play-fake. Indianapolis had its run defense on the field on first downs, and the play-fakes were effective -- especially two nice play-fake completions on first downs on the drive following the recovered onside kick, as the Saints scored quickly, and you could see the Colts players begin to lose confidence.
Final State Standings: Tuesday Morning Quarterback's annual State Standings are based on the states in which teams actually play -- so the Maryland teams are the Ravens and Redskins, and so on. Note California, Florida and Ohio, traditional football hotbed states, finished a combined 54-76-1. Of the traditional football hotbed states, only Pennsylvania and Texas had positive years, though neither advanced to the championship round.
Indiana, Louisiana: 16-3 (Louisiana is league champion)
Minnesota: 13-5
Texas: 21-13
Wisconsin: 11-6
Pennsylvania: 20-13
Arizona: 11-7
Massachusetts: 10-7
Georgia: 9-7
New Jersey: 19-16
California: 26-23
Colorado, North Carolina, Tennessee: 8-8
Illinois: 7-9
New York: 6-10
Ohio: 15-18
Maryland: 14-20
Florida: 17-31
Washington: 5-11
Missouri: 5-27
Michigan: 2-14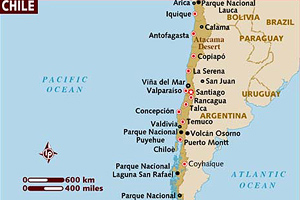 lonelyplanet.comManhattan is located here -- according to the New York Times.
New York Times Corrections on Fast-Forward: In the past six months, the Times has, according to its own corrections page, said Arizona borders Wisconsin; confused 12.7-millimeter rifle ammunition with 12.7 caliber (the latter would be a sizeable naval cannon); said a pot of ratatouille should contain 25 cloves of garlic (two tablespoons will do nicely); on at least five occasions, confused a million with a billion (note to the reporters responsible -- there are jobs waiting for you at the House Ways and Means Committee); understated the national debt by $4.2 trillion (note to the reporter responsible -- there's a job waiting for you at the Office of Management and Budget); confused $1 billion with $1 trillion (note to the reporter responsible -- would you like to be CEO of AIG?); admitted numerical flaws in a story "about the ability of nonsense to sharpen the mind;" used "idiomatic deficiency" as an engineering term (correct was "adiabatic efficiency"); said Paul Revere's Midnight Ride occurred in 1776 (it was in 1775 -- by 1776, everybody knew the British were coming); "misstated the status of the United States in 1783 -- it was a country, not a collection of colonies" (dear Times, please Google "Declaration of Independence").
The Times also "misidentified the song Pink was singing while suspended on a sling-like trapeze;" confused the past 130 years with the entire 4.5 billion-year history of Earth (see appended correction here); misused statistics in the course of an article complaining that public school standards aren't high enough (see appended correction here); said Citigroup handed its executives $11 million in taxpayer-funded bonuses, when the actual amount was $1.1 billion (in the Citigroup executive suite, being off by a mere two zeroes would be considered incredible financial acumen); said a column lauding actress Terri White "overstated her professional achievements, based on information provided by Ms. White;" identified a woman as a man (it's so hard to tell these days); reported men landed on Mars in the 1970s ("there was in fact no Mars mission," the Times primly corrected).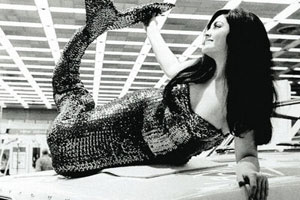 National Automotive History Collection/Detroit Public LibraryThis is the New York Times photo referred to in the correction -- that's a Plymouth Barracuda she's on -- and also, possibly, the greatest photograph of all time.
The Times also gave compass coordinates that placed Manhattan in the South Pacific Ocean near the coastline of Chile (see appended correction here); said you need eight ladies dancing to enact the famous Christmas song when nine are needed; said Iraq is majority Sunni, though the majority there is Shiite (hey, we invaded Iraq without the CIA knowing this kind of thing); got the wrong name for a dog that lives near President Obama's house ("An article about the sale of a house next door to President Obama's home in Chicago misstated the name of a dog that lives there. She is Rosie, not Roxy" -- did Rosie's agent complain?); elaborately apologized in an "editor's note," a higher-level confession than a standard correction, for printing "outdated" information about the health of a wealthy woman's Lhasa apso; incorrectly described an intelligence report about whether the North Korean military is using Twitter; called Tandil, Argentina, home of Juan Martín del Potro, a "tiny village" (its population is 110,000); inflicted upon unsuspecting readers a web of imprecision about the Frisians, the Hapsburg Empire, the geographic extent of terps, and whether Friesland was "autonomous and proud" throughout the Middle Ages or merely until 1500; inexactly characterized a nuance of a position taken by the French Commission on the Measurement of Economic Performance and Social Progress (philosophy majors must have marched in the streets of Paris over this); confused coal with methane (don't make that mistake in a mine shaft!); on at least three occasions, published a correction of a correction; "misstated the year of the Plymouth Barracuda on which a model dressed as a mermaid was posed;" "mischaracterized the date when New York City first hired a bicycle consultant" and "misidentified the location of a pile of slush in the Bronx."
[+] Enlarge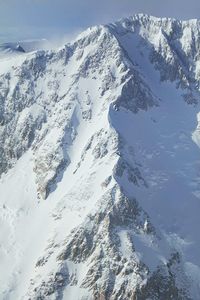 AP Photo/National Park ServiceMount Great Mountain.
Here, TMQ's pal Michael Kinsley duns the fastidiousness of Times corrections. Kinsley's column complaining about facts contains -- you knew this was coming! -- a factual error. Mike says the really big hunk of rock in southern Alaska is Mount McKinley on U.S. government maps, though commonly referred to by Alaskans as "Mount Denali." Actually, it is commonly referred to by Alaskans as Denali, which means "Great Mountain" in Athabaskan. "Mount Denali" would mean "Mount Great Mountain."
What Football-Factory School Will Be First to Have a Scandal Coordinator? The NFL is not alone in title inflation. Georgia now has both an offensive coordinator and a "running game coordinator," a defensive coordinator, an assistant head coach/defensive line and a "defensive program coordinator." Georgia also has a director of football operations, an assistant director of football operations, a recruiting coordinator, two assistant recruiting coordinators and a coordinator of high school relations. Not counting graduate assistants and office assistants, the football staff is 22. There are 42 people on the faculty of the English Department at the University of Georgia. The school has about 100 football players and about 34,000 undergrads and graduates. This means that in football, the ratio of staff to student is 1-to-5. In English, the ratio of staff to student is 1-to-800.
"Running game coordinator" is the trendy title at South Carolina, Mississippi State and elsewhere. How long till there is a red zone coordinator? TMQ would like to work the college ranks as a Maroon Zone coordinator.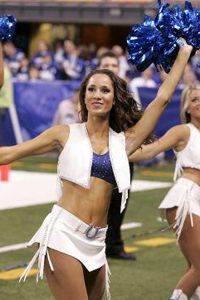 Indianapolis ColtsSarah Y. of the Colts, who can finesse a test.
Alabama has two assistant head coaches, an associate head coach and a "head coach" for conditioning. Texas has two assistant head coaches, an associate head coach, an assistant athletics director for football operations and an associate athletics director for football operations. (Check Mack Brown's novella-length official bio; it notes Brown has had 88 NFL draft choices in 24 years, which means that even at very-high-visibility Texas, approximately 96 percent of players are not drafted.) Ohio State has a 37-person football staff that boasts an assistant head coach, two defensive coordinators, a director of football operations, a director of player development, a director of football performance, a strength coordinator and a coordinator of strength. OSU has a total of 15 people with "head," "coordinator" or "director" in their titles. This isn't for the entire athletic department, just the football program!
Cheerleader of the Super Bowl No. 2: Sarah Y. of the Colts, who according to her team bio is from Indianapolis and is a law student. Asked "what three things I'd bring to a desert island," she answered, "I would only need 2 things, a yacht and friends." She'd bring a yacht -- in one of the "Star Trek" movies, this sort of answer is called "altering the conditions of the test."
[+] Enlarge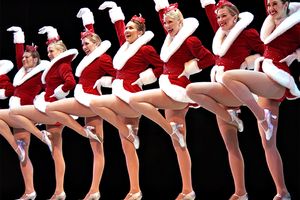 AP Photo/Josh ReynoldsChristmas sales have started -- got your Radio City tickets yet?
Unified Field Theory of Creep: Sean Mullaney of Arlington, Va., reports, "On January 30, I ordered a Sam Adams Noble Pils at a Washington, D.C., tavern. Noble Pils is Sam Adams' new seasonal beer -- for spring! On that same day, it snowed about four inches and some friends could not meet us that night because they had not yet been plowed out." Joel Bogosh of Geneva, Ill., reports, "I'm in a wedding on July 10, 2010, and was told by The Men's [Wearhouse], which is supplying tux rentals to the men, that, 'The deadline for fitting is March 14th, so please try to get in before then otherwise a $20 rush fee will be applied.' A rush fee is charged unless I get my measurements in 116 days early?" Ryan Anderson of Seattle reports, "I was searching for art supplies online, and couldn't believe what I saw: a 2010 pre-Christmas sale."
Do Black Holes Come in Other Colors? Reader Philip Smoker of Chambersburg, Pa., notes that some theoreticians think black holes actually are white. It seems they also come in blue, according to radio astronomers in Germany.
[+] Enlarge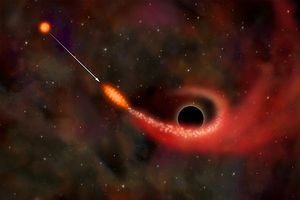 NASA/CXC/M.WeissIt's true -- black holes come in other colors.
Recruiting Creep -- BTW, It's Phony: Many readers, including Adam Barnhart of North Babylon, N.Y., noted this story of football recruiting creep -- a 13-year-old who verbally committed to USC. Does anyone seriously think Lane "One Step Ahead of the Posse" Kiffin still will be coaching the Trojans by the time this boy enrolls in college? The story made me feel sad, thinking what terrible pressure the young man in question will be under through his high school years. Anything he does that is shy of spectacular will be viewed as a letdown. Parents should protect young athletes from such pressure.
Increasingly, college coaches are offering "verbals" to tween-aged athletes as a way of stoking egos and seeking publicity. The verbals have no force whatsoever. Kiffin might as well offer a scholarship to every 13-year-old boy in America; he might as well tell 13-year-olds, "I promise you will be the first choice in the 2018 NFL draft." From the NCAA recruiting guide: "While verbal commitments have become very popular for both college-bound student-athletes and coaches, this 'commitment' is NOT binding on either the college-bound student-athlete or the institution. Only the signing of the National Letter of Intent accompanied by a financial aid agreement is binding on both parties." It will be four years before the boy in question even can begin submitting information to the NCAA Clearinghouse, the first step for an actual commitment.
More Proof of the Decline of Western Civilization: "GOLDMAN SACHS CHIEF'S $9 MILLION BONUS SEEN BY SOME AS SHOW OF RESTRAINT." Actual headline from Saturday's New York Times.
Special Teams -- the Hidden Factor: New Orleans totally outplayed Indianapolis on kicking plays, and not just owing to the recovered onside kick. The Colts missed a field goal -- see below. Return man Chad Simpson made an awful mental mistake, taking a kickoff 4 yards deep in the end zone, hesitating, then bringing it out to the 11. He who hesitates loses the Super Bowl! Plus Simpson isn't a speed merchant. He has no business bringing a kick out of the end zone. Indianapolis was called for holding on another kickoff return, moving the drive start back to the 14.
[+] Enlarge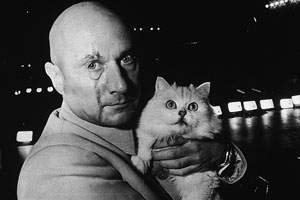 Getty ImagesNo need for defensive or offensive coordinators; Bill Belichick and his cat are in total control.
"Don't Like the Game Plan? Talk to the Coordinator," Belichick Will Tell Disgruntled Players: This season, the New England Patriots had no offensive coordinator -- Bill Belichick did the offensive game plans, and quarterbacks coach Bill O'Brien called the plays. After the Flying Elvii's postseason loss, the defensive coordinator was cashiered, and Belichick just said he won't be replaced for 2010. While most NFL teams are seriously overstaffed with coaches -- the Chargers have 18 coaches, including an assistant linebackers coach, who perhaps works with the assistant linebackers -- the Patriots apparently will have neither an offensive coordinator nor defensive coordinator. Maybe Belichick will adopt a secret identity, like a James Bond super-villain, and sit in a master control room, turning dials.
Tuesday Morning Quarterback Non-Quarterback Non-Running Back NFL MVP: I gave up complaining that the MVP award always goes to a quarterback or running back -- 90 percent of football action occurs away from the ball! -- and created my own award in 2001. Three years ago, an impressive-looking trophy was added, along with a presentation on media day at the Super Bowl. "SportsCenter," show the trophy presentation live next year!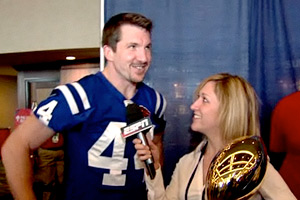 ESPN.comThe Tuesday Morning Quarterback Non-Quarterback Non-Running Back NFL MVP receives his impressive trophy.
Past winners: Alan Faneca, Pittsburgh, 2001; Lincoln Kennedy, Oakland, 2002; Damien Woody, New England, 2003; Troy Brown, New England, 2004; Walter Jones, Seattle, 2005; Jeff Saturday, Indianapolis, 2006; Matt Light, New England, 2007; James Harrison, Pittsburgh, 2008.
This year's finalists were Gary Brackett and Dallas Clark of Indianapolis, Jahri Evans and Darren Sharper of New Orleans; Nick Mangold and Darrelle Revis of Jersey/B; and Sidney Rice and Kevin Williams of Minnesota. Only players from the championship round were eligible: My reasoning is that if you would wear the mantle of Most Valuable, you better have created some value.
In addition to watching way too much film of these players, I consulted experts. My oldest son's high school football coach, James Collins, favored Evans, the league's best offensive lineman. Aaron Schatz of Football Outsiders favored Revis, the league's best corner. K.C. Joyner, the Football Scientist -- who actually reviews every snap of every game; he is a brave man -- favored Clark, because of his disruptive impact on opposing secondaries. Unlike many Pro Bowl voters, all three of my insider sources pay close attention to actual NFL performance, as opposed to hype.
In the end it was a hard call among Evans, who played a near-perfect game in New Orleans' Super Bowl win, Clark and Brackett, who had the stop on the Saints' fourth-and-goal attempt; I boiled it down to that troika because all made the big dance. Evans is an offensive lineman and Brackett a linebacker; the last winner was a linebacker, the prior three winners were offensive linemen; a tight end has never won. Based on this incredibly scientifically advanced logic chain, Dallas Clark is the 2009 Tuesday Morning Quarterback Non-Quarterback Non-Running Back NFL MVP.
This season, Clark had 118 receptions for 1,286 yards and 11 touchdowns, with 10.9 yards per reception, high for a tight end (all stats include the postseason). One reason Indianapolis was able to adjust to the retirement of Marvin Harrison and injury loss of Anthony Gonzalez was Clark. Little-known young wide receivers Pierre Garçon and Austin Collie blossomed in single coverage as safeties obsessed over Clark on the seam. Spectators tend to notice Clark when he lines up wide, but he is most effective from the traditional tight end position. When the Cover 2 defense, especially the Tampa 2, began to take over the NFL, the tight end became the best counter -- and nobody served that role better this year than Clark. See accompanying footage of Clark accepting the award from Jennifer Kosky of ESPN Digital Media.
Borrow-and-Spend Replaces Tax-and-Spent: The tea party crowd -- which calls itself a movement though perhaps one American in 10,000 actually has attended a tea party -- claims Barack Obama is a "tax and spend" president. Obama is a borrow-and-spend president, just as George W. Bush was. Federal tax rates have declined steadily for a generation, and declined sharply in the past decade. A declining federal tax burden for most people, rather than higher federal spending, is the core reason for skyrocketing deficits -- though spending surely is rising, too. Commentators who use the phrase "tax and spend" to describe Obama either don't understand recent political history or aren't being honest.
Federal income tax rates were cut by John Kennedy in the early 1960s, by Ronald Reagan in the 1980s; rose slightly under the elder George Bush; were cut twice under the younger Bush, and cut again by Obama last winter. Capital-gains tax rates have declined too; Social Security and Medicare taxes ("payroll taxes") were raised by Reagan and by Bill Clinton, although not enough to fully fund either program, meaning those taxes are lower than they need to be for fiscal discipline. This chart shows the decline of the federal top rate, to less than half of what it was under Dwight Eisenhower.
The younger Bush was hammered in the press because his two tax cuts reduced the rate paid by the rich: But the same cuts nearly eliminated federal income taxes on the working class and lower middle class. That is, George W. Bush's tax cuts were progressive. Last year, 43 percent of Americans paid no federal income taxes -- in 2009; this year, as many as half of Americans are expected to pay no federal income taxes. Yet public discourse is full of complaints about taxes, and many people claim to hate Washington because of taxes, while practically everyone demands more federal benefits and services.
[+] Enlarge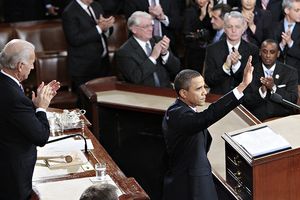 AP Photo/Pablo Martinez Monsivais"My fellow Americans, you wanted tax cuts, you wanted spending, we gave you both. Your children get the bill."
As middle-class taxes are being eliminated, the top 20 percent of filers -- the well-off -- pay for a steadily higher share of federal government, last year paying 70 percent of total federal taxes. The well-off are financing most of the federal government, and that will intensify next year as taxes go up on household income above $250,000. Other than the spending paid for by the well-off, the rest is being billed to the young, via deficit spending and borrowing.
Keynesian point: It does make sense to increase federal spending when the economy is soft. But the flip side of Keynesian economics is that government should reduce spending when the economy is strong, using the breathing space to pay down debt. Congress loves to increase spending. Is there any chance that as the economy recovers, Congress will abide by the second prescription of Keynesian economics, and reduce spending? A few days ago the House quietly raised the federal debt ceiling to $14 trillion, allowing yet another round of undisciplined, unaccountable giveaways. That big number equates to $46,000 in debt for every American citizen. Since no one in the Boomer generation ever will repay a dime -- the Baby Boom's final sociological act-out may be to bankrupt the country -- the effective debt is more like $100,000 per American under the age of 30.
Fiscal policy point: Think I am exaggerating about bankrupting the country? Last week Moody's Investor Services warned that U.S. Treasury bonds may be downgraded from Triple-A status. Even if the extremely modest fiscal-discipline goals recently announced by President Obama are met, in five years the U.S. debt-to-GDP ratio will be worse than it was in 1950, when America was paying off World War II borrowing.
Media point: Here are headlines from last week's budget proposal release. USA Today's main headline (underneath "What Happens to Avatar 3-D Glasses?") was "Obama Budget Proposal Draws Rapid Fire," the political-quarrel angle. The New York Times' main headline was "Huge Deficits May Alter U.S. Politics and Global Power," the public-policy angle. The Chicago Tribune's main headline was "Obama Budget Proposes $100 Billion for Jobs Subsidies," the blue-collar angle. The Washington Post's main headline was "Budget Calls for Increased Spending," the angle that pleases Post readers, many of whom work for or with the federal government. The Wall Street Journal cut to the chase for its demographic: "Wealthy Face Tax Increase."
Understanding government note: Here is a fantastic graphic showing how the federal budget is spent. Entitlement spending for individuals -- Social Security, Medicare, Medicaid, other health care -- totally dominate. The ticking time bombs are Social Security and Medicaid costs, both of which increase as Boomers retire, and "net interest," which could increase by hundreds of billions of dollars annually if interest rates rise, which seems close to inevitable. Today's undisciplined federal borrowing is happening before pension and Medicare costs will shoot up, owing to Boomer retirements. If Congress has already tapped out the national debt in order to give every interest group everything it demands today, how is the country going to finance the approaching retirement wave?
South Florida Atmospherics: "Welcome to south Florida," the announcer said as the game began. Fort Lauderdale must really despise Miami to have paid a multimillion-dollar fee to the NFL just to get the word "Miami" banished from a stadium in Miami.
[+] Enlarge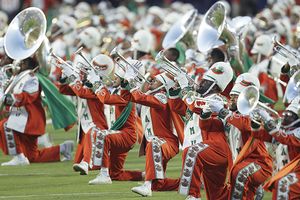 AP Photo/Rob Carr"Creatures in search of blood terrorize the neighborhood." The band's narration to a packed Super Bowl stadium.
For years, spectators arriving at the Super Bowl have found a small package of trinkets on their seats, including a cheap, one-use flashlight to wave during the halftime act, when the stadium lights are turned out. This year no cheap flashlights -- instead, elaborate JumboTron announcements asking spectators to wave their cell phones as The Who played. Budget cuts knocked out spending for 50-cent flashlights?
The pregame act was the Florida A&M marching band, which was fabulous. The theme was Michael Jackson songs. The public-address announcer read a couple of snippets of Jackson's lyrics -- no more than a few lines. Yet he read in full, "Darkness falls across the land/The midnight hour is close at hand/Creatures crawl in search of blood/To terrorize the neighborhood." I found this extremely strange.
The Super Bowl is the sole NFL game in which both teams bring their cheerleaders to flounce, and the Saints' and Colts' cheer-babe squads were present. Cheerleaders from the opposing teams ended up standing next to each other in the main tunnel for a good 10 minutes awaiting their signal to enter the field. They smiled politely -- why didn't they trash-talk? It should have been, "Your moves aren't fresh!" "Your makeup runs!" "My high school had better-looking cheerleaders than you!" "Want some? Come over here! What's the matter, afraid I'll muss your hair?" The cheerleaders should have started butting heads and fighting.
[+] Enlarge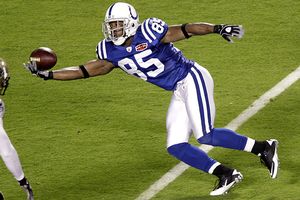 AP Photo/Charlie RiedelMaybe it's a different game if he catches this third-down pass.
Hidden Play of the Super Bowl: Hidden plays are ones that never make highlight reels, but stop or sustain drives. Colts leading 10-3 midway through the second quarter, facing third-and-4, Peyton Manning laid a perfect pass into the hands of Division III's Pierre Garçon for a first down. He dropped the ball, and the next thing you knew, New Orleans led 13-10. Had Garçon made the catch, perhaps the Colts' drive would have sputtered anyway, but till that point, Indianapolis was controlling the game and afterward did not control the pace again.
With a minute remaining, Reggie Wayne dropped a touchdown pass on fourth down that would have pulled Indianapolis within seven. On the snap before the Indianapolis missed field goal, with the Colts leading 17-16, Manning had Austin Collie open on the deep post and missed him; if that pass had been on target, the game might have ended very differently. Dropped passes and missed receivers are the sort of mistakes Indianapolis hasn't made this season -- until the Super Bowl.
The JumboTron called the man from Division III "Pierre Garcon," rather than Garçon. In French, those are different last names -- the cedilla changes pronunciation from hard to soft. For all the millions spent to stage the game, you'd think the NFL could pronounce players' names correctly.
Reader Comments: TMQ pounds the table against pseudo-precision in sports, such as tenths of seconds on the NBA clock. Ron Greenberg of Woodbury, N.Y., writes, "I'm surprised you didn't point out first down measurements being artificially precise. Ball placement is based on an obviously imprecise spot -- before a measurement that sometimes shows a first down is made or missed by an inch."
I further pound the table about minor government functionaries having taxpayer-funded bodyguards, not for any real security need but to make themselves feel important (and to pick up their dry cleaning). Rich McGowan of Brooklyn notes this development, which sounds like badly written satire, but sadly is true: "New York City's newly elected comptroller, John Liu, and new public advocate, Bill de Blasio, each are being assigned six full-time police officers as bodyguards. The City Council speaker, Christine Quinn, has six officers as a personal well security detail as well."
Set aside that in New York City government, the "public advocate" is someone who supposedly represents the people against the powerful: Now even this person will be screened by taxpayer-funded bodyguards to keep the public away. Is there any chance such security actually is needed for minor functionaries? The Times account says that a previous New York City public advocate once was harassed by a man at a public event; police "spoke to the man" but did not charge him with any offense. That justifies dozens of police officers serving as round-the-clock ego-strokes? Read the item carefully; the minor functionaries not only are receiving full-time bodyguards -- school board meetings can be frightening! -- but also get a full-time police officer as a driver.
The chief justice of the Supreme Court, John Roberts, has a driver; no other Supreme Court justice has a driver. No chief judge of any of the federal appellate courts has a driver. But in New York City, minor functionaries get taxpayer-funded drivers. Why does a public official in New York City -- where car ownership is formally discouraged by government policy, and average people are expected to ride the subway -- even have a taxpayer-provided car? The reason is to feel important. Now, with police officers as their drivers, these factotums will be able to put Kojak lights on their cars and roar through red lights, feeling even more important as they head to pick up the dry cleaning. Why was this item in a New York Times city-beat blog, rather than on the front page? New York is drowning in red ink: Mayor Michael Bloomberg wants a federal bailout because, he says, the city has cut, cut, cut to the bone. This obviously isn't true. One reason government deficits keep soaring is that wasteful, self-serving spending by government officials rarely is challenged in the press.
Other TMQ hobby horses include NASA inaction against possible asteroid strikes (an all-too-real worry) and the chance that the Large Hadron Collider on the France-Switzerland border inadvertently will crush the Earth out of existence (unlikely, but at least humanity's final thought would be, "Blame the French"). Eliah McCalla of Nashville, Ind., noted last week, "What may not be getting enough worry-love, is Yellowstone. Buried on the ninth page of today's New York Times is an article warning that 'more than 100 mostly tiny earthquakes a day' have been rocking the Yellowstone Supervolcano for weeks, second-most activity ever recorded there. Previous Yellowstone eruptions have sent 1,000 cubic kilometers of rock and ash into the atmosphere and covered the ground a foot deep up to 1,600 kilometers away. Even on the other side of the world, the climatic effects of a major Yellowstone eruption would be tremendous; an eruption of this volcano 640,000 years ago probably caused mass extinctions. How about some mention the most local existential threat of them all?" Thanks for the chipper thought! Slight tremors have been happening regularly in the Yellowstone area for decades. Surely that's nothing to worry about.
There's a theory that NFL players do not want the sudden-death overtime format changed because once overtime begins, they are desperate for the contest to end. The same may be true of officials. Wally Cronin of Rockville, Md., writes, "You suggested that officials did not call roughing the passer in the Packers-Cardinals playoff game because they wanted the game to end. I have been an ice hockey official for twenty years and have been the referee in many overtime playoff games. I have run across many instances where referees -- self included -- have been hesitant in calling infractions once overtime begins. Normally before the overtime period starts, the on-ice team will huddle to prepare. Whether it is the two official system (both officials handle the penalty calling duties of the referee and the game calling duties of the linesmen) or the three official system (one referee to call penalties and two linesmen to call the flow of the game), invariably the topic comes around to, 'What are you going to call?' The mantra is that you as the official don't want to influence the outcome -- 'Let the players decide the winner' is often uttered in these meetings. Of course not calling a penalty influences the game just as much as calling it. I've had partners flat-out tell me before the overtime starts that they refuse to make any penalty calls in overtime. I've had others that [say] they plan on letting things get much looser than they were in regulation. When I saw the replay of the Packers-Cardinals overtime, my first thought was to wonder if the crew working that game had similar thoughts and were hesitant to throw a flag for those reasons."
And I pound the table about the affectation of saying "human" rather than "people," as in, for example, the NASA category, "human-rated spacecraft." Let the Cylons fly! Matt Jordan of Quincy, Ill., reports, "I was just reading an online discussion about Apple's new iPad, and was relieved to see that in spite of a number of design shortcomings, … they've got the right life-form in mind. Registered developers can download Human Interface Guidelines here."
Finally, Bryan Mapes of Brookfield, Conn., notes Hofstra has posted back-to-back starting players for the winning Super Bowl team -- Willie Colon of the Steelers a year ago, Marques Colston of the Saints this Sunday. This trend will not continue for long, however: Hofstra no longer has a football team.
Adventures in Officiating: Zebras on the field called the New Orleans deuce attempt incomplete, then during a TV timeout, reversed it. Lance Moore was juggling the ball and never seemed to control it, then the ball bounced when he hit the ground. NFL vice president of officiating Mike Pereira (who recently announced his retirement) said afterward the two points should have been scored because once there is any possession in the end zone or above the white line, the play ends, so it doesn't matter if the receiver loses the ball as he hits the ground, which normally means incompletion. That's not how I read the rule -- and remember, the NFL wasn't shy about misquoting its own rules to justify the ending of the Packers at Cardinals playoff game.
Think this doesn't matter because the Saints ultimately won by 14? Had the try been incomplete, New Orleans would have led 22-17 when Indianapolis took possession at 5:35. That would have meant the Colts might win the game with a touchdown, and thus all the pressure would have been on the Saints. Because the reversal gave New Orleans a 24-17 lead, Saints defenders could tell themselves, "Worst that can happen is Manning takes us to overtime," and that allowed a little gambling. The reversal had an important psychological impact on the endgame. JumboTron note: In pregame, a huge picture of Pereira was flashed, with the legend "Thank you for 15 years of service." Service? He wasn't engaged in some noble philanthropy, Pereira was doing a job for pay.
TMQ Challenge: Paul McCartney, Springsteen, The Who -- it's been one Medicare-aged act after another for recent Super Bowl halftime shows. I challenged readers to propose yet another geriatric rock band to play the Super Bowl halftime show in 2011 -- and by the way, NFL, there actually are some music acts whose members have been born since the Truman presidency.
Shannon O'Neal of Baton Rouge, La., wrote, "Eric Clapton. He's still touring at a fairly decent pace, will be 65 this year, and is hip again because he now has a limited edition cell phone deal with T-Mobile." Jim Kelly of Pullman, Wash., proposed, "If the Vikings were to make next year's Super Bowl, Deep Purple would be the perfect aging band." Manfred Klingele of Hamburg, Germany, notes Deep Purple will be touring until next November "so that leaves time to prepare for the Super Bowl, assuming no member dies of old age." Rick Schupp of Amman, Jordan, proposes, "How about the Monkees? No worries there about wardrobe malfunctions."
[+] Enlarge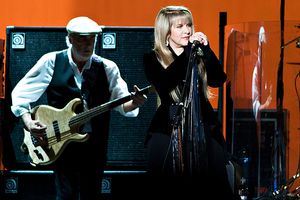 AP Photo/Charles Sykes"You, you make aging fun/And I don't have to tell you that my hearing aid is broken."
Chris Hall of Des Moines, Iowa, proposes Fleetwood Mac: "They formed in 1967, same year as the first Super Bowl. They follow in the footsteps of six of the last 11 halftimes acts that have included bands or artists hailing from Great Britain, and some Fleetwood Mac band members have artificial hips." Scott Zweibel of Ashburn, Va., adds that Stevie Nicks, dream-girl of many a Boomer youth, is now 61. Tell me that's not true!
Xing Li of Boise, Idaho, nominates Jefferson Starship: "Not only was their 1985 'We Built This City' album voted the worst record ever, they shuffle members in and out of their lineup, leading to more configurations than Sean Payton's offense." Bill Siegel of Saint Paul, Minn., notes that while Madonna will be a spring-like 52 in February 2010, she is already eligible to join AARP, "the nation's largest membership organization for people 50-plus."
Scott Hojnacki of Beach, N.D., suggests the Eagles and Paul Revere and the Raiders could both appear at the next Super Bowl: "Headlines would read, 'Eagles, Raiders to Play Super Bowl.'" Jeff Goldberg of Bardonia N.Y., a Jersey/A fan, reports that Giants faithful exchange this joke: "When are we most likely to see the Eagles at another Super Bowl? Halftime."
Robert Huerta of Mathis, Texas, suggests KISS, so there could be a giant tongue on the field. Actually, the NFL did a giant tongue when the Rolling Stones played: Not sure the league was sufficiently aware of what the Stones' tongue logo, with its bright-red-lipstick lips, represents. Michael Oelke of York, Pa., suggests Rod Stewart, who will be 66 years of age in February 2010 and still has the nerve to ask audiences, "Do You Think I'm Sexy?" Russell DePalma of Dallas suggests Led Zeppelin, whose lead guitarist, Jimmy Page, will be 67 in February 2010.
Gregg Easterbrook of Bethesda, Md., nominated Chuck Mangione and the Rochester Philharmonic Orchestra. Mangione not only plays a mean flugelhorn, he appeared in the cartoon series "King of the Hill" as a caricature of his own youthful self, which should qualify him to perform at the Super Bowl at age 70. Easterbrook's second choice was Lighthouse, the 1970s Canadian rock ensemble -- a dozen performers, including numerous horns -- whose "One Fine Morning" numbers among the best uses of brass in rock. Decades ago, Lighthouse was viewed as more promising than The Who or The Doors; commercial luck just never came their way. The surviving age-60-plus members performed last month at the Moose Jaw Cultural Centre in Saskatchewan.
[+] Enlarge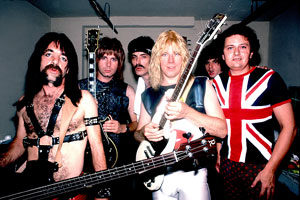 Paul Natkin/Getty ImagesEngland's Loudest Band! The perfect choice for the next Super Bowl -- plus, all members are old.
Scott Burke of snowed-in Washington, D.C., suggests ZZ Top: "They are … more representative of the spirit of American rock and roll and of American football, with all its energy and contradictions, than British groups." John Huss of Bergenfield, N.J., notes Foreigner played the halftime of the AFC championship, an obvious warm-up for the Super Bowl. Keith Marshall of Lancaster, N.Y., suggests the Grateful Dead -- aging hippies would congregate outside the stadium. Jon Reardon of Cincinnati notes Jethro Tull still performs, "and the lyrics are still incomprehensible." Chris Gallison of Decatur, Ala., proposes ? and the Mysterians, who first performed in 1962, and still tour.
Ross Upshur of Toronto almost won the Challenge by being one of many to propose Crosby, Stills, Nash and Young. In February 2010, David Crosby and Graham Nash will be 69, Stephen Stills 66 and Neil Young 65. Denise Henderson of San Francisco almost won the Challenge by being one of many to propose Spinal Tap, whose Harry Shearer will be 67 in February 2010. Here is the advert for the group's One Night Only World Tour.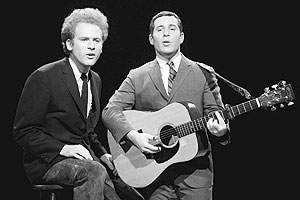 Getty Images"Old friends/sat on the park bench like bookends/A newspaper blown through the grass/Reports they are not friends."
The Challenge -- and a signed copy of "Sonic Boom" -- goes to Sharon McCall of Nashville, Tenn., who proposed Simon and Garfunkel. They made their first 45 RPM single -- remember singles? -- in 1957, and both will be 69 in February 2010. McCall notes, "Paul Simon and Art [Garfunkel] could stay in separate hotels to maintain total isolation from each other until show time. There could be a bonus clause in the contract if they make eye contact at any point. The halftime show could be sponsored by eHarmony.com."
Single Worst Play of the Season: Coaches have dominated Single Worst Play this season. Indianapolis leading 17-16 early in the fourth quarter, the Lucky Charms faced fourth-and-11 on the New Orleans 33. A punt is hardly appealing, since it will probably roll into the end zone. But 42-year-old place-kicker Matt Stover, the oldest player to appear in a Super Bowl, had essentially no chance of hitting from 51 yards. His longest field goal of the season was from 43 yards; the last time Stover hit from beyond 50 yards was Sept. 24, 2006.
No option available to Jim Caldwell was especially attractive on this play, but the correct call was to leave the offense on the field and try for the first down. That might have worked -- putting Indianapolis in position for a touchdown and an eight-point fourth-quarter lead. If a fourth-down pass attempt failed, the ball would have been spotted on the 33, rather than on the 41, as it would be following a missed kick; if the play gained only some of the requisite 11 yards, the spot would have been further inside the 33; either would have improved field position from the Indianapolis perspective. Caldwell sent in a kicker who missed badly: New Orleans took over on the 41, drove for the go-ahead touchdown and never looked back. Rookie NFL head coach Jim Caldwell -- you are guilty of the Single Worst Play of the NFL season.
Next Week: The stadium lights are turned off, the film rooms have gone dark, and the cheerleaders have put their miniskirts away in very small drawers. But one act of the NFL season remains: the annual Tuesday Morning Quarterback Bad Predictions Review. Here's a sneak preview: Everyone was wrong about everything, except me!
In addition to writing Tuesday Morning Quarterback for Page 2, Gregg Easterbrook is the author of the new book "Sonic Boom," and six other books. He is also a contributing editor for The New Republic, The Atlantic Monthly and The Washington Monthly. His Web site can be found here.