Commentary
TMQ's annual Bad Predictions Review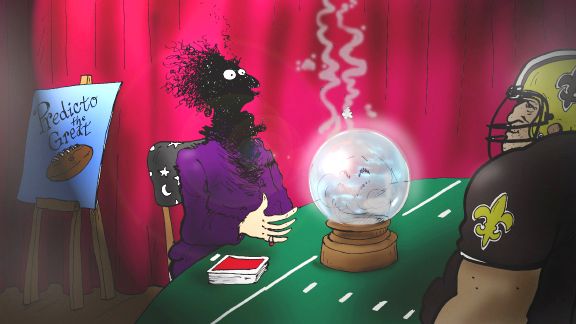 Kurt Snibbe/ESPN.com
Welcome to Tuesday Morning Quarterback's annual Bad Predictions Review. There is fertile ground to be plowed after a Super Bowl won by the New Orleans Saints; needless to say, the world is not sagging under the weight of predictions that the Saints would take the Lombardi Trophy. And if you're thinking, "Hey, mention me, I predicted Boise State would go undefeated" -- which was an actual prediction by ESPN's Kirk Herbstreit -- remember, this is the annual bad predictions review.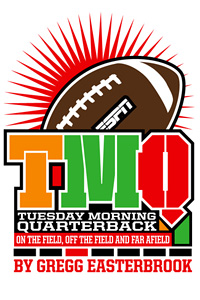 Category 1 -- Offseason Predictions: "Off" is the operative word here. "The Raiders will be in the playoffs in 2009," Richard Seymour predicted, shortly after being traded to Oakland. The Raiders will go at least 8-8, Herm Edwards predicted, adding, "Raiders Nation is back." Matt Millen predicted that Oakland would go "at least" 8-8. Oakland finished 5-11. "We will definitely make the playoffs this season," Lions running back Kevin Smith predicted; the Lions finished 2-14. The Detroit Free Press predicted "the sky's the limit" for the Lions' offense, which finished ranked 26th in the league. Since the mesosphere stops at about 53 miles, a "sky's the limit" offense would need to gain about 53 miles. The best NFL offense this season, New Orleans', gained only 3.8 miles.
Byron Leftwich "could" have a big season for the Buccaneers, Dan Pompei predicted on NBC Sports; Leftwich was benched. The Bears, Bills and Texans will have "breakthrough" years and make the playoffs, Clifton Brown of The Sporting News predicted -- perhaps he meant to say "breakdown" years, because none reached the postseason. "If the Broncos start quickly, they will make the playoffs," Damon Hack of Sports Illustrated predicted. The Broncos started 6-0 and missed the playoffs. Tom Curran of MSNBC forecast Percy Harvin as a draft bust: Harvin was Offensive Rookie of the Year. Don Banks of Sports Illustrated predicted Buffalo, Houston and San Francisco would make the playoffs, while Indianapolis would not -- the Colts are "an aging team that finally ha[s] too many vulnerabilities." The Colts, Banks foresaw, could finish third in their own division. Buffalo, Houston and San Francisco missed the postseason, while Indianapolis made the Super Bowl. Banks also predicted the Detroit Lions "will not use the first choice of the draft on a quarterback." They did.
Former Redskins general manager Vinny Cerrato said he was "100 percent confident" Jason Taylor would play for the Redskins in 2009. In March 2009, Taylor was waived. Terrell Owens would not be waived, Cowboys owner Jerry Jones declared -- reports to the contrary were "total misinformation." One week later, Owens was waived. "We are not trading Jay Cutler, period," Josh McDaniels declared. One week later, Cutler was traded.
Reader Alfred Wallace of St. Louis notes the Football Outsiders Almanac 2009 picked the Rams as its "surprise team" to make the playoffs, saying, "Many statistical indicators suggest that the Rams are close to rising again." St. Louis finished 1-15, worst in the league.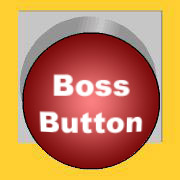 Trust Us, We're Experts: Economist Nouriel Roubini, much praised for his gloomy forecasts, said in March 2009, when the Dow Jones Industrial Average was at 7,800, that the Dow would end the year lower than that -- it ended the year at 10,300. In April 2009, Roubini said the bottom of the recession wouldn't come until late 2010: "I believe the rate of economic contraction is going to slow from minus 6 percent in the last two quarters to minus 2 percent by the fourth quarter of 2009." The bottom of the recession came in mid-2009, while in the fourth quarter of 2009 the U.S. economy grew by 5.6 percent. If you always forecast negatives, you are sure to be right sometimes by chance -- why is Roubini praised as a seer when his negative forecasts are correct but given a pass when his negative forecasts are wrong?
In January 2009, Goldman Sachs projected the S&P 500 index would pass 940 during the year. In July 2009, as the S&P hit 940, Goldman Sachs changed its projection to 1060. So once Goldman Sachs already knew the number would exceed 940, the company predicted the number would exceed 940. That's the astonishing financial expertise Goldman Sachs clients pay big bucks for!
[+] Enlarge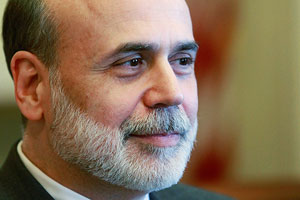 Mark Wilson/Getty ImagesThe Time headline should have said: "Arsonist Hailed For Putting Out His Own Fire."
Retroactive Bad Prediction: "We see no serious broad spillover to banks or thrift institutions from the problems in the subprime market." That was Ben Bernanke, in May 2007. Bernanke's extremely poor record at forecasting makes me worry about what he said in September 2008: "Most [of the $700 billion Wall Street bailout] will be recovered" by taxpayers. Bernanke, who supported the very watering-down of regulatory protections that caused the financial-markets implosion, was named Time Magazine Person of the Year, then confirmed for a second term as chair of the Federal Reserve. Arianna Huffington quipped, "This is as if an arsonist was hailed as a hero for putting out the fire he set."
Category 2 -- Predictions at the Season's Start: Adam Schein of Fox Sports said Minnesota would have a losing record owing to "a downgrade at quarterback." Brett Favre threw 38 touchdown passes and the Vikings made the NFC Championship Game. Schein forecast the Colts would go 8-8: "I'm predicting a drop off for Indy this season." The Colts reached the Super Bowl.
AOL Fanhouse ran an incredible meta-forecast with 17 separate sets of predictions. None had New Orleans winning the Super Bowl; none had Indianapolis reaching the Super Bowl; 10 of the 32 Super Bowl entrants forecast by AOL Fanhouse failed to make the playoffs; Houston sports-radio figure Stephanie Stradley forecast a Super Bowl of Steelers over Giants, and neither made the playoffs; former Associated Press NFL writer Dave Goldberg forecast the Colts to miss the playoffs.
Pro Football Weekly ran 10 complete sets of NFL season predictions -- none had the Colts reaching the Super Bowl, and none had the Saints winning the Super Bowl. "Lack of defensive punch figures to continue to be a concern," Mike Wilkening foresaw when predicting the Saints would not reach the playoffs -- in the Super Bowl, the New Orleans defense held Indianapolis to 17 points while scoring the game's deciding touchdown. PFW publisher Hub Arkush predicted the Jets would finish last in their division; they reached their conference title game.
Yahoo Sports ran three Super Bowl forecasts: Steelers over Eagles, Titans over Packers and Chargers over Eagles. None of those predictions included the teams that actually made the game, while two of Yahoo's three predicted Super Bowl winners failed to reach the playoffs. Of NFL.com's five predictors, none had the Jets in the playoffs, and two thought the Saints would miss the playoffs. The New York Times forecast a Super Bowl of Patriots over Giants -- the Giants did not make the playoffs -- and also predicted Houston "could" make the postseason. A lot of things "could" happen -- Jennifer Aniston "could" return my calls. Congress "could" place the public interest ahead of giveaways to campaign donors.
T.J. Simers of the Los Angeles Times had the Chargers winning the Super Bowl since "no one in the NFC is very good." The Saints are an NFC team. Clark Judge of CBS Sports predicted New Orleans would not make the playoffs, while Indianapolis would lose in the opening round. Pete Prisco of CBS Sports predicted New Orleans would not make the playoffs, while Brett Favre's joining the Vikings would be the "worst free agent pickup." Leonard Shapiro in the Miami Herald thought neither the Colts nor the Saints would reach their conference championship game. The Dallas Morning News ran eight sets of season predictions; none had either New Orleans or Indianapolis in the Super Bowl. The Boston Globe ran three sets of season predictions; none had either New Orleans or Indianapolis in the Super Bowl. The Sporting News ran seven sets of season predictions; none had either New Orleans or Indianapolis in the Super Bowl. USA Today ran eight sets of preseason predictions; one had the Saints winning the Super Bowl (see below), none had the Colts reaching the Super Bowl.
ESPN's John Clayton forecast a Super Bowl of Steelers over Giants; neither team made the playoffs. He used an incredibly scientifically advanced formula to predict the Bears, Bills, Browns, Redskins, Seahawks and Texans would make the playoffs; none did. Clayton forecast the Saints to finish 8-8; they won the Super Bowl. He said the Jets would finish 6-10; they reached the AFC Championship Game. And, as noted by reader Dan Marshall of Denver, "Clayton predicted the Broncos going 3-13, so after just one month of the season, his season-long prediction for Denver was already wrong."
Nothing tops the annual ESPN meta-forecast, which even predicts individual awards. Of 16 complete sets of NFL season predictions, no one forecast the Jets to make the playoffs, no one forecast the Colts to reach the Super Bowl and no one forecast the Saints to win the Super Bowl.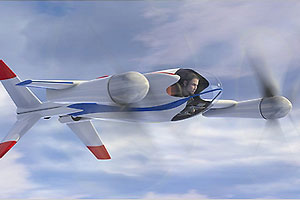 NASA/Analytical Mechanics AssociatesJust don't text while flying one.
If Two Personal Aircraft Are Built, They Will Manage to Collide: NASA still won't do anything to prepare to prevent an asteroid from striking Earth and causing history's greatest calamity. Last week, Barack Obama proposed ending NASA's nutty return-to-the-moon program, but did not ask the space agency to begin any of the three projects that make sense in terms of serving taxpayers: asteroid protection, testing space solar power to see if it would work and propulsion research aimed at lowering the cost of access to orbit. But personal aircraft, why not? Reader Michael Santek of Pittsburgh notes some NASA engineers are fiddling with designs for a personal flying machine. The proposed personal aircraft -- unlikely ever to be built --- would stand on its tail, the person would step in, and the thing would rise into the air vertically. In the 1950s, the military built a few experimental "tail-sitter" aircraft that took off like helicopters, then flew forward, such as this one. Even the best pilots found them difficult to handle.
Weekly Game Predictions: The Isaacson-Tarbell Postulate, proposed by TMQ readers Eric Isaacson of Indiana University and Catey Tarbell of Kirkland, Wash., holds: Best Record Wins Unless Records Equal, Then Home Team Wins. If you'd picked 2009 NFL games using this simple algorithm, you would have picked 167 of 267 contests correctly (.625), counting London as a home game for Miami and Toronto as a home game for Buffalo. The Isaacson-Tarbell Postulate is a huge time-saver because you don't have to think about picks -- you don't even need to know who's playing!
Eric and Catey's system works well except in the first week of the season, when the formula simply chooses the home team -- and in Week 17, when many winning teams have locked in their highest possible playoff seed and rest their starters. So this year I tested a Transformed Isaacson-Tarbell Postulate, which uses the formula except for Week 1 and Week 17; those two weeks were forecast the old-fashioned way, by thinking. Using the Transformed approach, I went 174-93. That beat most NFL writers and television personalities. The only one I saw who did better was Pete O'Brien of USA Today, who got 176 right.
My off-price, ultra-generic prediction -- Home Team Wins -- went 156-111 this season, scoring the two international games as "home" for the losers and the Super Bowl as a "home" game for Indianapolis, which is how it appears in the record books. That's .584 -- about the finish of many NFL forecasters who actually think about their picks. On ESPN's "Sunday NFL Countdown," for example, Mike Ditka finished with 157 correct, and likely wasted some time by thinking rather than just endlessly picking the home team.
My favorite specific game predictions of the year were these: In Week 5, Mike Greenberg of ESPN's "Mike & Mike in the Morning" said San Francisco over Atlanta was a "stone-cold lead-pipe lock." The Niners, he predicted, were "going to smack around the Falcons." Atlanta won 45-10 -- San Francisco's worst defeat in 42 years. Brian Burke, whose Advanced NFL Stats is worth your perusal, sometimes delves too far into hyper-specificity. Burke forecast a "94 percent chance" that Pittsburgh would beat Oakland in Week 13; Oakland won.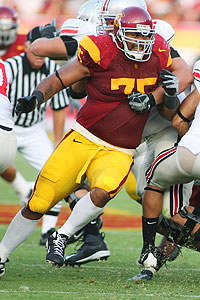 Jeff Golden/Getty ImagesThe first choice in the 2009 NFL draft! At least, according to some predictions.
Pierre Garçon Should Have Gone in the First Round: Just after the 2008 draft, ESPN's Todd McShay forecast the first round of the 2009 draft. McShay had Fili Moala as the first choice, Michael Johnson second and Sen'derrick Marks fifth. He also forecast Travis Beckum going 17th in the first round, and Gerald McRath going 21st. Moala, his projected top choice, went in the second round, as did Marks. Beckum and Johnson went in the third round. McRath went in the fourth round.
"24" Features a Sewer You Could Fly a Blimp Through: Nothing on the Fox show "24" makes any sense, but could we please call a moratorium on terrorists escaping from heavily guarded facilities by using the sewers? On "24" this happens all the time. In last week's episode, Jack's super-secret agency had dozens of men around a building, and the terrorists escaped via sewer -- walking upright through a sewer that had at least an eight-foot ceiling, and contained no water. C'mon, how many sewers can you really walk through? Quick -- you're trapped in a building. Someone says, "Let's go out through the sewers." Where, exactly -- and how, exactly -- would someone inside a building enter the sewer system?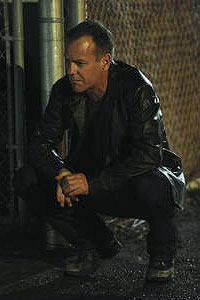 FOX"Damn … now where is that phone booth that leads to the gigantic well-lit totally dry sewer?"
Category 3 -- Midseason Predictions: Once the season is under way and some results are known, prediction accuracy should improve, right? Halfway through the season, Derrick Brooks on ESPN predicted New Orleans would become the first NFL team to go 19-0. Dom Bonvissuto of Sports Illustrated predicted the Jets would finish with a losing record, while the Broncos would finish 11-5. Dan Pompei on NBC Sports predicted the Panthers would make the playoffs, while "New England will peak late in the year." Perhaps it did!
With half the season in the books, Jim Trotter of Sports Illustrated foresaw that Pittsburgh would win the Super Bowl with a final record of 17-2 -- the Steelers missed the playoffs. Trotter thought Indianapolis would lose in the first round -- the Colts reached the Super Bowl. He predicted Denver would make the playoffs because "the Broncos are not going to crash-land" -- scattered fragments of the Broncos' season ended up all over Colorado. Then, two weeks after forecasting the Steelers would finish 17-2, Trotter said the Saints would win the Super Bowl over the Steelers by a score of 31-27. Since that's what New Orleans actually scored in its Super Bowl victory, not bad -- except the week before the Super Bowl, Trotter changed his forecast to Colts 31, Saints 27. Stick with your instincts!
Check This Prediction a Trillion Years From Now: Futurist Ray Kurzweil declared on the Kojo Nnamdi Show that researchers already know -- not have some theories, know -- how the universe will end. We know something unlikely to occur for hundreds of billions of years, yet we don't know if it will rain tomorrow? On a separate Kojo show, William Halal, president of something called Tech Cast -- which uses this advanced methodology -- predicted that by 2020, the typical U.S. lifespan will be 120 years. John Holdren, who is now President Obama's science adviser, said in 1971 that a new Ice Age could devastate the Earth by the end of the 20th century. He was quoted in 1986 as predicting global warming would kill 1 billion people by 2020. During his Senate confirmation hearings last winter, Holdren said he now found his predictions "unlikely."
Welcome to Brackettville, Don't Expect a Long Stay: After the first weekend of the 2009 NCAA men's basketball tournament, all 5 million ESPN bracket entries were wrong.
Peter King Predictions: King makes so many predictions, it's hard to know what to take seriously. On Oct. 25 on NBC, King predicted Sam Bradford would be drafted in the second half of the first round of the NFL draft; the next day, on Dan Patrick's radio show, King predicted Bradford would go in the top half of the first round. King predicted Los Angeles could soon have three NFL teams; so far it has none. In late September, King said, "Minutes ago I spoke to people in Washington who told me there is absolutely no chance Jim Zorn is in trouble with the Redskins." People in Washington -- like, at Grevey's Sports Bar? Two weeks later, King said Zorn would be fired no later than the following week, to be replaced by Jerry Gray. Zorn wasn't fired until the season ended, and Gray was shown the door, too. King said there was "no possibility" Jay Cutler would be traded by Denver. For the season, King forecast a Super Bowl of New England over Chicago -- the Bears did not make the playoffs -- and predicted the Saints would finish 7-9.
Given King's track record at predictions, I find it reassuring he thinks there is definitely going to be an NFL work stoppage in 2011.
Bad Hurricane Predictions: 2005 was a terrible year for Atlantic hurricanes, including Katrina and Rita. Since then, Atlantic hurricane activity has been average to below average. But this hasn't stopped bad predictions about hurricanes. For the 2007 and 2008 seasons, Accuweather forecast a "high risk" of intense Atlantic hurricane activity that would harm the United States. For the 2007 season, the National Weather Service and the media-darling hurricane prediction center at Colorado State University forecast severe seasons. Instead these seasons were average or below average.
[+] Enlarge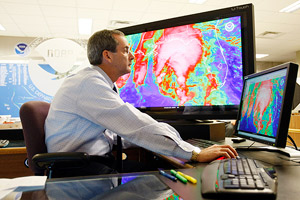 AP Photo/Alan Diaz"I see two … no wait, I see six … no wait, I see four … no wait, I see three hurricanes."
Before the 2009 hurricane season, the National Weather Service forecast a "near normal" season of four to seven hurricanes, one to three of them severe. The Colorado State team -- media darlings because their forecasts tend toward being apocalyptic, which is what reporters want to hear -- first forecast seven hurricanes, three of them intense, then a few months later, forecast six hurricanes. Then, in June, just before the season's start, it dropped the forecast to five hurricanes. By August, there had been no hurricanes. USA Today reported, "The Atlantic hurricane season has gotten off to such a slow start that scientists at Colorado State University, the nation's premier hurricane forecasting team, revised their forecast Tuesday, bringing the number of predicted hurricanes down to four." A slow start. Come on you hurricanes, develop and smash stuff! Colorado State blamed the "slow start" on El Niño. Actual stats for the season: three hurricanes, two of them intense -- smaller numbers than forecast by any major predictor.
If you've heard people in positions of authority claiming that hurricane activity proves global warming, bear in mind, fewer hurricanes hit the United States in the second half of the 20th century than in the first half -- 83 versus 101 -- though atmospheric greenhouse gas levels were much lower in the first half of the century. This does not disprove climate change, which is a real concern. It just shows that many people who yak in public about the subject have little or no idea what they are talking about.
Forecasting note: Philip Klotzbach of Colorado State designed the United States Landfalling Hurricane Probability Web page, which many local news reporters have used as the basis of stories. The page offers absurdly hyper-specific predictions, such as a "45.4 percent probability" that a hurricane would strike Broward County, Fla., in 2009 (nothing happened) or a "5.3 percent probability" a hurricane will strike Sagadahoc County, Maine, this year.
Here, Colorado State University analyzes its 25 years of hurricane predictions and finds a "modest" improvement over simply predicting every season would be average. In the paper, the Colorado State researchers concluded that the revised hurricane predictions they made in August 2009 were more accurate than the initial predictions they made in May 2009. That is, after forecasters already knew most of what will happen during a hurricane season, their ability to predict the season improved! This is retconning of research. But overall, 25 years of super-elaborate hurricane predictions were barely distinguishable from chance. Every year, the media give considerable prominence to Colorado State's hurricane forecasts, since forecasts are a form of weather hype. As best I could determine, no major media outlet covered the release of the report showing that long-range hurricane forecasts are a complete waste of everyone's time.
Studies have shown that the prediction most likely to be correct is simply forecasting that existing trends will continue. Therefore, TMQ predicts for all aspects of American society for the year 2010 that all existing trends will continue and everything will be average.
Names note: Hurricane names for the future include Igor in 2010, Ophelia in 2011 and Kirk in 2012 -- come on NOAA, change it to Captain Kirk! Retired hurricane names are here.
[+] Enlarge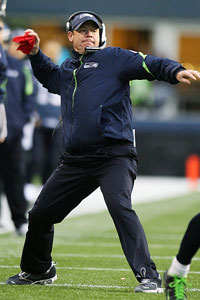 Otto Greule Jr/Getty ImagesThe Coach of the Year! If he hadn't been fired.
Trust Us, We're Experts: In 2002, Joseph Stiglitz, who had just won the Nobel Prize for Economics, and Peter Orszag, who is now director of the Office of Management and Budget, wrote this paper which concludes "the risk to the government from a potential default on [Fannie Mae and Freddie Mac] debt is effectively zero." Stiglitz and Orszag claimed to have used a computer model to run "millions of potential future scenarios" and found there could never be any situation in which taxpayers were harmed by Fannie Mae or Freddie Mac loans. So far, the Fannie-Freddie bailout has cost taxpayers $112 billion, with a potential ultimate loss to taxpayers of $1.9 trillion.
Amazingly, No One Predicted Dick Jauron Would Win Coach of the Year: Gene Wojciechowski of ESPN.com, and Dan Graziano and Matt Romanoski of AOL Fanhouse, forecast Jim Mora to win Coach of the Year. Mora was fired.
If You Must Predict Final Scores, Predict Likely Outcomes: From the Wall Street Journal's NFC championship forecast: "According to the Journal's prediction model, which uses hard-to-get play-by-play data to break down games, the Saints should defeat the Vikings convincingly, by a score of 32-18." Hard to get? Play-by-play data is posted on NFL.com in the form of the league's official Game Books. That aside, the Journal's incredibly scientifically advanced computer model predicted a score that is extremely improbable, since 32 and 18 are rare outcomes in professional football. The 267 games of the 2009 season generated 534 final scores, and 32 and 18 each occurred once. This makes it spectacularly unlikely Vikings-Saints, or any NFL game, would result in a 32-18 final.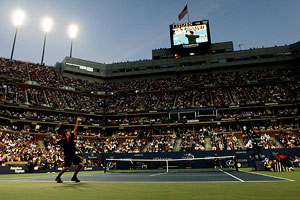 Jim McIsaac/Getty ImagesCare to predict the exact final score of this match?
Why anyone bothers to engage in quixotic attempts to predict exact NFL final scores has long puzzled TMQ, since your chance of being right is about 1 in 500 (see below). And it doesn't matter if you're right -- all that matters is who wins the game! You might as well try to predict exact final match scores at the U.S. Open. But if you must attempt to forecast NFL scores, chose number outcomes that are common, such as 14, 17, 20, 21 and 24. Don't choose 32 or 18, which rarely occur. Don't choose 12 (twice in 534 tries in 2009) or 15 (three times) or 19 (four times). Don't predict final score outcomes above 40 -- only 5 percent of 2009 NFL scores were 40 points or more. If you must predict exact final scores, simply choose who you think will win and then endlessly predict every game will end 20-17. Historically, 20-17 is the most common NFL final-score pair: it happened 11 times in the 2009 season.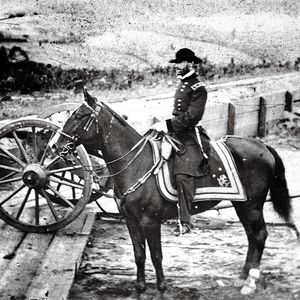 AP Photo"Maybe I'll run for president … maybe I'll sign with the Vikings ... maybe I'll mow the grass."
Favre Comeback Watch -- The Sequel: Suppose William Tecumseh Sherman had said in 1884, "These dudes asked me if I wanted to run for president, and I was like, 'whatever.' You know?" As he was waived by the Jets in April 2009, Brett Favre said, "At this time, I am retired." And the second most tedious story in sports history -- second only to the previous year's Favre comeback story -- was on.
Yahoo Sports ran a story declaring Favre told the Vikings he would not play in 2009. Favre sent a text message to ESPN's Trent Dilfer saying he would not play. Peter King of Sports Illustrated foresaw, "Favre will never play football again." King claimed insight because, "I'm fairly close to Favre." Fairly close? MapQuest says Montclair, N.J. (where King resides), is 1,205 miles from Sumrall, Miss. In mid-May, MSNBC ran an article with this incomprehensible headline: "Agent Won't Corroborate Favre X-Ray FedEx Report." In mid-May, Favre's agent, Bus Cook, told ESPN's Chris Mortensen that Favre "is retired and he doesn't have any desire to come back, and that's the way it is. He's mowing his grass. He's working on his farm. He enjoys that stuff." Mowing the grass got boring fast: Two days later, Ed Werder of ESPN reported Favre and Minnesota coach Brad Childress had met "at an undisclosed location," perhaps with Dick Cheney present.
In July, "SportsCenter" declared, "Now for more on our top story, Brett Favre has decided to stay retired." One day later, Childress said there was "not a chance" Favre would play for Minnesota. Vikings owner Zygi Wilf told the Minneapolis Star-Tribune he has no plans to recruit Favre: "I'm not interested. No way." When Favre signed, Paul Hornung predicted that acquiring Favre would cause Minnesota to have a losing season; the Vikings reached the NFC championship. "Regardless of what the future holds, I want everyone to know that I will cherish the memories of the past year for the rest of my life," Favre said on Feb. 11, 2010, leaving his 2010 plans vague. Aaaiiiyyyeee.
[+] Enlarge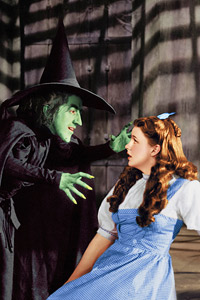 Silver Screen Collection/Hulton Archive/Getty ImagesThe United Nations also warns of the "very high" likelihood of more tornadoes in Oz.
Cheney Wasn't Wrong Only About Iraq: In 2001, Cheney predicted that unless five new nuclear power plants were built each year -- 45 by now -- there would be nationwide electricity brownouts. No new nuclear power plant has opened since 2001, and in many parts of the country, electricity is in oversupply. Cheney also asked that environmental protection rules be waived to allow a major push to build more oil refineries, because a desperate shortage of refinery capacity was coming. Only one U.S. oil refinery has been built since 2001; in March 2009, the Wall Street Journal ran a story with the headline "Unwanted Oil Refineries Go Begging."
Wicked Witch of the West Will Melt, United Nations Predicts: The Intergovernmental Panel on Climate Change, the United Nations agency that generates doomsday claims about global warming, in 2007 predicted a "very high" likelihood that Himalayan glaciers would melt by 2035. Last month it retracted the prediction via this intended-to-be-incomprehensible statement. Though the IPCC boasts of thousands of scientists peer-reviewing its work, turns out the Himalayan glaciers prediction was based on an offhand comment in a decade-old magazine interview. The comment hadn't even been fact-checked, let alone peer-reviewed.
[+] Enlarge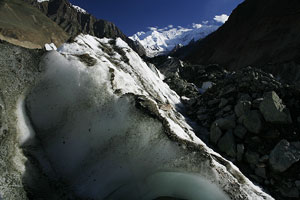 Paula Bronstein/Getty ImagesMany glaciers are in fact melting -- but they've been doing so for thousands of years.
Anybody can make a mistake: Most science points toward climate change caused by artificial greenhouse emissions, and greenhouse gas regulations are needed. But the IPCC, which styles itself as pure science, is a political organization engaged in systematically exaggerating the global warming threat, since exaggeration can be used to justify more government power and cushy jobs for climate bureaucrats. The guy who runs the IPCC has won millions in dollars and Euros for his foundation based on scare claims. This money might not flow his way if the IPCC didn't exaggerate. Meanwhile, Al Gore owns stock in several companies being promoted as offering products essential to stop global warming. Maybe the products are fabulous. But the stock gives Gore a financial self-interest in doomsday exaggeration.
We Are Committed to the Run Until the First Time It Doesn't Work: In the preseason, the Bucs said they were "committed to the run;" they ran 42 percent of the time. The 49ers said they would run 60 percent of the time; they ran on 39 percent of their plays.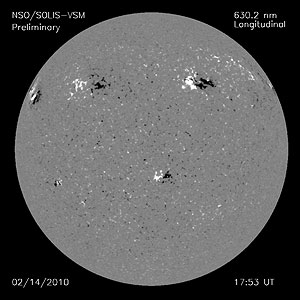 National Solar ObservatoryThe sun two days ago -- predictions said this year it would be covered with spots.
Predictions About the Number of Spots on Leopards Also Wrong: In 2006, the National Center for Atmospheric Research predicted the next solar cycle would begin in 2008, would be strong, and that by 2009, much of Sol's surface would be sunspots. In 2006, NASA's David Hathaway, a prominent solar physicist, predicted a "ferocious" sunspot cycle beginning in 2009. Power and communications companies were advised to expect substantial disruption from solar storms -- the nascent cell-phone business has not yet coped with a solar maximum. Instead, 2009 was a quiet year for the sun: On 260 of the 365 days, Sol had no spots.
A significant solar flare was observed on Jan. 17, and experts continue to expect lots of sunspots soon -- but conditions on the sun aren't anything like what was predicted. Check here for recent solar images; the left-hand column here gives today's sunspot count.
Agents Beg Sports Illustrated Not to Put Their Clients on the Cover: The week before the NFL championship round, Sports Illustrated had Mark Sanchez on the cover in issues sold in the Northeast, Brett Favre on the cover in other parts of the country. The Jets and Vikings both lost -- a double SI curse.
NBC, Conan on Good Terms, Sources Say: "Kiffin not on USC wish list" -- Knoxville News Sentinel headline the day before USC hired Lane Kiffin.
White House Predicts Unlimited Milk and Honey in FY 2063: On Jan. 18, the Congressional Budget Office predicted the fiscal 2010 federal deficit would worsen to $1.3 trillion. Just two weeks later, the White House said yet another round of debt-based spending would push the 2010 deficit to $1.6 trillion. What happened between these two projections? Addressing Congress, President Barack Obama called for fiscal restraint.
[+] Enlarge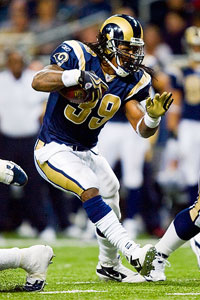 Dilip Vishwanat/Getty ImagesThe Rams were a surprise team! If you didn't expect them to win any games at all.
The Experts Speak: ESPN: The Magazine (Published on Earth: The Planet) forecast a Super Bowl of Chargers over Giants, while Sports Illustrated forecast New England over Chicago -- two of the four Super Bowl entrants predicted by sports' leading publications failed to make the playoffs. Over the past five seasons, Sports Illustrated and ESPN: The Mag have combined to forecast Super Bowl wins for San Diego (predicted three times), Miami (predicted twice), New England (predicted twice), Minnesota, Carolina and New Orleans (but not in the current season). No Super Bowl victory prediction by ESPN: The Mag or Sports Illustrated has been correct, while six of the 10 Super Bowl winners foreseen by these publications failed to make the playoffs in the year of the prediction.
Sports Illustrated for Kids didn't do any better, forecasting the Saints would not make the playoffs. ESPN: The Mag also had the Saints missing the playoffs and the Rams finishing 8-8 (they finished 1-15), and said the Jets' running game would falter (Jersey/B was first in the NFL in rushing). Sports Illustrated also ran nine sets of Super Bowl predictions, none of which had the Saints winning and none of which had the Colts even reaching the big game.
College Football Bad Predictions: Last summer, Sports Illustrated predicted that USC, Ohio State, Ole Miss, Rutgers, Oklahoma, Boise State, Virginia Tech, Penn State, Florida and Texas would reach the BCS bowl games. Only three of the 10 predicted entrants were correct, while Alabama, Cincinnati and TCU -- which finished first, third and fourth in the BCS -- weren't mentioned in the SI prediction. "Even with an untested quarterback, USC shouldn't miss a beat," Sports Illustrated foresaw.
If Only Ethanol Could Be Distilled from Pages of the Congressional Record: As members of Congress from both parties continue merrily to throw your money away, spending that seems to aid green energy rarely is questioned. As a result, corn-based ethanol has become one of the most subsidized substances in human history. And it not only represents tax-money waste, it may be bad for the environment.
Domestically produced corn-based ethanol is subsidized via federal payments to grain farmers, by refinery tax exemptions for fuel containing domestic ethanol, and by tariff barriers intended to prevent Brazilian sugar-based ethanol from entering the United States. (Sugar-based ethanol makes more economic sense than corn-based, but sugar is hard to grow in most of the U.S.) An unholy alliance of the farm lobby, farm-state members of Congress from both parties and Archer Daniels Midland, the largest maker of corn-based ethanol, has long pressured Washington for more subsidies. In 2007, under George W. Bush, Congress mandated that refineries begin blending gasoline with ethanol, most of which is corn ethanol, and that 15 billion gallons of ethanol be produced in the United States by 2012. (Fifteen billion gallons of ethanol equates to about two weeks of U.S. petroleum consumption.) Last week, the White House finalized additional rules from the Bush-signed law, requiring 36 billion gallons of ethanol annually by 2022.
[+] Enlarge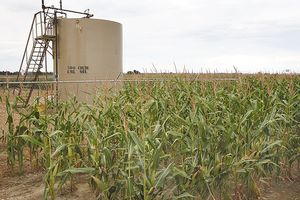 AP Photo/Ed AndrieskiSubsidies for corn-based ethanol are the farm belt's answer to the Wall Street bailout.
Few people seem to know this, but owing to the congressional mandate, since 2008, the gasoline you purchase contains 10 percent ethanol. Because ethanol has a lower energy density than petroleum, a 90/10 fuel blend reduces miles per gallon by about 3 percent. So if your mileage has seemed a little low lately, that's because it is a little low -- Congress effectively mandated that gasoline become less efficient. For the typical driver, this works out to buying an extra 20 gallons of gasoline annually. Thus on top of all the other subsidies for corn ethanol, that's approximately a $60 per capita annual stealth tax American drivers are paying.
It turns out that with gasoline demand in mild decline, the 15 billion ethanol gallons may be more than the country needs at the moment -- fuel needs in 2022 are unknowable. To create a market for the coming ethanol, the ethanol lobby is demanding Washington raise the blend mandate to require that gasoline be 85 percent petroleum, 15 percent ethanol (technically 15 percent "biofuel," but ethanol is the only biofuel now available in quantity). If this happens, the energy value of gasoline will fall by a total of about 5 percent, causing the typical driver to buy an extra 30 gallons annually and raising the ethanol stealth tax to about $100 per car per year.
At least ethanol will reduce petroleum use and greenhouse gases, right? Maybe not: There are dueling studies on this point, but some research finds that because growing corn requires significant amounts of petroleum-based fertilizer, corn ethanol is a new loser in energy terms. This recent research from Princeton University suggests that calculations showing ethanol reduces greenhouse gas emissions contain a major error -- they don't take into account land-use changes to grow the corn. After fossil-fuel combustion, land-use change is the No. 2 source of human-caused greenhouse emissions, because many farming practices release carbon that is otherwise chemically bound in soils.
Last spring, the EPA issued a study suggesting that corn-based ethanol is a net cause of environmental harm, and that petroleum fuel may be cleaner than corn-based ethanol when production is taken into account. The study found that sugar-based ethanol from Brazil and cellulose-based ethanol from woody plants that don't require artificial fertilizer (a promising idea, but not yet practical) cause net reductions of greenhouse gas, but that corn-based ethanol does more harm than good. Because the farm lobby and some enviros don't want to hear about the faults of corn-based ethanol, the EPA study was buried on a Web page, underneath a soporific headline.
Last week, the Los Angeles Times reported the anti-ethanol finding has been "since reworked by EPA scientists." During the second Bush Administration, federal agencies were accused of politicizing science to reach whatever conclusion Republican activists wanted. Now Barack Obama is running the government, and by the most amazing coincidence, some science was just reworked to reach the conclusion Democratic activists want. Taxpayers and fuel-buyers are now being hit up for billions of dollars per year to subsidize corn-based ethanol, and it's not clear this benefits anyone other than the ethanol lobby.
Because corn ethanol grown in the Midwest sure sounds like a good idea, Washington pretends it is. There's also a long-term implication. Global petroleum reserves are ample for decades, while topsoil is stressed in many places, and topsoil is irreplaceable in food production. Affordable future alternatives to petroleum are a lot easier to imagine than alternatives to topsoil. Thus trading topsoil for petroleum, by growing more corn than is really needed, may be incredibly bad public policy. No wonder both parties in Washington favor it!
Will Tim Tebow Be the First Tight End Chosen in the 2010 Draft? "I spoke to 17 general managers this week, and their consensus was Tim Tebow goes at the start of the second round" -- Peter King on NBC in November. In September, Mel Kiper and Todd McShay of ESPN said Tebow should go in the second round, with McShay predicting Tebow could fall as low as the fourth round. "Nothing that can happen between now and the draft could possibly change my opinion" that Tebow belongs in the second round, Kiper said in January on "Mike and Mike in the Morning."
TMQ thinks Tebow will be picked by New England, maybe in the late first round. Bill Belichick has spent considerable time with Urban Meyer, studying the Florida offense. Belichick likes to be ahead of the curve on offensive tactics, and no NFL team has ever put two quarterbacks on the field as a strategy, as opposed to an occasional trick play. Tebow can rush the ball, he could play H-back, he can throw, he blocks well. If Belichick ends up with Tebow, 31 defensive coordinators will groan in unison. Plus, Tebow could proselytize Massachusetts liberals -- it would practically be missionary work.
Retroactive Bad Prediction: In 2006, TMQ predicted the new Washington Nationals stadium would be a fiasco owing to traffic congestion and lack of parking. Instead, neither are problems because hardly anyone is going to the games. Perhaps if the Nats start winning, attendance will improve: lack of turnout is a concern because the ballpark is taxpayer-funded. TMQ thinks the team name should change to the Washington Insiders.
[+] Enlarge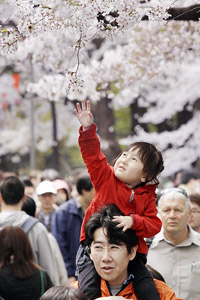 Yoshikazu Tsuno/AFP/Getty ImagesThey're beautiful. Just don't bother predicting what day they will appear.
They Accurately Forecast the Blossoms Would Be Pink: The Japanese Meteorological Agency announced it will stop issuing cherry-blossom forecasts, after years of inaccurate predictions. Last spring, the agency managed to be wrong despite changing the forecast eight times.
Beware "Best" Bets: Many sleazy handicapping services claim to offer sure-fire bets, and since TMQ views such businesses as shams, I ignore them. Pro Football Weekly, on the other hand, is a legitimate and long-established publication. In its regular issues, Pro Football Weekly publishes two or three "best bets," to entice readers to sign up for a Handicapping Inner Circle product that costs $109.95 annually. In 2006, the PFW Best Bets went 31-34-2; in 2007, 32-36; in 2008, 35-32-1. For this season, Best Bets went 31-37. That's a four-year total of 129-139-1, meaning when Pro Football Weekly pundits are certain they are right, they are usually wrong.
PFW promotes its Handicapping Inner Circle by claiming 67 percent accuracy -- yet over a four-year period, its actual published picks were 48 percent accurate. Touts claiming to have astonishing insider information that allows a high share of correct picks are no more credible than investment advisers claiming secret investing formulas. Both are just trying to separate you from your hard-earned money. If any investment adviser actually did posses a secret investing formula, why would he sell it to you? He'd keep it to himself and become rich. Similarly, if PFW actually could pick with 67 percent accuracy, its staffers would be fools to sell such information -- they would place legal bets through Las Vegas agencies, and become wealthy. They sure wouldn't sell others the info, since that would only move the line and frustrate their own "best bets" riches.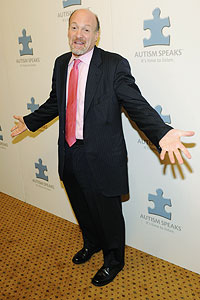 Shawn Ehlers/Getty ImagesHere's one person who would never be so foolish as to take Jim Cramer's investing advice.
Financial Advice -- Buy Puts in Cramer Futures: Jim Cramer of CNBC, who gives investing advice for a living, in July 2008, when the Dow was 11,500, urged viewers to "buy, buy!" The Dow immediately fell. In October 2008, after the Dow dropped to 10,000, Cramer urged viewers to sell all stocks, warning, "Get out now!" From July 2008 to October 2008, following Cramer's investment advice was a formula for losing your shirt. In 2009, the Dow further declined early in the year, then recovered and was back at 10,000 by the anniversary of Cramer's "get out now" declaration. Your heart goes out to people who sold off 401(k) stocks in late 2008 when Cramer and others on cable TV were screaming that a long-term market crash was coming. Studies show that simply holding stocks is much more likely to produce gains than trying to guess the market by regularly jumping in and out, as Cramer recommends. People who sold during the market low took losses they could have avoided simply by standing pat.
In March 2009, on a day when the Dow was 6,500, Cramer again urged viewers to sell, predicting the market would fall another 15 percent, to 5,500. Turned out 6,500 was the bottom: The market began rising pretty much to the day that Cramer said it would keep falling. Once again, anyone who took Cramer's March 2009 advice suffered losses that could have been avoided by standing pat. Just one month later, Cramer reversed course and urged viewers to buy, because, "Right here on this show, I am pronouncing the depression over." In May, Cramer urged viewers to buy Amazon, Apple, Google and Brocade, saying, "You could gain 22 percent in one month." That promise would make Charles Ponzi blush! One month later, Amazon was up 8 percent, Apple up 9 percent, Google up 10 percent and Brocade up 16 percent. So all had strong months, but none gained 22 percent. And about those strong months -- the market overall rose 9 percent during the period, so you would have done about the same, with substantially less downside risk, by buying an S&P mutual fund.
The Cramer show now has a lengthy disclaimer basically warning that actually taking the host's financial advice would be a grievous mistake. The disclaimer further cautions, "Cramer's statements and opinions are subject to change without notice."
[+] Enlarge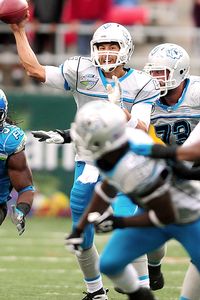 Mark J. Rebilas/US PresswireThe best quarterback of the 2004 draft?
Retroactive Prediction: "J.P. Losman could be the best quarterback in this draft" -- Ron Jaworski on ESPN, draft day, 2004. Losman was a bust in the NFL, and spent most of 2009 with the Las Vegas Locomotives. Other quarterbacks taken in the 2004 draft: Eli Manning, Philip Rivers and Ben Roethlisberger.
Sarah Palin Shocker Claim: She "Knew All Along" That Alamo Would Fall to Santa Anna: In a memoir, Robert Smith, formerly of The New York Times, claimed -- without offering evidence -- that he knew about the Watergate scandal six months before the day in 1972 when Woodward and Bernstein published their first report in the Washington Post. Many sing a song that boils down to, "I knew all along, I just forgot to say so." Smith forgot to say so for 37 years!
Category 4 -- Playoff and Super Bowl Predictions: At the start of the postseason, with the 12 entrants known, USA Today ran eight dueling projections. None had New Orleans winning the Super Bowl and only one had Indianapolis reaching the Super Bowl. Five of USA Today's experts said San Diego would win the Super Bowl; the Chargers lost at home in the first round. ESPN's Adam Schefter went 3-8 forecasting the 11 postseason games. Five of the eight people ESPN promotes as football "experts" were below .500 in predicting playoff results; two of four on-air personnel for ESPN football coverage had below-.500 playoff prediction records.
Sam Wyche of NFL.com predicted Indianapolis would win because "Peyton Manning's ability to get his offense playing the best in the fourth quarter will pay off again." Indianapolis did not score in the fourth quarter. Tony Dungy of NBC predicted, "I don't think it's going to be close." He was right, New Orleans won by two touchdowns -- only problem is, Dungy said the Colts would win.
The Wall Street Journal predicted a Super Bowl final score of Saints 28.7, Colts 28, based on a computer simulation. Accuscore predicted Colts 28.8, Saints 26.8. The Journal also ran a prediction from a "professor of operations and decision technologies," who said the game would end Colts 30.7, Saints 27.9. Have I somehow missed the advent of tenths of points in football? The Journal then declared the average prediction was Saints 28.7, Colts 28.2. This not only was an average of estimates -- back to Statistics 101, Wall Street Journal editors -- but an average that asserts greater precision than is possible in the actual result. But why stop at tenths of points? The Journal claimed: "A prediction model built for the Wall Street Journal by Ben Alamar, a sports management professor at Menlo College in California, shows the New Orleans Saints should beat the Indianapolis Colts by 0.72 point. This model, which correctly picked the winner in eight of this year's 10 playoff games, shows the Super Bowl will be the tightest game of the postseason and the eighth-closest of the full 267-game season." There were seven NFL games won by less than 0.72 of a point?
Then there's the incredible celebrity ring-up conducted annually by David Nielsen of Scripps-Howard News Service. For 21 years, Nielsen and his colleagues have called celebrities the week before the Super Bowl to ask their final score predictions. So far, Scripps-Howard has collected 1,844 final score predictions, and two have been correct: Martina Navratilova predicted Denver 31, Green Bay 24 in 1998 and tough-guy actor Dennis Farina predicted New England 24, Philadelphia 21 in 2005.
A decade ago, TMQ did an incredibly scientifically advanced calculation of the odds of predicting an NFL final score, if working within the band of probable outcomes -- that is, not predicting scores above 30, not predicting scores of 11 or 18, and so on. I concluded there was roughly a 1-in-500 chance of an exact final score prediction being correct. The Scripps-Howard celebrity ring-up has tested this notion and so far has produced 2 of 1,844 correct. Back when the Multicolored Lady predicted NFL final scores, TMQ had a running item called New York Times Final-Score Score: the paper went 3-for-1,085. Add these score-prediction test cases together and you get 5 of 2,929 correct: TMQ's 1-in-500 forecast in 2000 proves I came pretty close to accurately predicting the ability of people to predict!
LeBron James, Kobe Bryant, Maya Angelou, Bob Cousy, Kerri Walsh and John McCain were among Scripps-Howard predictors choosing Indianapolis. Fox News host Bill O'Reilly predicted the Colts would win because "Peyton Manning will be the difference -- the Saints won't be able to stop him." The Saints won the game by intercepting Manning and returning the pick for a touchdown. Actor Ed Asner predicted Indianapolis would win because Manning is "a blitzkrieg quarterback." TMQ dislikes the term "blitz" because of its association with the Nazis, but no one in football ever says "blitzkrieg," which means "lightning war." Actor Masi Oka of "Heroes" said the Colts would win 39-38 -- couldn't he have used time travel to obtain the score in advance?
Tough-guy actor Joe Mantegna came awfully close, predicting a 28-17 Saints win. Author Malcolm Gladwell predicted the Saints would win 45-42. This predicted final score was very un-Gladwell-esque, considering his reputation for love of studies and regression analysis, since an outcome with two high scores is extremely improbable. There was only one game in the season -- the Packers at Cardinals playoff contest -- in which both teams exceeded 40 points.
[+] Enlarge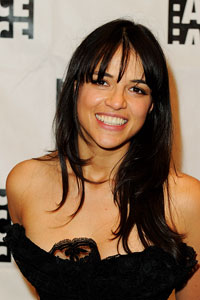 Kevin Winter/Getty ImagesMega-babe predicts Saints' exact final score.
Former CIA director Mike Hayden predicted Indianapolis would win 38-24. Last year he predicted Steelers by 10 points, close to the actual; the year before he predicted Giants over Patriots 17-14 in overtime and the actual was Giants over Patriots 17-14 in regulation. It seems when Hayden had access to CIA information, his NFL forecasts were a lot better. How come the CIA can forecast NFL games but was totally wrong about Iraq?
Miss America, Caressa Cameron, was reasonably close, predicting a 38-35 Saints win; heartthrob actress Michelle Rodriguez was reasonably close with a Saints 31-23 win; beauty queen and former Miss Panama Patricia De León was reasonably close with Saints, 27-24; Playboy model Crystal Harris had Saints, 42-28, which is a 14-point margin, the actual victory margin. I mention these not merely to create a perfectly legitimate reason for the ESPN art department to append some mega-babe photos. Last year, deLeon and former Playboy model Pilar Lastra each missed predicting the exact final score of the Pittsburgh-Arizona Super Bowl by one point; three years ago, one of the best predictions in the Scripps-Howard poll came from Playboy model Kendra Wilkinson (who's now married to Hank Baskett, the Indianapolis player who muffed the onside kick); four years ago, Playboy model Andrea Lowell came within one point of predicting the exact Super Bowl score. In the Scripps-Howard celebrity poll, attractive women consistently outperform athletes, politicians and authors. If scantily clad mega-babes are better than washed-up jocks at predicting football outcomes, ESPN needs to re-examine its business model.
Category 5 -- The Worst Predictions: Think the above predictions are bad? Here are the worst predictions of the year.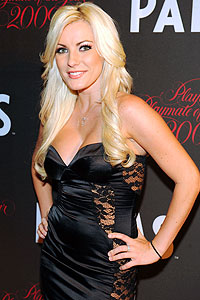 Denise Truscello/Getty ImagesPlayboy model Crystal Harris -- if centerfolds are better at forecasting Super Bowl results than jocks and pundits, it's time for ESPN to rethink the business model.
Runner-Up. Gregg Easterbrook, ESPN.com. Preseason prediction: "Philadelphia should once again own the Dallas Cowboys." The Cowboys beat the Eagles in consecutive weeks, by a combined 58-14. Preseason prediction: "There is obvious potential for fiasco" in Minnesota's signing of Brett Favre. Minnesota made the NFC Championship Game. Late-season prediction: "The Jets are just a terrible team -- they seem very vulnerable." The Jets made the AFC championship.
Runner-Up. Skip Wood, USA Today. Before the season started, he forecast the Saints to win the Super Bowl -- the only such prediction I saw. Then on the eve of the playoffs, when the 12 entrants were known, Wood forecast the Chargers to win the Super Bowl. Skip, stay with your instincts!
Runner-Up. Steve Silverman, MSNBC. "The Jets are headed for a sub-.500 season" while the Saints "should finish at the .500 mark once again" because "Sean Peyton does not know how to get his team to play consistently."
Runner-Up. Michael Wilbon, Washington Post. The Colts will take the Super Bowl because Peyton Manning will not make mistakes: "The Saints won't be able to pick him off enough ... to win the game." The Saints won on a Manning interception returned for a touchdown.
Runner-Up. Gene Wojciechowski, ESPN. In a monument to bad prediction, Woj forecast that JaMarcus Russell would have a "breakout season" (he was benched), the Jets would finish last in their division (they made the conference title game), the Colts wouldn't win their division (they reached the Super Bowl), that Thomas Jones "doesn't come close to the 1,312 rushing yards he had a season ago" (Jones had 1,402 yards), and that New England would win the Super Bowl (the Patriots lost at home in the first round). Then, after predicting before the season that Indianapolis would have a bad year, on the eve of the Super Bowl, Wojo said a Colts victory was "indisputable." Indianapolis lost. (Wojciechowski recently wrote a column in which he addressed his 44 NFL predictions this season.
Worst Prediction of the Year. Bucky Brooks, NFL.com. He foresaw a season in which the Saints' offense "fails them," and predicted the Colts and Saints both would miss the playoffs. New Orleans had the No. 1 offense in the league, and defeated the Colts in the Super Bowl.
Season Sign-Off: Tuesday Morning Quarterback folds its tent and steals off into the desert, though will resurface briefly during the NFL draft. As usual, I recommend you employ the offseason to engage in spiritual growth. Take long walks. Attend worship services of any faith. Exercise more and eat less. Perform volunteer work in your community. Appreciate the beauty around you -- nature is not there by accident.
Of course, I am recommending that in the offseason you read my new book "Sonic Boom." (I just saw "Sonic Boom" at the front of an airport Borders -- seeing a book of mine displayed prominently in an airport bookstore is a new experience, I can assure you.) Of other recently published books, I recommend, in finance, "House of Cards" by William Cohan; in science, "Why We Cooperate" by Michael Tomasello; in politics, "The Science of Liberty" by Timothy Ferris, a look at how 18th century advances in understanding of the found world gave the Framers confidence their views of natural law were correct; in history, "The Lost City of Z" by David Grann; in humor, "Get Rich Cheating" by Jeff Kreisler.
Use the offseason to read two or three of the great books you've always meant to read. Recently an interviewer asked me what books I would recommend to anyone. Here are some books (and a couple of plays) that have informed my understanding of the human condition: "My Antonia," "Song of the Lark and Death Comes for the Archbishop" by Willa Cather; "Lord Jim" by Joseph Conrad; "The Once and Future King" by T.H. White; "Catch-22" by Joseph Heller; "Things Fall Apart" by Chinua Achebe; "The Master Builder" by Henrik Ibsen; "Saint Joan" by George Bernard Shaw; "An American Tragedy" by Theodore Dreiser; "Invisible Man" by Ralph Ellison; "Cat's Cradle" by Kurt Vonnegut; "The House of Breath" by William Goyen; "Our Town" by Thornton Wilder.
Read, mediate, serve others: Do these things, and you will feel justified in racing back to the remote, the swimsuit calendars and the microbrews when the football artificial universe resumes anew in the autumn.
In addition to writing Tuesday Morning Quarterback for Page 2, Gregg Easterbrook is the author of the new book "Sonic Boom," and six other books. He is also a contributing editor for The New Republic, The Atlantic Monthly and The Washington Monthly. His Web site can be found here.