Commentary
TMQ's ultimate mock draft
Offensive linemen are expected to dominate the top of Thursday's draft, and this is music to TMQ's ears. Left tackles may outnumber quarterbacks during the glory-boy high selections, while some on the East Coast may have gone to bed before the first running back is chosen.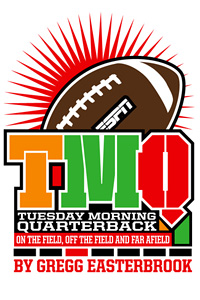 But even given my oft-stated belief that offensive line play is the sine qua non of football success, Tuesday Morning Quarterback wonders why more quarterbacks aren't expected to be tabbed in the draft's lottery portion. As NFL rules have become more passing-friendly, fielding a franchise-quality quarterback has become issue No. 1 for any team that aspires to reach the playoffs. Of this season's championship-round teams, three had franchise-quality quarterbacks (Drew Brees, Peyton Manning, Brett Favre) while the fourth had a highly drafted rookie with franchise potential (Mark Sanchez). Neither Super Bowl team, by contrast, started a highly drafted left tackle (Jermon Bushrod of the Saints was a fourth-round choice; Charlie Johnson of the Colts was a sixth-round selection). Of the other teams that made the playoffs last season (Arizona, Baltimore, Cincinnati, Dallas, Green Bay, New England, Philadelphia and San Diego), all featured terrific quarterback play. On the flip side of the coin, of last season's crummy teams (Buffalo, Cleveland, Detroit, Kansas City, Oakland, Seattle, St. Louis, Tampa and Washington), all but Detroit and Tampa (promising rookies) had fouled-up quarterbacking. Important as the offensive line is, if you want to win games in the contemporary NFL, you must have a premium quarterback.
So why do the draftniks have Jimmy Clausen going in the mid-first round and Tim Tebow and Colt McCoy in the second round? Maybe the draftniks will be proved wrong. But in a draft that appears to offer four premium quarterbacks, only one seems sure to be a lottery pick. Money concerns and front-office career politics may be at work.
The careers of general managers have been derailed by handing out ginormous bonuses to players who don't perform, and this is most likely with a highly drafted quarterback. Choosing Sam Bradford first overall, if they do, will cost the Rams perhaps $10 million more in guarantees than choosing a player at any other position, while the paper value of the contract of a No. 1-drafted quarterback would be drastically larger than the paper value of a first-drafted player at any other position. Any NFL general manager who selects a quarterback early in the first round knows that in the current money-and-media environment, he is fairly asking to be hammered with criticism within three years if a highly drafted megabucks quarterback has flopped. Bobby Beathard pretty much ended his career as an NFL executive by using the second overall choice on Ryan Leaf in 1998. If Beathard had chosen a lineman with that pick, he might still be a general manager.
The general manager who picks a lineman high is, by contrast, employing the low-risk strategy. Linemen are more likely to succeed than quarterbacks, because they're not under the microscope. But when highly drafted linemen fail, there's far less fan angst and media knife-throwing. The next player drafted after Leaf, Andre Wadsworth, also was a mega-bust. But Wadsworth was a defensive end, so his flop drew little notice. The general manager who chose Wadsworth, Bob Ferguson, was not mocked on sports radio, and he spent another decade running the Cardinals and Seahawks.
For head coaches, there is also a fear-of-quarterbacks dynamic early in the first round. Traditionally, head coaches are judged on their tutelage of quarterbacks. Don Shula, Bill Belichick, Joe Gibbs and now Sean Payton are respected in large part because they made quarterbacks successful. The coach who can't get his quarterbacks to shine gets shown the door.
Think of Brian Billick. By contrast, no one expects the head coach to tutor the left tackle. That sort of thing is done by anonymous serfs. Can you name the offensive line coach of any NFL team? The head coach whose club chooses a quarterback high in the draft is a head coach in danger of harsh judgment. The head coach whose team chooses a lineman high in the draft knows that even the team's most ardent fans never will actually watch the offensive line during games.
As for this year's quarterback class, TMQ thinks Bradford, Clausen, Tebow and McCoy could all be franchise-quality. TMQ sees Tebow as first-round material and has been saying so for months, including here and here. Tebow's college passing stats are quite similar to Peyton Manning's, and Tebow threw 88 touchdowns to 16 interceptions, better than Manning's 90 to 33. Who cares if Tebow's delivery isn't classic? Fran Tarkenton's delivery made purists cringe, but on the day Tarkenton retired, he held most NFL career passing records. Vince Young is the current quarterback to whom Tebow is most similar, and Young is 26-13 as an NFL starter. Tebow has the same gitter-done gameday impact as Young -- when the clock hits all-naughts, Tebow's team has won. Many who pass on Tebow on Thursday night may regret it later.
Clausen and McCoy seem likely stars to TMQ, too. Clausen played under constant pass-rush and scoreboard pressure, leading many tense fourth-quarter drives. McCoy is a master of the blink-and-it's-gone release that is essential to West Coast-flavored NFL offenses. McCoy may be 6-foot or so, but so is Brees, who to the best of my recollection just won the Super Bowl. Numerous NFL teams start quarterbacks who, on a regular basis, make you long for Don Strock. Teams like these may someday regret passing on Clausen and McCoy.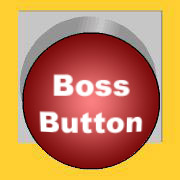 And Bradford? I was more worried about him than about the other three. He has a great arm and accuracy, obviously, but Bradford was rarely hit in college -- sacked just 25 times in nearly 1,000 drop backs. At Oklahoma, Bradford stood serenely in the pocket, patting the ball and scanning the field, while rushers were efficiently neutralized. That was good for the Sooners, but it means we don't know how Bradford will perform when pass-rushers are beating the snap into the backfield, which is what happened to Trent Edwards at Buffalo and Jason Campbell at Washington last year. Plus, Bradford spent most of his Oklahoma career running up the score in blowouts. He participated in only a few collegiate games that were contested late in the fourth quarter, and those he lost. Tebow and Clausen come to the NFL a lot more accustomed to performing under intense pressure. Give me a quarterback who's accustomed to pressure.
In other football news, the NFL finally changed the overtime format -- in the postseason at least. Now, if the team that received the kickoff to start overtime scored a field goal on its possession, then the other team fumbles on its possession but there is a personal foul during the loose ball, then the offensive team recovers its own fumble beyond the line-to-gain but it was a fourth down, then an inadvertent whistle sounds …
The new format is way too complicated -- the new rules for turnovers and onside kicks in overtime will drive everyone crazy. There is sure to be some absurd outcome where officials spend 15 minutes debating who won and then, after the crowd has departed, we realize the game was awarded wrongly. The new overtime format is the infield fly rule come to football! See below for my review of simple overtime changes that spectators -- and zebras -- can understand.
With regard to the draft, this time of year everyone has a mock draft. But only Tuesday Morning Quarterback actually mocks the draft: Now, my annual mock of mock drafts.
1. St. Louis Rams: Mark Twain, humorist. With Les Mouflons on a 6-42 streak, perhaps Missouri's most famous son could convert the team into a satire.
2. Detroit Lions: Alan Mulally, CEO, Ford Motors. Unlike Chrysler and General Motors, Ford took no bailout money. The company decided on its own several years ago to emphasize manufacturing quality and fuel efficiency, with the result that Ford was positioned for success without federal subsidies. That's the can-do attitude the Lions need. Downside: Mulally will demand a $17.9 million signing bonus (his actual compensation for 2009).
3. Tampa Bay Buccaneers: Derrick Brooks, Warrick Dunn and Warren Sapp, throwbacks. Of the NFL's three worst teams, two, the Bucs and Rams, are also relatively recent Super Bowl victors. This must mean something. If only I knew what.
4. Washington Redskins: Paul Bunyan, logger. Six years ago, TMQ christened Redskins owner Chainsaw Dan after he hired a crew to clear-cut 130 mature trees that blocked his mansion's view of the Potomac River. The trees were not on Snyder's property, rather, on a scenic easement administered by the National Park Service. Snyder paid a fine, and promised to replant -- obviously coming out ahead, since it would take saplings a decade or more to grow enough to block his view again.
Now the Gazette, Washington's excellent suburban newspaper, reports that six years later, Snyder has yet to plant the first tree. His excuse? The Environmental Impact Statement isn't finished. Obviously you need an Environmental Impact Statement to plant trees! What if they develop leaves, or birds perch in them? Obviously, the Environmental Impact Statement process was intended to crack down on the irresponsible planting of trees! The longer Snyder drags his feet on replanting, the longer he enjoys his ill-gotten view. Redskins note: If the Skins still make a play for Bradford, whose great-great-grandmother was Cherokee, will that be good or bad for the team name controversy?
5. Kansas City Chiefs: Plato, ancient philosopher. The Chiefs' season already seems doomed -- but then, 2,400 years ago, Plato said the world was about to fall apart. This recent Jim Fallows article shows that claims of American decline are not new -- they've been common since before Woodrow Wilson.
6. Seattle Seahawks: Glenn Beck, wing nut/comedian. Born in Everett, Wash., Beck could disconcert Hawks' opponents by calling them names. "Communist fascist God-hating satanic cannibal" is among the milder things Beck calls people.
7. Cleveland Browns: Ellen Gordon, president, Tootsie Roll. Why doesn't this company sponsor the Browns? A natural fit. TMQ loves that the firm is officially Tootsie Roll Industries.
8. Oakland Raiders: Chesley Sullenberger, retired airline pilot. No NFL team needs a steady hand on the yoke more than the Raiders, and Sullenberger was born in California. Already high in the public's admiration, Sullenberger rose higher in TMQ's admiration when he had the ghostwriter's name put on the cover of "Highest Duty," his book about the Hudson River landing. Sullenberger was honest about himself, rather than masquerading as an author, as do so many public-figure phonies.
9. Buffalo Bills: Jimmy Conzelman, Hall of Fame coach. Though he passed away 40 years ago, he couldn't be any duller or less enthusiastic than the recent succession of the Bills' barely awake head coaches.
10. Jacksonville Jaguars: Max Bialystock, producer. He knew how to paper the house! He could fill seats! He'd get people in the audience for Jax home games. The Jaguars and Broncos flipped for the 10th pick, and Jacksonville won. Or maybe "won." As noted by Mike Klis of the Denver Post, the 10th choice will command about $2 million more guaranteed money than the 11th, though there's no reason to believe he will be any better as a player. Sorry about your "win," Jax.
11. Denver (from Chicago): Donald Sutherland, as Professor Jennings in "Animal House." Adult supervision is needed to counter the frat-boy atmosphere 33-year-old head coach Josh McDaniels has brought to the Broncos.
12. Miami Dolphins: Scarlett Johansson, as the Black Widow in "Iron Man II." The Dolphins already have pop stars in the ownership suite. Time to add a babe superhero in a sprayed-on catsuit.
13. San Francisco Forty-Niners: Mickey Kaus, blogger and senatorial candidate. TMQ's pal is campaigning for the Democratic nomination to the California Senate seat held by Barbara Boxer. Kaus believes members of Congress should make up their own minds about issues rather than vote how interest groups and campaign donors demand -- good luck with that! Mickey is a great guy, but in an interview with Real Clear Politics, admitted he is not sure if his own mother will endorse him.
14. Seattle (from Denver): Alphonso Smith, backup cornerback. Smith is the player the Broncos obtained in last year's draft, using Seattle's second-round selection: Denver gave the Seahawks its 2010 first-round pick in return. McDaniels gambled that Smith would be more valuable than anyone available with this choice. Smith has yet to start an NFL game.
15. Jersey/A Giants: Kim Kardashian, celebutante bombshell. Now that the Jets have buff cheer-babes, the Giants' lack of glamorous women on the sideline has become glaring.
16. Tennessee Titans: Kraken, simulated sea monster in the atrocious remake of "Clash of the Titans." Presumably, a 50-foot-high monster would make a good NFL defensive tackle; or Tennessee could simply threaten to show the movie on the JumboTron, which would send opponents running from the stadium. It says something that the claymation monster in the original was scarier than the obviously fake computer-generated 2010 variant. In the second round, the Titans hope to tab former actor Liam Neeson, who once was a serious cinematic presence, but has reduced himself to wearing silly robes while bellowing, "Release the kraken!" Can a buddy-cop movie with Neeson and Judi Dench be far behind?
17. San Francisco Forty-Niners (from Carolina): Will.i.am, teleporting pop singer. Born in California, he could rev up San Francisco's plodding offense by teleporting the ball into the end zone.
18. Pittsburgh Steelers: Luke the parrot. The Pittsburgh Post-Gazette reported that a Bank of America foreclosure agent allegedly mistakenly padlocked the home of a mortgage holder and confiscated her pet parrot, Luke. Parrots may imitate entire sentences long after overhearing them. Here is what Luke began to say after being in the possession of Bank of America:
"Awk! More bonuses! Bill them to the taxpayer! Awk!"
"Conspiracy of international bankers on Line 1. Awk!"
"Put the bundles of $100 bills there, the pallets of Fort Knox gold there, and the boxes of blank checks there. Awk! You may go now, Mr. Bernanke."
"Awk! Anybody remember to tip Bernanke?"
19. Los Angeles Clippers (from Atlanta Falcons; projected trade): It makes absolutely no difference whom the Clippers draft, and it never will.
20. Houston Texans Dick Cheney, angry, fuming, furious, livid, hopping-mad former vice president. Cheney would order Texans' opponents wiretapped without court authority, and allow torture during two-a-days.
21. Cincinnati Bengals: Bruce Springsteen, New Jersey's most famed son. The Bengals' promising 2009 season ended with consecutive blowout losses to the Jersey/B Jets. Cincinnati needs a little Jersey flair to rebound.
22. New England Patriots. Tiger Woods, cheater. In the two years since the Patriots swore off cheating, the team's fortunes have faltered. It's harder to win when playing fair, eh, Bill? Addition of Woods revives the old spirit.
23. Green Bay Packers: Kathryn Bigelow, film director. For the woman who stopped the "Avatar" colossus, winning the NFC North should be a parlor trick.
24. Philadelphia Eagles: Tim Tebow, quarterback/linebacker/wedge blocker. Might as well make the Eagles' quarterback situation an even bigger mess. Note: In solidarity with Tebow, I have changed my writing motion. Previously there was a hitch in my left ring finger when I hit consonant keys. Now I am using the classical "slam the keyboard" style preferred by scouts.
25. Baltimore Ravens: Jerry Hughes, defensive end, TCU. Possible actual pick thrown in for variety.
26. Arizona Cardinals: Bernard Madoff, financial adviser. A few months ago, the state of Arizona sold and then leased back 14 state buildings, including the one housing the governor's office, in order to mask the state's budget deficit. The deal allows current politicians to escape accountability for runaway borrowing, while reducing Arizona's assets and leaving future Arizona taxpayers holding the bill.
27. Dallas Cowboys: Setsuhiro Shimomura, president, Mitsubishi Electric. That's the company that built the gigantic video apparatus in the new Cowboys Stadium -- it's not a JumboTron, which is made by Sony. Mitsubishi insists on calling the thing a "high-definition television screen," not a scoreboard.
28. San Diego Chargers: Nancy Pelosi, Speaker of the House. The Bolts need a power back to replace LaDainian Tomlinson; Pelosi proved on the health care vote that she can carry the ball straight up the middle.
29. Jersey/B Jets: David Malpass, defrocked economist and senatorial candidate. Another TMQ pal has declared for the Senate, in this case the Republican nomination to oppose New York's appointed Senator Kirsten Gillibrand. Malpass was chief economist for Bear Stearns; perhaps he can advise the Jets on how to use offshore special-purpose entities to hide the debt from construction of their new stadium. David is a great guy, but it's not clear how his campaign pitch will play out: "I promise to bring to Washington the same incredible financial expertise that Bear Stearns used to …"
30. Minnesota Vikings: Michael Astrue, commissioner, Social Security Administration. Ideal guy to negotiate Brett Favre's contract, especially if Favre plays past the IRA cash-out age of 70 years and six months.
31. Indianapolis Colts: Cecil Shorts, wide receiver, Mount Union College. Last fall, Shorts scored an incredible 27 touchdowns -- 19 as a receiver and eight rushing when lined up as a quarterback in the Wildcat formation. He's the perfect choice to pair with Mount Union's Pierre Garçon. In the second round, the Colts hope to tab Brad Stevens, the whiz-kid coach of Butler's men's basketball team. Expect a big recruiting boost for the Bulldogs. Not only did Butler come within one shot of the national championship, but the school's student body is 61 percent women.
32. New Orleans Saints: Regina Benjamin, Surgeon General. The Saints won the Super Bowl, then a few days later, Mardi Gras began. As chief public health officer for the United States, Benjamin could help cure the city's epic hangover.
"Oh I Wish I Was in the Land of Cotton Old Times There Are Selectively Forgotten ...": Two weeks ago, Virginia Governor Bob McDonnell, an ultra-conservative, issued a proclamation declaring Confederate History Month, yet making no reference to the existence of slavery. Those who "fought for their homes" were lauded, while nothing was said about slaves being held prisoner at those homes. Following a storm of criticism, McDonnell added a grudging admission that perhaps slavery was less than ideal. (Here is the text of the original, which has vanished from Virginia state computers; the words looked even creepier when on the official Virginia website under the governor's seal. Here is the amended version.)
Yet even after a national dust-up, the proclamation is still historically inaccurate. The first paragraph refers to "a four year war between the states for independence that concluded at Appomattox Courthouse." The Appomattox ceremony -- April 9, 1865 -- was not the end of the Civil War, only the surrender of Robert E. Lee's Army of Northern Virginia. Joseph Johnston's formidable Army of Tennessee did not lay down arms till two weeks later. Various other Confederate forces and districts didn't yield till May or June 1865 -- a timeline is here -- while President Andrew Johnson did not decree the war concluded until 1866. (I recommend to readers Jay Winik's fine book April 1865: The Month That Saved America, which concerns the steps taken after Appomattox to end the conflict.) It's bad enough that a governor who lectures others about history is, himself, ignorant of history. Owing to the controversy, large numbers of journalists and editorialists read the proclamation. Yet it seems none knew enough about our nation's past to notice the error about when the Civil War ended.
Virginia's-governor-is-a-nitwit bonus! There is no "Appomattox Courthouse," as referred to in both the original and amended proclamations. On April 9, 1865, Lee's army fought its final battle near a town then called Appomattox Court House; cut off and without hope, Lee met Ulysses Grant to sign surrender papers at McLean House, a local home owned by Wilmer McLean. Today the town where all this happened is called Appomattox, Va.; the final fight is known to historians as the Battle of Appomattox Court House, using the town's old name; the area where the battle occurred is now a National Historical Park. But there's no "Appomattox Courthouse," no judicial building, in any of this. Wouldn't it be nice if the governor of Virginia knew the names of towns in Virginia?
Maybe NFL General Managers Get a Commission on Each Trade: The Eagles were the most active trading team in the 2009 draft, and already have conducted multiple trades -- involving Donovan McNabb, Sheldon Brown, Chris Gocong, Alex Hall, Darryl Tapp and five draft selections -- in the run-up to the 2010 "selection meeting." With Philadelphia holding seven choices in the first five rounds, look for more Philadelphia trade-a-rama. Here is a midround sequence of transactions from last year's draft:
1. The Eagles traded choice No. 85 to Jersey/A for choices Nos. 91 and 164.
2. The Eagles traded choice No. 91 to Seattle for Nos. 137 and 213, plus the Seahawks' 2010 third selection, which has become current choice No. 70.
3. The Eagles traded choices 137 and 141 to New England for Ellis Hobbs.
4. In exchange for choices 85 and 141 in 2009, Philadelphia was left holding Hobbes, choices 164 and 213 in 2009 and choice 70 in 2010.
Unified Field Theory of Creep: Reader Peter Wunsch of East Northport, N.Y., wrote in February: "Pathmark, a New York supermarket chain, is advertising a Passover sale starting on February 26. Passover begins on March 29 this year. I hope the food has a long expiration date." Doug Klumpp of Philadelphia reports that on March 31, three days before the first iPad reached stores, this CNET article complained about the lack of a second-generation version.
Now with More Nonsense! Fox's action series "Human Target" -- based on the comic book, and much better than the early-1990s attempt to make a TV series from the same characters -- is in the same pop-action genre as "24." But unlike "24," with its wearying drone of misanthropy, "Human Target" has a sense of humor, making the show a pleasant diversion: an archetype of what New York Daily News critic David Hinckley calls "popcorn TV."
Half the fun is spotting the nonsense. One recent episode was set in Washington, D.C. As the plot is kicked off, a law enforcement agent gravely intones, "The FBI is the agency that protects foreign dignitaries inside the United States." The FBI investigates crimes; the Secret Service and the Bureau of Diplomatic Security protect foreign dignitaries. A key scene takes place in what characters call the "Rosslyn Metro station." That's a station I have passed through many times, and the station depicted does not remotely resemble it -- probably the scene was shot in the Vancouver subway. To reach the station, the hero dashes across the street from Georgetown University. The real Rosslyn station is on the opposite side of the Potomac River from the college.
OK, it's a TV show. I am willing to suspend disbelief and accept that the super-agent hero speaks fluent Russian, Japanese and Chinese; that he can knock strong men unconscious with a single punch; that he can run through close-range machine-gun fire and every bullet will miss. I am willing to accept these things because, however improbable, they are physically possible. I am even willing to accept that the daring hero and his three wisecracking assistants could travel the world risking their lives, and expending seemingly unlimited sums on private jets and luxury hotels, without any known source of income. Maybe they got a foundation grant.
But I am not willing to accept the depiction of events that are not physically possible. In one episode, the hero is at the bottom of a swimming pool and kills two bad guys by firing his pistol up through the water. Guns don't really work underwater, because water pressure in the barrel slows the bullet so much that it fizzles. Plus firing a gun underwater might burst your eardrums. Those movie scenes where heroes blast away at close range in an enclosed area such as a room, then pause to engage in witty conversation? Their ears would ring so much they couldn't hear. This effect would be worse underwater. In another episode, the super-agent and a guy he's trying to rescue are surrounded at a remote airfield of a generic Latin American country. There's a DC-3-class prop plane above the field with some good guys aboard, but a generic paramilitary unit near the field means the old plane dare not land. The super-agent finds some netting; finds some old rope, and suspends it from a tower; good guys aboard the plane lower a cable; the aircraft flies over the field, snags the rope, lifts the netting containing two men into the air and soars away, accompanied by macho banter.
Except for the banter, this could not, on a physical basis, happen. The two men weigh a combined 400 pounds or so and the minimum speed of an old prop transport would be 80 or 90 mph. This means the netting and ropes would need to be some advanced material -- they are depicted as stuff the agent finds lying around -- or they would shred when accelerated from rest to 90 mph in a single second. Such acceleration might break the bones of the men in the net, too. Once the net has been snagged by the plane, one guy aboard hoists the net up using only his muscles -- he doesn't even have a winch. Perhaps a laws-of-motion adept TMQ reader could figure out how much force would be needed to lift a 400-pound object at the end of a 200-foot rope dangling beneath an airplane moving at 90 mph, while air resistance was pushing the netting containing the men backward. My guess is a team of bodybuilders couldn't haul up the object.
In other pure nonsense, in a recent episode of "24," a terrorist barricaded himself in a hyperbaric chamber in a hospital. Though the chamber was described as having "walls of several inches of steel," inside the terrorist's cell phone worked perfectly. In a recent episode of "V," an infiltrator sneaks aboard the super-advanced faster-than-light alien starcruiser floating above Manhattan. Within its anti-gravity fields and defensive shields, his cell phone works perfectly.
As for misidentifying the FBI, on a recent episode of "Fringe," a mysterious scientist is said to have done "classified work for NASA." NASA is a civilian agency; the Air Force and the National Reconnaissance Office manage classified space projects. Hollywood scriptwriters, it's not hard to check what jurisdiction federal agencies like the FBI and NASA have, a quick visit to Wikipedia should suffice. The mere existence of the National Reconnaissance Office, which operates spy satellites, was denied until 1996. Today the NRO, which insists on calling what it launches "overhead intelligence systems", even has a kid's website complete with Ollie, a smiling cartoon spy satellite.
TMQ in the News: Here is Diane Sawyer of ABC News interviewing me last week about my new book "Sonic Boom," which is actually selling -- don't act so surprised! Now would be a nice time if you haven't bought a copy.
Will CBS.com Cover the Demise of CBS? For three years, CBS has allowed viewers to watch, on their computers, any March Madness game not being shown on the local affiliate. This year the network dropped the requirement that games aired locally be watched on television, allowing web users to watch any game at any time, switching at will.
This was terrific for viewers -- but eerie, because it meant what the network was offering via computer was superior, as a product, to what the network was offering on television. Using a laptop during March Madness, you could swing around from game to game, rather than wait for the network to offer a look-in; be sure to catch the conclusion of every close game; and pretty much avoid commercials. If you possessed one of the new gizmos that shoots what's on your computer onto a television, you could enjoy the superior viewer-chooses-what-to-watch product on a full-sized screen. But CBS was offering viewers the chance to use their computers to circumvent CBS. This can't end well.
Yet Everyone Can Tell a Big Mac From a Whopper: Athletes and celebs have fads for various wines, vodkas and whiskies. A few years ago, the fad drink was Roederer Cristal champagne, for which NFL and NBA players would pay $500 to $1,000 per bottle at clubs, though it's likely few could distinguish Cristal from $15 Korbel in a taste test. Currently the fad drink is Caymus Special Selection cabernet, particularly in the magnum, a bottle that's become hard to find despite its price tag, which varies from $200 to $800 retail according to the vintage, and sells for $500 to $2,000 at a nightclub or high-end steakhouse. I just Googled "buy Caymus Special Selection cabernet magnum" -- most online sellers are sold out. This is what Sean Payton ordered at an Indianapolis restaurant while attending the combine. Could he distinguish it in a blind taste test from a $50 Heitz, or even from a $10 Snap Dragon?
Maybe Goldman Sachs Will Package Hummer and Pontiac Into a CDO, Then Use It to Defraud Investors: Auto reviewers continue to praise the Chevy Malibu, Buick Lacrosse and GMC Terrain, high-quality, good-mileage General Motors products that are selling well, holding out hope that the taxpayer's considerable investment in GM will prove worthwhile. Oldsmobile, Pontiac, Saturn and Hummer no longer exist, the latter having folded when Sichuan Tengzhong, a Chinese firm, withdrew its offer for the brand. Hummer should have failed -- these vehicles were a bad idea from the beginning, being huge, wasteful, dangerous and socially offensive. Hummer would have failed regardless of gasoline prices, the product line being an overweight gimmick. Once the people willing to spend $50,000 for a wasteful vehicle that visually screams "f--- you" to the world had made their purchases, the market was saturated and there would be no further customers.
Creating Hummer, then structuring it as a separate marquee with all-new dealerships, rather than as something to be ordered from an existing General Motors showroom, has to number among the worst blunders in American corporate history. The separate Hummer division idea wasted $10 billion to $20 billion in GM capital, a cost now passed along to the taxpayer. Yet no one at General Motors was held accountable for this blunder. Rick Wagoner, who left General Motors last year as CEO, was the one who backed the Hummer plan, and he left with an $11 million exit bonus, provided by the federal government -- and paid for by deficit spending (that is, billed to young people). TMQ doesn't understand why there was no public outrage that Wagoner, who performed extremely poorly as GM boss, left holding an $11 million public gift, while countless average Americans are in dire financial straits.
Speaking of excesses at General Motors -- the public owns 80 percent of the company, making General Motors executive handouts a public matter -- another former CEO, Fritz Henderson, has been hired as a "consultant" at $700,0000 a year. So that he can give more of the same bad advice that drove General Motors to insolvency? That $700,000 a year is being forcibly seized from taxpayers whose median household income is about $50,000 a year. And the $700,000 a year is not for round-the-clock effort but for three days of work a month. As Viknesh Vijayenthiran notes, Henderson's deal works out to $3,000 a hour, funded by taxpayers fortunate to earn $20 an hour. Why is there no outrage?
More Proof of the Decline of Western Civilization: The NFL estimated that "more than 600" league personnel plus 400 members of the media came to Indianapolis for the combine, whose every bench press and cone drill was broadcast live by NFL Network. There were 329 prospective players present -- meaning three journalists, coaches and scouts for each college kid.
At the combine, a Bucs rep reportedly asked Myron Rolle about "deserting" Florida State by attending Oxford for a year. No NFL official would ever accuse a junior who was leaving school early to jump to the NFL of "deserting" his college. But Rolle left football for a year to do nothing but study at a college -- this sort of thing must not be tolerated!
Overtime Discussion Goes Into Overtime: Last year TMQ proposed that the solution to NFL overtime woes was to forbid field goal attempts and punts in overtime, preventing the dreaded first-possession field goal victory while forcing teams to go for it on fourth down.
I then asked readers their suggestions. "Four-or-more" was a strong idea -- triumph in overtime requires a lead of at least four points. Thus a field goal would help but not insure victory, while a touchdown wins the game. The conclusion of my 2009 overtime column: "Here is the horse that TMQ backs, because it is simplest. Geoff Roark of Tyler, Texas, proposes, 'In overtime, just eliminate the field goal. The main defect of the current NFL overtime is the ease of winning the coin toss, getting a short field after the kickoff, advancing a relatively short distance then gaining victory with a field goal. If the overtime were still sudden death but a touchdown or safety was required to win, then one way or the other the winners must reach the end zone, while the odds of the losing team never having an overtime possession go way down.' Roark's proposal still would have resulted in San Diego defeating Indianapolis in the 2009 playoffs without the Colts ever touching the ball, since the Bolts got a touchdown on their first possession. But there's never going to be an ideal overtime solution. What's especially intriguing about the Roark idea is that spectators might find they prefer football without field goals -- since the team in scoring position always would go for it."
Reader Rashaan Alexander of Baldwin, N.Y., notes this concern: "The new overtime format will lead to longer overtime periods, which means players who participate in future overtime games will have extra opportunities to pad their stats. This particularly bothers me because as a huge Dan Marino fan, I feel his single-season record of 5,084 passing yards would have been broken in 2008 under the new format. That was the year Drew Brees came within 15 yards of Marino's mark. The Saints played a five-quarter game against the Bears that season; Chicago got the overtime kickoff and won without New Orleans ever having a possession. Had the new format been in effect, it's likely Brees would have thrown for another 16 yards and taken the record. Will there be asterisks on stats that are padded by the new format?"
The Hapsburg and Jacobite Pretenders Can Only Envy the Governor of Florida: TMQ pounds the table regarding public officials who, at taxpayer expense, surround themselves with bodyguards -- not in response to any threat, but to make themselves seem more important. Reader David Backus of New York points out this Gail Collins column that, in passing, notes Florida Gov. Charlie Crist recently traveled to Spain with nine taxpayer-supplied bodyguards.
Bad enough that nine bodyguards -- eight too many -- are there to make Crist appear to be some kind of visiting head of state: shooing mere citizens out of his way, taking him straight to the heads of lines, and so on. Bad enough that Florida is running a deficit and asking Washington for emergency handouts, claiming to have cut the state budget to the bone, when the Florida state budget is pretty obviously a swamp of wasteful spending as regards the executive, at least. Atop all that: What is a governor doing in Spain at public expense? The Constitution specifically forbids states from involvement in foreign policy. When governors Democratic and Republican alike conduct "fact-finding" or "trade-promotion" visits overseas, in almost all cases they are enjoying extremely wasteful vacations at taxpayer expense.
Next Week: Scandal erupts as NFL general managers steal passwords to alter their draft grades.
In addition to writing Tuesday Morning Quarterback for Page 2, Gregg Easterbrook is the author of the new book "Sonic Boom," and six other books. He is also a contributing editor for The New Republic, The Atlantic Monthly and The Washington Monthly. His Web site can be found here.