Commentary
Is the NFL draft science or lottery?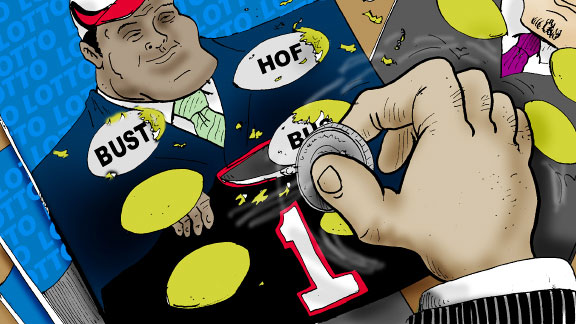 Kurt Snibbe/ESPN.com
Forty-yard dash numbers analyzed to the hundredths of seconds … elaborate, heated debates about what round a player "should" be chosen in … hours spent viewing film of men in underwear racing around cones. Mysterious lingo: Corey Chavous of NFL Network praised one player during draft weekend for "hip explosion," Todd McShay of ESPN said another prospect was "tight in the upper chest." Tim Tebow drafted before Jimmy Clausen -- that can't be right, contact the National Academy of Sciences!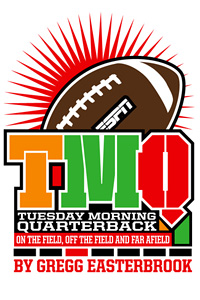 Fascination with the NFL draft is plenty nutty, but the zaniest aspect of this event is the pretense -- shared by NFL scouts, draftniks and spectators alike -- that drafting is a science. Stare at enough film, click enough stopwatches and you'll be able to determine who "should" be drafted in what round.
NFL scouts and media draftniks have a self-interest stake in maintaining this illusion, because it makes them seem the possessors of incredible insider information. But in truth, NFL draft choices are like lottery tickets. They may succeed. They may bust. The buyer has no clue what's going to happen, just like the buyer of a lottery ticket.
Highly drafted flops are legion, as are unheralded, undrafted players who succeed. Drafts can't be judged for three years -- all the draft grades being issued at the moment are completely meaningless. So check the initial round of the 2007 draft. The first player chosen, JaMarcus Russell, was lionized by insider types, both in the NFL and the media. Mike Mayock of NFL Network, whom the league is promoting as the most skilled draftnik, raved unreservedly about Russell, saying "his ceiling is as high as any quarterback I have seen coming out of college since John Elway." Maybe Mayock was referring to the ceiling of Russell's house, because Russell is a mega-bust.
Other players from the 2007 first round -- Ted Ginn, Marshawn Lynch, Adam Carriker, Justin Harrell, Jarvis Moss -- have been busts; all were praised by NFL insiders who supposedly had access to scientific yardsticks. Darrelle Revis, chosen after Ginn, Lynch and Carriker, is now among the league's best players. Ben Grubbs and Jon Beason, both chosen late in that round, are terrific. When the Panthers chose Beason, and the Dolphins chose Ginn, neither were engaging in super-sophisticated scientific thinking. Both were buying lottery tickets.
TMQ CHEAT SHEET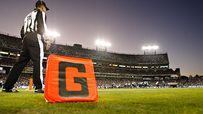 Gregg Easterbrook on …
If NFL choices are essentially lottery tickets, then the more held, the better your odds. In recent drafts, Denver, New England and Philadelphia have pursued multiple trade-downs to add picks -- that is, buy more tickets. This year, the Patriots had three second-round choices; already they are holding two first- and two second-rounders for next year. This year, Denver had two first-round choices, and it already holds an extra second for next year. Saturday, the Broncos traded a fifth-round selection for two seventh-round choices -- two lottery tickets are better than one, especially if you are honest and admit to yourself you have no way of knowing who "should" be in the fifth round in the first place. Philadelphia traded down so many times it ended up with 13 selections, almost twice the league average, including four picks in the fourth round. Would you rather have four fourth-round choices or one first-round pick? Four lottery tickets are better than one.
The idea that drafting is "scientific" is best seen in this year's frenzied debates regarding which quarterback belonged where. On "SportsCenter" shortly before the first round began, Mel Kiper, insisting Clausen belonged in the high first round, grew so agitated that I worried his hair gel would ignite. Clausen went in the middle of the second round. Is that right or wrong? No one knows. Mayock said Tebow belonged in the fourth round; Peter King of Sports Illustrated said that a weirdly hyper-specific "17 NFL general managers" had assured him Tebow would not be drafted until the second round, McShay called Tebow "the most overrated player of the draft." Tebow went in the late first round (exactly where TMQ, possessing no insider information, predicted Tebow would go). Right or wrong? Check back in three years. Kiper said Dan LeFevour will be an NFL star; McShay said LeFevour "will never see the field." Right or wrong? No one knows. NFL scouts and draftniks want to maintain the illusion they can tell, scientifically, who will be good. All they really can do is give advice about lottery ticket purchasing strategy.
Who did best at draft predictions? It is tempting to name Jennifer Lopez, a minority owner of the Miami Dolphins, who just before the draft said her team needed a nose tackle and would select Dan Williams. Williams, she said, "can beat the double team and does a nice job finishing the play" -- obviously Jennifer has spent time in the film room breaking down tape. Miami ended up selecting nose tackle Jared Odrick, two spots after Williams was chosen. That's not bad draft forecasting.
The prodigious feat of the draft was turned in not by any pros but by Lyndon Plothow, a senior at Brigham Young University. For his senior thesis, Plothow did a convincing analysis demonstrating that non-BCS-conference wide receivers are more productive in the NFL (more catches, longer careers) than receivers from BCS conferences. Miles Austin, Brandon Marshall and Marques Colston are among current non-BCS receivers outplaying the big boys from the monster schools. Typical NFL teams have a dozen full-time, credentialed experts in the scouting department. Yet they still haven't noticed what Plothow noticed: the draft value of non-BCS receivers.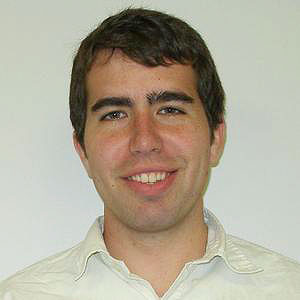 Lyndon Plothow Lyndon Plothow of BYU has this year's best feat of draft prediction.
Plothow went further by making a testable prediction, the gold standard of science. Using his own formula of perceived draft value, he predicted BYU star receiver Dennis Pitta would be the 113th player selected in the draft. Pitta was the 114th player chosen. Beginner's luck? Maybe. But Plothow -- who is, in draftnik terms, an undrafted free agent -- came through with a better call than any of the experts.
In cultural news, on Wednesday I will be the guest on "The Colbert Report." Don't act so surprised! The show airs at 11:30 p.m. ET on Comedy Central.
And in another sign of the decline of Western civilization, Radio City Music Hall was packed to the gills with spectators -- on Friday night, for the second round of the draft. Now, a draft review:
Arizona: A mere 15 months ago, this team was leading with two minutes remaining in the Super Bowl. It's now totally off the radar: Cleveland got twice as much attention on draft day as Arizona. Keep your eye on wide receiver Andre Roberts from Football Championship Series (the artist formerly known as Division I-AA) Citadel -- he's non-BCS, and also the player Arizona chose with the choice obtained in the Anquan Boldin trade.
Atlanta: Linebacker, defensive tackle, guard, guard -- the top of the Falcons' draft was tough guys, not glory-boy luxury picks. Because Atlanta's first two draft selections of 2009 missed their rookie seasons with injuries, the Falcons will enjoy a major talent infusion at training camp. In 2009, Atlanta basically had a bad year, yet won nine games -- 2010 could be a year for a serious playoff off.
[+] Enlarge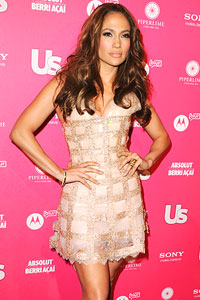 Steve Granitz/Getty ImagesJennifer Lopez, after completing her draft board.
Baltimore: The Ravens landed Boldin for, in effect, third- and sixth-round choices. (Swapping a fifth up to a fourth, as Arizona did in the deal, generally costs a sixth.) That's not a huge price for a guy who is talked about as a star, and certainly talks about himself as a star. Baltimore recovered the third-round pick by trading out of the first round for a high second-rounder, which the Nevermores used on Sergio Kindle, a perfect fit for their system and someone whom they might have drafted in the first round had they stayed put. In effect, Baltimore got Anquan Boldin for a sixth-round draft choice. Not too shabby for a team that perennially drafts well.
At choice No. 114, the Ravens landed Dennis Pitta. Baltimore general manager Ozzie Newsome and BYU senior Lyndon Plothow clearly think alike.
Buffalo: In April 2009, the Bills entered the draft with an emergency situation at left tackle, and chose no left tackle, but did use their first selection on a nickel linebacker who, even if all went well, would play only on passing downs. The Bills' 2009 offense proceeded to be awful as Buffalo started five different players at left tackle. This April, the Bills entered the draft with an emergency situation at left tackle, and did not choose an offensive lineman until the fifth round.
For a decade, Buffalo has failed to reach the playoffs -- the worst such streak in the AFC -- and in that period drafted horribly, making repeated luxury picks (three first-round running backs in a single decade, for instance) rather than fixing its offensive line. Offensive tackles on the Buffalo roster: Demetrius Bell, eight career starts, coming off an ACL tear; Jamon Meredith, four career starts; Edward Wang, fifth-round draft selection; Kirk Chambers, waived four times by the Bills over the last three seasons; Cornell Green, who will be 34 years old on opening day; Nick Hennessey, no career starts, though he surely got a great education at Phillips Andover Academy and then Colgate; Andre Ramsey and Jason Watkins, no career starts. Presumably, the quarterback-needy Bills passed on multiple chances to select Jimmy Clausen or Colt McCoy because they know the blocking is so bad, anyone under center for Buffalo next season will just get killed anyway. It's the year 2010. How can a professional football team totally ignore the need to be solid at offensive tackle?
[+] Enlarge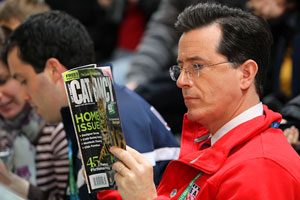 Jamie Squire/Getty ImagesStephen Colbert, a man with excellent taste in guests.
Carolina: The Cats haven't had a first-round choice in two years, having traded their first-round picks in 2009 and 2010 for second-round choices in the prior draft. In April 2009, Carolina on draft day traded its 2010 first-rounder to San Francisco for a second-rounder used on defensive end Everette Brown, who likely would have been a second-rounder had he been in this year's draft. If Carolina kept the pick, it would have held the 17th selection last week, with several potential impact players available. The Panthers have already traded away their No. 2 in 2011, too. Trading future choices for lower picks today is the sort of thing you do if you don't expect to be head coach much longer, as John Fox apparently does not. Carolina did get Clausen in the second round, and he might have been the team's first-round choice if there had been a first-round choice. With hyper-precision, ESPN lists Clausen's height as "6-2⅝."
Career-Ending Injury Does Not Make a Player a Bust: At this time of year, there are always retrospectives on famous draft busts. Invariably, Steve Emtman and Ki-Jana Carter, both No. 1 overall selections with brief, undistinguished careers, are included. But Emtman and Carter suffered serious injuries in their rookie years, then more injuries in comeback attempts. They weren't busts -- they just had bad luck in a violent game. The high-drafted player who has bad luck with injuries should be viewed with sympathy, not as a bust. Any NFL player who has a long, lucrative career in part because of good luck avoiding injuries should reflect, "There but by the grace of God go I."
Small Schools Rock: Players were chosen from these colleges below the testosterone-pumped level of the Football Bowl Subdivision (the artist formerly known as Division I-A): Appalachian State, Brown, Fordham, Hillsdale, Indiana of Pennsylvania, James Madison (two!), Massachusetts, Montana (two!), Morehouse, Murray State, South Dakota State, Weber State and William & Mary (two!).
[+] Enlarge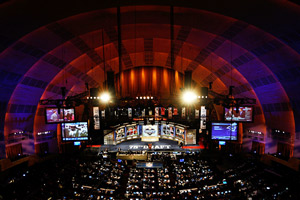 Jeff Zelevansky/Getty ImagesThousands of spectators jammed Radio City Music Hall to witness ... Round 2 of the draft.
Chicago: The Bears, who didn't have a first- or second-round choice for the second consecutive year, plan to hold a news conference next time they make a draft selection.
Cincinnati: In 2009, the Bengals played good defense and power-ran well, but a plodding passing game left them helpless once they fell behind the Jets in the playoffs. Coach Marvin Lewis vowed to add a playmaker to the passing game -- and then passed on Dez Bryant in the draft. True, a receiver combination of Chad Ochocinco and Bryant would be a motormouth nightmare, but it also would have posed significant problems for defenses. Instead, Lewis tabbed tight end Jermaine Gresham, who should be good, but is unlikely to alter Cincinnati's plodding image.
Cleveland: The Browns' plan is to go into 2010 with Jake Delhomme as the starting quarterback and Colt McCoy learning at his feet. Delhomme has 23 interceptions in his last dozen starts -- Colt, don't learn from him! Given how poorly Delhomme has played in the last two seasons, Cleveland may open 0-3, then the job will be handed to McCoy. Take heart, long-suffering fans of the Browns 2.0. "Colt McCoy" is the best quarterback name of all time, even better than Joe Montana. This is a good omen.
Hope You Caught the Crowd Chant of "She Said No! She Said No!" When Pittsburgh Went on the Clock: The day before Roger Goodell announced a six-game suspension for Ben Roethlisberger, ESPN's Chris Mortensen said the commissioner was "keeping all options on the table." Including the military option? This really is serious.
Agents Beg the New York Times Front Page, Please Don't Feature My Client! Three years ago, on draft week the New York Times ran a Page 1 story elaborately praising Walter Thomas as an "unstoppable" player. No team drafted Thomas; New Orleans invited him to a rookie camp, and waived him after one day; he never played an NFL down. Last week in the run-up to the draft, the Times ran a Page 1 story praising Carlton Mitchell as potential high draft pick. Mitchell was selected in the sixth round.
[+] Enlarge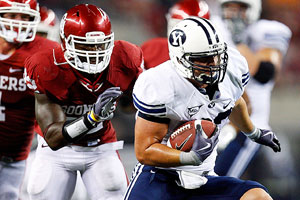 Ronald Martinez/Getty ImagesDennis Pitta -- Ozzie Newsome of the Ravens and Lyndon Plothow of BYU had him at the same place on their boards.
Disclaimer of the Week: Reader Shilo Ayalon of Herzliya, Israel, reports the iTunes User Agreement forbids the use of Apple software in "the development, design, manufacture or production of missiles, or nuclear, chemical or biological weapons." Is Apple saying the Captain and Tennille could be weaponized?
Dallas: What exactly was the "character issue" regarding Dez Bryant? All weekend, draftniks on television spoke of his "character issue." Bryant got in trouble by hanging around with Deion Sanders. Hanging around with Sanders is a character defect? It may, of course, be a poor use of time -- especially if you hope to get a word in edgewise. But Bryant harmed no one, took nothing. His NCAA offense was being present when Sanders discussed a marketing deal, then not admitting he'd been with Sanders when the NCAA turned this seemingly trivial situation into a witch hunt. So failing to earn a diploma brings no penalty from the NCAA -- and cutting class rarely does -- but sitting in a room while someone else talks about marketing is a scandal?
Oklahoma State, where Bryant attended college, has four full-time NCAA compliance officers. Four people who do nothing all day long but try to understand NCAA rules. Nobody penalized them in any way for screwing up the Bryant situation. But when Bryant didn't understand Page 582 of extremely complex rules -- he shouldn't have lied about not being with Sanders, but he got scared about something that was not itself in any way wrong -- he lost nearly an entire year of eligibility and now is treated as a suspicious guy. Media treatment of Bryant is a classic example of the press' assumption that because a person is accused, therefore he must be guilty.
In 17 of his 22 years of owning the Boys, Jerry Jones has made at least one first-round draft choice trade. For him, the line between real football and fantasy football must be getting blurred. With the Eagles going mad for draft trades too, maybe the NFC East can be renamed the NFC Rotisserie Division. On Saturday, Jones won TMQ's love by using a fourth-round choice on Akwasi Owusu-Ansah from Indiana of Pennsylvania, my favorite obscure college. This was not, as you might assume, the highest NFL choice ever from IUP. Jim Haslett, now defensive coordinator of the Redskins, played linebacker at Indiana of Pennsylvania, and was selected in the second round in 1979.
[+] Enlarge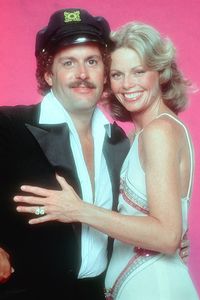 Michael Ochs Archives/Getty Images Are they a weapon? They're not music.
Denver: Denver made four first-round trades, involving 15 draft choices at various points, many of them only briefly held by Dove Valley before being shipped elsewhere. The net: In exchange for the 11th and 43rd choices (high picks in the first and second rounds), the Broncos received the 22nd, 25th and 87th choices (two low picks in the first round, and a third-round choice). The choices Denver surrendered were used on Anthony Davis and Sergio Kindle; the choices the Broncos acquired were used on Demaryius Thomas, Tim Tebow and Eric Decker. In a couple of years, we'll know if those were wise swaps.
Denver gave a fourth-round choice to jump from 24 to 22, then selected Thomas, a wide receiver. This trade makes sense only if the Broncos believed the team at 23 was planning to take Thomas. But that team was Green Bay -- which came into the draft strong at wide receiver and desperate for a left tackle. Left tackle Brian Bulaga was available; the Packers were likely to select him, as, indeed, they did. So what was the point of the Denver trade? Is Josh "When Does the Frat Party Start?" McDaniels trading for the sake of trading? Trade-mania surely has taken over this franchise since McDaniels arrived.
Here is my attempt to sum all McDaniels trades: In exchange for Jay Cutler, Brandon Marshall, Tony Scheffler, Peyton Hillis, a third-round pick, two fourth-round selections, a sixth-round choice, a seventh-round choice and a conditional late 2011 pick, the Broncos have acquired Kyle Orton, Thomas, Tebow, Brady Quinn, Robert Ayers, Alphonso Smith, Richard Quinn, Seth Olsen, Perrish Cox, Decker and Miami's second-round choice in 2011. Orton was the sole member of that group who started for Denver in 2009. Ayers, a defensive end chosen as a pass-rusher, played on passing downs and did not record a sack. Richard Quinn, a tight end, had no receptions. Smith, a cornerback, mainly played special teams and Olsen, a guard, did not get into a game. Thomas, Tebow, Decker and Cox will be rookies.
[+] Enlarge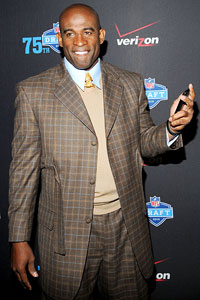 George Napolitano/Getty ImagesSo he talks too much. That makes hanging around with him a "character issue"?
Brady Quinn: his career hasn't exactly gone well, has it? The trade to Denver seemed to give him a fresh start, and a month later he's in line behind Tebow. Because the Broncos have a small investment in Quinn -- not much traded for him, all his bonus money already paid by Cleveland -- he can be waived without it seeming Denver made a mistake. Quinn might be better off waived at this point, so his agent can hunt for a team that will play him. TMQ feels sure Clausen slid in the draft because teams thought, "The last Notre Dame quarterback isn't doing well," which is true, but also totally illogical as something to hold against Clausen. It's the same as reasoning that since the last Eastern Illinois quarterback (Tony Romo) did well, the next Eastern Illinois quarterback will, too.
Detroit: The Lions swapped the 34th selection to Minnesota for the 30th selection, surrendering up (essentially) a fourth-round choice, then took tailback Jahvid Best. He should give the team much-needed quick-strike potential on offense -- last year, the Lions has just five rushes of 20 or more yards. But the clubs at 31, 32 and 33 -- Indianapolis, New Orleans and St. Louis -- are strong at running back, and would have seemed unlikely to select Best. So why trade up?
Probably the new two-day format caused coach Jim Schwartz to make this trade. In the old format, Round 1 went straight into Round 2, with everyone in a sleepy blur, and Best likely would have fallen to Detroit at Pick 34. In the new format, with Round 2 beginning on the second day, there would have been plenty of time overnight for other teams to identify Best as among the best available, figure out that the Lions would want him, and trade up into St. Louis' 33rd selection to beat Detroit to the punch.
"Friday Night Lights Update": The fourth season of "Friday Night Lights," already aired on DirecTV, kicks off May 7 on NBC. SuperCoach Eric Taylor, fired at Dillon High after taking the team to the state championship two of three years -- actually, in Texas, a high school football coach might be fired for only reaching the title game two of three years -- now toils at dilapidated East High in Dillon's inner city. (Previously Dillon was depicted as a one-stoplight farm town, but what the heck, it's television.) East Dillon hasn't had a football program for years, and the mostly black teaching staff and student body are suspicious of the white Taylor. The East Dillon Lions don't win much, but it is no spoiler to let on that the fourth season will build, in the finale episode, to an incredible East Dillon victory via an improbable long score on a game's final play.
This shift to a new school and new sociological situation, coupled to graduation of the perpetual-senior characters from the first three seasons, allows the introduction of a new cast -- though Landry and Julie remain as perpetual seniors, and Tim Riggins, FNL's anchor, already has flunked out of college and come home. The circumstances of the fourth season reinvigorate the series, which recaptures the high theatrical quality of the first season. "Friday Night Lights" isn't just the best sports-themed series in television history: Since its debut in 2006, "Friday Night Lights" has been the best show on television, period.
The first three seasons focused on the powerhouse Dillon Panthers, whose players, coaches and cheerleaders were so wrapped up in relationship talk and longing glances they forgot to play enough games. Dillon reached the Texas 5A title contest twice after playing 11 games, though a high school must appear in 15 games to reach the championship in the crazed Texas system, which admits 128 schools to the top bracket. This season's focus, the Lions, are so undermanned they forfeit their first two contests. And sure enough, obsessed with relationship talk and stolen kisses, the East Dillon Lions also forget to appear in enough games, completing six plus forfeiting twice -- a NESCAC-like eight dates.
Practicing on a rutted sandlot, having only two assistants and a cramped office with no computers is a big change for Taylor, whose previous Panthers circumstances included a spotless turf-field stadium with a JumboTron, a large staff and better equipment than what's found at some college programs. The football excess of the previous high school was not Hollywood exaggeration, rather, a realistic depiction of some prep football in Texas. Here is an artist's rendition of a $60 million, 18,000-seat high school football stadium about to rise in a Dallas suburb.
[+] Enlarge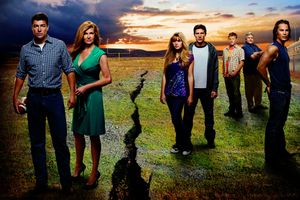 NBC Universal Not just the best sports-themed show in TV annals -- the best drama series on the tube.
Time sense often is skewed in television, but since the events of this year's "Friday Night Lights" are supposed to occur during the actual 2009 Texas high school football season, time confusion is especially head-spinning. After East Dillon's second game, Riggins and Matt Saracen go deer hunting. Last fall, in Texas high school football, the second regular season game was Sept. 4, while Texas deer hunting season opened Nov. 6. Two weeks after deer hunting, Saracen leaves Dillon for art school in Chicago, after seeing Lyla, who is home from Vanderbilt on "mid-semester break." The mid-semester break at Vanderbilt last fall was Oct. 22 and 23. So did Matt leave for Chicago in September, October or November? It's impossible to figure out.
Matt comes back to Dillon for Thanksgiving dinner and to attend the final regular-season game, pitting the heavily favored Panthers against the hapless Lions. That game is depicted as occurring the day after Thanksgiving, which in 2009 fell on Nov. 27. Last autumn, the actual Texas 5A regular-season finales were played on Nov. 6 and 7; by the 27th, the playoffs were halfway through. Yet the radio announcer who functions as the show's narrator -- viewers finally see him! -- describes the day-after-Thanksgiving contest as the season-ender, which the Panthers must win to reach the playoffs. Sure, it's television: I just found the jumbled time sense amusing. And now you get to watch a time-jumbled autumn in May!
Green Bay: The Packers used a second-round choice on a defensive tackle, after spending their first-round selections of 2009 and 2007 on defensive tackles. They had better be strong at defensive tackle!
Houston: Despite finishing fourth last season in total offense, Houston still managed to be dull, a tradition the Texans carry, as usual, into draft day. Seriously, can you name anyone Houston drafted without peeking? Sixth-round selection Trindon Holliday, a return specialist, is the chap who went to Indianapolis in February boasting that he would break Chris Johnson's combine 40-yard dash mark of 4.24. Holliday didn't even have the best time of 2010.
Indianapolis: David Caldwell, William & Mary; Tim Hiller, Western Michigan; Brandon James, Florida; Javarris James, Miami; Brandon King, Purdue; Jeff Linkenbach, Cincinnati; Brett Swenson, Michigan State; Thad Turner, Ohio; Vuna Tuihalamaka, Arizona; Blair White, Michigan State. Who are these guys? Undrafted free agents signed by the Colts after the draft ended Saturday evening. If history is any guide, they will mean as much to Indianapolis' fortunes as the team's draft choices.
Jacksonville: They love them some defensive linemen in Jax -- counting trades, in the last four drafts the Jaguars have invested two first-rounders, a second-rounder, four third-rounders, two fourth-rounders and two fifth-rounders in defensive linemen. With John Henderson waived, Jax's defensive center of Henderson and Marcus Stroud is now just a memory. Everyone's slamming the Jags for using the 10th selection on little-known defensive lineman Tyson Alualu. Thus you'd expect TMQ to be counterintuitive and defend the choice. Sorry -- the choice seems really dumb. Maybe Alualu will be good, but the Jaguars almost certainly could have taken him later, or traded down to add picks. (San Diego was looking to trade into that area of the round, ultimately trading into the 12th position.) Two years ago, Jacksonville used the eighth overall choice on defensive end Derrick Harvey. Supposedly an unstoppable sackmaster, Harvey has 5.5 sacks in two seasons. Jax traded midround picks to get into position to select Harvey, and has little to show for it. Now Jax misses the chance to recoup picks by moving back. Gene Smith, who runs the Jacksonville draft, would be waived if he were a player. And don't get me started on Jacksonville management's puzzling determination to have nothing to do with hometown hero Tebow.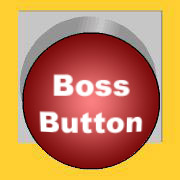 Jersey/A: Two years ago, the Giants had the league's deepest defensive line. Last week, they used their first two picks on defensive linemen. Roster quality changes much more quickly in the NFL than in the NBA or MLB; how long until the Saints are viewed as desperate for playmakers?
The G-Persons' first choice was spent on Jason Pierre-Paul, whose YouTube video of backflips has been a hit. Maybe I've missed something -- is the backflip a football tactic? Pierre-Paul, a defensive end, had 6.5 sacks in seven starts in his one season at South Florida, then declared for the pros. Six and a half sacks, just seven starts -- that makes him a first-round draft choice? The two previous years, Pierre-Paul played at two different community colleges, which in athletic terms is like saying he took two extra years of high school. That makes him a first-round draft choice?
In 2009, Buffalo used the 11th selection of the draft on Aaron Maybin of Penn State, who like Pierre-Paul had been a one-year wonder as a pass-rusher. Maybin proceeded to record zero sacks in 2009, and already is whispered about as a bust. Now Jersey/A has invested a first-round pick in another one-year wonder whose accomplishments are few. Will the NFL become like the NBA, where players are chosen too young based on what they someday might do, while actual achievement is downgraded? Or will YouTube clips become the future of drafting?
Jersey/B: The Jets spent their second-round choice on Vladimir Ducasse -- you don't run into a lot of NFL players named Vladimir. Though, this does seem an ideal name for the Rex Ryan mindset. I find it easy to imagine Ryan meeting Vladimir in some ancient castle to discuss plans for world domination.
The Jets also signed Jason Taylor. All his recent team-switching -- Miami, then Washington, then back to Miami, now Jersey/B -- makes Taylor seem mercenary. Of course the NFL is fundamentally a business; the owners always think first about the business angle. But TMQ fears Taylor's changing teams three times in three seasons will torpedo any chance he had to don that garish yellow jacket in Canton. Hall of Fame electors favor players who spent their entire careers in one place, toughing out the down years, because the Hall of Fame is, in part, about sustaining the romantic belief that NFL players are motivated by sportsmanship and loyalty. Taylor has made it clear he is motivated by his stats and his payday. That's very current, but Tuesday Morning Quarterback thinks it will keep him out of Canton.
Unified Field Theory of Creep: Reader Brent Suereth of Hershey, Pa., notes voting for the Major League Baseball All-Stars began after 14 games -- 8.6 percent of the season -- had been played. Rob Berns of Union, N.J., reports, "When we were out to celebrate my dad's birthday last week at this restaurant, there was a sign advertising, 'Join us for Cinco de Mayo, starting April 19th.'"
Kansas City: Anyone old enough to remember Mike Garrett will be pleased with the Chiefs' selection of 5-foot-8 running back Dexter McCluster, who has both the same stature and the same knack for hiding behind lineman as Garrett. Kolby Smith of Kansas City currently wears Garrett's No. 21 jersey -- get that number onto McCluster, have Matt Cassel wear Len Dawson's No. 16, and this team will remind spectators of its glory days.
Grade Inflation at the Draft On draft day, every prospect is gushed over as great, everyone should have gone higher, every general manager says, "we couldn't believe he was still there." In two years, you'll know why he was still there. And consistently, draft grades are heavy on A's and B's, while few teams receive low grades. Mustn't harm their self-esteem! It's social promotion for general managers. Here are Mel Kiper's grades for the draft. Mel's grades work out to a GPA of 3.1, with 18 of 32 clubs receiving A's or B's -- that is, more than 50 percent graded as above average -- and only one team, Jacksonville, receiving a below-average grade. That's nothing compared to the grade inflation over at NFL.com, where everybody is outstanding, a draft GPA of 3.55.
Miami: The Dolphins traded down from 12th to 28th to recover one of the second-round choices given in the Brandon Marshall trade, then were able to obtain a decent defensive tackle, their leading need, at 28. Factor in the addition of Marshall, and Miami had a solid draft. Hmm … this is a straightforward sports comment; what's it doing in TMQ?
Minnesota: Toby Gerhart will provide the Vikings with a nice change-of-pace back to spell Adrian Peterson. But a high-octane Vikings offense with Peterson, Percy Harvin, Sidney Rice and Jahvid Best on the field at once might have been the hottest thing since the 1998 Minnesota offense of Cris Carter, Robert Smith, Randall Cunningham and the young Randy Moss. Rather than grab Best, Minnesota cooperated with division rival Detroit's move for him.
Jared Allen has released an iPhone app, which superimposes a mullet haircut on any person's photo.
New England: Bill Belichick loves him some tight ends. Since becoming the Patriots' coach, Belichick has invested 11 choices in tight ends, including two last week. And Belichick loves draft-day trades, this year making six, involving a total of 18 choices at various points. Example: Through a sequence of transactions New England swapped the 47th choice, midway through the second round, for a late-second-round choice, a fifth-round pick and Carolina's second selection in 2011. This is skilled trading -- but when is New England actually going to use all its banked choices?
[+] Enlarge
AP Photo/Vadim GhirdaSurveillance photo of the Patriots' draft room.
In 2009, New England banked a lot of choices via trades, going into 2010 holding three second-round picks. Since 2010 was viewed as a strong draft, it seemed Belichick's strategy would be to transfer picks into a strong year. Now the strong year has arrived and rather than fire all his ammo, Belichick traded down several times then concluded the draft having banked two first-round and two second-round choices for 2011. Even the squirrel who hides nuts for the winter eventually digs them up and eats them. When is Belichick going to use all these extra picks? Is he exhibiting some hoarding syndrome that should get him on Oprah?
The Patriots remain a solid team, but last year lacked playmakers. Randy Moss is in decline, Donte' Stallworth is gone, Wes Welker is hurt, Flying Elvii running backs are perennially hobbled, the New England pass rush has dropped from awesome to average. With all those extra choices, Belichick might have packaged a few to move up for an impact player such as C.J. Spiller or Derrick Morgan. The thought of the New England offense plus Spiller is scary -- the thought of the New England offense plus Rob Gronkowski is something defensive coordinators can live with. New England might have been a Super Bowl pick for 2010 with a couple impact players added. Instead, Belichick for the second consecutive draft banked a bounty of picks till next year, though did go wild with four choices in the seventh round.
New Orleans: Can you name the defending champion's backup quarterback? Neither can I. And the Saints twice passed on Colt McCoy, who might have made an ideal Mini-Me to Drew Brees.
Not Even Football Owners and Players Are Dumb Enough to Kill the Goose Who Lays the Golden Eggs -- At Least Let's Hope: This is the first uncapped year in the NFL since 1993, yet free-agent blockbuster deals have been few. The "pot of gold" players and agents were expecting in an uncapped year -- gigantic deals, undisciplined spending -- hasn't happened. One reason is that although the year is uncapped, rules for 2010 include new restrictions on free-agent movement. Players who were rooting for an uncapped season seemed not to have understood that. Another reason is that last year the Redskins gave $41 million guaranteed to the most sought-after free agent, Albert Haynesworth, and not only did the Skins promptly decline, Haynesworth was an incredible jerk, skipping workouts and criticizing coaches and teammates in public. If Haynesworth is what free-agency spending gets you, then build through the draft.
[+] Enlarge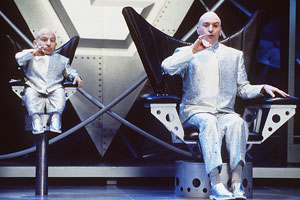 Getty ImagesThis could have been the scene in New Orleans with Drew Brees and Colt McCoy.
The core reason for the absence of wild free agency spending is that there may be no football in 2011. Why spend like mad when you aren't even sure the league will mount games in a year? Tuesday Morning Quarterback thinks there will be a new collective bargaining agreement, hence no strike or lockout. But NFL teams can't be sure of this, and so are not handing out huge bonus checks that would carry over into a season that may not occur. NFL players and agents who rooted for the uncapped year seem not to have thought this through.
In February, the NFLPA offered to keep the salary cap in place for 2010 while a new CBA is discussed. The owners said no. Since sports owners love salary caps, why did NFL owners decline this proposition? Because the owners want to force the renegotiation issue now, when the economy is perceived as weak. (Actually, GDP growth resumed in the fourth quarter of 2009.) If the new NFL-NFLPA deal is hammered out soon, with the economy perceived to be weak, players are likely to accept less than they'd expect if a one-year continuance extends the renegotiation through 2011, when the economy is likely to be roaring and the owners' "woe is me" stance will lack credibility.
Players' reps are claiming there is something sinister to the fact that the networks are on the hook to pay the NFL about $5 billion in 2011 even if there are no games. Supposedly, this means the owners actually desire a strike/lockout, because they'd received $5 billion yet have no player costs. But the $5 billion that would be paid to the NFL in 2011 if there are no games must be repaid to the networks via lower future broadcast fees. So there's no incentive for the NFL to have a dark year. The $5 billion would function as an interest-free loan, keeping the NFL in existence, but teams would forfeit all lost ticket and tie-in income, plus face years of reduced income while repaying the networks' advance.
Beyond that, a canceled season in 2011 would surely make future NFL broadcasting rights deals much less valuable. A reason payments from networks to the league -- and in turn, payments from the league to players -- have skyrocketed since 1993 is that labor peace makes broadcast rights to NFL games more valuable. If networks are assured of games being played, and played at a high level of quality, then NFL broadcast rights are worth a king's ransom. If labor peace in the NFL ends, broadcast rights to games inevitably will be worth less. That will mean lower revenue for owners and less pay for players. This would hurt players a lot more than owners, all of whom already are wealthy.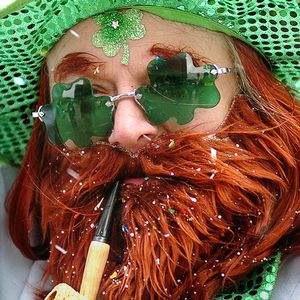 AP Photo/Mark A. GenitoHe's looking for the pot of gold in the uncapped year, too.
In the first regulated year, 1994, the salary cap was $49 million in today's dollars; last year it was $128 million. That's a 160 percent pay increase for players in just 15 years, and more like a 175 percent increase in total monies to players, when expansion is taken into account. NFL contributions to pension instruments for current and retired players also have skyrocketed. Labor peace (networks and fans assured of games) and a salary cap (rendering all teams competitive) have translated into a spectacular increase in money for NFL players and owners alike. Both parties would be fools to kill this golden goose, so a new deal will be worked out and there will be pro football in 2011. Players and owners would be fools to mess this up. They aren't fools, are they? Don't answer that!
Oakland: Jason Campbell spent five years in the maelstrom of coaching turmoil with the Washington Redskins, the last two of those years standing behind one of NFL history's worst offensive lines. His reward: traded to Oakland. Did this guy do something in a former life for which he now must be punished by the cosmic wheel? Last year the Raiders were 2-7 when the awful JaMarcus Russell started, 3-4 when the pedestrian Bruce Gradkowski or Charlie Frye were under center. That suggests that installing Campbell as the quarterback will be a positive for the Long Johns. Watching Campbell for the last two seasons, I've often thought, "Quarterback is not the problem with this team." He's a good quarterback. Could the Raiders actually return to the NFL mainstream next season?
The Raiders have already traded their number-one choice in 2011 and their number-four choice in 2012. That's taking borrowing from the future to an extreme. Perhaps Goldman Sachs can help Oakland securitize its draft debts and sell them to the government of Greece.
[+] Enlarge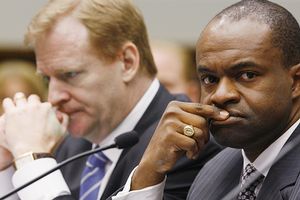 AP Photo/Charles DharapakThe powers-that-be aren't so foolish they would kill the NFL golden goose, are they? Don't answer that!
"Friday Night Lights" Playcalling In one upcoming game scene of the new season, SuperCoach Taylor calls the same play -- a veer-option left -- on four consecutive snaps. Twice in coming episodes, Taylor will draw up on the sideline trick plays the Lions never even practiced, both times leading to touchdowns. In one, he tells the left tackle, who wears No. 79, to go deep for a pass, and the result is a touchdown. "Is that legal?" the East Dillon quarterback asks. The answer is no. In the NFL, an offensive lineman who wears an ineligible number can catch a pass if he lines up as a receiver after reporting eligible to the referee. This is not permitted in high school or college. The NFHS rulebook used in most states, and the NCAA rulebook used in Texas, say offensive players wearing Nos. 50 through 79 are ineligible under all circumstances.
Though an offensive player with an ineligible number cannot go downfield for a forward pass under NFHS or NCAA rules, he can take a lateral in high school, college or the pros. In 2006, Alabama left tackle Andre Smith scored a touchdown against Oklahoma State on a designed play: Quarterback John Parker Wilson rolled right, Smith stepped backward so that he was behind Wilson, then Wilson lateraled across the field and Smith walked into the end zone untouched.
An offensive lineman with an ineligible number may also take a handoff. In high school, this can happen only -- and here is one of TMQ's favorite obscure rules -- if the offensive lineman is facing toward his own goal line (that is, turns his back to the line of scrimmage) when receiving the handoff. An offensive lineman can be facing forward when receiving a lateral, but must face backward when receiving a handoff. The reasoning is that this prevents a trick play on which the quarterback gives a wrap-around handoff to an offensive line facing forward: Since I like trick plays, I see no reason why the wrap-around handoff to an offensive lineman shouldn't be legal. But it is; an offensive lineman must turn his back to receive a handoff -- a play TMQ has never seen.
And here is a really obscure rule yours truly has never seen invoked: An offensive lineman can throw a forward pass! Nos. 50-79 make an offensive participant ineligible to catch passes, but they don't prevent him from launching them. If a player with an ineligible number lines up in the backfield, or receives the ball as a lateral, he's free to toss it down the field, assuming other rules of the forward pass are observed. Coaching middle school football, I had my guys practice a trick play on which the left tackle ended up with the ball, and threw deep. We never used it in a game. But we should have -- it's legal.
[+] Enlarge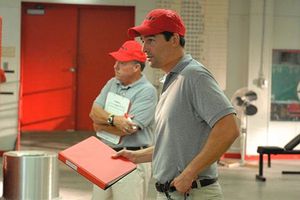 NBC Universal It's hard to draw up a game plan when you can't figure out if it's September, October or November.
Philadelphia: The Eagles traded up, down and sideways to attain 13 selections. Six of the 13 choices were front-seven players, an expression of Andy Reid's displeasure with defensive decline in 2009. The new backup quarterback is fourth-round choice Michael Kafka of Northwestern. It is only a matter of time until he enters a game and sportswriters go to town with leads about his Kafkaesque experience.
TMQ calls this franchise the Nesharim, which means Eagles in Hebrew. Why Hebrew? That language reads right to left, and Philadelphia's is the sole NFL logo that faces right to left. Many readers including Rachel Joplin of Blue Bell, Pa., noted Philadelphia drafted defensive end Daniel Te'o-Nesheim -- Nesheim is the singular form: Eagle. So he's Eagle of the Eagles.
Abolish the NFL Advisory Board: Juniors thinking about declaring for the draft can apply to this board, composed of NFL general managers and scouts, for advice on where they might be picked. The board doesn't disclose its advice, but seems invariably to overestimate players' chances, thus encouraging college juniors to skip their senior seasons. Two years ago, the board told Davone Bess he'd be no worse than a second-round choice if he jumped, and told linebacker Erin Henderson he'd be no worse than a third; both jumped, and neither were drafted at all. Bess is playing in Miami, Henderson is on special teams in Minnesota. Both would have been better off (personally as well as professionally) finishing college. This year, the advisory board told Michigan cornerback Donovan Warren he'd be a first-round choice, and told Mississippi quarterback Jevan Snead he'd be no lower than a third. Both jumped, and neither were drafted. Maybe they'll stick with an NFL team; both should have finished college.
Something with the grandiose name NFL Draft Advisory Committee, composed of high league officials, may sound to impressionable college kids like a fast lane to fame and fortune. But the insiders on the advisory board have no idea where players will be drafted -- nobody has the slightest clue, until draft day! Abolish this board and end the inducement to leave college.
Pittsburgh: He's a big, bruising guy who plays quarterback but looks and acts like a linebacker, throwing his body around on the field with abandon. I am referring to Tim Tebow: The Steelers could have drafted him with the 19th choice and been in a position to replace Ben Roethlisberger with a guy incredibly similar, physically and in style of play, to Roethlisberger. Instead, the Rooney brain trust gambled that Roethlisberger won't self-destruct.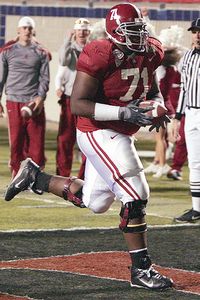 Chris Graythen/Getty ImagesTackle Andre Smith scores a touchdown for Alabama on a designed lateral play. Just don't throw him a pass -- that's not legal in college or high school.
It is hard to know what to make of the allegations. The pattern of behavior attributed to Roethlisberger is quite disturbing, but rumors often are not true, and he has not been charged with any crime. The Framers -- who created the grand-jury system for a reason -- would have been irate at Georgia prosecutor Fred Bright, who did not have enough evidence to charge Roethlisberger with anything, yet made numerous statements intended to damage Roethlisberger's reputation. Prosecutors are supposed to charge people with crimes or leave them alone, not pass along allegations whose truth or falsity have never been assessed by a jury. TMQ supposes Roethlisberger's suspension was harsh because Roger Goodell has received more than one allegation of NFL stars mistreating women, and wants to put the league's players on notice.
Greece's National Prestige Has Already Been Sold: News item: "Greece should consider selling some of its islands as one option to reduce debt, two members of the German parliament said." -- Reuters. Other items Greece could sell:
• The Parthenon -- Fannie Mae could finance subprime loans to redevelop it as townhomes.
• Stoicism, Epicureanism, skepticism and Neoplatonism -- once schools of philosophy, they could be repackaged as clothing brands.
• Mount Olympus -- fundamentalists of many religions would bid.
• Spanakopita -- with bacon, double cheese, mayonnaise and salt added, could become a fast food.
Tebow Does Have Intangibles, It's Just Hard to Say What They Are: Kiper repeatedly said Tebow would not be a first-round choice, declaring in January on Mike and Mike in the Morning, "Nothing that can happen between now and the draft could possibly change my opinion" that Tebow belongs in the second round. Then the day before the draft, Kiper wrote that Tebow would be a first-round pick because he had "already shown the ability to adapt" to the pro game -- so something could happen between January and the draft! -- and that the Florida quarterback "has the intangibles of a No. 1 overall pick." When Tebow was chosen with the 25th selection, Kiper praised the choice.
San Diego: Perhaps the Chargers should have drafted Henry Heimlich, to coach them on how to avoid their annual postseason choke. San Diego got the draft-choice ammo to trade up high in the first round, and select a power-back replacement for LaDainian Tomlinson, in its deal of Charlie Whitehurst. Trading a guy who hasn't played in four years for an important pick -- that's not bad.
Frequent Flyer Choice of the Draft -- Pick 24: Dallas from Philadelphia through Denver and New England.
San Francisco: The Forty-Niners had two first-round choices and used both on offensive linemen; this causes TMQ to predict that Alex Smith will suddenly seem a lot more talented.
Seattle: Pete Carroll skedaddled from USC just as it was in danger of NCAA sanctions, and arrived at Seattle, which was already holding two first-round choices in the 2010 draft. By the end of draft weekend, ESPN and NFL Network analysts both were talking about Carroll having a great draft with the Blue Men Group. It's easy to look good on draft day if you inherit two first-round picks! Carroll knew how to time his exit from USC, and went someplace where he was likely to be lauded. With the extra choices and Seattle's poor record last year, if Carroll causes improvement, he will proclaim himself a genius.
In the LenDale White trade, all Tennessee received was two minor swap-ups within lower rounds. From the Titans' standpoint, they saved face by trading White, even if for little, rather than waiving him. From the Seahawks' standpoint, since Carroll acquired White for almost nothing, the player easily can be released if he doesn't hustle in Seattle. Presumably this will provide some motivation to a perennial underachiever.
St. Louis: The Rams used a first-round draft choice on a quarterback for the first time since 1964. Apparently it's taken the franchise 46 years to get over Terry Baker, a first-round-drafted quarterback who had 21 pass attempts before leaving the Rams for Canada.
Shortly before the draft, Les Mouflons traded Adam Carriker, the 13th selection of the 2007 draft, to the Redskins for very little, officially making the St. Louis 2007 draft a fiasco. It was just three years ago and no one from that draft remains on the St. Louis roster. This whiff draft is one reason St. Louis is on a league-worst 6-42 run. In payment for Carriker, the Rams received an exchange of fifth-round draft selections: Moving up in the fifth round was all that a recent Rams first-round pick was worth. But wait -- as part of the deal, the two clubs also exchanged seventh-round selections, Washington getting the 208th choice of the draft from St. Louis, and giving back the 211th choice. A three-slots difference in the last round is so incredibly minor, it's as if St. Louis tipped the Redskins on the trade: "Here you are my good man, here's your 2007 first-round draft bust, and I've thrown in a little something extra for your troubles."
Tampa: City of Tampa, which used third- and fourth-round selections on defensive linemen in 2009, used its first- and second-round choices on the D-line this year. Presumably the Bucs will be hard to run against. Tampa invested a fourth-round choice in wide receiver Mike Williams. Considering two consecutive players named Mike Williams have been draft mega-busts (at Buffalo and Detroit), let's hope this one has better luck.
[+] Enlarge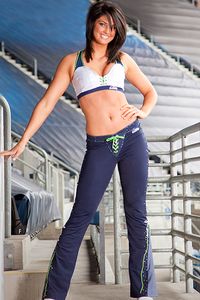 Seattle SeahawksThe draftniks, Sea-Gals cheerleader Michelle, everybody is cheering for Pete Carroll! But, just wait until a few games have been played.
Tennessee: Last year during the draft, Tennessee traded to New England what became choice No. 47, midway through the second round, in order to select tight end Jared Cook, who was invisible for the Flaming Thumbtacks as a rookie. Maybe this deal will someday seem wise. For now, it seems another argument against mortgaging the future for extra choices in the present. Choice 47, linebacker Daryl Washington, would have looked mighty good in the Tennessee lineup this fall.
Washington: The Redskins of course are masters of mortgaging the future. Washington government borrows money, Washington football borrows draft choices -- coincidence? In this year's draft, the Redskins had no second- or third-round selections. Last year, Washington had no second- or fourth-round picks. Washington has already traded away a midround pick in the 2011 draft, though has stockpiled Oakland's fourth choice in 2012.
Until Trent Williams, the Redskins were the sole NFL team that had not used a first or second choice on an offensive lineman in the past decade. Even post-Williams, the Skins have taken just five linemen in the top four rounds since 2000. The Eagles in the same span have taken 20 linemen in the top four rounds.
According to FootballOutsiders, the Redskins have done bookkeeping that essentially moves most guaranteed future bonuses into the current accounting year. The Skins will spend about $170 million this season on players, the most ever for an NFL team, but in so doing will eliminate amortization charges that otherwise would carry into future years. This means whenever the new collective bargaining agreement is final, Washington, with a clean salary cap, will be positioned to exploit the details with a player-acquisition spree. It also means -- despite the NFLPA's public-bluster position that the era of the cap is over -- that the Washington Redskins are willing to place a lot of money behind their assumption that the salary cap is coming back.
FNL Disturbing Moment: In the finale episode of the new season, one scene will involve a helmet-to-helmet hit that stuns J.D. McCoy, the obnoxious rich kid who ruined the senior year of poor-but-dignified Matt Saracen. Not only is the hit not identified as a penalty, it is praised by the radio announcer/narrator and celebrated by players and coaches on the East Dillon sideline.
Bad enough that helmet-to-helmet hits are illegal, and that the NFL, NCAA and NFHS have been trying to discourage them for several years. Such hits are a current "point of emphasis" penalty focus for officiating crews at all three levels of football. Bad enough that helmet-to-helmet hits are unsafe. See what you hit is the mantra of safe tackling form: If your head is up and you see the player you're hitting, you're not likely to get hurt. Responsible football coaches constantly drill players on keeping their heads up. Head-down hits are associated with concussions, and worse. To have a dangerous tackle depicted on "Friday Night Lights" and praised by the show's characters was negligent on the part of the producers.
This moment is doubly disturbing because the 2006 pilot of "Friday Night Lights" centered on a player being paralyzed when making a helmet-low hit. Has the FNL production and writing staff forgotten? The action of the pilot was based, in turn, on the awful story of David Edwards, a Texas high school football player who was paralyzed in 2003 by a head-down hit, and died in 2008 of complications. Please, NBC, delete the head-down tackling scene before the episode airs. Tens of thousands of boys watch "Friday Night Lights." Show them only safe tackling form.
Reader Comments Reed Miller of San Diego writes, "In response to a reader's remark about Dan Marino's passing record potentially being broken with the new overtime rules: for now -- this may change -- the new rules only effect postseason play. Marino's record is for the regular season. Comparing this to other sports, how many extra points do basketball players get from overtime games in the NBA? How many extra hits, strikeouts etc. do baseball players get in extra innings? Think about the recent Cardinals-Mets game that ran 20 innings, all the numbers from that game count toward career stats. Many other sports include overtime in players statistics, there's no reason the NFL should not."
I wrote that the March Madness on-demand feature CBS offered via computer was better than what the network broadcast on the tube. How, I asked, would this sort of thing not harm the company overall? Brian Hershberger of Kansas City replies, "The CBS online broadcast blocked viewers from switching games once commercials started, and most switches between games required viewers to watch a commercial while the feed was loading. Online broadcasts, even over high speed connections, still require a buffer which takes time to load. Thus online, CBS was assured of at least some ad viewing. The online broadcast improved viewership tracking. Better tracking will allow CBS, or any network, to refine its advertising price discrimination. For example, CBS might sell a specified number of views and use the price paid for each view to determine which advertisements queue up first. That sort of thing could prove healthy for the network's long-term prospects."
I described a scene in the pleasingly ridiculous new action series "Human Target" in which a man, using only his muscles, pulls up into an airplane a net containing two people: I supposed a team of bodybuilders would be required. Adam Sandwell of Lebanon, Mo., a doctoral student at the University of Florida, ran the numbers: "I made some conservative assumptions about density of the rope, total mass of the system by the acceleration due to gravity, wind resistance, drag coefficient, air temperature and local air pressure. My estimate is that it would require about 2,860 pounds of force to pull the guys up. If a bodybuilder could lift, say, 350 pounds, then it would take about eight of them." William O'Connor of Atlanta, a member of the class of 2013 at the Air Force Academy, adds this description of an actual military system for plucking commandoes up into a cargo plane.
I pound the table about minor government officials who are surrounded by security details not for any real need, but to make the minor officials feel important. Jay Olman of Philadelphia proposes that such persons be called "insecurity guards." And Mike Germano of Richmond, Vt., notes I referred to "Ellis Hobbes" of the Eagles, when Hobbs is correct. Most likely, he noted, the cornerback is no relation to the author of "Leviathan." TMQ supposes that if Thomas Hobbes were around today, he would call NFL players "nasty, brutish and tall."
Next Week Next week comes in August, when TMQ resumes, along with the football artificial universe.
In addition to writing Tuesday Morning Quarterback for Page 2, Gregg Easterbrook is the author of the new book "Sonic Boom," and six other books. He is also a contributing editor for The New Republic, The Atlantic Monthly and The Washington Monthly. His Web site can be found here.