Commentary
JaMarcus Russell headlines TMQ Trailer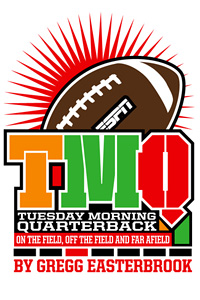 Movies trailers are full of explosions, chase scenes, cool studs with ripped abs and smoldering babes with bedroom eyes. The new TMQ Trailer is full of -- well, you'll be the judge of that.
Starting this season, on Mondays, TMQ Trailer will give you a foretaste of what's to come in the main column on Tuesday. Or as a trailer voice-over would say:
"Between passion and betrayal … between revenge and lust … between Monday and Wednesday … comes Tuesday Morning Quarterback!"
Ryan Leaf can relax -- JaMarcus Russell has replaced him as the worst draft bust. Russell was paid $39 million by the Raiders and had 18 career touchdown passes -- $2.2 million per touchdown pass. Just three seasons after he was the first overall choice, Russell isn't on the roster of any NFL team: He might soon count himself lucky to be covering punts for the Edmonton Eskimos.
This is a much worse bust than Leaf, who played for the Chargers, Bucs, Cowboys and Seahawks in attempting to rediscover his lost touch and whose career was hampered by injuries, a problem Russell did not have.
[+] Enlarge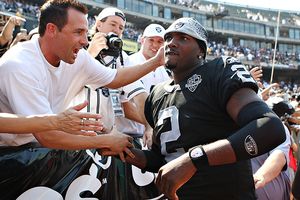 Jed Jacobsohn/Getty ImagesTMQ proclaims that JaMarcus Russell has eclipsed Ryan Leaf as the ultimate draft bust quarterback.
Russell is yet another example of a quarterback who wilted under the pressure of going in one of the top picks of the draft. Russell, Leaf, Akili Smith, Rick Mirer, Tim Couch, Cade McNown -- if they'd been selected in the third round, all might have been successful in the NFL. For quarterbacks, the high-first combination of expectations and swelled head is something only the strongest personalities can withstand. No similar pressure exists for high-first linemen.
The departure of the first player selected in 2007 makes TMQ think it is time to reimagine the 2007 draft. Tuesday Morning Quarterback began doing reimagined drafts in 2006, a year before certain other websites claimed to have conceived the idea. See below for how the 2007 draft would have transpired if we had known then what we know now. Parentheses indicate the player's actual 2007 draft position.
Russell note: The former Raider was arrested for possessing codeine without a prescription; he has pleaded not guilty but admitted, to ESPN's Colleen Dominguez, that he tested positive for codeine after being drafted. Codeine syrup can be mixed with soda and candy to make a street drug called "drank" or "purple drank" and known by other names depending on the part of the country in which one is running afoul of the law. One man's misery is another's marketing opportunity: A firm is capitalizing on the notoriety of codeine-laced soda to market Drank, a seriously purple beverage containing over-the-counter ingredients. References to "drank" are found in many hip-hop songs, even in the Black Eyed Peas' popular "I Gotta Feeling" -- a background voice cries "drank." Clapping up this substance hardly fits with the Peas' good-clean-fun image.
Akili update: After wandering in the wilderness and being waived by the Calgary Stampeders, Smith went back to college, got a master's degree and is now an assistant coach at Cal. Nice job, Akili! The NFL didn't work out, but you did not give up. Coaches sometimes say to disappointed athletes, "When God closes one door, He opens another." Smith appears to have taken these words to heart.
[+] Enlarge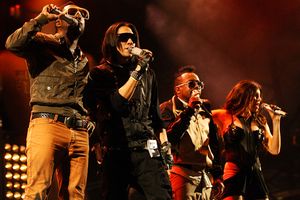 Danny Martindale/WireImageDo the Black Eyed Peas celebrate the infamous "Purple Drank" in their song "I Gotta Feeling"?
Peas update: In "I Gotta Feeling" -- a great high school football warm-up song -- the band sounds pleasingly multicultural by singing, "Fill up my cup, Mazel tov." But "mazel tov" is Hebrew for "congratulations" and generally is reserved for important moments. The Peas seem to mean "L'chaim" -- "To life!" -- which can sort of be heard in the background. Now that's a great toast: To life! This toast is a lot better than the pale "cheers" used in England and Germany (as "prost") and, increasingly, in the United States. Next time you clink glasses with someone, propose, "L'chaim!"
Be sure to come back tomorrow for Tuesday Morning Quarterback.
TMQ's reimagined 2007 draft:
Darrelle Revis (14th choice).
Patrick Willis (11th choice).
Joe Thomas (actual position).
David Harris (second round).
Adrian Peterson (seventh choice).
Sidney Rice (second round).
Jon Beason (25th choice).
Ben Grubbs (29th choice).
Robert Meachem (27th choice).
Justin Blalock (second round).
Brent Celek (fifth round).
LaMarr Woodley (second round).
Lyle Sendlein (undrafted).
Jermon Bushrod (fourth round).
Lawrence Timmons (actual position).
Aaron Ross (20th choice).
Pierre Thomas (undrafted).
Leon Hall (actual position).
Eric Weddle (second round).
Levi Brown (fifth choice).
Anthony Spencer (26th choice).
Kevin Kolb (second round).
Brandon Mebane (third round).
Kyle Cook (undrafted).
Zach Miller (second round).
Calvin Johnson (second choice).
Kevin Boss (fifth round).
Joe Staley (actual position).
Legedu Naanee (fifth round).
Le'Ron McClain (fourth round).
Michael Griffin (19th choice).
Doug Free (fourth round).
Players chosen in the 2007 first round who would now be second- or third-round selections: LaRon Landry (sixth), Amobi Okoye (10th), Dwayne Bowe (23rd), Brandon Meriweather (24th), Greg Olsen (31st) and Anthony Gonzalez (32nd). Players chosen in the first round in 2007 who today would be late-round choices or go undrafted: JaMarcus Russell (first), Jamaal Anderson (eighth), Ted Ginn Jr. (ninth), Marshawn Lynch (12th), Adam Carriker (13th), Justin Harrell (16th), Jarvis Moss (17th), Reggie Nelson, (21st), Brady Quinn (22nd) and Craig "Buster" Davis (30th). Note: Gaines Adams, the fourth player chosen in 2007, died in 2010 of an enlarged heart.
In addition to writing Tuesday Morning Quarterback for Page 2, Gregg Easterbrook is the author of the new book "Sonic Boom" and six other books. He is also a contributing editor for The New Republic, The Atlantic Monthly and The Washington Monthly. His website can be found here.