Commentary
TMQ's NFL preview: Part 1, the AFC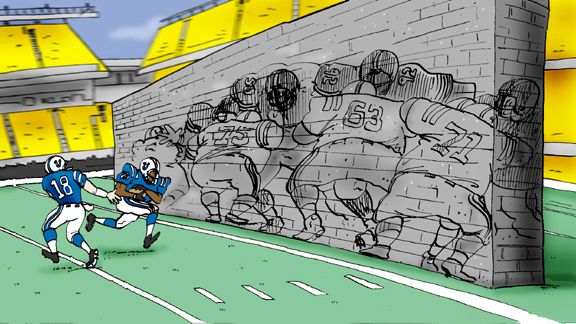 Kurt Snibbe/ESPN.com
The National Football League is all about running the ball, right? That's what you hear. Yet for two consecutive seasons, the last-ranked rushing team made the Super Bowl -- Arizona in 2008 and Indianapolis in 2009 reached the ultimate game despite having the league's worst rushing offense those seasons. True, both lost, but 30 of the 32 NFL franchises gladly would have traded places with the team that lost the Super Bowl. And last season, the AFC's two best teams, winning the first-round byes -- San Diego and Indianapolis -- were 31st and 32nd overall, respectively, in rushing.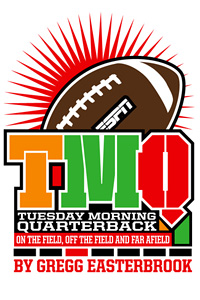 Thus you don't have to run the ball well to win at football. Increasingly, you can't run the ball even if you try -- because linemen are getting so big, there's steadily less room for running.
In 2008, only seven NFL teams rushed more often than they passed. In 2009, the number fell to just four -- Carolina, Cincinnati, Jersey/B and Tennessee. Maybe this is because, as the Football Outsiders website long has contended, establishing the pass has more tactical value (because of more yards gained per attempt) than establishing the run. Maybe it's because rules changes (no contact with the receiver after 5 yards, no head slaps by pass-rushers) encourage the forward pass. Or maybe it's because linemen are now so big.
The offensive linemen of the undefeated 1972 Dolphins averaged 262 pounds. Today most Division III college teams' offensive lines average more, and some high school teams' lines average almost as much! Grant Union High School in Sacramento, Calif., a preseason prep favorite, lists 10 players weighing more than 250 pounds, as many as would have been found on an NFL roster a generation ago. Check this year's Texas Tech roster -- 13 players weighing at least 300 pounds, far more than an NFL roster a generation ago. And today's pros? The Eagles' expected offensive line starters for 2010 average 342 pounds.
TMQ CHEAT SHEET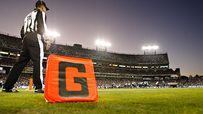 Gregg Easterbrook on …
Same on the defensive side. Bob Baumhower, who played defensive tackle for the Dolphins from the late 1970s to mid-1980s, reaching five Pro Bowls, weighed 260 pounds. In Super Bowl XXV, in 1991, the nose tackles were Erik Howard of the New York Giants and Jeff Wright of the Buffalo Bills, each weighing about 270 pounds. Now? Nearly all NFL defensive tackles weigh more than 300 pounds. Vince Wilfork of the New England Patriots weighs 330 pounds; Albert Haynesworth of the Washington Redskins weighs 350; and if you believe that Pat Williams of the Vikings weighs "only" 317 pounds, as he's listed, then I've got some Bear Stearns stock to sell you.
Ultimately, the fads for pass-wacky offense and spreading the field might be driven by the fact that offensive and defensive linemen have gotten so big that there simply isn't as much running room inside the tackles. And, as TMQ has noted before, it cannot be good for the long-term health of football players -- especially at the high school and college levels (where players don't even get a paycheck!) -- to force themselves to gain so much weight. A lawsuit finding some football team or college liable for long-term health damage to players who are pressured by coaches to gain weight might be a healthy thing for the sport.
[+] Enlarge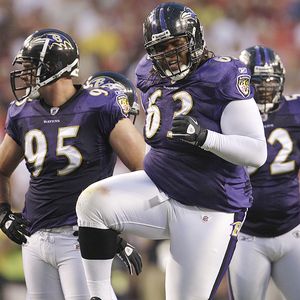 AP Photo/Rob CarrToday one NFL lineman weighs what two once did.
In other football news, Tuesday Morning Quarterback loves that C.J. Spiller, who would have gone high in the 2009 draft, returned to Clemson for his senior year and graduated. Needless to say, my favorite pick of the draft was Myron Rolle. Had Rolle declared for the 2009 draft, he probably would have gone in the second round. Instead, he took a year off from sports to study at Oxford University on a Rhodes scholarship. Because of this decision, Rolle lasted until the sixth round -- NFL scouts and touts thought placing education over football made him weird. What it made him is smart!
But shouldn't Rolle now be listed as a graduate of Oxford, not of Florida State? He holds a master's in medical anthropology from Oxford. It is his highest degree earned, so he should be listed as, and referred to as, an Oxford graduate.
Here's my AFC preview.
Baltimore Ravens: Everybody's fixating on the $32 million the Redskins have paid Albert Haynesworth the past year in return for nothing. How come Terrell Suggs is getting a free ride from the media? Last summer, Suggs, a pass-rush specialist, signed a deal with $39 million guaranteed -- and he already has the $39 million, as it was a rare front-loaded deal. What does Baltimore have? Suggs registered 4.5 sacks in 2009, or $8.7 million per sack. Last summer, Suggs celebrated his megadeal by reporting out of shape. This winter, with the $39 million already banked, he celebrated by skipping minicamp. Suggs has been nearly as much of a disappointment as Haynesworth. Together, they form an argument against guarantees in NFL contracts.
[+] Enlarge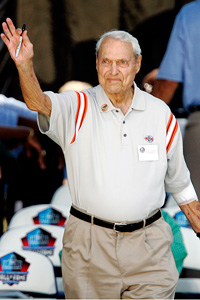 AP Photo/Tony DejakDante Lavelli cries "I'm open" to -- was it the Browns, Ravens or Colts?
Will Anquan Boldin be what the Ravens need to reach the status of Super Bowl threat? This organization hasn't had a clear go-to wide receiver since Dante Lavelli retired from the original Cleveland Browns in 1956. Or maybe since Ray Berry retired from the original Baltimore Colts in 1967. It's so hard to keep the legacies of the Browns, Colts and Ravens straight.
Regardless, the Ravens come into the season looking stacked. How about some trick plays? In the 2009 regular season, they threw a few trick plays into the mix, then went vanilla in the playoffs. Considering this team both can power-rush and has a quarterback who throws the deep ball, the Ravens' offense has ideal personnel to burn defenses with trick plays.
Buffalo Bills: Their Super Bowl run a dim memory, the Bills now have the longest AFC streak without a playoff appearance, and awful drafting is a core reason. In the past decade, the Bills have wasted first-round choices on busts Mike Williams, J.P. Losman and John McCargo and spent lottery-level first-round choices on Donte Whitner, Marshawn Lynch and Aaron Maybin, all of whom, in 2009, were kept on the bench by undrafted free agents.
The other core problem for the Bills is a succession of dull coaches, topped by Dick "Cheerio Chaps" Jauron, who gave no indication of being aware a game was in progress, much less caring whether the team won or lost. Now the coach is Chan Gailey, whose credentials are strong. Can he reverse a team culture of expecting defeat? Trent Edwards, likely to start at quarterback, seems a nice person. But he was 10-20 as a starter in college and is 14-17 in the pros. If your team has a culture of expecting to lose and your quarterback hasn't played for a winner since he left high school, that is not a good mix. Edwards also has gone down injured for seven consecutive seasons.
Last year, Edwards was the NFL's shortest passer in an ultraconservative offense, with only 11 percent of his pass attempts traveling more than 20 yards. Winning NFL teams -- New Orleans, Minnesota, Indianapolis, New Orleans -- do not play ultraconservative, as the Bills have for several seasons.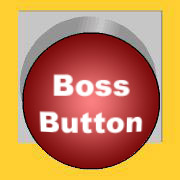 Cincinnati Bengals: Three Bengals players -- Terrell Owens, Chad Ochocinco and Dhani Jones -- have television shows. Perish the thought that any statement by Owens or Ochocinco should go unrecorded. Jones' show is the best of the three. Each episode has its own plot and setting, unlike the Owens and Ochocinco shows, which are mainly muggings for the camera. Ochocinco might give the best Twitter of any pro athlete.
Three years ago, the Giants faced a meaningless season-finale game against the Patriots, went all-out to win and nearly did; when the two teams met a month later in the playoffs, at the Super Bowl, the Giants prevailed. The gung-ho attitude showed in the meaningless final regular-season game surely was a factor. Last season, the Bengals faced a meaningless season-finale game against the Jets, rolled over, and the next week lost again to the Jets at home in the playoffs: two losses to Jersey/B in consecutive weeks, by a combined 61-14 score. Not trying to win that season-finale game surely was a factor in Cincinnati's early playoff exit. This season, Cincinnati plays at the Jets on Thanksgiving night. The Bengals had better have that contest circled -- it could define Cincinnati's season.
SI Swimsuit Count: Annually TMQ tallies the number of disrobed babes in the Sports Illustrated swimsuit edition: Somebody's got to do this!
[+] Enlarge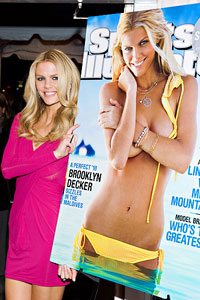 AP Photo/Charles SykesOnly 33 topless women in this year's swimsuit issue -- that's all?
The latest Sports Illustrated swimsuit number offered 141 women in bikinis, 33 women who were topless, bottomless or had their bikinis untied. That includes model Brooklyn Decker, who was topless, arm strategically placed, on the cover. There were four naked women and five in only body paint, plus 12 models cavorting in snow in bikinis or topless. (The count does not include the many bikini-themed adverts, but does include the magazine's own pages urging readers to load SI cheesecake photos onto their cell phones and PlayStations.) There were also six women wearing one-piece suits: how did those get past the photo editor? Sarah Brandner, identified as "the girlfriend of German midfielder Bastian Schweinsteiger," appears in a two-page foldout wearing naught but body paint. She is quoted as declaring, "I guess I am completely naked." Aren't you supposed to know when you are naked?
Here are views of ski bunny Lindsey Vonn wearing extremely little yet seemingly warm in snow, plus an intellectual commentary by Hanna Rosin on this display of female skin. Read Hanna's commentary to feel justified -- obligated! -- about looking at the pictures. Rosin's recent cover story in The Atlantic Monthly about how social trends now favor women is the best essay I have read in many moons: It'd better win a National Magazine Award. Plus, Hanna is a fiend for "Friday Night Lights."
The 2010 prize for nuttiest Sports Illustrated cheesecake photo goes to a view of Vonn, topless, draped across a ski helicopter. Specifically this helicopter, which is "powerful and competent" -- just the sort of machine that makes a beautiful woman want to peel her clothes off!
Cleveland Browns: What is it that new Browns president Mike Holmgren saw on tape of Jake Delhomme that no one else sees? Holmgren traded away Brady Quinn, passed on Tim Tebow and Jimmy Clausen in the draft, and handed the Cleveland starting quarterback's job -- plus $7 million guaranteed in 2010 -- to Delhomme, who has thrown 35 interceptions over the past two seasons. Carolina immediately got better when Delhomme was benched in 2009. And the $7 million guarantee, it's nice that Holmgren is generous, but he wasn't bidding against anyone: Delhomme might have signed for the veteran minimum.
Cleveland has been the trade capital of the NFL in recent seasons. Eric Mangini conducted a series of trades with his old team, the Jets, netting Cleveland several decent players but surrendering Mark Sanchez, who would look mighty good in Tootsie Rolls colors along about now. Holmgren has continued the yard-sale ethos. The net is that Cleveland has surrendered two recent first-round choices (Quinn and defensive end Kamerion Wimbley), plus fourth-, fifth- and seventh-round draft choices, for Sheldon Brown, Peyton Hillis, Chris Gocong, Seneca Wallace, third- and sixth-round choices and a conditional pick from Denver in 2012. That's an awful lot of roster turbulence.
Denver Broncos: Talk about turbulence -- this was the second consecutive offseason of upheavel in Dove Valley. A year ago, Mike Shanahan was cashiered and Jay Cutler airmailed to Chicago; this year, two high-profile quarterbacks were brought in (Tebow and Quinn) while defensive starter Elvis Dumervil was granted a monster contract and almost immediately lost for the season to injury. Injuries have hit the offensive line, as well.
Trades brought Josh "When Does the Frat Party Start?" McDaniels an impressive 10 high draft choices (first, second or third round) in his first two drafts with the Broncos -- but only one pick was invested in an offensive lineman, which increasing looks like a problem area for this team. Denver now has three prominent, big-salary quarterbacks on its roster (Kyle Orton, plus Quinn and Tebow), but only one established player at guard (Chris Kuper). McDaniels had four No. 1 choices in his first two drafts, and used three of four on a quarterback, running back and wide receiver. It's a lot more fun to draft quarterbacks, running backs and receivers than trench performers. McDaniels might learn the hard way that you need at least one good blocker for every good ball handler.
McDaniels recently vetoed Denver's trademark zone-blocking approach and substituted traditional drive blocking, saying he wants a "power rush mindset." Calling rushes would help! In 2008, the final season for Shanahan and Cutler, Broncos coaches called 693 passes (counting sacks and scrambles) and 397 rushes -- 64 percent passes. McDaniels came in vowing to establish the rush, and in 2009, he and his staff called 612 passes and 420 rushes -- 59 percent passes. That's not much difference.
[+] Enlarge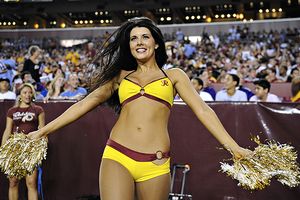 AP Photo/Nick WassThe Redskins hosting Baltimore last weekend. The cheerleaders' new warm-weather outfits could not reveal more unless the game was played at a beach along the French Riviera.
But let's talk about something pleasant, the cheerleaders. It's $3,500 for five of them to appear at a promotional event for two hours. Will the cheerleaders themselves be paid anything, or is all the money kept by the Broncos? Get your daughters into the spirit early by forking over $577 to have them be junior cheerleaders.
Houston Texans: In the second half of the 2009, the Texans lost four straight and then won four straight, finishing on an up note -- but missing the playoff party, which this franchise has never been invited to. Surely, if the Saints can win the Super Bowl, the Texans can at least reach the postseason. Two losses in three weeks to eventual AFC champion Indianapolis cooked the Moo Cow's goose. (Is that a mixed metaphor?) In the first game, Houston missed a field goal on the final snap to force overtime. In the second, the Texans led 17-0 -- and lost. Houston opens the season by hosting Indianapolis: Until this team can beat the Colts, the Texans are nobodies.
And who had the No. 1 passing attack in the NFL last season -- was it New Orleans, Indianapolis or Minnesota? It was Houston. Matt Schaub threw for 4,770 yards and 29 touchdowns; Andre Johnson was one of the league's best players; and the rushing attack was ranked 30th. The Colts have shown that a mature winning team does not need a strong rushing attack to advance to the playoffs, but the Texans are not a mature winning team.
Bored at work? Note: ESPN employees are forbidden to answer "yes." A little avatar of a Texans cheerleader will dance for you.
Indianapolis Colts Last season, the Colts opened 14-0 and closed 2-3. Guess that pretty much settles the argument about whether a team that has locked up its best playoff seed should stop trying to win.
Indianapolis is on a 108-36 run, more or less dating back to the time that Tony Dungy, Peyton Manning and Bill Polian arrived. So the management of this franchise is sound. But last winter after a close Super Bowl loss, Colts management was graceless in handing out blame.
Polian said the Indianapolis offensive line "did not have a good game … they were outplayed by the Saints' defensive line … pretty decisively." Maybe, but the Colts would not have reached the Super Bowl without that line. Hank Baskett was criticized for flubbing the second-half-opening onside kick; but what about special-teams coach Ray Rychleski, who failed to warn his charges to watch for an onside? (The unusually long Super Bowl halftime show was perfect for making the receiving team fall asleep.) Reggie Wayne was criticized for dropping the touchdown pass that would have given Indianapolis a last gasp in the final minute, but why wasn't Manning criticized for his bad fourth-quarter pass that was returned for a touchdown? Why wasn't Jim Caldwell criticized for putting the Colts into the tank late in the season, for a super-predictable Super Bowl game plan, for timid calls late in the second quarter that set up New Orleans for a last-second first-half field goal, for the terrible fourth-quarter decision to attempt a 51-yard field goal that had no chance? (Fortysomething Matt Stover hadn't hit from that distance in years.) All this bad-vibe blame assigning -- but only to lesser persons, not to Manning or the coach -- is not a good harbinger for 2010.
TMQ in the News: A podcast of my new book "Sonic Boom" is now available at Audible.com, narrated by yours truly. So you can listen to me but not have to look at me -- an ideal outcome!
[+] Enlarge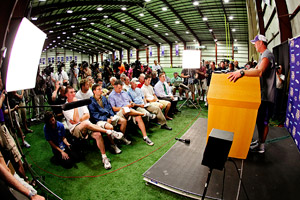 Adam Bettcher/Getty Images"My fellow Americans ... "
More Proof of the Decline of Western Civilization: "Favre took a private plane from Hattiesburg [Miss., to Minnesota] on Tuesday, then was followed by news helicopters from a suburban airport to the team headquarters." -- ESPN.com.
Jacksonville Jaguars: In the past two drafts, Jax used two first-round, one second-round and two third-round choices on offensive and defensive tackles. In the previous draft, counting trades, Jax spent first-, second-, third- and fourth-round choices on defensive ends. And this offseason, Jacksonville signed defensive end Aaron Kampman to a big-bucks free-agency deal. So far, there isn't much return on the investment. Last season, the Jaguars opened 6-4, then closed 1-5: Both the offensive and defensive lines seemed to weaken down the stretch.
As recently as three years ago, Jax was able to give New England a solid playoff game, at New England, in the year the Flying Elvii finished 18-1. Since then, though, the Jags have seemed bland -- last season, they were 18th on offense, 23rd on defense. There's little reason to expect 2010 to be different. And don't blame the lack of a packed house at home -- in 2009, Jax had a winning record at home but stumbled to 2-6 on the road. This team just seems to lack je ne sais quoi. Although I admit I don't know what that is.
Kansas City Chiefs: When you lose at home in consecutive weeks to Buffalo and Cleveland, as the Flintstone did in 2009, you are an awful team. Maybe the Patriots West thing -- coaches Romeo Crennel, Charlie Weis and Scott Pioli are all in Kansas City, along with quarterback Matt Cassel -- will help. Let's hope underwhelming Cassel doesn't suffer an injury; his backup, Brodie Coyle, is a career 0-9 as a starter.
[+] Enlarge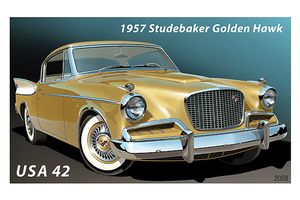 AP Photo/USPSWhy didn't the federal government spend $60 billion to bailout Studebaker?
For two years, Kansas City has been wrestling with Detroit for the distinction of league's worst defense. At least the Chiefs have one of TMQ's favorite players, linebacker Andy Studebaker from Division III Wheaton College of Illinois. Let's hope he does not suffer an injury -- it's really hard to get spare parts for Studebakers.
Why Isn't the Pentagon Mosque on the Front Page? There's a small chance you have heard about a plan to build a mosque near (not "at") Ground Zero in New York. The controversy is puzzling on many levels, most important, that this is America! Freedom must not be an empty concept. Freedom of religion means freedom of religion. The basic bargain of the First Amendment, as regards speech as well as faith, is that the sole way to protect the right to opinions and beliefs is to protect all opinions and all beliefs, keeping government out of the business of deciding which ones we like or don't like.
The people who attacked the United States on 9/11 might have called themselves Muslims, though clearly were breaking the tenets of their faith. All religions have produced a few murderous fanatics -- we don't hold this against the faith when Christianity or Judaism is involved. Baruch Goldstein, raised as a Jew, used a machine gun to murder 29 Muslims in 1994 in Hebron on the West Bank. Goldstein was a monster, not a religious believer, and was breaking the tenets of the faith he claimed. No sensible person would say that because of Baruch Goldstein, synagogues should not be built on the West Bank. Timothy McVeigh, who was raised as a Christian, murdered 168 people with a terrorist bomb in Oklahoma City, and it's clear to everyone he was breaking the tenets of his faith. Why can't we understand the same thing about the 9/11 killers? No one would object to a Christian church being built near the Oklahoma City terror bomb site.
Here's what really puzzles me -- with all the snarling on display regarding the proposed downtown New York mosque, there's been no discussion of the mosque that already exists inside the Pentagon. Islamic services are held in an interfaith chapel quite close to where a plane flown by murderers struck on 9/11, and that has caused no problems. The Washington Post buried the story on Page A-11, and most newspapers and newscasts haven't mentioned the Pentagon mosque at all. If the people who work inside the Pentagon can see past their differences and embrace religious tolerance, how come this is impossible for people such as Newt Gingrich?
New York Jets: Since Rex Ryan took over the Jersey/B Jets in winter 2009, you'd think the emphasis would have been on defensive trench types. You'd think wrong: Ryan has used his high draft choices and trade material to obtain a quarterback, three running backs, a cornerback, two wide receivers and two offensive linemen -- mostly skinny glory boys, and no front seven personnel at all.
Then there's Ryan's offseason decision to let go of Thomas Jones, the league's No. 3 rusher, to bring in LaDainian Tomlinson, who had lost his job in San Diego. Maybe this was a marketing decision: The Jets were desperate to sell PSLs for their new stadium, and Tomlinson has star power. But TMQ thinks LT is likely to struggle in 2010 and unglamorous-but-effective Jones might continue plowing forward.
Jones is 32, Tomlinson 31, and tailbacks tend to tail off at age 30. But we forgot -- Jones didn't play much in his first two NFL seasons. If you use carries and receptions as a rough approximation of how many times a back has been hit, Tomlinson has been hit 3,410 times in the NFL, Jones 2,569 times. That's 25 percent fewer hits on Jones, suggesting that Jones might have more yards left in the tank. The contracts signed by Tomlinson in Jersey/B and Jones in Kansas City were similar, so in effect the Jets traded Thomas Jones for LaDainian Tomlinson. In star-power terms, the Jets came out ahead; on the field, the Chiefs might benefit, at least in 2010. Then again, in preseason games, Jets offensive coordinator Brian Schottenheimer has twice sent Tomlinson deep on "wheel" patterns. LT never ran deep pass patterns at San Diego, only screens and flares. Maybe Ryan thinks he knows something about Tomlinson that San Diego did not.
Miami Dolphins: After a Super Bowl played in South Florida -- not in Miami, absolutely not in Miami! -- this team will be known to TMQ as the South Florida Dolphins. Like the nearby Northern Florida Jaguars, the South Florida Dolphins finished 7-9 and statistically were middling: 17th in offense, 22nd in defense. The Dolphins tended to fade in the fourth quarter, being outscored 140-116.
And though the Dolphins rushed well in 2009, the Wildcat no longer had surprise value. Ronnie Brown and Pat White were just 2-for-11 for 22 yards when throwing from the Wildcat, showing that the formation's simplistic passing option was no longer fooling anyone. Unless the Dolphins think they can dominate defensive front sevens with blocking in 2010, they'll need to vary the Wildcat formula -- which, like all football innovations, seems unstoppable for a while but inevitably sparks countermeasures.
South Florida Dolphins fun fact: For seven straight seasons, a different quarterback has led the team in passing yards. (Scan forward from here for the names.)
[+] Enlarge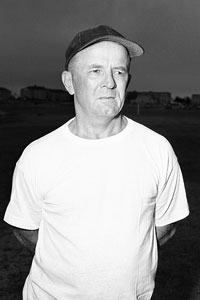 AP Photo/Carl E. LindeIf you think the spread offense is new and high-tech, you weren't watching TCU play under Dutch Meyer in the 1940s.
TMQ's Bookshelf: If you'd like to read more about the history of the Wildcat -- or of the West Coast offense, the zone blitz and other football staples -- I recommend the entertaining new book "Blood, Sweat and Chalk," by Tim Layden, a walking tour of football-tactics history. Layden shows that many of what announcers call "revolutionary new tactics" are actually recycling of old ideas -- for instance, if you think the spread offense is new, maybe you should read "Spread Formation Football" by TCU coach Leo "Dutch" Meyer, published in 1952. (Here is ESPN's Mark Schlabach on the backstory of the spread.)
"Blood, Sweat and Chalk" does a fine job of emphasizing how high school and small-college football -- Whittier, Iowa Wesleyan, Glenville State, William&Mary, Emory&Henry, Portland State -- influenced the development of football tactics. In many cases, big universities and pro coaches took the credit for ideas begun in the prep or small-college ranks. And the book's chalk-talk aspect is useful: If you'd like to know how standards such as the triple-option or Tampa 2 are executed, Layden presents such information in clear, readable terms.
There's also plenty to argue with. Layden says the Steelers franchise established its defensive reputation "in the early 1990s," which Mean Joe Greene and Jack Lambert might disagree with. He says the Giants sacked Tom Brady five times in the 2008 Super Bowl by using double-A-gap blitzing. That did not ring true to me, so I went back and watched all five sacks, all of which came from a conventional four-man rush. (The Giants' defensive ends beating the Patriots' tackles, while seven men dropped into coverage, was the key to that game.)
And I winced when Layden gave a 1971 Georgia high school coach credit for the everybody-standing "radar" defense that became a college fad in the 1970s, and occasionally is seen today in use by the Ravens, Jets and Steelers. My own high school coach employed that defense at Kenmore West High School in Kenmore, N.Y., beginning in 1967, and wrote a book about the idea, published in 1970. (Whether my high school coach was the first to have all defenders standing or poached the idea from an earlier innovator, I don't know.) These things aside, "Blood, Sweat and Chalk" would make a perfect gift for any football enthusiast on your, er, Labor Day shopping list.
I See Gullible Marks … No, Wait, I See Federal Agents: Why didn't six people who make their livings as psychics see the indictment coming?
Christmas Creep: Alan Jones of Nottingham, England, reports, "Here in the United Kingdom the channel Movies24 has been showing nothing but Christmas movies all weekend long since July 1 -- 'His and Hers Christmas' on July 25, for example." Jeb Corpe of Michigan, in the process of moving to England, notes this story about a British town that staged a three-day Christmas celebration in July, including the equivalent of $7,500 in public subsidies for colored lights and elf costumes, and this story about a "Christmas grotto" appearing in a United Kingdom department story in August.
Bob Byrne of Columbus, Ohio, notes that Target held a Christmas-themed sale on July 23. Susan Soldavin of Indiana, Pa. -- home of TMQ's favorite obscure college, Indiana of Pennsylvania -- notes that Barnes&Noble staged a "halfway to the holidays" sale on July 25. When, regarding Christmas at least, we were 59 percent of the way to the holidays.
New England Patriots: By trading away veterans (Richard Seymour, Deion Branch) and endlessly trading down, New England attained a phenomenal 15 choices in the first three rounds of the past three drafts -- yet which of those guys can you name? The guys Bill Belichick chose with his extra selections so far have been injured or duds: Terrence Wheatley, Shawn Crable, Kevin O'Connell, Brandon Tate, Ron Brace, Tyrone McKenzie, Darius Butler, Pat Chung. Last season, the Flying Elvii had a severe lack of impact players, and no one from all those extra second- and third-round choices is threatening to become an impact player.
The Patriots are one of the league's oldest teams; Logan Mankins (assuming he reports) and Laurence Maroney might be the only offensive starters under age 30. Perhaps Belichick's strategy of endlessly trading down for extra picks reflects his awareness of a need to remake the Patriots roster: Belichick has banked extra first- and second-round choices in 2011, too. But if instead he had traded up for someone explosive -- C.J. Spiller, Dez Bryant -- New England's prospects might be brighter.
Last season, the Patriots had no offensive coordinator, with Belichick covering that post; this season, they also will have no defensive coordinator. It's Belichick, Belichick and more Belichick -- no coordinators. Is this an ego-trip thing -- he wants to prove he can do something no major football coach has even attempted since, say, Leo Meyer? TMQ has been complaining for years that NFL clubs are overstaffed at coach, since it's hard to believe a head coach needs 19 more coaches, which is how many Mike Shanahan has at Washington, including a safeties coach, a tight ends coach and an assistant coach for the special-teams coach. Belichick is veering to the other extreme.
Tom Brady got annoyed at the team in the offseason, and he lost his special parking space as a result. Meanwhile, the Patriots once again are gambling on Brady's health. Can you name the Patriots' backup quarterback? Neither can I.
Oakland Raiders: Jason Campbell played behind a terrible offensive line in Washington, which had 46 sacks allowed in 2009. Now he will play behind a terrible offensive line at Oakland, which had 49 sacks allowed in 2009. What did this guy do in a former life to deserve the punishment he has received in the NFL?
Raiders fun fact No. 1: Eight of past 10 Raiders head coaches had career losing records.
Raiders fund fact No. 2: Wide receiver Javon Walker, waived by Oakland in the offseason, received $16 million from the Raiders for a two-year stint in which he made 15 receptions -- more than $1 million per catch.
Raiders fun fact No. 3: You could have hobnobbed with Raiderettes and unspecified "Raiders legends" last winter on a Raiders cruise.
Raiders fun fact No. 4: I like the Rams over the Raiders on Sept. 19 -- because Oakland has lost seven consecutive home openers.
Pittsburgh Steelers: Just 18 months ago, Ben Roethlisberger threw to Santonio Holmes in the closing seconds to win a Super Bowl ring for the Steelers. Now Holmes is gone, discarded by Pittsburgh after repeated legal troubles, and Roethlisberger has fallen into ill repute owing to repeated legal troubles. It's likely that on opening day, only four Pittsburgh offensive starters will be the same players who started that Super Bowl -- just 18 months ago.
There's more continuity on the defense -- though the Steelers fell to 16th in passing defense in 2009 after finishing first in 2008. Last season, the Steelers finished seventh in overall offense and fifth in overall defense and missed the playoffs. The Hypocycloids had the highest combined statistical performance of any non-playoff team, which seems to bode well for 2010. If, that is, the players can stay away from police lockups.
Weasel Coach Watch: Clancy Pendergast accepted a job as secondary coach of the Raiders, then two weeks later quit to become defensive coordinator at Cal. George Edwards accepted a job as defensive coordinator at Florida, then quit two weeks later to become defensive coordinator for the Buffalo Bills. One week before training camp began, Titans running backs coach Kennedy Pola quit to become offensive coordinator at USC.
This Year's Literary Fraud: TMQ noted in 2008, as regards James Frey and other bookstore liars, that the core problem is publishers often don't want to know whether purported nonfiction books are accurate. Ideally for those putting them out, no one will find out that a "shocking true story" is a fabrication -- this was Frey's intent. If readers do find out, the publisher is off the hook if the publisher never checked to determine whether the book was true.
The latest example came over the winter when Henry Holt withdrew a book called "The Last Train from Hiroshima," which contained extensive fabrications regarding the Hiroshima bombing. Holt said it did not question the book because the author, Charles Pellegrino, had "a long history in the publishing world." He does have a long history -- as a science-fiction writer! Producing sci-fi is perfectly respectable. But what are the odds a science-fiction author could have unearthed a tremendous amount of startling new information about the Hiroshima bombing: information unnoticed by every one of the hundreds of previous researchers who examined one of the most-studied events of history?
The author in question calls himself "Dr. Pellegrino" and says he is a scientist: The college he claims awarded him a doctorate denies doing so. Pellegrino's website declares he is an expert in archeology, astrobiology, nuclear propulsion and the search for extraterrestrial intelligence. Yet he still has the time to perform groundbreaking original research of Japanese history! Pellegrino claims to have been a "scientific consultant" on James Cameron's "Avatar" movie -- a science consultant to a cartoon? He boasts of being a member of the American Association for the Advancement of Science. Anyone can join the AAAS -- just pay the fee. I cite this point to show there were many clues that ought to have given pause, but, as with other recent literary frauds, the publisher did not want to know whether the book was true. Pellegrino's literary agent and his editor at Holt "both said they had no reason to examine his credentials," The New York Times reported.
San Diego Chargers: Since taking the field for Super Bowl XXIX, the Bolts are on a 3-7 run in the postseason, including January's first-round exit. Twice in the past four years, the Chargers have earned a bye, then lost their first-round game on their home field. In that period, the Chargers are a commanding 46-18 in the regular season but 3-4 in the postseason, including, of course, no Super Bowl appearance.
Why do the Chargers of late perform well in the regular season then wheeze out in January? Maybe it's the San Diego lifestyle: They want to take off the athletic tape and hit the beach. Or maybe this team lacks mental toughness. All football games are hard physically, but playoff games are notably harder mentally than regular-season games. The further into the postseason a team advances, the more important psychology becomes -- because if you lose, you are embarrassed and your season is over, whereas if you lose in the regular season, that's annoying, but maybe you'll play better next week. The Chargers are a physically strong team but do not seem mentally strong.
Coach Norv Turner doesn't seem mentally strong, either. Two winters ago, in the AFC Championship Game at New England, with San Diego trailing by nine points with 9:21 remaining in the fourth quarter. Turner ordered the Chargers to punt from the Patriots' 36 yard line. It was the conference championship -- the Super Bowl invite game -- and the Chargers' coach quit on the game with 9:21 remaining. Plus, no one went nuts on the sideline when Turner ordered the punt unit onto the field: The veteran players should have insisted on going for it. Say what you will about Brett Favre, but could you imagine him silently shrugging his shoulders in this situation? Could you imagine Bill Belichick ordering a punt in this situation? The Chargers just aren't mentally strong.
Bolts note No. 1: Philip Rivers called the departure of LaDainian Tomlinson "a little bit of a relief." Favre with the Packers, Donovan McNabb with the Eagles, Tiki Barber with the Giants -- sometimes an aging star player detracts from a team, when coaches and sports writers constantly fixate on "Is he happy today?" for the aging star. Maybe being free of this concern will help San Diego.
Bolts note No. 2: Nate Kaeding missed three field goals in the entire 2009 regular season -- then missed three in the Chargers' 17-14 playoff loss to the Jets. He also missed a 40-yard try in overtime that would have won a 2005 playoff game San Diego ultimately lost and missed a (long) kick to force overtime in the closing seconds of a 2007 playoff loss. Kaeding is 87 percent overall on his career, with among the best field goal percentages ever, yet fails in the postseason. Maybe it's bad luck. Or maybe lack of mental toughness.
Bolts note No. 3: In 2009, the Chargers' offense had the league's lowest average per rush, 3.3 yards, and the league's highest average per pass attempt, 8 yards. This must mean something: If only I knew what.
Tennessee Titans: Jeff Fisher has the third-most wins of any active NFL coach -- trailing Belichick and Shanahan, with an outside chance of passing the latter this year. He's been the coach of the Oilers/Titans since 1994, which is admirable stability in the coach-a-rama that is professional sports. Fisher has been coach of this franchise since before there was a Netscape Navigator -- before there was an ESPN.com, for that matter. It's great that he has stayed in one place so long and won so many games. But Fisher hasn't won a Super Bowl -- 16 years of trying, no ring.
At least the Vince Young nonsense is now settled. Young was 30-2 as a starter in college and is 26-13 as the starter in the pros; he might not be a classic drop-back passer, but he wins games. But with Young's resurgence and Chris Johnson as the NFL's top rusher, only the Flaming Thumbtacks' low-ranked defense would seem to stand between them and a playoff berth.
Tennessee finished 2009 on an 8-2 run, making it a team to watch in 2010. Let's hope the Titans' season does not fall into the sinkhole outside their stadium.
[+] Enlarge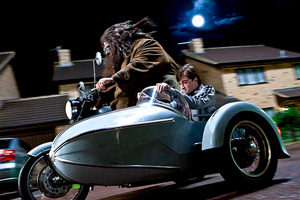 Warner Bros. Pictures"Hurry, Harry! We've got to get to the cineplex in time to buy tickets for July 2011!"
Unified Field Theory of Creep: Tim Roberts of Waxahachie, Texas, reports, "On June 28 the trailer was released for 'Harry Potter and the Deathly Hallows' Parts 1 and 2. Most of the trailer focused on Part 2's action sequences -- though Part 2 isn't set to be released until July 15, 2011. The trailer was advertising a movie that is more than a year away from theaters."
Erik Hess of Plymouth, Mass., reports, "The Bergen Town Center shopping mall in Paramus, N.J., had a Halloween costume display on Aug. 16." Chad Gerson of Hong Kong writes, "Mid-Autumn Festival is a Chinese holiday, which varies with the lunar calendar and falls this year on Sept. 22. Mooncake is a traditional treat eaten on Mid-Autumn Festival. This year I saw the first mooncake ad in June."
Christmas and Unified Field Creep Merge: Tara McCook Segal of Arlington, Va., writes, "In Tysons Corner Center, just outside D.C., on Aug. 9, I took the accompanying picture. It's a Christmas store with a Halloween sign in the window: two forms of creep occurring simultaneously. Even creepier, the Halloween store sign says, COMING IN SEPTEMBER."
[+] Enlarge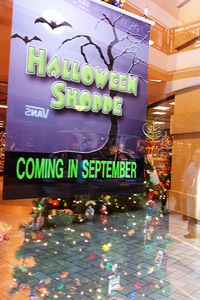 Tara SegalReader Tara Segal took this picture -- and what it shows is Creepy on more than one level.
Reader Comments: I proposed that sports outcomes should be reversed if a bad officiating call happened on the very last play of a game, and, if had the call been correct, the other team would have won. I asked whether readers knew of any actual reversals above the youth league level. I disqualified cases in which the NCAA retroactively expunged victories when it was later learned that ineligible players were used -- at this point for Alabama and USC football, it might be easier to list past victories that still count -- because such decisions have nothing to do with officiating. (Reader Mo Bawa of Washington, D.C., noted that he thinks office betting pools from the Reggie Bush years should be revisited and the proceeds reapportioned.) And I tossed out the debatable last-play flag in the 2002 Miami-Ohio State game because that wasn't an outcome reversal, just a debatable last-play flag.
Many readers, including Samantha Trezeck of Miami Beach, Fla., noted the 1983 Pine Tar Game in which a George Brett winning home run for Kansas City was disallowed, causing an out and a Yankees victory. The next day, MLB ordered the final inning replayed, and the Royals won.
Many readers, including Michael Glass of Pittsburgh, noted the 1940 extra-down game between Cornell and Dartmouth: "Cornell ran five plays from the 5-yard line in the closing seconds, scoring on the last play to win 7-3. Game film was conclusive in showing that the ball should have gone over on downs after the fourth play, preserving a 3-0 win for Dartmouth. The sanctioning body of Northeastern collegiate sports refused to change the outcome on the basis that the 7-3 win for Cornell was already entered in the record book. Cornell did the sportsmanlike thing -- today unimaginable! -- and forfeited to Dartmouth." Mike Shearn of Wiesbaden, Germany, adds that doing the sportsmanlike thing probably cost Cornell a Rose Bowl bid (until 1946, conference affiliation was not a factor in selection of the East Coast entrant in the Rose Bowl).
Many readers, including Laticia Gayle of Atlanta, noted that the NBA had the Heat and Hawks replay the final 52 seconds of a game after a gross officiating error.
[+] Enlarge
AP PhotoThe 1940 Dartmouth-Yale game, where Dick Jauron learned everything he knows about football.
Jacob Fulper of Columbus, Miss., reports, "In a 2008 second-round playoff in Mississippi Class 2A high-school football, the Leland Cubs thought they beat the Walnut Wildcats. As time expired, Leland scored a touchdown for a 24-21 advantage, but on the play there were multiple penalties against Leland. The referee ruled the infractions against the offense would result in an untimed down, instead of ending the game, which would have been the proper ruling. Walnut had no choice but to accept a penalty -- declining would have conceded the game -- then Leland scored a legitimate touchdown on the untimed down. Walnut appealed to the state sanctioning body, the MHSAA, and in a controversial decision, Walnut was awarded a 21-18 victory, because the untimed down should have never have taken place. Leland actually appealed the ruling in court, but the judge upheld the MHSAA. None of this was clarified until the Tuesday after the contest."
Bill Parietti of Tualatin, Ore., notes this equestrian result was overturned from the 2004 Olympics. Bill Sprague of Bloomfield Hills, Mich., notes, "The 1981 Indy 500 results were changed, taking victory away from Mario Andretti and giving it to Bobby Unser, after reversal of a penalty." John Schaefer of Woodbridge, Va., reports, "In 1985, the San Diego Sockers thought they had defeated the Minnesota Strikes 4-3 in a shootout to win a Major Indoor Soccer League series three games to one. Following the game, MISL commissioner Francis Dale overturned the outcome after Minnesota protested that the Sockers used an ineligible player in the shootout. The Strikers were given the victory, which evened the series at two. A ticked-off bunch of Sockers socked the Strikers in the decisive fifth game and went on to win the MISL championship."
Ted Geiger of Jersey City, N.J., writes, "A 2005 World Cup qualifier between Bahrain and Uzbekistan was ordered to be replayed due to a referee error on a penalty kick." Andrew Lewis of Melbourne, Australia, reports, "Umpires in Aussie rules football must hear the siren before calling a quarter closed. The timekeeper must keep the siren sounding until he sees the umpire hold up his arms. Check this controversy."
And of the failure of MLB to credit Armando Galarraga with a perfect game -- although the bad call came on the very last play and did not affect the final score -- Cory Soukup of Cedar Rapids, Iowa, notes, "There have been many instances where a baseball game ended and the official scorer later that day, and sometimes the next day, changed a hit to an error or vice versa. This creates precedents of game rulings changed after the game concludes."
See, sports leagues? You can reverse a bad call and the world doesn't end. The sun continues to revolve around the Earth, just like it did before.
Jonathan Nighswander of Gilmanton, N.H., adds --- and this requires you to know that Beria was the head of the NKVD secret police, being to Stalin what Himmler was to Hitler -- "In 1938, Spartak Moscow had the misfortune of beating Tbilisi Dinamo 1-0 in the semifinal of USSR Cup soccer. Misfortune because Dinamo was Lavrenti Beria's favorite team. Beria wasn't happy. The goal and result were disallowed, and Spartak was forced to replay the semifinal. What made this decision particularly odd was that Spartak had already beaten Leningrad Stalinets the week before in the Cup final. I'm not sure what was supposed to happen if Spartak lost the replay of the semifinal since they were already Cup Champions, but they managed to pull out a 2-1 win that was convincing enough that even Beria had to concede they were the better side."
I chided Harvard for naming retired ambassador Nick Burns a "professor of the practice of diplomacy" rather than just a professor of diplomacy -- assuming this was pompous wordiness. Many readers, including May DeCammio of Amherst, Mass., reported that a "professor of the practice" post gives a faculty member with real-world experience the rank of professor without placing him or her onto the tenure track. (Of course, real-world experience is discouraged wherever possible.) She also noted that Burns snuck a Red Sox reference into his Harvard bio.
Finally, I noted that Chevrolet decided (and then undecided) to stop using the word "Chevy" because the company thought people outside the United States were way too dim to get that Chevrolet and Chevy are the same. Ricardo de la Cruz of Guadalajara, Jalisco, Mexico writes, "This made me laugh, because they have been selling a car branded the Chevrolet Chevy in México since the 1990s."
[+] Enlarge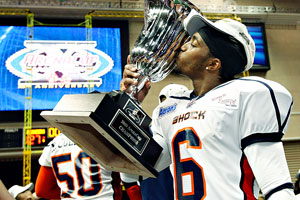 Ethan Miller/Getty ImagesShock player kisses the Arena League trophy. The Shock play in ... the same state as Springfield in "The Simpsons."
Football-Like Substance Wrap-Up: The Arena Football League was back this year, and the Predators beat the Sharks 73-69 in a game that featured 20 touchdowns, one field goal and no punts. Odie Armstrong of the Talons led the league in rushing with 349 yards, and Rod Windsor of the Rattlers led the league in receiving with 2,372 yards. Justin Allgood of the Sharks led the Arena League with 109 touchdown passes, more than double the NFL season record of 50, held by Tom Brady, who can only dream of a Justin Allgood-class season! Aaron Garcia of the Sharks pushed his career total to 962 touchdown passes, probably the most ever for a pro quarterback -- Clint Dolezel retired with about 950 touchdown passes, but the exact total is disputed. Culminating the season, the Shock defeated the Storm 69-57 in an ArenaBowl that featured 21 yards rushing and 538 yards passing.
Now, without peeking, in what cities are the Predators, Rattlers, Sharks, Shock, Storm and Talons based? Hint: The Storm might have scored only 57 points, but they do have Florida beach-bunny cheerleaders.
Working the ArenaBowl as a color commentator for NFL Network, novice broadcaster Kurt Warner declared of the first half, "We've really seen some great defense." There were nine touchdowns in the first half! By Arena League standards, though, that is great defense.
Next Week: NFC preview, plus only 487 shopping days till Christmas 2011.
In addition to writing Tuesday Morning Quarterback for Page 2, Gregg Easterbrook is the author of the new book "Sonic Boom" and six other books. He is also a contributing editor for The New Republic, The Atlantic Monthly and The Washington Monthly. His Web site can be found here.