Commentary
NFL must enforce rules, hit back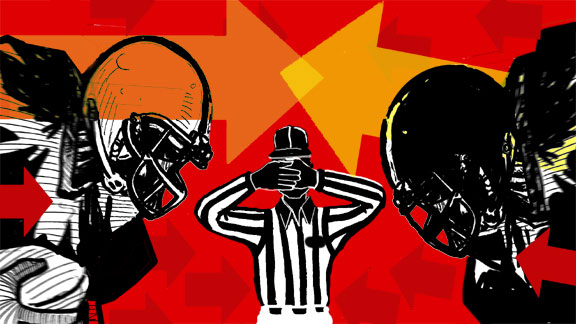 Kurt Snibbe/ESPN.com
Josh Cribbs of the Browns suffered a concussion on a helmet-to-helmet hit by James Harrison of the Steelers on Sunday. No flag was thrown. Later in the same contest, Mohamed Massaquoi of the Browns left the field with a head injury after a helmet-to-helmet hit by Harrison. No flag. DeSean Jackson of the Eagles sustained a "severe" concussion on a flagrant helmet-to-helmet hit by Dunta Robinson of Atlanta. Robinson was flagged but not ejected, as he should have been. (Robinson left the game with his own concussion, but disqualification sends a much stronger message about behavior than just a penalty.) Zack Follett of Detroit lay motionless for several minutes on the field after a helmet-to-helmet hit by Jason Pierre-Paul of the Giants. No flag. Sam Bradford's helmet was knocked off by a helmet-to-helmet hit by Kevin Burnett of San Diego. No flag.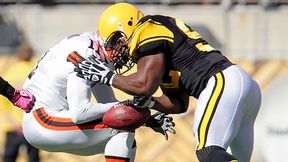 Charles LeClaire/US PresswireJames Harrison leading with his helmet against Mohamed Massaquoi. This should always be a penalty.
Late Monday night, the NFL said it would announce new head-protection rules by Wednesday, and that the new rules will take effect immediately. It's about time.
For too long, NFL headquarters and sports commentators both have acted as though there is some gigantic mystery regarding why NFL players make so many dangerous helmet hits. Here's why in three words: because they can. The play is almost never penalized.
For too long, NFL headquarters and sports commentators both have acted as though there is some gigantic mystery regarding what to do about dangerous helmet hits. Here's what to do in three words: throw the flag!
NFL players and coaches know the penalty for a helmet-as-a-weapon hit is almost never called. Enforce strict penalties and player behavior and coaching will change quickly. Broadcasting the game in which DeSean Jackson collapsed, Daryl Johnston of Fox said, "We need to do something to prevent that kind of hit, but I just don't know how you keep that from happening." There is a way: strict penalties strictly enforced, including with ejections and suspensions.
Especially, strictly enforce the "defenseless player" rule, which is supposed to forbid contact after an incompletion goes past a receiver. A high percentage of helmet-as-a-weapon hits occur in this situation -- and defensive backs inflict brutal blows after the ball goes past a receiver because they know the foul is almost never called.
NFL officials do not invent their own officiating standards. The reason they have not applied "point of emphasis" enforcement to the helmet-as-a-weapon rule is that the league has not instructed them to do so. The league has instructed officials to enforce the celebration penalty strictly, and baby, is that penalty ever enforced. Sunday, we had the ghastly spectacle of an NFL in which it is completely forbidden to jump around happily after a touchdown -- but perfectly fine to make a sadistic helmet-to-helmet hit that can cause lifelong harm.
That the NFL has not, till this moment, acted to impose strict enforcement of rules against use of the helmet as a weapon points to the dark side of football marketing. Namely: a perception that the league doesn't really mind a few severe injuries, considering blood and pain are part of the product.
Most football fans are horrified when a player falls to the turf motionless. But some aren't -- consciously or subconsciously, they want to see harm. Presenting painful mayhem as "entertainment" goes at least as far back as the Roman Colosseum.
Hollywood eagerly markets to the desire to watch violent harm, but movie violence is fake. Has the NFL been slow to enforce head-protection standards because the owners think the occasional player carted off unconscious makes the game edgy and dangerous, appealing to fans who want all-too-real violence? There is real violence in prizefighting, too -- the dark side of boxing's appeal. But only a tiny number of people engage in prizefighting, while each year about 1 million play football, most of them high school boys. The NFL not doing everything possible to prevent head injury sets an awful example for the high school players who model themselves on what they see in the pros.
The league doesn't really mind if some players are harmed -- is this just a conspiracy theory, an urban legend? The way for the NFL to prove this wrong is to adopt very strict enforcement of head protection rules, beginning Sunday. Flags must fly; players must be ejected and suspended. Old-schoolers aren't going to like it. But drastic measures are necessary to change a football culture that for too long has assumed it's OK, even manly, to cause another player to be injured. And the NFL must keep very strict enforcement in place permanently, after public attention shifts elsewhere.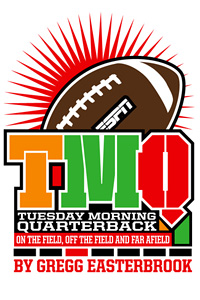 The sports media need to change, too. Most football announcers either avoid discussion of neurological danger, laugh it off as getting "jacked up," or pretend not to see what's directly in front of their eyes. When Cribbs was hit in the head by Harrison, Kevin Harlan of CBS, calling the game, said, "Wow what a hard-hitting rivalry the Steelers and Browns have," not mentioning head trauma. When Massaquoi was hit in the head later in the same game, Harlan said with enthusiasm, "He was drilled, Harrison was really laying the wood!" To young viewers -- and the 95 percent of football players who are high school boys -- this kind of commentary makes helmet-to-helmet hits sound cool. Making helmet hits sound cool to the young is doubly worrisome because while most orthopedic injuries heal, some neurological injuries cannot be treated.
Harlan was merely vocalizing the way in which football culture traditionally avoids dealing with the game's underside. On NBC on Sunday night, Dan Patrick showed the Cribbs injury as a highlight and said lightheartedly, "Cribbs gets a big hit from his former college teammate." It's not a concussion, it's an amusing coincidence about their bygone college days! (Cribbs and Harrison attended Kent State.) After Joseph Addai took two deliberate blows to his helmet -- first a helmet-to-helmet hit from Kedric Golston, then a forearm-to-helmet hit from London Fletcher -- and collapsed in the Indianapolis-at-Washington game, Cris Collinsworth of NBC said, "That is a perfectly clean hit, blows to the head are allowed on running plays."
Really -- it's "perfectly clean" to slam your forearm into another player's helmet? Existing rules on head protection are poorly worded, which may be a reason officials have trouble knowing what to enforce. Let's hope the upcoming NFL announcement includes both stricter rules and clearer rules.
Existing rule 12, 2, 7g bans "using any part of a player's helmet (including the top/crown and forehead/hairline parts) or facemask to butt, spear, or ram an opponent violently or unnecessarily," and also states, "violent or unnecessary use of the helmet is impermissible against any opponent." Any opponent, including the ballcarrier. So it's not legal to ram your helmet into the ballcarrier's helmet. But many in the football world think it is -- a reason the rules must become clearer. And attitudes must change. If it really were "perfectly clean" to deliver deliberate blows to a ballcarrier's head, then no one should play football.
ESPN deserves blame, too, for poor coverage of neurological harm. On Monday, the noon Eastern edition of "SportsCenter" showed both the vicious hits in the Pittsburgh-at-Cleveland game as highlights, without context about helmet-as-a-weapon fouls or concussions. "That James Harrison is a dangerous player, you better account for him," Merril Hoge said, as if young players should emulate dangerous tactics. Then, inexplicably, Hoge added, "I think NFL players are doing a better job of not leading with the helmet." So dear viewer, though you just saw two violent instances of leading with the helmet, don't worry, this is not a problem.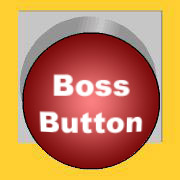 A few in the sportscasting world have gotten the message. Don Criqui of CBS, calling the Chargers-Rams game, said the blow to Bradford's head was dangerous and questioned why no penalty was assessed. Most important, Rodney Harrison said on NBC that players guilty of deliberate helmet-as-a-weapon hits should not just be ejected but suspended. Coming from a former NFL star, Harrison's statement got the NFL's attention.
To this point, the NFL and its media partners haven't done anywhere near enough to emphasize protecting players from head harm -- or to set a better example for high school players. Will that really now change?
This week is a critical moment for football as a sport, and as a business. If the league really does crack down in a meaningful way -- and if sportscasters, including on ESPN, start being honest about the risks and downsides of football -- then the game will become safer, and a good example will be set for high school players. If the league is just blowing smoke, or the sports media return to boosterism, then Congress should step in and regulate the playing standards of professional sports.
And please DeSean Jackson, do not play again this season. You're already on your second bad concussion. Having the first, in 2009, increased your odds of the next one, which happened Sunday. That, in turn, increases your odds of another. "Second-impact syndrome" is among the highest risks in neurology, and Jackson is now at risk. I really like watching Jackson play -- but I don't want to watch him fall to the turf with a worse head injury.
Eagles owner Jeff Lurie: On Monday, you became the first NFL owner to call for strict enforcement of the helmet-as-a-weapon rules. Take the next step and forbid Jackson from playing again this season. That would be bad for your team but good for Jackson, for the sport, and for huge numbers of high school boys who emulate the NFL.
High school athletes: Want to be informed on concussion risk? The Centers for Disease Control details the issue here. Coaches: Want to know the best practices for concussion diagnosis and management? The free CDC online course is here.
In college football news, the first BCS standings are out, and, by the strangest and most amazing coincidence, Boise State is not No. 1. By the strangest and most amazing coincidence, Boise State is third and TCU is fifth. Hey, maybe that means they will be paired against each other in a BCS bowl game.
[+] Enlarge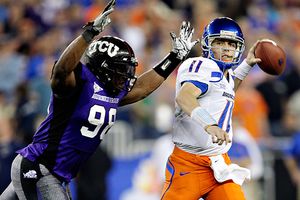 Jamie Squire/Getty ImagesBy the strangest and most amazing coincidence, the BCS computer already projects Boise State and TCU will meet again in a BCS bowl.
Last season, with Boise State and TCU reaching BCS status, by the strangest and most amazing coincidence, they were pitted against each other in the Fiesta Bowl -- perhaps to ensure neither could have a chance to defeat a school from one of the insider "automatic qualifier" conferences. Had Boise State and TCU both played BCS-insider teams in bowls this past January and both won, the BCS system might have been discredited. By the strangest and most amazing coincidence, the early BCS ranking this season creates a chance Boise State and TCU might be paired in a bowl again, so they cannot defeat teams from the AQ-insider conferences. By the strangest and most amazing coincidence!
In other NFL news, the Cowboys are no longer America's Team -- they are now America's Dumbest Team. See below. The Eagles have two red-hot quarterbacks in Michael Vick and Kevin Kolb. Who should start? Andy Reid faces the Judgment of Paris -- and in that story from ancient mythology, no matter how Paris chose, he was doomed.
Stat of the Week No. 1: Tom Brady has won 26 of his past 27 starts at Gillette Field, including playoffs.
Stat of the Week No. 2: Detroit has lost 24 consecutive road games -- for the second time in a decade.
Stat of the Week No. 3: With Brett Favre at quarterback, Minnesota is 11-1 at home and 4-7 on the road.
Stat of the Week No. 4: Favre is 28th in passer rating this season, trailing QBs such as Josh Freeman, Shaun Hill, Chad Henne and Alex Smith.
Stat of the Week No. 5: Green Bay lost in overtime for the second consecutive game.
Stat of the Week No. 6: The Bears, who allowed 35 sacks in 16 games in 2009, have allowed 27 sacks in the first six games of 2010.
Stat of the Week No. 7: Peyton Manning is on a pace to attempt 677 passes. The NFL single-season record is 691, set by Drew Bledsoe in 1994 with the Patriots.
Stat of the Week No. 8: The Steelers are on a 19-2 run against the Browns.
Stat of the Week No. 9: (College bonus.) Arkansas and South Carolina combined for 1,039 yards of offense -- and both lost.
Stat of the Week No. 10: The San Diego Chargers are ranked No. 1 in offense and No. 1 in defense -- and their record is 2-4.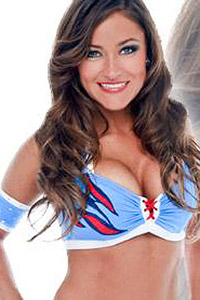 Tennessee Titans Jocey of the Titans. The court does not hear any objections.
Cheerleader of the Week: Liam Carter of Fort Collins, Colo., nominates Jocey of the Tennessee Titans, who, according to her team bio, is a lawyer who works as a public defender. If you had an NFL cheerleader as your criminal defense counsel, here is the closing argument the jury might get:
Two, four, six, eight
Whom should we exonerate?
My client! My client!
Aaaaaaaa-CQUIT!
Sweet Play of the Week: New England ran a "flip" reverse -- a risky action in which a tailback chucks the ball into the air -- to Brandon Tate for a 22-yard gain, setting up the Patriots' first touchdown in what would become an overtime win. But the sweetest play of the game, if not of Week 6, was 5-foot-9 undrafted free agent Danny Woodhead, out of Division II Chadron State, picking up Ray Lewis on a blitz block.
Sweet Play in a Losing Cause: Trailing 20-13, the Packers faced fourth-and-goal on the Miami 1 with 16 seconds remaining in regulation. Green Bay came out in an empty backfield. Miami looked surprised -- though Green Bay has gone "empty" at the goal line several times this season -- and called timeout. Next, the Packers came out with four receivers and a fullback; the Dolphins, expecting another empty look, were in a dime defense, meaning lots of skinny guys; the fullback went in wide motion, almost to the left sideline; the middle linebacker followed the fullback, meaning no 'backer in the center of the field; seeing this, Aaron Rodgers quick-snapped and ran forward for the touchdown.
As Rodgers called for the snap, there were only four defenders in the "box" area, opposed by five blockers. To top it off, as Rodgers rushed up to snap, Miami safety Yeremiah Bell, covering the center of the back line of the end zone and the only player who might have stopped Rodgers, had turned away from Rodgers and was gesturing to the middle linebacker that he was out of position. Bell couldn't call timeout because Miami had just used its final timeout, and Bell never saw Rodgers rush up under center.
Because the Green Bay strategy worked, the touchdown itself was the easiest NFL touchdown ever. What does it tell you about the modern, pass-wacky NFL that, on fourth-and-goal from the 1, the defense was so sure a pass was coming that it didn't even attempt to prepare for a quarterback sneak?
Sour Play of the Week: In overtime, Baltimore ran a play that would have left the Ravens at third-and-9 on their 20. There was some pointless pushing and shoving. After a New England player pushed, Le'Ron McClain of Baltimore shoved back. The second man almost always gets the flag because it's the first man who causes the zebras to look -- highly paid professional football players should know this! The dead-ball penalty (no down over) caused third-and-19; the Ravens failed to convert; a punt set up the Patriots near midfield, and New England drove for the winning field goal.
Sour Sets of Plays: With Detroit trailing 21-10 at Jersey/A in the fourth quarter, Calvin Johnson caught a go route and both defensive backs on his side fell, leaving nothing but green for an 87-yard touchdown. Johnson began waving the ball in the air at the Giants' 45! Not only did Johnson risk blowing the touchdown with a self-inflicted fumble, not only did he show poor sportsmanship by mocking the home team, not only was Detroit riding a streak of 23 consecutive road losses -- which isn't really that much to strut about -- but after the touchdown, the Lions were still behind. Wild strutting when behind on a 23-loss streak -- only the Detroit Lions could turn an 87-yard score into a sour play.
Now trailing 28-17 with 2:55 remaining, Detroit faced fourth-and-2 on the Jersey/A 32. In came the field goal unit. Yes, at that point the Lions needed two scores. But you're not going to reverse the psychology of a 23-game road losing streak by launching a fraidy-cat kick on fourth-and-2 with 2:55 remaining. Now you need to reverse the psychology of a 24-game road losing streak.
Reader Chris Schneider of Las Vegas notes that Detroit is 1-5 despite outscoring its opponents. Only the Detroit Lions could turn high scoring into a cellar-dweller record!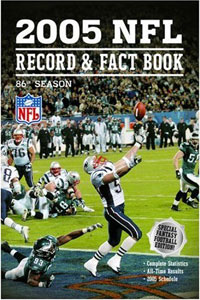 Amazon.comHow could the Texans have known that Mike Vrabel catches passes on goal line trick plays? How could the Texans possibly have known?
Sweet 'N' Sour Play: Kansas City lined up to go for it on fourth-and-1 at the Houston 2. Linebacker Mike Vrabel reported eligible as an extra tight end; play fake and a touchdown pass to Vrabel. It was Vrabel's 10th career touchdown reception, with all coming on goal-line plays. Ten touchdown catches by a linebacker -- that's sweet. Sweet also was that the play was Kansas City's seventh fourth-down try this season. Todd Haley, initially ultraconservative as a head coach, finally is challenging the Chiefs to win, which is what's necessary to reverse years of losing psychology.
The Texans were completely fooled -- though Vrabel entered the game with nine touchdown receptions, though the play fake to Vrabel comes through the New England West pipeline of Matt Cassel and Charlie Weis at Kansas City, and though Vrabel caught a touchdown pass for the Chiefs in 2009. How else might Houston have known the play could be to him? Mike Vrabel catching a touchdown pass after reporting eligible at the goal line is on the cover of the 2005 NFL Record and Fact Book, the league's flagship publication. The past decade or so of the Record and Fact Book should sit near every NFL coach's desk. Yet the Texans were fooled -- that's sour.
Houston got sour payback when, with 36 seconds remaining, the Chiefs allowed Andre Johnson -- one of the league's best players -- to get open in the end zone for the winning touchdown. On the play, Kansas City had seven defenders dropping back to cover four receivers -- yet one of the league's best players got open.
[+] Enlarge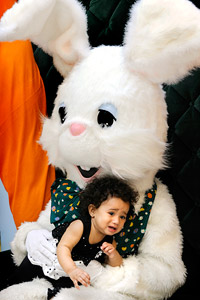 AP Photo"Don't cry, little girl. It's October. The Easter bunny is coming!"
Unified Field Theory of Creep: Gerry Brandreth of London, backpacking in Nepal, reports, "Kathmandu is currently adorned with banners welcoming visitors to Nepal Tourism Year 2011. There are three months remaining in 2010." Nepal Tourism Year 2011 "strategies" include "lobbying with the government for sufficient budget allocation." Another developing world country mimics the United States!
Tam Tran of Kansas City reports, "On a business trip to New Orleans, I read a newspaper story about the Gulf oil spill and how it might affect the restaurant business of the 'quickly approaching' Lent season. Lent begins March 9, 2011." Jeremy Nichols of Ballwin, Mo., reports, "The other day I was looking through headlines on Yahoo! and saw a video link from ABC News caught my eye. I had to watch a short advertisement before the story played. The ad? Two M&Ms dressed as the Easter Bunny, hiding candy. The tag line? 'Bring M&Ms home this Easter.'"
Jon Frosch of New Orleans reports, "Walking to school at the University of New Orleans, I spotted a car in the parking lot of Ben Franklin High School, which shares the same campus, that had written in the windows, 'Congrats, Class of 2011.' New Orleans Public Schools do not graduate for another eight months."
[+] Enlarge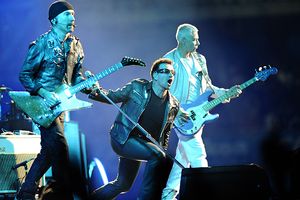 Ander GilleneaGetty Images"I want to take shelter from the poison rain / Where the creep has no name."
Thomas Bender of Chicago writes, "I just received an e-mail for the U2 concert in Chicago at Soldier Field -- on July 11, 2011. Tickets on sale now." Jeffrey Pariser of Washington, D.C., writes, "The nominees for the 2010 National Book Awards were announced on Oct. 13. The winners will be announced at a ceremony on Nov. 17. The details include, 'Eligible books were written by an American citizen and published in the United States between Dec. 1, 2009 and Nov. 30, 2010.' So the nominations were closed, and the winners will be named, before deadline for publishing an eligible book."
Rich People, Stop Giving to the Ivy League! TMQ has done previous items on the super-rich giving to Harvard for reasons of personal glorification, thus concentrating even more money on the elite -- rather than giving to Berea College or Morehouse College or a hundred other schools where money can make a difference in the lives of typical people.
Erik Kneebone of Genoa, Ill., writes, "Henry Kravis just donated $100 million to Columbia to expand its business school. Not only is Columbia Business School's main contribution to society the Wall Street sharks who caused the 2008 financial meltdown -- $100 million is more than twice the annual operating budget of my local community college, McHenry County College in Crystal Lake, Ill. That kind of money at McHenry County Community College could transform lives. At Columbia, it will just channel more insider status to elites."
Alternatively, Kravis' gift could have nearly doubled the endowment of Morehouse, which has a strong academic reputation yet is perennially strapped for cash. Columbia has a $6.5 billion endowment, versus $130 million for Morehouse -- meaning the former holds $50 for every $1 at the latter. The annual interest on the Columbia endowment exceeds the Morehouse endowment! A $100 million gift to any college like Morehouse would make a huge difference in the lives of typical people; a $100 million gift to any Ivy League school would barely be noticed. Yet it's the Ivy League that offers self-glorification to the donor.
[+] Enlarge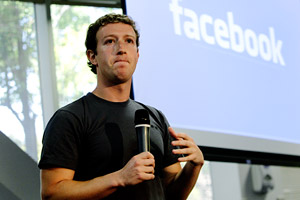 AP Photo/Paul SakumaHe's a hero -- if he actually hands over the $100 million.
Facebook founder Mark Zuckerberg's donation of $100 million to the Newark, N.J., public school system sounds like the reverse of what Kravis did -- like exactly the kind of progressive philanthropy that deserves applause. My hesitation: Zuckerberg hasn't actually given the money; rather, he said he "plans" to donate $100 million if Newark raises a matching $100 million.
Recently a group of billionaires was bathed in good press for seeming to say they would give away half their net worth. If you read the fine print, they were saying only that they "planned" or "intended" to give away half. My worry about the billionaires is that they are playing a cynical game -- seeking favorable publicity for seeming to be generous without actually handing anything over.
If Zuckerberg does give $100 million to Newark schools, he is a hero. That he has accepted the adulation without actually handing over the money is a red flag.
Adventures in Officiating: Miami ran a terrific tight end throwback to Anthony Fasano for a 22-yard touchdown and a fourth-quarter lead at Green Bay. On the snap, Chad Henne and all the offensive linemen rolled right, then Henne leapt into the air and threw back left to Fasano as left tackle Jake Long pivoted and ran left to block. But Long was downfield before the catch, unnoted by the officials.
Brett Favre Brett Favre Brett Favre Watch: Reader Jonathan Duker of Beit Shemesh, Israel, notes that this NFL Network highlight package of the Minnesota-at-Jersey/B game mentioned Brett Favre 24 times while mentioning all other Vikings players combined 14 times. The piece offers 23 close-ups of Favre versus six close-ups of all other Vikings players combined.
[+] Enlarge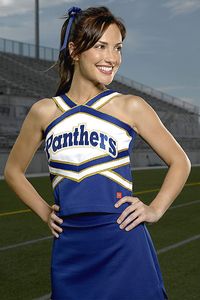 NBCActress Minka Kelly -- from 2005 hometown sweetheart to 2010 foldout.
"Friday Night Lights" News: Esquire just named Minka Kelly, the actress who played super-cheerleader Lyla Garrity on "Friday Night Lights," the "sexiest woman alive." That shy ingenue look she projected in the show's first season? Replaced by bedroom eyes and dominatrix gloves. Esquire notes that Kelly was 26 years old when she began portraying Garrity as a 16-year-old high school junior. Last season, she was written out of the show, which returns to DirecTV late this month for its finale run, then migrates to NBC in the spring.
Christmas Creep: Pål Dyrstad of Trondheim, Norway, "On the 1st of October they began displaying Christmas cookies and Christmas chocolate in my local store. On the same day it was 68 degrees Fahrenheit, which is quite warm for this time of year."
Dan Logie writes, "I am from Front Royal, Va., and live in Caracas, Venezuela. A block from my apartment is a store that for most of the year sells furniture, and turns into a Christmas store late in the year. Every year they switch over earlier. This year they had the entire store converted to Christmas on Oct. 1. On Saturday Oct. 2, our apartment complex held its annual Christmas bazaar. All this becomes even more creepy because in Venezuela, the start of the school year, which normally occurs late, was delayed to Oct. 4 on account of parliamentary elections. So the Christmas store grand opening and neighborhood Christmas bazaar happened before the kids went back to school!"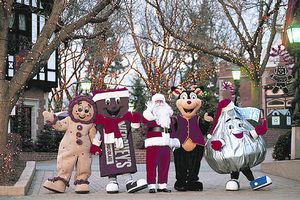 Hershey Entertainment and Resorts It's November, the trademarked characters are ready to celebrate Christmas!
Molly Aichele of Washington, D.C., writes, "My family and I were at Hershey Park over Labor Day. Decorations were already up for Halloween. I checked and Christmas Candylane starts on Nov. 19." Joe Andrews of Clifton, Va., reports, "Last Saturday, my wife and a couple of our friends went to a local haunted trail. One of the attractions was a haunted hay ride. Towards the end, we went through a Christmas display. There it was, in the middle of haunted hay ride in October, Santa Claus and his friends. Too bad Santa was not holding a machete and Rudolph was not a zombie."
A High School Where Football Is Five Times as Important as Education: Reader Tom Smith of Key Largo, Fla., notes that Saint Thomas Aquinas of Fort Lauderdale, Fla., a prep football power -- No. 10 on the ESPN RISE Top 50 -- has a 21-person football coaching staff. Included are two running backs coaches, two wide receivers coaches, and separate coaches for inside and outside linebackers. Sometimes people listed on high school coaching mastheads are boosters or donors, allowed on the sideline during games as a Walter Mitty thing.
[+] Enlarge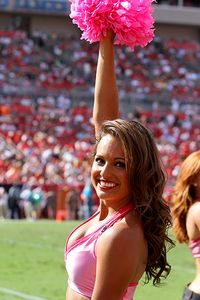 AP/Margaret BowlesIn City of Tampa, the cheerleaders were more professional than the players.
Even so, 21 football coaches for a high school team veers into the ridiculous. "The ratio of students to teaching faculty stands at 18 to 1," the school's website says. The ratio of football coaches to players is 4-1. This suggests that, at St. Thomas Aquinas, football is nearly five times as important as education.
Dr. Jekyll and Mr. Martz: With Seattle leading 14-7 in the second quarter, Chicago faced third-and-10 on the Blue Men Group 11. Mike Martz, his sinister Mr. Martz personality showing, called an everybody-out pattern despite the Bears' recent problems with sacks. Chicago botched the line call -- right tackle JaMarcus Webb turned inside to double-team a defender, leaving no one to block Aaron Curry, who sacked Jay Cutler so fast Cutler could barely set up. When protection schemes don't work, little else matters. Cutler has been sacked 15 times in his past two games. If Chicago wants a winning season, this can't go on, no matter how good Devin Hester is.
Cheer-Babe Professionalism Watch: The football gods do not reward and punish only in the big leagues, but govern lesser leagues, as well. Kickoff temperature in the mid-50s, the cheerleaders of the UFL Hartford Colonials came out with bare midriffs and short skirts. Inspired by this professionalism, the Colonials took a 14-7 halftime lead over Omaha. For the third quarter, the cheerleaders donned jackets. Do I even need to tell you who won?
Off by a Few Hundred Billion Stars -- But Trust Us, We're Experts: This paper, based on analysis from the Sloan Digital Sky Survey, contends the Milky Way contains less mass than previously thought, but also burns matter much more efficiently in stars than previously thought -- which would suggest the universe is not as immense as thought, yet will exist longer than assumed. Then again, the Harvard Smithsonian Center for Astrophysics now estimates the Milky Way has much more mass than previously thought, the opposite of the Sloan conclusion.
[+] Enlarge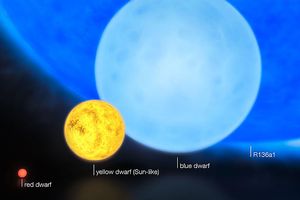 European Southern Observatory There are stars 300 times the mass of the sun, although theory said that was impossible. Can't be the theory -- must be something wrong with the universe.
For several decades, cosmologists have been perfecting a theory of star formation that contends that it is physically impossible for a star to have more than roughly 150 times the mass of our sun. Along comes this discovery of a class of stars with 300 times the mass of the sun.
Canonical cosmology says that stars should be rare on the boundary areas of spiral galaxies because matter there is too diffuse to coalesce. Recently astronomers found significant star formation 146,000 light-years from the center of galaxy M83, much farther away from a galactic center than it was thought stars could form.
Astronomers using the Hubble Space Telescope recently showed that the galaxies designated NGC 4038 and NGC 4039 are about 45 million light-years away, not about 65 million light-years as previously assumed. These two galaxies are among the most-studied objects in deep space because they are colliding. Yet even though this area of space is a favorite of astronomers, the distance estimate was off by 20 million light-years.
These are all examples of TMQ's contention that humanity so far knows about 1 percent of what can be known. Maybe it will turn out the universe is smaller than we think. Or maybe it will turn out the universe contains far more stars than we think. Or maybe it will turn out the universe is lighter yet more long-lived than we think. Or bigger. Or smaller. Or maybe not.
[+] Enlarge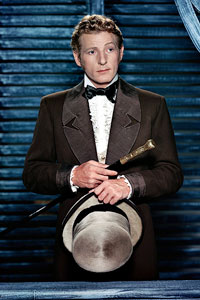 MGM Danny Kaye as Walter Mitty -- maybe he also fantasized about being a high school football coach.
Colts Run the Blur Offense: At Washington, Indianapolis used an NFL version of Oregon's blur offense, quick-snapping so fast that it wasn't clear how Colts players were getting the plays -- Peyton Manning calls most plays himself, but he barely shouted or signaled anything to his backs, linemen and receivers. One 12-play Indianapolis touchdown drive took 3:38, an average of 18 seconds between snaps. That's fast.
Washington countered with the Times Square defense -- the front seven milling around at random, like tourists in Times Square. Manning couldn't predict where the front seven would be because the defenders themselves didn't know; they were instructed to move randomly. Manning wasn't fazed, burning this defense for 469 yards. On the Joseph Addai touchdown in the third quarter, the Redskins were in dime defense on third-and-3. No one on the defensive front was down in a stance; they were all milling around. So Manning called a simple rush up the middle: 13-yard touchdown run.
Manning called lots of runs as the Colts rushed for 170 yards. In the Week 2 Colts-Giants contest, Jersey/A spent most of the game in a dime defense with defensive linemen standing, and Manning called lots of runs for big gains. Didn't Washington defensive coordinator Jim Haslett look at film of that game?
Leading 27-24, Indianapolis took possession on its 20 with 2:42 remaining. Manning called three straight passes, all incompletions, stopping the clock thrice and leaving the home team time for a potential win. This was a rare bad sequence for the gentleman who -- coach or player -- is the NFL's best playcaller. Sean Payton, of course, is second-best.
Buck-Buck-Brawckkkkkkk: Leading 20-17 at New England, Baltimore faced fourth-and-inches at midfield with 9 minutes remaining in the fourth quarter. John Harbaugh of the Ravens sent in the punt team. Do I even have to tell you who won? Trailing 24-21, Dallas faced fourth-and-5 with 2:40 remaining. Wade Phillips of the Cowboys sent in the punt team. Do I even have to tell you who won?
Offensive Linemen Gone Wild! Billy McHenry of Minden, Nev., writes, "I am the head freshman football coach at Carson High in Carson City, Nev. Per your advice we rarely punt; we are 5-1 and have punted three times this season. As a teen, I played guard for Lakeside High School in Atlanta, Ga. In 1981, my senior year, the coach had both guards -- me and Danny Spinks -- run the ball. After turning our backs to the goal line as the rule requires, we received a handoff from the quarterback, who proceeded to fake an option play. Danny ran for about a 20-yard gain when he got a handoff. I was stuffed for no gain when it was my turn to try."
Blaine Roundy of Arlington, Va., reports, "While at Rutgers, Anthony Davis threw a pass from the left tackle position, after getting a lateral. He threw into double coverage and was lucky the pass fell incomplete. Davis is now on the 49ers. Considering the current state of Niners quarterbacking, maybe we'll see Davis to Michael Crabtree this season."
[+] Enlarge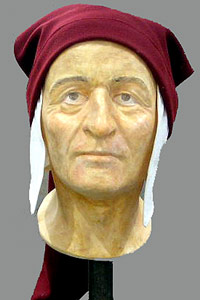 AP Photo/Pisa UniversityDante himself would have descended to hell rather than listen to Rachael Ray.
Eternity with Rachael Ray -- the Third Circle of Hell: The autumn edition of the Rachael Ray promotional vehicle "Everyday with Rachael Ray" declares in its main headline, "Recipes you'll keep forever!" Like 'til the end of time?
GOD: I command that the temporal world cease.
THE LAST MAN: Wait a sec while I grab my Rachael Ray recipes.
Worst Crowd Reaction: St. Louis spectators have gotten out of practice watching football played properly. With Les Mouflons leading San Diego 17-10 with 4:44 remaining, facing third-and-13 on the Bolts' 29, St. Louis coaches called a draw that gained 2 yards. Home spectators booed loudly. But a rush ensured the clock kept moving, and grinding the clock is essential to endgame strategy. The Rams launched a field goal on the next snap for a 20-10 lead; San Diego scored a quick touchdown, then kicked deep rather than onside; St. Louis was able to drain the rest of the clock for the win.
Nick Saban Knows of Whom He Speaks: It's not a good time to be a sports agent. Three North Carolina football players were kicked off the team for taking payments from agents; this week's Sports Illustrated cover story is the confessions of a former agent who says he used to hand out cash to college players; this summer Nick Saban said many agents were "greedy" and compared them to pimps; Reggie Bush just returned his Heisman Trophy -- without saying why, but if he didn't accept improper benefits from an agent, what reason would he have for returning the trophy?
Most sports-agent scandals involve comparatively small amounts of money. The three North Carolina players took a total of about $20,000 in cash, gifts and travel benefits, for example. No one is getting rich, or even making something like income, on this sort of minor graft. Last week's column proposed that giving players in Division I football and men's basketball (the only college sports that don't lose money) stipends of a few thousand dollars per year would remove the temptation to take cash from agents while treating players no differently from college newspaper editors, stage crew and graduate teaching assistants, who also receive small stipends.
In college football, agent scandals involve comparatively small sums because agents' commissions are relatively small. The NFLPA allows registered agents to take a 3 percent commission. That means for an NFL draft choice who receives a $5 million bonus, the agent's share is $150,000 -- a nice sum but not enough to fund private jets and big cash handouts. Most NFL agents have only a few first-round choices per year. Mainly the agents represent players who are not first-round choices. Their bonuses are $1 million or less, for an agent's commission of $30,000 or less.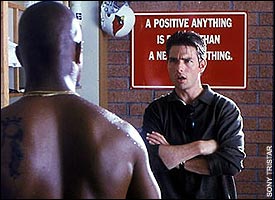 "You want $80,000 to hide in your dorm room? I was thinking maybe I'd give you a C note."
There is general exaggeration of payoffs by agents. Saturday, ESPN Insider had an "NFL Player X" piece claiming that lots of college football players take $100,000 gifts from agents. This seems extremely implausible -- only players drafted in the first half of Round 1 generate large enough agent's commissions for such payment. "Player X" further contends that college football players having $70,000 or $80,000 in cash in their dorm rooms "happens all the time." My guess is it has never happened. College players might boast about having wads of cash, but agents don't earn enough per player for the claimed amount to make sense. In the Sports Illustrated story, the agent discusses slipping $2,500 to a player. This is a realistic amount.
The notion that sports agents roll in wealth comes partly from Hollywood. Who does roll in wealth? College coaches. Forbes estimates Saban's annual football income at $4 million, plus generous perks; USA Today estimates that nearly 100 college football and men's basketball coaches are paid at least $2 million.
Back to Saban. He proposed that any agent who causes a college player to lose a year of eligibility should lose his agent's license for an equal period. This is a fine suggestion. The agent can't claim not to know eligibility rules; it is his business to know. Saban is correct to say that agent behavior will not change until agents receive the same punishments as NCAA athletes.
What about Saban's charge that agents and NFL scouts are a corrupting influence on college football? In July, Saban declared, "I'm about ready for college football to say, 'Let's throw the NFL out.' Don't let them evaluate players. Don't let them talk to players." This is pure hypocrisy -- programs like Alabama football depend on the illusion that most players will make the NFL, and having NFL personnel make campus visits, or attend games, fosters that illusion. This 2009 TMQ detailed how Saban fires his players up by talking to them about what their NFL careers will be like. Yet the vast majority of players, even at the big football-factory programs, will never earn a dime in the NFL.
Even BCS-bowl college teams produce only small numbers of NFL performers -- stats are in the column linked above. Saban has not been at Alabama long enough to assess how his players there will fare in the pros. But from Saban's 2002-04 LSU teams, wrapping around LSU's 2003 BCS title, 80 percent of players never took an NFL snap. Alabama under Saban is likely to fare about the same, as this is typical for the top BCS-bowl teams. For college teams below the Top 25, the share is lower still. Yet Saban, and other coaches of big-deal college football and men's basketball teams, cultivate an illusion that large numbers of their players are headed to the pros. This illusion serves the coach by making wins more likely, while harming the players by distracting them from studying.
If Alabama football, or any similar big-deal program, were pure and academics-focused, Saban would be justified in saying the agents and NFL scouts should stay away from his student-athletes. But Saban himself, and many other football-factory coaches, takes advantage of his players by pressuring them to concentrate on football above classroom work. Saban knows he will be rewarded with money for wins but never penalized if players don't get an education. Many college football athletes enjoy a four- or five-year dreamworld of going on to the NFL and cut classes with the coaching staff's tacit or even active approval. When their college days end and the NFL doesn't call, and they haven't earned a diploma, they are shafted. Don't blame agents and scouts for this. Blame colleges and coaches.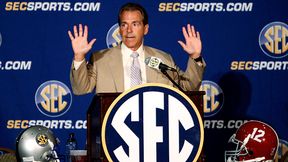 AP Photo/ Butch Dill"I denounce people who use college football players without educating them -- I mean, agents who pay college football players."
As for Saban's pimp analogy, he said of agents who hand out money, "How are they any better than a pimp? I have no respect for people who do that to young people. How would you feel if they did it to your child?" This from a coach whose football program graduates only 55 percent of its players. (Look up any Division I graduation rate here.) Saban uses up young people's college years to win games and big paydays for himself -- then graduates barely more than half of them. To use his own words, how is he any better than a pimp?
Undrafted Player of the Week: Undrafted New Orleans tailback Chris Ivory out of Division II Tiffin -- who was filling in for undrafted New Orleans tailback Pierre Thomas -- ran for 158 yards as the defending champion Saints resumed their high-scoring ways. Undrafted, thrice-waived safety Aaron Francisco had the acrobatic one-handed game-clinching interception for Indianapolis.
Eric LeGrand: The awful injury on Saturday to Eric LeGrand of Rutgers, who is paralyzed from the neck down, isn't discussed earlier in the column because it did not result from helmet-to-helmet contact.
No sport can be risk-free -- "Baseball has the highest fatality rate among all sports for children," Safe Kids USA has found. But sensible reform of football, including strict enforcement of rules regarding helmet-to-helmet hits, might reduce the odds of heartbreaking accidents such as the one involving LeGrand.
Wasteful Spending on Bodyguards Watch: Randall Emmons of Houston notes this story from the Houston Chronicle -- Texas taxpayers have been bilked of nearly $1 million for security details to accompany Gov. Rick Perry and his wife on overseas junkets during Perry's years in office. Considering that states are forbidden by the Constitution to engage in foreign relations, when governors travel internationally -- usually with the cover story of a "trade mission" -- it's generally a taxpayer-provided junket.
Suppose the trip was an actual attempt to promote trade between Texas companies and another country -- setting aside why the governor, rather than the companies' officials, would do that. Why would the governor of Texas, or of any state, need to be surrounded by taxpayer-funded bodyguards to meet with another nation's commerce secretary? No one in Italy or Argentina knows or cares who the governor of Texas is -- he stands no risk of being harassed as he walks the streets or enters a government office. No one overseas knows or cares who the wife of the governor of Texas is, yet she gets a taxpayer-funded bodyguard, too. Obviously the purpose is to allow Perry and his wife to strut around as if they were visiting heads of state, with bodyguards ensuring they receive the VIP treatment. Taxpayers' money is wasted for a governor's ego fantasy -- and this by a governor who regularly accuses others of wasting tax money.
Check this section from the story: "The Perrys have traveled together to the Bahamas, Italy, the United Arab Emirates and Qatar, Grand Cayman, Israel twice -- once in conjunction with a trip to Jordan -- France and Sweden, and China. Perry also has traveled to Mexico five times, Iraq three times, Afghanistan, Turkey, and to Taiwan and Korea in conjunction with the China trip. Mrs. Perry has traveled to England three times, once in conjunction with a trip to Slovakia, Mexico, Japan twice, Germany twice, Malta, Italy and France, the Czech Republic, Azerbaijan (after France and Sweden with Perry), Canada, Spain, and Brazil and Argentina." Clearly all those trips were essential to the administration of Texas state government!
[+] Enlarge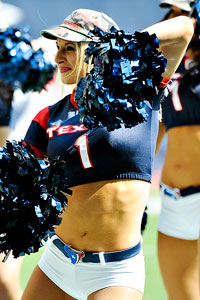 AP Photo/Dave EinselHow do the cheer coaches tell the Houston cheerleaders apart? They're all jersey number 1.
Cowboys' Low Football IQ: You're trailing with less than three minutes remaining -- Why are you punting? That's what Dallas did, if for no other reason than to shift the blame away from Wade Phillips, who would have been denounced if a fourth-down try had failed, and onto his defensive players.
After Minnesota took the punt and the Boys used their timeouts, the Vikings faced third-and-6 with 2:22 remaining. Cornerback Mike Jenkins brushed a Vikings receiver, and the pass fell incomplete. Then Jenkins turned to the closest zebra and made the "not me, I didn't do anything" gesture -- at which point the zebra threw yellow for pass interference. Jenkins basically pleaded with the official to throw the flag! Never make the "not me, I didn't do anything" gesture. This only alerts officials that you think you committed a foul.
In Week 5, Dallas lost a close game to Tennessee partly owing to an idiotic touchdown celebration penalty. TMQ doesn't like the celebration rule, but it's the rule, and "professional" football players should know the rules. Sunday, in a close loss to Minnesota, Dallas again was flagged for celebrating after a touchdown. Set aside that players for a 1-4 team should not be devoting their energy to dancing around and pointing at themselves. Set aside that the saying among sophisticated players has long been, "When you get into the end zone, act like you've been there before." Bill Russell once said he never celebrated blocking a shot -- he just shrugged, making his message, "I do this all the time." These things aside, why didn't Phillips lay down the law with his players about the celebration rule?
Earlier in the season, Dallas lost a close game to Washington owing to a particularly dumb sort of fumble. The next week, a Boys player lost exactly the same sort of fumble. TMQ asked why the Cowboys don't learn from their mistakes. Now they again have repeated a mistake. People are fallible: We all make mistakes. It's making the same mistake twice that's dumb.
The state of Texas views itself as the center of football culture, yet the Cowboys continue to demonstrate low football IQ. Stretching back to last season, Dallas is on a 1-5 streak and seeming to play dumber every week.
News from Backgammon Field: Forget whether Renaldo Hill of Denver committed pass interference at the Broncos' 2 with 1:26 remaining, setting up the winning touchdown for Jersey/B; how did a Jets receiver get so deep single-covered? At the snap, it was Denver leading 20-17, Jersey/B facing fourth-and-6 on the Broncs' 48. Denver rushed five, leaving six to cover four. Yet Santonio Holmes was alone down the sideline nearly to the end zone. In the replay, you can't even locate the Denver safeties they were so far out of position.
With the score tied at 17, Denver had reached fourth-and-10 on the Jets' 35 with 5:26 remaining. Tim Tebow came in at quarterback and ran twice for a net of 5 yards, then Kyle Orton threw incomplete, then Denver kicked a field goal. When Tebow lined up at quarterback, Orton lined up way wide -- and, both times, no one from Jersey/B covered Orton, who simply stood there watching. That meant 11 defenders could oppose the 10 offensive players involved in the Tebow runs -- which nullifies the whole tactical reason for a Wildcat formation, namely, to make the rush 11-on-11. If Denver wants Tebow for Wildcat snaps, Orton should either be a pass receiving target or come out, replaced by a blocker. The fizzle of the two Tebow rushes set the stage for the visitors' win.
Note: The original version of this column said that in the game, Jim Leonhard of the Jets was penalized for a helmet-to-helmet hit. That's wrong. The flag was for unnecessary roughness -- officials judged a Denver receiver along the sideline had already gone out of bounds when Leonhard struck him. The hit itself was textbook contact not involving either players' helmet -- but "unnecessary" roughness since the Broncos player was going out of bounds. TMQ thinks the officiating crew called this play correctly, but did not explain the call well to the crowd.
Buck-Buck-Brawckkkkkkk (College Edition): Trailing 21-0 at Wisconsin, No. 1-ranked Ohio State faced fourth-and-goal at the Badgers' 4. In came the kicking unit, which cut the score to 21-3. Needless to say Ohio State went on to lose, and the next day found itself ranked 10th.
Obscure College Score of the Week: Lindenwood 90, Culver-Stockton 19. Lindenwood gained 721 yards on offense and scored 13 touchdowns against winless Culver-Stockton, which has previous losses of 70-0 and 63-10. Apparently sportsmanship is not on the curriculum at Lindenwood University, which, leading 48-3 at the half, came out passing in the third quarter, then kept starters on the field until the margin was 62-10. Coach Patrick Ross, does bullying a weak opponent make you feel like a man? Lindenwood president James Evans, your school owes collegiate athletics an apology.
Located in Canton, Mo., Culver-Stockton College forbids incense in its dorms.
Bonus Obscure College Score of the Week: Trinity (Texas) 17, Sewanee 3. In 2007, Trinity staged the 15-lateral, clock-expired touchdown that is the greatest play in football history. A breakdown of the 15 laterals is here. Located in Sewanee, Tenn., the college commonly known as Sewanee was founded in 1857 as University of the South. In 2004, the school began calling itself Sewanee: The University of the South, adding a colon and a "The." But it wasn't a name change, just a new "naming convention."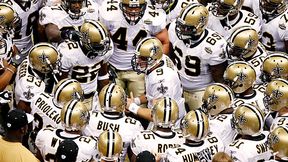 AP Photo/Pat Semansky"Who dat say dis new chant no good! Who dat say dat!"
Reader Comments: I opined that defenses are now using Cover 4 against the Saints to stop Drew Brees' long passes, and New Orleans must adjust by throwing short. Alan Watkins of Boise, Idaho, writes, "You noted, 'Sean Payton needs to adjust his calls to nickel-and-dime defenses until they are forced to come back up.' Going to this style of offense would only serve to reveal why NFL teams prefer tall quarterbacks. Without the luxury of a high arch to his passes, a shorter quarterback like Brees would get a lot of passes knocked down."
Joe Hadsall of Joplin, Mo., blames a different villain: the Saints' pregame chant. "Last year, Brees's chant of WIN! AGAIN! WIN! AGAIN! was a huge hit. Saints fans such as me got chills just hearing it. This year, the chant is some off-rhythm back and forth of Who dat? We dat! Last year's chant put the focus on winning. This year's chant put the focus on unearned, presumed greatness."
Thanks to the very large number of readers who knew about actual instances of free kicks after punts. Ray Barrington of Seymour, Wis., noted, "In 1964, in his first game back after his gambling suspension, Paul Hornung kicked a 52-yard free kick field goal against the Bears; this was the Packer record for many years after." Steve Peterson of Eden Prairie, Minn., noted, "On Nov. 3, 1968, a Mac Percival 43-yard free kick beat the Packers." Marjorie Lange of Gilbert, Ariz., noted this amusing video of Neil Rackers not even coming close after taking what seems like a five-minute run-up to a free kick.
Robert Taylor, Jr. of Garwood, N.J. relates this free-kick story: "My father was a high school football coach in New Jersey. Back in 1984 his Brearley Bears of Kenilworth, N.J. were playing Middlesex. That year Brearley had a kicker who was a special athlete. With a few seconds left in the first half, Middlesex had to punt from deep in their end. My father instructed the returner to call fair catch regardless of where the ball landed. He did and it set up a perfect scenario -- a 3-point play which involved about a 40-yard kickoff on an untimed down with no rush, and a kicker who repeatedly converted long field goals in practice. As fate would have it, the kicker honked the free kick completely, leaving everyone in the stands (and many on the field) absolutely confused as to what they just witnessed. The kicker on that day? Former Baltimore Ravens defensive tackle and current Fox analyst Tony Siragusa."
Dov Rabinowitz of Jerusalem reported, "There was a fair catch-free kick on the deciding play of the semifinal game in the Israel Football League in 2009. With under 10 seconds left, Jerusalem had scored to pull ahead by a point. On the ensuing kickoff, Modi'in called for a fair catch -- allowing them a free kick with about three seconds left on the clock, with a shot to win! This was only the first or second year of tackle football in Israel, and the kicking was quite erratic; the free kick did not come close."
No one had an example of a free kick after a fair catch of a kickoff. Usually a kickoff travels too far to make this practical, but a fair catch of a kickoff from the 20 or 15 after a penalty might create a makeable free kick, or a fair catch of a short onside kick attempt that goes straight up into the air. (Once a kickoff touches the ground, it can't be fair-caught.)
Brandon McAnulty, a high school football referee in California, noted a really obscure kicking rule -- the dead-ball foul after a fair catch: "Let's say Team A just fair-caught a punt. They send out the offense for first-and-10. Should a dead ball foul occur prior to Team A snapping -- defensive encroachment, illegal substitution, etc. -- Team A would still have the option of free kicking at the new spot after the penalty enforcement. So let's say Team A is just out of its kicker's range for a fair catch-free kick to end the half or game. They could try to get the defensive team to jump offside and then line up for the free kick after the five-yard penalty was enforced."
Tyler Locke of Jersey City, N.J., writes, "My state just approved a concussion awareness bill. There are few political stories in New Jersey that cause heads to nod in approval. This is one." Estanislao Rodriguez of Austin, Texas, notes that the Texas state advisory body for high school sports also is adopting new concussion guidelines.
David Hammond of Morgantown, W.Va., noted this Pittsburgh Post-Gazette story of the aftermath of a 15-year-old boy's 2004 death from high school football concussions. More accurately, from second-impact syndrome -- the boy returned to the field after a first concussion. Something as awful as a death is not a reason people shouldn't play football. There are automobile deaths every day, and we hop into cars nevertheless. But something as awful as a death is a reason head blows must be much more tightly regulated, and carefully treated, at all levels of the sport.
Finally, many readers with good memories, including Gwen Peterson of Lexington, Ky., wrote to remind that I forgot to run my annual item that appears whenever the last undefeated team falls. The last undefeated, Kansas City, fell so early this year that it skipped my mind. (Last season, the item did not run until Dec. 29.) Here it is, produced from my AutoText with only the initial specifics changed -- as I will produce this item from my AutoText every season because no NFL team's going to go 19-0. My heirs will be using this item!
At 4:02 p.m. ET on Sunday, as the Chiefs left the field in Indianapolis "mumbling '#@%*!' under their breaths, corks popped. In one of the sweetest traditions in sports lore, on opening day of every NFL season, each surviving member of the 1972 Miami Dolphins, the sole perfect team in modern pro football history, sets aside a bottle of champagne to cool. And it's genuine champagne from the French province of Champagne, not the boysenberry-infused sparkling-gewurztraminer wine-like substance that passes for bubbly these days. At the moment the stadium clock hits all-naughts for the vanquishing of the season's last undefeated team, the 1972 Dolphins pull the corks, secure in the knowledge that they will reign as the sole perfect team for at least one more year. Gentlemen of 1972, enjoy your annual draught. TMQ feels confident you will continue to sip champagne each season until you are called to meet the football gods, and greeted by song and feasting."
Next Week: The BCS hires French skating judges to hold up cards indicating style points.
In addition to writing Tuesday Morning Quarterback for Page 2, Gregg Easterbrook is the author of the new book "Sonic Boom" and six other books. He is also a contributing editor for The New Republic, The Atlantic Monthly and The Washington Monthly. His website can be found here.