Commentary
The TMQ wish list for each NFL team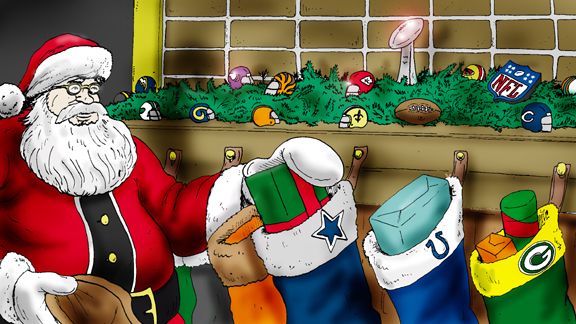 Kurt Snibbe/ESPN.com
Ho ho ho! Here's what TMQ has asked Santa to leave each NFL team under its tree for Christmas morning:
Arizona -- A time machine to return to 2008.
Atlanta -- An identity. The Falcons are on a blazing 15-2 run, yet are known for what, exactly?
Baltimore -- A TCU victory in the Rose Bowl Game presented by Vizio. This would be a good omen for football players who wear purple.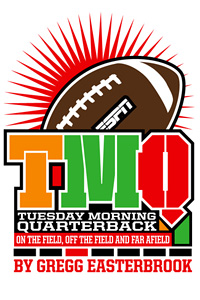 Buffalo -- A complete set of jerseys from the 1990s Super Bowl run. It's no coincidence the Bills have not made the playoffs since switching to the league's ugliest uniforms.
Carolina -- Quarterbacks, running backs, wide receivers, tight ends, offensive linemen, defensive linemen, linebackers, defensive backs, kickers and coaches. That's all the Panthers need.
Chicago -- A game in Florida.
Cincinnati -- TV shows for the other 50 players. A mere three Bengals players have their own television shows.
Cleveland -- A dawg who can play football: "Fetch the pass!" Ideal marketing gimmick.
Dallas -- A much larger state than Texas, to create room for Jerry Jones' ego.
Denver -- A "Fringe"-inspired alternate universe in which the past two years didn't happen.
Detroit -- A Rand McNally road atlas with all NFL cities except Detroit missing. If the Lions can't find the road games, they won't have to play them.
Green Bay -- A water slide so Aaron Rodgers can practice sliding.
Houston -- The defense of any Division III college team. It'd be an improvement.
Indianapolis -- Instant miracle cure for Dallas Clark.
Jacksonville -- Every game ends with a 59-yard field goal attempt.
Jersey/A -- Cheer-babes. The New York City area has hundreds of glamorous, leggy young women with dance training who are looking for a break. How about it, G-Men?
TMQ CHEAT SHEET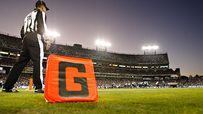 Gregg Easterbrook on …
Jersey/B -- A recording of Ronald Reagan saying, "Tear down this wall!"
Kansas City -- A throwback weekend in which the rules of 1905 are used: Only rushing allowed.
Miami -- League approval to stage all games on the road.
Minnesota -- Brett Favre plays until eligible for membership in AARP.
New England -- More offensive linemen to return kicks.
New Orleans -- Just a dull, predictable, monotonous repetition of last season's result.
Philadelphia -- DeSean Jackson cast as the lead in a revival of the musical "Show Boat."
Pittsburgh -- The investment interest on all NFL fines paid this season.
Oakland -- The "Hawaii Five-O" cast to investigate the Raiders' penalties.
San Diego -- Special teams that are merely below average.
San Francisco -- Oakleys, so Mike Singletary looks better when he wears dark glasses at night.
Seattle -- No restrictions on phone calls, official visits and scholarships when Pete Carroll goes recruiting in the upcoming free-agency period.
St. Louis -- The NFC West becomes a BCS automatic qualifier.
Tampa -- A 2011 schedule consisting entirely of losing teams.
Tennessee -- Someone willing to trade for Randy Moss.
Washington -- Anyone chosen from the D.C. phone book at random to replace Dan Snyder as owner.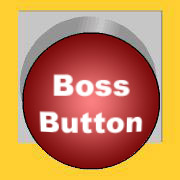 In other football news, if it has come to pass that Favre will tape his ankles no more, consider how his final seasons concluded. Last play of 2007 season for the Packers: interception. Second-to-last play of 2008 season for the Jets: interception. Last play of 2009 season for the Vikings: interception. Last play of 2010 season for the Vikings: sack. All's well that ends well!
In other news, Tuesday Morning Quarterback sends holiday good wishes to all space aliens, mega-babes and football enthusiasts. Bells are ringing all across the local star cluster!
Stat of the Week No. 1: Philadelphia has won six straight against the Giants.
Stat of the Week No. 2: The Jets won in Pennsylvania for the first time in franchise annals. They are 1-11 at the Steelers and Eagles combined.
Stat of the Week No. 3: In his past nine games, Tom Brady has thrown 21 touchdown passes and no interceptions.
Stat of the Week No. 4: In two meetings this season, the Raiders rushed for a combined 592 yards against the Broncos.
Stat of the Week No. 5: Five players -- Arian Foster, Maurice Jones-Drew, Jamaal Charles, Chris Johnson and Michael Turner -- have more rushing yards than the entire Indianapolis team.
Stat of the Week No. 6: Miami is 6-1 on the road and 1-6 at home.
Stat of the Week No. 7: Winning its past two by a combined 65-7, San Diego has outgained opponents by a combined 800 yards to 259 yards.
Stat of the Week No. 8: The Lions won on the road for the first time since Oct. 28, 2007.
Stat of the Week No. 9: Devin Hester has 10 touchdowns on 161 punt returns, a touchdown every 16 times he runs back a punt. Eric Metcalf, who until Monday night was the top punt returner in the NFL annals, scored a touchdown every 35 times he ran back a punt.
Stat of the Week No. 10: Since the start of the 2009 season, the Steelers are 14-4 when Troy Polamalu plays and 5-8 when he does not.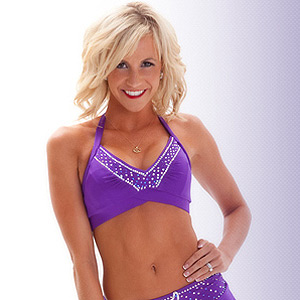 Minnesota Vikings Pam of the Vikings. What do you mean the Minnesota cheerleaders didn't go two-piece on Monday night?
Cheerleader of the Week Pam of the Vikings, who, according to her team video bio, doesn't like "people who cry about the cold." Hope she was cozy Monday night at the Vikings' first outdoor home game since 1981! Also, her favorite Vikings player is Phil Loadholt; any cheer-babe who likes the offensive linemen is OK in TMQ's book. And you might think it would be too cold in Minnesota for bikinis, but you'd think wrong.
Sweet Quarter of the Season After being down 31-10 on the road at Jersey/A with 8:17 remaining, the Eagles won. This comeback ranks with Buffalo's comeback from 35-3 against the old Houston Oilers in 1993. That comeback took an entire half; Philadelphia's warp-speed comeback happened in eight minutes. Maybe, just maybe, you've seen the highlights, so let's go straight to the things that made TMQ jump out of his chair: DeSean Jackson and the Giants' coaching.
Jackson is electrifying. But when he broke into the clear for the touchdown that would make this the first NFL game won by a punt return on the final play, he began waving the ball in the air at the G-Men 30-yard line even though he had already lost a fumble earlier in the quarter. Stop showboating! Dance after you score, not before. If Jackson loses the ball while showboating in the playoffs -- and once in high school and once in the NFL, Jackson has lost the ball while showboating on a long play -- he's going to look like an idiot.
As for the Giants' coaching: Has any coaching staff ever had a worse quarter? Ahead 31-10 with eight minutes remaining against the top big-play combination the NFL -- Michael Vick and Jackson -- if the Giants had gone to backed-off shell coverage and forced the Nesharim to nickel-and-dime their way down the field, the clock would have run out on any comeback. Instead, Giants defensive coordinator Perry Fewell ordered furious blitzing, and coach Tom Coughlin did not overrule him.
With the Eagles trailing 31-10, first-and-10 on their 35 with 7:43 remaining, Fewell called a safety blitz, resulting in a 65-yard touchdown pass to Brent Celek. On the play, deep safety Kenny Phillips whiffed so badly that he air tackled. The morning of the game, The New York Times ran an article lavishly praising the Giants' secondary -- guess those players read the article. "We're never out of position," Phillips was quoted as boasting. On a first-half touchdown pass to Jeremy Maclin, the Giants were so out of position that no one covered Maclin. But the main point: Why safety blitz with a three-touchdown lead and less than eight minutes? Unless the plan was to humiliate the Eagles and then boast to the New York media. Humiliating an opponent is totally irrelevant; keep your focus on winning.
[+] Enlarge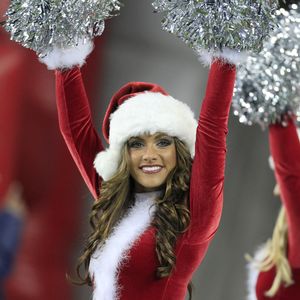 AP Photo/Charles Krupa"Oh, you better watch out."
Vick's two big scrambles in the fourth quarter, for 35 and 33 yards, came against blitzes. Yes, the Giants sacked Vick twice in the first half on blitzes, but early in the contest, this tactic caught the Eagles by surprise. At halftime, they adjusted. Calling blitzes when protecting a late lead was like sending Vick an engraved invitation to make big plays rather than forcing him to nickel-and-dime: "Dear Mr. Vick, please do us the honor of sprinting toward our end zone." Leading 31-24, the Giants had Philadelphia facing third-and-10 on its 12-yard line with 2:50 remaining and the Eagles out of timeouts. Play coverage! Giants coaches called a preposterous seven-man blitz, and Vick simply ran outside around the blitz for 33 yards. This was the worst defensive call TMQ has ever seen. Jersey/A has a highly rated passing defense. Make Vick try to throw against a shell; don't megablitz and offer a free long gain.
Then there was the onside. Philadelphia had pulled within 31-17 and was kicking off with 7:28 remaining. This is an obvious onside kick situation. Not only did the Giants fail to deploy their hands team -- it was worse. The Giants had only five players on the receiving front and lined them up 15 yards off the ball. The onside needs to go only 10 yards, which is where the receivers almost always place their front line. Yet the Giants put their front line 15 yards off the ball, and as the onside bounced, no one from Jersey/A was even attempting to field the kick. It was worse! The five Giants players who lined up 15 yards off began to retreat as the Philadelphia kicker approached the ball.
This goes beyond awful to atrocious -- a middle school team wouldn't make such a boneheaded blunder. And Jersey/A has not one but two special-teams specialists: Tom Quinn, whose title is not special-teams coach but "special teams coordinator," and Tom McGaughey, whose title is "assistant special teams coordinator." Two special-teams "coordinators" and neither of them knew to position their charges for an onside kick when the opponent trails by two touchdowns late? What do the Giants' two special-teams coaches do all day?
In the news conference after the debacle, Coughlin first said, "We didn't put our hands team in there, no. There were still seven and a half minutes to go and they were down two scores, so we didn't think it was necessary to do that at that time." For a moment, that seemed like a refreshing case of the coach taking the blame. But then Coughlin said, "All people up front, again, were told to watch out for the onside kick." Does anyone seriously believe that all five special-teamers up front decided on their own to defy orders and line up too deep, then retreat, rather than watch for an onside kick? Coughlin obviously was trying to shift blame from the coaches to the players, especially special-teamers, who are expendable.
Then the punt. The reason no one had ever won an NFL game on a final-play punt return is that when teams must punt on the final play of a half, they punt out of bounds. But this wasn't necessarily the final play; 12 seconds remained as the Giants lined up at their 29. It's hard to punt for both distance and direction. If it were easy, every punter would always punt long and out of bounds. Monday night, when Minnesota punted out of bounds to avoid Devin Hester, the deliberate out-of-bounds punts averaged 30 yards. Matt Dodge was trying for a long, out-of-bounds punt and botched it. As he waited in punt formation for officials to signal the ready-to-play, Dodge heard the referee announce he was putting 2 seconds back on the clock and knew that meant the kick had to have some distance. Suppose he punted a 25-yarder out of bounds, giving Philadelphia possession at midfield, and Vick hit one sidelines completion, then Philadelphia launched the winning field goal on the final snap. Today, Giants faithful would be lamenting: Why didn't that punter boom it down the middle?
[+] Enlarge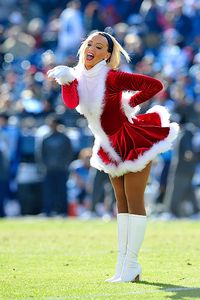 Grant Halverson/Getty Images"You better not cry."
So the punter botched the play, but he wasn't the only one. The front half of the Giants' coverage team overran Jackson. He's the league's fastest player; the only thing that can go wrong is a long return. Yet the Giants overran him and didn't have a "safe punt" called, on which two guys hang back deep. What do those two Jersey/A special-teams coaches do all day?
As Jackson entered the end zone, Coughlin ran onto the field to scream at Dodge. OK, he had made a mistake. He was hardly the only Giants player or coach to make a bad mistake during the meltdown. But he's a rookie punter, the most expendable guy on the roster -- so Coughlin screamed at him at center field to make sure everyone got the message that the rookie punter, not any highly paid coach, was to blame.
What a disgusting low point -- not that the Giants were outperformed; it's a 60-minute contest, and the Eagles owned the final eight minutes. The disgusting low was that the coaches screwed up and the head coach publicly shifted blame to the team's lowest-status member rather than take responsibility like a man.
Sweet Stat of the Week: The Flying Elvii have gone an NFL-record six games without a turnover -- very sweet -- and lead the league with a plus-20 turnover margin. In a league in which megabucks stars wave the rock around asking for turnovers, the Patriots protect the football. This must have something to do with their no-name, egoless offense. Big-ego players with big contracts, such as Roy Williams of Dallas, commit careless fumbles because they figure they will never be benched no matter what. The undrafted free agents of the New England offense know they must perform to stay on the field. So they protect the football.
But there's always a luck factor in getting takeaways and avoiding giveaways. At Chicago, Brian Urlacher dropped a Tom Brady pass thrown directly to him two snaps before a New England touchdown. Against Green Bay, Brady threw directly to Packers defenders twice, and both were dropped. One of the drops came on a New England possession that ended with a touchdown. No matter how well the Patriots play, their luck on turnovers is bound to change at some point.
Egoless offense sidelight: On the 33-yard BenJarvus Green-Ellis touchdown run Sunday against Green Bay, 5-foot-9 Wes Welker and 5-9 Deion Branch threw terrific blocks. When, in the first month of the season, 6-4 Randy Moss went back to his old habit of refusing to block, TMQ noted there was no way Bill Belichick would stand for that. Soon the 6-4 megabucks star was gone and the 5-9 guys who want to win were on the field throwing blocks.
[+] Enlarge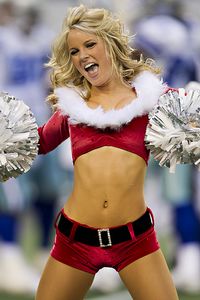 Wesley Hitt/Getty Images"You better not pout, I'm telling you why." (Dear reader: Please complete.)
Sour Pair of Plays: Pittsburgh and Denver both surrendered safeties in close fourth-quarter situations. The Steelers were attempting a slow-developing sweep from their end zone. Don't sweep from your end zone! Journeyman left tackle Jonathan Scott whiffed on a block, lunging at Jason Taylor and missing him. Taylor went through untouched to drop the runner for two as the Steelers' offensive line attempted to zone-block right. Elsewhere, the Broncos took over on their 6, lost 4 yards trying to run straight ahead and surrendered a safety trying to run straight ahead. On the safety, four of the five Denver offensive linemen simply brushed their men and then stood watching as the Raiders' front drove into the backfield. Guess we know who came to play and who was phoning it in.
Sour Play of the Week: TMQ notes the distressing number of downs on which highly paid NFL performers simply stand around doing nothing or simply brush their men and then stand watching. New England leading 31-27, Green Bay had possession at the Patriots' 15 with five seconds remaining -- with one play to win or lose. The Flying Elvii rushed three; Packers right tackle Bryan Bulaga, a first-round pick this year who recently cashed a huge bonus check, brushed his man, then, doing nothing, turned around to see what was happening on the play. What was happening was his man sacking quarterback Matt Flynn to conclude the contest. One snap to win or lose, and a megabucks Green Bay starter brushed his man and then stood around doing nothing. Play to the whistle!
Sour Play of the Week No. 2: San Diego leading 10-0 with 1:24 remaining before intermission and San Francisco's season sinking slowly in the West, the Bolts had first-and-10 on the Niners' 11. With star tight end Antonio Gates out injured, Vincent Jackson was San Diego's best threat in the red zone. San Francisco rushed three, while San Diego kept six back to block -- meaning eight defenders available to guard four receivers. Yet Jackson, running a slot-arrow, a standard goal-line pass route, was covered by 34-year-old linebacker Takeo Spikes -- no defensive back was in sight -- as he caught a seemingly effortless touchdown pass that turned the contest into a walkover. This from a team whose coach is supposedly a defensive mastermind.
Sinking into the West note: The 49ers remain alive to win the division and play host to a home playoff game at 7-9, while a 10-6 NFC team would miss the postseason. Don't get me started.
Sweet 'N' Sour Play: With defending champion New Orleans leading 7-0, the Ravens faced third-and-10 at the 34-yard line of the visiting Saints. The tastefully named Gregg Williams, defensive coordinator of the Saints, calls too many blitzes. Surely he won't call one here because a sack isn't needed, just an incompletion -- Baltimore is out of field goal range anyway. (Cold days tend to subtract about 5 yards from field goal range, and the kickoff temperature was 34.) The Saints brought a six-man blitz, and rookie tight end Ed Dickson caught a 34-yard touchdown pass that started the home team on its way to victory. That was sweet. Initially the Ravens kept seven blockers back. New Orleans linebacker Jonathan Vilma was assigned the "hang" role in the blitz -- hang around at the line of scrimmage to cover any blocking back or tight end who chips and then runs a flare as the quarterback's "hot read" target. Dickson blew right past Vilma. That was sour. (A diagram of the play is here in the ESPN Stats & Info blog.)
Were those the Baltimore Ravens or the Wisconsin Badgers? Ravens coaches called 39 rushing plays and 23 passes, outrushing the defending champions by 181 yards. Vince Lombardi would have felt right at home at that contest. Let's hope his ghost wasn't watching the Packers-Patriots game, in which the Packers, yet again, went five-wide on first-and-goal at point-blank range.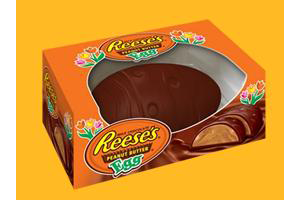 Hersheys.comHurry! Act now! Buy soon!
Unified Field Theory of Creep: Matt Colbert of Belgrade, Mont., writes, "On December 3 at my local grocery, I was walking past the beer cooler and noticed they had Leinenkugel's spring 12 pack mix. Winter does not start until Dec. 21. Three weeks before then, spring products are for sale in Montana." Jake Martin of Oakwood, Ga., writes, "Walking through a Kroger on December 13, I passed Reese's Peanut Butter Egg display, touting Easter." It's not just in Georgia -- Justin McComb of Denver was among many readers to note this terrifying story.
[+] Enlarge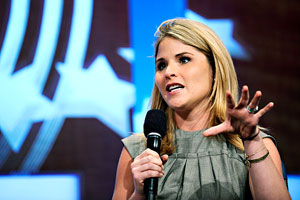 AP Photo/Stephen CherninRepublican presidential candidate in 2016?
Mike Ninivaggi of Bedford, N.H., writes, "WMUR in Manchester just announced the first 2012 Presidential Debate -- on June 7, 2011. New Hampshire may come first in primary season, but this is ridiculous." Mike, it's worse. Not only did CNN just say it will televise the June 2011 New Hampshire Republican presidential primary debate -- What are the odds that anyone on the stage that day will be a major candidate when Labor Day 2012 arrives? -- but Fox News announced it will sponsor a 2012 presidential debate in May 2011.
It's December 2010, and I am already sick of the 2012 presidential election. TMQ won't hazard a guess as to who will face off in two years, but my forecast for the 2016 presidential contest is Jenna Bush Hager versus Chelsea Handler.
[+] Enlarge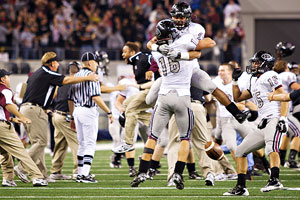 AP Photo/Smiley N. PoolPearland High takes one of the Texas 5A titles -- concluding an NFL-like 16-game season.
With 128 Postseason Teams Per Level, It's Difficult to Miss the Playoffs in Texas: While the underdog East Dillon Lions churn toward a likely series-finale fictional Texas state championship on "Friday Night Lights," the actual Texas 5A champions this year are Pearland and Byron P. Steele II. Pearland upset heavily favored Euless Trinity to win the school's first 5A Division I title; Steele won the 5A Division II title in its first year in the largest Texas classification. Here, the Houston Chronicle reports, Pearland used what TMQ calls the Stonehenge play -- nobody on offense moving except for the snapper and the ball handler -- for a key touchdown. The games were played at Cowboys Stadium before a crowd of 43,321.
In the crazed Texas system, 128 large public high schools make the playoffs in two divisions: Here is the Division I bracket. Hundreds of smaller and private high schools reach the postseason in smaller divisions.
Our Offense Shows Signs of Stopping/And the Coach's Neck Veins Are Popping: Yes, it was crazy in the swirling snow Monday night at a college stadium, what with Brett Favre making an abbreviated swan-song appearance just long enough to throw a touchdown pass, throw an interception, fumble and get sacked -- all of a quarterback's themes in 20 snaps. Favre packed a lot into those 20 snaps.
[+] Enlarge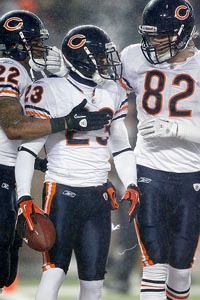 Matthew Stockman/Getty ImagesAn even better kick returner than Dan Connolly.
But was the strange setting a reason for the Vikings to abandon basic football? Trailing 10-7, Minnesota punted on fourth-and-1 from midfield. TMQ wrote the words "season over" in his notebook. And yea, verily, the Vikings are now eliminated.
As for the Ming Ding Xiong ("Bears whose outcomes are decided by fate" in Chinese), Devin Hester is back in business, which means the Bears are back in business. In 2006, Hester had five kick return touchdowns and Chicago reached the Super Bowl. In 2007, Hester had six kick return touchdowns but the Bears didn't make the postseason. In 2008 and 2009, no return touchdowns for Hester, no playoffs for Chicago. This year, Hester has three kick return touchdowns and the Bears are division champs. So when Hester doesn't run back a kick for six, the Bears do not make the playoffs; when he does, they are 2-for-3 in reaching the postseason. That weird 2009 strategy in which Lovie Smith rarely let Hester run back kicks is now history, and thank goodness.
Pregame, viewers saw that Ron Jaworski was wearing an elaborate zoot-suit-inspired heavy coat with gloves and Mike Tirico wore a sportcoat, sweater vest and no gloves. Immediately I knew that Tirico would have a better game, which he did. Cold Broadcaster = Victory.
[+] Enlarge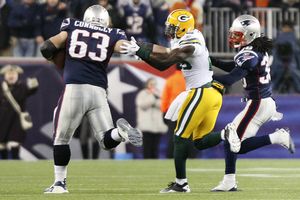 AP Photo/Tim CookOffensive lineman gone wild!
Offensive Linemen Gone Wild! "Go! Go! Go!" That's what the crowd at TMQ's house was screaming as Patriots offensive lineman Dan Connolly broke into the clear on his 71-yard kickoff return against Green Bay. This was the most important play of the Patriots' 31-27 win, positioning New England on the Packers' 4 at the two-minute warning of the first half and allowing the hosts to pick up a touchdown just before intermission. The best part was that Connolly outran starting Packers safety Charlie Peprah and was barely caught from behind at the 4.
Offensive Linemen Gone Wild! No. 2: Sami Horani of Heritage Hall High School in Oklahoma City, this year's Oklahoma 3A champion, reports that, in the semifinals, Chargers left tackle Markus Wakefield threw a touchdown pass. The play can be seen here about 30 seconds in.
Offensive Linemen Gone Unnoticed: In theory, the Heisman, Maxwell and other awards are for all football players, but in practice, they go only to quarterbacks and running backs. So, too, for high school recognition. The Washington Post ran its football all-met selections last week. Lauded were 36 quarterbacks and running backs, 22 offensive linemen.
TMQ's Law of the Obvious Holds: Sometimes All a Team Needs to Do is Run Up the Middle: Was that really the Pittsburgh Steelers in a shotgun spread on third-and-2 at home in bad weather? Jersey/B snapped out of its funk and won on the strength of two terrific special-teams plays in the fourth quarter -- punts downed on the Hypocycloids' 1 and 8. But even in victory, the Jets' offense seemed fouled up. Thrice in the final three minutes, holding the lead in a kill-the-clock situation, Brian Schottenheimer called a passing play. Thrice the result was an incompletion that stopped the clock. Had the Jets simply run up the middle for no gain, there would not have been enough time left for the home team's almost-comeback.
[+] Enlarge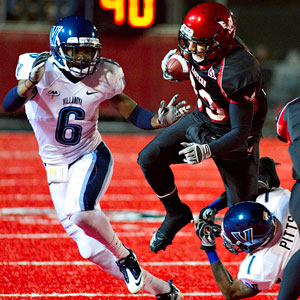 AP Photo/Colin MulvanyBoise State wins on blue, Eastern Washington wins on red -- maybe Texas could spruce up its program by playing on burnt orange.
Fortune Favors the Bold! Leading Football Championship Subdivision defending champion Villanova 34-31 with three minutes remaining in the fourth quarter, Eastern Washington faced fourth-and-4 on the Wildcats' 33. This is a classic Maroon Zone dilemma: too far to kick, too close to punt. Eastern Washington, playing at home, went for it and converted.
Later, the host team faced fourth-and-5 on the Villanova 23 with 1:11 remaining. From there, a field goal stood a good chance, but that would put Eastern Washington ahead by only six points. Villanova would have a minute, plus two timeouts, to try for a touchdown and the win. Converting the fourth down would ice the game for the Eagles; trying and failing would leave the same tactical situation as missing a 40-yard field goal. Coach Beau Baldwin not only went for it but he ordered a shot at the end zone, surprising Villanova, which expected something short. The result was a touchdown, and Eastern Washington now is 8-0 at home since installing red turf. With Boise State playing well on blue and Eastern Washington reaching the FCS championship game its first season on red, can orange, yellow and purple turf be far behind?
Reader Sean Azarin-Burdine of San Francisco notes that Eastern Washington and Delaware, which will meet for the FCS title, were ranked third and fifth before the postseason -- meaning that, under a BCS-style system, they couldn't have played for the crown.
Concussion Update: Villanova star Matt Szczur, who scored four touchdowns in the school's quarterfinal win, suffered a concussion early in the fourth quarter of the semifinals. As soon as he was diagnosed, Villanova coaches took away his helmet, ending his season and sharply reducing the Wildcats' chance of victory. This is exactly what football coaches should do -- place player health ahead of game outcome. Thanks, Villanova, for setting a good example.
And thanks to NBC announcer Cris Collinsworth, who at the beginning of the season was one of the offenders in apologizing for vicious helmet-to-helmet hits but has since switched sides and denounces them. When the Patriots were called for a helmet-to-helmet hit against the Packers, Collinsworth praised the call and criticized the New England player. This is the right message to send to high school football players.
[+] Enlarge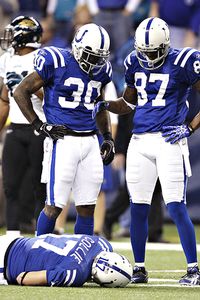 AP Photo/Darron CummingsIf the NFL is telling the truth about caring about concussions, Austin Collie will not play again this season.
Will the Indianapolis Colts join the trend for doing the right thing and put Austin Collie on injured reserve? In early November, he was taken off the field on a stretcher because of a concussion. He returned to the field Sunday and caught two touchdown passes, but later lay motionless on the ground for several minutes after a second concussion. You don't need to be the examining physician to know there is no way he should play again this season. Second-impact syndrome is a much greater risk than a first concussion. Collie is at risk for serious neurological harm if he tries to play again without extended recovery time.
In the old days, this would be hushed up, and Collie probably would have been sent back out on the field. This is not the old days. Colts, put him on injured reserve.
Blame-Shifting Becomes Job One at Redskins: Last week, TMQ noted that one reason New England clobbered the Chicago Bears in snow is that Bill Belichick has the Patriots practice outdoors to become accustomed to performing in bad weather. Thus I chortled a few days later when reading this story about how the Redskins need a full-field practice bubble so they can spend more time indoors: "When snow fell on Thursday, players were forced to drive themselves to an off-site fitness center" for an indoor walk-through. Forced to drive to a fitness center -- the horror!
Apparently Mike Shanahan cancels practice or holds light-work sessions in gymnasiums, not only when it snows but when it rains. Talk about wimping out. Teams that are focused on winning don't care what the weather is.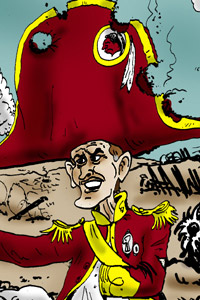 Kurt Snibbe/ESPN.comIf Shanahan had been Napoleon, he would have blamed the lowest-ranking enlisted men for Waterloo.
As regards Donovan McNabb, the Redskins gave up second- and fourth-round draft choices for him, then awarded him a new contract with stupendous paper value, and now have demoted him to third string; he is likely to be waived. When Shanahan arrived in Washington, his first big push was to obtain McNabb. Now, Shanahan apparently wants McNabb thrown under the bus in order to shift blame for yet another Redskins losing season. Shanahan rode into town encouraging the press corps belief that he was some kind of ultragenius. So the embarrassing season can't be his fault -- McNabb or Albert Haynesworth must be to blame.
As Tuesday Morning Quarterback noted of Shanahan this past summer, "His big seasons all came with John Elway: in his non-Elway years, Shanahan's results are pedestrian." Increasingly, it seems Shanahan gained a reputation as a top coach because he lucked into one of the best quarterbacks ever -- plus good players on the Broncs' mid-1990s rosters. Left on his own without Elway, Shanahan is somewhere between average and a bumbler. Blaming McNabb for the bad season might delay, for one additional year, general recognition of this.
Note: I said last week that Shanahan would waive kicker Graham Gano to blame him for the missed extra point at the end of the loss to the Bucs. A few hours after that column came out, Shanahan waived holder Hunter Smith, effectively blaming him. Win as a team, lose as a team -- if a player should be waived for a single-second slip with a wet football in cold rain, shouldn't Shanahan be fired for botching the whole situation by going for one to tie instead of two to win?
Chainsaw Dan Snyder is cut from the same cloth. Year after year, he shells out big bucks to bring in aging stars who have begun to decline -- McNabb, Haynesworth, Deion Sanders, Dan Wilkinson, Dana Stubblefield -- then blames them when his decisions backfire. Had Chainsaw Dan not made the Haynesworth and McNabb deals, today he would have $45 million more in his pocket, plus second- and fourth-round draft choices. The Skins' locker room wouldn't have been torn up with dissension. And the 2010 second-round choice could have been used on Arrelious Benn, Jimmy Clausen, Rob Gronkowski, Colt McCoy, Koa Misi or any of several other guys who would look good in burgundy and gold.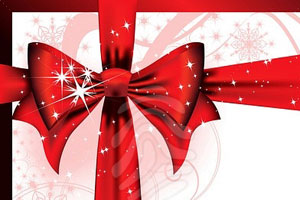 Pixmac "Dear Friends, enclosed find our annual letter about how our life is more interesting than yours."
The Curse of the Holiday Letter: Don't you hate boastful holidays letters about other people's fascinating lives and perfect children? Below is one Nan and I received last week.
Dear Friends,

What a lucky break the CEO sent his personal jet to pick me up from Istanbul; there's plenty of room, since I have the entire aircraft to myself, to take out the laptop and write our annual holiday letter. Just let me ask the attendant for a better vintage of champagne, and I'll begin.
It's been another utterly hectic year for Chad and I and our remarkable children, yet nurturing and horizon-expanding. It's hard to know where the time goes. Well, a lot of it is spent in the car.
Rachel is in her senior year at Pinnacle-Upon-Hilltop Academy, and it seems just yesterday she was being pushed around in the stroller by our British nanny. Rachel placed first this fall in the state operatic arias competition. Chad was skeptical when I proposed hiring a live-in voice tutor on leave from the Lyric Opera, but it sure paid off! Rachel's girls' volleyball team lost in the semifinals owing to totally unfair officiating, but as I have told her, she must learn to overcome incredible hardship in life.
Now the Big Decision looms -- whether to take the early admission offer from Harvard or spend a year at Juilliard. Plus the whole back of her Mercedes is full of dance-company brochures as she tries to decide about the summer.
Nicholas is his same old self, juggling the karate lessons plus basketball, soccer, French horn, debate club, archaeology field trips, poetry-writing classes and his volunteer work. He just got the Yondan belt, which usually requires nine years of training after the Shodan belt, but prodigies can do it faster, especially if (not that I really believe this!) they are reincarnated deities.
Modeling for Gap cuts into Nick's schoolwork, but how could I deprive others of the chance to see him? His summer with Outward Bound in the Andes was a big thrill, especially when all the expert guides became disoriented and he had to lead the party out. But you probably read about that in the newspapers.
What can I say regarding our Emily? She's just been reclassified as EVVSUG&T -- "Extremely Very Very Super Ultra Gifted and Talented." The preschool retained a full-time teacher solely for her, to keep her challenged. Educational institutions are not allowed to discriminate against the gifted anymore, not like when I was young.
Yesterday Rachel sold her first still-life. It was shown at one of the leading galleries without the age of the artist disclosed. The buyers were thrilled when they learned!
Then there was the arrival of our purebred owczarek nizinny puppy. He's the little furry guy in the enclosed family holiday portrait by Annie Leibovitz. Because our family mission statement lists cultural diversity as a core value, we named him Mandela.
Chad continues to prosper and blossom. He works a few hours a day and spends the rest of the time supervising restoration of the house -- National Trust for Historic Preservation rules are quite strict. Corporate denial consulting is a perfect career niche for Chad. Fortune 500 companies call him all the time. There's a lot to deny, and Chad is good at it.
Me? Oh, I do this and that. I feel myself growing and flowering as a change agent. I yearn to empower the stakeholders. This year, I was promoted to COO and invited to the White House twice, but honestly, beading in the evening means just as much to me. I was sorry I had to let Carmen go on the same day I brought home my $14.6 million bonus, but she had broken a Flora Danica platter and I caught her making a personal call.
Chad and I got away for a week for a celebration of my promotion. We rented this quaint five-star villa on the Corsican coast. Just to ourselves -- we bought out all 40 rooms so it would be quiet and contemplative and we could ponder rising above materialism.
Our family looks to the New Year for rejuvenation and enrichment. Chad and I will be taking the children to Steamboat Springs over spring break, then in June I take the girls to Paris, Rome and Seville while Chad and Nicholas accompany Richard Gere to Tibet.
Then the kids are off to camps in Maine, and before we know it, we will be packing two cars to drive Rachel's things to college. And of course I don't count Davos or Sundance or all the routine excursions.
I hope your year has been as interesting as ours.
Love,
Jennifer, Chad, Rachel, Nicholas & Emily
(The above is inspired by a satirical Christmas letter I did for The New Republic a decade ago. I figure it's OK to recycle a joke once every 10 years.)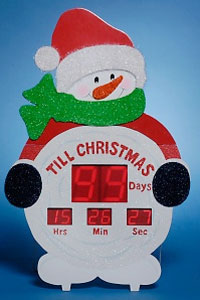 HSNPut yours up next September.
TMQ's Christmas List: I could certainly use a Christmas countdown lawn clock, suggested by many readers, including Lisa Butler of Little Rock, Ark. Note it counts down from 99 days -- put it on your lawn on Sept. 16! An actual suggestion is a book or video from A Call to Men, an organization that educates men about reducing violence against women. Several former NFL players are active in the organization.
Leaks Don't Come Out of the Sky: Is the WikiLeaks disclosure of Pentagon and State Department internal documents dangerous because it reduces U.S. military and diplomatic effectiveness? Or good because it pulls down the veil of secrecy around government? Obviously, there are arguments on both sides. Here's what struck me. Last week, this New York Times Page 1 story reported that the Obama administration "plans to further step up attacks on al-Qaeda and Taliban insurgents in the tribal areas of Pakistan."
Maybe that's a good idea; maybe it's not. But as an item of information, the Times story is far more explosive than anything so far in WikiLeaks disclosures, most of which contain trivia and statements of the obvious. The Times story tells al-Qaeda and Taliban factions in tribal Pakistan that raids and air strikes will increase. The story is a warning of something about to happen rather than a retrospective on prior events. And the story is sourced to unnamed "administration officials." That is -- the information was leaked by the White House or Pentagon.
Perhaps the purpose of the leak was to make the president sound tough at a time when his poll numbers are fluttering. Perhaps the purpose was to make the U.S. military sound powerful at a time when a $725 billion Pentagon budget request was awaiting approval in Congress. The purpose cannot have been to help American soldiers and air crew in the field. Their chances would be best if U.S. forces struck al-Qaeda and Taliban targets without warning, with nothing said by the White House or Pentagon until after the operation was over.
I don't question the Times' decision to run the story. What I question is White House and Defense Department officials denouncing Julian Assange when he publishes leaks that embarrass the powerful -- then merrily using leaks themselves when they think the powerful will benefit. If revealing government information is, on its face, an offense, White House and Pentagon officials who leak to reporters should be chased across the world and prosecuted just as vigorously as Assange.
Maybe the WikiLeaks idea is indeed wrong. But compared to White House and Pentagon officials who leak to the media when it suits them, isn't Assange -- who uses his name rather than hiding behind anonymity -- the honest one?
Favre and Manning: Last week, this column opined that Brett Favre's 297-game streak will "never" be broken. OK, I shouldn't have said "never." A thousand years from now, when people live for centuries, Facebook chips are implanted in your prefrontal cortex at birth and the typical NFL defensive tackle weighs 900 pounds, the record might be broken.
Many readers, including Jenny Wainwright of Spring Hill, Ind., wrote to note that Peyton Manning is at 206 consecutive games and counting. Yet to break Favre's record, Manning will need to start every game until Halloween 2016, which just doesn't seem probable even for someone with demonstrated longevity. So Jenny, check back with me in 2016.
We Must Be the Houston Texans: Tennessee leading 21-3 with seconds remaining before intermission, the Texans sacked Kerry Collins. Two Moo Cows' players got into a fight with each other. When Texans lineman Antonio Smith pulled the helmet off teammate Brian Cushing, the latter was assessed an unsportsmanlike conduct foul for removed helmet, helping position the Flaming Thumbtacks for a field goal that made the margin 24-3. That's some team chemistry you have there, Texans.
[+] Enlarge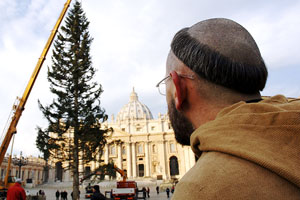 Franco Origlia/Getty ImagesTim Tebow checks out the Broncos' Christmas tree.
Dominican Monks Were Watching the Denver-Oakland Game: In his first NFL start, Tim Tebow rushed for 78 yards; the Broncos' running backs combined rushed for 28 yards. The quarterback's runs weren't high-speed, dazzling stuff like Michael Vick's, which usually end with him sliding or deliberately going out of bounds. The runs were 1950s veer offense stuff.
Running quarterbacks dominate college football but are atypical in the pros. The main reason is longevity. Most successful college quarterbacks start 20 to 30 games in their careers. Cam Newton will jump to the pros after 14 career starts. More than 40 college starts is rare. In the NFL, the best quarterbacks have 100 to 200 career starts. If you're playing a lot more games, as the pros do, the quarterback just can't expose himself to pounding by rushing the ball any more than once in a while.
This is partly financial. NFL teams might invest $20 million to $50 million in the starting quarterback -- you don't want a $50 million investment going off tackle. Colleges, by contrast, invest almost no money in their quarterbacks -- Newton got the same amount of scholarship funds as Auburn's third-stringers. Colleges want their quarterbacks to be healthy, of course. But if the college quarterback gets injured, no capital investment is lost.
Tebow lacks the speed Vick uses to escape defenders and slide. The monk-haired one just can't run in the NFL like he did Sunday. Meanwhile, can Newton throw well enough to play in the NFL when rushing three times a game instead of 20 times?
Ho Ho Ho: In the process of getting pounded into fine dust by the San Diego Chargers, the San Francisco 49ers -- who did a lot of boasting in the preseason, then have backed it up by losing games 34-7, 21-0, 31-10 and 31-6 -- had a drive on which they scored three points, then scored six points, then ended up with no points.
With the Bolts leading 7-0, the Squared Sevens kicked a field goal. San Diego was called for "leveraging," the second time in three weeks this unusual call has been made. Accepting the penalty took points off the board but gave San Francisco first-and-goal at the 10. Three snaps later, Alex Smith ran for what officials signaled was a touchdown, but San Diego challenged and the six points came off the board, too. Mike Singletary went for it on fourth-and-goal from the 1. High first-round draft choice guard Mike Iupati air-blocked -- he made contact with no one -- as undrafted Bolts defensive tackle Ogemdi Nwagbuo shot into the backfield to drop the runner for a loss, San Diego ball and zero points for San Francisco.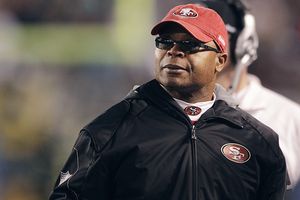 AP Photo/Lenny IgnelziLuckily, dark glasses at a night game made it impossible for him to see the Forty-Niners.
That's the kind of moment that makes TMQ love sports -- undrafted unknown gets the best of megabucks glory boy. San Francisco's offensive line has three recent first-round draft choices, yet was totally outplayed by the San Diego defensive front, which starts undrafted Antonio Garay and undrafted Jacques Cesaire, plus undrafted linebackers Stephen Cooper and Antwan Applewhite, with undrafted Nwagbuo in reserve. Twice, the megabucks San Francisco offensive line allowed rushers to come through untouched for sacks. On another occasion, high first-round draft choice tackle Anthony Davis was simply thrown to the ground by Applewhite, who made throwing a 323-pound first-rounder to the ground look easy.
Mike Singletary wore dark glasses on the sideline for a night game -- Does he have any idea how ridiculous that looked? (Tony Sparano of the Dolphins wears dark glasses at all times because of an eye injury he suffered in youth; that's different.) Maybe Singletary wanted to ensure he couldn't see the San Francisco performance on the field.
U B the Coach: As Buffalo scored a touchdown at Miami to make the count Bills 6, Dolphins 0, the home team was called for a dead-ball personal foul. The penalty was walked off on the ensuing kickoff, allowing Buffalo to kick from its 45 and record a touchback. But a team receiving a dead-ball personal foul after a touchdown doesn't have to take the penalty on the kickoff; it can opt for the penalty on the PAT. That means half the distance from the 2 to the 1. True, on the kickoff, the penalty is worth 15 yards; on the try, worth 1 yard. But taking the penalty on the try means the offense needs just 1 yard for a two-point conversion.
Essentially, in this situation, the coach of the "offended team" is asked whether he thinks 15 yards of field position is as valuable as one point. Me? I'd take the penalty on the try and go for two. But if a coach does this and the attempt fails, he is blamed. If he takes the penalty on the kickoff, as expected, and the team loses, the players are blamed.
More's the pity for Dolphins placekicker Dan Carpenter, who was 0-for-4 on field goal attempts in a three-point loss. The Marine Mammals are tied for second in the NFL for field goals made, with 28, but also first in the league for field goals missed, with 10. Playing in many close games, the Dolphins might be having a different season if not for 10 missed field goal attempts.
Trailing 17-14, South Florida took possession on its 20 with 41 seconds remaining, no timeouts. First Chad Henne threw super short to a receiver who didn't get out of bounds. Then he threw super short to a receiver who didn't get out of bounds. Then he spiked the ball, and, on the game's final snap, from the Dolphins' 32, the Marine Mammals executed the most pitiful attempt at the hook-and-lateral play in football annals, accomplishing nothing more than batting the ball backward to their own 18. This wasn't exactly Duriel Harris and Tony Nathan executing the hook-and-lateral in the 1981 playoffs. But with just 41 seconds remaining and no timeouts, why were the Dolphins throwing super short to begin with?
Should Football-Factory Coaches Be Paid on Commission by the Win? On the eve of its bowl game, Maryland cashiered coach Ralph Friedgen despite a 74-50 record and seven bowls in 10 years. As TMQ notes, football-factory coaches have such built-in advantages in recruiting and gimmick schedules that boosters assume an orangutan should be able to coach a school such as Maryland to a winning season. Ticket sales have been down for three consecutive years under Friedgen. He is expected to be replaced by Mike Leach, who will need a valet for all the baggage he brings -- but who has a knack for the limelight and, at Texas Tech, had a track record of selling out the stadium.
[+] Enlarge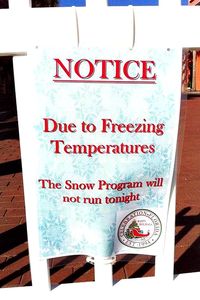 Matt SokoloffSnow canceled because of cold?
I'm Dreaming of a Soap-Bubbles Christmas: "Snowfall" simulated by machines that pump tiny soap bubbles has become a hit in Florida. The Disney-built town of Celebration, Fla., holds a "snowfall" in its town center each evening in the holiday season. Last week when a cold snap hit the South, Celebration canceled the snow. Signs placed in the town center read, "Due to freezing temperatures, the snow program will not run tonight."
Reader Stephen Levy of Washington, D.C., reports the annual Winter Concert at Nottingham Elementary in Arlington, Va., which was scheduled for Dec. 16 -- six days before winter begins -- was "canceled due to wintery weather."
TMQ Grammar Snob : It's common to hear weather-people refer to "warm temperatures" or "freezing temperatures." Temperature is a mathematical concept, neither warm nor cool. "Rising temperatures" and "cold air" are correct, not "warm temperatures."
Manly-Man Play of the Week: The Chiefs continue to be a team after TMQ's heart, having gone for it on fourth down 21 times this season, including on fourth-and-1 at midfield against St. Louis on Sunday, converting. The Jaguars lead the league with 22 fourth-down attempts, and, at Indianapolis, they went for it on fourth-and-1 from their own 39 on the first series of the third quarter. The result was a busted play -- fumbled pitch -- and a quick Colts touchdown in the other direction. But the idea was the right one. Jacksonville and Kansas City, both going for it on fourth down much more often than common in the NFL, both have winning records.
A month ago, TMQ opined that the Colts' defense missed undrafted middle linebacker Gary Brackett even more than it missed Bob Sanders. On Sunday, Brackett was back and had a monster stop on a goal-line stand; Jax had first-and-goal at the Indianapolis 1 and was forced to settle for a field goal. The Colts held the Jaguars, the NFL's No. 3 rushing offense, to 67 yards rushing.
[+] Enlarge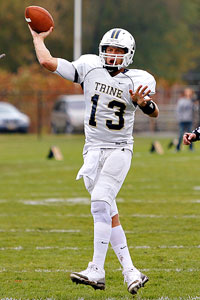 Bowen Arrow Photography Trine University QB Eric Watt, whose Division III award, unlike the Heisman, took academics and community service into account.
The Anti-Heisman: After TMQ complained of the superficiality, disregard for academics and lack of integrity that have swallowed the Heisman Trophy, many readers, including Andrew Simon of Milwaukee, noted that the Gagliardi Trophy for best Division III football player not only considers linemen -- the 2009 winner was tackle Blaine Westemeyer of Augustana -- but also takes into account GPA and community service in assessing candidates. Last week, the 2010 award went to quarterback Eric Watt of Trine University in Angola, Ind.
Obscure College Score of the Week: Minnesota-Duluth 20, Delta State 17 (Division II championship). Located in Duluth, the University of Minnesota-Duluth requires an entire task force, with an annual budget, to say the words "no smoking."
Bonus Obscure College Score of the Week: Wisconsin-Whitewater 31, Mount Union 21 (Division III championship). Five-foot-8, 170-pound Levell Coppage rushed for 299 yards -- mostly on power runs between the tackles -- as Whitewater took the Division III title from Mount Union for the second straight year. Located in Whitewater, Wis., the University of Wisconsin-Whitewater has a three-part school vision statement. Point 3 is, "To be a leader among college student unions." (Meaning the building where kids hang out or student groups?)
Obscure College Sign-Off: This item folds its tent and steals off into the winter wonderland, as the colleges that play from here on out tend to be well-known.
For years, TMQ has said at this point, "I find it reassuring that long after you and I have left this mortal coil and are trying to scalp tickets to meet the football gods, every Saturday at small colleges across our great nation, plastic-clad gentlemen will be slamming into each other as leaves fall, boys try to get girls' phone numbers and car alarms go off in the parking lot. In the Great Chain of Being, this is the football link." At current rates of advancement in technology, someday boys might be trying to get girls' prefrontal cortex telepathy routing codes. The car alarms, I feel quite confident, still will be going off in the parking lot.
Reader Comments: Louis Wertz of San Francisco writes, "As a Northwestern University alumnus, I am proud that Northwestern posted its third consecutive winning football season while also graduating 100 percent of the football players from its freshman class of 2003-2004. The Wildcats will be sharing the AFCA Academic Achievement Award with Rice University, which also graduated 100 percent of its 2003-04 football class. It's the sixth time Northwestern has won the award. Duke and Notre Dame have each won three times. This shows big-time college football and genuine academics aren't mutually exclusive, even in the football-mad Big Ten."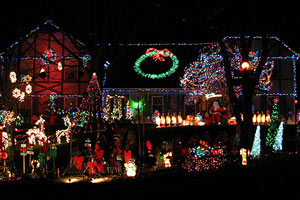 fairfaxchristmaslights.comNow that's what I'm talkin' about!
I denounced the scandalous trend toward tasteful white Christmas lights, endorsing the gaudy, multicolored, flashing kind. Chuck Boone of Fairfax Station, Va., reports this website tracks tacky Christmas lights. His favorite is here.
Single Worst Performance of the Season -- So Far: Leading by 21 points with eight minutes remaining, the Jersey/A coaches were calling crazy all-out blitzes against Michael Vick, fairly begging him to make big plays. Leading by 14 points with seven minutes remaining, the Jersey/A coaches didn't send in the hands team for a Philadelphia kickoff -- instead, they had the front line of the kickoff receiving team backed off and retreating. When the fateful punt backfired on the game's final play, Tom Coughlin stood midfield screaming at the punter -- to make absolutely sure everyone in the home stands got the point that all blame was being shifted to a rookie punter.
Why didn't somebody stand at midfield screaming at Coughlin about the botched calls on defense and on the kickoff? Bungling, blame-shifting, Giants coaches -- you are guilty of the single worst performance of the season. So far.
A Cosmic Thought: Each year at this time, TMQ reminds us of the majestic scale of the universe, conveyed to some degree by this graphic
The fine new book "A Grand and Bold Thing" by Ann Finkbeiner, about the Sloan Digital Sky Survey project, reports that researchers believe there are at least 100 billion galaxies. A century ago, only one galaxy, the Milky Way, was known to exist. Now the count is 100 billion and climbing.
This recent study led by Yale University cosmologists found there exist at least three times as many stars as previously thought. The star count is now at 200 sextillion, a number that is very hard to conceptualize. That's a two followed by 23 zeros. What's a two followed by 23 zeros? The universe, thought to be 14 billion years old, has not yet existed for 200 sextillion seconds. Get this: The universe has not yet existed for a thousandth of a percent of 200 sextillion seconds.
[+] Enlarge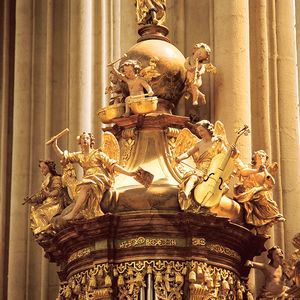 Imagno/Getty ImagesThe chorus angelorum of the football gods sends this holiday wish: On Earth, peace, goodwill toward men.
And stars are still forming -- even in our neighborhood.
To us, the universe seems immensely old; compared to itself, the cosmos glistens with the dew of morning. The present universe might exist hundreds of billions of years, if not forever. Creation contains at least 100 billion galaxies and far more stars than there are grains of sand. Don't let this make you feel small. Quite the contrary; it should make you feel important. Life is what grants the immensity of the universe meaning. Who can say what the purpose of the cosmic enterprise might be?
Happy holidays.
Next Week: They were undrafted or waived or both -- yet, through hard work and determination, they have become among the NFL's best performers. Tuesday Morning Quarterback's annual All-Unwanted All-Pros. Plus, my Unwanted Player of the Year.
In addition to writing Tuesday Morning Quarterback for Page 2, Gregg Easterbrook is the author of the new book "Sonic Boom" and six other books. He is also a contributing editor for The New Republic, The Atlantic Monthly and The Washington Monthly. His website can be found here.