Commentary
TMQ's MVP: New England's Dan Koppen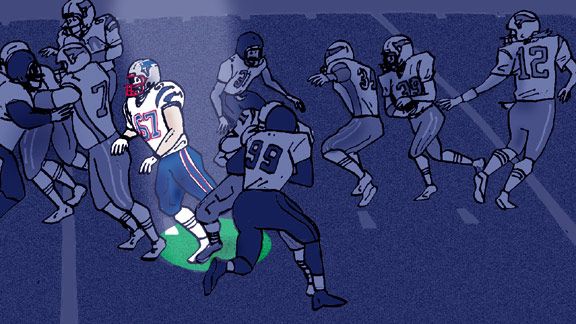 Kurt Snibbe/ESPN.com
Keep your eyes peeled for armored locusts and seven-headed dragons -- a losing team has made the NFL playoffs, so the end times might be upon us.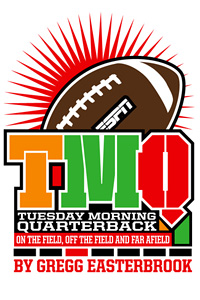 Say what you will about the NFL, but the league has always been a meritocracy -- the best players get on the field regardless of draft status, and the best teams are rewarded. But not this season. The 7-9 Seahawks host a playoff game while the 12-4 Ravens open the postseason on the road and the 10-6 Giants and Bucs and 9-7 Chargers go home. As noted by reader Steve Estes of Lexington, Mass., before Sunday, only a total of five teams with records of 10-6 or better had failed to reach the postseason since the current playoff format was adopted in 1990. Now, two 10-6 teams are denied in the same season. Has there ever been a better argument for the NFL to switch to a seeded-tournament postseason?
Here is what the regular season looks like based on performance on the field. Seattle, hosting a postseason game, finished behind six teams that missed the playoffs. If the NFL employed a seeded-tournament format, the Seahawks would be out and the Giants in; the Ravens would have a bye; the Bears, Saints, Jets and Packers would be hosting wild-card games. There can't be many football enthusiasts who think the current situation is superior to that.
Now let's switch to a positive topic: the coveted "longest award in sports," the Tuesday Morning Quarterback Non-Quarterback Non-Running Back NFL MVP.
TMQ CHEAT SHEET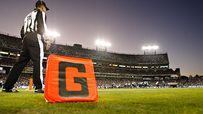 Gregg Easterbrook on …
The Associated Press is about to announce the formal MVP award, and there's just a tiny chance it will be won by a quarterback. Like the Heisman, the NFL MVP almost always goes to a quarterback or running back. Since the award began in 1957, all winners except defensive tackle Alan Page (1971), place-kicker Mark Moseley (1982) and linebacker Lawrence Taylor (1986) have been either quarterbacks or running backs. Football is a team sport, and generally 19 of the 22 players on the field are not quarterbacks or running backs. But these two positions monopolize recognition.
Quarterback and running back monopolize awards in part because, just like spectators, most sportswriters and sportscasters never look away from the ball. Ninety percent of football action occurs away from the ball -- but most who comment on football for a living never look there. TMQ keeps his eyes off the ball. You should try it sometime.
This season's Tuesday Morning Quarterback Non-Quarterback Non-Running Back NFL MVP is center Dan Koppen of New England. The Patriots are the league's best team, possessed of the league's best offense. New England led the NFL in scoring in the regular season, and showed terrific balance between rushing and passing. Superior offensive line play is one reason, with the Flying Elvii third best in sacks allowed. And everything that happens on the offensive line starts with the center.
[+] Enlarge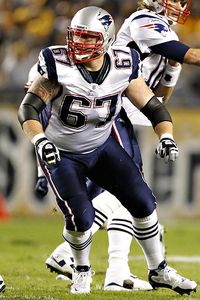 AP Photo/Gene J. PuskarDan Koppen, the 2010 TMQ Non-Quarterback Non-Running Back NFL MVP.
Koppen entered the NFL in 2003 as a fifth-round draft choice out of Boston College. Since taking over at center for the Patriots in 2004, he has held the position, starting 119 of his past 120 games. He makes the Patriots' line calls and makes them well; Tom Brady stands unruffled in the pocket, brushing his hair, in part because New England has fewer botched blocking assignments than any other NFL team. Koppen was a key to New England's record-setting 2007 offensive season and has been a key to this season's seemingly unstoppable New England offense. He sometimes gets guard help, as all centers do. But you can watch a lot of Patriots film without seeing him beaten -- or giving up on a play.
Because sportscasters, and even many NFL players and coaches, rarely look away from the ball, offensive linemen make the Pro Bowl based on hype and reputation, not performance. New England guard Logan Mankins made the Pro Bowl this season, despite appearing in only nine games. Mankins is good but was selected for the 2010 Pro Bowl mainly because most football followers have no idea who's good on the offensive line and vote for whomever they voted for last season. Whom does Mankins play next to? Koppen, who makes all his offensive line teammates look good.
Below, find the finalists for the Non-QB Non-RB NFL MVP and a list of past winners.
Stats of the Week No. 1 New England closed out the regular season with at least 30 points in eight consecutive games and with a spectacular plus-28 turnover margin.
Stats of the Week No. 2 In a span from the second quarter of their first meeting to the fourth quarter of their second game, the Patriots outscored the Dolphins 79-7 while recording a rushing touchdown, a passing touchdown, a kickoff return touchdown, a punt return touchdown, an interception return touchdown and a blocked field goal return touchdown.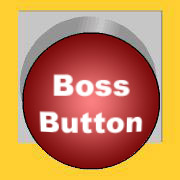 Stats of the Week No. 3 Oakland finished 6-0 in its division and 2-8 versus all other teams.
Stats of the Week No. 4 In the games for which Randy Moss was on the team, the Patriots, Vikings and Titans were a combined 5-11.
Stats of the Week No. 5 Matt Ryan is 20-2 as a starter at home.
Stats of the Week No. 6 Cincinnati, Dallas and Minnesota, playoff teams of 2009, combined to finish 17-31 this season.
Stats of the Week No. 7 Atlanta and Pittsburgh, which did not make the playoffs in 2009, posted a combined record of 25-7 in the 2010 regular season.
Stats of the Week No. 8 In Weeks 16 and 17, AFC East members Buffalo and Miami were outscored by a combined 100 points.
Stats of the Week No. 9 Tom Brady has won 28 consecutive regular-season home starts and is a career 34-5 as a starter in December.
Stats of the Week No. 10 The Colts and Saints became the first Super Bowl pairing in a decade to both make the playoffs the following season.
[+] Enlarge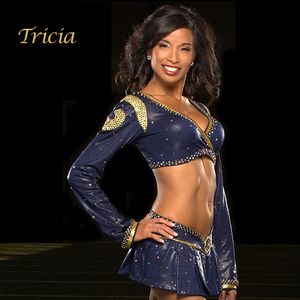 St. Louis RamsTricia of the Rams, graduate of the college New York newspapers call "Washington of Missouri."
Cheerleader of the Week Tricia of the Rams, who, according to her team bio, has a master's in teaching and got a dual-major bachelor's in education and dance from Washington University in St. Louis. Known to students as "Wash U.," Washington in St. Louis is one of the country's gem schools -- excellent academics (14th-ranked liberal arts college on the current US News leaderboard), idyllic campus. Yet Washington in St. Louis is little known to the snobs of the East Coast; The New York Times refers to the college as "Washington of Missouri." Here are the dance major requirements at Wash U. How come there's no course to prepare dancers to be NFL cheerleaders? "Dance 329: Theory and Practice of the Contemporary Cheer-Babe; Hip-Hop, Poms, Smiling During Defeat, Bikini Posing."
Sweet Game Strategy In a season-finale week in which a distressing number of teams -- Miami, Jacksonville, Cleveland, Cincinnati, Buffalo -- rolled over and played dead, the Bears went all-out to win despite having already locked their best playoff seed. Chicago kept its starters on the field for the entire contest at chilly Green Bay, a hard-fought, close game not decided until the closing seconds.
Perhaps coach Lovie Smith remembered that in the finale week of 2007, the Giants had locked their best seed but went all-out, including starters playing the entire contest, to attempt to deny the Patriots a 16-0 finish. Jersey/A lost that game by three points, but the mindset established -- we're not afraid of anybody -- carried over to the Super Bowl, where the Giants defeated the Patriots. Although Sunday's game at Green Bay ended as a 10-3 Chicago defeat, it was a great omen for the Bears' playoff chances.
The Packers got a fine performance from their special teams, which downed fourth-quarter punts at the Chicago 2 and 3, and Green Bay finally went to a power-I backfield at the goal line, after being in a five-wide shotgun spread at the goal line nearly all season. But leading 10-3 in the fourth quarter, the Packers punted on fourth-and-1 in Chicago territory. That's not a playoff mindset.
Sour Game Strategy Jacksonville essentially had a three-game lead with three weeks to play and lost all three, missing the postseason. Ye gods. On Sunday, the Jaguars' remaining hope was that they would win while Indianapolis lost. Trailing Houston by 10 points late in the third quarter, Jax threw super short on third-and-7 -- a play that would not have made the first down even if completed -- then passively punted. Trailing by 17 points in the fourth quarter, Jacksonville continued to throw conservative, super-short patterns. Sure, backup quarterback Trent Edwards, "Captain Checkdown," was at the controls. But where was coach Jack of the River? Del Rio seemed more concerned with keeping the final margin of defeat respectable than trying all-out to win.
[+] Enlarge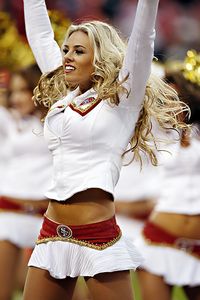 AP Photo/Paul SpinelliIn San Francisco, they were cheering the beginning of the Jim Tomsula Era.
Sour Game Strategy No. 2 Goin'-nowhere Cincinnati played its final game against playoff-bound Baltimore, with a chance to end the season on a positive note. Trailing 3-0 in the second quarter, Marvin Lewis had the Bengals punt on fourth-and-inches from midfield. It took Baltimore just four snaps to cross the point where the ball would have been had the Trick-or-Treats gone for it and failed. Then, with Baltimore leading 6-0, Lewis ordered Cincinnati to punt on fourth-and-2 in Ravens' territory. Lewis did go for it on fourth down twice in the fourth quarter, when he had no choice -- including a fourth-and-1 from the Ravens' 2 in the final seconds. Cincinnati had run five snaps on its possession before that play; Nevermores coach John Harbaugh called timeout to let the defense catch its breath, and the result was a stop. The Bengals' train-wreck season ended with a failed play from the Baltimore 2 with 16 seconds remaining. Perhaps if Lewis had been aggressive early, the outcome would have been different.
Ravens place-kicker Billy Cundiff, who has been waived by eight teams -- a lot even by the standards of kickers -- and was the first-team place-kicker on the TMQ All-Unwanted All-Pros, tied the NFL record with 40 touchbacks on the season. Touchbacks are an underappreciated stat; one reason the Baltimore defense is so effective is that opponents often start on their 20.
Sour Plays and Game Strategy Meet Trailing playoff-bound Pittsburgh 14-0, the goin'-nowhere Browns had second-and-goal on the Steelers' 2. The call was a play-fake to blocking tight end Robert Royal, who has notorious "skillet hands." Pittsburgh didn't cover Royal, who always drops the ball; the pass was right on his numbers in the end zone, and dropped. On third-and-goal, there's no way the Browns will go back to Royal, right? Uncovered in the end zone again, and drops the ball again. Oh, well, it was worth a try.
Then coach Eric Mangini sent in the kicking unit, to resounding boos from the home crowd; Cleveland went on to lose 41-9. The Browns entered the contest 5-10, with their sole hope of a positive note to end the season an upset of the Steelers. What does a point-blank field goal that makes the score 14-3 accomplish? What it accomplished was ensuring the Browns were not shut out. Mangini knew he might be fired Monday and knew a shutout at home likely would be the last straw. So he didn't even try to win; rather, he made sure he kept a home shutout off his résumé and was fired anyway. A coach who isn't even trying to win deserves to be fired.
Sweet Plays and Game Strategy New Orleans and Baltimore kept starters on the field through the fourth quarter even as the scoreboard showed results from other games rendered their contests meaningless to playoff seeding. That's the right mindset to take into the postseason.
In Week 16, the Saints lined up basketball-player-converted-to-tight-end Jimmy Graham wide at the goal line and threw him a bang slant for a touchdown. On Sunday, they lined up Graham wide right at the goal line and threw him a corner fade -- to a tight end! Touchdown. The Saints' use of a third-round choice on Graham in the 2010 draft seemed like a speculative investment for the future. It's paying off already.
Reaching the goal line against roll-over-and-play-dead Miami, New England lined up trips left. Two wide receivers ran "clear" routes to the right, in order to isolate tight end Rob Gronkowski on a single defender; Gronkowski then ran a corner route for the touchdown. Tight ends who can perform as wide receivers at the goal line are a potent threat, and going into the postseason, New Orleans, New England and Atlanta (Tony Gonzalez) have them.
City of Tampa leading 13-10 in the third quarter, the Bucs faced fourth-and-1 from the Saints' 18. They came out in a power set, for what seemed a quarterback sneak. Josh Freeman faked a dive into the line, then pulled back and threw into the end zone for the touchdown that proved the winning points. Sweet.
[+] Enlarge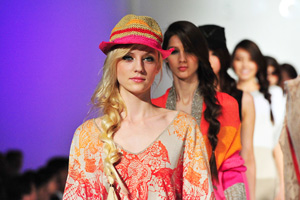 Jun Sato/Getty ImagesJanuary just began. Finished your spring shopping yet?
Unified Field Theory of Creep Kierre Daniels of Schenectady, N.Y., writes, "On Dec. 23rd, my wife and I went to the Jo-Ann fabric store in Colonie, New York, to pick up supplies for gift-making. I saw two store employees setting up two aisles of Valentine's Day merchandise -- two days before Christmas." Adam Rauscher of Plainfield, N.J., reports, "At 5 A.M. on Christmas morning, I received an email from The Children's Place clothing store saying its Christmas sale had just started. This was before the kids had even opened their presents."
Adam Webb of Livingston, Texas, reports, "The European PGA Tour held the opening round of the 2011 tournament in 2010. The first 11 tournaments of the 'European' tour are in Africa, the Persia Gulf, India and the United States." Phil Asaro of New York City writes, "In mid-December I was walking in the Winter Garden at the World Financial Center during lunch break, and saw the following advertisement in the window of The Gap: 'It's never too early for a new spring look.' This advertisement ran when we had not even reached winter solstice yet."
Paul Bosscher of Melbourne, Fla., writes, "My wife was shopping at Target in Melbourne, Fla. on New Year's Eve and found St. Patrick's Day items were already on the shelves. Not even New Year's Day and they are selling items for a March holiday."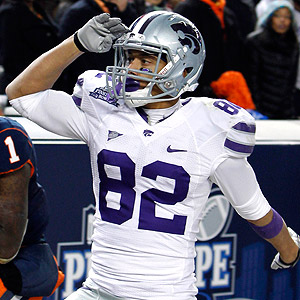 William Perlman/The Star Ledger/US PresswireHe put his hand to his forehead for a second! OMG! OMG!
Only the NCAA Could Think One Person Is "Themselves" In the Kansas State-Syracuse bowl game, Adrian Hilburn scored a touchdown with a minute remaining to pull Kansas State to within two points. Hilburn briefly saluted the Kansas State cheering section behind that end zone where he scored; zebras called that unsportsmanlike conduct, marching the Wildcats' 2-point try back to the 18. Syracuse stopped the deuce and won. Thus the penalty essentially handed the inaugural New Era Pinstripe Bowl to Syracuse. The game was being played in New York City, see? Syracuse is a New York team, see? The mob put the fix in to make sure the New York team won, see? The whole game was fixed by the mob, see?
There you go, tabloids -- "ESPN says game was 'fixed by the mob.'" Obviously I don't mean this. The trouble is, it's a better explanation than that NCAA officials think a three-second salute by a guy who just scored a touchdown is a reason to throw a flag that in effect awards the game to the other team.
TMQ hates the celebration penalty. As long as there is no taunting, and there was none by Kansas State, why shouldn't players dance happily after a touchdown? Nearly all football fans, players and coaches hate the celebration penalty. Why does it exist? The current NCAA stance seems to be that football players not graduating is a minor matter, athletes who break rules will be overlooked whenever bowl revenue is involved, but don't you dare act happy! Especially bizarre is the NCAA notion that celebration fouls should be a "point of emphasis." Punishing players for jumping around happily is a point of emphasis, while helmet-to-helmet hits are rarely flagged? Even considering the NCAA's reputation for hypocrisy, this is a bit much. The celebration rule (at the high school and NFL levels, too) needs a serious revamping.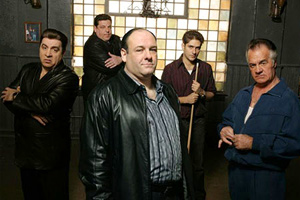 HBOThe officiating crew from the Syracuse-Kansas State bowl game.
After the game, referee Todd Geerlings said the penalty was justified because officials judged Hilburn "to be drawing attention to themselves, and that's what the flag was for." Set aside that your kindergarten teacher would flunk that sentence. Here's the NCAA rule: Unsportsmanlike celebration is "Any delayed, excessive, prolonged or choreographed act by which a player attempts to focus attention on himself (or themselves)." What Hilburn did was not delayed, excessive, prolonged or choreographed -- although he did draw attention to himself. The rule doesn't forbid drawing attention to yourself. It forbids "any delayed, excessive, prolonged or choreographed act." Hilburn did not violate the wording of the rule. Even an NCAA official who doesn't know the difference between "himself" and "themselves" should understand the wording of rules.
Along comes the next bowl, North Carolina at Tennessee. On one Volunteers touchdown, the receiver did a choreographed dance as a teammate leapfrogged him; on another, the receiver danced elaborately, then a teammate lifted him into the air. No flag in either case. Rules are supposed to be consistent. The NCAA celebration rule seems enforced entirely according to the whim of whoever is working the game.
Reader Chris Gillard of Atlanta adds that "drawing attention" happens constantly in football and is almost never flagged: "If celebration is bad, shouldn't there be an excessive celebration penalty for the defensive player who gets a sack and then runs 10 yards jumping around, thumping his chest and gesturing to the fans?" I watched the South Carolina-Florida State second half with this in mind, and counted 14 instances of a player who had just made a sack or big tackle or had a big gain dancing wildly on the field, flexing his biceps, chest-bumping with a teammate or doing a bit of choreography. No flags. How come celebrating a touchdown is a grievous offense but celebrating a tackle is unregulated? Fix this embarrassing rule.
[+] Enlarge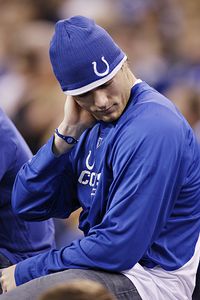 AP Photo/Darron CummingsAustin Collie of the Colts, who did the right thing. Will the rest of football follow this example?
Good Signs on Concussion Awareness: Two weeks ago, TMQ said that whether the Colts put Austin Collie on injured reserve -- two severe concussions in one month placed him at too much risk to continue this season -- was a test of whether the NFL means what it says about respecting neurological health. Collie is now on injured reserve. This decision reduces the Colts' chance of returning to the Super Bowl. But Collie's long-term health means more -- the Colts are setting the right example here. On New Year's Eve, star quarterback Christian Ponder of Florida State sustained a concussion in the Seminoles' bowl game, and coaches immediately took away his helmet -- again setting the right example.
Can the culture of football really change from brutal to safety-conscious? Let's cross our fingers.
And a Fitting Conclusion to the Redskins' 2010 Season: Trailing Jersey/A 17-7 in the fourth quarter, Washington went for it on fourth-and-inches and lost 5 yards. The NFL test of manhood is games within your division, and in the NFC East, the Nanticokes are on a 9-21 run.
Jeff Fisher Bows Out with a Whimper Not a Bang TMQ has been complaining that the Colts are too predictable. In Week 16, Peyton Manning ran a naked bootleg, which he NEVER does, for a game-icing first down. On Sunday, Reggie Wayne lined up on the right, which he NEVER does, for a touchdown. The naked boot and flipping a wide receiver from one side to the other are very common tactics -- but by the Colts' standards, wild variation.
The Colts' running game and defense have improved in the final month of the season, and the NFL is about who's playing well at the end. Simplifying defensive tactics and calls has helped the defense. But Indianapolis, the home team, hardly played well Sunday, needing a field goal on the final snap to beat hapless Tennessee. Did Colts players know Jacksonville was honking out versus Houston, handing Indianapolis a playoff slot regardless of whether the Colts won? Game tied at 20 with 2:28 remaining, Tennessee, at 5-10, punted on fourth-and-4 from its 35. Don't roll over; play to win! It was as if Jeff Fisher was saying: "Well, boys, we've gone through the motions. We all want to head home. So let's be sure this game does not end up in overtime."
'Tis Better to Have Rushed and Lost the Rose Bowl Than Never to Have Rushed At All: TCU isn't exactly small, with more than 7,000 undergraduates, but it is the smallest college to win a BCS bowl, such games being dominated by public universities with tens of thousands of students. In BCS bowls, outsider teams from the supposedly weak conferences are now 4-1 against automatic-qualifier teams from the supposed powerhouse conferences.
Wisconsin Badgers -- you've got the best rushing attack in college football, and you tired the TCU defense by rushing on nine of the past 10 snaps, driving the length of the field for a closing-seconds touchdown to pull within two. Now you need a deuce. Why are you putting the ball in the air?
[+] Enlarge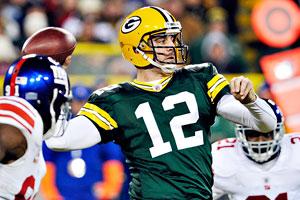 AP Photo/Jim PrischingWhy won't the NFL tell us what's on players' heads?
Bring Me What's on the Head of Aaron Rodgers: TMQ has written numerous items on the NFL's refusal to mandate helmet types likely to reduce concussions -- for that matter, to mandate any helmet type. Weirdly, in my experience, the NFL won't even tell you what helmets its players wear. When James Harrison of the Steelers became involved in the vicious-hits controversy in the fall, I asked Steelers spokesperson Dave Lockett what kind of helmet Harrison wears, and Lockett said he wouldn't answer that question. When Aaron Rodgers returned to action last month following a concussion, a vaguely worded Associated Press story said he had switched helmets. I asked Packers spokesperson Jeff Blumb what type of helmet Rodgers switched to, and Blumb said he wouldn't answer that question.
What's going on here? Head injuries in football are an important story with public-policy implications; many thousands of parents and high school coaches lack any guidance on what types of helmets youth and high school football players should favor. Congress or The New York Times, pressure the NFL to release an accounting of what helmet brand and model each NFL player wears. NFL, why not? Usually the reason a business entity won't release information is that it's hiding something.
[+] Enlarge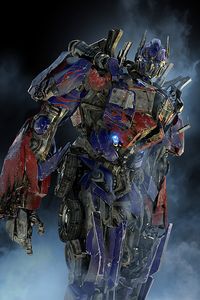 Industrial Light and MagicTMQ will believe that giant instantly transforming metallic organisms are alive -- but he won't believe that the Moon's light side rotates away from the Earth.
Hollywood Rewrites the Laws of Celestial Motion: Philip Torbett of Knoxville, Tenn., writes, "In the just-released trailer for the third Transformers movie, the premise is that the Apollo missions were a cover to explore a downed alien spacecraft. When the moon spins and the Apollo landing area is no longer facing Earth, the astronauts climb a ridge and explore the massive alien craft which is mere feet away from the Lunar Module. When the moon spins back, the astronauts quickly return to the lander and pretend to be collecting rocks. But the moon revolves such that we always see the same side. This makes the opening premise of the movie impossible, because any alien craft that landed in the Sea of Tranquility would have been continuously observable from Earth with a decent telescope."
TMQ's rule of sci-fi is that I will accept the premise -- enormous instantly transforming living organisms made of metal that require no fuel or other energy and can fly without lift or propulsion, hey, why not? -- so long as action makes sense within the premise, while laws of physics are observed. The moon is turning on its axis, but the same side always faces Earth. If the moon did not turn on its axis, as it revolved around the Earth, we'd see the dark side just as often as the familiar light side. The moon is "tidally locked" with Earth -- its gravity creates tides in the oceans, while Earth's gravity locks the light side of the moon facing us. That the moon is tidally locked -- rotating on its axis, but the same side always facing Earth -- is the reason we see the same surface features whenever we look up at the moon but never see the dark side.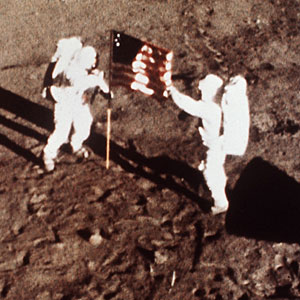 AP Photo/NASA"We come in peace for all mankind, and to set up a premise for a Transformers sequel."
The entire time the Apollo landers were on the moon, they were visible from Earth. Hollywood assumes that with science literacy being what it is, most moviegoers won't know this. Did the scriptwriters know it?
The Football Gods Chortled: In the Citrus Bowl, Michigan State faced fourth-and-goal from the Alabama 38.
That Losing Playoff Team, That's a Misprint, Right? St. Louis used a super-conservative game plan at Seattle, including punting on fourth-and-inches, and suffered three dropped passes on third down in the second half. How else does a 7-9 team make the playoffs? It's hard to take the Blue Men Group seriously, but now we have no choice.
We Must Be the League's Worst Team : Trailing the Falcons 7-0, taking possession on their 8-yard line, the Panthers went run for a loss, incompletion, incompletion, punt returned for a touchdown. Carolina took the ensuing kickoff back to only its 13, then went run no gain, incompletion, pass no gain, punt. At the end of the first quarter, Carolina had 1 total yard of offense. Just to prove this was no fluke, trailing 21-0 in the second half, the Cats kicked a field goal on fourth-and-2 from the Atlanta 5. The latter probably was so departing coach John Fox could avoid being accused of being shut out in his final game.
[+] Enlarge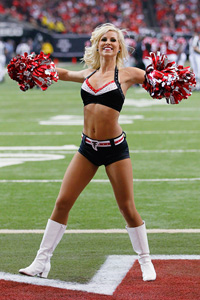 Kevin C. Cox/Getty ImagesThe real explanation for the Falcons' hot streak.
What explains the Falcons being the NFC's top seed, on a 16-3 streak stretching back to last season, and having a starting quarterback with a 20-2 home record? Cheer-babe professionalism! As recently as 2008, Stephanie Blank, wife of the Falcons' owner, objected that some NFL cheerleader squads were "too sexy." Setting aside the metaphysical question of how they could ever be "too" sexy, her view was clearly wrong within the pro sports context. In 2009, she allowed the Atlanta cheerleaders to switch to bikini-style, two-piece outfits loosely modeled on those worn by the Philadelphia Eagles' cheerleaders. The football gods were propitiated, and the Falcons have been red-hot since.
Texas Trick Play: Two weeks ago, TMQ noted that Pearland High used a Stonehenge trick play in its 5A state championship win over favored Euless Trinity. Reader Rick Moller of Houston provides video of the play. What makes this play work is the blase attitude of the Pearland players -- several are looking away from the quarterback, shrugging their shoulders and so on. Because this play is intended to fool the defense, it seems fair to TMQ. The middle school trick play making the rounds in which the quarterback loudly complains to officials about the ball, then pretends to be asking for the ball to show to the officials before taking off, seems unsportsmanlike conduct, since football players are taught to become passive whenever the officials are involved.
"Friday Night Lights" Update: The show's fifth and final season has reached the halfway point on DirecTV, migrating to NBC in the spring. The downtrodden East Dillon Lions, who hadn't won a game in years before SuperCoach Eric Taylor arrived last season, are now 7-0 and surely rolling toward a series-finale Texas 5A championship.
Mild spoiler alert: The Lions just pounded the Dillon Panthers, Taylor's previous team and the focus of the show's first three seasons, 37-7. Panthers boosters are ruing, really ruing, running off Taylor. Spoiled rich kid J.D. McCoy and his obnoxious rich father, who arranged to have Taylor fired, have vanished from the plot without explanation, as has Wade Aikman, the creepy coach the rich guy installed at Dillon High. You'd think the television gods would have dictated a scene of those characters, the bad guys of Season 3, rending their garments and gnashing their teeth. Instead, they just vanished, like Buddy's car dealership.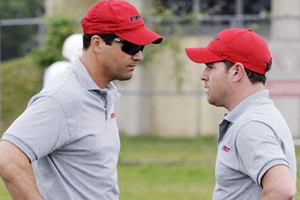 NBC"Coach, I've drawn up some new plays for fourth-and-99 -- we'll need them in the series finale."
Football accuracy has improved in Season 5, although it still has a ways to go. In one game, the Lions are depicted as committing 24 penalties for 245 yards -- the NFL record is 17 penalties for 145 yards. Jason Street (actor Scott Porter), star of Seasons 1 and 2, returns to visit Dillon with the news that he is married, is living in New York and has become a successful sports agent. Not bad considering that by the show's clock, Street is 21 years old. The fictional Texas Methodist University is shown hosting a group of East Dillon players for a campus visit in September of their junior years, which would be an NCAA violation -- lots of minor NCAA violations occur, but not as openly as the episode depicts.
There's an excruciating subplot of Julie Taylor, the coach's daughter, heading off for her first semester of college and immediately starting an affair with a married guy who OBVIOUSLY will turn out to be an ax murderer. I'd advise skimming through the Julie subplot.
An interesting twist of the past two seasons is that "Friday Night Lights" has evolved from a nearly all-white show into one with lots of black characters. But the framing of the past two seasons hasn't been as a racial-issues show or a BET-style black-target-demographics series; it's as a show with numerous black characters who sometimes must deal with racial issues but mostly are just living their lives. My guess is this wasn't planned, rather something that evolved when the setting shifted to an inner-city high school. This is another accomplishment of the "Friday Night Lights" writers and producers -- presenting a series with lots of black characters that's not promoted as a racial series, instead, just a series with lots of black characters.
[+] Enlarge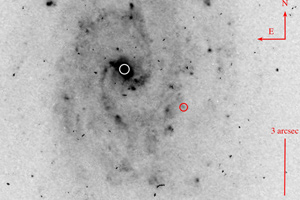 Netherlands Institute for Space ResearchA black hole with a billion times the mass of the sun -- they're a dime a dozen in the cosmos.
A Cosmic Thought About Cosmic Scale: Recently, astronomers at Utrecht University attained images of what appears to be a massive black hole being thrown from a distant galaxy. They estimated the black hole weighs about 1 billion times as much as our sun, a figure that is difficult to conceptualize. Karl Gebhardt of the University of Texas recently showed that the black hole at the center of galaxy M87 is about 6 billion solar masses. Some of the oldest galaxies are thought to have at their centers black holes with about 10 billion times the mass of the sun, a number that really strains the brain. And from the standpoint of creatures like us, this fantastic amount of matter is simply wasted -- crushed in a black hole, rather than assembled into useful stars and planets.
The black hole being expelled from the distant galaxy has been accelerated to about 675,000 miles per hour, which is roughly 1 percent the speed of light. About 1 percent the speed of light appears to be the highest speed attained by complex objects in nature. (Cosmic rays move much faster but are composed only of subatomic particles.) Since we observe, in nature, complex objects moving at 1 percent of light speed, we should assume that humanity someday will figure out how to accelerate spaceships to this speed. Then all the planets of our solar system will become accessible -- about eight hours to Mars. But even the closest other star systems will remain distant -- about 420 years to Proxima Centauri.
Weasel Coach Watch: The Oklahoma-Connecticut Tostitos Fiesta Bowl ended a little after midnight ET Sunday morning. At 5 p.m. the same day, Maryland announced it was hiring Randy Edsall as its football coach. Edsall must have been negotiating with Maryland during the week Connecticut -- his employer -- was preparing for its first BCS appearance. It's impossible to believe his cell phone rang in the middle of the night in Arizona, at the bowl game site, and within mere hours he had agreed to jump to Maryland, plus come to terms on financial details. "Edsall and his family traveled to the College Park campus to receive a tour of the school Sunday," The Washington Post reported. So his cell phone rang in the middle of the night in Arizona, and 12 hours later, he and his entire family were on the opposite side of the country -- all an unplanned, sudden development!
Perhaps Edsall's contract, which ran until 2013, had a clause that allowed him to negotiate with other potential employers while on the Connecticut payroll. Even if that's the case, Edsall deliberately shafted the school he was working for -- and the players he recruited -- by negotiating to walk out on them when he was supposed to be preparing his team for a bowl. What a weasel! University of Maryland: You've just hired a guy who deliberately shafted his previous employer. What makes you think he will deal squarely with you?
The rumors at this writing are that during the week before Monday's Discover Orange Bowl, Stanford's biggest bowl appearance in many moons, coach Jim Harbaugh has been negotiating to walk out. Maybe those rumors are wrong. But if Harbaugh does shaft Stanford, he will join the ranks of weasel coaches who have double-crossed employers and lied to recruits. TMQ reminds all Harbaugh suitors of the Law of Weasel Coaches: When you hire a coach who's in it only for himself, you get a coach who's in it only for himself.
What the Heck Happened in Kansas City? The Chiefs, with a shot at the third AFC seed -- meaning opening against the Jets, rather than the Ravens -- were blown out at home by Oakland. OK, better to have an off game in the regular season than in the postseason. But down 17-10 early in fourth quarter, Kansas City took possession on its 2 and went incompletion, incompletion, interception. Where was the league's No. 1 rush offense? Matt Cassel, who had thrown just five interceptions in all previous games, threw two in the fourth quarter, including the pick-six that iced the contest for the Raiders. Blown out at home by an eliminated team whose coach was in danger of being fired -- ouch.
Will the Trend to More Football Weight Finally Stop? Kansas City led the NFL in rushing, and since rushing is about blocking, this means the Chiefs got top-notch line play. Reader Pat Nagel notes the Chiefs are bucking the trend regarding excess weight and bulging bellies on linemen. Coach Todd Haley insisted his offensive line become leaner; the starters' current average, 307 pounds, is hardly swimsuit-calendar material but perhaps 15 pounds less than the NFL average. The Chiefs list eight players of at least 300 pounds as opposed to 15 players of 300-plus on the Arizona roster and 16 players of 300-plus on the Auburn roster. "I wonder if leaner linemen could be a trend as teams move away from the road grader offenses of old," Nagel writes. Perhaps -- the high-tempo, high-scoring Oregon Ducks list but six players at 300-plus pounds.
[+] Enlarge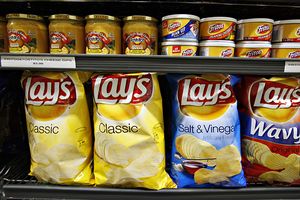 AP Photo/Paul SakumaWhat's the difference between potatoes and "real potatoes"?
Disclaimer of the Week: Minute Maid lemonade proclaims itself "made with real lemons." And "real lemons" differ from "lemons" -- how, exactly? Lay's potato chips proclaim themselves "made with real potatoes." And "real potatoes" differ from "potatoes" -- how, exactly? Oscar Mayer bacon proclaims "real bacon." Which differs from "bacon" -- how, exactly? I bought a loaf a Pepperidge Farm bread whose wrapper proclaimed "FRESH BAKED taste." The words "FRESH BAKED" were in huge capital letters; "taste" was in tiny letters. Maybe there is no meaningful difference between bread that is fresh-baked and bread that has a fresh-baked taste. But the potato chips seemed honest by comparison.
TMQ Non-QB Non-RB NFL MVP Finalists: Only players from playoff teams are eligible; my reasoning is that he who would wear the mantle of "most valuable" had better have created some value.
The 11 finalists:
Atlanta -- Brent Grimes. Last week named TMQ's Unwanted Player of the Year, undrafted out of Division II Shippensburg. K.C. Joyner, the Football Scientist -- what kind of experiments does he conduct in his laboratory? -- graded Grimes as one of the top NFL performers in 2010.
Baltimore -- Haloti Ngata. Ray Lewis and Ed Reed are top players; Ngata is the NFL's most disruptive defensive performer. Backed by Aaron Schatz of Football Outsiders.
Chicago -- Israel Idonije. Undrafted out of the University of Manitoba. Teammates Brian Urlacher and Julius Peppers are much better known, but he's the one you really do not want to have to block.
Green Bay -- Clay Matthews. Could have won the Non-QB Non-RB MVP; in TMQ terms, it worked against him that he's well-known.
Indianapolis -- Jeff Saturday. Undrafted, the 2006 Non-Quarterback Non-Running Back NFL MVP and sure to someday don the garish yellow sportcoat in Canton.
Jersey/B -- Bart Scott. Undrafted, the tough-guy essence of the Jets' defense.
Kansas City -- Branden Albert. The team that leads the league in rushing must have power blocking.
New Orleans -- Jahri Evans. Runner-up for the 2009 Non-QB Non-RB MVP.
Philadelphia -- DeSean Jackson. See the notation for Clay Matthews.
Pittsburgh -- Lawrence Timmons. Led the Steelers, the league's top rushing defense, in tackles. Brian Burke, who writes Advanced NFL Stats, reports Timmons "leads all defenders in my Win Probability Added stat, which measures the game-changing impact of every play."
Seattle -- Aaron Curry. Even losing teams can have top players.
Past Non-QB Non-RB NFL MVPs: The award has existed for a decade, and Dan Koppen is the fourth Patriot to take the trophy, fitting since New England has been the best team of the past decade.
Past winners:
Alan Faneca, Steelers, 2001
Lincoln Kennedy, Raiders, 2002
Damien Woody, Patriots, 2003
Troy Brown, Patriots, 2004
Walter Jones, Seahawks, 2005
Jeff Saturday, Colts, 2006
Matt Light, Patriots, 2007
James Harrison, Steelers, 2008
Dallas Clark, Colts, 2009
Reader Comments: I noted New York City pays a company $65 million a year to haul away old appliances that informal recyclers would take away at no cost, in order to sell the metal for scrap. Dave Spiegel of Princeton University writes, "I basically agreed with your take on NYC recycling, but there are two points you did not address. The first is that a relevant question is whether the cost to the municipality of disposing in the regular trash items that could have been recycled is greater than the disposal cost charged instead by recycling companies. If so, recycling can be defended on economic grounds even if there's a cost associated with recycling. The second is that one of the things the city's disposal company does is properly dismantle the parts of old appliances that contain CFCs. Presumably, informal scrap collection doesn't include this. Safe disposal of chemicals within old appliances seems to be a good reason to try to prevent unauthorized recycling."
Ari Mononen of Tampere, Finland, notes the Giants, winners of the London game in 2007, won the Super Bowl that season. The Saints won the London game in 2008, then won the Super Bowl the next season. The Patriots won the London game in 2009 -- an omen for this postseason?
Single Worst Effort of the Season -- So Far: Julian Edelman -- the guy who replaced Josh Cribbs at Kent State -- ran a punt back 94 yards for a touchdown against Miami, and the Dolphins' effort was atrocious. What you don't realize from watching the highlight-reel version of this touchdown is that the play began with 40 seconds remaining in the first half. Any tackle ends the half, and Miami let Edelman go the distance. The Marine Mammals' coaches didn't even call a "safe punt," with one or two players hanging back just in case. Miami gave up 502 yards of offense, although most Flying Elvii starters left the game in the third quarter. That's just embarrassing. On a long catch-and-run by Brandon Tate, three Miami defensive backs air-tackled, missing him entirely. South Florida Dolphins -- you are guilty of the single worst effort of the season. So far.
Next Week: Dolphins, Browns, Panthers, Lions, Bills, Bengals petition to be realigned into the NFC West.
In addition to writing Tuesday Morning Quarterback for Page 2, Gregg Easterbrook is the author of the new book "Sonic Boom" and six other books. He is also a contributing editor for The New Republic, The Atlantic Monthly and The Washington Monthly. His website can be found here.