Commentary
Defense rules again in playoffs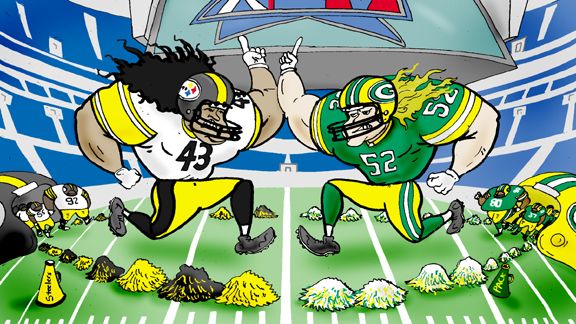 Kurt Snibbe/ESPN.com
Please sit down before I reveal the horrible news -- there will be no cheerleaders at the Super Bowl. Green Bay and Pittsburgh, the last teams standing, are among the small number of NFL franchises that do not have a professional cheer-babe squad. So brace for no cheerleaders at the Super Bowl. How could this happen? This is America!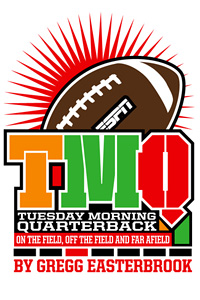 Because the Super Bowl is the sole NFL game each season to which both teams bring their cheerleaders, normally one of the treats of attending the final contest is gorgeous, scantily attired, dancing women along both sidelines. Instead, in XII days in Dallas, there will be no cheerleaders at all. How could this happen? This is America!
The saying goes -- offense sells tickets and defense wins championships. That has been the theme of the current playoffs. Of the top 10 offensive teams in the NFL this season, only one, Green Bay, reached the title round. But all of the final four teams were in the top 10 for defense. Of the top 10 rushing-offense teams this season, only one, Jersey/B, reached the title round. But of the top rushing defenses, Nos. 1, 2 and 3 -- the Steelers, Bears and Jets, respectively -- made the final four.
In passing, the disparity isn't quite as pronounced. Of the top 10 passing-offense teams this season, only one, Green Bay, made the title round. Of the top 10 passing defenses, two, the Jets and Packers, did so. But in the main event, defense has prevailed over offense emphatically, with defenses No. 2 (Pittsburgh) and No. 5 (Green Bay) reaching the Super Bowl, while offense No. 9 (Green Bay) is the highest represented.
TMQ CHEAT SHEET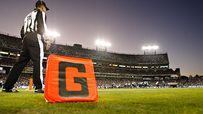 Gregg Easterbrook on …
Once the Super Bowl is reached, some games are decided by offense, such as San Francisco's 49-26 victory over San Diego in 1995. But in recent season-finale contests, defense has shown the way. In 2008, the Giants took the trophy by holding the Patriots, who had just set the NFL record for regular-season scoring at 37 points per game, to 14 points in the Super Bowl. In 2009, the Steelers won the Super Bowl by controlling Kurt Warner and the high-scoring Arizona offense. Last year, the Saints won the Super Bowl by holding the Indianapolis offense to a net of 10 points, considering the New Orleans defense also scored a touchdown.
Now the no-cheerleaders Steelers will face off against the no-cheerleaders Packers. (Green Bay allows Wisconsin small-college pep squads, in college attire, on the sidelines of home games.) With both teams being built around defense, the trophy might go to whichever's offense is least frustrated. But since scantily clad cheer-babes propitiate the football gods, and neither team has them, how will the football gods know whom to root for?
Stats of the Week No. 1: The Jets are on an 0-4 streak in AFC title games.
Stats of the Week No. 2: Sportswriters treat 100-yard rushers as a barometer of success, but Green Bay and Pittsburgh reached the Super Bowl despite not having a 100-yard rusher in 32 of their 37 combined games.
Stats of the Week No. 3: LaDainian Tomlinson has the most touchdowns of any player never to appear in the Super Bowl.
Stats of the Week No. 4: The Jets are 1-12 in games played in Pennsylvania.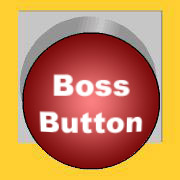 Stats of the Week No. 5: In three meetings this season, Green Bay sacked Chicago quarterbacks 11 times, while Chicago sacked Green Bay quarterbacks three times.
Stats of the Week No. 6: Troy Williamson, Erasmus James and Matt Jones, all of whom are already out of football, were chosen ahead of Aaron Rodgers in the 2005 draft.
Stats of the Week No. 7: At the current pace, the Bears and Packers will meet again in the playoffs in the year 2081.
Stats of the Week No. 8: The Jets-Steelers contest began at 6:41 p.m. ET. After a 17-snap Steelers opening drive, a challenge, an injury timeout and two TV timeouts, the Jets had their first snap at 7:08.
Stats of the Week No. 9: Late in the second quarter, Pittsburgh led Jersey/B in offensive yards, 231 yards to 12 yards. For the remainder of the game, the Jets outgained the Steelers 277 yards to 56 yards.
Stats of the Week No. 10: Green Bay and Pittsburgh enter the season's final game a combined 9-2 in Super Bowls.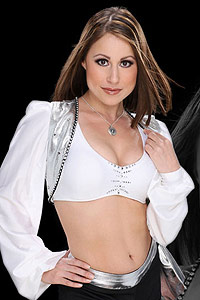 Oakland RaidersJennifer of the Raiders -- old enough to dance the night away.
Cheerleader of the Week: Jennifer of the Raiders, who according to her team bio "has been dancing since age 3" -- which sounds really tiring -- and graduated from the University of California at San Diego with a double major in communications and dance. Last year's Raiders cheerleader tryouts had a sponsor, Bud Light beer; officially, they were the 2010 Raiderettes Auditions Presented by Bud Light.
Sweet Plays of the Championships: The Jets and Steelers both use complex zone-rush fronts intended to confuse the offense about who's coming -- but nobody choreographs a blitz better than the Steelers' Dick LeBeau. Steelers leading 17-0, Jersey/B facing third-and-17 on its 26, LeBeau sent a rush of two defensive linemen, one linebacker and two defensive backs, with both defensive backs overloading the offensive left. Cornerback Ike Taylor, who hit Mark Sanchez, causing a fumble run back for a Pittsburgh touchdown, came through unblocked as megabucks first-round draft pick Jets left tackle D'Brickashaw Ferguson stood confused, not blocking anyone. Sweet.
Now Pittsburgh is clinging to a 24-19 lead at the 2-minute warning, facing third-and-6 on the Jets' 40. If the Steelers rush and then punt, Jersey/B gets the ball back with about 1:20 remaining and, although no timeouts, all the momentum against an exhausted Pittsburgh defense. Steelers coaches called a rollout pass, completed for the game-icing first down to Antonio Brown, the same little-known rookie who had the game-deciding catch the previous week against the Ravens. Sweet. Brown can be forgiven for running out of bounds and stopping the clock, rather than just "getting on the ground" as soon as he made the first-down catch.
Sour Coaching Decision of the Championships: Leading 14-0 midway through the third quarter, Green Bay faced third-and-goal on the Chicago 6. Jay Cutler had left injured; little-used Todd Collins was warming up. So Packers, don't do anything silly -- a rush to keeping the clock moving, followed by a field goal and a 17-0 lead, would put the Packers in excellent position. Instead, Mike McCarthy radioed in a pass and the interception was returned to the 45. The game would prove tense 'til the waning seconds. If the Bears had pulled out the victory, sportstalk types now would be talking obsessively about this call.
McCarthy note: Packers leading 14-7 and the untested Caleb Hanie at quarterback for Chicago, McCarthy called four consecutive passes, three of which were incomplete, stopping the clock and keeping the home team in the contest. At 3:55, McCarthy called a sweep, and the inexperienced James Starks ran out of bounds, again stopping the clock. Had all these Green Bay calls simply been runs up the middle for no gain, Chicago's comeback attempt would have run out of time.
[+] Enlarge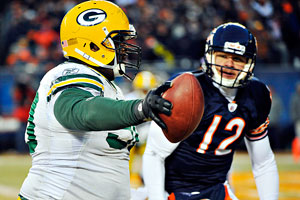 Rob Grabowski/US PresswireDon't wave the ball before scoring -- verily, the football gods shall smite you down.
Sweet 'N' Sour Play of the Championships: Green Bay leading 14-7, Chicago faced third-and-5 on its 15 with 6:12 remaining. Very large Packers nose tackle B.J. Raji came forward an instant, then dropped into coverage as part of a zone rush. Hanie, expecting a big blitz, threw a slant; Raji stepped in front for the pick-six that proved to be the winning points. Sweet. Note to Pittsburgh -- Green Bay dropped a nose tackle into coverage on a zone rush against Atlanta, too. Expect this tactic.
Raji began waving the football around at the Chicago 10-yard line and almost lost the ball. Very, very sour. Had Raji not scored, he would have joined Wrong-Way Marshall on the list of all-time boneheaded plays. Raji was sweet 'n' sour on the same down.
Poetry Errors Continue to Plague ESPN.com: Last week I asserted that the football gods are still punishing Bill Belichick for Spygate, "since to paraphrase Longfellow, the mills of the football gods grind slow, yet they grind exceeding small." TMQ readers are erudite, since more than a dozen, including Sylvia Foster of Burlington, Vt., wrote to note, "That phrase often is credited to Longfellow, but he was quoting from his translation of a work by Friedrich von Logau." OK, yeah, sure, I knew that. But I figured if I mentioned von Logau, people would just wince and say, "Please, not another allusion to 17th-century German poetry on ESPN.com."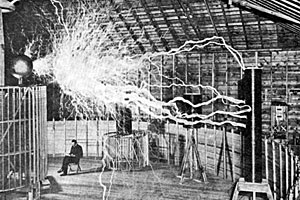 Dickenson V. AlleyIf Tesla were alive today, he'd be rolling in federal subsidies.
Tesla, Flying Car Sure to Collide: General Motors has emerged from bankruptcy and taken initial steps to repay its federal bailout money -- two good bits of news, although the taxpayer remains on the hook for many billions of dollars extended to GM. Specialty electric-car maker Tesla Motors also had a successful initial public offering and is being celebrated as some kind of testament to the entrepreneurial spirit. For Tesla, this is pure PR.
Tesla is capitalized via a $465 million no-collateral federal loan. This means that if Tesla goes out of business, the taxpayer will take the loss, while if Tesla becomes a hit, its management and private investors will keep all the profit. The company bought a factory in Fremont, Calif. The Department of Labor made $19 million in special payments to workers there, federal taxpayers subsidizing the Tesla labor force. The firm's electric cars entitle buyers to a $7,500 tax credit, plus sales tax exemption in many states, meaning Tesla marketing receives significant subsidies -- average people are taxed so wealthy Tesla buyers receive extra discounts. Compared to its size, Tesla is more heavily subsidized than General Motors at the low point. Basically, the company's existence is a giant raised middle finger to the taxpayer.
And what's the product? A $109,000 luxury sports car that accelerates from zero to 60 mph in 3.9 seconds, the speed of the hottest Porsches. Such speed has no relevance to everyday driving; rather, it is useful solely for road-rage behavior such as running red lights and cutting others off. Taxes forcibly removed from the pockets of average people now fund a rich person's plaything. I dread the moment President Barack Obama has his picture taken next to a Tesla, as if throwing the public's money away on this toy for the Silicon Valley rich were an accomplishment.
[+] Enlarge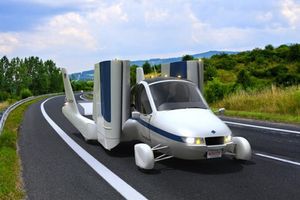 Terrafugia, Inc. The Terrafugia -- get a horse!
The other absurd vehicle in development is the Terrafugia flying car, which just won exemption from a federal airworthiness safety standard. Surely you will feel secure when a flying car exempted from safety standards buzzes your neighborhood, especially when you learn that another federal waiver means the pilot needs only 20 hours of experience before he or she takes off. Maryland, my state, requires 60 hours behind the wheel before receiving a driver's license. But fly after 20 hours? Hey, wheels up! Surely few of these accidents-looking-for-a-place-to-happen will sell on the free market. So -- scan the horizon for a bailout. The Terrafugia company just got a piece of a $65 million military contract to research a flying Jeep-like thing; don't hold your breath. If patriotism is the last refuge of scoundrels, defense contracting is the last refuge of bad business plans.
Tesla note: The car is well-named, for although Nikola Tesla was an important inventor and a key figure in the development of commercial-scale alternating current (he had one of the basic ideas for getting electricity to homes), he also was a relentless self-promoter, not shy about exaggeration. The famous photo of him in his Colorado Springs laboratory, reading a book as electricity crackles around him, is a double exposure -- that is, faked. Tesla's plan to allow global wireless communication using Earth's magnetic field was, let's just say, a long shot -- he worked, of course, before satellite-relayed signals were possible -- and his claim to be able to deliver electricity to businesses through the air never made much sense. If Tesla were alive today, he'd drive a Tesla.
[+] Enlarge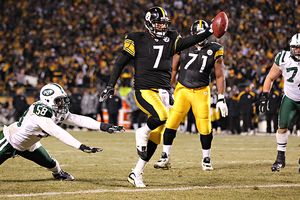 Matthew Emmons/US PresswireDon't wave the ball before scoring -- you are asking the football gods to smite you!
Jets at Steelers Analysis: It's not only that when the Jets played at Pittsburgh in the regular season, a pivotal play was a Jersey/B safety in the fourth quarter -- just as Jersey/B got a safety in the fourth quarter Sunday. In the regular-season meeting, Pittsburgh seemed to have the contest salted away, then the Jets outscored Pittsburgh 12-0 for the remainder of the game. On Sunday, Pittsburgh seemed to have the contest salted away, then the Jets outscored Pittsburgh 19-0 for the remainder of the game. But this time the home team lead was a little bigger and held. To think: Pittsburgh won despite gaining 56 yards in the second half.
TMQ's Law of Comebacks states: Defense starts comebacks; offense stops them. The Jets played tremendous defense in the second half, limiting the Steelers to 29 net yards of offense 'til they took possession with 3:06 remaining and iced the clock with two first downs. It wasn't much offense, a mere two first downs, but finally the Pittsburgh offense stopped the Jets' comeback.
In the first half, the Jets' defense "played high," many of its front-seven players standing up and looking around for the ball rather than staying low as they should. In the second half, the Jets' defensive technique was much better. Pittsburgh leading 24-10 and reaching first down on the Jets' 42 late in the third quarter, Jersey/B dropped the Steelers for three consecutive losses, forcing a fourth-and-25 -- that's impressive.
Give the Jets credit for playing with heart in the second half. Down 24-3 at intermission, they knew they had just as much time to come back as Pittsburgh had taken to get ahead. In the second half, the Steelers switched from aggressive defense to a backed-off shell -- what Pittsburgh did in the fourth quarter against Arizona in the Steelers' most recent Super Bowl -- and just like that game, a big lead evaporated as Pittsburgh ended up hanging on for dear life in the closing seconds. Of course, the Steelers won both contests. But it might be time to have a look at that backed-off philosophy.
When the Steelers and Jets met in December, Pittsburgh used a no-huddle much of the game and ran 16 snaps with six offensive linemen on the field. Clearly that's the offense Jersey/B prepared for -- and instead, on Sunday, Pittsburgh never used the no-huddle, while using six offensive linemen on only one snap. That the Steelers weren't doing what the Jets expected is a reason Jersey/B defenders played high in the first half -- Pittsburgh was employing unexpected tactics, and the Jets were trying to locate the ball. At halftime, Jersey/B adjusted, leading to much better defensive performance in the second half. And in the fourth quarter, Jersey/B play calling finally loosened up. The Jets stopped trying to power rush against the league's No. 1 rush defense, instead spreading the field with trips or double-slot formations. What might have happened if the Jets had loosened up earlier?
The Pittsburgh defense recorded one of its best-ever goal-line stands, stopping the Jets on four straight snaps after first-and-goal on the 2 in the fourth quarter. But the Pittsburgh offense performed poorly on third-and-short, going five-wide on third-and-goal on the Jets' 2 (incompletion) and having third-and-short problems in the second half as well. Short yardage is an area Pittsburgh must improve in the two-week break before the Super Bowl.
[+] Enlarge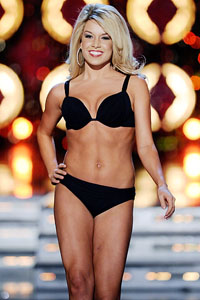 Ethan Miller/Getty ImagesTeresa Scanlan, Miss America: obviously this picture exists to support the item.
Offensive Linemen Gone Wild: Undrafted Pittsburgh offensive linemen Doug Legursky -- isn't that a great offensive lineman name? -- and Ramon Foster mainly performed well, as did Pittsburgh tackles Flozell Adams and Jonathan Scott, both waiver-wire acquisitions.
Obviously This Item Exists to Justify a Swimsuit Picture: Congratulations to Teresa Scanlan of Nebraska, the new Miss America. This year the pageant returned to network television, appearing on ABC, after a period of wandering in the wilderness of minor cable on carriers like The Yahtzee Channel.
Halt! Hands in the Air! Drop That Textbook! This Is the NCAA! Hobart College, a small liberal arts school, recently was sanctioned by the NCAA for "ineligible participation, impermissible inducements and extra benefits, inconsistent financial aid, and lack of institutional control." The violations involved Hobart's Division I lacrosse and Division III football teams. Lacrosse players were admitted despite not having their high school credits checked by the NCAA Eligibility Center, a substantive violation. The other shocking, shocking thing that happened was that Hobart boosters helped pay the tuition of two players on the 2006 and 2007 football teams, whose wins were voided.
[+] Enlarge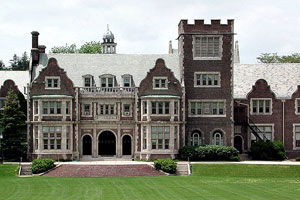 Hobart CollegeHobart College looks serene, but deep inside a sinister scandal lurks. Tuition bills are being paid!
But Division III football doesn't involve athletic scholarships. There are no athletic scholarships in any Division III sport. At the Division I level, there needs to be rules against boosters paying tuition -- otherwise the football factory colleges would end up with far more than the limit of 85 scholarship players. At the Division III level, where there are no athletic scholarships, caring about who gets tuition help is silly. Cam Newton's father asked for $180,000 for his son's services as a college quarterback, and the NCAA allowed him to play. But small-college boosters try to help two guys finish college at the non-scholarship level of sports -- OMG!
Traffic Should Not Stop for Football Teams: TMQ rails against the absurdity of football teams, and even football broadcasters, traveling with police escorts as if they were visiting heads of state. Even football enthusiasts should be offended both by the taxpayer money wasted on the escorts, and by the idea that average people should be stuck in stopped traffic in order that football players and coaches are never inconvenienced even for an instant.
Reader Clarence Le of Arlington, Va., wrote Dec. 27, "I am at Disney World, where they just shut down a highway to give the Alabama and Michigan State football team buses a police escort."
[+] Enlarge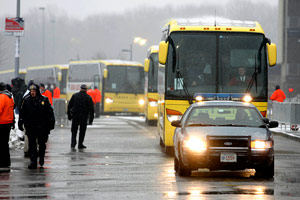 AP Photo/Stew MilneFootball teams are not visiting royalty -- why are they treated that way?
Mike Pabis of Phoenix writes, "I live less than one mile from one of the team hotels used the BCS title game, the JW Marriott Desert Ridge, where Auburn stayed. Pinnacle High School, where one of the teams from the Fiesta Bowl or BCS title game always practices -- this year Oregon was there -- and the Scottsdale Princess Hotel, where Oregon stayed, also are near my home.
"I can report that for the entire week of the BCS title game buildup, all movement of the Auburn and Oregon football teams entailed a police escort. Not just a squad car but up to 12 motorcycle units plus police cruisers. Repeatedly, police closed intersections and prevented all traffic from using local roads whenever the teams' buses were moving. It was like presidential motorcade after presidential motorcade. Why does being a football team convey the right to violate traffic laws by not stopping at intersections, and to be exempt from having to deal with other vehicles on the road?
"In the seven years I have lived near the Fiesta Bowl-BCS title game facilities, I have tried to take my young son a couple times to watch the teams that practice at Pinnacle High. Each time I and others have been stopped by private security guards that keep the public away from the high school. I find it disturbing that a money-making non-governmental body like a bowl host committee is able to deny public access to a public facility at times when school is not in session. I guess I missed something somewhere along the line about what 'public' means."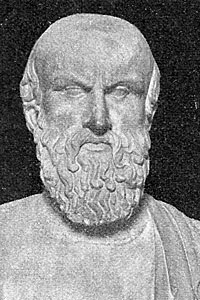 Museo Capitolino Aeschylus jumped to the City Dionysia as a junior. He should have stayed in school.
Andrew Luck Backlash: I praised Andrew Luck for returning to Stanford rather than declaring for the NFL draft; I further called him a real student for having a B average and majoring in architectural design. Reader Gracie Hicks of Thousand Oaks, Calif., writes, "Stanford is a cheap date for GPA -- the grade inflation is notorious. It's a great school, but is there anyone on the Stanford campus who does not have at least a B average?" Peter Erdelyi, a Chicago architect, writes, "Stanford's architecture program is not accredited. That means his degree will not be accepted at several graduate architecture programs, and he's going to need a degree from one of them to sit for a licensing exam, which by the way, most architecture school graduates never pass." OK, OK -- Andrew Luck is not in the Stanford library at midnight reading Aeschylus in the original. But he nevertheless set a positive example by putting education ahead of sports.
There's a case for top college athletes turning pro when their stock is high, even if that means not finishing college 'til years later, if they ever do. When Reggie Bush left USC early for the NFL and Gordon Hayward left Butler early for the NBA, their decisions made sense -- these athletes had just had fabulous seasons and were assured monster signing bonuses. But most college athletes, even good players at major football and basketball programs, will never receive any pro sports bonus. For the overwhelming majority of good college athletes with no sports paychecks in their futures, getting a sheepskin is the key. Luck set the right example for them.
Unified Field Theory of Creep: Neil Easterbrook of Fort Worth, Texas, wrote Jan. 12, "Today at my local shop I was tempted to buy a six pack of Blue Moon Spring Blonde Wheat Ale, which was sitting beside the Winter Abby Ale, which I bought, in deference to this universe's timeline. I was afraid if I bought the Spring Blonde it would serve as a portal to an alternate universe, and I would end up in a TV series. Who has time for that?"
[+] Enlarge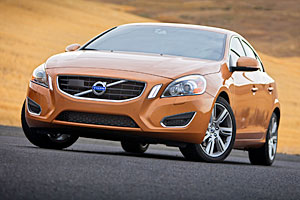 Volvo You can buy a 2012 Volvo now , but offer ends in March 2011.
Jay Lafinhan of Manchester, England, reports he has already seen newspaper ads for the 2012 Audi A6, on sale now -- just two weeks into 2011. Karl Seibert of Boston reports, "On January 13, I received an offer to lease the 2012 Volvo S60 -- as long as I take delivery of that 2012 model before the end of the first quarter of 2011."
Steven Kruszewski of Harbin, China -- hometown Rochester, N.Y., home of Wegmans, the fabulous grocer that still hasn't come to the area where your columnist lives -- wrote, "In December, I took my Nokia mobile phone to the local store to add some applications. The clerk informed me I would need to update the software in order to use the apps. Prior to updating, I accessed my phone's existing software and saw, 'Copyright 2011 Nokia.' I'd purchased the phone in 2009. After updating, I was relieved to see the new version states: 'Copyright 2012 Nokia.'"
[+] Enlarge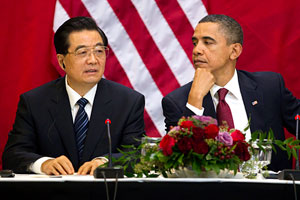 AP Photo/Evan VucciThe president of the world's most important country meets with another world leader. You decide who's who.
China's Economy Is 21st Century; Its Government Is 16th Century: Xinhua, China's official news agency, censored many remarks made by Chinese President Hu Jintao in Washington, including prohibiting Chinese viewers and listeners from hearing the super-controversial words, "China recognizes and respects the universality of human rights." Inside China, viewers and readers were told elaborate detail about the state dinner guest list and menu, but no hint of what Hu and President Barack Obama publicly discussed at their news conference. Here's the transcript -- will Chinese censors delete this sentence from TMQ?
Disclaimer of the Week: My Christmas presents included a Black & Decker toaster oven. Disclaimer in boldface: THIS OVEN GETS HOT.
Coach, Can You See the Scoreboard? Chicago trailing 14-0 late in the second quarter, a Bears play ended with 2:37 showing -- and Lovie Smith let the clock run down to the 2-minute warning. You're trailing by two scores, you need plays -- snap the ball! After the 2-minute warning, on third-and-7, Jay Cutler was sacked and fumbled; Matt Forte picked up the loose ball and appeared to be running for the first down. But because the clock was now inside two minutes, only the fumbling player can recover. The ball was spotted where Cutler fumbled, and Chicago punted. Had the Bears, down 14 points, hustled to snap before the 2-minute warning, the play would have been a major plus for Chicago.
Government Waste Marches On: The 2010 election seemed to be about voters repudiating the $14 trillion national debt, yet politicians of both parties continue to merrily squander taxpayers' money on themselves. Whatever benefits my opponents is waste; spending on me is vital!
The South Florida Sun Sentinel reports that Florida's new Republican governor, Rick Scott, who ran as a cost-cutting conservative, held a "three day party" to celebrate his inauguration: "The governor-elect, family and guests shuttled between events around [Tallahassee] in a presidential-sized motorcade" of a dozen SUVs, paid for by taxpayers.
Reader Tom Beck of Princeton, N.J., notes that although Mississippi has the worst poverty rate in the nation and its governor, Haley Barbour, regularly rails against government spending by Washington, Barbour lavishes taxpayer money on himself, taking numerous personal trips in a state-supplied private jet.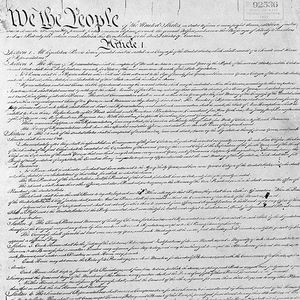 AP PhotoPoliticians love to refer to it. How many know what it says?
Ben Smith of Politico reports, "Flight logs obtained by Politico indicate that Mississippi has spent more than $500,000 over the past three years on Barbour's air travel. That total does not include security and other logistical costs associated with his trips. Much of the time, Barbour has used the plane to go to fundraisers for himself and other Republican candidates and committees, to football games and to at least one boxing match." Increasingly, high-level politics looks a lot like a hustle -- use denunciations of spending to get elected, then spend lavishly on yourself.
In addition to moving in huge motorcades as if they were heads of state and flying in subsidized private jets above the heads of voters desperate to get by financially, some governors love to gallivant around the world. Jed Donnelly of Winchester, Mass., notes this Boston Globe story in which Democratic Massachusetts Gov. Deval Patrick says he "plans to travel a lot more, nationally and internationally, in his second term -- venturing out of state for trade missions, policy research, and to promote his upcoming autobiography." Surely Patrick will do a lot of "policy research" in Paris.
For governors, foreign travel is a great way to shirk their duties, while pretending to be world leaders -- enjoying motorcades, stopped traffic and diplomatic receptions. Never mind that Article 1, Section 10 of the Constitution prohibits the states from "enter[ing] into any Agreement or Compact … with a foreign Power." Rarely does anything substantive occur when governors go overseas -- just ego trips, at taxpayer expense. The Boston Globe further says Patrick claims that "leaving the state to promote his book, due out in April, would not infringe on his ability to govern." Will Patrick refuse his salary for days on which he is out of Massachusetts engaged in self-promotion? Would your employer pay you to travel to promote a money-making scheme unrelated to your workplace? Once, Patrick was seen as a bright light. Sounds like he's making the transition to being yet another political phony. He'll have plenty of company.
More Proof of the Decline of Western Civilization: Although precious few Americans, including state governors, know what's actually in the Constitution, millions already can sing the baby monkey song.
Wacky Food of the Week: TMQ likes a Maryland-based, mid-Atlantic regional chain called Silver Diner, which has a retro-'50s look but also promises only locally grown food. Last week the Official Family was there, and a special was bison burgers -- bison burgers are tasty and low-calorie, if you haven't tried them. The menu card announced, "Local bison."
Packers at Bears Analysis: Chicago scoreless in the first half, Lovie Smith ordered punts from the Green Bay 31 and Green Bay 34. The Bears are scoreless; why not attempt field goals? True, cold weather takes several yards off any place-kicker's distance. But Robbie Gould had four field goals of at least 50 yards in 2010 -- why wasn't he even allowed to try from this distance in the NFC title game? The punt from the Green Bay 31 was a touchback, net gain of 11 yards of field position.
Such passive decision-making summed up the Bears coaches' day -- see the item on letting the clock wind down to the 2-minute warning although Chicago trailed by 14 points. Often on offense, the Bears simply played poorly. Twice Devin Hester was open deep and Jay Cutler missed him badly. The contest was played in the afternoon in low winter sun; on the second missed long pass to Hester, the play call sent him directly into the one place on the field where the receiver had to look back into the sun. Cutler also threw a bad interception -- Johnny Knox was covered well -- to end a Chicago scoring opportunity in the second quarter. The Chicago offensive line got away with numerous uncalled holds, and three uncalled grabbing-the-facemasks.
The Bears' defense played well in the second half, stopping Aaron Rodgers and keeping Chicago in the game, yet had uncharacteristic lapses. Chicago stayed in its Tampa 2 on all but a few snaps. The Tampa 2 doesn't create havoc as does the zone rush used by Green Bay, Jersey/B and Pittsburgh; its virtue is disciplined coverage of every area of the field. There should never be an uncovered receiver or blown contain in a Tampa 2. Yet twice, Rodgers was able to spin around the pass rush and run to the offensive left for first downs -- gains of 25 and 12 yards -- with no contain in sight. Considering Rodgers beat the Falcons the previous week in part by spinning away from the rush and running left, to see Chicago unprepared for this tactic was quite a surprise. But picking off Rodgers twice and holding the Green Bay offense to 14 points, the Chicago defense kept the Bears in the game 'til the end.
For Green Bay, the Packers' ever-changing offensive line made megabucks Julius Peppers vanish -- no sacks, two tackles, a roughing-the-passer call -- while the team survived a down performance by Rodgers. Green Bay clearly relaxed when Caleb Hanie entered -- the result was two quick Chicago touchdowns and the Bears in scoring position at the end. Green Bay held Cutler and Todd Collins to 6-of-18, then allowed 13-of-20 by Hanie. Defenses often relax when an unknown takes over at quarterback; quick scores often are the result. Safety Nick Collins, who made the Pro Bowl -- perhaps that should be reassessed -- simply quit on the Earl Bennett touchdown that pulled Chicago within 21-14 late.
Packers fans should worry about the kick return game. James Starks misfielded and nearly lost a kickoff against Atlanta, then bungled a return at Chicago. Why is Starks even returning kickoffs, when needed so clearly at tailback? Tramon Williams muffed a punt at Chicago. Green Bay needs to work on kick returns in the two weeks before the Super Bowl.
The football world might just now be noticing undrafted Green Bay rookie corner Sam Shields, who had two interceptions, one icing the contest with 37 seconds remaining. TMQ readers already know about Shields, who was on my December list of unhyped players to keep an eye on. Making the last-second interception, Shields should have dropped immediately to the turf and cradled the rock; Green Bay then would have knelt to conclude play. Instead Shields took off on a zigzag 32-yard runback that ended only as teammates frantically told him to get to the ground. OK, he's a rookie. But Shields and B.J. Raji both came perilously close to all-time boneheaded plays.
Flyover note: The previous week, four Navy F-18s based in Nevada flew over Soldier Field before kickoff. On Sunday, it was four Air Force F-16s based in Tulsa, Okla. Let me repeat TMQ's question from last week, changing only the specifics: Flyovers count as training hours for air crew. But with even Defense Secretary Robert Gates calling defense spending out of control, does a formation of four fighters really need to make a 1,400-mile round trip to help promote the NFL?
[+] Enlarge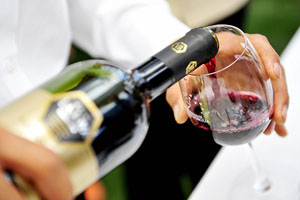 Martin Bernetti/AFP/Getty ImagesAn amusing, presumptuous vintage with notes of old chewing gum and potassium nitrate.
Wacky Wine of the Week: Last week I made fun of wine-tasting descriptions such as "hints of crushed sour cherry" and "aroma of buttered toast."
Reader Phil Gail of Charlotte, N.C., notes, "Although 'notes of leather' doesn't sound very appealing in a wine, it's certainly better than cat's pee. New Zealand has made 'Cat's Pee' an official taste description for Sauvignon Blanc made in that country, along with sweaty passion fruit and asparagus. See here."
Dovi Rabinowitz of Jerusalem writes, "'A rich and full bodied wine with plums, cherries and blackberries which are matched with cigar leaf, pencil shavings and bittersweet chocolate ... ' I found that description in a wine review -- see more here. My friend Yossie Horwitz, who reviews wine, told me, 'Notes of graphite, lead or pencil shavings are not uncommon at the back-end or close to the finish of some wines. It depends a lot on the type of barrel used to age the wine and the type of ground the grapes are grown in.' But how would [you] know what pencil shavings taste like?"
Raven Deerwater of Mendocino, Calif., writes, "You mentioned strange wine advertising that touts a smoky flavor. Here in Mendocino County, wildfires in 2008 led to smoke being absorbed by the wine grapes. Here is an article from Navarro Vineyards explaining the situation. A friend of mine bought several cases of the unusually smoky vintage, because he liked the taste."
[+] Enlarge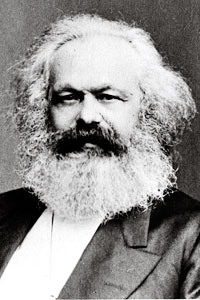 AP Photo/Kurt StrumpfIf he'd been a winemaker, his signature bottle would have been Karl Marx Red.
Aaron Fox of Menlo Park, Calif., writes, "This may be up your alley, an article from the Journal of Wine Economics, which even names 'fellows.'" The Journal of Wine Economics also sponsors meetings in wine country, surely in order to make people's vacations tax-deductible. One of the meetings is in Trier, Germany, a great place to sample Mosel wines, and also the birthplace of Karl Marx. Maybe if Marx were alive today, he'd be marketing Dialectic White with notes of gunpowder and smashed stained glass.
David Zylberberg of New York City makes the whole thing sound distressingly respectable: "Wine descriptors are like any other specialized lingo. As an experience taster with some knowledge of winemaking, if I read a descriptor that says, 'black cherry, with chocolate notes,' I know what the fruit will taste like. The black cherry flavor is just that -- with Chilean cherries in season, I encourage you to pick up a bag with overripe mushy cherries and eat them alongside a wine that the producer claims has black cherry flavors. In many cases, the similarity is astonishing, because the same organic esters are creating the fruit flavors in the wine and in the cherries. As for leather, it's an aroma that wines can pick up with age. Regardless of your desire to taste leather, if I see that descriptor, I know that this was a wine that's a little aged."
Adventures in Officiating: Pittsburgh leading 7-0, the Steelers were stopped short for fourth-and-1 on the Jersey/B 32 in the second quarter. Pittsburgh rushed up to the line to quick-snap, probably for a quarterback sneak -- then referee Ed Hochuli stopped the action for a measurement, although Steelers coaches had not requested a measurement and it was obvious Pittsburgh was a full yard short. After the measurement, Ben Roethlisberger threw an interception on fourth-and-1. Why did Hochuli stop the action? He is known to be vain about his muscular build and seems to use any opportunity to focus the television cameras on himself.
Jets trying to come back, at 6:50 of the fourth quarter, Mark Sanchez dove forward on a busted play, then action stopped because Jets center Nick Mangold was injured. The down was a rush and the Jets did not take a timeout -- but Hochuli forgot to restart the clock after a television commercial. Jersey/B snapped at 6:28, gaining precious extra seconds. Had the Jets attained a last-second victory, today this would be viewed as a major officiating error.
Jets safety Eric Smith was called for unnecessary roughness when he drilled a defenseless receiver -- this was hardly the first time for Smith, one of the NFL's dirtiest players, and he should have been ejected. In the fourth quarter, James Harrison of Pittsburgh should have been called for a late hit when he slammed into Sanchez after Sanchez clearly slid feet-first.
Weasel Coach Watch: The world was Jeff Jagodzinski's oyster when he signed a five-year contract as coach at Boston College in 2007. But he couldn't resist that weasel urge, at the end of 2008 interviewing for the Jets' coaching job, despite being under contract and not having permission to speak with another team. He was fired, then hired as offensive coordinator by the Bucs and fired nine months later. In April 2010, Jagodzinski signed to coach the Omaha Nighthawks -- surely you know all about them -- and now has been fired from that position. Fired three times in two years, and from the sound of things, it couldn't have happened to a nicer guy. Just another argument that head football coaches should be grateful for decent jobs, rather than scanning the horizon like weasels. Nighthawks note: They have nearly as many cheerleaders as players.
Reader Comments: Jeff Sitler of Beavercreek, Ohio, writes, "Early in the Steelers-Ravens playoff game, Pittsburgh safety Ryan Clark launched himself headfirst at a Ravens' wide receiver but missed and hit teammate Ike Taylor. If the NFL is truly worried about player safety, why wasn't this a penalty? Who he hit shouldn't matter -- what should matter is that he launched himself headfirst and head down. Any attempt at a helmet-to-helmet, even if unsuccessful, should be penalized."
Binyamin Berkovits of Bronx, N.Y., writes, "In last week's TMQ you said that Jerod Mayo quit on Shonn Greene's touchdown run, which put Jersey/B ahead 28-14 with less than two minutes remaining in the Jets at Patriots game. This actually was the right move! Greene had already gained a first down. If he was tackled short of the end zone, the Jets could have knelt on the ball to end the game. By allowing Greene to score, Mayo gave the Patriots a chance, however tiny, to score their own touchdown quickly and then onside kick. This is exactly what happened, even if the onside was recovered by the Jets."
[+] Enlarge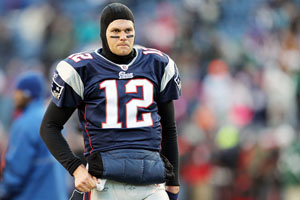 Jim Rogash/Getty ImagesThe real reason the Patriots were knocked off by the Jets.
Curtis Stauffer of Louisville, Ky., writes, "As a Pats fan, I expected you to give New England a hard time about its loss, but I was shocked that you didn't go after Tom Brady's ridiculous balaclava. Kickoff temperature not that bad at 30 degrees, the star quarterback wears a balaclava as if afraid of the cold. It appalled me." On Sunday, on much colder days at Chicago and Pittsburgh, no starting quarterback wore a balaclava.
I said the 8-10 Seattle Seahawks will always be able to boast about being the only 8-10 team in football annals -- high school and college teams never play 18 games, and no NFL team had previously hit that combination of digits.
[+] Enlarge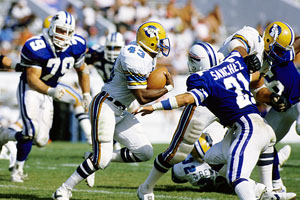 US PresswireThe USFL -- football-like substance whose teams played 18 games.
Eric Bangeman of Park Ridge, Ill., reminds, "The USFL played 18 game seasons. In that league the Los Angeles Express finished 8-10 in 1983, as did the New Orleans Breakers in 1984 and the Arizona Wranglers in 1985. At least none of them made the playoffs!" Todd Boyce of Ottawa, Ontario, writes, "The CFL now plays an 18 game season, and since almost everybody advances, eight wins puts you in the playoffs. That means you can't finish 8-10 in the CFL now. But in 1974, the Ottawa Rough Riders finished the regular season with a 7-9 record. At that time the postseason formula was different. They beat the Hamilton Tiger-Cats in the East semifinal to advance to the final, where they lost to the Montreal Alouettes, allowing them to finish with an 8-10 record. No team can finish 8-10 in the CFL under the current format, so the Seahawks may always be able to say they were the last football team to finish 8-10. They are just not the first." Here are the 2010 CFL standings -- basically, the entire regular season was played to eliminate two teams, Edmonton and Winnipeg.
Evan Drexler of Pembroke Pines, Fla., notes, "An 8-10 finish may be unusual today, but if the NFL gets its desired 18-game season, could become common." Please, football gods, protect us from an 18-game NFL season. In addition to being bad for players' health, this would dilute the product -- like pouring water into a Chivas bottle.
I called it wrong that 33-round pistol magazines are legal in Arizona, when such clips have no relevance to self-defense, hunting or marksmanship. High-capacity pistol magazines are useful, I said, only for "infantry battle and mass murder." Rich Smith of Algonquin, Ill., writes, "As a gun owner, I couldn't agree more with your advocacy of reasonable firearm regulations. As a veteran of infantry combat in Iraq -- Bronze Star, Ranger tab, Combat Infantryman's Badge -- I take exception to your assertion that combat magazines on pistols are valuable for battle. In the infantry, we use rifles and machine guns to shoot people. There's no situation where a pistol with an extended magazine is better than a rifle or automatic weapon. Some of the special ops guys employ pistols as backup weapons, but they rarely walk. Infantrymen, who carry everything on their backs, know that pistols are useless weight." The high-capacity pistol magazine has no purpose except mass murder -- and even after the recent Tucson slayings, remains legal in Arizona and other states.
Stephan Levy of Arlington, Va., writes, "I am a long-suffering fan of the Browns (v.2.5 or whatever they are up to) and have been following the recent stories about how they will likely shift from a 3-4 defense to a 4-3 defense. I don't understand why switching from the 3-4 to the 4-3 (or in reverse in case of the Redskins) is such a big deal. Is it really the case that big, hulking defensive linemen and linebackers that are well-suited for a 3-4 are suddenly ill-suited for a 4-3? Or are coaches and GMs blowing smoke to reassure us of their genius?" It's more the latter. As TMQ has noted, modern football defenses employ so many looks that the 3-4/4-3 distinction often has as much to do with the lineup card as what happens on the field.
When a team has a bad season, from a marketing standpoint, it's important to give fans reason to imagine next autumn will be different -- bearing in mind that 90 percent of NFL ticket sales happen in the winter. So you fire a couple of assistant coaches and bring in new ones, as if offensive coordinator X will have some incredible knowledge that offensive coordinator Y lacked. Or you announce a switch from a 3-4 to a 4-3, or a 4-3 to a 3-4. This gives sports radio something to talk about through those lonely winter months and helps create hope that next season will be dramatically different from last season. If a coach or general manager says, "We need to acquire better players, practice sharper and hope for good luck on game day," that doesn't have ticket-sales appeal. If he says, "We're making a dramatic switch to the 3-4," that might inspire enthusiasm. It sounds decisive.
The worst is when NFL teams say, "Next year we're switching to the West Coast offense." Once an innovation, the West Coast philosophy today is reflected to some degree in all NFL offenses -- the term now has little or no meaning, except in promotion.
Next Week Arugula! Arugula! Clear the decks, prepare to dive! The Tuesday Morning Quarterback Challenge returns. (Limited engagement.)
In addition to writing Tuesday Morning Quarterback for Page 2, Gregg Easterbrook is the author of the new book "Sonic Boom" and six other books. He is also a contributing editor for The New Republic, The Atlantic Monthly and The Washington Monthly. His website can be found here.