Commentary
Should presidents be overt sports fans?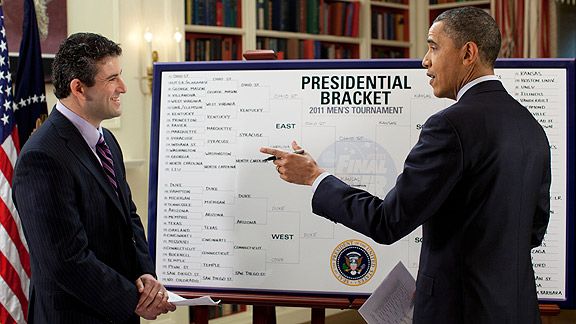 Official White House Photo/Pete SouzaPresident Barack Obama talks to ESPN's Andy Katz as he fills out his bracket this year.
Monday night, President Barack Obama addressed the nation to explain his sudden decision to order U.S. forces to attack Libya. Some critics have asked why, if as the White House claims the president had no time to consult Congress before ordering the attack, he nevertheless had time to deliver his March Madness picks to ESPN, as he has done the previous two years. The United Nations Security Council resolution being used to justify the attack on Libya was under consideration -- and at least 10,000 were dead in Japan from one of history's worst earthquakes -- just as the president was predicting who would make the Final Four.
Of course, if Obama paid no attention to the annual college basketball tournament, the situation in Japan would be just as horrible. But with a war about to begin and a natural disaster of historic proportions in progress, was it appropriate for the president to be fiddling around with brackets? This raises the larger question: Should presidents succumb to America's national obsession with sports? Most do: Either because they like sports, or because they think involvement with sports will raise their popularity, or both. Is presidential affection for athletics good for the country?
Certainly it has long standing. George Washington, the first president, took office when organized sports did not exist. But children loved to play various games involving balls and sticks. So did Washington, one of whose favorite pastimes was playing catch.
A backlash didn't take long to set in. Village competitions vaguely similar to rugby began to develop, and Thomas Jefferson, the third president, was not amused. "Games played with the ball," he declared, "are too violent for the body and stamp no character on the mind."
Andrew Jackson, president from 1829 to 1837, owned gamecocks -- today he'd be arrested for staging a cockfight -- and liked horse racing. By the middle of the 19th century, boxing, wrestling and sprint races (run barefoot) had become common, especially at public events such as Fourth of July celebrations. In youth, the tall and gangly Abraham Lincoln was a successful wrestler, surely hard to get into a conventional hold. He built part of his early public reputation by triumph in wrestling contests, though may later have exaggerated his won-loss record.
Baseball was the first sport played in what is now the standard fashion, with organized teams and leagues. In 1892, Benjamin Harrison became the first president to attend a baseball game. In 1910, William Taft became the first president to throw a ceremonial pitch on Opening Day, a tradition all presidents have followed since -- even the wheelchair-bound Franklin Roosevelt -- except during World War II.
Taft huffed and puffed with medicine balls, the big fitness fad of the early 20th century, at the University Club not far from the White House. Once an all-male preserve for the capital's political elite, today the club has a woman in charge of membership, which surely would have made Taft gasp.
Football began to rise in popularity around the turn of the 20th century. Played with almost no protection and, before the forward pass became legal, based entirely on collisions, the incipient sport was brutal. In the 1892 Harvard-Yale game, Harvard unveiled the "flying wedge" -- 10 players linking arms around the ballcarrier. The result was a rapid increase in skull fractures during games. By 1905, 22 college football players died during or immediately after games. That statistic is doubly shocking considering there were then far fewer college players than today.
As recounted in the entertaining "The Big Scrum: How Teddy Roosevelt Saved Football," a forthcoming book by John Miller, even manly man president Teddy Roosevelt, who led the charge up San Juan Hill, was disgusted by the notion of young men doing themselves significant harm in sports. He spoke of having football outlawed, then solved the problem by sponsoring the forerunner organization to the NCAA, which addressed brutal football tactics through rule changes. If Teddy were around today, what might he think of the concussion plague?
Presidential concern for baseball increased when Woodward Wilson, who played varsity baseball when attending Davidson College, reached the White House in 1913. Wilson frequently attended baseball games, as did future presidents FDR and JFK. As football became a national fad, presidential interest rose. In the 2002 book "What a Game They Played," Richard Whittingham reported that Red Grange went to the White House to meet Calvin Coolidge, who was president for most of the 1920s. When Grange was introduced to the president as a man who "plays with the Bears," the famously cryptic Coolidge replied, "I've always liked animal acts." At age 16, Coolidge's son Calvin Jr. developed a bad blister while playing tennis. At a time before antibiotics, the blister caused blood poisoning, and Calvin Jr. died. The depression that plagued Coolidge for the remainder of his life is believed to have been triggered by this sports-related death.
According to the White House museum, "Bowling lanes were built in the ground floor of the West Wing as a birthday gift for President Truman in 1947. Truman didn't care for bowling himself, but allowed his staff to start a league. In 1955, the lanes were moved to the Old Executive Office Building, to make way for a mimeograph room." The site also notes that George H.W. Bush installed a basketball court at the White House in 1991, following the horseshoe pits he had installed two years earlier.
Dwight Eisenhower was renowned for spending significant amounts of time on the golf course.
[+] Enlarge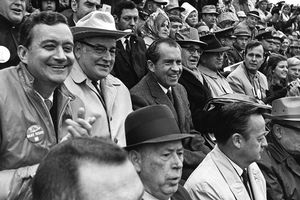 AP Photo/University of Arkansas LibrariesPresident Richard Nixon watches "The Big Shootout" between Arkansas and Texas with another future president, George H.W. Bush (far right).
Richard Nixon was a devoted follower of pro football. Supposedly he once called a play for the Redskins, and the play lost yardage -- a very Nixon-like outcome. Did this really happen? Blogger Dan Steinberg assesses the various versions of the story. The late Hunter Thompson wrote that in his attempt to interview Nixon, football was the only subject the president really warmed to.
Gerald Ford, briefly an appointed president following Nixon's resignation, had been a star on Michigan's 1933 national championship football team, and held the distinction of once having tackled Jay Berwanger of the University of Chicago, first winner of the Heisman Trophy. In the White House, Ford's sports choice was golf. When he swung so poorly that he hit a member of his own foursome, Ford helped launch the career of comedian Chevy Chase --- and make "Saturday Night Live" a national institution -- by providing a rich vein of Ford-klutz jokes.
Succeeding Ford, Jimmy Carter was a tennis buff. Carter's former speechwriter James Fallows, today a prominent journalist, wrote in 1979 in The Atlantic Monthly that, "During his first six months in office, [Carter] would personally review all requests to use the White House tennis court."
Of the two most recent presidents, the George W. Bush loved baseball, and once was an executive for the Texas Rangers. The current president loves basketball and football both. Obama advocates a Division I football playoff system and has discussed the issue in detail with reporters. Trim and fit, he plays lots of tennis and has a surprisingly Eisenhower-like fondness for golf, so much so that his links outings have become the butt of political wisecracks.
Thus presidents like sports. Does this harm the country? No, so long as sports interest is kept in perspective.
If Barack Obama were neglecting his duties to spend hours working on a football playoff proposal, or replaying the final seconds of the Butler-Pitt game, that would be objectionable. For the president, or anyone, to set aside a little time to watch, play or think about sports is a healthy diversion. Some Americans become sports addicts, which is not good. Devoting a little of each day to sports is relaxing. As with all of life's pleasures, sports should be enjoyed in moderation.
But if a president is going to inject himself into an athletic issue, he should attempt to accomplish meaningful reform. On this score, the spirit of Teddy Roosevelt has long been missing from the White House. Considering the time Obama has spent on college basketball brackets and predictions, why has he been silent on the cynicism about education that afflicts this sport?
Arne Duncan, the Secretary of Education, said recently, "It is time that the NCAA revenue distribution plan stopped handsomely rewarding success on the court with multimillion-dollar payouts to schools that fail to meet minimum academic standards. ... [C]olleges and universities need to stop trotting out tired excuses for basketball teams with poor academic records and indefensible disparities in the graduation rates of white and black players."
Amen to that. Final Four entrants Kentucky and Connecticut have shockingly poor educational records. Kentucky graduates 31 percent of its male basketball players, UConn just 27 percent; both graduate a dismal 18 percent of African-American players. If the president of the United States is going to stand on a bully pulpit to talk basketball, why doesn't he assail colleges like Kentucky and UConn with low standards: and also the NCAA, which averts its eyes from poor educational performance by big basketball programs? If you invite parents to a barbeque, the NCAA treats that as a scandal. If black male players don't graduate, the NCAA takes no action.
Suppose Barack Obama pressured the NCAA -- which earns nearly all its revenue from March Madness -- to take true action regarding men's basketball and academics. Then reform might happen. Virginia Commonwealth University graduates 54 percent of its African-American men's basketball players; Butler graduates 75 percent. By reaching the Final Four, VCU and Butler prove it is indeed possible to have a top men's college basketball program without making a sham of academics. Why doesn't President Obama weigh in on that?
In addition to writing Tuesday Morning Quarterback for Page 2, Gregg Easterbrook is the author of the new book "Sonic Boom" and six other books. He is also a contributing editor for The New Republic, The Atlantic Monthly and The Washington Monthly. His website can be found here.