Commentary
The 2011 TMQ draft review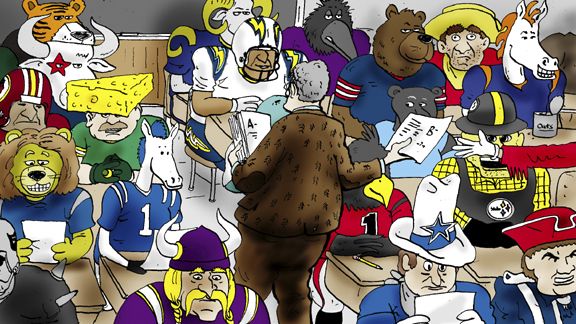 Kurt Snibbe/ESPN.com
Pomp and ritual. Magnificent clothes, flowery speeches. Passionate promises soon to be broken. A ceremony not to be forgotten.
I am not talking about the wedding of William Mountbatten-Windsor and Kate Middleton. I'm talking about the NFL draft.
[+] Enlarge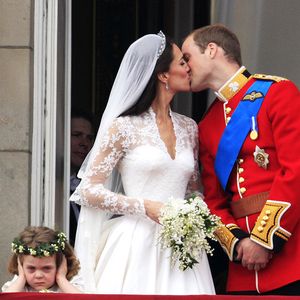 AP Photo/Matt DunhamOne of the three people in this picture has the whole event in perspective.
Millions of men thought it was ridiculous that women wanted to watch a royal wedding; millions of women thought it was ridiculous that men wanted to watch football players' names being chosen. Of course, this being the year 2011, many men were watching the wedding and many women watching the draft.
TMQ likes two things about the NFL draft: First, that it signifies the halfway mark of the offseason has been reached, and second, that it ends. When the draft ends, we can stop talking about the draft! That is a huge relief.
Anyone who endured the weekend's draft-a-thon listened to far too much of the pseudo-science of drafting, which is rich in absurd specificity. Touts were excited that linebacker Von Miller, having run a 4.53 at the combine, ran a 4.49 at his pro day. Forget that there is no possibility either time is accurate to the hundredths of a second. The pro day time is less than 1 percent faster than the combine time! A player running at a 4.49 pace will, after 40 yards, be roughly 11 inches ahead of a player running at a 4.53 pace. Absurd specificity is expanding from sports to society as a whole. Being absurdly specific makes you sound as if you know more than you do -- or more than anyone could know. See below for TMQ's annual slam of absurd specificity.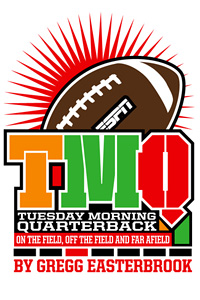 In sports journalism news, many readers have asked whether, if there is no NFL, there will be TMQ.
I continue to think this embarrassing millionaires-versus-billionaires shouting match will get straightened out -- as soon as both sides have blown lots of credibility to accomplish nothing. But don't despair, Tuesday Morning Quarterback aficionados: The TMQ season will happen regardless of whether the NFL season happens. Locked behind retina scanners in a code-clearance area in Bristol is a sophisticated TMQ backup plan involving college football, ultimate Frisbee and curling.
Now a draft review:
Arizona Cardinals: With the league's worst situation at quarterback, the Cardinals passed on Blaine Gabbert in the first round, then passed on Ryan Mallett in the third. Supposedly, the Cardinals hope to acquire Marc Bulger, who's 34 years old and has not started in two seasons. For a team that was in the Super Bowl just two years ago, this is setting expectations mighty low.
[+] Enlarge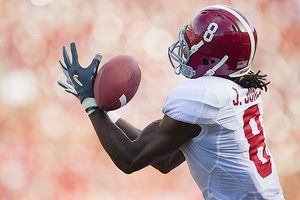 Wesley Hitt/Getty ImagesJulio Jones: the richest trade package since Eli Manning, for a guy who can't seem to hold the ball.
Atlanta Falcons: For the king's ransom the Falcons surrendered to move up from the 27th pick to sixth in the first round, they might have gotten Kate Middleton. Instead, they got Julio Jones, who has talent -- but is a wide receiver who frequently drops the ball. Matt Ryan might lose confidence in Jones fast.
To get Jones, the Falcons surrendered two first-round choices, a second-rounder and two fourth-rounders. That's the richest trade package since the Giants swapped two first-round selections and a third-round choice for Eli Manning. In that deal, the Giants got the first selection of the draft and a quarterback, football's most valuable position. In this deal, Atlanta received less -- the sixth selection and a wide receiver -- yet paid about as much. (On paper, the Falcons paid more, but the 2011 first-round selection they gave was much lower than the 2004 first-round selection the Giants gave for Manning.) This is a make-or-break trade for general manager Thomas Dimitroff, graduate of the University of Guelph. The trade either puts the Falcons in the Super Bowl or breaks Atlanta's winning run.
Baltimore Ravens: The Ravens used their first choice on Colorado cornerback Jimmy Smith, a tremendous player with numerous red flags. Smith could be the next Pacman Jones (meltdown) or the next Vontae Davis (had question marks, seems to have straightened out). No one thing Smith is alleged to have done is, in itself, damning. Two are discomfiting -- women he got pregnant who had abortions -- but what happened is legal and a matter of personal conscience, should these even count as red flags.
Coaches, and teachers and guidance counselors and social workers, know that any human being can slip up once or twice. But when there's a pattern of slip-ups, something bad might be afoot. The sense among football types is that the disciplined Ravens' locker room offers Smith his best hope of cleaning up his act. Ray Lewis runs that locker room, and Lewis was once a man of questionable character. No more; he became a model citizen. For his own sake, Smith had better follow Lewis' example.
Buffalo Bills: The Bills haven't reached the playoffs in a dozen years and are the worst team in the conference, and a core reason is bad draft after bad draft. Only three of their past 10 first-round picks are current starters. In the 2011 draft, the Bills left their glaring offensive line problems to the fourth round and didn't deal at all with obvious problems at quarterback and tight end.
In the second round, Buffalo passed on Andy Dalton, Ryan Mallett and especially Colin Kaepernick, then, in the third round, passed again on Mallett, who went to New England, where he may well torment hapless Bills fans for years to come. All elite NFL teams have franchise-caliber quarterbacks; for years now, the Bills haven't even attempted to acquire one. In the second round, the Bills also passed on tight end Kyle Rudolph. Buffalo hasn't used a high draft choice on the tight end position since 1994 and last season got 12 receptions from its starting tight end, worst in the league. All elite NFL teams have high draft choices invested in tight ends and feature the tight end. In the Bills' organization, lessons of what works for the elite teams routinely are ignored.
[+] Enlarge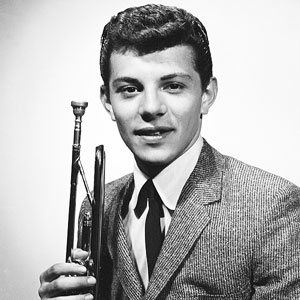 AP Photo/Bob WandsFrankie Avalon, the Rebecca Black of 1958.
Court Rules That Prisoners Cannot Be Compelled to Listen to "Friday": Is "Friday," by Rebecca Black, the worst song of all time? Before you say yes, give a listen to De-De Dinah, which launched the pop career of Frankie Avalon. Here is Avalon's memorable tune, complete with video of an old phonograph. For readers younger than age 30, a "phonograph" is a device employed to -- oh, never mind.
Carolina Panthers: Most football conspiracies center on Bill Belichick, but maybe it's time to put John Fox on the conspiracy radar. Fox was the hidden hand in the draft's first two choices: last season he coached Carolina, worst team of 2010, and this season he's coaching Denver, second-worst team of 2010. Last season, Fox ran the league's worst offense; this season, he inherits the league's worst defense. You don't think all this is a coincidence, do you?
Chicago Bears: After two years without a first-round draft selection, the Bears finally got to pick while people were still watching on TV. Chicago took Gabe Carimi, who received TMQ's Heisman vote.
Bears second-round choice Stephen Paea did a mind-bending 49 reps at the combine. Top performers at the reps drill have not done well in the NFL, tending to be overmuscled and stiff. But Paea is fluid as well as strong. He grew up in Tonga and played rugby, not American football, until his final year of high school. TMQ doesn't want to think about trying to tackle this gentleman in rugby, without protective pads.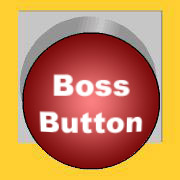 Cincinnati Bengals: Touts assume Carson Palmer will be traded, but what if he truly intends to retire? Palmer doesn't seem to have had a huge amount of fun playing in the NFL, and his career stats, though OK, are hardly the cat's meow. As long as Palmer has saved most of his bonus money, why not walk away while still healthy?
Cleveland Browns: Peyton Hillis is about to become well-known via his selection as cover boy for "Madden 2012." Hillis aside, what Cleveland Browns starter can you name? My point exactly. In 2009 and again this April, the Browns traded down from high-profile selections at the top of the draft to stockpile no-names. The team is now well-stocked with no-names. With Houston suddenly making the scoreboard spin, the Browns are poised to supplant the Texans as the NFL's dullest team. Courtesy of the Julio Jones trade, the Browns have two first-round choices next year. TMQ says don't trade either -- use both on impact players.
Dallas Cowboys: Offensive tackle Tyron Smith is the first offensive lineman the team has selected in the first round since Jerry Jones bought the Cowboys in 1989. Jones is one of the few in NFL senior management who was, himself, successful as a football player. What position did Jones play at Arkansas? Offensive line. I'm telling you, there is some issue there.
Scouts worry that Smith is undersized -- at 307 pounds. Does being undersized at 307 pounds sound ridiculous? Offensive linemen for Wisconsin-Whitewater, last year's Division III champion, averaged 270 pounds. Division III! Last season, offensive linemen at Euless Trinity, a Texas public high school, averaged 262 pounds. Trinity had five offensive linemen who weighed more than 300 pounds. A high school!
When a 307-pound man is considered undersized -- and teen players hear him described that way in draft coverage -- the football weight race has gotten out of hand. No one should care whether an NFL player carries too much weight and must struggle later to shed it; NFL players are well-paid, and there are only 2,000 of them. But there are 1 million boys playing high school football, and many are gaining unhealthy amounts of weight. Ninety-eight out of 100 high school football players will never receive a college scholarship or college admissions boost, yet they are forcing themselves to gain weight. Of those who are recruited to play in college, 79 of 80 will never earn a dime in the NFL, yet they are forcing themselves to gain weight. In a society with an obesity epidemic, having the most popular sport celebrate weight gain simply cannot be good.
[+] Enlarge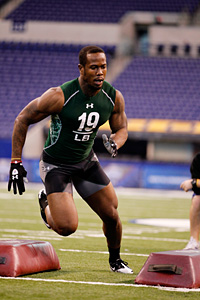 AP Photo/Michael ConroyVon Miller -- his game might not translate to the pros, but he scored points for sentimentality.
Denver Broncos: TMQ is a bit suspicious of No. 2 pick Von Miller. He compiled his college sack stats by sprinting too far upfield, well beyond the passer, then using athletic ability to spin back. The much-better offensive tackles Miller will face in the NFL will be only too happy to ride him upfield, then drive him into the ground when he tries to spin back. Recent edge linebackers who were sack masters in college then ineffective in the NFL after being drafted high in the first round -- Robert Ayers, Vernon Gholston, Aaron Maybin -- shared the bad habit of going too far up the field. The upfield rush move works in the NCAA. Against the better and faster linemen of the NFL, it's exactly what offensive tackles want a pass-rusher to do.
Miller's redeeming virtue: It was touching that he sobbed on hearing he'd been selected second, needing several minutes to compose himself before coming onstage.
Detroit Lions: The Seahawks-Lions trade in the second round involved important choices: but as part of the package, Detroit sent Seattle pick No. 154 in return for pick No. 157. The difference is so trivial, it seems like a tip: "Here you are my good man, and I've thrown in a little something extra for your trouble."
Green Bay Packers: In the 2005 draft, the Packers chose the last guy still waiting in the green room, Aaron Rodgers. This year, the Packers chose the last guy still waiting in the green room, Randall Cobb.
Houston Texans: With the Memphis Grizzlies suddenly a colossus, the pressure is on the Texans to make their first trip to the postseason. Last year, the Texans scored 20 or more points in 12 of 16 games, which is outstanding, but their defense was so poor that they watched the playoffs on television. Needless to say, they drafted for defense. Now the defensive coordinator is Wade Phillips, who has been an amiable bumbler as a head coach but done well when his only responsibility is to lead the defense.
[+] Enlarge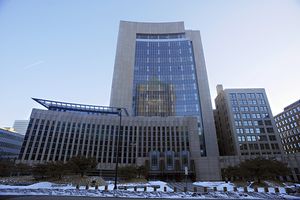 Hannah Foslien/Getty ImagesThe Minneapolis courtroom, across from which the NFL and NFLPA are building an extended-stay facility for lawyers.
Fringe Event! News Story from 2015 Travels Backward in Time to 2011: May 3, 2015 -- MINNEAPOLIS (AP) -- A federal appeals court today granted a temporary stay of a suspension of a preliminary injunction regarding the NFL lockout, allowing former players of the former National Football League 30 minutes to enter their old locker rooms and clean out personal possessions. It marked the 1,000th legal ruling in an ongoing battle.
Previously, a lower court had enjoined a stay of a suspension of a stay of an enforcement order prohibiting an injunction. That temporary permanent nonbinding mandatory order said the players could have 45 minutes to clean out lockers. Attorneys for the former National Football League objected vehemently. They argued that "Under the precedent in Bivens vs. Six Unnamed Agents, a temporary stay can be partially stayed but not permanently temporarily suspended," and thus the district court had exceeded its jurisdiction by allowing the extra 15 minutes.
Attorneys for the former National Football League, now known as the National Fantasy Football League, and the former NFLPA, now known as Unemployed Athletes of America, have taken up residency in Minneapolis and are raising their families there.
The NFFL broadcasts computer-simulated football games. The Unemployed Athletes of America runs an offshore gambling casino in the Cayman Islands.
Both sides said they would appeal today's ruling to the Supreme Court, which has yet to say when it will hear the 2011 class-action antitrust case filed against the former NFL. "Perhaps we will take up the case in 2029," a Supreme Court spokesperson told The Associated Press, "depending on how many justices are still at the bingo tournament."
Reached at his hairdressing salon in Malibu, Calif., lead plaintiff Tom Brady, once a quarterback for the Chuck E. Cheese Stadium Fun 'N' Games Experience (formerly the New England Patriots), said, "I'm tired of talking about back when there was pro football. If you want a perm, I have an opening at 3:30."
Indianapolis Colts: Bill Polian -- in Buffalo's Super Bowl string (acquiring Kent Hull, Will Wolford and Howard Ballard), with Carolina's title-game team of the mid-1990s (acquiring Blake Brockermeyer and Greg Skrepenak) and with Super Bowl-winning Indianapolis (Jeff Saturday, Tarik Glenn and now offensive tackles selected with the Colts' first two choices in the 2011 draft) -- has believed in forming a premium offensive line.
If the eyes are the window to the soul, the offensive line is the window to a football team. The Indianapolis OL was terrific leading up to the Colts' Super Bowl win; it faltered in the past two seasons but now stands a chance of being terrific again. General managers who believe the offensive line doesn't matter pay by staying home in January. General managers who know how much it matters, such as Polian, are rewarded. Politics note: Skrepenak, a college star who had an injury-shortened NFL tenure, went home to Pennsylvania, became a politician and became corrupt. He's serving a two-year sentence for accepting bribes.
[+] Enlarge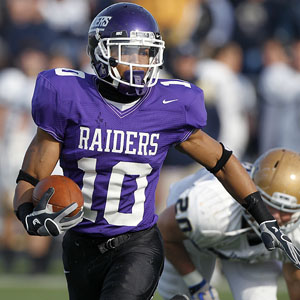 AP PhotoCecil Shorts of Mount Union -- Division III player drafted in the fourth round.
Jacksonville Jaguars: The Jaguars won TMQ's love by using a fourth-round choice on Cecil Shorts of Division III Mount Union. Most football fans might not know his name, but TMQ readers do. In December, this column proposed that Shorts was a better candidate for the Maxwell Award than Cam Newton, who ultimately won it. The Jaguars also traded up in the third round to select William Rackley of Division I-AA Lehigh.
Shorts became the highest-drafted Division III player since 2002, when the Tennessee Titans used a fourth-round choice on Tony Beckham of Wisconsin-Stout. The only Division III player ever chosen in the first round? It was Marvin Upshaw of Trinity of Texas, by the Browns in 1968. ("Only" based on current Division III status; some football programs have changed divisions over the years.) You've got to love a Division III school for producing two NFL players in a brief span -- Pierre Garçon of the Colts, and now Shorts. You've got to love the 2,300-student school, although it just changed its name from Mount Union College to University of Mount Union, claiming to be a "university" despite offering only these graduate programs.
Jersey/A Giants: Given that Tiki Barber says he's coming back, why couldn't the Giants draft him again?
[+] Enlarge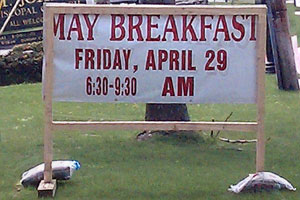 Courtesy of Neil HarringtonThere will also be a Fourth of July picnic in June.
Unified Field Theory of Creep: Whilst bicycling last month, reader Neil Harrington of East Providence, R.I., snapped the photo of a nearby sign on a church lawn. The church's announcement read, "Friday -- April 29, 2011. St. John's is holding a traditional May Breakfast."
Jersey/B Jets: Last year, the Jets used a draft choice on a guy named Vladimir; this year, they used a choice on a guy named Bilal. OK, I'm reaching here.
Kansas City Chiefs: The Chiefs got a free one-slot bump-up in the first round when Baltimore, drafting in the next slot ahead, failed to complete a trade with Chicago in its allotted time. The Chiefs used their chance to draft wide receiver Jonathan Baldwin, a choice most touts didn't like, noting that Kansas City already has Dwayne Bowe. Back when the Colts already had Marvin Harrison, draftniks scoffed at their spending a first-round choice on Reggie Wayne -- and perhaps you recall how that worked out.
Miami Dolphins: When the Dolphins were perfect in 1972, and when they were difficult to beat under Dan Marino, they had great offensive lines. With the addition of Mike Pouncey, Miami has three recent first-round draft choices on the offensive line. The Dolphins might be uncertain at quarterback, but assemble a great offensive line, and good things will happen. Small school alert: The Dolphins drafted Edmond Gates of Division II Abilene Christian, the same lower-division school that recently sent Johnny Knox to the NFL.
Frequent Flier Pick of the Draft: Choice 186: Green Bay from Philadelphia through Detroit and Denver.
Minnesota Vikings: Touts are hammering the Vikings for using the No. 12 selection on Christian Ponder rather than trading down and selecting him later. But if the Vikes were offering to sell, maybe there was no one offering to buy. Draft choices can be what fund managers call "illiquid assets" -- there's no guarantee you can find a buyer. Besides, if you are certain you know whom you want, just take him and don't worry about anything else.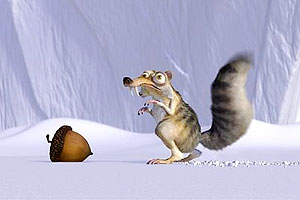 Twentieth Century Fox Actual photo of Bill Belichick eyeing a future draft pick.
New England Patriots: Bill Belichick has become the Scrat of NFL coaches, hoarding extra draft choices the way Scrat hoarded prehistoric acorns. For three consecutive drafts, Belichick has traded down and/or out of the first round to stockpile lower picks and choices in the next year's draft. In doing so, Belichick has passed on impact players -- moving out of the first round in 2009, for example, cost him the chance to select Clay Matthews, Hakeem Nicks or Eric Wood, all of whom would start for the Patriots. Scrat didn't fare all that well, either.
In this draft, despite starting with multiple extra high picks, Belichick came away with no pass-rusher, which seemed to be New England's clearest need. Trading out of the late first cost Belichick a chance at several promising pass-rushers. This trade also cost him at chance at Mark Ingram -- then he used second- and third-round picks on seemingly lesser running backs.
What gives? Perhaps Belichick, being Belichick, feels he would rather work with lower-drafted little-known players than with high choices who might have swelled heads. In that case, he should sell his high picks and use the money to scour the nation for the next Danny Woodhead.
Through first-round trade-downs and banking of its choices, New England has exercised nine second-round selections in the past three years -- triple the expected number. The result? Rob Gronkowski and Sebastian Vollmer are the only clear successes as starters. A couple of others are promising, and this year's selections have yet to tape their ankles. Overall, the results don't seem much of a testimonial to the Massey-Thaler theory that lower picks are better than high picks.
Coming into this year's draft, Belichick had stockpiled double picks in the first, second and third rounds, an incredibly bounty. Then he traded out of the first and second rounds in order to stockpile selections for 2012. Now the Flying Elvii go into the 2012 draft with a bonanza of extra choices -- just like they went into the 2010 and 2011 drafts, only to defer the picks to the future. Will Belichick ever actually use his extra choices? He just keeps squirreling away and saving. Put this man in charge of the United States federal budget!
Draft Fact That Must Mean Something: Baylor, which finished unranked at 7-6, had more players chosen in the first round than TCU (undefeated, finished second), Oregon (12-1, finished third), Stanford (12-1, finished fourth), Ohio State (12-1, finished fifth) and Oklahoma (12-2, finished sixth) combined.
New Orleans Saints: The Saints traded back into the first round to select tailback Mark Ingram. Running back was an obvious need because the Saints have a history of injuries at this position and might waive Reggie Bush, who's due $11 million in 2011. New Orleans' move triggered a draftnik debate about whether teams should select for needs or take the "best available" regardless of position.
This debate, a draft perennial, skips the premise that, nine times out of 10, no one knows who the "best available" is. If a team on the clock knew for sure that any particular person was the best available, the team would just draft him -- there'd be nothing to discuss. But because most of the time no one is sure who is the best available, drafting for team needs makes sense.
Note that even though Bush helped bring New Orleans the Lombardi Trophy, since it was revealed that he broke NCAA rules in college, and since he returned his Heisman, a negative energy field has descended over this former star. What's going to happen to Cam Newton if some negative revelation about his college days is coming -- and, unlike for Bush, arrives before he has any professional accomplishments?
[+] Enlarge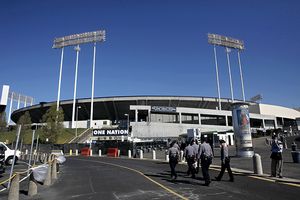 AP Photo/Jeff ChiuSoon to be Overstock.com Coliseum -- where everything must go!
Oakland Raiders: This fall, the venue in which the Raiders play will be called Overstock.com Coliseum. The name was sold at a distress price of $1.2 million per year -- stadium naming rights once cost 10 times that amount. But professional sports is overstocked with unnamed stadia. Let's blow those stadium names out the door, everything has to go!
Overstock.com is best-known for its 2005 "It's all about the O" advertising campaign that featured gorgeous model Sabine Erhenfield cooing in a mildly salacious manner. Erhenfield's distinction was that she became a sex symbol at age 42. Will buying the Raiders' stadium naming rights cause Overstock.com to go the way of 3Com, CMGI and PSINet -- all of which once bought NFL field naming rights (at San Francisco, New England and Baltimore), then promptly nosedived?
Obama Should Have Invested in Something Safe, Like Greek Government Bonds: Buried in Barack Obama's 2010 tax returns, recently released, is that the president is carrying forward a $122,527 investing loss. What kind of investment did the president of the United States lose money on? According to his return: "Treasury note redemption."
[+] Enlarge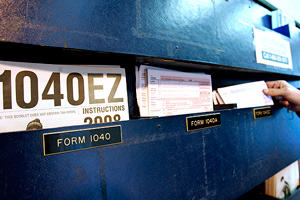 AP Photo/Paul SakumaThere are easy ways for the rich to pay higher taxes -- if they're being sincere about that.
Here on Reuters, yours truly presents the case that well-off people who say they favor higher taxes ought to tax themselves. The president and first lady earned $1.7 million in 2010, and Obama advocates a tax increase for couples reporting more than $250,000. So if the president took his own medicine, he would have written a check to the U.S. Treasury for more than current law requires.
Obama also has called for a phase-out of itemized deductions for incomes above $250,000: This would have the effect of raising taxes on the affluent. Take a look at Line 40 of his Form 1040 -- Barack and Michelle Obama claimed $373,289 in itemized deductions. This reduced their federal tax bill by nearly $100,000 and cut their Illinois state tax liability. If the president says wealthy people shouldn't claim itemized deductions, then why does he?
Reader John Zulk of Spencer, Iowa, notes the Obamas could have used the standard deduction, currently $11,400 for couples filing jointly, on Line 40. Zulk writes, "All taxpayers are free to choose either the standard or itemized deductions. If the wealthy voluntarily checked the standard deduction, taxes on the wealthy would rise without any change in tax rates. Also, most capital gains are reported by the well-off. If when completing Schedule D, wealthy taxpayers listed the 'cost basis' of capital gains as zero, they would pay more in taxes without Congress changing tax rates."
Bill Gates, Warren Buffett and others are on record as joining President Obama in favoring higher taxes on the wealthy. Obviously a uniform change in tax law, so the playing field is level, would be best. But until such time, any wealthy person can increase his or her tax bill by checking the standard deduction and by claiming a zero basis for capital gains. If President Obama and other affluent people are sincere in wanting taxes on the rich to rise, they should lead by example and tax themselves.
Philadelphia Eagles: Eagles first-round pick Danny Watkins had already been drafted in 2010 -- by the Canadian Football League. He was the fourth CFL choice, selected just after Cory Greenwood of Concordia University. Watkins grew up in Canada and didn't play football until age 22. He's now 26, quite old for an NFL draft choice. Canadian fans, Watkins is 1.91 meters tall and weighs in at 141 kilograms.
Pittsburgh Steelers: A couple of linemen, a couple of cornerbacks -- the Steelers couldn't have had a less interesting draft. That seems to be the way they like it in Pittsburgh. Every year for the past several seasons, the Steelers have seemed to be running out of gas. Then it's back to the Super Bowl once more.
San Diego Chargers: December 2011. That's when this group of draft choices will begin to perform. They are, after all, joining the San Diego Chargers.
San Francisco 49ers: Jim Harbaugh has been in the NFL for only a couple of months and already has Colin Kaepernick to coach. That seems unfair. Kaepernick has the package: talent, drive, level head, plus he was ignored by the East Coast media elite, which will serve him as a long-term motivator. Thirty-one teams passed on Kaepernick, and 31 will regret doing so.
Seattle Seahawks: The Seahawks had 17 people in their draft strategy room -- two staffers for every one prospect selected. Does it really take 17 people to make a draft selection? Maybe they were watching Pete Carroll's TV channel.
St. Louis Rams: When Rams coach Steve Spagnuolo was defensive coordinator for the Giants' Super Bowl winning squad, he had pass-rushers galore. Now with Les Mouflons, Spagnuolo has Chris Long, James Hall and first-round choice Robert Quinn. The latter is a question mark: He didn't play in 2010, owing to NCAA violations. If Quinn shows what he showed in 2009, then the Rams -- the Rams! -- could be a monster defensive team. And keep your eye on sophomore St. Louis pass-rusher George Selvie, a seventh-round draft choice who's evidence of TMQ's contention that although first-round bonuses should decline, late-round bonuses should rise.
[+] Enlarge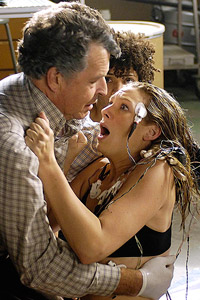 AP Photo/Fox, Mark Ben HolzbergActress Anna Torv, lead on Fringe, could not explain the plot even with the help of electrodes.
In the Alternate Universe, TMQ Is Written by a Really Handsome Guy: Friday is the season finale of "Fringe," the best sci-fi series on television. Although "Fringe" is entertaining, yours truly was hoping the show would be canceled. The writers clearly are desperate for material -- they've introduced time travel, always a bad sign. Producer J.J. Abrams has promised that when "Fringe" ends, everything that has happened actually will make sense -- unlike when his series "Lost" ended. That's why I was hoping the series would end now, while it was still vaguely conceivable the action could be wrapped up in a coherent manner.
Instead, Fox renewed "Fringe" for a fourth season. This leaves it increasingly likely that what to Abrams qualifies as "makes sense" will mean the series slams to a halt amid blazing special effects with most loose ends unexplained. Late in the current season, for instance, action centers on a 250-million-year-old device capable of destroying the world that can be controlled only by the show's two leads -- whose DNA sequences were encoded into the device 250 million years ago. What are the odds that head-scratcher ever will be explained?
The premise of the series is that there is a parallel universe in which a second Earth is similar, but not identical, to ours. History there is somewhat different, though fast food tastes exactly the same in both universes, the show's best joke. Each character has a similar, though not identical, doppelganger on the other side. With a season finale airing Friday, you'd assume, in cliffhanger fashion, that the shocker will be the death of a beloved character. But on "Fringe," a beloved character could die -- then next season be back, replaced by her mirror image from the other universe.
Here was the nuttiest line from this season's "Fringe," spoken by a Harvard scientist wearing a lab coat: "The human body is held together by magnetism. If a person experienced a strong magnetic charge, that person would become incapable of dying." The statement -- the show oozes pseudo-science, and even has a "science" Web page -- is gibberish, or else everyone who's been through an MRI would be immortal. The tiny amounts of electrical current in our brains and nerves produce weak magnetic fields, but these have nothing to do with "holding the body together," which happens via chemical bonds. "Fringe" can assume anything it likes about the "science" of interdimensional teleportation. But references to known science should be accurate.
Here was the nuttiest subplot: A scientist played as an occasional character by Leonard Nimoy (the original Mr. Spock) discovers a way to come back from the dead. He does elaborate research and builds the necessary equipment, which must be activated by a living person. A year after the Nimoy character's death, the good guys discover and activate the resurrection system, which they find only by chance. Why? Facing death in the presence of his best friend in the finale of Season 2, the Nimoy character forgot to mention there was a device that would bring him back from the dead. And he left no notes or instructions.
Obviously, the scriptwriters cooked up this subplot as a way to get Nimoy back into the show. This kind of "I suddenly remembered that ..." filler is the reason I wish "Fringe" would just wrap it up and end.
Tampa Bay Buccaneers: Late in every NFL season, there's a team that won't make the playoffs but that nobody wants to play. Last season, it was the Bucs. In the second round of the draft, they landed Da'Quan Bowers, who might have been the first choice overall were it not for medical questions. Maybe Bowers has serious injury problems. If not, look out for Tampa.
Tennessee Titans: The Flaming Thumbtacks chose Jake Locker as their quarterback of the future. What a lot of NFL teams need is their quarterback of the past. TMQ thinks the Titans had the best overall draft, but what do I know? The Washington Post ran an entire page of draft grades. Twenty-two teams received at least a B-minus, meaning 22 of 32 were above average. No team received less than a C-minus, meaning no team did poorly in the draft.
Washington Redskins: Summing a series of trade-downs, the Redskins dropped from 10th (Blaine Gabbert) to 16th (Ryan Kerrigan) in the first round and in exchange gained third-, fourth-, fifth- and seventh-round selections. That's a nice yield for dropping only six places, and if the additional choices yield an additional starter, the Skins' strategy will be a success. Needing a quarterback, the Redskins passed on Ryan Mallett in the late second to trade down and add fifth- and seventh-round choices. For the Redskins to stockpile draft choices is, obviously, a major reversal of form.
Were "Criminals" Being Drafted? Recently, Sports Illustrated and CBS News drew notice for a cover story headlined "Criminal records in college football," coupled to a televised report. Any attempt to call the college sports establishment to account seems welcome: At big universities, football and men's basketball players are perceived as getting away with too much, and this perception might have a basis in fact. Sports Illustrated and CBS made good points, especially in showing that some college football programs recruit without even cursory background checks. But the story was also unfair and seemed deceptive. I sometimes teach college-level media studies, and I would have told Sports Illustrated and CBS News what they had was an interesting rough draft requiring significant improvement.
"Criminal records," the cover announced. The core contention was that 7 percent of players for the Division I 2010 preseason Top 25 had "criminal records."
[+] Enlarge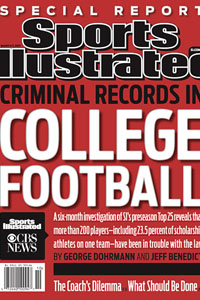 Courtesy of Sports Illustrated"Criminal records" -- or is the proof really there?
But what Sports Illustrated and CBS News had found was that 7 percent of Top 25 college football players have been arrested. There is a central difference between being arrested and being a criminal. Arrest is an accusation; conviction makes a criminal. Sports Illustrated and CBS News glossed over this. This flies in the face of a core premise of American law: innocent until proven guilty.
That someone has been arrested does not, legally, establish anything. If a person is arrested but acquitted at trial or the charges are dropped, he or she does not have a "criminal record" except in the literal (and trivial) sense that a record exists showing charges were once filed. If arrest is followed by acquittal or dropped charges, the person has a clean slate. Any Sports Illustrated or CBS editor who was arrested, then cleared, would object vehemently to being described as having a "criminal record."
Police might arrest the wrong person. Complainants might make false accusations, and the truth comes out after the arrest. Presented with the circumstances of arrest, grand juries sometimes decline to issue indictments. Prosecutors sometimes decide not to pursue cases, especially when it isn't clear whether the right person was accused. Occasionally, judges find there was no crime. A few years ago, I was watching in court when my older brother, a federal appeals judge, led a panel that ordered the release of a woman who had been wrongly imprisoned. The judges found that no crime had occurred.
Yet the Sports Illustrated-CBS News package implies that anyone who has been arrested must be a criminal. Such guilt-by-association thinking worried the framers, who placed innocent-until-proven-guilty into American jurisprudence.
Sports Illustrated did offer one paragraph saying that for cases "in which the outcome was known," about 60 percent of football player arrests led to a conviction or a fine. The magazine did not add that this number shows that about 40 percent of the college football players who were arrested were later cleared. If a significant percentage of arrested players turned out to be innocent, that should have been given prominence.
B.J. Schecter, executive editor of Sports Illustrated, told TMQ, "We are very comfortable with our reporting. We went to great pains to be fair."
Now suppose the story had emphasized the difference between being arrested and being a criminal. Should we be shocked that 7 percent of football players from Top 25 programs have been arrested? This Department of Justice spreadsheet shows that in the most recent year, 16.2 percent of American males between ages 18 and 20, and 12.6 percent of American males between ages 21 and 24 -- these are the college football age cohorts -- have been arrested. Such data suggest that Top 25 football players are less likely to be arrested than similar-aged American males.
Poof, there goes the story. Sports Illustrated and CBS News claimed to have conducted an "unprecedented investigation." Half-truths and innuendo are not unprecedented.
Absurd Specificity: Here is the annual TMQ review of absurd specificity. Send your examples -- with URLs or similar supporting details -- to TMQ_ESPN@yahoo.com
• This ranking found that Blaine Gabbert is six-tenths of 1 percent better than Cam Newton and Ben Ijalana is one-third of 1 percent better than Rodney Hudson.
• This ranking, part of the BCS formula, found that Auburn was 0.0101988 percent better than Stanford.
• In January, CBS Sports said Jim Brown had the best-ever rushing yards per attempt at 6.4 yards and Jamaal Charles of Kansas City was close at 6.38 yards per attempt. The difference is less than an inch per carry.
• ESPN lists quarterback yards per attempt in hundredths. A hundredth of a yard is about a third of an inch.
• The New York Times ran this correction about a reference to the odds of Penn making the men's Final Four in 1979: "The odds were 537-1, not 420-1."
• Halfway through the season, ESPN's John Clayton expressed concern that Mark Sanchez's completion percentage "dropped from 53.8 percent [in 2009] to 53 percent." Reader Sebastian Moster of Batesville, Ind., noted that if Sanchez's percentage had remained at 53.8, to that point he would have completed two additional passes.
[+] Enlarge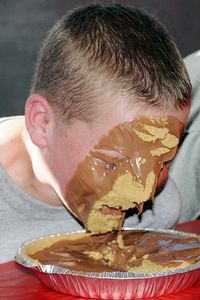 AP Photo/Idaho Press-Tribune/Mike VogtHow many hundredths of a second did this take?
• The Washington Post declared that radiation exposure "increases in flight because commercial aircraft at cruising altitude are closer to the sun." An aircraft at 35,000 feet is 0.000006 percent closer to the sun than at sea level. (Radiation exposure rises slightly in flight because thinner air provides less shielding.)
• The Losada Line is an intriguing concept from psychology, but the notion that organizations or teams function well if members show a ratio of positive to negative statements of at least "2.9013 to 1" veers into the nutty. Psychologist Barbara Fredrickson of the University of North Carolina has found that, in happy marriages, spouses make 5 positive comments for each negative comment. At 5 to 1, the Fredrickson Line offers practical guidance.
• Arizona versus Memphis in the March Madness tournament, Arizona took possession with a two-point lead and 0.1 showing. Officials reset the clock to 0.4 seconds, essentially claiming they can sense thirds of seconds.
• In the Butler-Pitt March Madness game, Butler took a lead with 2.2 seconds remaining. A Pitt player caught a pass and ran to midcourt, where he was fouled. Officials huddled and reset the clock at 1.4 seconds -- suggesting you can catch a basketball and run half the length of the court in four-fifths of a second. With the score then tied, Pittsburgh missed a foul shot with 1.4 showing. A Butler player rebounded and was fouled. Officials again huddled, then reset the clock to 0.8 remaining. A shot hit the rim, bounced off, fell, was grabbed and a foul committed in three-fifths of a second?
[+] Enlarge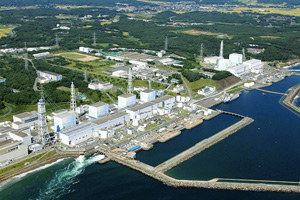 AP Photo/Yomiuri Shimbun, Masamine KawaguchiDon't worry, there is only a 1 in 74,176 chance this will happen here.
• The federal government thinks there is a 1 in 74,176 annual risk of a nuclear reactor failure in the United States.
• In the March Madness game between Texas and Arizona, officials called a turnover on Texas on the five-second inbounds rule. Replay shows the call came after about 4 seconds. Although basketball officials claim an amazing ability to sense fifths or even tenths of seconds, when you put the stopwatch on them, they have trouble counting to five seconds.
• In New York and New Jersey, the top rate state income tax is 8.97 percent. It's certainly not 9 percent!
• This election-night prediction said Republicans would hold "242.6" seats in the House of Representatives. The same outfit predicts Democrats will lose "4.1 seats" in the Senate.
• This ranking finds the United States is 2 percent more democratic than Spain.
• In December, the Celtics beat the Knicks after a New York basket, on a play that began with 0.4 seconds showing, was waved off. Knicks coach Mike D'Antoni contended the shooter "could have made it with 0.5 seconds, but 0.4 seconds wasn't quite enough." All he needed was another tenth of a second!
• On "Monday Night Football" in November, the Steelers blocked a Cincinnati punt. Mike Tirico said, "That punt took 2.2 seconds; that's way too long, the punt should be off in two seconds." The difference is a fifth of a second. Reader Patrick Schmahl of Silver Spring, Md., notes this article asserting that to launch a field goal, "the optimal time is between 1.2 and 1.3 seconds."
• One day in August, AccuWeather forecast "2.07 inches" of rain for the county where TMQ lives. Later, it dropped the forecast to "1.32" inches. Reader Brian Behling of Saint Mary's University in Minnesota reports that, during a September thunderstorm, the National Weather Service issued a flash flood warning that would begin at "3:27 A.M." Reader Cory Scott of Norristown, Pa., wrote in October, "a flood warning was just issued for my county, beginning on Saturday at 5 a.m. and lasting until 2:42 a.m. on Sunday. So at 2:43 A.M., you're in the clear?"
• Reader Betsy Garner of Portland, Ore., reports The Wall Street Journal said that the Oregon Ducks need "as little as 9.9 seconds" between plays and that Boise State averaged "32.0 seconds" between snaps.
• Reader Marietta Summerset of Croydon, United Kingdom, passes along this report that a pie was eaten in "23.91 seconds."
• Reader Jason Cheung of Summit, N.J., writes, "Check this estimate of hot dog sales at ballparks in 2010. Projected sales aren't 21 million but exactly 21,233,839 hot dogs."
• Reader Bill Stevenson of Durham, N.C., heard a Powerball radio ad that included, "Odds of winning Powerball approximately 1 in 195,249,054." Approximately 1 in 195,249,054.
• Reader Brian Schuch of Matsuyama, Japan, reports, "My wife's favorite Japanese TV show, 'Tantei Knight Scoop,' starts at 11:17:30 p.m."
• Reader Ricardo de la Cruz of Guadalajara, Mexico, passes along this report that last year's Chilean earthquake, by rearranging Earth's mass, shortened the day by 0.00000126 seconds.
• ESPN Insider listed the hand size of Colorado offensive tackle Nate Solder as "9.699 inches."
Royal Wedding Note: Over Easter weekend, many guests at our house, as a buildup to William-Kate, watched a televised replay of the 1981 wedding of Charles George and Diana Spencer. It was chilling to note that nearly every promise made by each party was later broken. Today in the United States and the European Union, 50 percent of marriages succeed, 50 percent end in divorce. Given that the previous royal wedding was a farce in poor taste, let's hope William-Kate falls into the 50 percent that succeeds.
Next Week: Next week comes in August, when this lockout nonsense had best be over.
In addition to writing Tuesday Morning Quarterback for Page 2, Gregg Easterbrook is the author of the new book "Sonic Boom" and six other books. He is also a contributing editor for The New Republic, The Atlantic Monthly and The Washington Monthly. His website can be found here.