An injured NFL player hobbles off the field to the locker room. Ten minutes later, he jogs back out, seemingly fine, and re-enters the game. Medical miracle? It's possible he was just injected with local anesthesia. Lidocaine, Procaine, Carbocaine: The numbing chemicals used by dentists and for ambulatory surgery might have been shot directly into his knee or elbow. Use of injected game-day anesthesia in football is something the NFL, and to a lesser extent the NCAA, likely would prefer the public not know about. Shooting players up with drugs so they can perform sounds a little creepy -- because it is.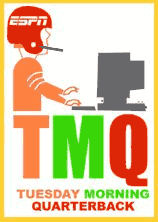 Some players even receive injections of anesthesia before games. "I was taking two shots on game day for the pain," 2006 first overall draft choice
Mario Williams of the Houston Texans told Pete Prisco
of CBS Sportsline this May, in a rare public admission about game-day injections. Williams was suffering from plantar fasciitis, which causes pain around the heel of the foot. Most of last season, Williams did not practice, yet he appeared in every Texans game -- because on game day, he received injected anesthesia. (The Texans declined a request to interview their team physician about Williams' injections.) When NFL players can't practice during the week because of injury, yet perform Sunday, this might not just be sheer determination -- injected local anesthesia might be involved. Is Williams an isolated instance? In April, former NFL star and 2007 Hall of Fame preliminary nominee
Steve Tasker spoke
at a sports symposium at St. Bonaventure University. The symposium topic was "Sports Reporting Versus Sports Publicity." According to the Times Herald of Olean, N.Y.,
Tasker said in part
, "There were occasions in my career where I had to get assistance, chemically, to play the game. I'm not talking about pills [but] an actual injection into some body part, so I could cope with the pain in order to play. And, even today, I don't talk about that part of my career very much. There were occasions where I actually went to the training staff and said, 'Can you get me ready,' and they offered me the option [of anesthesia]." Tasker went on to say that teams did not twist a player's arm to take injections; rather, it usually was the players who asked to be injected. He concluded, "Those are the kind of things that happen behind the scenes in the National Football League in the locker room, that players would really rather not have made public."
NFL spokesman Greg Aiello told TMQ there is no league rule about injected local anesthesia. Game-day injections, he said, "fall under the league policy that medical decisions are made by team medical staffs." Dr. Andrew Tucker, the Baltimore Ravens' team doctor and head of the NFL Physicians Society, declined a request to be interviewed about game-day injections. The
NFL Physicians Society
promotes improved care for football players, but it has no power over team doctors, who act individually. "We do not have a supervisory physician to advise club doctors," Aiello said. A sports orthopedist with football experience told TMQ, "At some teams, the team doctor freely injects players. At others, the team doctor is conservative. If a coach tries to order the team doctor to inject a player so that he can perform, the doctor may say no -- coaches shouldn't give medical advice. But if a player asks the doctor for a shot, the answer will usually be yes because it is a physician's duty to treat pain." On many teams, the doctor said, players are quietly given to understand that the request for local anesthesia shots must come from them. The player asking, rather than the physician offering, satisfies the ethical qualms some doctors might feel. It is impossible to say how prevalent this practice is. Although the NFL requires teams to disclose considerable information about player injuries, they are not required to disclose information about drug injections that players receive on game day. Some observers believe the frequency of game-day shots is in decline because ever-better orthopedic care, coupled with the advent of minimally invasive arthroscopic surgery, makes sports injuries more manageable. But the notion of football icons getting shot up with powerful drugs to enable them to step onto the field hardly is a positive for the NFL or NCAA. The idea that football at the top has become so brutal that performers must be physically numbed --
anesthetized
-- to play is disquieting on several levels. And the image of NFL players taking hypodermic injections of drugs just before a game is not, needless to say, one that sounds like a good example for the young. Tasker told the St. Bonaventure forum he was uncomfortable about anesthesia injections in part because "I was very aware that I was a role model for young kids and teenagers." Do game-day injections of local anesthesia contribute to the long-term degenerative health conditions many former NFL players experience? The reason pain exists is to warn the brain that an action is causing injury. When part of a football player's body is numbed by injected drugs, he ceases to receive physiological warnings that his tissue is being harmed. No responsible team doctor would inject a player with local anesthesia if the doctor believed playing hurt would be likely to make the player's condition significantly worse. After all, NFL players represent investments to their clubs; investments are valuable. Might a team doctor inject a player if he thought the risk of worsening the problem wasn't immediate -- incurring the chance of harm down the road? Last month, the NFL quietly agreed to pay for joint-replacement surgery for any former player. How many former NFL athletes need joint replacements in part because they were given anesthesia injections and then played, doing long-term damage? And so far as I could determine, there has been no peer-reviewed medical study of the possible relationship between game-day anesthesia and long-term degenerative conditions. The time for such study has come. Although the NFL has no rule regarding game-day anesthesia, the NCAA does. The NCAA specifies, first, that only local or topical injections may be employed, not intravenous numbing agents. (Although no NFL team is believed to use intravenous painkillers, note that it is allowed under league policy.) Next, the NCAA specifies that game-day anesthesia "is medically justified only when permitting the athlete to continue the competition without potential risk to his or her health." That's a conservative definition because there might be few circumstances in which putting an injured player into a game as fierce as football with a numbed joint is "without potential risk." Under NCAA policy, if a player says, "Doctor, give me the shot and I'll take my chances," the physician must refuse if he or she believes the player is at risk. Under NFL policy, a team doctor can let a player take his chances. Isn't every football player always taking his chances? Yes and no. That football is dangerous is obvious. The reason NFL players generally cannot win liability lawsuits regarding injuries is they give "informed consent" by accepting the peril of playing. (The injury settlements some players receive when they leave the NFL are a benefit, not the result of litigation.) But there might be a distinction between informed consent regarding immediate risks that are obvious -- if you play in the NFL, some brute might smash your knee -- and such consent regarding long-term degenerative risks that are not immediately apparent. Team management might know, but eager young players might not, that playing with a numbed injury is bad for long-term health. In this regard, it might be worth noting that generally only doctors or trainers who carry special sports malpractice insurance will give injections of game-day local anesthesia. Legalisms aside, NFL and NCAA football players are pumped-up, jacked-up young men who want to prove their daring. Many are eager to show they can "play through pain" and are hardly levelheaded about assessing possible long-term risk attached to game-day injected anesthesia. Players are taught to regard team physicians as authority figures, and might assume the team physician would not shoot them up and send them out if there were any added hazard. Those who ask for injections might not be giving truly informed consent because the doctor or trainer almost surely doesn't say, "Do you understand that taking this shot then going into the game might increase the odds you will develop arthritic joints and experience chronic pain at a relatively young age?" Game-day injections of anesthesia are an arms race -- if one team does it, all teams must. There is a simple solution: Ban the practice. Anytime part of a player's body hurts so much that he must be anesthetized to perform, the man belongs in street clothes. Banning game-day drug injections would, at times, deprive spectators of the most entertaining possible performance, which is a genuine concern. But not anesthetizing players would add integrity to the sport while reducing long-term harm. And it's hard to see what is wrong with that equation. Now, Tuesday Morning Quarterback's AFC preview:
Baltimore Ravens
Baltimore had the best defense in the NFL in 2006 and, finally, a half-decent offense. The Ravens won all their regular-season contests against playoff-bound teams. They were first in the all-important turnover differential. They secured a first-round playoff bye. So what in the name of Lambasthor (the football god of halftime tirades) happened against the Colts in the playoffs? The Ravens' game plan was so low-voltage it was practically crank-operated. Steve McNair ended a pretty good regular season with a horrible postseason outing. Brian Billick made timid calls in the clutch, especially punting on fourth-and-4 from the Indianapolis 41 when trailing 12-3 in the second half. In this game, the Ravens looked beaten by the end of the first quarter -- hanging their heads and moping on the sideline. Rarely has a good team shown so little in a big game.
In the 2006 regular season, Baltimore outscored opponents by a sparkling count of 178-85 in the second half; in the playoff opportunity, the Ravens put up only three second-half points. Sure, the Nevermores fell to the eventual league champion, but Baltimore's 15-6 postseason defeat numbered among the worst letdown games ever. Baltimore should be a power team again in 2007. Fan favorite Adalius Thomas is gone, as is tackle Tony Pashos, an underappreciated performer. But the Ravens, one of the league's best-managed teams, have a 2006 second-round draft choice (Chris Chester) waiting in the wings to take over for Pashos, and even without Thomas, Baltimore has the best set of defensive starters in the NFL. At tailback, fading Jamal Lewis has yielded to boasting Willis McGahee. Ravens coaches are saying McGahee will give them a new dimension in the passing game, but bear in mind that McGahee has never caught a touchdown pass. For Ravens supporters, it is nerve-grating to think that 2007 might be yet another remake of the past several seasons: fantastic defense, sputtering offense.
Buffalo Bills
Why did J.P. Losman's play improve in 2006? Because he bought a house in Buffalo. The Bills' previous high-priced surfer-boy quarterback, Rob Johnson, lived in a beachfront California home in the offseason, and we all remember how well Johnson turned out. Losman lived in his native California before his first two Bills' campaigns. Then in the winter of 2006, he bought a house in Buffalo, committing himself to the city year-round. The football gods smile on that sort of thing! Based on this, TMQ predicts a good rookie season for first-round Bills choice Marshawn Lynch. An Oakland native who went to Cal, Lynch and his mother are house shopping in Buffalo -- he's moving there while his mother enrolls his younger brother in a Buffalo-area school. The football gods smile on that sort of thing.
It has been seven seasons since this once-dominant franchise made the playoffs, and in that time -- whether as cause or effect -- Buffalo has suffered constant turnover at quarterback and on the coaching staff. Elite teams roll out the same quarterback and assistant coaches year after year; 2007 will be the first time in four seasons that Buffalo will field the same quarterback, coached by the same offensive coordinator, as the previous season. But will the Bills' lines be any good? Buffalo has fallen into the bad habit of spending its top draft choices on skinny gentlemen -- defensive backs and wide receivers. In the past five drafts, Buffalo has had 14 picks in the first three rounds and used only three on linemen. Buffalo has just one lineman on its roster who was drafted in the first round. In the Super Bowl, Chicago started four linemen in the first round and Indianapolis started three. Hoping to improve weak line play, the Ivies threw considerable money to free-agent offensive linemen, including Derrick Dockery. Many sports pundits noted the Bills gave about as much in guarantees (the only real part of an NFL contract) to Dockery as it would have cost to retain cornerback Nate Clements, who signed with San Francisco. Pundits called this a bad move because Clements is regarded as an elite player and no one except immediate family members has ever heard of Dockery. TMQ thinks general manager Marv "Part D" Levy made the right move. Clements is older than Dockery and reaching the age when cornerbacks begin to decline. Dockery was one of the league's best blockers in 2006 -- remember, even some full-time professional football analysts pay no attention to the offensive line and have no idea who's good -- and entering his prime. Plus, although a quality player, Clements has a reputation for drastic mental errors. In 2004, the Bills missed the postseason by one win. Buffalo led Jacksonville 10-6 and had Jax facing fourth-and-14 with a minute remaining. The pass came toward Jimmy Smith. Clements had perfect position to knock the ball down and seal the victory; instead, he gambled for an interception to pad his stats, the ball bounced off his hands for a 45-yard advance by Smith, and Jacksonville won on the last snap. Fast-forward to 2005, when Buffalo led Miami 23-3 with 11 minutes remaining and staged one of the epic collapses in sports history. On the Dolphins' winning play, a touchdown pass to Chris Chambers with six seconds left, Clements simply stood watching Chambers -- covering no one at all, though Chambers was Clements' man. Don't be surprised if San Francisco rues that "$80 million" contract it handed the cornerback in question.
Cincinnati Bengals
This year, ushers at Paul Brown Stadium will tell the crowd, "You have the right to remain silent." Is there no discipline or character associated with this franchise? For two years, Marvin Lewis has spent more time apologizing to fans for the arrests and legal entanglements of Cincinnati players than he has watching film. Leadership starts at the top -- if Lewis is unable to make his charges respect the law, maybe it's time for a coach with higher standards. If I were a Cincinnati Bengal, I'd be embarrassed to wear my tiger stripes in public.
On the field, Cincinnati has been a downer, too. The Trick or Treats were a lame 30th in total defense in 2006. Flashy offense doesn't matter much with no defense; the Bengals' defense lacks both spirit and talent, and little of the latter was added in the offseason. In the January 2006 playoffs, Cincinnati gave eventual Super Bowl champion Pittsburgh a great game despite losing Carson Palmer on its first series. Since then, the Bengals have gone downhill and stand a good chance of being the train-wreck team of 2007. Hey, kids! This summer's "Meet the Bengals" party will be held at the
Hamilton County Public Defenders' Office
. You can greet lots of Cincinnati players -- more every day -- and ask them to autograph authentic replicas of arrest records, indictments and bail bond documentation. Just don't expect them to answer any questions! As a special treat, kids under 12 can have their fingerprints taken with a Bengals player.
Cleveland Browns
The Browns signed their left guard and left tackle to deals with a paper value of 12 years and $92 million, a guaranteed value of about $42 million. Cleveland had better be able to run to the left! Prediction: The Browns will not be able to run to their left.
Last year, the leading indicators for the Cleveland Browns (Release 2.1) seemed up -- then the season started. This year, the leading indicators seem up. Getting Joe Thomas and Brady Quinn on draft day feels like a momentum-changing moment. TMQ predicted Romeo Crennel would be a huge success with the Tootsie Rolls: So far, he is 10-22. It keeps feeling as though Crennel should have a big year. But the Browns have no running game (second-to-last in 2006), no passing game (bottom quartile) and no defense (27th in yards against). Check the Browns' depth chart for the player who made the Pro Bowl as a Brown. Here's a time-saving hint -- there isn't one.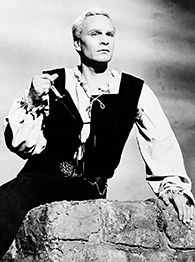 AP Photo
The Browns' offense creeps in its petty pace from day to day, and all our yesterdays but light fools the road to lots of Ls.
What follows is a pregame speech the Shakespearean-named coach of Cleveland could present:
O, there be players that I have seen play,
and heard others praise, and that highly …
[who] have so strutted and bellowed that I have thought
some of nature's journeymen had made men and not
made them well, they imitated humanity so abominably.
Go, make you ready!
Denver Broncos
Since Mike Shanahan -- known to this column as The Ultimate Leader, which
Shanahan declares himself in his 3,814-word official bio
-- became coach, Denver has led all local galaxies in rushing, averaging more than 80 parsecs gained annually. Really, the Broncos' rushing stats since 1995 are quite amazing: Denver has led the NFL in rushing since Shanahan arrived, having 1,000-yard backs in 11 of those 12 seasons. Others around the league tend to downplay the achievement, saying it is merely the result of Denver using a "system." As TMQ endlessly counters, why doesn't everyone use the Denver "system"? The Cursors' rushing system has two basic components: at-the-knees blocking designed to injure opponents and a one-cut rule for running backs. At-the-knees blocking forces opponents to protect their knees, which makes them less effective. Denver's rushing performance declined somewhat last season after officials warned The Ultimate Leader his blockers would be watched more closely. One-cut running -- no dancing, no stutter-step, just choose a direction and hit the hole -- makes so much sense, Tuesday Morning Quarterback cannot fathom why every NFL team doesn't impose this rule. Bobby Turner, the running backs coach who came to Denver with Shanahan 12 years ago, never gets mentioned in the national media -- hmmm, a rule we just broke here -- though he ought to be celebrated. One reason the Broncos unloaded tailback Tatum Bell in the offseason is that he refused to follow Turner's one-cut rule. This year, the Denver workhorse will be Travis Henry, who's a prototypical one-cut runner. Henry has a legit opportunity to become the first person to rush for more than 1,200 yards for three teams, having already hit this plateau with Buffalo and Tennessee. In recent years, Shanahan has staged total Broncos makeovers pretty much annually, and the lack of continuity has shown. Last year, he benched Jake Plummer when Denver was 7-4 and had the inside track for the playoffs; Jay Cutler went 2-3, and the Broncos went home. In the first half of 2006, Denver led the league in defense. Throughout the second half of the season, the Denver defense declined, finishing eighth in points against and 14th in yards against. Note: The defense declined when the offense declined because of The Ultimate Leader's quarterback shift. Shanahan put the blame on defensive coordinator Larry Coyer and cashiered him. Sure, three months ago, you ran a defense that became the first NFL team in 64 years to not allow a touchdown in the season's first 11 quarters. But what have you done for us
lately
? Apparently, Coyer was a magnificent genius in September and by December had become a total idiot, while Shanahan never wavered, always being The Ultimate Leader. Coyer's replacement, Jim Bates, is good, but still! This year, the Broncos will field a shook-up defensive line for the third consecutive season, with three of Denver's four draft choices being defensive linemen. Increasingly, Denver's decision to let Trevor Pryce go to Baltimore looks like a major blunder.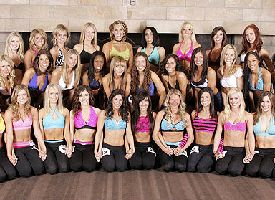 Denver Broncos
Denver cheerleaders: a reason Broncos fans hope for warm weather.
In recent years, the Broncos have become Redskins-like in tossing around draft picks. Denver had no fifth, sixth or seventh selection in 2007, and already has dealt away its third-round choice for 2008. Meanwhile, here is the net of the Broncos' two high-profile cornerback trades: Denver surrendered Clinton Portis, George Foster and a fifth-round choice for Champ Bailey and Dre' Bly. (Tatum Bell, who went to Detroit in the Bly deal, originally came to Denver with a draft pick the Broncos obtained in the Portis-Bailey transaction.) TMQ has long been suspicious of Bly -- he gives up too many touchdowns because he gambles for flashy interceptions. Presumably, Bly will look a lot better across from Bailey. Cheer-babes note: Denver also apparently uses
a system for its pep squad
, which year in and year out is near the top in aesthetic appeal.
Houston Texans
Bob McNair has spent freely -- the Moo Cows had the seventh-highest NFL payroll in 2006 -- yet still has a cover-your-eyes roster. Check the depth chart. The Texans have only three players (Andre Johnson, Dunta Robinson and DeMeco Ryans) who could have started for the Colts or Bears in the Super Bowl. Quarterback? A guy with two career starts. Tailback? A gent entering his 10th season, a stage when it's rare for a running back to perform well. Offensive line? Ye gods. Tight end? Five bucks says you've never heard of him. Over on defense, the Texans field an impressive selection of high draft choices but don't have much to show for it. Houston has invested its past five first-round draft choices, including the first overall choice of 2006, in four defensive linemen (Jason Babin, Travis Johnson, Mario Williams and Amobi Okoye) and a cornerback. Yet the Texans finished 23rd on defense in 2006 and might not get much help this year from Okoye, who's impressive but might "redshirt" owing to entering the NFL at just 20 years of age because he started college young. As Len Pasquarelli has noted, not only has the Texans offense given up a league-high 272 sacks in the past five seasons but the defense has recorded a league-low 143 sacks. When your sacks differential is minus-129, your team is, what's the word I am looking for … terrible.
This team is dull -- among the dullest team in NFL annals. The Texans seem to skitter around haphazardly like figurines on a vibrating football board: In fact, here is an
actual unretouched photograph of a Houston scrimmage
. And what have the Texans done in the past two drafts? Passed on Reggie Bush, passed on Vince Young, passed on Brady Quinn, passed on Marshawn Lynch, traded out of a spot from which they could've selected Ted Ginn. This team dearly needs an injection of excitement Houston note 1: Buried on the Texans' depth chart is Darius Walker, who gave up what would have been the best year of his life as a senior at Notre Dame to file early for the draft, then wasn't chosen. Come on, NCAA -- let juniors who file for the NFL draft but don't get chosen return to school. Houston note 2: The Texans have 14 home victories in five years. Why is anyone buying tickets?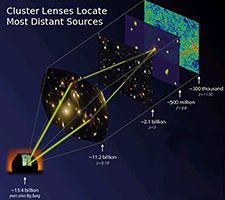 Cal Tech
Next, astronomers hope to locate Ming the Merciless on the planet Mongo.
A cosmic thought:
TMQ often notes that each time instruments improve, the universe appears larger and grander. Recently, astronomers led by Richard Ellis of the California Institute of Technology found light from the oldest-known galaxies: from the moment of "cosmic dawn." Current theory says the cosmos began 13-14 billion years ago during the Big Bang. For the first 300,000 years or so after the Big Bang, all matter existed in a blurred state; no stars had formed, so the heavens were utterly dark. (Initially, the universe "was a formless void and darkness covered the face of the deep" -- Genesis 1:2.) About 300,000 years after creation, the first stars coalesced. Light shone into the black, and there came cosmic dawn. ("And God saw that the light was good … and there was evening and there was morning, the first day.") Now, the Cal Tech astronomers think they have glimpsed the light of the first day --
faint emissions from the first galaxies
that formed from the earliest stars.
Indianapolis Colts
When was the last time the Colts blew a No. 1 draft choice? In 1994, when they chose Trev Alberts -- who flamed out, though injuries were a factor. Otherwise, since then, the Colts' first-round picks have been one success after another. No team in the NFL goes back as far without throwing a first-round choice out the window. Solid drafting is an unappreciated reason Indianapolis has dueled New England for best regular-season team in the 21st century and finally won the Super Bowl in February. The Colts will open the season with 10 of their own first-round draft choices on the roster. Most NFL clubs aren't close to that number; the Giants, for example, will have four of their own first-round draft choices on the roster this season. Consistently making high draft choices count is a formula for sustained success, exactly what the Indianapolis Colts have come to represent.
It's a good omen for this year's No. 1, Anthony Gonzalez. Pundits complained when the receiver-rich Colts used a first choice on another receiver. But pundits complained when the receiver-rich Colts used a first choice on Reggie Wayne, who just did a star turn in the Super Bowl. Peyton Manning will have four first-round targets waving for the ball this season -- Wayne, Gonzalez, Marvin Harrison and Dallas Clark. That would be a luxury if coming at the expense of other positions, but the team's high choices at other positions are playing well, too. General manager Bill Polian might lose his temper too much, but his excellent drafting in Buffalo made the Bills a dominant team for a decade, and his excellent drafting in Indianapolis has now done the same for the Lucky Charms. Over the past two decades, no one has a better draft record than Polian. How long can the Colts' quality streak last? Maybe not much longer. According to the USA Today sports salaries database,
Indianapolis had the league's top payroll
last season, handing players $132 million in a year when the salary cap was $102 million. As we've learned, an NFL team can fudge the cap for a couple of seasons by delaying accounting charges into future years, but a cap crash inevitably comes. That Indianapolis already has traded away its 2008 first-round draft pick -- to reinforce the roster for another ring run in 2007 -- tells me Polian senses lean years are coming. The Indy cap won't be helped by the new monster contract granted Dwight Freeney. Many groused that Freeney did not even crack the top 25 for sacks. But sacks are a dubious stat: Quarterback hurries and quarterback hits (quarterbacks tend to play less well after they have been hammered a couple of times while releasing the ball) are as important, and Freeney consistently excels in those two categories. What I don't understand is the way opponents game plan for Freeney. Football lore says of defensive ends: Run away from an end with strength and toward an end with speed. When Reggie White was in his prime, smart offenses ran away from him. When Bruce Smith was in his prime, smart offenses ran straight at him. Yet offenses don't run straight at Freeney. According to "Pro Football Prospectus 2007" -- and the Pro Football Prospectus series is, hands down, consistently the best independent football analysis available anywhere -- last year, Indianapolis opponents called only 18 running back rushes toward Freeney, the lowest number of running back rushes toward the right defensive end faced by any defense in the league. If I were concocting a game plan against the Colts, I'd run straight at Freeney to neutralize his recovery speed on plays the other way, and to make him stop thinking about the quarterback and start thinking about the run.
Lost in translation:
The name change didn't help -- NFL Europe became NFL Europa, then folded anyway. An informal TMQ poll suggests Americans think "Europa" is French: Rather, this is the old Latin name for the region to which the Romans sent Julius Caesar in hopes he'd never come back. Tuesday Morning Quarterback asserted that the Euro gridiron league should have been called NFL Deutschland, considering that all
but one of its teams was in Germany
the last two seasons. Nevertheless, if we're going Latin, let's go all the way. Reader Cheryl of Falls Church, Va., a Latin teacher, translated "National Football League of Europe" into Latin as Europa Societas Gentica Pulsandi Pilam Pedibus -- European National Society of Striking a Ball with the Feet. Since football was not played in Roman times, Cheryl notes, the sport's name does not translate readily into Latin. The Amsterdam Admirals, who represented a city renowned for open-minded women, boasted of "The Hottest Dance Team in Holland" --
check the squad out
while you still can.
Jacksonville Jaguars
How can anyone take seriously a team that lost twice to the Houston Texans in 2006? Two losses to Houston in a one-month period, to boot; verily, the skies darkened and thunder rumbled above Jacksonville Municipal Stadium in the second of the two losses, which was at home. Last year, there were Sundays when Jax looked like a monster team -- an early-season shutout of the defending Super Bowl champion Steelers, a late-season defeat of the eventual Super Bowl champion Colts, wins over the playoff-bound Jets, Giants, Eagles and Cowboys. In fact, in the regular season, Jacksonville led the league in what this column calls Authentic Victories: wins over playoff-bound teams, or over good teams under pressure circumstances. But talk about playing down to the level of competition! Jacksonville lost twice to Houston, then lost its final three games and dropped from 8-5 contenders to Home for the Holidays.
The Jags were third in total defense, 10th in total offense last season -- not the kind of finishes compiled by teams that don't make the tournament. On the run/run-stopping scale, Jacksonville was a purist's dream: third in rushing offense, fourth in rushing defense. Yet it all added up to just 8-8. Quarterbacking was inconsistent, with Byron Leftwich and David Garrard taking turns at the position and combining for just three more touchdown passes than interceptions. Three of Jax's past four first-round draft choices have been invested in wide receivers and tight ends, yet the team's leading receiver was tailback Maurice Jones-Drew with 643 receiving yards. When the go-to guy of your passing attack is the tailback on the screen pass, expect to watch the playoffs on television. Conservative game plans have been a big problem for the Jacksonville offense. So has lack of cohesion. Former Arizona State University coach Dirk Koetter joins the team as the third offensive coordinator in as many seasons. Jack of the River can't make up his mind what he wants on offense. When things go wrong, Del Rio shifts the blame to a coordinator; the tactic used by Mike Shanahan in Denver, Tom Coughlin of the Giants and other "survivor" coaches.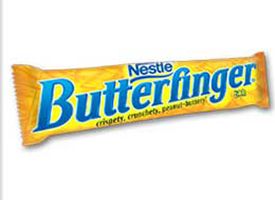 Nestle
Dennis Northcutt should sign an endorsement contract.
As the season progresses, Jacksonville veep James Harris -- who's in the middle of the management organizational chart but runs the front office -- had better hope Brady Quinn struggles. Harris was the one who decided to pass on the Notre Dame quarterback in the draft even though Leftwich has missed 15 of the past 21 Jacksonville games with injuries. Harris note: He has made some puzzling money decisions recently. Last year in the offseason, he gave a $1.4 million signing bonus to megabust offensive lineman Mike Williams, who had been the fourth overall selection in 2002. If Harris had wanted Williams in for a look-see, he could have offered the veteran minimum, as no other team was trying to sign the megabust, who never played a snap for Jacksonville and is now OOF (Out Of Football). This year in the offseason, Harris gave a $5 million signing bonus to free-agent receiver Dennis Northcutt, who caught just 22 passes in 2006 and is a known butterfingers. But then -- that makes him a perfect fit for the Jacksonville program!
Kansas City Chiefs
Why, exactly, is Herm "I Honor My Contract When I'm in the Mood" Edwards supposed to be a good coach? Edwards compiled a losing record at Jersey/B, then -- late in 2005, when the Jets were struggling and an attractive opening at Kansas City was waiting -- basically staged a work stoppage, refusing to coach so that Jets' management would release him from his contract by allowing his agent to arrange a coach trade with the Chiefs. Any player who refused to perform because he wanted to be traded would be roundly denounced, including by Edwards: But when it served Herm's pocketbook, he pulled this stunt himself and got away with it. In his first year at Kansas City, Edwards went 9-8. The Chiefs made the postseason but lost in the first round at Indianapolis 23-8, and the game was an all-out fiasco for the Flintstones. Trailing 16-0 on the final snap of the third quarter, they scored, then did nothing in the fourth. As Kansas City was falling behind in the first three quarters of that game, Herm barely seemed conscious on the sideline, not barking orders, not doing anything. Edwards is 50-52 as an NFL coach. His principal coaching achievement was to pull an egotistical me-first stunt to get out of his Jets contract. I'll grant that all coaching decisions involve guesswork. But here's how Edwards decided in 2006. Trent Green started the Chiefs' first game, lost it and got hurt. Damon Huard started the next eight contests and went 5-3, throwing 10 touchdown passes and one interception in that span. Edwards then benched Huard for Green, who finished the year 4-5, throwing for eight touchdowns and nine interceptions. It's a team game, and quarterback is just one of many positions. But Huard looked good under center for Kansas City; Green looked as though he needed a week at Canyon Ranch; and Herm "I Honor My Contract When I'm in the Mood" Edwards yanked Huard to insert Green, with the result being a wheeze-out.
Kansas City note: Two seasons ago, the Chiefs' offensive line included future Hall of Famers Will Shields and Willie Roaf. This year's Will on the offensive line is
Will Svitek
.
White House to ask high school students for fiscal advice:
Last week, the National Assessment of Educational Progress reported that high school students' understanding of economics is
fairly good
. For instance, 60 percent knew that rising federal spending increases the national debt. How many members of Congress could answer that question correctly?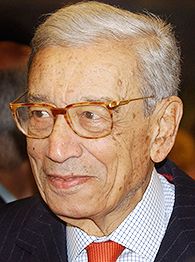 AP Photo/Virginia Mayo

Boutros Boutros-Ghali, one of Ali G's best interview subjects ever.

Miami Dolphins
The Dolphins won six games in 2006 -- then cut the starting QB for five of them, Joey Harrington. The 5-6 record Harrington complied wasn't bad compared with the 1-4 record performance of other Miami quarterbacks. So get the bum outta here! Of course, Daunte Culpepper got booted, too; only the legendary Cleo Lemon returns from the 2006 Miami quarterback corps. New coach Cam Cameron (who could have been undersecretary at the United Nations when Boutros Boutros-Ghali was in charge) dispatched Harrington and Culpepper, passed on Brady Quinn in the draft, then traded for Trent Green, who goes into the season as the Marine Mammals' expected starter. Perpetual turmoil under center has been Miami's lot since Dan Marino started doing weight-loss ads. In 2006, Harrington, Culpepper and Lemon took turns at quarterback. The year before, it was Gus Frerotte and Sage Rosenfels. The year before that, A.J. Feeley and Jay Fiedler. Brian Griese started several games at quarterback the year prior. If Green gets hurt or yields to Lemon or rookie John Beck, Miami will have fielded 10 starting quarterbacks in five seasons. There's no way a team can win without consistent leadership at quarterback -- thus, the Dolphins aren't winning. Cameron's passing on Quinn is the most puzzling decision since Tony Blair staked his place in history on the Iraq war. Be that as it may, the Dolphins have invested three second-round and numerous midround draft choices on quarterbacks in recent seasons, and it's unclear whether Miami has a decent starter for the 2007 season. And why Miami's interest in Green? This gentleman has enjoyed a long, productive career, but he's about to turn 37 and appeared to have no biodiesel left in the tank last season. Green faded down the stretch. Fading down the stretch is natural as we age. Anyway, Green was all but certain to be waived by Kansas City, yet Miami surrendered a draft pick for a 37-year-old who was about to be waived. There have been several recent trades in which teams gave up midround draft picks for quarterbacks weeks or even days away from being released anyway -- Steve McNair, Mark Brunell, Green. This reflects the unspoken assumption that quarterbacks are the management-suite suits of football. Coaches think it's undignified for starting quarterbacks to move via the waiver wire; they must be traded, which implies special value. Had everything about the age, playing status and fortunes of Green, McNair and Brunell been the same except that they'd been linebackers or guards, there's no way the clubs that wanted them would have offered a draft pick. Quarterbacks get a more dignified treatment. Also, trading for the quarterback prevents disgruntled fans from saying, as the season collapses, "What did you expect, these bums were starting a quarterback they got off the waiver wire." Miami note: It's the Internet era -- here is the press release the Dolphins issued to announce the waiving of Culpepper.
Greenwich, Conn., hedge fund, "TMQ Associates," now accepting wealthy clients, promising negative returns:
Hedge funds are starting to topple -- don't say you weren't warned. Since 2004, Tuesday Morning Quarterback has done several items on how endowments, pension funds and the gullible rich continue sinking their money into hedge funds, though an investor usually gets as good a deal by dialing the 800 number of Vanguard, T. Rowe Price or any reputable mutual funds seller open to the public. Many hedge funds boast about spectacular returns, then subtract high management fees: All that matters to investors is the net.
Hedge Fund Research
, a Chicago econometrics firm, reports that in 2006, average return of the hedge-funds sector fees was 13 percent after fees were subtracted. In 2006, Standard & Poor's index funds, a benchmark class of investment available to anyone, returned an average of 14 percent after fees. Last year, Bridgewater Associates, a hedge fund that manages $30 billion, returned a net of 4 percent after fees: Bridgewater's clients would have been better off buying Mallo Cup coins. Last year, one of the leading hedge funds, run by Goldman Sachs, lost 6 percent -- staggering ineptitude for a bull period in which the broad market was rising.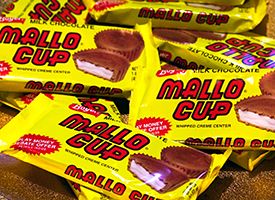 AP Photo/Keith Srakocic
Mallo Cup coins are yielding better than sub-prime mortgage derivatives.
Next, although a conventional mutual fund such as an S&P index fund might go up or down, there is little risk of failure because what S&P index funds do is purchase stocks of Fortune 500 corporations. Mutual funds composed of blue chip equity would fail only if the Western economy collapses, in which case it will make no difference where your money is invested. Hedge funds, by contrast, make purchases using borrowed money, take chances with derivatives or illiquid assets such as timber rights, and dive into other sketchy plays. This means some hedge funds fail, wiping out 100 percent of investors' money. Amaranth Advisors, a hedge fund that hit the wall in 2006, caused $6 billion to vanish. When the business pages run a chart of returns of successful hedge funds, bear in mind the chart is influenced by what economists call "survivor bias" -- the funds that failed, wiping out their clients, aren't listed. There is no such hidden hazard with a chart of conventional blue chip mutual funds because none of them fail. Why do the rich put their money into hedge funds? The romance of exclusivity seems to be the key. Public investments in which anyone may acquire shares -- Vanguard, T. Rowe Price, etc. -- are, well, public. Commoners are allowed in! Public funds are regulated by the Securities and Exchange Commission, required to disclose substantial data and generally forbidden from risky plays. For most investors, such regulation is good, reducing exposure to loss. But loaded marks seeking a special deal avoid SEC disclosure rules. Hedge funds generally require a minimum $1 million investment; they are exempt from most SEC standards and allowed to do as they please on the theory that only sophisticated investors who can bear losses have $1 million to place on the table. Exemption from SEC rules is the defining feature of hedge funds (many of which never actually hedge, that is, take overlapping positions designed to limit losses) because the exemption renders the investments exclusionary. Wealthy people are made to feel important by boasting about having their money in special funds average investors can't join. Exclusivity should not be confused with desirability! In June, two hedge funds run by Bear Stearns, one of Wall Street's best-managed firms, headed to Davy Jones' locker, wiping out $1.5 billion of investors' tender. If hedge funds at the elite investment houses are proving wobbly, what about those fly-by-night Connecticut firms that have no track records? TMQ senses there's a reckoning coming in which lots of hedge funds crash and the rich demand to be bailed out.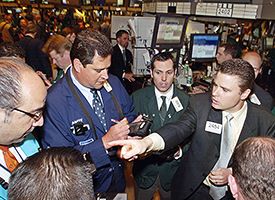 AP Photo/Mel Nudelman
At the current rate of Wall Street, these guys will soon be taking orders for appetizers and dinner instead of for stocks.
There are some hedge funds that consistently outperform the broad market, and smart money -- such as that held by institutional investors -- flows toward them. But the term "hedge fund" has evolved into a marketing gimmick designed to separate the gullible from their inheritances. The rich seem to enjoy believing their capital is being managed by wizardlike super-geniuses using confidential super-advanced algorithms, not by ordinary mutual fund managers who are reading public-record data and shadowing Wall Street. That many hedge funds are located in Connecticut rather than Manhattan is essential to marketing psychology. Ordinary money managers sit in brokerages in downtown New York; super-genius managers sit by swimming pools in Greenwich. Never mind that the wizardlike super-geniuses last year failed to deliver the returns attained by the ordinary managers. Wealthy? Stupid? Hedge funds are looking for you!
New England Patriots
On draft weekend, New England traded a low first-round choice to San Francisco for a fourth-rounder plus the Squared Sevens' first selection next year, then traded a low third-round choice to Oakland for a seventh-rounder plus the Long Johns' No. 3 next year. The Patriots appear to be on the short end of both these trades. Reader David Cowling notes that San Francisco's first and Oakland's third in 2008 would need to come at the top of the rounds for the New England transactions to make sense in value-chart terms. If San Francisco has a good season and its 2008 first-round selection is low, or, heaven forbid, Oakland has a good season and its 2008 third-round selection is low, then New England has gotten little compared with what teams traditionally receive when they surrender a pick this year for a comparable pick next year. Bill Belichick might have felt his roster was already maxed out for 2007 and wanted to put some selections in the bank. Alternatively, Belichick might believe next April's draft class will be notably better than was this April's. Under Belichick, the Flying Elvii several times have banked choices if they believe the next year's draft class will be more attractive. Hardly anyone in the NFL thinks long-term like this -- another reason the Patriots consistently win. Want another example of good Patriots management? Consider the net of New England's many receiver transactions of the past 12 months. Keeping Deion Branch would have cost the Patriots a decent amount of money and cap space, considering the deal Branch ultimately signed after being traded to Seattle has about $14 million in guarantees. Randy Moss, on the other hand, agreed to a deal without guarantees -- if the Moss experiment goes awry, he can be jettisoned up to opening day without any accounting penalty. If Moss makes the opening-day roster, New England will owe him $3 million to $5 million for the season depending on incentives, but the Patriots still can unload him next winter without a cap acceleration. Free agent Donte' Stallworth got only $1.3 million guaranteed, though he will earn $3.6 million if he's with the Patriots the full season. Stallworth's contract looked hefty for ego-stroking P.R. purposes but is unlikely to last past 2007 because the deal calls for $11 million in 2008. Unless Stallworth has a monster year, next winter he will either renegotiate downward or be waived. Finally, Wes Welker got about $9 million in guarantees. The aggregate of these transactions is that the Flying Elvii have Moss, Stallworth and Welker for approximately the same in salary-cap terms that it would have cost to retain Branch. Netting out the trades involved, the Patriots gave up second- and fourth-round choices while gaining a first-round selection, which they banked in the form of San Francisco's 2008 first-rounder. Getting three good players for the accounting cost of one, while converting two midround draft choices into a first-round selection, is the kind of management panache that keeps New England on top.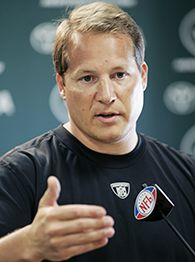 AP Photo/Ed Betz

If he buys a racehorse, better start to worry.

New York Jets
Somehow, the football world failed to notice the Jets-Patriots playoff game of January, though it pitted Bill Belichick against acolyte Eric "I Was a Teenaged Coach" Mangini. Both coaches used max-multiple offenses against each other. But the thrill was on the other side, where the Jets used what I dubbed the Times Square Defense -- everyone moving, almost milling around at random, before the snap. This was not a mistake but a deliberate tactic to confuse Tom Brady's presnap reads. And it almost worked! Tuesday Morning Quarterback has watched far too much tape, and has never seen another defense on which all 11 players are wandering back and forth, seemingly almost ignoring the offense, before the snap. That Times Square Defense -- will Mangini have the testosterone patch to try it again? Meanwhile, you might have missed this, but Mangini did a cameo in one of the final "Sopranos" episodes. Mangini was shown being seated at Artie's restaurant; Tony sidled over to shake his hand. NFL coach meets with major gambler! Supposedly, Mangini appeared on "The Sopranos" because he's a fan. I think the Mangini appearance on "The Sopranos" was staking a claim -- to Jersey. Both the Giants and Jets claim to be from New York while actually playing in New Jersey. Who has had anything to do with the biggest Garden State cultural phenom since Springsteen? The coach of the Jets.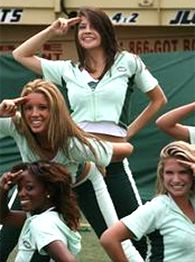 New York Jets

Cheerleaders, flag carriers ... whatever they're called, it's a good move by the Jets.

For years, Tuesday Morning Quarterback has complained that the Giants and Jets say they represent New York City -- home of many attractive young women who have theatrical training and great legs and are looking for their break in show biz -- yet employ no cheerleaders. This has finally changed as Jersey/B announced a squad of 10 comely, scantily attired "flag carriers" who also will dance. Maybe the New York City area is just too hip for the word "cheerleaders"; at any rate, "flag carriers" are welcome. Except -- it's the 21st century; why are there no shirtless ripped-stud flag carriers, too? Now the pressure is on the Giants. Come on, Giants. Manhattan and Hoboken are home-away-from-home to countless leggy dancers whose career aspiration is to enter the public eye. Giants, you're gonna let the Jets surpass you on something in your own stadium?
Oakland Raiders
There's no need to dwell on how bad the Raiders were in 2006. A few stats should suffice: Oakland had seven touchdown passes versus 24 interceptions, 72 sacks allowed versus 34 recorded, 12 offensive touchdowns scored versus 32 allowed, and was outscored 176-45 in the second half. Ouch. Is there any reason to think 2007 won't be a repeat? Actually, the Oakland defense performed well last year, finishing third overall in yards against, and that was impressive considering how often the low-voltage Oakland offense put the defense back on the field. Supposedly washed-up Warren Sapp continues to play well, and the Oakland defensive backfield is solid. But over on offense -- ouch. The offensive line is terrible; the running backs and receivers are second-echelon; the quarterback is, hmm, where is the quarterback? Weirdly, the Raiders seem to be in no hurry to sign first overall draft choice JaMarcus Russell. The longer it takes to sign Russell, the less he will play this year. That delays the moment when Russell looks terrible and the Raiders are mocked for wasting the No. 1 pick. That, at least, seems to be the reasoning process at Raiders' headquarters. If you're actively trying to avoid putting the first overall draft choice on the field because you assume it's not going to be pretty, this is hardly a ringing endorsement of Russell or of Oakland management. Oakland note 1: Supposedly, former Raiders tackle Langston Walker gave up 3.75 sacks in 2005 and 10.75 sacks in 2006. What in heck is three-quarters of a sack allowed? Does this mean Walker failed to block three-fourths of a defender's body while another defender blocked by someone else also was hitting the quarterback with one-quarter of his body?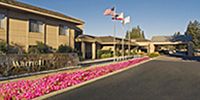 Marriott

Raiders' camp sked: practice, chalk talk, wine tasting.

Oakland note 2: While most NFL teams hold training camp at a college campus, the Raiders train
here
. Training camp at a Napa Valley wine-and-spa luxury resort! Could this have something to do with how phlegmatic and low-key the team has become? Oakland note 3: Free-agent linebacker Isaiah Kacyvenski signed with the Raiders. Didn't he learn anything at Harvard?
Pittsburgh Steelers
For all Ben Roethlisberger's medical woes, the Steelers offense performed about the same in 2006 as in the team's previous, Super Bowl-winning year. What declined about the defending champion was defense, with the Steelers dropping to ninth in yards against and 11th in points allowed. "Declining defense" is a scary thought at the Condiment Coliseum. Pittsburgh couldn't stop the pass in 2006, and although football pundits talk ceaselessly about the need to stop the run, stopping the pass -- especially in the first half -- is more important. The are two reasons. First, since NFL teams average about 7 yards per pass attempt and 4 yards per rush attempt, the first priority should be stopping the plays that, on average, yield higher gains. Second, NFL teams do a disproportionate amount of their rushing when ahead in the second half. How your defense performs after the team is already behind is less important than how it performs when the game is close. When the game is close, pass defense usually matters more than rush defense. First-half pass defense matters most because winning teams often give up a lot of passing yardage late in games when they have a significant lead, and once you have a significant lead, who cares how much yardage you give up? Not only was there a cloud over the Pittsburgh defense in 2006 but there was a cloud over the coach, too. After Bill Cowher's charges beat Mike Holmgren's players in the Super Bowl, Holmgren got a huge raise and Cowher got no raise. One can sympathize with Cowher's being steamed -- but one cannot sympathize with Cowher phoning in his 2006 year of coaching, as he did. Cowher spent more time last season crying woe-is-me than Tiki Barber; it's just that Barber complained in front of cameras while Cowher complained in private. Cowher's coaching was reflected both in the Steelers' 8-8 record and in the team's swings in performance. Last autumn, Pittsburgh beat Kansas City by 38 points and beat Carolina by 34 points but was outscored 58-7 by Baltimore over two games. That kind of inconsistent performance usually traces to inconsistent coaching. Now, Mike Tomlin becomes Pittsburgh's third head coach in the past 38 years. In the same period, the Jets have had 14 head coaches, Atlanta and Detroit 13. Pittsburgh note: In mid-February, The Associated Press wrote that Cowher was "returning to the NFL" as a CBS analyst. Returning? He'd been gone all of a couple of weeks!
San Diego Chargers
The Bolts looked so, so good in 2006. A league-leading 14-2 regular-season record, both losses by a field goal. Then it all unraveled in the playoffs, San Diego becoming a rare bye-week team to lose its home game in the divisionals. Over the past three seasons, the Chargers are 35-13 in the regular season, 0-2 in the postseason, with both playoff losses at home. Standard analysis: a great team that's snakebit in January.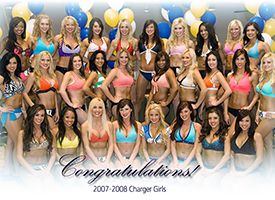 San Diego Chargers

The Charger Girls, one of TMQ's favorites.

But just a moment there, pardner. That gaudy 14-2 record -- how many San Diego wins came over teams that made the playoffs? Just two, against Kansas City and Seattle. In Authentic Games last year, the Chargers were 4-3, beating Kansas City and Seattle plus Denver twice, but losing to Baltimore, Kansas City and New England. That's decent, but it's no overpowering Authentic Victories record. The Bolts got to play Oakland twice, plus faced Arizona, Cleveland, Tennessee before Vince Young was a starter and San Francisco early in the season when the Niners were still discombobulated. San Diego was tremendously entertaining in 2006, but only so-so when the pressure was on. Now Marty Schottenheimer is ODD (Out Da Door), replaced by Norv Turner. Turner is well-regarded as a person but 58-82-1 as a coach. Turner has one postseason victory in his career, which is hardly reassuring given the Bolts' recent history. San Diego has talent at every position, including two players who got consideration for the coveted "longest award in sports," the Tuesday Morning Quarterback Non-QB Non-RB NFL MVP -- offensive tackle Marcus McNeill and defensive tackle Jamal Williams. But they need to learn to perform their best in pressure games, and is Turner a pressure-games coach? According to "Pro Football Prospectus 2007," Turner "grades out as the ninth-worst NFL coach all-time" in the fourth quarter, having lost 23 games in which his team led by a field goal or more in the fourth quarter. Fourth-quarter pressure circumstances are when the Chargers have faltered of late.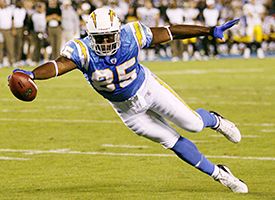 AP Photo/Denis Poroy

This looks so much better in powder blue than it would in navy.

Aesthetics notes: The Chargers redesigned their uniforms in the offseason, going to a retro-look helmet and nicer lightning bolts, yet staying with navy blue rather than returning to the beloved powder blue of their 1960s unis. TMQ just doesn't understand it -- the San Diego powder blues are universally considered among the sweetest-looking sports uniforms ever; why didn't the Chargers simply go back? At least aesthetic standards remain high for the Charger Girls.
Tennessee Titans
What is the deal with Tennessee letting always productive Travis Henry go, then spending a second-round draft choice on underachiever Chris Henry, who started just six games in college and did not rush for 1,000 yards in his entire career at Arizona? Were the Titans trying to cut costs by using leftover running back jerseys with HENRY sewn on the back? Yes, Chris Henry aced his combine appearance with great dash, vertical-leap and 225 numbers. But he didn't rush for 1,000 yards in his entire college career! In this year's draft, three running backs who did little in college -- Henry, Kenny Irons and Brandon Jackson -- went in the second round and super-productive Antonio Pittman of Ohio State lasted until the fourth. In college, Pittman outrushed Henry and Jackson combined. (Pittman landed in New Orleans, where he might languish behind Reggie Bush and Deuce McAllister; still, expect to hear from him in the NFL.) In Tennessee, unproductive tailback Chris Henry joins unproductive tailback LenDale White, the Titans' second-round selection of the previous lottery.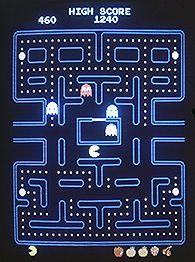 AP Photo

Pacman Jones is perilously close to "game over."

Back-to-back picks of White and Henry would seem normal for the Arizona Cardinals but are puzzling at Tennessee, which, under coach Jeff Fisher, has been among the NFL's best-run, highest-IQ franchises. Maybe Fisher knows something we don't -- let's hope. A long post-Super Bowl period in salary cap Sheol has finally ended for the Flaming Thumbtacks, who became an NFL force again last year behind Vince Young, winning six of their final seven. At the end of the 2005 season, Miami strung together six straight wins, causing many football writers to forecast them as Super Bowl winners. But Miami's six straight in 2005 came against five weak teams plus a season finale New England club that was resting starters. Predictions of a Dolphins' Super Bowl run had more to do with sports pundits being under the spell of Little Nicky Saban -- and wanting expense-paid trips to Miami, America's sexiest city. By contrast, Tennessee's season-ending six-victory string was genuine, including wins over the eventual champion Colts plus the playoff-bound Eagles and Giants. Statistically, Tennessee did not look good in 2006 -- last in total yards allowed, 27th in yards gained. And not only does the Pacman Jones nonsense refuse to end but Tennessee will miss him on the field because although he might be a first-class fool, Jones is a tremendous player. (Firesign Theatre routine. First character: "What kind of fool do you take me for?" Second character: "First-class!") But TMQ has a good feeling about this team: Young is for real, and Fisher knows what he's doing. Sports pundits aren't picking the Titans for great things in 2007 because they aren't motivated to obtain expense-paid trips to Nashville. Next Week: Tuesday Morning Quarterback maintains that basketball is 1 percent as interesting as football, and so annually devotes 1 percent of column length to Dr. Naismith's baby. Next week: my annual basketball review.
In addition to writing Tuesday Morning Quarterback, Gregg Easterbrook is the author of "The Progress Paradox: How Life Gets Better While People Feel Worse" and other books. He is also a contributing editor for The New Republic, The Atlantic Monthly and The Washington Monthly and is a visiting fellow at the Brookings Institution.