Two-footed tackle: Welcome to Euro 2008
How tough can a sport be that bills itself as "The Beautiful Game"? That question was answered with a resounding thud when Zinedine Zidane tattooed Marco Materazzi's chest with his face in the 2006 World Cup final. It may have been The Cheap Shot Heard Round The World, but Zidane's headbutt had more American fans talking about soccer than any ball Beckham could ever hope to bend.
EURO 2008 COVERAGE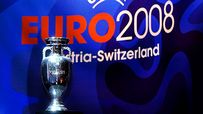 Check Page 2 each weekday during Euro 2008 for a tournament diary by David Hirshey and Roger Bennett
. •
Soccernet Euro 2008 index
•
ESPN broadcast schedule
•
Tactics board
•
Future stars of tournament
•
ESPN travel guide
Tuesday's live coverage
on ESPN.360.com:
•
Spain vs. Russia
,
11:50 a.m. ET
•
Greece vs. Sweden
,
2:30 p.m. ET
Whether it's blood sport you're after or simply an irresistible mix of athleticism, passion, jingoism and good, old-fashioned global commercialism, it will all be on abundant display starting Saturday when Euro 2008 kicks off. How big an event is it? Put it this way: After the World Cup and the Olympics, it's the third most-viewed spectacle on the planet, not including Lindsay Lohan's love life. Over the next 22 days, there will be 31 world-class games played by 16 teams, and unlike in March Madness, any one of these Not-So-Sweet 16 can actually win the tournament. Well, except Austria, which has given new meaning to the word
wurst
.
Given that Team USA isn't in it -- you geography buffs no doubt have already figured that out -- who should Americans root for? Assuming your Aunt Arianna isn't from Greece or your Uncle Horst doesn't hail from Germany, how should you go about selecting a team when there's no national pride on the line?
Forget the favorites. Predicting the Euros is like betting on the dollar these days. Consider that Greece entered the 2006 Euros as a 100-1 long shot and bored its way -- in every sense -- to the title. Unlike the World Cup, there isn't just one Group of Death. There are four of them, and every team will be lucky to get out alive -- especially Austria. Assuming that every American viewer is basically a bandwagon jumper, here's our occasionally objective guide, so you can look before you leap:
If you set your watch to the atomic clock:
Brush up on your German. Die Mannschaft are 7-2 favorites -- ahead of Spain at 11-2, Italy at 13-2 and Portugal at 15-2 -- even though they haven't won a single Euro game in 12 years. Many felt that their surprisingly strong 2006 World Cup performance was due to home-field advantage, a luxury they haven't had in Austria for more than 60 years. As always, the Germans are highly organized and devastatingly efficient, with enough quality in Chelsea midfield star Michael Ballack, defensive anchor Per Mertesacker and wunderkind striker Mario Gomez to roll over at least two of their first-round opponents -- Austria and Poland -- with Panzer-like ease. Their only apparent weakness is at goalkeeper, as the nation is embroiled in a "Torwartdebatte" -- their version of a quarterback controversy -- after their tantrum-prone starter, Jens Lehmann, used the warm-up games to prove once again that he has lost the ability to catch the ball, a skill that comes in handy for a keeper. While Lehmann has sought to pin the blame on adidas, the ball's manufacturer, the team has attempted to prepare for this potential deficiency in unorthodox fashion by playing basketball for a week. If that reverse Steve Nash training method works, Germany could finish über alles on June 27.
If you played high school soccer with Eliot Spitzer: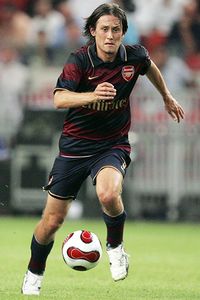 AP Photo/Peter Dejong
The injured Tomas Rosicky won't be playing for the Czechs, but we hold out hope that he's still in charge of the social calendar.
It's hard not to like the Czechs. They're the only team entering the tournament on probation after an incident in which its core players, led by Arsenal's Tomas Rosicky, "celebrated" a defeat with a half-dozen prostitutes and a trunk full of booze. Smells like team spirit to us. Rosicky, since injured, sought to explain the night away by suggesting the ladies were merely "great fans." It's understandable because the Czechs are as technically deft as any team in Europe. Can they win it all? Remember that the 2005 Minnesota Vikings won seven of their next nine after the Love Boat scandal. Given how they "celebrate" defeat, we're rooting for the Czechs to lose -- as long as we get two invites to the afterparty.
If you know the Heimlich maneuver:
Despite boasting some of the most talented players in the world, including the feared strike force of Fernando Torres and David Villa, Spain is a team with a rich history of choking. You could compile a lineup of Jean Van de Velde, Bill Buckner, A-Rod and Scott Norwood, and they'd still be mentally tougher than the Spanish, who affectionately call themselves El Pupas, "the jinxed ones." Dazzlingly skillful and able to keep possession of the ball for long stretches, the Spanish should be buoyant going into the tournament, yet they remain haunted by the Curse of Underachievement. As a result, the squad's official slogan -- "Whatever Happens, Spain Always" -- hardly stokes the adrenaline, and one of their tournament songs, performed by former Real Madrid youth player Álvaro Benito, bears the awe-inspiring title, "We'll Get Beyond the Quarters."
If you live for "Gossip Girl":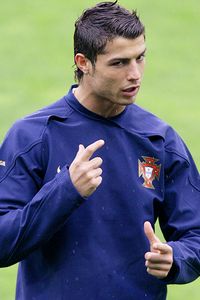 AP Photo/Luca Bruno
Cristiano Ronaldo might be the biggest mercenary in soccer. While Man-U and Real Madrid haggle, we'll watch him play for Portugal.
If "Us Weekly" covered soccer, the speculation surrounding the future of the world's greatest player, Portuguese striker Cristiano Ronaldo, would be enough to fill the magazine for a month. After leading Manchester United to both the Premier League and Champions League titles, Ronaldo
is threatening to nutmeg
his club by signing the richest contract in the sport's history with Real Madrid. In Ricardo Quaresma, Sabrosa Simao, and Ronaldo's Man-U teammate Nani, the Portuguese have enough raw talent to scare any defense. The question is whether they can block out all the tabloid drama -- on occasion, coach Felipe Scolari has even
been known to punch
a member of the opposing staff -- and play their brand of quicksilver soccer.
Ultimately, everything comes back to Ronaldo and whether he can shoulder the pressure on a big stage.
If you love sequels:
Greece's 2004 triumph ranks as one of the greatest sporting upsets since Charlie Sheen led the Cleveland Indians to the World Series in "Major League II." Last time around, powerhouses like France and Portugal severely overestimated the Greeks' mediocrity and watched as they outlasted everyone else. If their victory taught us anything, it's that in a tournament in which a team can play as many as six games, "dull and efficient" trumps "entertaining and skillful." Or to put it another way: Beware of Greeks bearing average gifts.
If you're a World War II buff:
Poland plays Germany on June 8. Enough said.
If you can yodel all the words to "The Sound of Music":
Both Austria and Switzerland are only in the tournament for one reason: they're co-hosting it. The best thing we can say about the Austrian team is that you can go online and buy a T-shirt (and matching underwear) with the words "Hosted by Losers" on them. As for the Swiss, they are marginally better -- but only if you like Toblerone.
If you subscribe to "Details":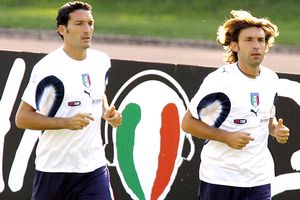 AP Photo/Antonio Calanni
If style equals substance, Italy definitely is in good hands with Gianluca Zambrotta and Andrea Pirlo.
Forget the soccer for a moment; let's talk about the uniforms. As far as we're concerned, you can keep the retro cool of Romania and Sweden, and while Holland may have
a fresh design from Nike
, only John Elway looked good in orange. If you really want a team that cuts a bella figura, look no further than the Italians. Plus, these guys have the best hair in the business, led by pretty boys Gianluca Zambrotta and Andrea Pirlo. If the Azzurri play as good as they look, they could go all the way. If, on the other hand, you think
ugly is the new sexy
, France has a certain je ne sais quoi.
If you're Jack Black or Jack White:
Croatia may be a dark horse in the tournament, but its coach rocks. Literally. No one seems to have told Slavin Bilic that he's not Keith Richards, because the cigarette-dangling, guitar-wielding coach plays in two rock bands, Newera and Rawbau.
Naturally, he composed the team's anthem, the ridiculously contagious "Vatreno Ludilo," which translates to "Fiery Madness."
If you're a Pisces:
When the president of your country marries a supermodel, how nutty does it seem that your national team coach selects his roster using tarot cards and astrology? But that's exactly what France's Raymond Domenech does. Fortunately, he's got so much firepower -- Franck Ribery, Karim Benzema, Thierry Henry -- that he can afford to do things like benching all Scorpios. The coach also dropped high-scoring striker David Trezeguet, who is rumored to have slept with Domenech's wife. That's just bad karma.
As for us, we're going with Spain. The Red Sox proved you can't choke forever, and with superstars Fernando Torres and Cesc Fabregas, they could taste Euro victory for the first time since 1964. Viva España!
David Hirshey is the Executive Editor of HarperCollins Publishers. He has been covering soccer for thirty years, most recently for Deadspin.com, and played himself (almost convincingly) in the soccer documentary "Once In A Lifetime." Roger Bennett is co-author of the recently published "Camp Camp." He lives in New York, but is still scarred by this. Hirshey and Bennett are at work on the forthcoming "ESPN's Ultimate World Cup Guide." The two will be writing about Euro 2008 Monday through Friday on Page 2, unless their astrologer tells them not to.