Croatia sends a shockwave across the world
EURO 2008 COVERAGE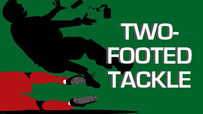 Check Page 2 each weekday during Euro 2008 for a tournament diary by David Hirshey and Roger Bennett
.
Previous entries
June 6:
Tourney preview
June 9:
Rough weekend for Switzerland
June 10:
Down goes Italy
June 11:
Villa, Spain flying high
June 12:
Big Portugal news
•
Soccernet Euro 2008 index
Monday's live coverage
on ESPN360.com:
• Poland vs. Croatia,
2:30 ET
• Austria vs. Germany,
2:30 ET
(Both matches available in both English and Spanish)
You could almost imagine Germany, Euro's uberpower, breaking out the Jäger when the draw for the tournament was first announced and it landed in a pillowy group with Austria, Poland and Croatia. The first two are roadkill, and as for the Croats, how seriously can you take a team whose uniform doubles as a picnic blanket and whose best player, Eduardo, had his leg snapped like a pretzel stick in the run-up to the tournament? No wonder the Germans came in to Euro 2008 with the swagger of a team that, after a 12-year drought, felt this was its moment. Invigorated by the players' strong showing in the 2006 World Cup, they had the brawn, the discipline and the talent to continue their march back toward soccer domination. And true to form, they opened the tournament by pulverizing a weak Polish team and fully expected to leave their cleat marks all over the depleted Croats. Whoops. Guess no one told Croatia. In an upset that only people in Zagreb would have predicted, the Germans had their
welt
rocked by Croatia 2-1. So much for their free pass to the quarterfinals. Now every team in Group B has a shot including, astonishingly, Austria, which is in the tournament only because it graciously offered to co-host it.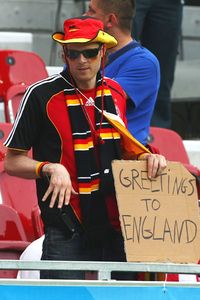 Clive Rose/Getty Images
How do you say the words "hubris," "nemesis," "pride," "fall" and "Icarus" in German again?
From the start of Thursday's match, the bully-boy Germans were intimidated by the glinting skills and superior speed of their bantamweight opponents -- particularly the Croats' creative spark Luca Modric who, at 5'8" and 143 pounds, looks about as tough as Zac Efron. England fans will remember Modric as the scrawny midfield genius who eliminated their beloved heroes from Euro, thus depriving the world of a few more topless David Beckham photos.
Thursday, he schooled the normally imposing Michael Ballack so thoroughly that, by the end, the German captain was cursing out his teammates. But Modric wasn't alone in tormenting Germany. Ivan Rakitic, Nico Kranjcar and Ivica Olic put on a master class of passing and interchanging that had the Germans chasing shadows. By the time Lukas Podolski scored at the 78-minute mark, Germany appeared resigned to its fate and didn't even bother celebrating.
That surely wasn't the case for
Croatia's rock star coach Slaven Bilic
, who turned into a human pogo stick when the final whistle blew. Wearing his trademark sharkskin suit and gold earring, he hugged it out with every player. For all we know, he may still be in the stands, chest-bumping with Croatian Nation. He gets like that every 10 years. In 1998, when he played for the national team, Croatia crushed Germany 3-0 en route to the World Cup semifinals.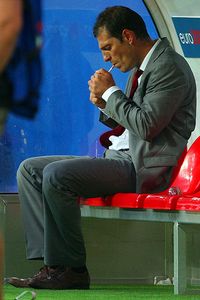 Clive Mason/Getty Images
As a player, Bilic represented both Croatia and Marlboro Country.
During that tournament, Bilic was vilified after introducing the world to the concept of "simulation,"
falling in agony
even though French defender Laurent Blanc's hand missed his face by a good 5 inches. The referee was suckered and showed Blanc a red card, preventing him from living out his childhood dream of playing in a World Cup final. Bilic must have been especially gratified then on Thursday, when the wonderfully named Jerko Leko paid homage to his coach by grabbing his head as if it had been split open, just long enough for the referee to send off Germany's Bastian Schweinsteiger. As frustrated as Schweinsteiger was by the harsh call, even he had to admit that there was nothing simulated about Croatia's dominance of Germany. The Croats were the real thing.
Even though England failed to qualify, it still managed to make its presence felt at Euro 2008 in the guise of its designated referee, police sergeant Howard Webb. Deep into injury time, with host Austria trailing Poland 1-0, Webb -- perhaps auditioning for an NBA referee job -- awarded the home country a generous penalty kick, citing the Poles for a shirt pull in the box that nine out of 10 times would have been ignored. The Croatian-born Austrian Ivica Vastic was unconcerned with the ethics of the situation. After all, there was beer on the line. A lot of beer. He drilled home the penalty kick and was mobbed by his teammates. By the looks on their faces, that lifetime supply of ale might not make it through the weekend.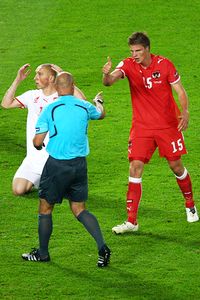 Christof Koepsel/Bongarts/Getty Images
Beers are on you, right?
Coming attractions
Italy versus Romania (11:50 a.m. ET, ESPN2)
-- Those who've written off Italy should consider this. The last time the Azzurri lost an opening match in a major tournament -- 1-0 to Ireland in the 1994 World Cup -- it ended up making it all the way to the final. But the side that was clogged to death by the Netherlands on Tuesday has an average age of 31 years, 52 days. It is hard to envision these senior soccer citizens surviving 'til the end of this tournament.
The Italian media already have turned on coach Roberto Donadoni, a legend as a national team player, even though he did lace 'em up for the late, unlamented New York/New Jersey MetroStars. Gazzetta dello Sport reports that the players have revolted in a very Web 2.0 way, by anonymously leaking angry text messages they sent one another after the Dutch humiliation.
If they want to avoid a second embarrassment against the tricky Romanians, the Azzurri midfielders will have to gift-wrap balls for star striker Luca Toni to deliver in the back of the net. If not, Italy gets the boot.
Prediction: Italy 1, Romania 1
Netherlands versus France (2:30 p.m. ET, ESPN2) -- Wesley Sneijder has declared an Oranje alert at Euro 2008. Following Holland's 3-0 facial of Italy, Sneijder told the media that his second goal -- the end product of a blistering 17-second counterattack from end to end -- was so perfect that it should be taught in schools worldwide. His bravado didn't stop there. Sneijder openly talked about the Dutch winning it all.
France, which looked flatter than a crepe in its opening match against Romania, found a unique way to build its own confidence -- by beating up on a team of local Swiss youngsters on a field near a cow pasture. The score in that epic battle was 7-0, but don't expect Les Bleus to replicate that on Friday. French centerback William Gallas has been complaining that the team's defensive style feels like they play with "the hand brake on."
Expect the Dutch to speed past France.
Prediction: Netherlands 2, France 1
David Hirshey is the executive editor of HarperCollins Publishers. He has been covering soccer for 30 years and played himself (almost convincingly) in the soccer documentary "Once In A Lifetime." Roger Bennett lives in New York but still is scarred by this. Hirshey and Bennett are at work on the forthcoming "ESPN's Ultimate World Cup Guide." The two will be writing about Euro 2008 Monday through Friday on Page 2, unless their astrologer tells them not to.