Welcome to the world of giant killers.
CUPCAKE SEASON 2008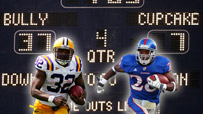 Since the formation of the BCS in 1998, only a handful of non-BCS teams have had measurable success against members of the six major conferences and Notre Dame.
These teams have one thing in common -- a willingness to repeatedly ignore the risk of a sizable defeat, instead focusing on the potential reward of a shocking victory.
One of the most fearless coaches in the nation in terms of scheduling is Fresno State's Pat Hill, creator of the "Anytime, anywhere, anybody" motto. Including Monday's win at Rutgers, Fresno State has gone 13-13 in its past 26 games against BCS competition. Compare that to the nonconference results of the big boys themselves.
Hill's strategy isn't without drawbacks. Players can take a beating against larger opponents, possibly leaving a team injury-riddled heading into its conference schedule. Plus, some of the big kids don't come back for seconds. Kansas State, Texas Tech and Oklahoma State have bought out scheduled games against the Bulldogs.
Kansas State bought out a 2008 home game against the Bulldogs after losing convincingly in Manhattan in '04 and in Fresno in '07.
"The only way we could really establish ourselves was by playing a tough schedule," Hill said. "It's hard to stay at peak performance every week. It's had its negatives, but the positives [fan interest, recruiting] far outweigh the negatives."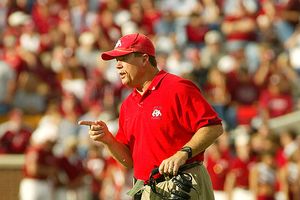 Justin Kase Conder/Icon SMI
Fresno State's Pat Hill has been the poster boy for aggressive scheduling since arriving there in 1997.
Fresno State has had to do it along a path of great resistance for the most part, playing the likes of LSU, Ohio State, Tennessee, Oklahoma and Wisconsin, among others. The Badgers are the only team in that group willing to return the trip to the Central Valley, where they will visit Bulldog Stadium next weekend. Many lower-profile BCS teams are unwilling to play fearless programs such as Fresno State, even at home.
"We don't usually get [programs such as] Indiana or Baylor," Hill said.
As fans, we love to see the willingness of programs such as Fresno State to tangle with the BCS overdogs. It gives us compelling September football to watch on Saturdays, instead of a ticker full of scores like this: Powerhouse University 63, Directional State 7.
Here are the non-BCS programs with the most victories against their BCS counterparts from 1998-2007. Ties are broken by winning percentage. Unlike other elements of this package, this list does include bowl games, which often provide the only chance for smaller programs to get a shot at the big boys at a neutral site. The following data represent nonconference games and bowls pairing BCS and non-BCS teams for the period of 1998-2007.


1. Texas Christian 14

Nonconf. rec.
Win pct.
BCS victims
14-7
.667
Arizona, Baylor (2), Iowa State (2), Northwestern (3), Oklahoma, Vanderbilt (2), Stanford, Texas Tech, USC
We're still trying to figure out how Baylor got into the Big 12 while the Horned Frogs did not when the Southwest Conference disintegrated. We're going to go out on a limb and suggest that it had more to do with money and influential alumni than athletic performance. TCU has had the luxury of padding its win total against BCS teams by playing some soft targets. Frankly, we expect an upper-tier team from the Mountain West or WAC to drop the hammer on Northwestern, Vanderbilt and Baylor. TCU did beat USC in the 1998 Sun Bowl, but the Trojans were far different under Paul Hackett than today.


2. Utah 14

Nonconf. rec.
Win pct.
BCS victims
14-10
.583
Arizona (2), Cal, Georgia Tech, Indiana (2), Louisville, North Carolina, Oregon, Pittsburgh, Texas A&M, UCLA, USC, Washington State
Utah slips into the No. 2 slot here based on a lower winning percentage than TCU against BCS foes. But it's difficult to argue against the Utes' having the superior overall body of work. Utah was the first non-BCS squad to earn a BCS bowl berth, routing Pittsburgh in the Fiesta Bowl to cap the 2004 season. Only two of 14 BCS opponents during 1998-2007 beat the Utes without having the favor returned … and Utah balanced its ledger against the Wolverines last week in Ann Arbor.


3. BYU 12

Nonconf. rec.
Win pct.
BCS victims
12-18
.400
Arizona, Arizona State, Cal (2), Georgia Tech, Mississippi State, Notre Dame, Oregon, Syracuse, UCLA, Virginia, Washington
The Cougars are the only non-BCS team that can claim a national title since World War II. Brigham Young also has acquitted itself admirably in the past decade against the deep-pockets clubs. Since 1998, BYU can boast wins over Arizona, Arizona State, Cal (twice), Georgia Tech, Notre Dame and Virginia. The Cougs were also among the first non-BCS teams to try to finagle a BCS bowl berth with a 12-0 start in 2001, but they were dropped from BCS consideration prior to a 72-45 loss at Hawaii.


4. Fresno State 12

Nonconf. rec.
Win pct.
BCS victims
12-19
.387
Cal, Colorado, Georgia Tech (2), Kansas State (2), Oregon State (2), UCLA, Virginia, Washington, Wisconsin
The Bulldogs get our nod for the most impressive stretch of games by a non-BCS team. In 2001, Fresno State won at Colorado, at home against Oregon State and at Wisconsin in consecutive weeks to open the season. The Beavers and Badgers turned out to be middling teams that season, but the Buffaloes went on to win the Big 12. That streak helped raise the profile of quarterback David Carr, who was selected No. 1 overall in the following NFL draft.


5. East Carolina 12

Nonconf. rec.
Win pct.
BCS victims
12-24
.333
Duke (3), Miami (Fla.), North Carolina, North Carolina State (2), South Carolina, Syracuse, Texas Tech, Virginia, West Virginia
Like Fresno State and Utah, East Carolina reaffirmed its status as one of the most dangerous non-BCS teams this past weekend, stunning Virginia Tech in Charlotte. East Carolina's signature win during the BCS era is its ambush of Miami in 1999. However, the Pirates have had at least five more opportunities to play BCS opponents than any other team in our top 11, and they haven't beaten a BCS team that went on to finish with a winning record since knocking off Syracuse and Texas Tech in 2000.


6. Bowling Green 9

Nonconf. rec.
Win pct.
BCS victims
9-13
.409
Kansas, Minnesota, Missouri (2), Northwestern (2), Purdue, Temple (2)
Bowling Green is yet another team that began 2008 with a bang, by winning at Pittsburgh. The Falcons' two most significant wins over BCS teams came in 2003 -- over Purdue, which went on to win nine games, and over Northwestern in the Motor City Bowl. Five of Bowling Green's nine wins over BCS foes during that span came in 2001 and '02, when Urban Meyer was the coach.


7. Air Force 8

Nonconf. rec.
Win pct.
BCS victims
8-8
.500
Cal, Northwestern (2), Notre Dame, Wake Forest, Washington (3)
Over the years, the Falcons have given many teams fits trying to defend the triple option -- BCS schools included. Air Force has three wins over Washington and two over Northwestern in the past decade, as well as victories over Cal, Wake Forest and Notre Dame. A one-point loss at Tennessee in 2006 is all that keeps the Falcons from a winning record against BCS opposition.


8. Toledo 8

Nonconf. rec.
Win pct.
BCS victims
8-13
.381
Kansas, Iowa State, Minnesota, Penn State, Pittsburgh, Temple (3)
Toledo stocked its cupboard with three of the easiest wins available over a BCS team: Temple, Temple and Temple. Alas, the Owls have been booted from the Big East for not being competitive enough and haven't qualified as a BCS team since 2004. Toledo's only win over a BCS team that finished the season above .500 was against Pittsburgh in 2003, when the Panthers were ranked No. 9 in the AP poll. The Rockets also handed Penn State an embarrassing, 18-point defeat in State College in 2000.


9. Colorado State 7

Nonconf. rec.
Win pct.
BCS victims
7-13
.350
Cal, Colorado (4), Michigan State, Virginia
The Rams slumped at the end of Sonny Lubick's tenure in Fort Collins, failing to finish with a winning record in each of the past four seasons. So it's easy to forget that he was a candidate for the USC coaching vacancy when Paul Hackett was fired in 2000. CSU has toppled intrastate rival Colorado a respectable four times since 1998. Aside from Colorado, the last BCS team the Rams defeated was Cal in 2003.


10. Hawaii 7

Nonconf. rec.
Win pct.
BCS victims
7-14
.333
Alabama, Arizona State, Michigan State, Northwestern, Oregon State, Purdue, Washington
The Warriors are in a unique position among non-BCS teams in that the football factories often don't mind playing at their place -- for obvious reasons. So it's not a shock to find out that all seven of Hawaii's wins over BCS opponents have occurred at Aloha Stadium, with two coming in bowl games. The most important one came at the conclusion of the 2007 regular season, when the Warriors overcame a slew of miscues and a 21-point deficit to beat Washington and clinch a BCS bowl spot.


11. Miami (Ohio) 7

Nonconf. rec.
Win pct.
BCS victims
7-18
.280
Cincinnati, Northwestern (2), North Carolina (2), Syracuse, Vanderbilt
Surprisingly, only two of the RedHawks' seven wins over BCS teams came during Ben Roethlisberger's three seasons as starting quarterback -- against Northwestern and North Carolina. Miami beat Cincinnati by 28 in the Bearcats' first season as a Big East member and also has wins over Syracuse and Vanderbilt.


Notable: Navy 14

Nonconf. rec.
Win pct.
BCS victims
14-37
.275
Boston College, Connecticut, Duke (4), Notre Dame, Pittsburgh, Rutgers (2), Stanford, Vanderbilt (2), West Virginia
The Middies deserve to be mentioned here, but as an independent, they have far more opportunities to compete against BCS teams. Clearly, their crown jewel victory was last season's triple-overtime win at Notre Dame, the Middies' first win over the Irish since 1963, when Roger Staubach was the quarterback. Navy also boasts wins over Rutgers, Pittsburgh, Stanford and West Virginia, although none of those victories came against a team that finished above .500.
Note: Former Big East member Temple and current Big East members Cincinnati, Connecticut, Louisville and South Florida aren't tabulated in this study because they weren't BCS conference members during the entire span of 1998-2007. These schools are considered BCS opponents for the years they were Big East members: Temple (1998-2004), Connecticut (2004-07), Cincinnati (2005-07), Louisville (2005-07) and South Florida (2005-07). Additionally, Connecticut counts as a Division I-AA or provisional I-A member through the 2001 season and a non-BCS I-A member in 2002-03. South Florida was a Division I-AA or provisional I-A member through the 2000 season and a non-BCS I-A member during 2001-04. Other schools that moved up to the Division I-A classification from 1998-2007 are classified as I-AA until their first official I-A season.
Thomas Neumann is an editor for Page 2. You can contact him here.