By David Fleming
Page 2
There's a real honest-to-goodness Christmas miracle going on down here with the Carolina Panthers. Even with five of their best players out for the season, even with a QB playing with a mangled sausage thumb, even with a running back who started the season SIXTH on the depth chart (72-year-old Ric Flair is seventh, by the way), the Panthers are somehow in position to become the first team to make the playoffs after starting 1-7.
And as usual, despite a performance worthy of two NFL Coach of the Year honors, Carolina's John Fox refuses to accept any credit for the turnaround. It's the guys in the locker room. Players play, he always says. (Whatever that means.) The guys just stepped up. Give credit to my assistant coaches. I had nothing to do with it. The guys didn't quit.
Close your eyes for a second -- it probably wouldn't matter one lick if I'd ever been born -- and you'd swear it was George Bailey from "It's a Wonderful Life" talking, and not Fox. Which means Mike Vick, the guy who could spoil everything this weekend, gets to play the mean old Mr. Potter in this column. And somehow, I'm left to play the role of Clarence the pear-shaped angel.
So, OK, fine, I'll play along.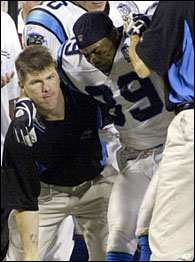 Things went downhill early for Carolina, starting with Steve Smith's broken leg in the opener.
Cue the jingly music and the wavy special effects.
Wash the page in black and white.
Down below is Panthersville. You can just make out Bank of America Building and Loan Stadium. The fog clears and we're floating, floating, floating down into the Panthers' deserted locker room.
They've just lost to the awful Oakland Raiders. It's their sixth consecutive defeat. At 1-7, the Panthers have just completed the worst start ever by a team that played in the previous Super Bowl. "Roadkill," is how one player described the team. Steve Smith, Stephen Davis, DeShaun Foster, Kris Jenkins and Rod Smart are all out for the year with injuries. And everyone else is hiding in the players' lounge, hoping to avoid media scrutiny.
In fact, the only interesting conversation in the room is coming from backup QB Rodney Peete, husband of actress Holly Robinson Peete, who is chatting about Star Jones' impending nuptials. Now, I could easily offer up a bunch of stats and trends and expert analysis here (I'm an angel, after all) to prove what dire straits this team was in. But, really, what's going to convey it better than this: In early November, the only thing the Panthers had to look forward to was the wedding of a giant daytime TV host.
After practice that day, I walked with Fox back to the team's offices. Within a few steps, Fox paused on a bridge near the practice field to sign some autographs. A bridge. Honest. And for a moment, he did actually look a bit like George Bailey. The early part of the season seemed to manifest itself on his face. Fox probably hadn't slept since training camp. His once-perfect silver hair seemed shaggy and unkempt. Tobacco juice stained his lower lip. His cheekbones seemed to be the only thing keeping his foggy eyes from drooping right off the side of his face.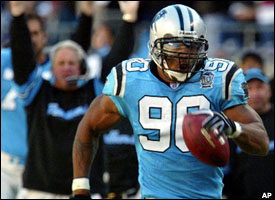 Julius Peppers' INT return proved the winning margin in a 21-14 victory over Tampa Bay on Nov. 28.
In his hand was a crumpled piece of paper that listed the team's injury report, dotted with Fox's own frenetic, hand-scratched notes. Yes, of course, he was dumbfounded by the rash of injuries; but at the same time, he refused to even use the word "injury" -- as if that might lend them some credence. Instead, he kept calling them "changes."
But to my surprise, there was no surrender or defeat in Fox's scratchy, hoarse voice that day. None. He had no intention of George Bailey-ing himself into the deep, choppy, icy cold water below. (Here I'm exaggerating for effect; it was actually a tiny little creek, and the water probably would have been quite refreshing.)
I've seen NFL teams quit halfway through the season, and let me tell you something: There is nothing uglier in the world of sports. (Case in point: the Panthers' 1-15 season in 2001, when they quit on George Seifert faster than a bunch of discount-bin tube socks.) But there was none of that here. "We just have to keep plugging away," Fox said. "No one is gonna come rescue us."
So I really only had one question for Coach Bailey: What can you do, what can you say, to a team that's 1-7?
It's been wonderful ... second half
How the Panthers turned things around after 1-7 start:

Nov. 14: 37-27 at SF. Jake Delhomme tosses 3 TDs, defense picks off four passes.

Nov. 21: 35-10 vs. Ari. Nick Goings runs for 3 TDs, Muhsim Muhammed has 118 yards receiving, 2 TDs.

Nov. 28: 21-14 vs. TB. Keary Colbert catches 2 TD passes, D forces 3 turnovers.

Dec. 5: 32-21 at NO. Muhammed has 10 catches for 179 yards, +3 turnover margin.

Dec. 12: 20-7 vs. STL. Defense picks off six passes.
We agreed that these days, players see through any sign of phoniness in a millisecond. So he couldn't turn a table over, cut a quarterback or start crying. Fox can rage, trust me, when the situation calls for it. But he had to be careful. The players might bail. And the Panthers would end up 1-15 ... again.
"You can't be Knute Rockne," he said. "Some coaches are calm. Some are demonstrative. Everyone is different. The key is just to be yourself. And my thing is, I'm just brutally honest with them."
This was when Fox did something totally crazy -- something that truly justifies the millions these guys make, something outrageous in today's egocentric parity pressure cooker NFL: He did nothing. Or, nothing out of the ordinary. Fox didn't distance himself from the team and announce, at the first sign of trouble, that they were too stupid to win. No. He kept plugging. He trusted his players. He continued what he does best: interpersonal relationships, which in the NFL means getting a roster full of millionaire kids to come back out the next Sunday and run through a brick wall in San Fran -- all for the pleasure and glory of being 2-7.
We're gonna play with the guys who are healthy, he told them. We're gonna work the system. We're gonna stop the run, and run 'til they stop us. We're gonna trust our scouts and front office and use our young, untested players. We're gonna hold each other accountable. If the results matter to only you and me, well, then that should be enough.
"The tough times are when you really find out about your team -- what you're made of," says Carolina veteran wideout Ricky Proehl. "A coach can't stand up in front of you and try and BS his way through six losses and try to paint a rosy picture. The message was clear. This is it. Cut and dry. Are you going to fold the tents? Or are you going to fight your way out of this?"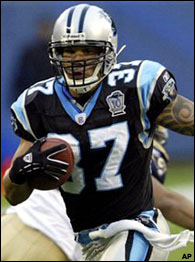 Nick who? Sixth-stringer Goings has topped 100 yards four straight games.
The Panthers chose to fight.
With nothing left to lose, Fox convinced them to just shrug their shoulders and think, hey, WTF? Play loose. Fly around. Have some fun. And see what happens. I can boil the Panthers' entire turnaround down to that simple, cleansing, three-letter mantra: WTF?
Of course, in the squeaky-clean town of Panthersville, they prefer to call this FoxBall.
Whatever the name, since its inception, four-finger Jake Delhomme has 12 TD passes. Nick Goingstotheprobowl has rushed for 100 yards in four consecutive games. Muhsin Muhammad started catching more clutch balls than he dropped. Julius Peppers boosted his sack total to 10. And after pummeling the Rams into six picks and a fumble, the Panthers now have an NFC-leading plus-12 turnover ratio. Meanwhile, corner Chris Gamble, wideout Keary Colbert and lineman Travell Wharton are playing Roethlisberger-style rookie ball.
It's enough to send a joyous Coach Bailey running down a snow-covered Main Street. If there was snow down here. Or a Main Street.
Well hello there, playoff hunt!
Good to see you again, respectability!
Merry Christmas, you old run-stingy defense!
Fox says it's like they've become a new team. Actually, they have. They have nine players who weren't even on the roster at the start of the season. "This game's about confidence and momentum," said the coach. "Right now, we're playing at a high level. How you deal with adversity and prosperity defines you. We fought through it. Guys kept swinging their swords. And we fought our way back into this."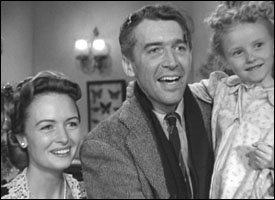 Coach Bailey has been plugging every spare part into his lineup.
Ya know, I've said this 100 times in this space: Getting to the Super Bowl in the current era of parity is all about getting hot in December and surfing an emotional wave through the playoffs. I mean, can you even imagine the Panthers, on an 11-game tsunami, standing between the Eagles and Jacksonville? Who said the NFC is boring?
Of course, it still remains a longshot for FoxBall to make the playoffs. Carolina loses the wild-card tiebreaker to Seattle; and it has three tough division-rival games down the stretch, two of them on the road in Atlanta (where the Panthers are 1-9 against mean Mr. Potter) and Tampa Bay. But does that make what's happened in Carolina any less compelling? Heck no.
Regardless of how this all turns out when Fox looks back on his coaching career, this season will undoubtedly stand out as one of his finest memories. Because beyond all the gaudy fantasy stats, beer commercials, TD bombs, huge coin, face-painting and trash talk, at its core, this game will always be about the sum being greater than the parts -- and the coaches who can make that happen.
That's why we love the NFL. Well, that and the ultra-violence and scantily-clad cheerleaders. And no one has reaffirmed that more than the Panthers and their Coach Bailey.
"This team has been through a lot," Fox said this week, continuing to deflect praise as if he were made out of Gortex. "I think this says a lot about the guys in the locker room."
Well, great.
It might be a wonderful life on any given Sunday for John Fox and his Panthers.
But now where am I going to get my wings?
David Fleming is a senior writer at ESPN The Magazine. His book, "Noah's Rainbow," a father's emotional journey from the death of his son to the birth of his daughter, will be published in 2005 by Baywood. Contact him at Dave.Fleming@espn3.com.