By David Fleming
Page 2
Maybe it was when the Ben Roethlisberger dog sweaters went on sale on eBay. Maybe it was the release of Big Ben's Beef Jerky, the rumors about golf hottie Natalie Gulbis, the team record $12 million he earned this season, or the story of the academic recruiter from his alma mater (and mine) at Miami University in Oxford, Ohio, who introduced herself to a prospective student in Texas and was greeted by the reply, "Hey, that's where Big Ben is from, right? Cool."
To be honest, I'm not exactly sure when it happened. But at some point during the last month while I was reporting a story on the Steelers' preternaturally-poised QB for this week's ESPN The Magazine, Ben Roethlisberger became a full-blown phenom.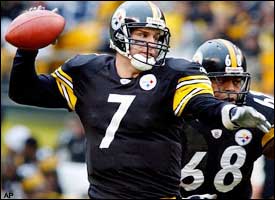 Flushed out of the pocket. Game on the line. Doesn't matter, Ben is still whistling away.
At first, I thought it was when he set the record for consecutive wins to start an NFL career, or when he became the first quarterback to win rookie of the year. Maybe it was when Dan Marino said the kid reminds him of ... himself. Or the realization that at 22, Ben should be heading to Florida for his senior year spring break instead of trying to get the Steelers to Jacksonville for Super Bowl XXXIX.
Or, maybe, it was when the normally steel-chinned coach Bill Cowher gushed about the kid after his comeback win in Jacksonville on Dec. 5. After that game, I was standing near the team bus next to a fan holding a "WE'LL BE BACK" sign, watching as Jerome Bettis introduced Ben to some family members in a gesture that seemed an awful lot like a passing of the torch.
But then, a week later, I was driving in Brenda Roethlisberger's blue Honda on the way to Findlay High School in northwest Ohio. We were headed to pick up Ben's little sister Carlee (the "real" athlete of the family, if you ask the rook) when Ben's mom told me how a Swiss TV crew had recently come all the way to Ohio after tracing the Roethlisberger family lineage back to Switzerland in the 1670s.
OK, I thought: Forget the 99.4 passer rating, the Big Ben ring tones and the grotesque Roethlis-burgers -- this has to be the moment. His mom certainly agreed.
"This 'Ben Mania' stuff has all been a bit surreal," Brenda said that day. "We're still pinching ourselves; but it's also been hard to adjust so quickly to all this, hard to learn how to share Ben with everyone. You know, as parents, we always told Ben to start from the bottom, work hard, scrimp and save and, some day, you'll land a good job and have a meaningful life. Well, I guess we were right. But who could have imagined this?"
Findlay is a classic Midwestern town 45 miles south of Toledo, where you can still see old Mail Pouch tobacco ads on the side of the town's brick buildings. It's quaint. Hard-working. Proud. And if you want to know where Roethlisberger's poised, humble, down-to-earth style comes from -- the kind that has changed the long-held notion that you can't win in the NFL with a kid under center -- well, it's all right here.
Look around the Roethlisbergers' modest ranch home south of town. There's a chocolate Lab scratching at the back door. A scented candle burns in the living room. A pie hutch. A stand-up piano and tons of holiday knick-knacks. Before dreaming of the NFL, Ben wanted to be an FBI agent. He once set up a zip line from a tree to the front porch. It didn't hold. "That one hurt," he says with a laugh. But the only athletic memento of any kind is a blue and gold sign out front supporting Carlee's hoops team. (They were 7-1 when I was there.)
"I think my success does have a lot to do with where I grew up, my family and how I was raised," says Ben. "I mean, if I could be half the man my dad (Ken) is, I'd be extremely happy. He's taught me so much about football, about life, religion, family, love, everything. He's a leader in the real world. He's the coolest, calmest, most collected guy I know. Whatever I am, I hope it's a tribute to him."
Ken was a quarterback at Georgia Tech who switched to baseball after a knee injury. (He's now a vice president with Filtech, a company that manufactures filters for Honda.) Ben did him one better: he was a three-sport star at Findlay and the Trojans' all-time leading scorer in basketball. Just like Donovan McNabb and Doug Flutie before him, Ben's time as a point guard -- the footwork, reading defenses, distributing the ball, feeling where his players were going -- served him well later as a quarterback.
This is where he first picked up his unique swagger: oozing confidence without it spilling over into cockiness. (It's an art, really, and Mike Vick is the only QB I've seen who is better at it.) As a sophomore point guard at Findlay High, Ben used to engage the refs in conversation before the start of the third quarter. He'd ask about some obscure rule, hoping that in the ensuing confusion the refs would just hand him the ball out of bounds without first checking the possession arrow. Every once in a while, it actually worked.
"Even when he was 15, Ben had a quiet command about him," says Findlay's gracious athletic director Jerry Snodgrass, the Trojans' former hoops coach who, talk about your small worlds, I think I once covered as a student intern at the Mason (Ohio) Pulse-Journal. (Yeah, it's every bit as prestigious as it sounds.) "One of the reasons Ben seems so calm is that he's always been a step ahead of everyone, always looking for an edge, even with the refs."
He rarely needed it. He had to wait until his senior year to play quarterback, but in his first game Roethlisberger threw six TDs. The RedHawks offered him a scholarship the next day. (Although it took much longer for Miami's equipment guys to figure out how to fit R-o-e-t-h-l-i-s-b-e-r-g-e-r on the back of his jersey. Which still beats former Ohio State coach John Cooper, who never quite got his name right. The closest he came while he recruited Ben was "Ronthisbergler.")
Pretty soon, scouts visiting Oxford would swear that Roethlisberger's throwing motion was so fluid and mechanically flawless that they could hear music when he flung the rock. "Someone once asked me what kind of music it was," says former Miami coach Terry Hoeppner, now the coach at Indiana. "How should I know? I don't know, how about the school fight song ... ?"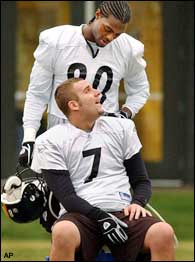 How to you practice for the game of your life? With a smile of course.
Besides the quick feet and cannon arm, Roethlisberger's roommate, Mike Larkin, was among the first to experience that preternatural poise. After getting pounded by LSU as a sophomore, Roethlisberger sat down and wrote a congratulatory e-mail to former LSU coach Nick Saban. The next season, when the RedHawks lost to Iowa, Hoeppner raced to the postgame press conference to try to cut off his quarterback, who was already at the podium taking full responsibility for the loss. The RedHawks went on to win their next 13 games in a row, and finished 10th in the final AP poll. (Thus allowing me the pleasure of, at least once a week, asking my older brother Greg, a Notre Dame grad, just how bad he thinks my RedHawks would have pounded his Irish that season.)
About this time, Larkin was beginning to sense that his roomie would leave school early for the NFL.
"If you want me to stay, I'll stay, just say the word," Roethlisberger told him after the announcement.
"Naw, man, are you crazy?" Larkin responded. "You gotta go."
(Is it too much? Is it all too much? Well, I, too, was skeptical about this preponderance of goody-goody stuff surrounding Big Ben ... until I uncovered this anecdote from a teammate at Miami: He was hanging out with Ben in Houston at last year's Super Bowl when they discovered that Ben had a ticket to the Playboy party and he didn't. Ben refused to go in without his buddy. He's an idiot, of course. It was a huge mistake. Rookie. I would have chop-blocked my buddy on the way to the door. But after that story, that was it for me. I was sold.)
Like the rest of us, Larkin wanted to see Ben flat-out lose it -- just once. Pretty soon, an all-out roommate war ensued. Larkin tried everything. He ate his food. He switched off the TV in the middle of his video games. He put him in headlocks. He even flicked his ears on the team bus. "I broke every roommate rule known to man to try and get to him, but nothing worked," says Larkin, the school's all-time leading receiver who will be on some smart GM's roster next season. "But Ben just has this weird calm to him no matter what's going on around him. I was the one who ended up snapping."
Ben didn't snap at the draft when the Giants passed him over. He didn't snap when his first throw as a pro was picked off. Or when his first start came in the middle of Hurricane Jeanne. He didn't flinch against Parcells, Belichick, Reid or Gibbs. Yes, the Steelers have the perfect system in place for a rookie quarterback -- a dominant defense, a classy, supportive veteran backup QB (for which Tommy Maddox doesn't get nearly enough credit) and a freakishly-lopsided run/pass ratio on offense. And, yes, he struggled tremendously against the Jets. His fundamentals made him look like he was living that dream we all have where you show up to school in your pajamas. But here's the kicker: he never once lost his poise during that game.
In fact, teammates say that in the huddle before the game-tying drive in the fourth quarter and the game-winner in the OT (he went a combined 6 of 8 with three third-down conversions, a 20-yard scramble and a TD pass), Roethlisberger acted more like a guy who had thrown for 400 yards. "If anyone had a question about whether or not his poise was for real, he answered that," says Steelers o-coord Ken Whisenhunt. "He struggled, but he stayed strong. He was never flustered."
Could anything, I wondered, ever rattle the kid?
I posed that question to Geoff Miller, a partner in Winning Mind, a San Diego firm that specializes in training CEOs and Special Ops forces on how to excel in the most stressful situations. Roethlisberger's rookie season has been the talk of Miller's profession. And he figured, if I poked around long enough, I'd find something -- public speaking, spiders, Iron City beer -- that makes the kid nervous.
So the last time I was in Pittsburgh, Ben and I sat down to talk in the glass atrium lobby of the team's practice facility on the shores of the khaki-colored Monongahela River. After leaving a few voice mails for Hoeppner and his old teammates at Miami, Ben agreed to an impromptu pressure quiz.
Attempt No. 1: "What if coach Hite took over for Cowher ... ?"
Laughter.
Attempt No. 2: "Here's Ben Roethlisberger standing over a 25-foot putt to win the US Open ... "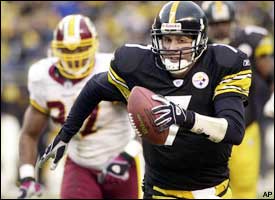 They may play in the evening, but Big Ben is still easy like Sunday morning.
Nothing.
Attempt No. 3: "No rookie has ever led a team to the Super Bowl."
He checks his cell phone. His boredom is palpable.
Attempt No. 4: "You guys just barely snuck by the Redskins ... "
"Jerome (Bettis) says I was whistling in the huddle," he says. "I don't remember doing that. It might have been 'Jingle Bells' for all I know."
Attempt No. 5: "OK, clear your mind. Last one ... TARA REID!"
He shifts in his seat. Chews his pencil-thin goatee a bit. Is that a smile? A nervous smile?
"OK, maybe," he says. "There might be some nerves there. Maybe. If I'm talking to a pretty girl, yeah, maybe. I'm human."
I'm not so sure.
But Bill Belichick and his budding dynasty better hope so.
David Fleming is a senior writer at ESPN The Magazine. His book, "Noah's Rainbow," a father's emotional journey from the death of his son to the birth of his daughter, will be published in 2005 by Baywood. Contact him at Dave.Fleming@espn3.com.