By David Fleming
Page 2
For a moment following the AFC Championship Game, I thought I had lost my bearings and wandered into the wrong locker room. The players I saw all stood solemnly in front of their lockers and addressed the media in serious, business-like tones. Yes, they said, we made mistakes. Yes, we will need to correct those problems. Yes, coach is upset with us. Yes we have a lot of work to do. Yes, we will probably have a team meeting at 4 a.m. upon our return.
It was library quiet. The team was subdued, somber almost. I spun around. Was I lost ... again? Then I saw the head coach give out an awkward quasi-Rain Man-type hug that seemed about as warm and heartfelt as a cattle prod. Just then, a member of the Patriots front office walked by with the Lamar Hunt Trophy nonchalantly tucked under his arm like a loaf of bread (Hey look, everybody! Another one of those fancy doorstops for Gillette Stadium!) which was my only clue that I was, indeed, in the winners' locker room.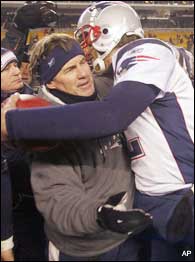 The Patriots might finally be losing some of their magic.
Listen, I'm all for acting like you've been there before. I'm all for a business-like approach to the game. I'm all for that whole hyper-focused, ultra-serious, high-and-mighty Terminator 'tude. But for cryin' out loud, would it kill the Patriots to show just a tiny bit of, well ... joy? I know it's the Super Bowl and all, but it's still just a game. Am I the only one who remembers the truly poignant, emotional and very moving moment a few years ago when cameras caught Bill Belichick embracing his son on the sidelines? I miss that. Because I swear, following their absolute demolition of Pittsburgh on Sunday night, the Patriots were in a worse mood than the Steelers.
Mike Vrabel stood in front of his locker spitting tobacco juice into a trash can, stoically re-hashing all the Pats mistakes in what I tried to remind him was a 41-27 whitewash of the No. 1 seed in the playoffs. They had toyed with the Steelers run game, turned the Steel Curtain into taffeta drapes, made Bill Cowher look like a juco coach and Ben Roethlisberger look like a rookie with broken toes. Yet the only time I saw Vrabel crack a smile was when he snagged two free pizzas on his way out of the locker room.
And so, my first prediction of the 12 things you will see in the next 12 days leading up to the Super Bowl is this: Unless they make a real effort to lighten up a bit, I'm worried that the New England Patriots Dynasty is going to be remembered mostly for sucking every last ounce of joy out of what is, at its core, supposed to be a fun, exciting and entertaining event.
II. My No. II of XII predictions is that in a failed effort to be clever, most charts, graphs, and lists relating to Super Bowl XXXIX will use Roman Numerals.
III. Last week, Dan Rooney told reporters that the Steelers are so important to their city that doctors in Pittsburgh tell him their patients actually heal faster when the team wins. If that's true, then in the next 12 days, I think Steelers fans will begin to wonder if Bill Cowher has become hazardous to their health.
Let me be clear: Cowher is a good coach and a solid citizen. However, I've now watched in person as he's been out-maneuvered in all but one of the biggest games of his 13-year career. He's now lost four home AFC title games and one Super Bowl where he was bettered by the dim-witted Barry Switzer. ('Nuff said.) In those five losses, Cowher's teams have been held below their season rushing average four times, while his QBs have combined for 12 interceptions. The pattern held true Sunday when New England crowded the line with eight defenders, stuffed Pittsburgh's predictable run attack and waited for Kordell, I mean, O'Donnell, no wait, I mean Roethlisberger to self destruct.
Before the salary cap and free agency created unparalleled parity in the game, you could build a vanilla, predictable team that was so superior in talent and dominant at both running the ball and stopping the run that it didn't matter how you matched up against opponents. You didn't need to scheme. You didn't need to out-think the coach on the other sideline. You could just bully your way to a title. But the talent is too even now, and that approach is virtually impossible. Even the Ravens went deep a few times in the Super Bowl.
The league still belongs to teams that run the ball and stop the run, but the elite franchises are dynamic enough to customize there attacks to best suit each opponent. One week, the Pats beat the high-flying Colts; the next week, they stuffed the smash-mouth Steelers. One week, the Eagles are a vertical, high-scoring offense with T.O. streaking down the sidelines under rainbow bombs; the next week, they've become stingy on defense while reverting back to their West Coast roots with Brian Westbrook as their featured playmaker. This season, the Steelers rushed the ball 64 percent of the time. Even if Cowher wanted to, even if he surrounded himself with forward-thinking coordinators and game planners, when your run-to-pass ratio is that freakishly lopsided, there isn't even a possibility of a Plan B.
To me, the Steelers are in a situation similar to what the Tampa Bay Buccaneers had with Tony Dungy. Dungy is a great coach and a class act. By the sheer force of his personality, he turned that entire franchise around. He ran a tight ship and led them to numerous division titles and playoff appearances. But in a brave, bold move, the Bucs let him go in order to take that final step to the pinnacle of the sport. I guess after a while, the Bucs just got sick and tired of watching other teams play in their Super Bowls. It was a harsh, brutal, cut-throat decision. But it worked. I'm not suggesting the Steelers should make a change. I'm only offering up something for Steelers fans to think about in the next 12 days.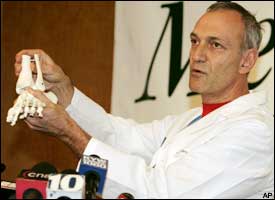 "Let me put this in layman's terms about T.O. ... no way in hell."
IV. You realize that the game is less than two weeks away and Terrell Owens has yet to even run, cut or practice on his injured wheel? I respect the way T.O. has worked to get back and, for the most part, not become a distraction to the Eagles. But I fear that in the next 12 days, the temptation will just become too great for him. Until he actually practices with the team or a team doctor weighs in with some positive news, I'd put his chances of playing in the Super Bowl below 5 percent. Yet you and I both know he'll still garner 95 percent of the attention in Jacksonville. And that will only yank away the spotlight from a lot of lesser-known -- but just as deserving -- teammates like construction hack Jeff Thomason, Westbrook and B-Dawk (who grew up in Jax, battled some major demons when he first came into the league and used to train with an Ultimate Fighting champ back in his hometown each summer).
V. I predict that if Boomer Esiason keeps giving Dan Marino a hard time during the next 12 days, the former Bengals QB will officially become my new favorite person in the whole world. ... I predict that other hockey junkies like myself will truly begin to suffer withdrawal the week after next, since the NHL is usually how I get my post-Super Bowl fix. ... I predict the lamest halftime show since Up With People. ... I predict NFL commissioner Paul Tagliabue will be condescending during his annual State of the League address. ... I predict even the people of Boston will be sick of Robert Kraft by the end of the Super Bowl. ... I predict it will be my personal mission to remind everyone that while he was the mayor of Philly, current Pennsylvania Gov. Ed Rendell played a significant role in the whole Donovan McNabb draft-day fiasco. (Did you know how Don reacted? While riding in a limo from NYC to Philly after the draft, he studied the team's playbook.) ... I predict I won't get to see anything as classically 'Super Bowl' as watching my editor, Chad, pay a $20 cover in Houston just to use a bathroom. ... I predict one of the best story lines at the Super Bowl will be our collective revelation that the entire topic of 'the black quarterback' has become a non-issue. (Having witnessed the real pain caused to McNabb and his family last year, I suppose this is more a sincere wish than a prediction.) ... Although I also predict that feeling of progress will be juxtaposed by the league's continued failure to address the issue of minority coaching candidates.
VI. The media in Jacksonville will be staying at a nice, new downtown hotel, will be fed with extravagant buffets roughly every two hours, will be bused to the front door of every event, will be showered with freebies, will be force-fed quotes, notes and anecdotes, will be admitted to the best parties and will be given a sweet seat inside the stadium for the game. And by Thursday of next week, everyone will be whining about what an absolute nightmare it is in Jacksonville.
And we wonder why people hate the media so much? To me, the only thing worse than this predictable press prattle is the way Super Bowl cities morph into Sally Field during the next 12 days -- Do you like us? Do you really like us? No they don't, and they won't. No matter how well you do. I'm not saying there won't be problems or that people shouldn't report on them. I'm just warning you fine folks on the First Coast that sportswriters are the kind of people who would complain about winning the lottery. (Oh the taxes. I suppose I have to give to charity now. What do I do with this big check? Great, now everyone will expect me to move to a bigger house.)
I'm lucky, in a sense, that I have two older brothers with real jobs (one's an FBI agent, the other is a sales rep and the father of twins) who told me over the holidays that if they ever hear me publicly complain about my job, they will both get on a plane, track me down and give me an atomic wedgie.
VII. Sometimes, I think the wedgie would be less painful than the trail of astronomical room service bills my brother Greg has left behind for me at Super Bowls from San Diego to Miami. Family obligations kept him away from Houston last year; so while I was at the Playboy party, I left him 21 voice-mail messages describing in great detail exactly what he was missing. I think he booked his flights for Jacksonville and Super Bowl XXXIX the next day. Greg's the kind of Cali-type dude who goes to a U2 concert and ends up partying with Bono and flying back to Dublin in the band's private jet. My prediction for Greg is that by the end of next week, he will be named the unofficial Mayor of Jacksonville.
VIII. Let's call this prediction "The Goat and The Goose." John Kasay. Eugene Robinson. Thurman Thomas. Neil O'Donnell. Scott Norwood. In the next 12 days, someone will join that list of infamous Super Bowl Goats. On the flip side of that, someone like the former Ravens' lovably goofy and morbidly obese Tony Siragusa will use the Super Bowl spotlight to catapult himself to iconic status -- thus guaranteeing a lifetime gig at car wash grand openings. Eagles wideout Freddie Mitchell has already stepped into this role. Although I think Fred's nickname should be 'Nickel' because, really, like my Gram used to say, this guy is really just a nickel trying to be a quarter. The mushroom cloud 'fro, the great sound bites, the TD celebrations . . . are Nickel's way of taking attention away from what has largely been a disappointing career for the former first round pick.
IX. Maybe it's the home-grown bands like Lynyrd Skynyrd and Limp Bizkit. But for some reason, I feel like Jacksonville is going to set the standard for B-list celebs at the Super Bowl. Joe Piscopo. Huey Lewis. Deion Sanders. Eddie Money. That female comedian with the red hair, you know, whatshername. Verne Troyer. Wanda. Eric from the Real World. Paul McCartney. Tara Reid. Tom Arnold. I predict I will bump into each of these people during the next 12 days.
X. I'm going to predict another Super Bowl wardrobe malfunction. And in an effort to prevent it from happening, I'm going to address the culprit directly, if I may: Bill Belichick, Bill, Willy, buddy . . . the sweats? Dude, they have got to go. You are an elite coach now, Bill. People are calling you a genius and comparing you to Vince Lombardi. Yet the image you send out to the world with your frumpy sideline wear is, well, more along the lines of George Costanza. Remember what Jerry Seinfeld said about men who wear sweats in public? He said they are pretty much announcing to the world, "I give up."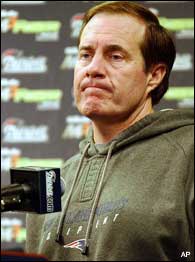 "Now if you'll excuse me, I have a nap to finish."
Please, big guy, this is the sporting world's ultimate stage with an audience of nearly a billion. Do you really want to look like you just rolled off the couch in your parents' basement? You're Bill Belichick, not Kevin Federline. This has to stop. But I'm all alone in my quest because 60 percent of the people covering the Super Bowl will also be in sweats.
But is this how you want to be remembered by generations of football fans? Landry's fedora. Stram's sports coat. Madden's skinny tie. Belichick's waffle weave? OK, everybody, gather 'round our new NFL Hall of Fame Patriots Dynasty Rotunda and take turns at our inter-active scratch-and-sniff display that allows you to try and guess what the stains are on Coach Belichick's Super sweat suit. That's right Jimmy ... Cheetos.
To me, your sweats seem to stink of condescension. Like you're in your Boston film room bunker thinking, "Hey, it's cool if those other coaches have time to put actual clothes on but I'M TRYING TO WIN FOOTBALL GAMES HERE DANGIT." We know you're 'The Genius' and all, but if Einstein could somehow find the time to dress himself . . . well, then, certainly you can, too. I mean, would it really be that big a deal to take 20 extra seconds away from your game prep to throw on a shirt with a collar and a pair of Dockers? Or how about this: Class it up with some new, supa-baggy Sean Jean sweats, some Air Force Ones and a thick rope. If not, I worry next year I'll look down on the sidelines and see Bill Parcells coaching in a bathrobe and slippers.
XI. Here's another one you can count on: The team is a dynasty, the coach is a genius, the QB is the second coming of Joe Montana, there are numerous Pro Bowl bids, all-pro selections, endorsements, awards, coverage and prestigious jobs waiting for both coordinators; but somehow, by next Tuesday, the message to the world coming from the Patriots will be how they don't get any respect. Since training camp, the Eagles have been the overwhelming favorites to represent the NFC in the Super Bowl. Still, by the end of next week, how many times will we have to hear about how "no one outside of this locker room believed we could do this." Free agents dissing their old team. The third-round draft picks sticking it to Mel Kiper Jr. The special team standouts whose Pop Warner coach said they'd never amount to anything. Please, fellas, I beg you, can we give the tired old R-E-S-P-E-C-T thing an R-E-S-P-I-T-E?
XII. Finally, I predict that in the next 12 days, I will be asked for my Super Bowl prediction at least 112 times. Here's the only real prediction you can trust: Beer. Fun. Traffic. Another great game. Another criminally-lame halftime show. More beer. Shrimp. Beer. Fred Durst. Depressed Steeler fans. Heroes. Goats. Super Sweats. And the first official Dynasty of the salary cap era. Oh, yeah, and more beer.
David Fleming is a senior writer at ESPN The Magazine. His book, "Noah's Rainbow," a father's emotional journey from the death of his son to the birth of his daughter, will be published in 2005 by Baywood. Contact him at Dave.Fleming@espn3.com.