Jaguars rookie defensive lineman Derek Landri had worked the entire season -- no, his entire life -- for this moment, and after allowing him to celebrate and reminisce for all of 90 seconds, his giggling older teammates started in with good-natured chants of: Whore! WHORE. Sellout. Ladies and gentlemen, I give you the one and only MEDIA SUPER-WHORE, Derek Landri.
Such is the plight of NFL rookies, I suppose. But considering what Landri had just done -- registered the mythical, impressive D-line hat trick (a sack, a pick and a fumble recovery) while valiantly filling in for injured starter John Henderson in the Jags' 31-29 wild-card win in Pittsburgh -- I lobbied out loud for a little more time.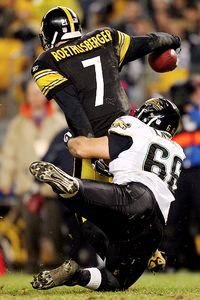 David Drapkin/Getty Images
Success is when preparation meets Derek Landri.
Thirty-two seconds.
That was all I got before the chants started up again.
Fortunately, that was all the time one needed to see what this day meant to Landri, an undersized fifth-round pick who normally plays roughly 30 snaps a game, not including his drudge work on special teams, of course. "There just isn't anything better than this," Landri said, his back turned to the room, trying to contain the proud, accomplished smile of a magna cum laude grad. "When John went down, I just realized, 'I'm the next man up.' So, I just decided to do what I do, play as hard as I can for as long as I can. In the playoffs, everyone's good, so it just comes down will. It's all about heart."
The playoffs also are about instant heroes. Most of the time, though, we spend so much energy examining every titillating angle of failure -- who blew what call, who choked, who cheated, who got busted, who got burned, who's about to get fired -- that we don't leave time to celebrate the subtle, cool stuff. Like a 288-pound surfing kid from California who double-majored in history and computer applications at Notre Dame snagging his first interception since high school.
No, seriously, I really want you to stop and think about it. Close your office door. Stop Googling Angelina-Jolie-in-training-Rachel Bilson. Put that stupid robotic thing in your ear in your desk drawer. Now, consider this: In a physical matchup in the cold and mud of Heinz Field, the visiting team's two-time Pro Bowl defensive lineman goes down with a strained hammy in the first quarter, and the rook who replaces him gets the first sack, the first pick and the first fumble recovery of his career (to end the game, no less). And for the icing on the cake, he draws the holding call that ruins the Steelers' first crucial two-point conversion attempt. Oh wait, I also forgot: he was in the middle of the kickoff return wedge that sprung Maurice Jones-Drew's team record 96-yard return. That's what Big Black would call just doing some work, son. "Derek's doing a great job," Jags coach Jack Del Rio said in December. "He's not real big like the other guys we have, and we have some real monsters in there. [But] he is active, super intelligent, very disruptive and a nice change-of-pace guy for us."
Not anymore, unless Del Rio meant Orlando Pace. After the win Landri helped make happen, a bunch of Jags came in off the field hooting and hollering and twirling Terrible Towels. It was the kind of sight that makes you laugh out loud. Even owner Wayne Weaver, sporting a Burberry scarf, practically floated down the tunnel with a smile on his face that would have lit up the entire First Coast.
These guys aren't robots, that's for sure. They play in an angry frenzy; they play with fearlessness and joy. That probably won't be enough to keep them within two scores of the perfect Patriots, but it gives them the one thing every underdog needs this time of year: a chance. Beyond that, what impressed me the most about Landri and the rest of this team was the way they balanced physical, fast play with superb technique and strong attention to detail.
The way how, on Landri's sack, he sensed a screen, then remembered from his film study that Ben Roethlisberger likes to scramble in the opposite direction if the pass is covered. The way David Garrard sensed blitz, then audibled to fill the empty space with a hot route as well as anyone in the game. The nearly perfect form cornerback Brian Williams showed on covering the deep, skinny posts. The way running back Maurice Jones-Drew used his shoulder to de-cleat linebacker Clark Haggans on a blitz pickup and then, on the next play, used one dip of the same shoulder to de-pants safety Tyrone Carter on a TD run.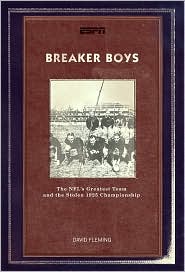 Buy the book
Click here to purchase "Breaker Boys: The NFL's Greatest Team and the Stolen 1925 Championship" by David Fleming. Click here to read an excerpt.
For more on "Breaker Boys" check out breakerboys1925.com
The way Rashean Mathis seemed to anticipate where the ball was going on third downs. The way the Jags' tight ends blocked for backs, and the way the corners communicated and covered for each other. And the way Del Rio has been spot on his game since dumping Byron Leftwich. "This was the true test of our team," said Garrard, who ran for 32 yards on a crucial fourth-and-2 without his heart beat rising above 75.
In the end, though, nothing embodied the Jags' style quite like Landri's pick. With the Steelers at the Jags' 21, driving before the half, Landri tried to fill the middle of the field but got chipped in both directions and was headed to the turf. Somehow, he willed himself upright and snagged Roethlisberger's pass. "I got so excited I bobbled the ball," he said. "You know, I always visualize making those kinds of plays, grabbing a pass and running it all the way back for a touchdown."
The real work always begins once your dreams actually come true. And this time, Landri made it only about 9 feet with the ball. There to greet him at the end of the play was Jones-Drew, Landri's buddy and teammate since their days at national prep powerhouse De La Salle High School in Concord, Cali. Landri started on the offensive and defensive lines and was a Parade All-American, but Jones-Drew mostly remembers the big left tackle who always was begging to get his hand on the ball.
I'll just let MJD pick it up from here: "At the end of my junior year, he kept coming up to me going, 'If you break a long run, I'll be right behind you, right behind you, I promise, and I want you to pitch me the ball so I can take it into the end zone.'
"So, I do break a run, and it's the longest one of the year, 80-95 yards, and I'm thinking, 'No way he'll be back there,' but there he is, running and chugging along as hard as he can. Now I'm in a bind because I don't want to give away the longest run in school history. So I ended up keeping it. Boy, he cussed me out and pushed me around pretty good after that. So the next game, I kinda purposefully fumbled the ball to him, and he picked it up, and I really thought he might score with it. But he got tackled at the 1-yard line.
"Lineman."
Yeah, they toil away in the trenches, covered in muck and blood and the acrid stench of anonymity, hoping for a chance, someday, to get their paws on a football. This is the secret wish that burns in the giant heart of every one of these guys (although, sometimes it's hard to distinguish from the burning side effects of the eight chalupas they had for brunch): the hope that, for one glorious instant, all the attention will be focused on their thick cage and mud-caked uniform, and not on the hard-charging linebackers they free up by gobbling up blockers two at a time, and not on the acrobatic defensive backs who snag picks downfield thanks to the pressure applied by the earth movers up front.
And when it finally happens -- god love 'em -- they usually fumble, kick, doink, drop or flatten the ball altogether. Either way, there's nothing better than fats guys running with the football. Nothing.
"Derek deserves this attention," Jones-Drew said. "He worked hard, he kept grinding, he made the team, he kept getting better, and just like they tell us over and over, he was ready when we needed him the most."
Back in the day, Landri opened the holes that got the undersized Jones-Drew his scholarship to UCLA, which led to his ticket to the Sunday show. So when the Jags took Landri in the fifth round of the draft, his buddy gave him a place to stay, provided meals for him, showed him around town and taught him the ropes of rookiedom. Besides the usual rookie pranks -- like waking Landri up at 3 a.m. and pretending to be late for practice -- how hard could it be to take care of this guy? Really? Landri thinks a fun day is a surf board, some tasty waves, a bucket of chicken and a history book. The only thing MJD had to worry about was keep his roomie off dirt bikes, since Landri shattered his ankle just before leaving for Notre Dame by crashing through a fence while riding his brother Luke's motorcycle.
"We're like brothers," Jones-Drew said. "He's not coming to my town and sleeping in a hotel if I have anything to say about it. We've got a bond. We all do on this team. We genuinely care for each other, and that's rare. When he got that pick, all I could think was, 'He did it. Derek did it. He's on national TV now, all by himself, and no one could deserve it more.' It's a great thing that has happened to a great guy. That's just the way it's supposed to go, right?"
The Jags didn't get home from Pittsburgh until 5 a.m., and Landri still had a hard time falling asleep. "I didn't want the day to end," he said. But after a few hours of sleep, the two super subs hit the local golf links to relive their first playoff victory.
And, perhaps, to begin daydreaming about their next one.
David Fleming is a senior writer for ESPN The Magazine. His latest book, "Breaker Boys: The NFL's Greatest Team and the Stolen 1925 Championship,", published by ESPN Books, has been optioned as a movie. In addition, he is the author of the memoir "Noah's Rainbow." The Flem File will run each Thursday during the NFL season.