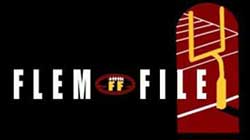 The current edition of ESPN The Magazine is 108 oversized pages. Yet that just wasn't nearly enough real estate to include every last morsel uncovered for the cover story on Jeremy Shockey -- the iconic, outspoken (and sometimes impolitic) four-time Pro Bowl tight end now playing for the Saints. So for Flem File readers only, I'm offering up the outtakes from our pre-Gustav convo, which ranged from drug testing to deep-sea fishing to death. And through it all, I'm pleased to report, we managed to avoid disturbing the table full of ladies next to us who were enjoying a classic, southern-style bridal tea.
"I have some great memories of New York and that's what's really important to me: great memories, great teammates and a Super Bowl ring. No, I don't wear any of my rings I've won. I don't wear my game jersey to school anymore, either, ya know? I consider myself being on a Super Bowl team. I feel a pretty special thing to be a part of that season: the not losing on the road, to go to London and play against the Dolphins, to play in front of 80,000 people in Giants Stadium. I was part of a Super Bowl team, that's the reality of it, I just didn't get to finish the last leg, I got hurt."
"Let's be honest here: I wouldn't say I enjoy blocking as much as I like catching the ball and scoring touchdowns, but yeah, there is something about looking at a 290-pound guy and trying to win that battle."
"[Late Giants owner] Wellington Mara was a great man and I had a great relationship with him. He's the last of a dying breed of good guys in the NFL. He was a grandfather-like figure to me. I could talk to him and tell him things and we both loved this game of football. How he carried himself, it was like being around greatness. That's what it felt like. He was a man of common sense, a man who always did things right. And I saw the way he lived his life, he was always at the cathedral, always lighting candles, I mean, he was just, he's the kind of man it seems like they just don't make anymore. And to even be a part of that or just to know him was a great experience for me. I think none of this would have probably happened if he had been around. That's just the way he was. He didn't like controversy at all."
"I love how people are famous for just being famous now or not even, for just being associated with something famous. I get that all the time: 'You're from Oklahoma? I love Oklahoma, wooohoooo!' 'You play for the Giants, oh man, I love the Giants, woooohoooo!'"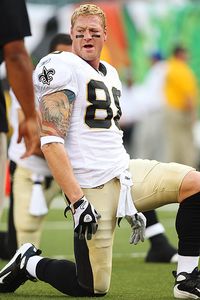 Joe Robbins/Getty Images
Just fire up the tape recorder. Mr. Shockey will do the rest.
"The National Football League has done a great job of regulating and testing [for performance-enhancing drugs]. A lot of sports didn't test until they were forced to test. Football is different. It's unique. People may look at it like football players do use performance-enhancing drugs more than other [sports], but I think it's vice versa. That's just how it is. Our union is just not nearly as strong as any of the others."
"I always go fishing for 15 to 20 days during the offseason. Panama. Costa Rica. Venezuela. You name it. I was in a cast this summer, battling marlin. I like the idea of getting away and the challenge of it. A huge fish caught on a small line. A thousand-pound fish on your reel, battling for three or four hours to get it in the boat? It's very competitive and it takes a whole team of guys. It's insane, hard work. It's just like football. It's a little like taking on a defensive end, blocking that guy, but it's more like taking on five of them all at once."
"You just don't realize death until it's close to you. Gene Upshaw's death was so quick, so sudden. He was a great guy and I always had great conversations with him. If you look back on his life, he had a great life. He did a lot of great things for this league and he did well for himself. The main focus should be he had a great life and he did a lot of great things for a lot of NFL players. It was so sudden, but with his life, everyone and all his family should be proud of him -- he had a great life."
"I've never been an underdog my whole life. Everyone expects me to do well. In a horse race, I'm the favorite. Everyone expects me to lead the race, to win, to be the top horse. But trust me, I'm not complaining."
"What I did in the past was great but it's a great stepping-stone now for what I want to do in the future. Every day is one step up the stairs and as you're climbing those stairs and reaching the top you want to make sure all those steps along the way count."
---
30-SECOND COLUMN
Here's the most disturbing stat regarding referee Ed Hochuli's blown call in Denver: 65 points, 874 yards and a league-worst 54 first downs. That's what the Chargers' defense has allowed the first two weeks of the season. I know it's easy and fun to blame all of the Chargers' woes on Hochuli's inadvertent whistle (an error fostered by the league's intent to protect its most valuable investment: quarterbacks) but the truth is San Diego has much bigger problems than one faux fumble. For years, Hochuli has been one of the league's better refs and despite our insatiable lust for shallow shouting and ignorant pontificating his work and worth should be judged the same way we all want to be judged -- in it's totality. (He blew the call, no question, and immediately admitted as much. What a concept.) The problem isn't with the whistle, it's with the system that didn't allow it to be overturned. Ah, but who wants to get all righteous on a system? That's no fun. One could even argue, as Mike Shanahan has, that even though the Broncos got the ball back at the 10, they still had to score eight points in three plays to win the game, including a two-point conversion thrown Jake Delhomme-style into triple coverage in the end zone. You can blame the ref if you want, but with the way the Chargers' defense has started the season, the only thing that truly shocks me about that final minute in Denver is that the Broncos didn't win it 50-38.
---
FLEMGEMS
Buffalo Bills Observation No. 1: The Bills stacked 32 bags of ice behind their bench before the start of the game.
BBON2: Like the rest of us, most coaches are risk-averse even when it's to their own determent. (Check out the book "Against the Gods.") But I think coaches who played the game have a feel for, and a better appreciation of, momentum and how it's often manipulated by risk. Case in point: The Jags were on the verge of withering away in their own stadium when coach Jack Del Rio kept a critical second-half scoring drive alive by going for it on fourth down (and converting); which he followed up with a successful onside kick for a 10-point swing.
BBON3: I laughed walking into the stadium when I saw fans sporting kicker Josh Scobee's No. 10 jersey. Then he crushed a 50-yarder that would have been good -- honest to god -- from 70, easy, and I started to understand the appeal.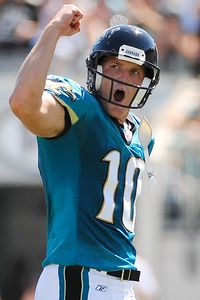 Sam Greenwood/Getty Images
Scobee can crank some monster field goals and we all know that chicks dig the long ball.
BBON4: Speaking of jags, I'm on a big-time Radiohead jag. How can I tell? I've started mentally mixing in lyrics to their songs ( ... I lost myself, I lost myself ... ) with the white noise created in my office by stuff like the computer fan and the AC compressor outside my window.
BBON5: I still think the Jags will win their division. The parity of the NFL obliterates most of the statistical theories we've come to believe in, especially the implications of a slow start, which was disproved in 2007 by the Giants and the Chargers, who started a combined 1-5.
BBON6: Speaking of meaningless statistical theories: Most of the stat guru types out there strike me as little more than horoscope writers. Many of them take obvious numbers and repackage them as expertise: detailed enough to grab your attention but vague enough to appeal to everyone. My favorite is the recent statistical "breakthrough" that says the best predictors of a college quarterback's success in the NFL are completion percentage and number of starts. In other words, accuracy and experience. Gee, they've only been using that formula for the past 75 years or so.
BBON7: Yes, he's thrown as many picks already as all of last year, but in the second quarter Sunday, Jags QB David Garrard scrambled 11 yards for a first down, pushing a pile of Bills tacklers the last 5 yards and then, on the next play, threw a textbook 13-yard out to Dennis Northcutt. The truth is, I'm not sure there are three other quarterbacks in the NFL capable of back-to-back plays like that.
BBON8: It doesn't bother me at all that Shawne Merriman was fined for his hit on Jake Delhomme while Bernard Pollard, the guy who took out Tom Brady, was not. The NFL views these on a hit-by-hit case, based mostly on whether or not the player could have avoided the quarterback. So it's wrong -- not to mention misleading and manipulative -- to rip the NFL for being inconsistent when that's the whole point behind this system: No two hits on a quarterback are ever the same.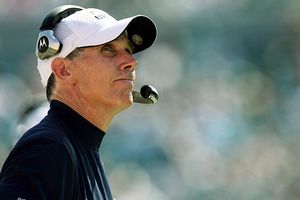 Doug Benc/Getty Images
In the words of Dick Jauron, you better suck it up and keep slogging through this column.
BBON9: When I heard Buff coach Dick Jauron say, "We have a sense that we have a chance to be a decent team, you know, we're playing OK so far," I wanted to yell out, "OH COME ON! YOU JUST BEAT TWO PLAYOFF TEAMS TO OPEN THE SEASON!" But ya know, I think he actually believes this and, more importantly, the team has bought into the attitude as well. Jauron seemed to use the phrases "suck it up" and "keep slogging" a dozen times Sunday.
BBON10: One of my locker room interviews was interrupted by a Bills player heaving into a trash can 10 feet away.
BBON11: To acclimate to the First Coast heat, Bills corner Terrence McGee wore an extra layer of sweats while warming up before the game. As a former collegiate wrestler, I appreciated that.
BBON12: Besides having, maybe, the best name in all of sports, Buff corner Ashton Youboty has already collected 11 tackles and a sack in 2008. Maybe the best open-field tackler I've seen so far this season, Youboty (pronounced, sadly: You-boatee) has a skinny 189-pound frame but a remarkable physical presence on the field and a high tolerance for pain. After the game, the left side of his face was swollen like he had just come from a bad dentist appointment and he had to shake with his left hand because his right was out of commission.
BBON13: He's a different player under pressure, especially from the middle of the field, but with the game on the line, on third-and-6 at the Jax 44, Buff QB Trent Edwards threw a perfect ball to Lee Evans for a 37-yard pickup. I know Bills fans don't want to get their hopes up -- again -- and get burned, but this pass was good enough to make even the most hardened, cynical Bills fan start to dream again. It would be nice, wouldn't it, if the team won a Super Bowl before moving to Canada.
BBON14: Jauron seemed almost mystified by the play of Marcus Stroud, saying, "I don't see how Marcus could play any harder than he did last week [in the opener]." The Jags let Stroud go not because they didn't think he had these kinds of performances left in him, but because they didn't think he had enough of these games left in him to justify the cost. So at this point, both sides could still be right.
BBON15: Buffalo sports fans who still mourn the No Goal awarded to Dallas in the 1999 Stanley Cup finals can offer some perspective for folks in San Diego on what truly defines a horrendous, life- and franchise-altering blown call by a ref.
BBON16: Jags linebacker Mike Peterson wore gloves that featured the kind of shiny, gold material you'd expect to see on "Project Runway." When you're as good as Peterson is, you can wear whatever you want, I suppose.
BBON17: Am I the only one who thinks Shanny went for the win on the two-point conversion because somewhere, in the depths of his subconscious, he felt like the Broncos didn't really deserve to win?
BBON18: It still freaks me out a bit to see the guy who played the best character in the past five years of television, Krazee-Eyez Killa from "Curb Your Enthusiasm," now appearing in dorky commercials for stuff like car insurance.
BBON19: While working the locker room a member of the Bills staff told me he was a fan of the Flem File, which can only mean one thing: The Bills are now my top pick to win the next five Super Bowls.
BBON20: "This is a good start," says Bills MLB Paul Posluszny who invented a new style of tackling -- the Exorcist -- on Jags RB Maurice Jones-Drew. "But the best sign for us is that we still have a lot of things we can work on and get better at. We're winning games but we're not playing our best football."
BBON21: Hardy, who hauled in the go-ahead TD pass in the fourth quarter, had a "hungry look in his eye," according to Jauron. A look and an attitude that, so far in 2008, defines this franchise.
---
FLEM FILE FIVE
Top Five Best Places to Find Shade in Jacksonville Municipal Stadium
5. Against the indentation in the wall behind the field-goal net located in the south end zone.
4. Under the large, looming Super Bowl expectations that most of us had for this team.
3. TIE: Top of the south-side corner of Section 233 under the JumboTron; AND, Section 437, Row 17, which is shaded by the stadium lights stanchion.
2. If you're 5-foot-9 Buffalo corner Terrence McGee you can seek refuge in the shadow cast by the 6-6 Jags receiver Matt Jones. And trust me, this is the one place inside the stadium you don't ever have to worry about getting burned.
1. Under the green nylon gurneys that trainers held up behind the Jags' bench. Because after the injuries this team has suffered, somehow using medical equipment to shade the Jags from the heat seems like an appropriate metaphor.
---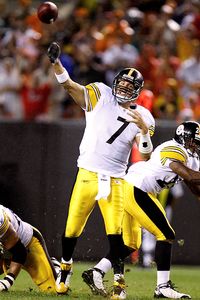 Gregory Shamus/Getty Images
If you used to be a RedHawk ... odds are you're undefeated right now.
LOVE AND HONOR TO MIAMI
So far this season professional football in North America has been pretty much dominated by my alma mater, Miami University. Baltimore's new coach, John Harbaugh (a former Redskins defensive back), remains undefeated; Pittsburgh quarterback Ben Roethlisberger remains undefeated and leads the NFL in passer rating; Milt Stegall (MU 1988-91) of the Winnipeg Blue Bombers just became the all-time leading receiver in the CFL; and Panthers wideout Ryne Robinson is hurt but still undefeated as a Carolina Panther.
---
I HATE STATS -- UNLESS THEY'RE MINE
The Cowboys, one of eight teams to win in Week 2 after trailing in the fourth quarter, have a "Super Bowl or bust" attitude this season even though they haven't won a playoff game in 12 years. Mind you, no team has ever won a Super Bowl after a 12-year drought in the postseason. (Baltimore's wins came as the Browns franchise and the St. Louis Rams won as the L.A. Rams while the New York Jets weren't in business long enough prior to their win in Super Bowl III to qualify.)
---
LOVE LETTERS FROM THE PANIC BUTTON COLUMN

Raiders fan Chris writes, "how can u be such a [bleep] hole?! just because we lose one game to the donkeys you think i should change who i am and what i do?! [bug] off man. i haven't heard such [manure] out of an analyst before. if you hate the raiders than just say it. instead you mock the fan base and the entire raider nation."
Duane says, "'While running for a 38-yard touchdown at the speed of kudzu' might be my favorite line since Jim Murray's 'Gentlemen, start your coffins.'"
A Jets fan writes, "You must be jealous that your home-boy was too stiff to get out of the way, while 38-yr old Favre swallowed his pride, went to work for the worst team his nasty piece of work for a GM could ship him off too, and has managed to generate a little buzz for his new team by doing what he's been doing for years: make lemonade out of lemons. Favre, at 38, is -- once again -- showing the football world that he doesn't need a brilliant coach, revolutionary new system or illegal tapes of his competitors to win."
Says Mike from Medina, "You are wrong about Cleveland."
Conor asks, "Is it okay for me to hate my favorite team? I still watch them, hope that they win, etc. ... but i really think i hate the Lions. Is that okay?"
Earl writes, "I've been looking all over for the panic button so I can start jumping up and down, but I can't [seem] to find it under the remains of what used to be the Kansas City Chiefs. I'd ask you to help, but you appear to be as clueless as the rest of the nattering simpletons in Bristol."
John says: "You are the sole bastion of football information for the sarcastic, irony craving emotionally blocked consumers like myself. In a way, you are a hero: without you I'd probably be focused and productive throughout the day, and maybe I'd do some good work. So thanks, and keep it up. By the way, as a Raider fan, I spent so much time on the panic button in the last few years that I threw in the towel and rented a condo there. We are having a BBQ later if you want to swing by."
---
FLEM FILE FOTOS

FF1: Whatever this is -- Meatloaf? Fruitcake? Meatcake? -- it must be good if someone in the Jacksonville press box went to the trouble of creating a multi-colored, laminated sign with art and excessive underlining to keep people away.
FF2: Also prohibited inside the Jags stadium: injury proof blockers, third-down efficiency (2-of-11) and -- for the time being -- anymore talk about the Super Bowl.
---
THIS COLUMN WRITTEN WHILE LISTENING TO: Pre-"Kid A" Radiohead.
David Fleming is a senior writer for ESPN The Magazine and the author of the memoir "Noah's Rainbow" and "Breaker Boys: The NFL's Greatest Team and the Stolen 1925 Championship," which has been optioned as a movie. The Flem File will run each Wednesday during the NFL season.