Thank you all for coming on such short notice, and welcome to the Conrad Dobler Ballroom of the Canton (Ohio) Marriott. Since I know our time is limited today, and most of you in the audience are known for both your violent temperaments and your ability to inflict great pain on a football field, I won't waste your time with a long introduction or explanation. Most of you can probably guess why you're here, anyway.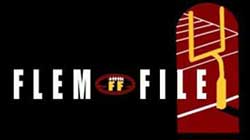 As we all know, last week, an era came to a close in the NFL when Patriots safety Rodney Harrison shredded his left calf muscle while making an open-field tackle against the Broncos. The injury ended his season and quite possibly his stellar 15-year career. It also brought to a completion Harrison's long, nasty reign as the NFL's dirtiest player.
Since 2001, in fact, Harrison had compiled the second-most personal fouls (14) in the NFL, and in a recent survey of NFL coaches conducted by ESPN.com he was the overwhelming choice as the game's dirtiest dude. Why, it seems like only yesterday Harrison was getting suspended after using his patented helmet-to-helmet kill shot technique in an effort to permanently separate the NFL's all-time leading receiver, Jerry Rice, from his senses.
Yes. OK. Well. Go ahead. I suppose a nice round of applause for Harrison and his unique, um, style of play is appropriate before we move along with today's task of crowning Harrison's heir as the game's newest, dirtiest player. Please note that while clapping is an acceptable tribute, dislodging the auditorium's chairs and swinging them at each other, or your emcee, is not such a good idea. Nor will I be intimidated by this note I've been handed that says an extremely large bounty has been placed upon my head.
As far as potential successors to Harrison -- let's call them the Flagrant Fraternity -- I think most everyone is now present.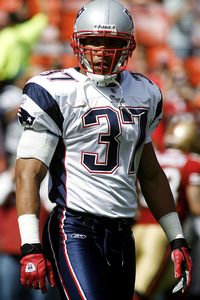 Cary Edmondson/US Presswire
It's time for Rodney Harrison
to pass the torch to the next "Dirtiest Player in the NFL."
I see Cardinals safety Adrian Wilson, fresh off his $25,000 fine for trying to plant Bills quarterback Trent Edwards like a tulip in Week 5. Richard Seymour of the Pats, nice to see you as always. Steelers jawbreaker Hines Ward is here, and I'd like to ask you, one more time, Hines, not to sneak up on me from behind. Thanks.
There's Carolina's septum deviator, Steve Smith. Horse-collar cowboy Roy Williams, good day sir. Trench warriors Kevin Mawae, of the Titans; the Bears' Olin Kreutz; Giants center Shaun O'Hara and Eagles lineman Jon Runyan are all in the back. As is Giants linebacker Antonio Pierce. Now, has anyone seen the Titans' Albert Haynesworth or the Texans' Travis Johnson? And I believe 'Captain Bounty,' the Ravens' Terrell Suggs, should be joining us soon as well.
Let's all work together to make sure he doesn't sit next to Ward, shall we? Great.
If Mike Singletary suddenly bursts into the room and tries to take the mike, everyone just plug your ears, remain calm and do not look him directly in the eyes.
Now, before we get to the nominations, I need to do a little bit of housekeeping in the audience. Can someone tell Wes Welker that this is about finding the dirtiest player, not the player with the dirtiest uniform? Is that Santonio Holmes of the Steelers? Yeah, San, this meeting is about playing dirty, not riding dirty. And to the entire row of Cleveland Browns in the back. Fellas, again, this is about dirty players -- not guys who might actually be infectious.
I can see that the rest of you are not happy at all about being here. But think about the men who sat in these seats before you.
Men like linebacker Bill Romanowski, known for hitting the so-called terrible trifecta: spitting in the face of an opponent, breaking a quarterback's jaw and publicly salivating over hits that left players unable to get up. Men like former Raiders offensive lineman Steve Wisniewski and defensive back Jack Tatum, who delivered the hit in a 1978 exhibition game that paralyzed Patriots receiver Darryl Stingley. (Stingley, a quadriplegic, died last year at the age of 55. Tatum and Stingley never reconciled.)
Of course, arguably the dirtiest player in the history of sports is Conrad Dobler, who spit, bit and hit anything that moved in the 1970s and still likes to talk about quarterbacks wearing dresses and the wussification of the game, even though he is severely disabled from injuries and surgeries related to his playing career … which is honorable, in a way, but also kinda like the juvenile logic behind fraternity hazing: it's awful and serves no real purpose but, hey, we're doing it to you because someone did it to us.
But here's the thing with dirty play in the game today: Hefty fines seem to be curbing the truly gruesome stuff -- the kill shots, the cut blocks, the true malice -- and the good news is there now seems to be more finger pointing than actual nipple twisting.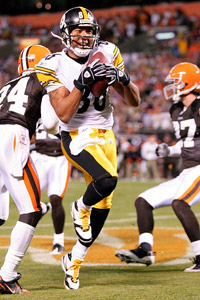 Luc Leclerc/US Presswire
It's a coup for an offensive player such as Hines Ward to be listed as part of the flagrant fraternity.
Last season, it was the Packers calling the Giants dirty. This year, it was the Giants calling the Redskins dirty. Randy Moss accused the Chiefs' Bernard Pollard of playing dirty after he mangled Tom Brady's knee, even though Moss was downfield at the time and there was no fine or flag on the play. Opponents say the Browns crotch grab and eye gouge more than the Three Stooges. The Bears and Bucs slung the D-word back and forth when what they really needed to do was tackle somebody. Harrison himself accused Ricky Williams of a dirty chop block on Pats linebacker Mike Vrabel, something I watched Vrabel execute against the Broncos while playing tight end near the goal line.
By my count, right after Roger Goodell e-mailed his "player safety edict" to every team in September, there were more than $100,000 worth of fines levied for dirty hits in Weeks 3 and 4. This included a $50,000 fine and a one-game suspension for Jets safety Eric Smith for a hit on Arizona wideout Anquan Boldin that did not draw a flag during the game.
Therein lies the quagmire behind searching for Harrison's dirty disciples: You've got a league that makes billions off the violence in its game retroactively punishing players for hits that officials at the scene did not deem illegal.
When it comes to dirty play, the NFL sends more mixed messages than Don Draper.
Arizona's Wilson? Dude's a Pro Bowl safety who last year made $3.25 million with the Cardinals.
After their collision in New York, Boldin told Smith he didn't want the safety to change his style of play. Well, he texted him that thought, actually, since he had just come out of facial surgery and couldn't talk.
Prior to February's Super Bowl, when Pierce was asked if he and O'Hara were dirty players, he replied, "We're both dirty; that's why we're in the Super Bowl."
The truth is 'dirty' is a lot like 'obscene' in the way that even though we might not be able to clearly define it, we sure know it when we see it.
---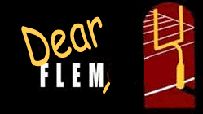 DEAR FLEM
In the crazy, topsy-turvy world of the NFL, sometimes fans just need someone to talk to. So once a week, ESPN The Mag senior writer David Fleming will exchange e-mails with one lucky (we think) reader. Here's Flem's fan e-mail exchange for this week. If you'd like to have an e-mail exchange with Flem, click here and pour your pigskin heart out. Go ahead, Flem's listening.
---
Defining dirty comes down to two things: intent to injure and repeat offenses. I think the first is pretty clear. There's a difference between hitting and hurting, between tough and dangerous, between executing and executing. But at the same time, we also have to allow players to be human, to make mistakes. Because it's unfair to reward athletes with millions of dollars and star status in our culture for being exceptional purveyors of athletic violence and then -- when it occasionally bubbles over into unacceptable levels of mayhem -- to throw our hands over our mouths in mock, transparent, dramatic disgust and screech, "Shame on you, you bad, bad man!"
OK, so now that we know the history of dirty play and the problems with defining it, let's move on to the actual awards part of the program before the bounty on my head gets any higher.
Based on ESPN.com's recent coaches survey, actual personal fouls as well as fines and/or suspensions for dirty play, the third runner-up to replace Rodney Harrison as the NFL's dirtiest player is … OH, it's a tie between Cowboys safety Roy Williams and the Jets' Eric Smith.
Both Roy and Eric will receive a year's supply of ibuprofen and new calculators specially programmed to compute missed-game checks.
Our second runner-up has more than a dozen personal fouls in the past seven seasons and, after the most recent AFC Championship Game, was described by an opponent as "the biggest [expletive] I've ever played. Head slapping, foot stomping in the pile, running by and throwing punches in your back. He's a [expletive]. He plays like a punk."
Ladies and gentlemen: Pats defensive lineman Richard Seymour.
Richard will receive a full set of the super absorbent towels made by Shamwow!
Now, our first runner-up has already been fined twice by the league this season and recently broke the jaw of Bengals linebacker Keith Rivers. Yes, he is two inches and 35 pounds lighter than Rivers, and no, a flag wasn't called on the play. The truth is, some of his hits are just great football. Classic football.
But you can't deny the fact that this guy specializes in working the moral gray area of the crack-back block, or, hitting people who don't see him coming. Is it perfectly legal? For the time being. Is it the responsibility of players to keep their heads on a swivel at all times? Yep. But in my gut, some of this guy's hits over the years -- like the one against Browns linebacker Daven Holly last year that drew a $5,000 fine -- feel an awful lot like distant relatives of the sucker punch.
Having recently spoken to a long-time member of the competition committee, I can tell you, it's not a stretch to think that the league would classify some of this guy's victims as "defenseless" -- focused elsewhere, unaware of the impending contact, easing up toward the end of the play. And that's why I wouldn't be surprised to see a new rule coming that legislates contact on downfield blocks initiated back toward the line of scrimmage.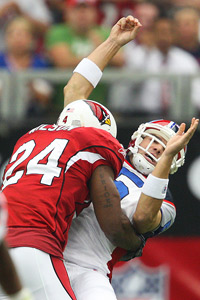 AP Photo/Ross D. Franklin
Adrian Wilson cemented himself
as the "Dirtiest Player in the NFL"
with this hit on Trent Edwards.
I've already given it away, I know, but our first runner-up, who will take over as the NFL's dirtiest player if our actual winner, for whatever reason, cannot fulfill his duties … ladies and gentlemen, it's Hines Ward.
Hines, come on up here and get your gift: the complete musical catalogue of The Allman Brothers Band.
And finally, the moment we've all been waiting for.
Our pick as the heir to Rodney Harrison's throne as the NFL's Dirtiest Player is none other than Arizona Cardinals safety Adrian Wilson.
Since joining the league seven seasons ago, Wilson has more personal fouls (17) than any other player in the game, and in the past year alone he was fined three times for a grand total of $47,500 for jacking up Todd Heap, horse-collaring Kevin Jones and pile-driving Trent Edwards.
Adrian will receive round-trip airfare to the NFL offices in New York for his next meeting with the commish and a case of HeadOn, headache relief formula.
So that's it. Thanks for coming to Canton and participating in this event, everyone. In closing, please remember to drive safely and take this little nugget of wisdom with you as you all return to the field on Sunday.
In today's NFL, if our new list of Harrison Heirs are involved in anymore questionable hits, they can probably expect an immediate two-step response from the league:
A one-game suspension.
Then a significant raise.
David Fleming is a senior writer for ESPN The Magazine and the author of the memoir "Noah's Rainbow" and "Breaker Boys: The NFL's Greatest Team and the Stolen 1925 Championship," which has been optioned as a movie. The Flem File will run each Wednesday during the NFL season.