Now into our second decade of the Flem File's Turkey of the Year Awards -- honest, this is year No. 11 of the TOYs, you can look it up -- we may have finally found our very first uncontested, unanimous, no-doubt-about-it choice for Turkey of the Year.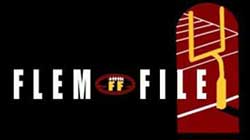 Let's see if you can guess this nominee:
Last week this gobbler was well on its way to snapping a 10-game losing streak, and providing some much-needed good news after Mayor-gate and the auto-industry collapse, only to surrender 35 points in 17 minutes at home to the Tampa Bay Buccaneers. Always one to panic, this team then benched quarterback Daunte Culpepper, a guy who was "retired" two weeks ago, in favor of Drew Stanton, who promptly went 2-of-6 for 13 yards before being knocked out of the game with a concussion that caused him to blow chunks all over the team bench.
If ever there was a fitting metaphor for such a stomach-turning franchise, this was indeed it.
Now, destined to become the first perfectly awful 0-16 team in NFL history, this group will no doubt inspire an entire nation to lose its turkey on Thursday when it matches its 31st-ranked offense and 31st-ranked defense against the 10-1 Titans on Thanksgiving -- a national spotlight (one that's going to feel a little like those turkey juicers in the Sarah Palin video) that the formerly sane head coach now says he's quite looking forward to.
It pains me, as a Motown native, to write this sentence, but here it is: Ladies and gentlemen of the Flem File nation, I give you your first-ever unanimous TOY Award winner: the Detroit Lions.
Here are the rest of your nominees: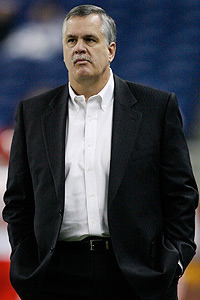 Leon Halip/US Presswire
Thankfully for Lions fans, the only way Matt can get into Ford Field is with a ticket.
MATT MILLEN: When the Lions do finish 0-16, let's all promise not to forget the one man responsible for this entire, historic debacle. Too harsh? Of the 36 players Millen drafted and paid hundreds of millions of dollars to between 2001 and 2005, only three likely will be with the team next season. Darts and a blindfold would have gotten the Lions eight keepers.
HAMILTON TIGER-CATS BEER BOMBER: Toronto Argonauts running back Dominique Dorsey says he was hit by a balloon filled with beer during a September game in Hamilton. Yeah, Dominique, you just keep on telling yourself that was beer.
MIKE SINGLETARY: Thanks to his odd motivational techniques all we really know about Singletary as a potential head coach is that he prefers boxers to briefs.
TREVOR WIKRE: A big, sad, hi-four for the utterly misguided right guard for Division II Mesa State College in Grand Junction, Colo., who decided to have his pinkie lopped off so he wouldn't miss the final month of the season.
RETRO TOY (1999) DION RAYFORD: Still my absolute favorite turkey during the past 11 years. The Kansas football player wedged himself, Winnie the Pooh style, into the drive-thru window of a Taco Bell after becoming enraged that workers had left a chalupa out of his order.
CLEVELAND "FAN" BRETT: This dude taunts Browns GM Phil Savage after a win over Buffalo, calls him the "worst GM in the NFL," and when Savage replies with the relatively lame and totally censored "Go root for Buffalo: f--- you" e-mail, this little fella runs right to the radio to broadcast his horrific tale of woe. I'm sorry, but when did they start letting poodles into the Dawg Pound?
ANDY REID: The coach, whose 64/36 pass-to-run play-calling ratio eliminates all the troublesome guess work for defenses, uses an assistant to inform Donovan McNabb -- the guy who has battled through every conceivable obstacle to make Philly football tolerable during the past decade -- that he's going to be benched against the Ravens.
ABILENE CHRISTIAN: The school's mission is to educate students for Christian service and leadership throughout the world. Unless, of course, you're beating West Texas A&M 93-68 in the playoffs and you have a chance to run up the score to 100 points, in which case you put all that silly crap on hold and reportedly run a Cal-like lateral on the final play of the game.
NORV TURNER: Can we please stop with the "oh the poor star-crossed injury-plagued Chargers have lost so many darn close games this year" refrain? As a head coach, Turner is a milquetoast 16-27 in games decided by three points or less.
LENDALE WHITE: Tennessee back says he didn't really care and wasn't really paying attention during the Titans' first loss of the season. The Titans really need to stop serving tryptophan for their pregame meal.
NACOGDOCHES HIGH SCHOOL CHEERLEADERS: At a pep rally in September, cheerleaders from this Texas high school used toy guns to simulate the execution-style murder of their rivals from Center High. The school's principal defended the skit as "simple, innocent satire." Well, that, and the squad just ran out of words that rhymed with Nacogdoches.
STEVE SMITH: Look, why is this so hard? If you play for the Panthers and Smith ever walks up to you and asks if you'd like a 'Hertz donut' ... you say NO, cover your face and run as fast as you can in the other direction.
TROY WILLIAMSON: Jacksonville receiver challenged his former coach Brad Childress to a fight at midfield saying he'd even take on the 52-year-old mustachioed coach with both hands tied behind his back -- which is the same way he played wideout while in Minnesota.
RETRO TOY (2002) PETER FILANDIA: This Australian Rules footballer was suspended for 10 days for biting an opponent's testicles during a match. I've got three for this one: (1) Suddenly mom's squash casserole surprise doesn't sound so bad; (2) Trying to type funny line. Can't breath. Stomach hurts. Sweating profusely. Must move on; (3) The worst part is that the report says testicles, plural.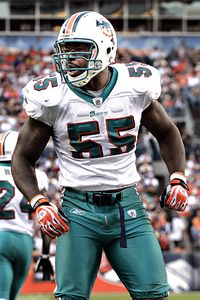 AP Photo/Jack Dempsey
If common sense was an NFL stat, Joey wouldn't be among the league leaders.
JOEY PORTER: He's the league leader with 14.5 sacks and nothing can stop this dude: not blockers, not common sense, not conspiracy theories, not the Tuna, not even his own coach.
HORNY BILLS FANS: During the Nov. 2 game against the Jets, Buffalo law enforcement officials arrested a couple having sex in a restroom of Ralph Wilson Stadium. I'm supposed to provide a clean punch line here, but everything I came up with includes the term "wide right."
JAXSON DE VILLE: Either pregame pyrotechnics accidentally set the Jags mascot on fire or he was just trying to fit in with the rest of the team's defensive backs.
BRAYLON EDWARDS: The league leader in dropped passes the past two seasons and the absolute last guy you want handling the scalding hot gravy boat on Thanksgiving.
THINGS I'M THANKFUL FOR THIS YEAR: Miami University's domination of college hockey extending beyond the regular season. The shooting motion of Davidson College's Stephen Curry. (Oh, and the Davidson student who dresses up as a giant white lobster at home games in honor of Maine native and Wildcats guard Bryant Barr.) Randy Moss. Clinton Portis. The real grass at Heinz Field. Kris Jenkins. Piedmont High's A-11 offense. Herm Edwards. Matt Ryan. Rage Against the Machine. Drew Brees. Andre Johnson. ESPN's NFL Blog network. Cortland Finnegan. Brownies with frosting.
RETRO TOY (2006) MITCH COZAD: Cozad (pronounced: Gillooly), the backup punter at Northern Colorado, was recently convicted of second-degree assault after police accused him of stabbing the team's starting punter.
DEION SANDERS: A player done in by a toe injury, who so aggressively avoided physical contact during his own career that he occasionally didn't even bother wearing shoulder pads to practice, actually had the audacity during last season's playoffs to question the toughness of LaDainian Tomlinson.
MATTY ICE: I'm not, in any way, nominating the player, Falcons phenomenal rookie QB Matt Ryan, just his nickname. Matty Ice? My guess is it has something to do with a certain brand of beer. I guess that's OK, but it sounds more like a Slurpee flavor, a Top 40 DJ from Omaha or a dancer in a break-dancing street crew.
CHRIS COOLEY: Redskins tight end accidentally posted a picture of his junk on his blog. (And, no, I'm not talking about his pass blocking.) This led the Washington Post to run, maybe, the greatest NFL quote ever from Cooley's mom, Nancy, who said: "It's never a good day when you hear there's a picture of your son's penis on the Internet."
TATUM BELL: After getting cut by the Lions, Bell was accused of snatching the luggage of his replacement, running back Rudi Johnson. Bell says he picked up the wrong bags by accident. The cops agreed, saying no Lions running back could have carried something made of leather that far without fumbling it.
MIKE BROWN: Four months after boldly declaring that Chris Henry's conduct could no longer be tolerated, the Bengals' owner flip-flops and re-signs the uber-troubled wideout, saying fans just really needed to trust his 18-year rebuilding plan.
THE RAIDERS: I finally figured out this team's problem -- it's not Al Davis, it's his team's logo. I mean, check it out. This is what players in Oakland aspire to become: a guy wearing a patch, presumably blind in one eye, probably brain-damaged from using a leather helmet with no face mask and clearly unaware that he's been stabbed in the back twice by a pair of giant swords.
MATT LIGHT: During a fight last week, the Patriots' left tackle was seen pulling the hair of Dolphins linebacker Channing Crowder. Normally, you see moves that badass only in the MLS or during the driver slap fights in NASCAR.
RETRO TOY (2005) ONTERRIO SMITH: One word: Whizzinator.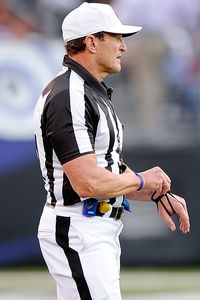 G Fiume/Getty Images
"Hey it's almost time to renew my restraining order against the Charger fans."
ED HOCHULI: I don't know what's worse, his blown call that likely cost the Chargers a win in Denver; the NFL's asking him to stop owning up to the mistake; or the fact that officiating is so bad this might not even make the Top 10 worst calls of 2008.
DESEAN JACKSON: Rook receiver drops ball before crossing the end zone against the Cowboys. Eagles fans actually rejoiced because the fumble meant Donovan McNabb wouldn't get credit for the touchdown pass.
ST. LOUIS RAMS: Kicked a field goal while trailing the Eagles 38-0 in Week 1 and then did it again while being blown out by 40 points by the Jets. This team is a lot like the processed turkeys you buy at the supermarket: no guts.
DAVID FLEMING: Player-hating, no-good-book-writing, keyboard coward, ugly, stinking hack and a lousy roller-hockey player. There. I just saved you from having to type up your own hate e-mail, since we all know how busy things are in the office the day before Thanksgiving.
Happy turkey day everyone -- Flem
David Fleming is a senior writer for ESPN The Magazine and the author of the memoir "Noah's Rainbow" and "Breaker Boys: The NFL's Greatest Team and the Stolen 1925 Championship," which has been optioned as a movie. The Flem File will run each Wednesday during the NFL season.