Christmas came early for me this year.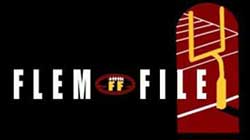 In October, I got to spend a week at Piedmont High School, near Oakland, where the first thing that greets visitors is a poster on the principal's office wall -- just past the SAT reminders and the jazz band sign-ups -- that evokes Darwin's theory of evolution. The poster starts with a caveman-like figure who then slowly evolves into a full-blown Piedmont Highlander.
It's the perfect image for a tiny school of 785 students that might have just unlocked the next, logical leap in the evolution of football: the A-11 offense, a revolutionary scheme that adds a quarterback (or two), eliminates the line and makes the game accessible, fun and safe for the most important people in the sport -- the kids who will actually inherit the game.
I used the A-11 as the jumping off point for the cover story in this week's ESPN The Magazine about how the historical indicators have aligned for major changes and just where football might go from here. But the real treat, for me, was escaping back to a level of the sport uncorrupted by money, pressure or attention; a place where the center doesn't have to weigh 300 pounds; the most important negotiation is where to go for "hella good" burritos after practice; brains matter as much as brawn; and the coach is so old-fashioned he shouts amphibians instead of cuss words. As in, "Men, we royally frogged up that last game and if we lose again this week we're totally frogged for the playoffs."
The A-11, in which all 11 players are potentially eligible to catch a pass, looks and feels a lot like basketball on grass. That's a good thing, gramps. In a sport that tends to go decades between real innovations, this is, truly, something new and intriguing. And while trying to put the scheme into perspective I talked to historians, players, coaches, executives, obscure theorists -- you name it. But then a senior lineman at Piedmont put it best when he said, "If Vince Lombardi saw this offense the first thing he'd probably do is call us all p------. Then he'd quietly beg us to teach it to him so he could use it against the Bears."
I stuck around San Francisco long enough to learn the offense, to down one of those "hella good" burritos (OK, four) and to watch Piedmont start a five-game run to the state playoffs on a tiny football field located across from a JoAnn Fabrics store.
I learned a lot, had a great time rediscovering the heart and soul of our modern-day national pastime and picked up the coolest Christmas card slogan ever: Happy Frogging Holidays from the Flem File.
MAKING A LIST AND CHECKING IT TWICE ... A QUICK TRIP AROUND THE LEAGUE TO SEE WHO HAS BEEN NAUGHTY AND NICE.
ARIZONA
Dear Football Santa: After watching this "playoff" team and "divisional" champion get blown out in three of its past four games, one thing remains perfectly clear: The Cardinals Curse Lives! To think this team will play on while the Patriots or Ravens sit home makes me question the validity of the entire playoff system.
ATLANTA
Dear Football Santa: When Mike Vick gets out of jail, the Falcons should keep him and pay him the going rate for a backup QB and instead of forcing him to conform to the pocket-passer mold, design a futuristic scheme for him (hmmm, say the A-11?) that allows him to showcase his unique talents as a runner/thrower-style QB on between five and 15 plays a game.
BALTIMORE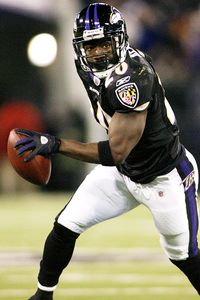 Geoff Burke/US Presswire
Will Ed Reed go down as the guy who played with Ray Lewis? Or might it be the other way around?
Nice:
Ed Reed. A league-high seven picks and three TDs for Reed. I'm starting to think that in 20 years we might think about Ray Lewis as the guy who played with Reed and not the other way around.
BUFFALO
Dear Football Santa: Money and coaching changes can't create most of the things that really lead to success in the NFL -- continuity, depth, chemistry, not to mention having your scouts, coaches, schemes and players all on the same page -- which is why it would be a mistake to get rid of Dick Jauron. Sometimes the bolder thing is to be patient.
CAROLINA
Three quick Christmas tips: "Bad Santa" is the best holiday movie ever; don't even bother with lights if you have less than 1,200 bulbs; and, you need an easy, awesome gift for a dude? Blongo Ball.
CHICAGO
Grinch: Me. Congratulations to rookie running back Matt Forte on clearing the 1,000-yard milestone. But am I the only one who realizes that's just 62.5 yards per game?
CINCINNATI
Nice: The Bengals did not, in fact, win the Battle of Ohio. That title belongs to 10-time NCAA champ Mount Union.
CLEVELAND
Naughty: Kellen Winslow and Braylon Edwards. These guys have put up solid stats the past few years, but they don't have anywhere near the numbers needed to justify their laughable receiva diva antics.
Dear Football Santa: I know the Browns last scored an offensive touchdown Nov. 17 and I know they're playing the Steelers' nasty, angry D this week so if you could actually deliver a TD to Cleveburgh it would truly prove your existence.
DALLAS
Twas the night before my Cowboys PSL was due,
after the 13th season down the drain;
when I looked at my bank statement and wondered;
am I just totally, freakin' insane?
DENVER
Dear Football Santa: Please bring the Broncos enough running backs to make it through the final week of the season -- six or seven ought to do.
DETROIT
Nice: Calvin Johnson. There are moments when he reminds me of a young Randy Moss, practically uncoverable.
Naughty: Fans will put up with a lot. They'll weather decades of poor play. They'll stick around through bad drafts, embarrassing losses, even off-the-field problems. But even the most loyal fans won't put up with this attitude the Lions have about not needing to make major changes. If this organization doesn't completely overhaul its roster and staff, from top to bottom, anyone who buys a ticket for 2009 is certifiable.
Dear Football Santa: After the Lions finish 0-16 the league should step in and forcibly restructure this team -- and start by lending the Lions the GM services of Bill Parcells. If not, you know what the Motor City Kitties are headed for? 0-32. I'm serious.
GREEN BAY
Dear Football Santa: Please give a lump of coal to the defense that dropped 18 spots down to No. 20 this season. Yeah, yeah, I know, it's because they got rid of Brett Favre.
HOUSTON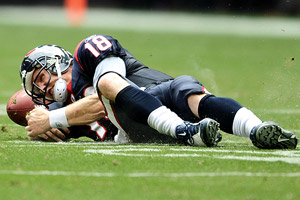 James Lang/US Presswire
Houston's Sage Rosenfels reversed two teams' fortunes in the final minutes of a loss to the Colts.
Naughty:
Sage Rosenfels' total meltdown in Week 5 changed the entire seasons of both the Texans and the Colts.
INDIANAPOLIS
Nice: Even with a defense ranked 31st against the run, the Colts possess the single most important factor in the parity era of the NFL: momentum heading into the playoffs.
Dear Football Santa: Tony Dungy has now coached 10 straight teams to the playoffs, which puts him in the perfect place: one small step ahead of the dignified Tom Landry. Greatness is excellence that holds up over the test of time.
JACKSONVILLE
Nice: Think about the AFC South in 2009: you've got the Colts and Titans as Super Bowl contenders, the on-the-verge-of-greatness Texans and the resurgent, healthy Jags.
KANSAS CITY
Naughty: Take away Tony Gonzalez and I'm not 100 percent convinced this team is any better than the Lions.
MIAMI
Dear Football Santa: Bill Parcells must have been a very good boy this year, since you've already given the Dolphins 22 turnovers for a league-high plus-12 in the all-important takeaway/giveaway ratio.
MINNESOTA
Naughty: Tarvaris Jackson. After three months to work on it, somehow his downfield accuracy actually got worse.
NEW ENGLAND

Naughty: Vince Wilfork.
Nice: Matt Cassel.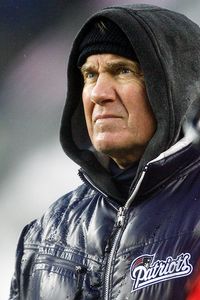 Jim Rogash/Getty Images
Bill Belichick probably won't win a best-dressed award, but he should be named NFL Coach of the Year.
Dear Football Santa: If you really exist, you would give Patriots coach Bill Belichick what he deserves: NFL Coach of the Year honors. The turnarounds in Miami and Atlanta have been impressive, no doubt, but no one has done a better job at the art of coaching than Belichick. I know, I know, he rubs you the wrong way and you just can't let Spygate go, but think about this for a second, you fat old elf: the Pats lost their QB, who happened to be the league MVP, they lost their best runner and their two best defensive players but unlike the Bengals and the Jags they didn't go into the tank. And I think even the Dolphins and Falcons would admit it's a lot harder to stay on top than it is to get there. So think about it. Or bring him a new gray sweatshirt, at least.
NEW ORLEANS

Nice: Drew Brees needs 402 yards to break Dan Marino's record for passing yards in a season.
Naughty: Marino set the mark in 1984 while guiding the Dolphins to the Super Bowl. The Saints can't make the playoffs and will likely finish last in their division.
Dear Football Santa: Thank you for the Saints' 11 straight third-down conversions and their 32 first downs against the Lions. Hope you enjoyed the Lion-shaped cupcakes and milk.
NYJ
Dear Football Santa: I'd like to get the same crystal ball you gave the Packers last year. The one that told them this was exactly what they'd get from Brett Favre: Lots of buzz and jersey sales and then a guy who'd throw a league-high 19 picks; a guy who has six interceptions and one TD in the last, crucial, month of the season; a guy who would distract the team with nonstop talk about his own future while giving off such a grampa-like vibe in cold-weather games that I keep expecting to see him dropping back to pass while wearing galoshes.
NYG
Dear Football Santa: The Giants are the best team in football, no doubt. But I still think in cold games Tom Coughlin starts to look like that elf in the Rudolph special who wants to be a dentist.
OAKLAND
Nice: After watching JaMarcus Russell hit all those passes off such short, fast drops this week against Houston, I'm starting to think with the right coach, a good draft and no more crazy, overpaid free-agent busts, the Raiders could be next year's Dolphins. What's in this eggnog, anyway?
---
DEAR FLEM
In the crazy, topsy-turvy world of the NFL, sometimes fans just need someone to talk to. So once a week Mag senior writer David Fleming will exchange an e-mail with one lucky (we think) reader. If you'd like to have an e-mail exchange with Flem, click here and pour your pigskin heart out. Go ahead, Flem's listening. This week, Flem talks a Bills fan
down from the ledge.
---
PHILADELPHIA
Nice: Gutsy, intuitive coaching move of the year that freaked everyone out but no one is talking about now because it worked so well it almost saved the season: Andy Reid benching Donovan McNabb.
PITTSBURGH
Naughty: Ben Roethlisberger. It's crazy the way he holds the ball so long, giving pass rushers a little extra time to get up the field and into the pocket.
Nice: Ben Roethlisberger. It's gutsy the way he holds the ball so long, risking his own neck to give his receivers a little extra time to get open down the field.
Dear Football Santa: In last week's column we ran a photo of a work hanging in the Steelers' practice facility that was a felt reproduction of one of the team's most famous plays. Lots of speculation ensued. Was it the Immaculate Reception? Or a Lynn Swann TD in the Super Bowl? Nope.
It was a 40-yard TD pass, from Jim Finks to Elbie Nickel, on fourth-and-1 in a 17-7 win over the Eagles in 1954.
ST. LOUIS
Naughty: Antonio Pittman. This is how far the Rams have fallen: a guy with no TDs and 284 yards rushing on a team with two wins thinks he doesn't need practice.
SAN DIEGO
Naughty: If the topsy-turvy NFL season has taught us anything, it's that the Chargers have momentum, health and home-field advantage -- which means they'll probably give up 500 yards to Jay Cutler and lose by 20 on Sunday.
SAN FRANCISCO
Dear Football Santa: How messed up is the NFC West when the 49ers are about to finish second?
SEATTLE
Naughty: Cornerback Josh Wilson. He celebrated a pick by scaling a snow mound and got flagged. Remember everything that was awesome about playing football outside in the snow on winter break with your buddies? Yeah, the NFL is methodically going down that list and ruining all those memories one by one. They also stole all the Who Hash.
TAMPA BAY
Nice: Monte Kiffin. I see all the eye-popping stats supporting how much the Bucs' defense has fallen off since Kiffin decided to join his son at Tennessee next year. But listen: Even the hint or suggestion this guy is somehow mailing it in is one of the most ridiculous things I've ever heard and a real insult to one of the game's greatest coordinators for the past dozen years.
TENNESSEE
Nice: The Titans' defensive line is so deep and talented it almost seems unfair.
Dear Football Santa: I know you're a Steelers fan and all, but holy eggnog -- can we all lighten up about this Terrible Towel stomp? I mean, it's a dish rag, not a religious relic or a country's flag. If your team is in the NFL playoffs and it needs a towel controversy to get fired up before a game, you're in big, big trouble.
WASHINGTON
Bah Humbug: Clinton Portis on the National Fine League: "Everybody's getting fined. You get fined for speaking up. You get fined for saying something about the referee. You get fined for wearing a towel. You get fined for your jersey coming out of your pants. I just got tackled: how am I going to do my job, going through a game thinking, 'let me tuck this jersey in, let me tuck this jersey in.' I'm going through a game trying to play football. All I need is my chin strap to be buckled and my helmet to be on. And from that point on it's down hill. All the knick-knack they get you for now. You can't celebrate. When you score you better hand the ball to the ref because if you do anything that says, hey look, 'I'm me!' you're fined. I don't think they're giving the fans what they want. Fans want to go to a game and see their favorite players celebrate and get wild. All of a sudden this league is about one thing, one message: nope, don't do that."
David Fleming is a senior writer for ESPN The Magazine and the author of the memoir "Noah's Rainbow" and "Breaker Boys: The NFL's Greatest Team and the Stolen 1925 Championship," which has been optioned as a movie. The Flem File will run each Wednesday during the NFL season.