Commentary
A stream of football consciousness
Originally Published:
September 9, 2009
By
David Fleming
| Page 2
What's on my mind as we open the 14th season of the Flem File?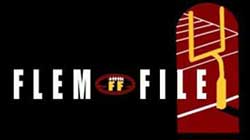 Sex.
Well, kind of.
In the never-ending buildup to the 2009 NFL season, I came across an amazing, although unsourced, stat: that the average American male thinks about sex every seven seconds. Now, I saw the frequency reported as low as every three seconds and as high as every 52 seconds. (And the most accurate number I found was from a study by the Kinsey Institute that says 54 percent of men think about sex several times a day, or more.) But I think for our purposes it's safe to conclude that, yes, men think about sex. A lot.
Just not during this week. Right?
No, after seven months without real football games, in the final hours leading up to the 2009 NFL season I'm guessing every 7-52 seconds the average American male is daydreaming about coolers, hibachis, fantasy football rosters, offseason moves, standout rookies, free-agent busts, quarterback's knees, schedule strength, travel arrangements to Miami and the age-old debate: the home white Polamalu jersey or Blount's black throwback.
To prove it, and to honor and enjoy the start of yet another glorious fall, I decided to conduct my own little highly unscientific experiment: Starting first thing in the morning, and continuing on as long as humanly possibly, I attempted to monitor every single football thought that entered my squishy, Wilson shaped, Pop-Tart filled brain.
Here are the results.
7:49:11 a.m. ET: Yawn. Shuffle. Shuffle. Light. Mirror. Yikes. Need a haircut. That Jared Allen rocks one pretty awesome mullet. Jeff George. Doug Flutie. Need three. Need three. Older players with mullets. Need three to complete the set. Come on. Did Jaromir Jagr ever play football? Stop it. Wait. Dangit.
7:51:06: Franco Harris' beard. No idea where that came from.
7:52:20: Got it: Bob Golic, that's three. Cleveland Browns. Hey, wouldn't it be funny if coach Eric Mangini went with a third choice for quarterback? Uncle Rico, maybe?
7:55:02: The Browns' brown pants are awful. Bad uniforms. Bad things. Oregon Ducks. LeGarrette Blount.
7:56:30: I'm not thinking about the taunting that set him off, Blount's own actions or the season-long suspension. What bugs me is our whole disingenuous reaction. Here's what we say to athletes from a very young age: Here's a scholarship for excelling at a violent game, here's fame for excelling at a violent game, here's a chance at millions for excelling at a violent game. We reward young, immature people for excelling at a violent game and then, when that violence crosses over the constantly moving line of what's socially accepted, we all jump back and gasp in faux horror like total phonies and call for drastic action.
8:00:14: Fumbling around in the kitchen now. It's way too early for such heavy mental lifting. Feed the dog. Must feed the dog. Where was I? Oh yeah, I suppose no one's going to argue Donte Stallworth's season-long suspension, either. But every time I read or heard about him these past few months, I thought back to Hurricane Katrina and the time I spent in San Antonio with the displaced Saints after the storm hit. The team was living out of a hotel. Practicing at a high school. Taking taxis to a Gold's Gym to work out. After a week the guys were fried. And when the team asked players to go visit residents staying at a shelter on a nearby military base, Stallworth was the only guy to volunteer. We drove in together and he was visibly moved and upset by what he saw, and I'll never forget what he told an overzealous security guard (are there any other kind?) who wasn't going to let us through, "Hey, man, these are my people." It just goes to show you, I think, that none of us are all good or all bad. We're a mixture of both.
8:04:00: Kids up, watching TV. Already. Too much TV. TV. TV. Jerry Jones.
8:04:15: The Jumbotron jam up in Dallas is probably the best metaphor for the NFL in 2009. I mean, why should anyone be surprised that a massive, awe-inspiring TV screen the size of the Death Star's tail fin would get in the way of the actual game itself? Television has been doing that to football for the last 50 years. Let's get something straight: Television rules football. Not the other way around. You ever seen a high school game, or small college ball, and noticed how awesome and pure, and fast, it goes without TV interruption? Exactly. Shoot, I'm shocked they didn't lower the stupid thing.
8:04:20: Coffee. Ah. I still think, in our lifetimes, live sporting events will disappear and the games will be played in what basically amounts to large, TV studios. The year is 2031. ESPN Orbit does a special report on the moment live sporting events were doomed: the second Jerry Jones' colossal TV screen, literally, eclipsed the game itself.
8:05:30: HAL the JumboTron.
8:05:32: I saw a football player racing an ostrich on TV.
8:06:44: The second funniest thing I saw on TV this offseason? Bengals rookie Andre Smith's now infamous footwork drill-dance. It looks kinda like a cross between MC Hammer and a penguin on meth. Can you imagine what the Steelers' defense thought while watching that?
8:10:48: Just wondering: If an entire NFL team comes down with swine flu, do they forfeit the game or get to reschedule?
8:11:00: Hmm. Carson Palmer. Good dude. Down to earth. A leader. He's been good for seven years but hasn't won anything, has he?
8:14:07: Kids watching TV. Late for school. Shoes. No, one shoe. Need two. Backpacks. Lunch money. Crabby kids. I'm pretty sure Panthers owner Jerry Richardson taught every parent in the world how to handle two bickering, perhaps ungrateful children. His sons used to be top executives with the Carolina Panthers. Used to be. They reportedly couldn't get along. Dude fired them both. Wish he were here right now.
8:14:25: Panthers. Eagles-Panthers. Good opening-week game. Vick. Goodell. Still disagree with his additional punishment of Vick. Makes me wonder: Commish can discipline them with impunity even though the players have no say whatsoever in who the commissioner is, what he stands for or how long he serves in office. The players' union, if you can even call it that, needs to add that to the list of issues heading into 2011.
8:14:33: I read this summer that the NFLPA was founded in the Cleveland basement of former Browns great Dante Lavelli. Maybe he's the Browns new QB?
8:15:30: Without a rookie salary cap, Matt Stafford will pocket more guaranteed coin without playing a single down in the NFL than Super Bowl champ and proven pro Eli Manning. There is something seriously wrong with the NFL's entire pay system.
8:15:33: Owners owe billions for all the new stadium construction.
8:15:36: The recession.
8:15:39: The ruined health of retired players.
8:15:41: Face it: we're so headed for an uncapped year in 2010 -- where cheapo teams like the Bengals will get their books right by going $30 million under the cap -- and then a strike/lockout in 2011.
8:18:42: The good news? It kinda gives this season an Enjoy It While It Lasts feel.
8:20:00: Shower.
8:44:10: Off to school. Kiss. Kiss.
8:44:11: Joey Porter. Bill Cowher. Good god, make it stop.
9:10:00: The day's early headlines: Miami beats Florida State. Cool news. Did a draft story in the spring about the end of the Canes' 14-year run of first-round picks in the NFL. Bottom line: The U has changed both pro and college football during the last 20 years more than any other organization. (But this year, their pro-day workout was so boring and utterly lacking in talent that I overheard a woman on the sidelines talking about canine allergies on her cell phone during the 40-yard sprints.)
9:10:13: Feel a Miami tangent coming on.
9:10:15: Yep. My school, the original Miami University, was ranked 101st in the country, and that was before we got blown out by Kentucky. This week we face those super humble sportsmen from No. 14 Boise State. How long until the NCAA hockey season starts?
9:11:15: Spent a few minutes this summer reminiscing with fellow alum and Ravens coach John Harbaugh about our RedHawks' killer loss in the Frozen Four. Harbaugh then invited me to fish with the team at the pond behind the facility. I'm the former outdoors writer for the Cincinnati Post, I told him, you amateurs don't want any part of me.
9:11:27: The next Raven I talked to was Derrick Mason. We spent most of our time chatting about how important it is to prepare yourself for your life after the game.
9:11:42: A rather gigantic-sized hint that, alas, I did not pick up on.
9:21:50: Miami. The NFL draft. Jon Beason. This summer I texted with the former Miami player and now Pro Bowl linebacker with the Panthers. His last text was: Call you in 10. That was, um, eight weeks ago.
9:22:10: What if you put Beason's motor in Julius Peppers body? Maybe Peppers is just a good solid player. Not great. Not legendary. But just good. He's become like the "Acquiring Signal" message on my SatRad: I just sit there, like a dummy, expecting it to snap on any second ... and it always seems to be so close but it never does. It never does.
9:26:23: Picks. Picks. Predictions. If he doesn't retire, Tom Brady will win 2009 Comeback Player of the Year, right? Seattle linebacker Aaron Curry for DROY. Mario Williams for defensive MVP and Drew Brees for offensive MVP. I'm thinking the Packers and their explosive offense and questionably revamped D could be the Denver Broncos of 2009. Safe pick: Chargers over Giants in Super Bowl. Stretch pick: Saints over Texans. Purple pick: Vikings over Ravens.
9:27:00: Picks and predictions are so ridiculous in the NFL. Every season for the last 12 years, at least five new teams made the NFL playoffs. That's a fun game to play: which five are leaving, which five are coming and which seven are staying? E-mail me.
9:27:46: The Chargers are loaded, but Norv Turner won't ever make it to a Super Bowl if he has to outcoach Bill Belichick to get there.
9:29:41: The last time I saw Ben Roethlisberger, he was wearing Shaq's Lakers championship ring.
9:31:01: Rams. Bucs. Browns. Lions. 49ers. Chiefs. Broncos. Raiders. Cowboys. Is it me or are there more really bad teams in the league this year than at any other time in the last decade or so?
9:32:08: Chiefs. Were they worse than the Lions last year? Are they this year? That'd be a yes.
9:33:21: In his prime, Zach Thomas is one of the few players I would have paid my own money to watch on a football field. (The Panthers' Steve Smith is another.) The guy's a warrior, so I can understand him not ever wanting to quit the game. But when you get cut by the Chiefs, it's time to hang 'em up and call it a career.
9:34:30: He wouldn't sign with the Raiders, would he?
9:34:48: I've got a good motto for Oakland in 2009. It comes from a movie, "Semi-Pro," that gets better with each viewing. "IT'S JUST LIKE THE TITANIC ONLY WITH BEARS EVERYWHERE!"
9:35:11: Having averaged 12 losses a year since their Super Bowl appearance, my guess is a Raiders fan will be the first person to volunteer for Dear Flem. Or maybe it will be Richard Seymour himself. Either way, I enjoyed the e-mail exchanges with readers last year and was impressed by the passion and knowledge on the other side of the computer screen, so I hope we can keep Dear Flem going.
9:36:00: I honestly think the Seymour trade is proof that at some point the NFL would be justified in stepping in and helping to run the Raiders. Seymour is a good player, I'm not knocking him at all. But the trade showed a lack of basic fundamental understanding of the economics and strategies of the NFL. At 30 and playing in a different scheme, he's probably worth a second-round pick, at best -- and since he's a free agent at the end of the season, that means in exchange for 16 disgruntled weeks of service, the Raiders gave away a chance at drafting, maybe, the best young defensive prospect in college, someone they'd have on their roster for five years at a cap-friendly price.
9:43:10: You gotta feel for Seymour right now, though. I mean, you can't make a bigger drop in the NFL than to go from Boston to Oakland. How bad is it? Randy Moss left more than $10 million on the table in order to leave Oakland for New England.
9:55:09: In the car. I just missed my exit while texting my own thoughts back to me. Is this what it feels like to go crazy? I'm barely two hours in and I'm worn out -- by myself, not to mention texting in a moving car. Who came up with this column idea, anyway? Oh, right.
10:13:59: Cars. Wrong turns. Speaking of the Lions, did you know that they didn't lead for a second in 10 of their 16 losses last year? Not quite as "close" as Kevin Smith might think.
10:14:05: Spent lots of time with the Lions during the offseason, even a day at a boccie ball tournament where one of the rules on the court was: Go Call Your Mother. I think they'll be the most improved team in the league and still finish 4-12. Jim Schwartz, maybe the brightest branch of the Belichick coaching tree, compared turning a team around to going on a diet. You can put on a sweat suit, drink milk shakes and starve yourself and have the weight come right back, or you can change your entire lifestyle, eat better, exercise every day and, after a year or two, see permanent results. As a former wrestler, I could appreciate this analogy. I just hope he gets the time to fix Detroit's version of Jabba the Hut.
10:24:15: Stafford is good but he's not ready. The ideal way to bring him along would have been to start Daunte Culpepper, play six or seven games, let the season sort of slip away without making it look too obvious, and then insert the rook when all the actual pressure is off. Now the goal has to be -- seriously -- not to ruin this kid forever.
10:24:23: Remember, until just a few years ago no quarterback had won Rookie of the Year. Ever. That's how much the timetable has sped up in the NFL. Rookie passers used to be given a two-year pass. Now they're expected to lead their teams to the playoffs. I wish it could happen in Detroit, I really do. The Lions and the auto industry peaked at the same time -- in the 1950s. And now the two groups seem to have this weird, co-dependent relationship. As bad as they are, the thinking goes, if there's hope for the Lions, maybe there's hope for Motown, too.
10:25:10: All this fuss over the offseason. I mean, the same mind-numbing drills and kickoff-return practice over and over and over again. Does it mean anything? "The offseason doesn't always translate," one veteran player told me in Detroit. "This time last year, I thought we were in good shape. I mean, I thought we were having a tremendous offseason and look what happened. What you learn is that in this business it comes down to good coaching and talent -- and we didn't have either."
10:33:08: Driving. Road rage. Hmm. Before camp, was talking to tackle Tony Pashos. (This was before he got cut by the Jags and signed by the 49ers.) He's bald and 6-foot-6. So when future stars of Tool Academy road rage on him in Chicago and point for him to pull over, he enjoys following their orders and then slowly getting out of his car and watching as they wet themselves in fear, lock their doors and screech away in a cloud of smoke.
10:33:20: The Black Keys. They're the only ones who can sooth my aching brain.
10:33:27: Wonder what Morrissey song the horribly confused NFL will use to promote itself this year?
10:33:30: I gotta go off the grid for a few minutes or I'm not even gonna make it till noon.
11:01:55: I'm back. Hungry. Need food. Eat. Ya know, I saw Jay Cutler throw a ball so hard this summer it knocked out Earl Bennett's mouthpiece.
11:15:36: Back at computer. Headlines: Bills' offense not bland enough. Really? In a league where the last offensive innovation is now 30 years old? Did I include the Bills in my long list of bad teams?
11:15:38: They want bland, they should make the director of T.O.'s lame reality show the offensive coordinator. What happened to T.O.? I miss him. And when did Randy Moss become moot? Is there anyone left in the NFL who is actually fun to root against?
11:16:02: Besides Brett Favre, I mean.
11:16:23: The dumbest thing I've heard this offseason is that Favre makes any team a championship contender. Really? Actually, if you bother to look at his performances down the stretch the last several years of his career, Favre has actually been the main reason his teams don't win a championship.
11:16:47: ...I see another horrific collapse on the horizon for Favre in those final three games of the season when, in 14 days, he plays on the road in Carolina, Chicago and then home against the Giants.
11:22:04: When the league expands to London, I think the team should have to use Tampa pewter and Seattle nuclear-waste green as its colors.
11:22:10: In an uncapped 2010, could a player sign a five-year, $25 million contract, take $24 million in cash in 2010, and then play for a mega cap-friendly $250K the next four seasons? The Redskins could win five Super Bowls in a row.
11:22:18: My only piece of fantasy football advice: Get Bears tight end Greg Olsen on your team. I'm not even sure he's a tight end. He might just be a gigantic slot receiver.
11:27:00: I think I've kissed the baby.
11:37:00: Late last season, we did a huge package on the future of NFL offenses and how a defense like the 2008 Steelers (maybe one of the all-time underrated units in the game) would attack it. Steelers defensive end Aaron Smith was one of the guys who got way into the story, coming up with all kinds of wild defenses and formations and theories on how to stop the super spread offense. To a man, the Steelers said basically the same thing: You can hit any quarterback out of his scheme. Anyway, Smith was still thinking about it a few weeks ago when I visited Pittsburgh.
11:40:33: So here's our latest theory on the game: Someday the NFL will split into two divisions, a run-only, old-school smashmouth division and a pass-only, no touching the quarterback new-age, super-fast, video-game style division.
11:40:40: Actually, that's not that nuts.
11:45:56: Also chatted up Deshea Townsend about James Harrison's 100-yard interception return for a TD against the Cardinals in the Super Bowl. The Steelers showed it to their rookie defenders during OTAs as a way to teach them what it means to play defense in Pittsburgh.
11:47:09: Because the Steelers were in zero coverage (meaning: no help) when Larry Fitzgerald set a pick on Townsend, Anquan Boldin should have been wide open for the touchdown. Except Harrison decided at the last second not to blitz and the ball hit him right in the gut. He runs 100 yards for a touchdown and the game is 17-7 Pittsburgh instead of 14-10 Arizona.
11:47:13: At their root, sports are really about cheating death, meaning, creating something that will last well past your time on this marble. And I get the feeling players like Townsend realize that their great-grandkids will probably be watching that play someday.
11:50:44: Two-back systems are all the rage now. What do you want to bet that the combos where the two backs dislike each other are far more productive than the ones where they are best buds? And what do you want to bet that coaches secretly stoke those feelings?
11:52:12: There's a pool table inside the Steelers' locker room now. I'd rather have a combo Ms. Pacman/Donkey Kong machine.
11:52:14: Do tiny baby-sized shoulder pads make linemen's torsos look huge or is it the other way around?
11:59:11: One of my other favorite moments from the summer came at Bears camp, when the offensive line stayed late after a long, hot practice to work on hand-fighting techniques. Teammates and coaches were gone. Media was gone. Equipment guys were gone. The fans were leaving. Even security was starting to pack up. And there were the anonymous linemen, exhausting themselves with drills that looked like a cross between a Bruce Lee movie and a pillow fight, long after their work days were supposed to have ended.
11:59:23: This summer Jags O-line coach Andy Heck told me: "If there's an offensive lineman playing in the NFL, I promise you he's walking around, on a daily basis, with the kind of pain that would cause most people to run to the hospital and say, oh my god, help me, something is terribly wrong."
12:00:00 p.m.: After four hours, 10 minutes and nine seconds of nonstop football thoughts (a rather virulent one every 310 seconds, to be exact) I think I know what he's talking about.
12:00:04: Kickoff for the 2009 NFL season is still a day away and I'm already exhausted.
12:00:08: How awesome is that?
David Fleming is a senior writer for ESPN The Magazine and the author of the memoir "Noah's Rainbow" and "Breaker Boys: The NFL's Greatest Team and the Stolen 1925 Championship." And his work will be featured in the 2009 Best American Sports Writing anthology. The Flem File appears every Wednesday during the NFL season with updates on Mondays and Fridays.
ESPN Senior Writer
Senior writer for ESPN The Magazine and FlemFile columnist for ESPN.com.
Has written more than 30 cover stories for SI and ESPN.
Author of "Noah's Rainbow" (a father's memoir) and "Breaker Boys" (stolen 1925 NFL title).