Commentary
The pursuit of throwing perfectly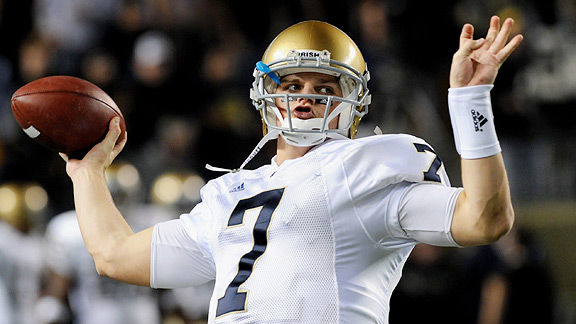 Al Messerschmidt/Getty Images
Twelve Things I Learned About QB Mechanics and The NFL Draft ... while writing the Jimmy Clausen cover for ESPN The Magazine's draft preview.
• I learned ... that one of the things that profoundly effected Jimmy Clausen and motivates him to this day was watching his older brother Casey sit through the entire 2004 draft without getting selected. Casey performed well at Tennessee but his phone never rang. When the draft finally ended, Casey walked right up to Jimmy and said, "That's never gonna happen to you." Anyone who's a younger brother (like me) understands the impact that had on Jimmy. "That was a tough moment for him and for the rest of our family, but it drove me to another level," Jimmy says. "Every time I work out or play, I have that in the back of my mind, that I don't want that to happen to me and I have to do everything I can not to let that happen."
• I learned ... that back in 2001, then-Seahawks QB coach Jim Zorn tinkered ever so slightly with Matt Hasselbeck's mechanics. Zorn wanted him to make his motion a bit more compact and explosive. The rest of the story tells you everything you need to know about how complicated and counterintuitive it is to throw a football the right way. At one point in the process, a frustrated Hasselbeck finally turned to Zorn and complained that he felt awkward, confined and uncomfortable. That's when Zorn jumped up and shouted "THAT'S IT! YOU GOT IT!"
• I learned ... that after examining his horrific throwing motion, Uncle Rico is delusional about ever having a chance to take state.
• I learned ... that some readers were just as skeptical as I was (before starting my research) that throwing a football was actually all that complicated or difficult. Bill Franklin from Denver wrote: "[You wrote:] "The most complex motor skill in all of sports -- the forward pass. Wow. There is no way you can be serious. Stunning."
Most exercise scientists and kinesiologists agree, however, that throwing a football at an elite level is, in fact, the most complex motor skill in all of sports. For the excruciating details of throwing mechanics -- stuff like pronating the palm and keeping the elbow at 90 degrees -- you should check out the story in The Mag. But here's the short version: Throwing the football well is not about doing one or two big things great. Instead, it's about perfecting a thousand different parts of an intricate, complicated kinetic chain that starts in the toes and ends at the finger tips. And it's not just about mechanics, angles and alignment, it's about timing, about getting each part of the throwing motion to fire at the correct moment. "Throwing the football is not static like a push-up; it's a complex chain of events where timing, technique, alignment and even aerodynamics are all critical, " says Dr. Larry McDaniel, a former college coach and now a professor at Dakota State University who has written about throwing motions. "That's what makes the overhead throwing motion the toughest motor skill to learn."
Like Bill from Denver, I was still skeptical. Doc McDaniel said sure, throwing a baseball is complicated, as is hitting a golf ball. Now, imagine a pitcher or a golfer trying to hit his target while it moves 18 mph and 120 feet downfield just as some crazed linebacker like James Harrison is about to drive his helmet into your sternum -- and now you understand why there are only 10 or so elite QBs walking the planet at any given moment. Because throwing a football involves hitting a moving target under such pressure, it is the most complex motor skill in sports.
The second-most complex motor skill in sports?
Packing that much uninformed condescension into such a short e-mail.
• I learned ... that for Dr. McDaniel, it can be hard to know so much about throwing mechanics while being a fan of Brett Favre, who sometimes uses a throwing motion that would make Garo Yepremian blush. "Before he made that final throw against the Saints in the playoffs, I jumped up before anybody and I think it was a four-letter word that came out of my mouth," says McDaniel, a die-hard Vikes fan. "Just by looking at the position Favre's body was in when he made that throw -- absolutely terrible position -- it was very evident that the result was probably not going to be a good one."
• I learned ... that Clausen's dream game as a passer was in the 2008 Hawaii Bowl. That day he completed 22 of 26 passes for 401 yards, five TDs and zero picks. "Ever seen a golfer hit a great drive and then start walking down the fairway before the ball even lands -- because they just know it was a great hit before anyone else does?" says Clausen. "As a QB, that's what it feels like in a game like that: Everything was just clicking, I was making the right checks, reading the defense, and I was already walking up the field after letting the ball go because you just knew it was gonna get through that tight window and be a completion."
• I learned ... the two most telling stats when it comes to timing and accuracy in throwing the football: (1) That a delay of even one-tenth of a second in a throwing motion (Tim Tebow) is enough time for a defensive back or pass-rusher to move 3 feet, which is more than enough to destroy the entire play; and (2) a football traveling 30 yards, spinning or wobbling more than 4 degrees off its axis, will wind up 5 feet off its target.
• I learned ... that I probably single-handedly jinxed my beloved Miami (Ohio) University in the Frozen Four by booking a trip to Detroit for just the NCAA championship game. After being ranked No. 1 pretty much all season and surviving a double-OT thriller against Michigan in the regional finals, my Li'l RedHawks got blown off the ice in the national semis by eventual champion BC. Don't get me wrong, national titles are important, and I'm certain coach Enrico Blasi will eventually bring a handful back to campus in Oxford, Ohio -- but in the end, this year's team will forever be remembered for the class, dignity and strength the players showed in honoring student manager Brendan Burke, both before and after the tragic car accident that took his life.
• I learned ... that Jimmy Clausen isn't going to apologize for being confident, nor should he. "I'm sure you've heard lots of people say I'm a cocky quarterback," the QB told me. "But that's just the confidence I have in myself and my team and how much I love the game of football. I have fun when I play. It's the greatest game ever. Just to be out there, playing this game that I love, it's an awesome feeling and so much fun. Part of my job is to exude confidence in order to rally people around you. To drive down the field to win the game late in the fourth quarter, you can't do that and be all laid back and quiet and, 'OK guys, um, come on, let's try this.' I get fired up. People say that's cockiness. I say that's my passion for the game."
• I learned ... from QB guru Steve Clarkson that if you want to teach your kid to throw the ball the right way, find some old film of John Elway and copy him. Drew Brees also has annoyingly perfect throwing mechanics. Other coaches singled out Dan Marino and Sammy Baugh for their explosive, but fluid, fundamentals. Makes perfect sense. But how about this: "Terry Bradshaw had one of the greatest throwing motions of all time," Clarkson told me. "His arm and hand looked like a hammer." Who knew?
• I learned ... that Urban Meyer is quite fond of Tim Tebow. The Florida coach regularly weeps at the mere mention of Tebow's name and is not afraid of jumping down the throat of a reporter who runs less-than-flattering quotes about the QB -- no matter the source. But when you break down Tebow's broken-down throwing mechanics, Meyer's overly emotional reactions to all things Tebow don't make a lot of sense. In some of the throws I analyzed, Tebow's old form is so poor it's hard to imagine him even managing to stay upright, let alone completing a pass. Which begs the question: If Meyer cares so deeply about Tebow and knew of his dream to one day star in the NFL, why in the world would the coach let his QB continue to throw like this for four years?
• I learned ... that former Ravens coach Brian Billick was probably right when he admitted a few years ago that after all the research, time, money, study, debate and analysis that goes into pre-draft evaluations, when it comes to picking a franchise QB, the odds are still no better than a coin flip.
And, in the end, that's kinda why we all love the draft so much, isn't it?
This Column Written While Listening To: Trip-Semisonic-Shakespeare -- er, I mean Carolina Liar.
David Fleming is a senior writer for ESPN The Magazine and the author of the memoir "Noah's Rainbow" and "Breaker Boys: The NFL's Greatest Team and the Stolen 1925 Championship." And his work will be featured in "The Best American Sports Writing 2009" anthology. The Flem File appears every Wednesday during the NFL season with updates on Mondays and Fridays.