Commentary
Breaking down the Bills' QB situation
Originally Published:
September 23, 2010
By
David Fleming
| Page 2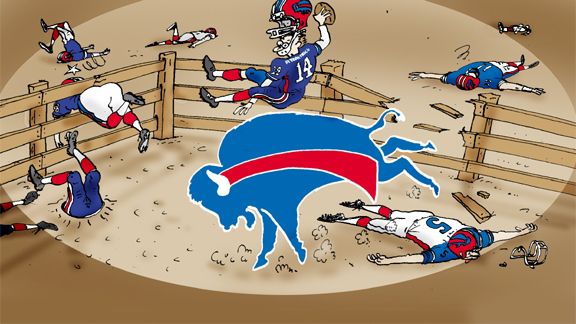 Kurt Snibbe/ESPN.com
With his team at a now-familiar 0-2 and ranked dead last in passing yards, on Monday Bills coach Chan Gailey -- following a time-honored tradition in Buffalo that dates back to 1997 -- yanked his starting quarterback Trent Edwards in favor of Ryan Fitzpatrick, the 250th player taken in the 2005 draft, marking the fifth in-season QB change for the Bills in the past six seasons.
The team, Gailey said, needed the kind of "spark" only a former seventh-round draft pick out of football powerhouse Harvard could give them. Even though many moons ago in Buffalo a wise old sage named Marv Levy once said, "Changing quarterbacks is always a moot question, it often doesn't help much."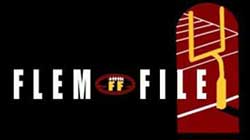 Of course, Levy said this in 1997, right after he, um, changed quarterbacks. That's just the nonsensical way things have gone in Buffalo since Hall of Fame quarterback Jim Kelly retired. From the knuckleheaded Billy Joe Hobert forgetting to read his playbook to Flutie Flakes to future UFL star J.P. Losman, the Bills have gone through, by my count, 11 quarterbacks and 10 seasons without a playoff appearance.
Confused?
Fret not, Flem Filers, for I can sum up the Buffalo Bills quarterback situation in one simple sentence …
I'm pretty sure Jim Kelly doesn't even remember what most folks in Buffalo would like to forget: In a playoff game against the Jags in 1997 the Bills Hall of Fame QB suffered a concussion and, after a season with a career-low 14 TDs and a career-high 19 picks, decided to hang 'em up, thus setting into motion 14 straight years of Bills buffoonery under center; a long, laughable list that begins with original heir apparent Todd Collins, a second-round pick out of Michigan in the 1995 draft, who started 3-2 but played more like Phil or Tom, until he injured his shoulder against the Patriots and was replaced by the infamous Billy Joe Hobert who promptly threw a pick on his first pass leading to a 33-6 blowout loss, after which Billy Joe admitted (awesomely, I might add) that he hadn't actually, you know, opened his playbook that week, which led to his release a few days later and cleared the way for Alex Van Pelt to throw 10 picks and two TDs leading to a 6-10 season that prompted legendary coach Marv Levy to follow Kelly into retirement where he was replaced by Wade Phillips who in 1998 also released Collins, and, despite a roster old enough to require an Early Bird Special for their training table, the coach also signed six-time CFL MVP Doug Flutie, then 35, and traded away a first- and fourth-round pick to the Jags for Rob Johnson, a passer whose release was so slow scouts measured it in light years, which led to stitches in his chin in his first game, and then eight brutal sacks against the Dolphins in Week 5, opening the door for the late-game heroics of the diminutive Flutie who became a Pro Bowl QB (despite an 87.4 passer rating) and a spokesperson for the sugary but still somehow bland Flutie Flakes after a 10-6 record and a wild-card berth that ended, with time running out, with Flutie getting destroyed at the 5-yard line by the Dolphins whose coach, his old college nemesis, Jimmy Johnson, celebrated by jumping up and down on a pile of Flutie Flakes, a slightly uncool gesture since, you know, the Flakes (the cereal, not the coach) helped fund autism charities; an ignominious ending to Flutie's season but just a warm-up for how he'd finish 1999 when, after starting 25 of 27 games and leading the (11-5) Bills back to the playoffs, Flutie was inexplicably benched by the perpetually uncertain Phillips (hmm, sound familiar, Cowboys fans?) who went with Johnson for a wild-card game in Tennessee; a bold move that seemed to pay off when Johnson, operating at times with just one shoe, led the Bills to a last-second go-ahead field goal only to watch in horror as the Titans pulled off the Music City Miracle on the ensuing kickoff, a stunning gut-punch that sent the Titans to the doorstep of a world championship and the Bills on a franchise death spiral they have yet to pull out of -- now, unable to deal a 37-year-old Flutie and unwilling to unload the expensive Johnson, Buffalo went into 2000 with two starting QBs -- which in the NFL means you have actually have none -- opening with Johnson under center after Flutie tore his groin (a horrendous injury that, some say, feels exactly like it does to be a Bills fan) and sat the first six weeks until he led the Bills to three last-second wins and 44 points in the season finale against Seattle, after which he was promptly … cut that spring because of his $5 million price tag, in a salary-cap purge of aging vets (and bad coaches) that, inexplicably, did not affect Johnson who repaid the 2001 Bills by going 1-7 (including a loss to a Flutie-led Chargers team) with five TDs and 31 sacks before the Pats put him out of his misery with a shoulder injury, opening the door in 2001 for Alex Van Pelt who then slammed said door on his fingers, throwing four picks in a 35-0 loss to the 49ers, something that made the Bills so desperate they considered Travis Brown from Northern Arizona University who would go on to throw a grand total of 29 passes in the NFL, valuable experience that, of course, led him to open a QB school after his retirement from the game, a move that, nonetheless, cleared roster room for the Bills to take a QB high in the draft (it was going to be either David Carr or Joey Harrington, who both turned out to be busts which, strangely, means blowing the 2002 draft ranks as one of the team's best QB decisions of the past 14 years) but when that didn't pan out Buffalo traded another first-round pick to acquire New England's Drew Bledsoe, who received a hero's welcome in town and, after fully recovering from internal injuries in 2001, threw for 4,359 yards, resurrecting his career with a trip to the 2002 Pro Bowl, despite the fact that the Bills' offensive line (perhaps the main culprit in this whole entire, extended QB mess) and Bledsoe's oak-tree-like pocket mobility led to 54 sacks and a decidedly mediocre 8-8 season; Bledsoe would start 48 games for the Bills and take nearly every snap between 2002-04, improving the team from two wins to nine, but never managed to get the Bills above third place in the AFC East, therefore making it necessary for the Bills' new staff -- coach Gregg Williams was replaced by former Steelers O-coord Mike Mularkey (at this point the team considered installing revolving doors in their coaches' offices) -- to (again) trade (another) king's ransom (for yet another crappy QB) to the Cowboys -- this time a first, a second and a fifth-round pick -- to move up to No. 22 to snag the this-time-we-really-mean-it-seriously-why-are-you-laughing? quarterback of the future, J.P. Losman, from sure-fire NFL player factory Tulane who, yep, broke his leg during the preseason, requiring the Bills to sign journeyman Shane Matthews, who was so bad the Bears signed him twice, and therefore unable to help the Bills in their final game of 2004 when, needing only a win at home to make the playoffs, they lost to a group of Steelers backups, thanks to 16 completions for 189 yards and a pick by Bledsoe who responded to his inevitable demotion by leaving for Dallas, thus paving the way in 2005 for the Lostman, er, Losman Era, to begin; well, it lasted four whole weeks until Losman (75 yards, a pick and three sacks) was benched in the fourth quarter against the Saints in favor of journeyman Kelly Holcomb (the second most famous athlete from Middle Tennessee State behind some WNBA player I've never heard of) who, concussed by the Pats (Holcomb, not the WNBA player) -- New England, we should pause here to say, has done more damage to Buffalo then Brett Hull, the GooGoo Dolls and Scott Norwood combined -- was replaced by Losman who, somehow managed to get hurt, again, lose four more games and blow a 21-0 lead against the Dolphins, leading desperate owner Ralph Wilson to re-hire the then-80-something-year-old Marv Levy who in his first act as GM hired the equally offensively overmatched Dick Jauron to coach the 2006 Bills to a 7-9 finish with the help of an actually kinda decent season from Losman (3,051 yards and 19 TDs), his first and last, by the way -- pssst: check this out, due to struggles with injuries, four different offensive coordinators and the Bills' QB curse of holding the ball for-ev-ah (103 sacks) Losman wound up going from the Bills to the UFL (hand to god) before taking a serious step down to join the Raiders, even though the official Losman website still, to this day, has him in a Bills uniform with the 2008 headline "Bills Revive Playoff Hopes" on the front page (and you thought you were confused) -- because Losman lost his starting job in 2007 to Trent Edwards, a passer Buffalo snagged in the third round of that year's draft out of Stanford (without trading away a single future first-round pick, go figure) who became the first Bills rookie QB since 1973 to win five games (is that a compliment or a criticism? can't tell … ) before carrying that momentum into 2008, completing 65.5 percent of his passes for a 7-9 team, followed in 2009 by a 1-4 start that, despite the calming presence of T.O., ultimately set off this bizarre, brainy chain of events: after the Yale-grad Jauron got fired, Edwards, the QB from Stanford gave way to the former Harvard QB Ryan Fitzpatrick (who registered a near-perfect 48 on his Wonderlic) who rallied the team to a 16-13 OT win against the Jets -- the season's only actual highlight -- which, naturally, caused fellow brainiac Jim Kelly (an "expert" who once opined "All the teams that are doing well, they all have quarterbacks") to get serious for a moment and remark that after 10 seasons without a playoff berth and 11 different quarterbacks since 1996 (and counting), it was high time the team dumped Edwards and "find someone who is the future of the Buffalo Bills," an opinion Kelly then promptly reversed a few months later when he declared "I hope [the starter] is Trent," a statement that, once again, made no sense whatsoever, especially after Kelly spent so much time before the draft publicly fawning over Tim Tebow, a player with a unique skill set that sure looked like a perfect fit with new head coach Chan Gailey; alas, the Bills passed on Tebow, started the 2010 season 0-2 and ranked 32nd in passing, flipped Edwards for Fitzpatrick (let's just call them: Ed Fitzpatwards, it'll be easier) for this week's game at (gulp) New England, creating an even higher level of desperation for Bills Nation that evoked Kelly's message of faith to fans this spring when he said, "Now, before U go 2 bed -- pray for our Buffalo Bills!" to which all I can say is you can wait for divine intervention in Buffalo if you want, but you'd probably have better luck re-signing Billy Joe Hobert.
Editor's note: Looking for Flem's top five, his music riffs and weekly reader e-mail WHYLO (who helped you log on?) awards? Check 'em out on Facebook and Twitter at @daveflemingespn.
David Fleming is a senior writer for ESPN The Magazine and columnist for ESPN.com. While covering the NFL for the past 16 years at Sports Illustrated and ESPN he has written more than 30 cover stories, two books, ("Noah's Rainbow" and "Breaker Boys") and his work has been anthologized in The Best American Sports Writing.