Commentary
Jay Cutler is Jeff George reincarnated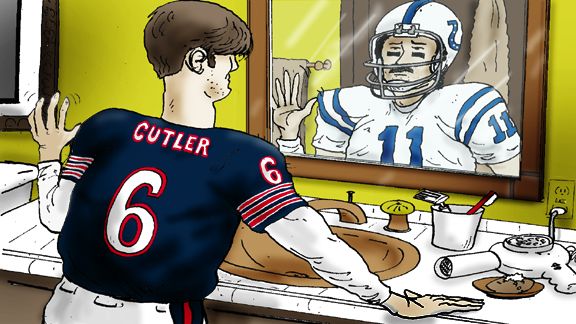 Kurt Snibbe/ESPN.com Has anyone ever seen Jay Cutler and Jeff George in the same room?
Jake Plummer started it.
After the 2008 season, when Jay Cutler and the Broncos became just the third team in NFL history to blow a three-game lead in the division and miss the playoffs, the former Broncos QB who always seemed to do more with less (he was 40-18 as a starter in Denver) said the physically gifted Cutler (17-20 with the Broncos) was "a helluva player."
"But," Plummer added, "Jeff George was a helluva player."
I picked up on that statement, and in ESPN The Magazine's 2009 NFL preview mentioned the uncanny comparisons between Cutler and George: two can't-miss, Hoosier-born QBs with golden arms and rotten 'tudes. Then, in December, former Ravens coach Brian Billick mentioned that Cutler, who led the league in picks, was starting to feel a little "Jeff George-ish." Pretty soon everyone was wondering if Jay Cutler was indeed the reincarnation of Jeff George, the No. 1 pick overall in 1990 whose attitude and leadership led him to three winning seasons in 12 years with five different teams.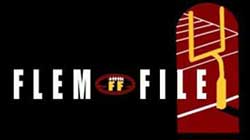 The Cutler-George comparisons had just started going away until last week, when Cutler single-handedly blew a game against the Redskins with four horrid interceptions (all to DeAngelo Hall) and a goal-line fumble. It was the 17th time he's thrown multiple picks in a game in 60 career starts.
As if that wasn't bad enough, before the Hall of Fame could even ask for Hall's jersey, Cutler was at the postgame podium in his perma-smirk, spewing what has to be the most asinine, delusional, out-of-touch and arrogant quote of the year. "There's no reason to shy away from Hall," said Cutler. "I mean, that's hard for me to say, throwing four picks at a guy, but I'd still, if we had to play them tomorrow, I'd go at him every time, if we could."
The Washington Post compared Cutler's statement to Napoleon saying he'd invade Russia in the winter every time, if he could.
And so, that night, the comparisons started up again.
On ESPN's Sunday Night Countdown, Cris Carter said: "Great talent in Cutler, but what I'm seeing is the same thing I saw in another great talent, talent undeveloped and the perfect storm. Cutler and Mike Martz equals a guy, Jeff George: Great talent, undeveloped."
So I decided to dig a little deeper and work up a side-by-side comparison between Jay Cutler and Jeff George. And what I found is frightening. Creepy even.
In fact, I think we can all stop arguing about the Jay Cutler-Jeff George connection and, instead, start investigating why no one has ever seen these two in the same room together.
See for yourself.
THE BALLAD OF JAY GEORGE
CATEGORY
Jay Cutler
Jeff George
BORN IN
Indiana (Santa Claus)
Indiana (Indianapolis)
INDIANA HIGH SCHOOL STATE CHAMPIONSHIP
2000 (Heritage Hills)
1984 (Warren Central)
COLLEGE FIRST CHOICE/ENDING COLLEGE
Illinois/Vanderbilt
Purdue/Illinois
MAJOR COLLEGE BOWL WINS
Zero
Zero
ARM STRENGTH
Bazooka
Cannon
GOOD WORKS
Jay Cutler Foundation
Jeff George Foundation
BODY TYPE
Doughier (6-foot-3, 233 pounds)
Doughy (6-foot-4, 218 pounds)
SIGNATURE HAIRSTYLE/FACIAL FEATURE
Frat-boy flop/jowly scowl
Townie mullet/sweet 'stache
DRAFTED
In 2006, Denver moved up to take him 11th in first round
In 1990, Indy moved up to take him 1st in the first round
INTERCEPTIONS FIRST FIVE SEASONS
70
64
EXPERIENCE WITH FIRST TEAM
Lasted three years. Just before turning 26, dumped after me-me-me attitude strains relationship with coach and management
Lasted four years. At 26, dumped after me-me-me attitude strains relationship with coach and management
TRADED
To the Bears for two first-round picks and a third-round choice and other players
To the Falcons for two first-round picks and a third-round choice and other players
WINNING SEASONS FIRST FIVE SEASONS AND RECORD AS STARTER
None (28-32)
None (21-44)
INTERCEPTION PERCENTAGE IN YEAR FIVE
3.9
3.4
HE SAID IT
"They punted once, I think. It puts a lot of pressure on us." -- blaming defense after loss to Chargers in 2008
"Leadership is overrated." -- in 2001
QB RATING
83.9 after five years
83.3 in year five
LED LEAGUE
Interceptions (26 in 2009) and sacks (27 in 2010)
Sacks (56 in 1991)
OUCH
"[Jay Cutler] and Tony Gonzalez are the biggest crybabies in the league."
-- linebacker Matt Wilhelm
"The bottom line is, I did not think the Washington Redskins could win with Jeff George as our quarterback."
-- Marty Schottenheimer
SIGNED BY BEARS
In 2008 for $30 million extension
In 2004 for $237,500 (league minimum, prorated for five games)
EPIC HISSY FIT
Upset that the Broncos would dare to consider trading him, he blows off the owner and demands a trade
In 1996, gets suspended for sideline tirade against coach June Jones
SIGNATURE SEASON
In 2008, throws for 4,546 yards; team goes 8-8, blows three-game divisional lead and misses playoffs
In 1997, throws for 3,917 yards, Raiders go 4-12
NOT HIS BEST WORK
Throws two picks in 52-21 loss in regular-season finale, culminating an epic collapse that makes Broncos just third team in NFL history to blow a three-game divisional lead
Starts 2001 season 0-2 with 34.6 passer rating as Redskins get outscored 67-3. Cut by Marty Schottenheimer, who replaces George with Tony Banks, who wins eight games with same team
STATISTICAL LOW POINT
Games in career with multiple picks (17). Games with zero picks (15)
1-15 as starter in Indy
PLAYOFF APPEARANCES IN FIRST FIVE SEASONS
Zero
Zero
LEADERSHIP STYLE
Unconcerned, aloof and smirky
Aloof, smirky and uninterested
EFFECT ON REVOLUTIONARY OFFENSE
Greatest Show on Turf (current NFL ranking: 22nd)
Run-'n'-Shoot (current status: extinct)
MOST DELUSIONAL STATEMENT
After throwing four easy interceptions to Redskins DeAngelo Hall, Cutler says "If we had to play them tomorrow, I'd go at him every time, if we could."
In 2004, gets tryout with 6-10 Lions, who pass on George. Four years later, George says he looks around the NFL and he wants to "scream at the people in charge, 'What are you thinking?'" George, who had three winning records in 12 seasons with five different teams, also insists he'd have a Super Bowl ring if he was still playing for the Vikings.
SAD ENDING SCENARIO
Continues with the horrid interceptions, sacks and milquetoast leadership; Bears fail to take advantage of a down year in the injury-ravaged NFC North, Lovie Smith gets fired; next coaching staff isn't afraid to actually stand up to Cutler, he gets sent packing, and people start writing "journeyman" next to his name, the first step toward ending up like ...
... Out of the league for nine years but, at 42, still humiliating himself by publicly begging for another chance, probably because he realized (far too late) that he squandered his rare talents.
Editor's note: Looking for Flem's top five, his music riffs and weekly reader e-mail WHYLO (who helped you log on?) awards? Check 'em out on Facebook and Twitter at @daveflemingespn. Also, coming Friday a sampling of the voluminous reader response to the Flem File's Requiem for the Golden Boy.
David Fleming is a senior writer for ESPN The Magazine and a columnist for ESPN.com. While covering the NFL for the past 16 years at Sports Illustrated and ESPN, he has written more than 30 cover stories and two books ("Noah's Rainbow" and "Breaker Boys"), and his work has been anthologized in "The Best American Sports Writing."