Commentary
Turkey of the Year Awards
Originally Published:
November 24, 2010
By
David Fleming
| Page 2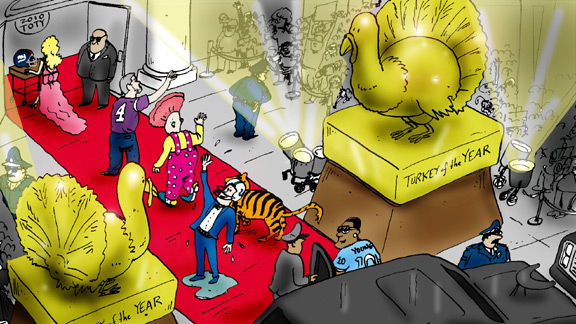 Kurt Snibbe/ESPN.comWelcome to the Turkey of the Year awards, with your host David Fleming.
I knew if I did this Turkeys of the Year column long enough, T.O. and I would eventually agree on something. Well, after 14 years it finally happened.
Last week, after the Bengals' epic, gutless collapse against the once 0-8 Bills -- they blew a 21-point lead and were outscored 35-0 in the second half -- Terrell Owens called his 2-8 team "terrible."
Took the words right outta my mouth. Now, I ask you, how bad do things have to be for T.O. to become the voice of reason on your team?
Pretty bad.
In fact, the 49-31 blowout loss gave Cincinnati a league-worst seven-game losing streak while assuring the Bengals would continue to have just two winning seasons in the last 20 years. Ya know how many winning seasons the Lions have during that stretch? Six.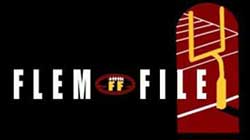 It gets worse. Brad Childress was one stupid play by Brett Favre from taking the Vikings to the Super Bowl last season. Ten months later? He's gone. But in Cincinnati there's still talk of a possible contract extension for coach Marvin Lewis, who in eight long years is 58-65-1 and still looking for his first significant win.
His Bengals start slow, they play sloppy, they don't protect the ball, they can't pass, tackle, cover, kick or punt, they don't adjust well on the fly, they're inconsistent and uninspired and they just got beat down on their home field (minus the 10,000 fans who sat home, unable to stomach the game in person) by one of the worst teams in the NFL.
Other than that, though, I don't see any reason to change a thing. I rarely do this: Bengals fans, I feel for you guys, I really do.
Which is why I've decided to break with tradition this year and nominate the entire Cincinnati Bengals franchise -- stubbornly playoff win free since 1990! -- for the Flem File's 14th annual Turkey of the Year Award.
And the other nominees are ...
BRETT FAVRE: Let's see, his post-Green Bay career now includes, basically, getting two coaches fired, orchestrating two franchise meltdowns, yet another late-game interception that cost his team a shot at the Super Bowl, an alleged sexting scandal and threats to "re-evaluate" when things start to go south. If it wasn't for that "SNL" open-fly skit, Favre's comeback might have been a total waste.
MIKE SINGLETARY: The coach with the giant wood cross around his neck, who keeps talking about building a family with his team, benched starting lineman Chilo Rachal for missing practice while attending the birth of his son.
GIVING THANKS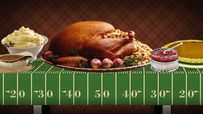 ESPN.com offers a meal of Thanksgiving material for your reading enjoyment:
• Flem File: Turkeys of the Year, 2010
• Page 2's Thanksgiving food draft
• Greene: Page 2 readers give thanks
• McGee: Giving thanks in NASCAR
• Giving thanks in open-wheel racing
• Boston athletes on Thanksgiving
• Berry: Thanksgiving fantasy game

VINCE YOUNG: How messed up do you have to be to have Randy Moss thinking, 'Dang, what a diva ... '
RETRO TOY (1999) DION RAYFORD: If there was a Turkeys of the Year Ring of Honor, Rayford would be the first inductee. The Kansas football player wedged himself, Winnie the Pooh style, into a drive-through window of a Taco Bell after becoming enraged that workers had left a chalupa out of his order.
MIKE SHANAHAN: How long do we have to wait for the Coors Light "cardiovascular endurance" press conference commercial?
JAY CUTLER: Saying he'd keep throwing at DeAngelo Hall after tossing four easy picks to the Redskins corner is like someone in Hollywood announcing, yeah, they're considering Burlesque II, III and IV.
DETROIT LIONS TURNAROUND THEORISTS: At least Lions fans are prepared if labor problems cancel the 2011 season. I mean, there hasn't been football in Motown for 10 years.
BLOODTHIRSTY FANS: You can't complain about player-safety issues "wimping down" the uber-violent entertainment rush you get from the NFL until you first shake the grotesquely mangled hands of a retired offensive lineman, have a conversation with a former player struggling with issues related to repeated head trauma or watch a running back with two bad knees and a fake hip take 15 minutes to walk across the room.
NFL OWNERS/NFLPA: As the NFL becomes more popular and profitable than ever, the idea that these two groups might be dumb enough to ruin it all with a lockout reminds me of this little known fact about turkeys: They are so dumb they often drown during rainstorms because they forget to close their mouths.
RETRO TOY (2008) HORNY BILLS FANS: During a game against the Jets, Buffalo law enforcement officials arrested a couple having sex in a restroom of Ralph Wilson Stadium. I'm supposed to provide a wholesome punch line here suitable for all audiences but everything I came up with includes the phrase "wide right."
ALBERT HAYNESWORTH: I, for one, think it's genius but don't expect a lot of other teams to try to contain Michael Vick with Haynesworth's "speed bump/fake turf nap" pass rush technique.
OCHOCINCO: Chad's featured in a nut commercial that suggests he eats a pistachio every time he scores on a long TD bomb, which would be exactly once this season. Boy, those nuts must be really filling.
RICHARD SEYMOUR: Look, if Mike Tomlin is not gonna call the guy a turkey, neither am I.
TIM TEBOW: The quarterback the Broncos traded up to take in the first round who has now thrown one pass as a pro has inked a mega deal to write an inspirational memoir titled, "Through My Eyes ... our scout team offense looks pretty darn good." (Foreward by Matt Leinart.)
GAYLE WASHINGTON-VARELA AND CARLOS SPENCER: Police in Norco, Calif., arrested this pair for allegedly throwing two footballs stuffed with cell phones, marijuana and tobacco over a prison fence. Upon their release the pair was immediately signed by the Carolina Panthers.
GLEN COFFEE: Shortly after retiring from the 49ers because, he says, God told him to walk away from the game, the second-year running back was arrested in Florida after police say they found a cocked and loaded automatic pistol inside his car. After he was arrested and booked for carrying a concealed firearm, police took a Coffee mug shot. Yeah, that's what I said: Coffee mug shot.
TODD HALEY: Chiefs coach refused to shake hands with Josh McDaniels after a 49-29 blowout loss even though the Broncos passed up a field goal at the end of the game (and, remember, the Chiefs rang up 44 on the Broncos at the end of last season). Afterward Haley was so angry he skipped the Chiefs' postgame meal of juice boxes and Dora shaped fruit snacks.
TEXANS SECONDARY: Ranked 32nd against the pass after last week's epic collapse against the Jets, they should call the Texans' defensive backfield Room Service Breakfast -- five pieces of really expensive toast.
PAT MACAFEE: The Colts punter was arrested in October after police say he took a drunken dip in a dirty, near-freezing city canal. When police asked the shirtless and soaking wet McAfee, 23, how much he had to drink he responded, "a lot, 'cause I'm drunk." I'm supposed to act all upset and horrified and morally superior here, but I can't. I was 23 once.
RETRO TOY (2010) DEANGELO HALL: After a sideline skirmish with the Falcons, the Redskins corner said if Atlanta coach Mike Smith "wants to see me he can find me." Yeah, Coach, just look for the wideout running free down the sideline, DeAngelo will be the guy 8 yards behind him.
MONTREAL ST. LEONARD COUGARS: Members of this Canadian junior football team climbed into the stands in Hamilton to brawl with fans. Shocked officials were unsure exactly how to proceed since no one has ever seen that amount of actual hitting in a Canadian football game.
BRUTUS: I guess it's OK for Ohio State to pad its record by beating up on Youngstown State and a couple of poor little MAC schools every year but, God forbid, one of their mascots does the same thing to whittle Brutus wootus and hurts hims feelwings.
JAMARCUS RUSSELL: You'd be reaching for the Purple Drank, too, if you knew Brian St. Pierre was running an offense and not you.
BROWNS BULLIES: Cleveland fans allegedly harassed an 8-year-old kid wearing a Jets jersey after New York beat the Browns in OT. It could have been much worse -- someone could have given the kid tickets to the Browns' upcoming game against Carolina.
DALLAS DEFENSE: It's fitting that the Cowboys are playing on Thanksgiving because offenses have been feasting on them all year long.
JEFF REED: One of the best kickers in NFL history was unceremoniously cut by the Steelers. I don't have anything funny to say here because, frankly, I was too afraid to Google the guy.
CHAD PENNINGTON: I don't know what's more amazing, a country guy from Tennessee crushing some Eminem lyrics or the fact that he managed to make it through the whole song without getting hurt.
BRANDON JACOBS: The frustrated Giants back heaves his helmet into the stands in Indianapolis. Jacobs was going to just hand his helmet to Ahmad Bradshaw but he was afraid he might fumble it.
JED YORK: The team president attempted to inspire San Fran by predicting the team would make the playoffs. The 49ers proceeded to go out and lose to the Carolina Panthers.
THE BIG TEN: The Northwestern-Illinois game at Wrigley Field had been in the works for at least 18 months, during which time no one from either school or the Big Ten bothered to, ya know, find out if a football field would actually fit.
RETRO TOY (2002) PETER FILANDIA: This Australian Rules footballer was suspended 10 days for biting an opponent's testicles during a match. I've got three for this one: 1) Suddenly my father-in-law's famous oyster stuffing doesn't sound so bad; 2) Trying to type funny line, but, can't breath, stomach hurts, sweating. Must. Move. On; and 3) I just realized the report said "testicles" -- plural.
WHAT I'M THANKFUL FOR: Miami University hockey; Rex Ryan; my memories of Ernie Harwell; eggnog lattes; Ovi; the fact that my daughters know how to ID the Mike linebacker; ESPN's NFL blog network; Pottsville; Tomas Holmstrom; Jon Kitna; the upcoming Kiawah Marathon's super flat course; The Black Keys; Mike Vick; cranberry relish in a can; streakers; Mark Twain; Mark Sanchez's hyperbolic nicknames; Grosse Pointe South's amazing run to the high school state semis in Michigan; the movie "Bad Santa."
DAVID FLEMING: Player-hating, keyboard-coward, no-good-poop-story-writing-weirdo. There, happy? Now you don't have to waste your time at work crafting a hate e-mail.
Happy Thanksgiving, Flem Filers. Remember: You're all Turkeys of the Year to me -- Flem.
Editor's note: Looking for Flem's top five, his music riffs and weekly reader e-mail WHYLO (who helped you log on?) awards? Check 'em out on Facebook and Twitter at @daveflemingespn.
David Fleming is a senior writer for ESPN The Magazine and a columnist for ESPN.com. While covering the NFL for the past 16 years at Sports Illustrated and ESPN, he has written more than 30 cover stories and two books ("Noah's Rainbow" and "Breaker Boys"), and his work has been anthologized in "The Best American Sports Writing."