Commentary
The Official Falcons Cheat Sheet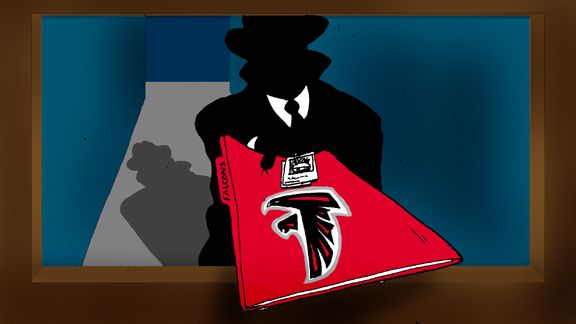 Kurt Snibbe for ESPN.comThe dossier on the Atlanta Falcons is more important than any report Clarence Beeks had on crop reports. (Go ahead and Google that.)
I know your secret.
Sure, you think it's hidden there behind the three layers of black and red face paint. But I see it. And I see how with each week it becomes more and more of a burden to carry and tougher and tougher to hide.
Look, I get it. I really do. Your buddies think of you as a football "expert" because you played a little in high school, you now have three fantasy football teams, you follow the draft and you once perfectly broke down the Mike linebacker's responsibilities in the Cover 2 after three beers and a plate full of hot wings at Hooters.
But Uncle Flem knows. I see how you go quiet and pale, how you leave the room, start fake-texting on your phone (you don't even have that service, DO YOU?) or change the subject altogether whenever someone brings up the fact that, if the season ended today, the 9-2 Atlanta Falcons would be the No. 1 seed in the NFC.
I mean, I heard you call their quarterback Matty Nice and then pretend like you mis-spoke. Do you know Jerry Glanville, Eugene Robinson or Jessie "The Hammer" Tuggle? Did you have any idea that Brett Favre was originally a second-round pick (33rd overall) of the Falcons in 1991 -- and that he threw four passes for Atlanta and two of them were picks? When was the most recent time the team won five games in a row? It was their Super Bowl year in 1998. Quick: Who'd they play in the wild-card game that season? San Fran. And no, I didn't say their leading scorers were Mort and Derson -- his name is Morten Andersen.
This is worse than I thought.
Come on, it's time to come clean. You don't know anything about the Falcons, do you? It's OK. You're scared. You don't want to blow your rep. You're not alone. Week after week we all kept putting this off, hoping that Mike Smith (that's the coach) and his team would fade, and before we knew it, it was December.
That's why I've created the Flem File's official Atlanta Falcons 10-Step Cheat Sheet for fans who want to keep pretending like they're totally informed and up to speed on the NFC's best team.
Step 1: I've always found that knowing how to pronounce difficult names on a roster, like fullback Ovie Mughelli, gives the impression that you know the team inside and out. So, repeat after me: OH-vee muh-HAY-lee. OH-vee muh-HAY-lee. Use it often, especially when casual fans are blabbing on and on about Michael Turner, point out for them that OH-vee Muh-HAY-lee is doing most of the dirty work. And on the fifth or six reference, throw in his middle name -- Phillip -- and then mention how a few years back he studied at Harvard during the offseason.
Step 2: Apologize (with air quotes) for the Falcons' superb balance on offense. By now even most posers know about NFC player of the month Matt Ryan's fourth-quarter comebacks, wideout Roddy White's NFC-best 1,066 yards and bulldozer back Michael Turner's 974 yards on the ground. But it takes a real fake fan to condescendingly explain to his peers how Turner's ground game is what makes Ryan's play-action fakes so effective (because linebackers and safeties have to respect the run) which, in turn, gives White extra time to get downfield for longer pass plays. Oh, and make sure to end your mini speech with a dismissive "Duh."
Step 3: Being able to spout random trivial bits of data about the team makes it look like you know more than you do. Write these on 3x5 notecards and practice saying them in front of a mirror: (1) "Hey, did you guys know that kicker Matt Bryant is one of only four players to be named player of the week on three different teams?" (Giants, Bucs and Falcons); (2) "Matt Ryan and Cowboys QB Danny White are the only two QBs in NFL history to win 19 of their first 20 games at home"; (3) "Mike Smith has only coached 43 games and already ranks fourth on the Falcons' win list"; and (4) "Oh, my God, if the Falcons have a chance to become the first team in modern NFL history to go five games without a turnover!"
Step 4: Another good bluffing tool is to know a lot about a lesser-known player who had a historic impact on the franchise. Let others talk about QB Steve Bartkowski, Jessie Tuggle's 12 straight 100-tackle seasons or even Deion Sanders, the first defensive player in NFL history to make the Hall of Fame without ever tackling someone. Instead, bring up the amazing five-year run of back William Andrews, who averaged -- averaged -- almost 1,700 yards from 1979-83. Then shake your head and quietly lament what could have been if not for that horrific knee injury.
Step 5: Casual fans tend to memorize all the good stuff about a team. So take a few minutes to work up some really good fake concern about one or more of the Falcons' weaknesses. Try this: "My guys only have 19 sacks and I know that's how many the Ravens have, too. John Abraham has nine of our sacks and that's great but I wonder how long he can keep doing it on his own, especially with that pesky groin injury. I like our run defense, I mean, you saw what we did to the Packers, but sheesh, this is a passing league now and we have to cut down on the receiving yards we allow before the playoffs."
Step 6: Any time something goes bad with the Falcons, don't bring up Mike Vick; that would be too easy. Instead, follow it up with the statement, "Well, that was horrible, but it wasn't as bad as what Eugene Robinson did at the Super Bowl! Am I right?" The key read here is how people react to the statement. If they don't say anything, if they just nod and agree, that means they don't remember that the last time the Falcons made the Super Bowl in 1999, hours after he received an award for high moral character, Robinson was arrested and charged with soliciting an undercover police officer for oral sex.
Step 7: Most casual fans know the head coach's name. So every now and then throw out just the last name of an assistant coach. Remember: For fake fans, implied knowledge is just as good as the real thing. It's like politics. After a great call on a touchdown play, scream out, "AHHH Mooolarkey I LOVE YOU MAN!" Or, after a three-and-out on defense, stand up, walk into the kitchen (to get a Natty Light, of course) and yell, "Ladies and gentlemen, you want to know how we beat the Packers, Ravens and Saints? Brian Van-freakin-Gorder, THAT'S HOW!"
Step 8: This one is awesome: Only a full-time Falcons freak would already be thinking about next year's draft, right? So here's the deal: I have no idea on earth when or even who the Falcons might draft in 2011 -- but the beauty is, neither does anyone else! That means you can pretty much say anything you want on this topic and sound like a genius just as long as you use the old sports radio trick of "the less you know, the more confidence and volume you need to speak with." Try this: "Man, I like that Nick Fairley kid from Auburn, I wonder if Dimitroff could trade up and take a shot at him in the first round this April?"
Step 9: Don't waste your time trying to memorize the entire depth chart. Instead, find one or two players, someone like up-and-coming young corner Brent Grimes, and memorize everything about him. 5-foot-10, 180 pounds. Grew up in Philly. Went to tiny Shippensburg, a town south of Harrisburg known for its Corn Festival. Won an NFL Europe championship in 2007 with Amsterdam. Undrafted rookie free agent brought along in the system in a classic Patriots-esque way. Caught on with Falcons practice squad. Made the starting lineup in 2009 and has nine picks since then. Second on team this year with 60 tackles.
Step 10: Big backs make defenses cringe. Big backs make defenses cringe. That's an easy way to memorize the Falcons' offensive line of Baker, Blalock, McClure, Dahl and Clabo. Trust me on this one: Only real fake fans know the linemen.
Anytime someone challenges your knowledge of the team, first try to diffuse the situation with humor. "I'm more confused than a tourist looking for the right Peachtree Street!" or "Dude, you're all over me like Jeff George on June Jones," or "Keep pushing me and I'll split faster than Bobby Petrino," or "Curtis Lofton has more hits than Usher," or "Tony Gonzalez is tougher to contain than the chili-cheese slaw dogs at The Varsity," or "We made the Packers look more confused and angry than a Home Depot employee," or "If we're gonna drive to Dallas for the Super Bowl, the way traffic is in this town we'd better leave right now!"
If all else fails, jump up and ask your accuser to name the starters on the offensive line. In your head, start repeating the line "Big backs make defenses cringe," cut them off, say the actual players' names and then add:
"A real Falcons fan would have known that."
Editor's note: Looking for Flem's top five, his music riffs and weekly reader e-mail WHYLO (who helped you log on?) awards? Check 'em out on Facebook and Twitter at @daveflemingespn.
David Fleming is a senior writer for ESPN The Magazine and a columnist for ESPN.com. While covering the NFL for the past 16 years at Sports Illustrated and ESPN, he has written more than 30 cover stories and two books ("Noah's Rainbow" and "Breaker Boys"), and his work has been anthologized in "The Best American Sports Writing."