The Flem File is in Arizona to take in everything Super Bowl XLII has to offer.
---
The surreal nature of Super Bowl XLII actually kicked in Saturday night. Seconds after bumping booties (total accident) with Kendra of "Girls Next Door" fame at the Playboy party, a buddy of mine received a text from another friend who said, at that very moment, he was standing at the urinal next to Larry David. Meanwhile, at the Giants' team hotel Saturday night, legendary linebacker Mike Singletary was imploring the Giants to turn the tables on the now infamous authors of Spygate and steal New England's game plan from Super Bowl XXXVI by pounding the Patriots into submission.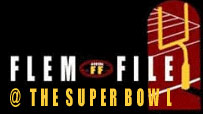 "We are them now," Amani Toomer said after the Giants' glorious, stunning 17-14 win. "The way the Patriots beat the Rams, we just did that to them. We hit them in the mouth." And even though I predicted a Giants win (on the Comcast Network and again on Sirius Radio, you can check the tape) I still couldn't quite believe what I was seeing. It didn't fully hit me until the end of the game, as Bill Belichick slumped off the field through one tunnel while family members of the Giants players burst onto the grass through another. Out with the old, in with the Blue, I guess.
"Everybody's been talking about history and dynasty," yelled Michael Strahan. "Well, we just started our own dynasty: The New York Dynasty." Indeed, and after such a bizarre week and unreal upset, it only seemed natural to walk into the Giants locker room and find Peyton Manning, a Colt, standing in the corner ready to sum up the pure, truly transcendent beauty of this game: That we had all just witnessed something we'll be telling our grandkids about. "I have a deep appreciation for the history of this game," Peyton said. "The (Lynn) Swann tipped pass ... Montana to Clark ... but that (Eli's eye-popping scramble and game-saving completion to David Tyree) has to be one of the greatest of all time."


Peyton, you certainly won't get any argument from me. Or my grandkids.
---
NFL commissioner Roger Goodell was standing alone, adjusting his blue tie just before taking center stage this morning for his state of the NFL address, when I slipped behind a thin black curtain and introduced myself. Seconds away from dealing with questions on Spygate, HGH, Congress, cable companies, expansion, player conduct and other issues, Goodell could not have been more relaxed, more composed or more gracious.


We spoke briefly about our mutual friends in Davidson, N.C., and about our kids (we both have 6-year-old daughters) and the stack of books Goodell has set aside for the "offseason." Goodell mentioned right away that he had "Breaker Boys" and was interested in the story of the 1925 Pottsville Maroons but that he's, ya know, fairly busy dealing with the league's myriad current and future issues. "Of course," I said, "the town and the fans just want to be heard, they just want to tell their story, something they've never been allowed to do."


Goodell replied that the town and the team's fans were "always welcome" to address the NFL about returning the 1925 NFL title to Pottsville. "Forty seconds, sir," someone then whispered to Goodell, who took a sip of OJ and walked up onto the stage where he was flanked by NFL championship trophy, something the Maroons have been after for 83 years, and counting.
---
Not too much to report from the party scene, which officially kicks off tonight with the ESPN bash featuring Ludacris.


Spent last night in Scottsdale. Drove by the EA party -- looked crowded and loud -- and kept driving. Felt old. Wound up at the Audi party. Remarkable no-expense-spared poolside setup at some rented mansion in north Scottsdale. They had one of their sweet new models on a platform in the middle of the pool. David Spade was there. I also recognized Joey Fatone from his recent guest appearance on my daughter's fav program, "Hannah Montana." (Not beaming with pride over that sentence, I can tell you.)


But, by far, the best part of the swanky Audi party (besides talking about cars with folks from my beloved Motown) was the little smores kits, complete with roasting sticks, set up at an outdoor campfire near the pool. Roasting marshmallows in the desert with Joey Fatone? Gee, how much more "Super Bowl" can you get?


---
Wild juxtapositions are the norm here in Phoenix. Earlier we had the Super Bowl halftime show presser featuring the cool, self-deprecating style of a bearded Tom Petty, who said he didn't object to Petty cover bands in the least -- just as long as they "weren't better than us." Tom wouldn't pick a presidential candidate (even though some are using his songs) or a team for Sunday's game, saying, "I'm for everybody."


A few minutes later and one floor below there was a very different vibe in the room as Gene Upshaw, the director of the NFLPA, addressed a standing-room-only media contingent. Talking tough -- already -- about negotiating a new CBA, Upshaw made it crystal clear that the players aren't going to give an inch. No, make that a millimeter. "We aren't hockey players and they (NFL owners) aren't hockey owners," he said.


Ouch. Too bad. That might be the only way my hometown Lions ever make it to the Super Bowl.


---
After seeing Carson Palmer, Matt Leinart, Kurt Warner, Patrick Willis, Alicia Keyes and, uh, that doughy guy from the Subway commercials, I ducked into a ballroom to watch Vikes running back Adrian Peterson accept his Rookie of the Year Award.
An anxious and emotional Peterson accidentally thanked Pepsi before, um, God. Welcome to the Super Bowl, rook. Aw, lighten up everyone, Peterson is one of the most electrifying and down to earth players in the NFL, and this was just a slight goof by nervous kid.
"Man, I'm about to start crying," Peterson said a few minutes later when words escaped him.
See, this is why I like the ROY presser at the Super Bowl: you get one last look at these guys in their purest, non-polished, wide-eyed form before they get sucked into the NFL zeitgeist for good. When asked how he was going to enjoy his first trip to the Pro Bowl in Hawaii, Peterson, sporting a dapper brown suit, shrugged his shoulders.
"Enjoy myself on the beach and maybe do a little hula dance," he said. Hey, at least he didn't say, "enjoy an ice cold, refreshing Sierra Mist."
---
I was really pleased to see the Pottsville Maroons get such wonderful treatment on HBO's "Inside the NFL" Super Bowl special. Producer Christine Wilt and Bob Costas (with a little help from yours truly) put together a moving, textured tribute to the team, the town and their cause while making the Maroons and Pottsville's 83-year-old fight relevant to all modern-day NFL fans.


HBO's take on the Cardinals Curse (Arizona's punishment from Pottsville for claiming the 1925 NFL title that should have gone to the Maroons) and the blooper reel they ran with it was laugh-out-loud funny. The truth is every fan, every player and every owner owes teams like the Maroons and scrappy little football-loving towns like Pottsville a debt of gratitude for saving and elevating the NFL in the 1920s at a time when the game was barely holding on, dismissed by most as barbaric and disorganized.


If you get a chance (and you will since "Inside the NFL" repeats, like, 83 times) check out HBO's piece on the 1925 Maroons, the most dominant, influential and controversial team in NFL history -- until Sunday, that is.


---
At the airport in Phoenix the floors of the jet ways have been decorated with Super Bowl XLII logos so that when you stride off your plane and into football Wonderland it feels overly momentous, like an old-time astronaut stepping onto an aircraft carrier after returning to earth.


Landing at the Super Bowl always feels a bit like stepping into another dimension -- and Phoenix was no exception. Behind me on the airport escalator was a bomb-sniffing German shepherd and in front of me was a gray-haired grandpa wearing a blue Bruschi jersey. After a trip through radio row -- the breezeway of banality, if you will -- where one doofus was already referring to the Pats as four-time Super Bowl champs, I grabbed a turkey sandwich and a warm Mountain Dew. As I ate a guy in a Hines Ward jersey was shoving his son over next to Jerry Rice for a photo op while trying to convince the kid that he was actually standing next to the "greatest receiver of all time." The kid just gave him a classic, annoyed look like, "Dad, you stupid idiot, that's not T.O."


Watching it all unfold I tilted my warm Dew in their direction, quietly toasting the official arrival of yet another wonderfully bizarre Super Bowl.


---
Not a big fan of games being decided by the little kicker dudes, guys who don't practice, don't hit and don't wear thigh pads. So for my money, the greatest finish in modern Super Bowl history was the Titans' Kevin Dyson being stopped 36 inches short of the goal line (and immortality) by St. Louis linebacker Mike Jones to preserve the Rams' 23-16 win in Super Bowl XXXIV.


This game ushered in a new era of competitive Super Bowls and reminded us of the way the Super Bowl instantly and dramatically changes people's lives. (Not always for the better, either.)


Several times a day in Nashville, Titans players must pass a mural from Atlanta that reminds them just how agonizingly close they were to holding the Lombardi. In fact, the last time I caught up with Titans coach Jeff Fisher we talked about Dyson's play. Remember, had he scored the Titans would have still been down 23-22. Would Fisher have risked it all and gone for two and the win? "No way," he said with a look in his eyes like he had been teleported back to the Georgia Dome. "I would never rob my players of the opportunity they earned. I'd kick it. With everything going on so crazy at the end, I'm not even sure we could have executed an offensive play. Yep, I'd kick it."


"Every time?" I asked. Haven't you re-watched the game and day-dreamed about a different ending, like, 10 thousand times? And Fisher's answer says a lot about the life-changing power of this game. "I don't know," he replied, "because I've never watched the game tape of our Super Bowl."


---
The argument over whether or not the 19-0 Patriots would be the greatest team of all time reminds me of the debate swirling around Emmitt Smith when he became the NFL's all-time leading rusher.


From a statistical standpoint you cannot deny Smith, obviously. But despite the negative, number-crunching effect fantasy football has had on the game and its analysis, football is about so much more than stats. And on stuff like this, really, you gotta throw out the numbers and go with your gut.


Now, when you think of the greatest running backs in NFL history -- I mean the most dynamic, jaw-dropping combinations of speed, power and elusiveness, guys who could take over games -- Emmitt just doesn't immediately come to mind. First, I think of Walter Payton, Jim Brown, Barry Sanders and O.J. Simpson. And it's the same way with the now workman-like Patriots. If they get to 19-0, no one can deny them a spot in this argument.


But when I set aside stats and streaks and just think of the most dominant, talented, flat-out scary teams I've ever seen, the 1978 Steelers and the 1985 Bears are simply in a class by themselves.


---
Forget Randy Moss, the player the Patriots should be the most worried about re-signing (and keeping happy) is ball-hawking cornerback Asante Samuel.


The four-year veteran sat out nearly all preseason before signing a one-year franchise tender of $7.79 million. Samuel, who has 16 interceptions the last two seasons, has developed into one of the league's top corners. And it's his ability to cover space and shut down opponents' top receivers that transforms New England's defense from static to dynamic. And in the playoffs the Pats have proven they can win without Moss but they can't live without Samuel.


This Sunday, with Samuel covering their backside against the Giants, the Pats will have the freedom to send a fourth pass rusher, like Rodney Harrison, to disrupt Eli and dictate tempo on critical conversion downs. Without that the Pats aging defense becomes even more vanilla and predictable.


So the least the Pats could do after going 19-0 is say 'Asante' (which means Thank You in Swahili) to Samuel with a new deal.


---
Here's why Tom Petty was such an inspired choice for Super Bowl halftime (besides his seamless yet bold mixture of so many classic American rock sounds and a blunt, economic Cormac McCarthy-like lyrical sense): The sing along. Has any other rock legend out there inspired as many steering-wheel stars as Tom Petty? It's like a singing version of Pavlov's dog. And no one can resist. No one. Watch.


"Now that I'm freeeee ..." Freeeeeefallin. Right? "Oh yeah, all right, take it easy baby, make it last all night ..." Lastallnyyyyyeeeeett. "I need to know." Ineedtoknow. "I need to know." Ineedtoknow. Wow, still holding out? I gotcha.


Ready?


"It don't make no difference to me, baby, everybody's had to fight to be free, see ya do-on't ha-have to live like a refugee ..." Don'thaffftalivelikerefuuuugeeeeeee.


Here's a killer: "Break down honey, go ahead and give it to me, break down honey take me through the night ..." Breakdaaaaawwwwwn.


Here's hoping the mostly bored, corporate fat cats inside the stadium on Sunday will join in during halftime so that I don't have to sing backup alone. There's nothing sadder than that. Except maybe this perfect Petty line about the eventual Super Bowl loser: "It couldn't been that easy to forget about me ..." Babyeventhelooooosers ... getluckysometimes.


Sorry, couldn't help myself.


---
OK, I'm now officially a little worried about Tom Brady's ankle.


At first, I thought this was little more than a psych job by the Pats -- a clever ruse to defuse all the 19-0 talk. But now it's Tuesday and I see that Brady is still favoring his ankle and still requires massive amounts of tape during practice. We've all rolled our ankles playing pick-up hoops in the driveway but high-ankle sprains are different: Even mild ones, like Brady's, are tricky to diagnose, extremely painful and can take up to a month to heal.


Brady's a warrior. He took every snap in practice Monday. And the Giants are preparing for him to be 100 percent. But footwork is the pillar of all great passing and the right ankle is the base of that column. Without it the whole thing crumbles. Stand up from your desk right now and work a five-step drop. What absorbs the powerful backward momentum and stabilizes your plant foot at the end of the drop? The high, outside part of your ankle. Now, knowing that most of your power comes from the flex of your back hip, can you feel where that extension triggers from? The high ankle. And finally, knowing that passes float if you don't extend and follow through, what gives you the confidence to finish up strong and up on your back toes? The high ankle.


But what do I know. I'm not a trainer, I only play one on your computer screen.


---
Here's the most glaring stat in the matchup between the Giants and the Pats: 21 to 2.


When it comes to Super Bowl experience New England boasts 21 players who have been there/done that compared to New York's measily two (Amani Toomer and Michael Strahan).


There's no way to downplay this or explain it away: This is a gigantic advantage for the Patriots, who could put the game out of reach before most of the New York newbies get over the pregame freak-show festivities. (Last year in Miami featured grown men in large full-body, full-rainbow parakeet suits complete with beaks, talons and wings -- authentic looking all the way down to the beer gut.)


The Super Bowl is so colossal, so over-the-top ridiculous there's just no way to describe it to a teammate. It's like trying to prepare someone for jumping out of a plane. You just have to live it to understand it. I've talked to players, like Steve McNair, who admit they were so nervous about the game, so drained from the week-long hype and so jacked up before kickoff that they were exhausted by the middle of the second quarter. (Most fully recover during halftime.) So don't think Bill Belichick won't try to exploit this and put the game out of reach early. Because if the Giants are still close and still composed after Tom Petty leaves the stage, New York might just be able to run down that dream.


---
We can forgive Scott Fujita for getting back to us a little late on the topic of last week's FlemFile about defining greatness. After all, the Saints linebacker, who I first wrote about during New Orleans' miraculous run to the 2006 NFC Championship Game, recently became a new dad and just finished a trip RV'ing his family back to California "Griswold style", as he put it.


"Over the years the way I've defined success and greatness has changed," Fujita wrote from his iPhone. "Two seasons ago a beat writer in New Orleans was asking what we wanted to be when we grew up. First thing that popped into my mind: 'I just want to be happy.' So how do you define greatness? To me, it's the ability to define what makes you happy, and being able to attain it and sustain it. Sometimes we can all get too caught up in accolades and money and awards and we let our successes be determined by what society deems successful. But wouldn't it really be great if everyone was just happy? I know, a little sappy and not your typical Super Bowl discourse, but it's just how I feel."


Mark it down, folks. That was the last honest, heartfelt answer you'll hear from a pro football player until after the Super Bowl.


---
Because I have three brothers myself (each of whom would dime me out to a reporter in exchange for a single, warm Goebel), when I arrived this summer at the Manning Passing Academy in Thibodaux, La., I went straight to Cooper Manning, 34, to get the scoop on his enigmatic little bro. Eli was having a blast at this camp, he was calm, confident, funny, relaxed. This was not the timid, odd, loner quarterback often described in the media, that's for sure. So which one was the real Eli?


"Peyton just can't help but be in charge of everything and Eli? Eli is tougher to know -- he's silent but deadly," said the always affable Cooper, who works for an energy investment firm in New Orleans. "Eli's just an under-the-radar type guy and I think that makes the media crazy in New York. Because the harder they try to 'get him' the less accurate they seem to be. They get mad and frustrated but Eli just doesn't care. You'd think Peyton would be more suited for New York but it all worked out perfect because, honestly, Peyton would have strangled someone (in the media) by now in New York City."


Instead, it was Eli who slayed them with his play.


---
Here's what you should do this week if someone tries to argue that after SB XLII the Patriots will be the greatest pro football dynasty of all time: Hold up your hand, make a look like someone just tipped over garbage, and then bark these two words: Cleveland Browns.


From 1946 to 1955 the Browns played in 10 STRAIGHT league championship games, winning seven (four in the All-America Football Conference and three NFL titles in 1950, 1954 and 1955.) During this decade of dominance Cleveland was guided by visionary Hall of Fame coach Paul Brown, who invented, among other things, the playbook and the West Coast Offense, and led on the field by legendary HOF quarterback Otto Graham (who went 114-20-4 during this amazing 10-year run.) So, yeah, congrats to the Patriots Dynasty. Now you only need to reach nine more Super Bowls. In a row.


---
Want to know who to blame for this annoying trend where defenders celebrate every last routine tackle as if their pants are full of bees? Junior Seau. After every last one of his significant tackles during the last 18 seasons, Seau, 39, has sprinted (by my estimation) 12 extra yards and tacked on four superfulous Rocky fist pumps and two unnecessary Rockette leg kicks.
Look, I enjoy sincere displays of emotion as much as the next guy -- even when they take away from the 10 teammates who did the grunt work to make them happen. But even if you lowball the number of Seau's silly celebrations (10 percent of his career tackles plus all his sacks, forced fumbles and interceptions) you come up with 1,200 extra fist pumps, 600 extra leg kicks and 10,800 extra steps, or, more yards (of wasted energy) than LT has run for in his last 40 games. No wonder Junior is looking a little senior these days.
• Flem File at the Super Bowl: A History
David Fleming is a senior writer for ESPN The Magazine. His latest book, "Breaker Boys: The NFL's Greatest Team and the Stolen 1925 Championship,", published by ESPN Books, has been optioned as a movie. In addition, he is the author of the memoir "Noah's Rainbow." The Flem File runs each Thursday during the NFL season.
PAGE 2 ON THE SUPER BOWL
Don't miss any of Page 2's hard-hitting Super Bowl coverage as we gird for an epic clash between the Giants and Patriots.
Bill Simmons
•
Postgame: Free fallin' out into nothing
•
Super Bowl XLII preview and pick
•
Awards from the conference championships
Tuesday Morning Quarterback
•
TMQ: Super ending to a tumultuous season
•
Easterbrook: Spygate returns to headlines
•
TMQ: Conditional immortality
•
TMQ: All-Unwanted All-Pros
Notes, jokes and potpourri
•
Super Bowl commercials bingo cards
•
Flem File at the Super Bowl
•
Friday, Feb. 1: News you can't live without
•
Thursday, Jan. 31: News you can't live without
•
Wednesday, Jan. 30: News you can't live without
•
Tuesday, Jan. 29: News you can't live without
•
Monday, Jan. 28: News you can't live without
•
Celebrities make their picks
•
Poll: Tom Brady celebrity photo ops
Insight and wisdom
•
Hill: Super Bowl party report
•
Page 2: Pop culture roundtable
•
Gallo: Boston's five stages of grief
•
Neel: Bittersweet game for Hoover's people
•
Hruby: Page 2 Week in review quiz
•
Uni Watch: Where's all the blue in Big Blue?
•
Milz: What does Gisele's dad think of Tom?
•
Hruby: Super Bowl is hazardous to your health
•
Hill: Moss was right to quit on Raiders
•
Hill: Teflon Tom Brady
•
Page 2: Suggested questions for media day
•
Jackson: Perks for perfect Patriots
•
Hruby: Analyzing the Brady tape
•
Best teams not to win a championship
•
Fleming: Footnoting greatness
•
Gallo: The first 24 hours of hype
•
Page 2 obtains Boston's contract with the devil
•
Snibbe: Championship Sunday by the numbers
•
Garfamudis: Patriots aren't perfect
•
The curse of Mo Lewis
Inside the brain
•
Inside Jared Lorenzen's brain
•
Inside Matt Cassel's brain
•
Inside Tiki Barber's brain
All things Super Bowl
•
Complete ESPN.com coverage
•
From 2007: The Ultimate Super Rankings
E-Ticket
•
Klosterman: All too perfect
•
Neel: Almost immortal
ESPN Top Headlines