Commentary
Page 2 goes yard with Flip Flop Fly Ball
Originally Published:
April 6, 2010
By
Dave Wilson
| Page 2
Craig Robinson found himself stuck in a domestic dilemma.
Robinson, an Englishman who lives and works in Germany, broke up with his girlfriend but still shared living arrangements with her. How could he minimize encounters with his ex without feeling like a prisoner in his own home?
By staying up until all hours of the night watching baseball online, of course.
[+] Enlarge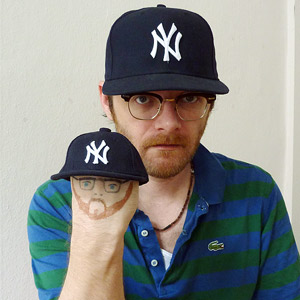 Craig Robinson/flipflopflyball.com Craig Robinson is the creative mind behind the amusing baseball graphics site Flip Flop Fly Ball.
Indeed, Robinson, who hails from Lincoln, England, isn't your typical European. He became fascinated with baseball while on a business trip to New York City, watching Mets and Yankees games in his hotel room. He convinced a couple of colleagues to go to Yankee Stadium with him and see what it was all about.
"While I'm not going to pretend I understood it completely straight away, it made a lot more sense in Yankee Stadium than it did on TV," said Robinson, 39, via e-mail.
His fascination began to intersect with his career. A freelance artist who works as an illustrator for magazines and advertising firms, Robinson was able to rearrange his schedule to avoid his ex. Those many sleepless nights spent watching baseball led to Flip Flop Fly Ball, a collection of sophisticated infographics which examine everything from factual baseball history to absurd baseball fiction -- such as this fantastic playoff tiebreaker scenario between the Wu-Tang Clan and the E Street Band.
[+] Enlarge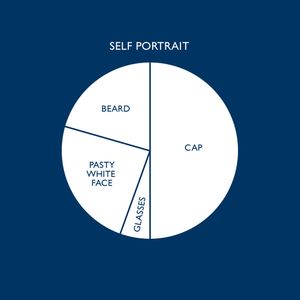 Craig Robinson/flipflopflyball.com Robinson shares an exclusive self-deprecating graphical breakdown of his portrait with Page 2.
"I think the pace of the sport lends itself well to letting your mind wander," Robinson said. "Sometimes there are specific things I want to do, but a lot of the time it is as simple as just wondering about some tiny thing, like the comparative size of the Green Monster. I've not been to Fenway, and it's tough to gauge the size on TV sometimes, so seeing it next to things I have seen helps."
Robinson's graphics have become popular among seamheads, including ESPN.com baseball writer Rob Neyer and Sean Forman, the president of Sports Reference, which produces baseball-reference.com, where Robinson mines most of his data.
Both Forman and Neyer said they appreciate the simplicity of Robinson's work, derived from voluminous statistics.
"I'm not surprised anyone did it, but I'm very impressed with how he did it," Forman said. "His graphics are very clever. They present a story in a way that almost beats you over the head with how obvious they are, but you didn't realize it until you see it in graphic form."
Neyer echoed those sentiments, while also pointing out the Robinson's cerebral approach.
"What I appreciate is thought process behind it," Neyer said. "But it's not just the ideas; it's that he has the talent and imagination to show it graphically in a way someone can grasp it immediately. His work almost always has the ability to tell that story in a few seconds, which is what is so compelling."
For example, Neyer pointed to one of his favorite Flip Flop graphics: a map depicting Turner, Mont., as the American town farthest from a major league ballpark.
FLIP FLOP'S GREATEST HITS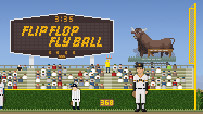 Here's a sampling of Page 2's favorite graphics from Flip Flop Fly Ball:
• Venn diagram of team names
• Alex Rodriguez's salary
• Native Americans in Cleveland
• Most common baseball names
• 2009 MLB ticket prices
• Home runs and PEDs
• Team relocation history
Now that the season is upon us, Robinson is again shifting into baseball mode, becoming nearly nocturnal. A 7 p.m. game on the East Coast begins at 1 a.m. his time. He says he'll watch a couple of live games online per week, then watch replays of others the next day while working. But once the playoff race gets in full gear, so does Robinson.
"From mid-September until the World Series, I pretty much only see daylight for a couple of hours," he said.
He schedules visits to see games in person each year, and he schedules visits to New York around Yankees home games. In 2008, he spent a couple of months traveling and visited 14 ballparks.
But for now, he's in Germany, still finding the life of a baseball fan to be a lonely one.
"I think the strangest thing was after the Yankees won the World Series. I was drinking champagne at 5 a.m. and woke up the next day with a headache and a smile," Robinson said. "But you walk around the streets, and no one cares or even knows that there was a World Series game the night before."
Neyer, like many who visit Robinson's site, saw the work and pegged him as a baseball lifer, someone from St. Louis or New York, whose passion led him to the hobby. Neyer was stunned upon learning Robinson was British.
"It was a huge surprise, obviously. I'm still not quite used to the fact that there are baseball fans all over the world," Neyer said, pointing to advances in technology, such as online TV broadcasts, to explain the spread of the sport's popularity. "Obviously 20 years ago, this probably wouldn't have happened, because he wouldn't have found this muse."
Robinson has posted 52 baseball-specific graphics on his site, with many more to come, he says.
He's written and illustrated three books in the past on other subjects: "Atlas, Schmatlas," a comedy atlas; "Fun Fun Fun," some suggestions for merrymaking; and "Minipops," a collection of famous people drawn really small.
But next spring, Bloomsbury will publish a "Flip Flop Fly Ball" book of mostly new material, allowing Robinson to focus more on watching games and letting his mind wander.
"To be honest, I'm having the most fun I've had in years right now. I wake up, do some research, make graphics all day every day," he said. "And without wishing to blow my own trumpet too much, being able to concentrate on it daily is making the stuff I'm doing more and more interesting, I think."