Would a Hope Solo situation happen to a men's team?
Sports have never been about peace, love and understanding, even though the Olympic suits would like you to believe that.
That's why the adolescent overreaction to goalkeeper Hope Solo's comments by her teammates and coach on the U.S. women's soccer team during their World Cup implosion was so absurd. And now it's a major reason why coach Greg Ryan lost his job, a change that was needed to restore the team's credibility on and off the field.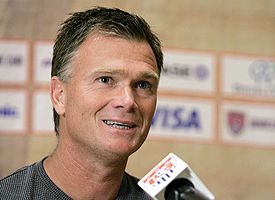 AP Photo/Julie Jacobson
Greg Ryan has lost his job in the aftermath of the Hope Solo controversy.
Solo wasn't just benched after publicly criticizing Ryan. She was exiled -- banned from practice, and barred from attending the team's third-place match against Norway three days later. She took her meals alone. Ryan and several players talked of working toward "forgiveness" and "reconciliation."
It all sounded more like a slumber party gone bad than an elite team reacting to the stress of high-level competition.
The ostracism of Solo perpetuated the stereotype that women's teams put a higher premium on harmony than they do on competing. And as long as people believe that, they'll regard women's team sports as a lightweight version of the real thing.
To rehash: Solo spoke out against Ryan for starting veteran Briana Scurry instead of her in the semifinal against Brazil. Scurry hadn't played in three months, and Solo had played credibly in the tournament up to that point.
Solo had just finished watching the U.S. get crushed 4-0 when she made her heated, personal post-match comments. She was ticked off. And that's how the best athletes in the world are supposed to feel! That's how they get there -- by wanting to play, and hating to lose.
Ryan's move was widely regarded as a tactical error. Solo's postmortem was perhaps tactless -- especially when she took a jab at Scurry -- but what followed compounded both of those missteps.
The coach, in apparent consultation with team leaders, made Solo a goalkeeper non grata. U.S. Soccer president Sunil Gulati, who informed reporters on a conference call Monday that the federation would not renew Ryan's contract, said he wasn't sure whether that decision was reached "with the support of, or at the request of" the players.
Who ordered the Code Red? We may never know.
"I think that most of the participants in that issue, if they could do it all over again, would have done it differently," Gulati said.
Various players said at the time that the team collectively decided Solo's presence was not constructive. Several magnanimously added that they had pardoned her.
There's a decidedly mixed message here. These women want you to believe they are warrior princesses, dripping Gatorade-flavored sweat, baring their teeth and competing with all their might. But then they also want you to believe they sit around on their off days singing show tunes and doing each other's hair -- one sorority, indivisible.
Give me a break.
As a disclaimer, I should say that I haven't been around the team in a while. But in my past dealings with Scurry, she struck me as an extraordinarily tough, spirited woman who probably wouldn't have needed any help in confronting Solo herself, if that's what she wanted to do.
(Solo did post a rambling apology on her MySpace page, expressing regret for what she said about Scurry but standing behind her basic sentiment.)
The larger point is that discord is inevitable on real teams, and real teams are elastic enough to cope with dissent. That's what Ryan should have told his players, rather than putting the goalkeeper in solitary -- or Solo-tary -- confinement.
Take the Solo-Ryan-Scurry scenario and substitute two NFL players and a coach. You think anyone would be talking about forgiveness? The players would take sides, the reporters would take notes and write stories, and the coaches would criticize the reporters. Then, most Sundays, those same players and coach would run out of the tunnel with the unified goal of kicking the other team's butt.
Gulati downplayed any possible double standard. "The players on the women's side have said to me repeatedly that there are things that are different, obviously, about how they play, how they respond emotionally to different situations,'' he said. "I accept that.
"I don't want to speculate how it would have been handled differently if this had happened on the men's side. My guess is that it would have been different, but that's because the players and people are different."
In fact, there is recent precedent on the men's side. The men's national team went through visible convulsions in 1998 when coach Steve Sampson left his "captain for life," John Harkes, off the World Cup roster because of some alleged inter-team dynamics. Several players were outspoken about their displeasure. Some wound up playing in that World Cup, some didn't.
The U.S. team finished dead last, Sampson lost his job, and the final press conferences held by players and staff were a free-for-all, not a touchy-feely fest. Yet players who were on different sides of the Sampson divide managed to go out and win some matches together later on.
The most sinister aspect of the shunning of Solo is that -- unlike, say, Terrell Owens -- she can't jump to another team. She has no options if the cool girls decide she's out. There's no U.S. women's professional league, and there's only one national team. The national team's only meaningful matches are played at the Olympics and the World Cup. The latter won't be held again for four years, and the Beijing Games are only 10 months away.
Solo was with the team on its recently concluded three-match exhibition series against Mexico (DNP: coach's decision). Gulati said she has the federation's blessing if she wants to keep playing. But Ryan has left an interpersonal mess that the new coach -- perhaps with the additional intervention of Dr. Phil -- will have to clean up.
The great Mia Hamm will be on the search committee. She once told former U.S. team coach Tony DiCicco to "coach us like men and treat us like women." Fine -- but they're professional athletes, and they should be encouraged to treat each other like grown-ups.
Men know you don't have to love each other to win. You don't even have to like each other very much. You just have to play well with others.
Solo shouldn't have lost any team privileges because of her comments. And she should have been in uniform for the Norway game, whether she started or not. That would have demonstrated that this is a mature team, capable of handling conflict rather than throwing a hissy fit.
This isn't the only reason Ryan is no longer the coach. But it's one of the reasons that followers of this program should feel relieved now that he's gone.
Bonnie D. Ford is a freelance writer and frequent contributor to ESPN.com.