Pondering a world without Julio Franco
By now you've undoubtedly heard the sad news. We've lost Julio Franco.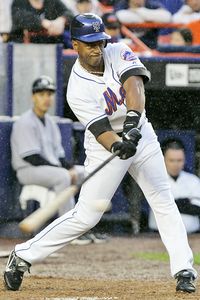 AP Photo/Frank Franklin II
We thought Julio Franco might go on playing forever.
No, Franco hasn't passed away. He just
retired from baseball
-- finally! -- at the age of 49.
The last year Franco was officially out of the major leagues? 1981! To put that in perspective …
• Reggie Jackson was the highest paid player in baseball in 1981, with a salary of $588,000.
• The average major league salary was approximately $144,000, and the average ticket price was $4.50.
• Fantasy baseball hadn't developed beyond a few sportswriter friends playing at the La Rotisserie Francaise restaurant in New York City.
• Atari Baseball for the Atari VCS was the premier baseball video game.
• The city of Philadelphia had won three championships in seven years.
• The 1981 AP Male Athlete of the Year: John McEnroe (won Wimbledon and U.S. Open)
• The 1981 AP Female Athlete of the Year: Tracy Austin (won U.S. Open)
• Tom Kite was the PGA's leading money winner in 1981: $375,699.
• Athletes born in 1981 include Roger Federer, Serena Williams, Lorena Ochoa, Amanda Beard, Andrei Kirilenko and Anna Kournikova.
---
Also in 1981 …
• Metallica and Motley Crue formed.
• No. 1 songs in the U.S. included "Celebration" by Kool & The Gang, "9 to 5" by Dolly Parton, "Jessie's Girl" by Rick Springfield, and "Physical" by Olivia Newton-John.
• "Raiders of the Lost Ark" was the top-grossing movie in the U.S.
• The MTV network debuted.
• Luke and Laura got married on "General Hospital."
• Prince Charles and Diana got married in real life.
• Paris Hilton and Britney Spears made their debuts on Earth.
---
Consider that Julio Franco made his major league debut with the Philadelphia Phillies in 1982. Then consider …
• When Franco made his major league debut, Manny Mota was playing for the Dodgers. Mota is now 70 years old.
• A sampling of other players still active in 1982: Gaylord Perry, Jim Kaat, Carl Yastrzemski, Phil Niekro, Willie Stargell, Luis Tiant, Tony Perez.
• Jim Kaat pitched to Franco in '82, and also to Ted Williams at the beginning of Kaat's career. So Franco faced a pitcher who faced Ted Williams.
• When Franco made his major league debut, Steve Carlton was his teammate … 12 years later, Carlton was elected to the Hall of Fame … 14 years after that, Franco finally retired.
• Pitcher Edwin Nunez of the Mariners was the youngest player in baseball (19) the year Franco came into the majors. He played a total of 13 seasons in the majors … and retired 14 years ago.
• Cal Ripken's streak started in 1982.
• Of the current major league managers, Terry Francona, Ozzie Guillen, Eric Wedge, Mike Scioscia, Joe Girardi, John Gibbons, Trey Hillman, Bob Geren, Fredi Gonzalez, Manny Acta, John Russell and Bob Melvin are younger than Franco.
• In 1982, Franco was traded by the Phillies with Jay Baller, Manny Trillo, George Vukovich and Jerry Willard to the Indians for Von Hayes. The last player in that deal to retire (other than Franco) was Jerry Willard … 14 years ago.
• The last time Franco played in an All-Star Game, he played alongside such players as Carlton Fisk, Jeff Reardon, Frank Viola, Scott Sanderson and Ivan Calderon.
• Franco shared the field with players who made their major league debut as early as 1962.
• Franco broke into the majors as a shortstop. The last time he played that position, Tony Bernazard was his second baseman and Doc Edwards was his manager.
• Franco played six years in Cleveland, left for seven years, stayed for a year and a half … and it has been 11 years since he left for the second time.
• Franco made his major league debut the same year as players such as Dennis "Oil Can" Boyd (who has been retired for 17 years), Storm Davis (14 years), Tom Henke (13 years), Jim Eisenreich (10 years), Doug Jones (eight years), and Tony Gwynn (seven years).
• Franco was in his sixth major league season, with his second team, when current Diamondbacks outfielder Justin Upton was born.
Enjoy your retirement, Julio. We'll miss you.
Ryan McCrystal from ESPN research contributed to this piece, along with Page 2's DJ Gallo, David Schoenfield, Mike Philbrick, Thomas Neumann and Kieran Darcy.